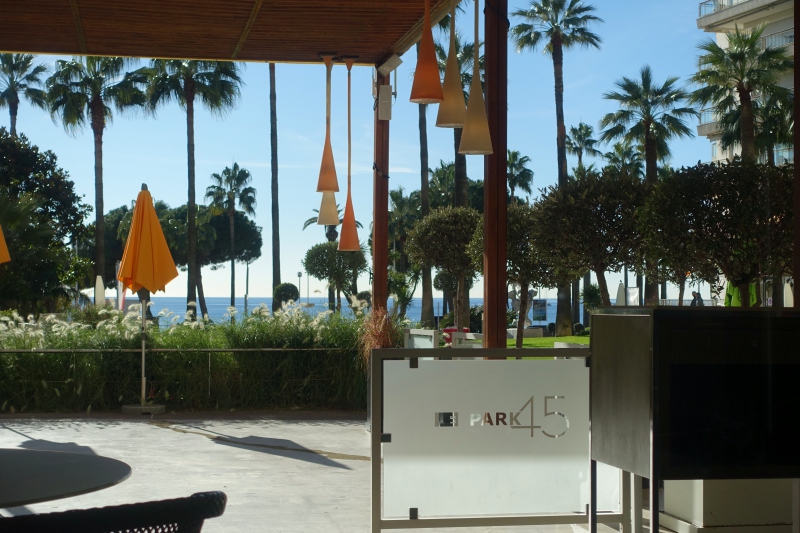 This Review of Le Park 45 Restaurant in Cannes, France is from my recent lunch there during ILTM Cannes. Le Park 45 has 1 Michelin star and has been led by Chef Sebastian Broda since 2009. The Pastry Chef is Pascal Picasse, also at Le Park 45 since 2009.
See all our Michelin star restaurant reviews and posts.
Getting to Le Park 45 Restaurant in Cannes
Le Park 45 is the signature restaurant of Le Grand Hotel Cannes, located, as its name implies, at 45 La Croisette in Cannes. If arriving from the Cannes train station, it's an easy 10 minute walk down Rue des Serbes to La Croisette, then a stroll along the waterfront to the hotel and restaurant.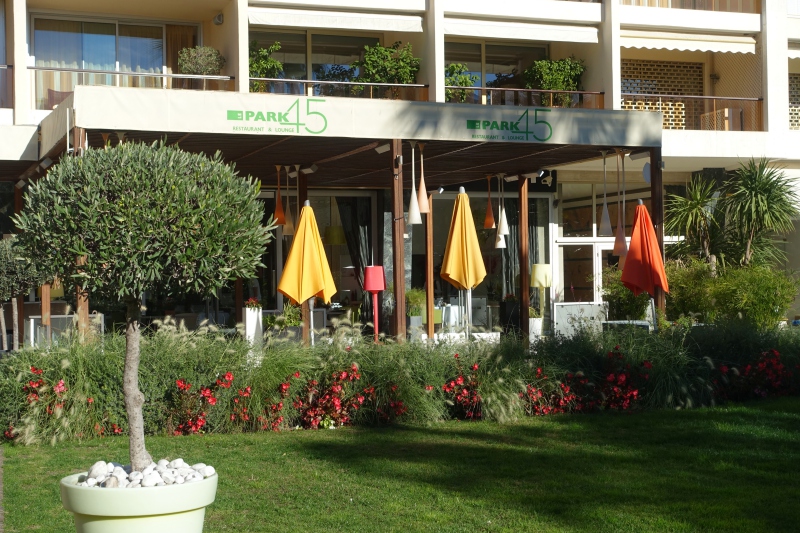 The Scene
I was having an early lunch at 12noon on a weekday, so initially I was the first guest, but by 12:30pm several other tables were seated, all of them French speaking.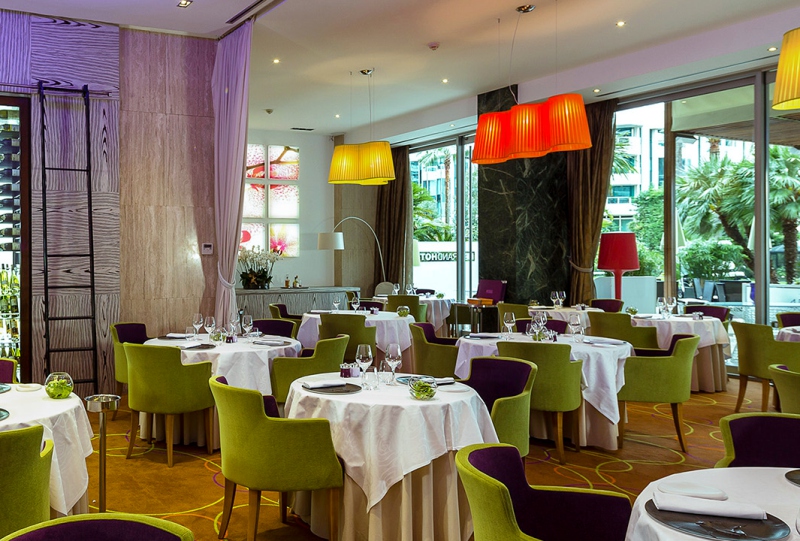 Le Park 45 Menu and Food
As at many French restaurants, there's a special prix fixe lunch menu, with options of appetizer and main course, main course and dessert, or appetizer, main course and dessert. Here's the lunch menu the day of my visit: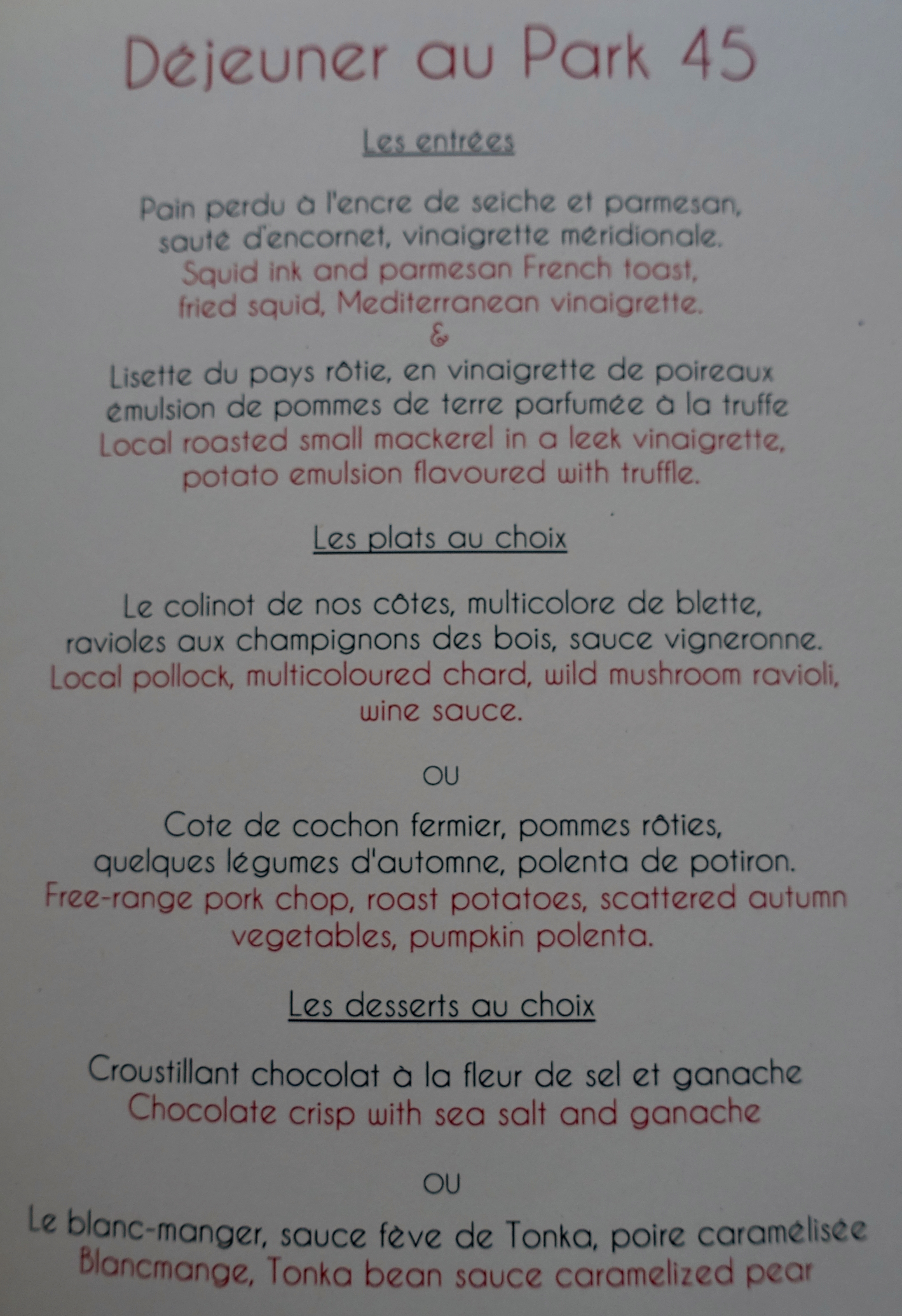 If you opt for a la carte, expect appetizers in the EUR 28-34 range, and main courses in the EUR 42-48 range.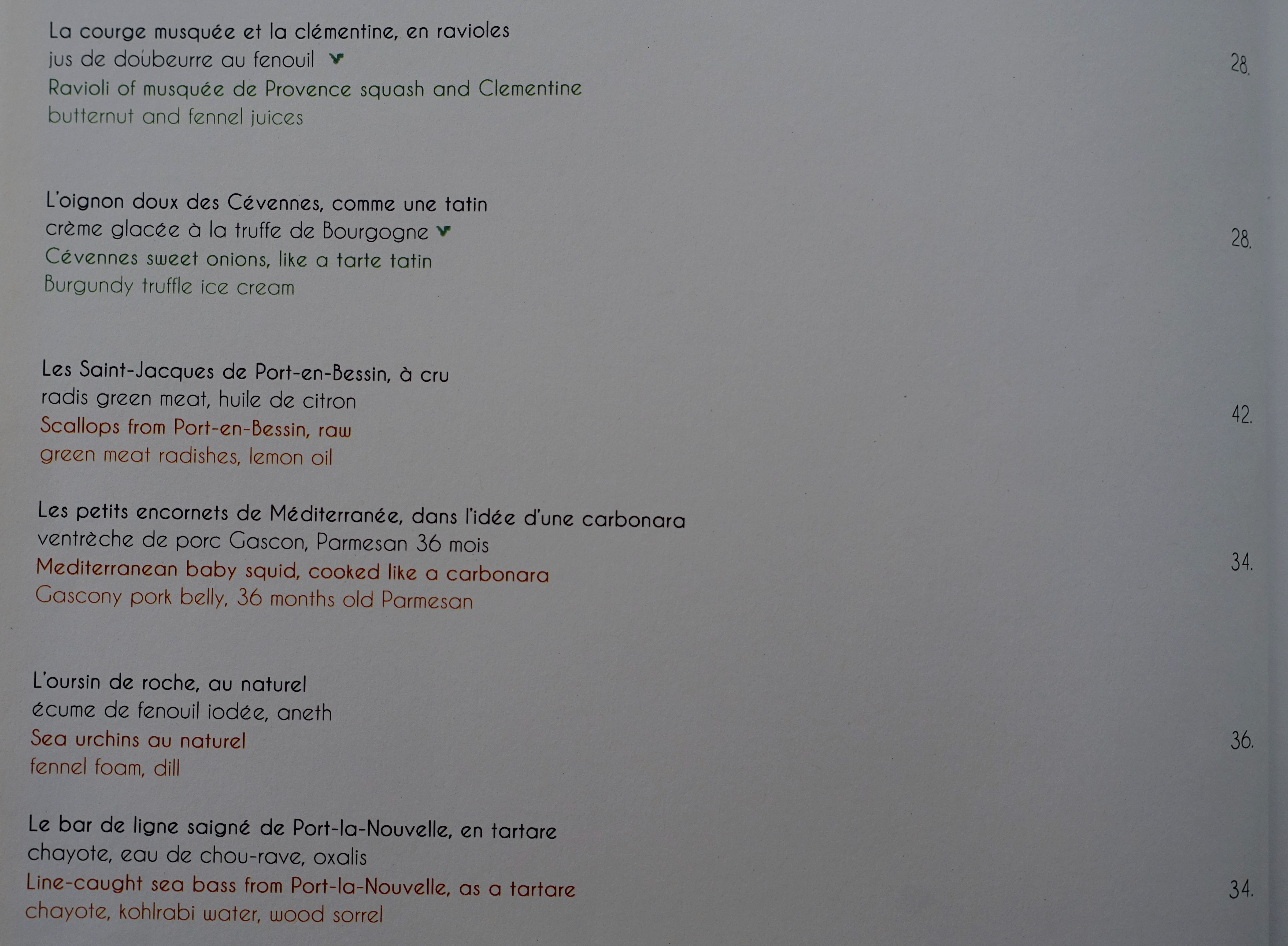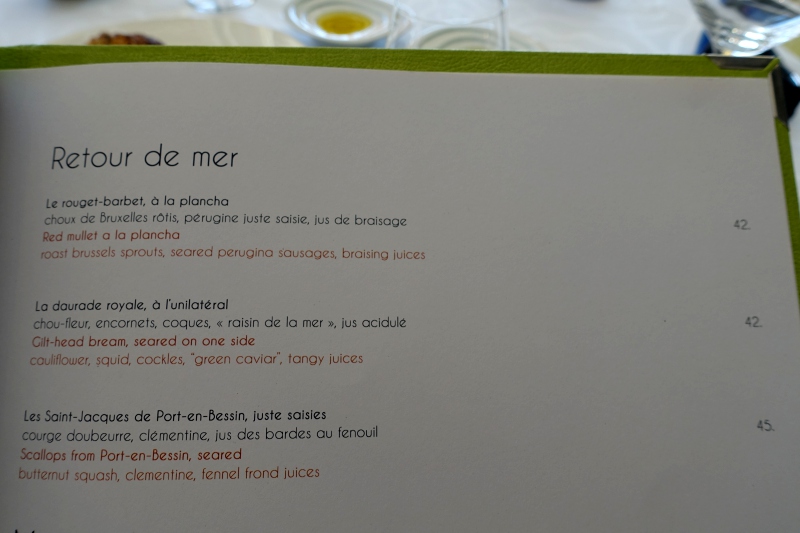 I was offered an aperitif and the wine list, but declined, since I had a number of afternoon meetings. As in all restaurants in France, you're able to order tap water simply by requesting a carafe d'eau. Along with my water came a very tasty savory brioche bread, with two types of olive oil offered alongside for dipping.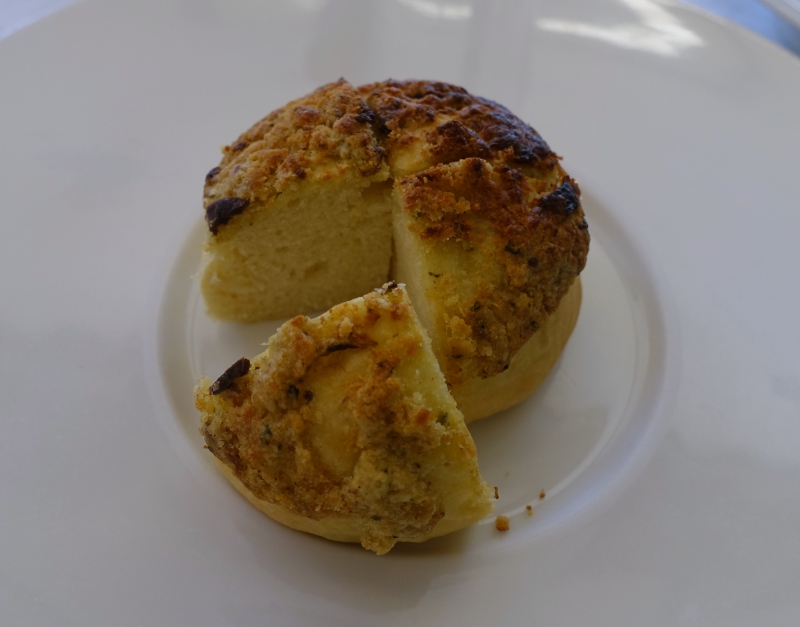 An amuse bouche of white fish with a piquant tomato rich sauce and crunchy squid ink crumbles was tasty and healthy.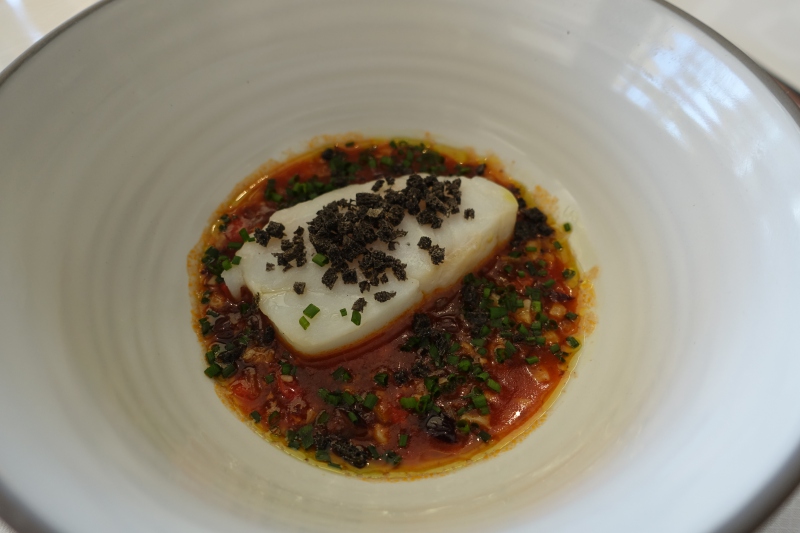 Of the two appetizers, I particularly liked the squid ink and parmesan french toast with fried squid atop. The squid was tender and perfectly cooked.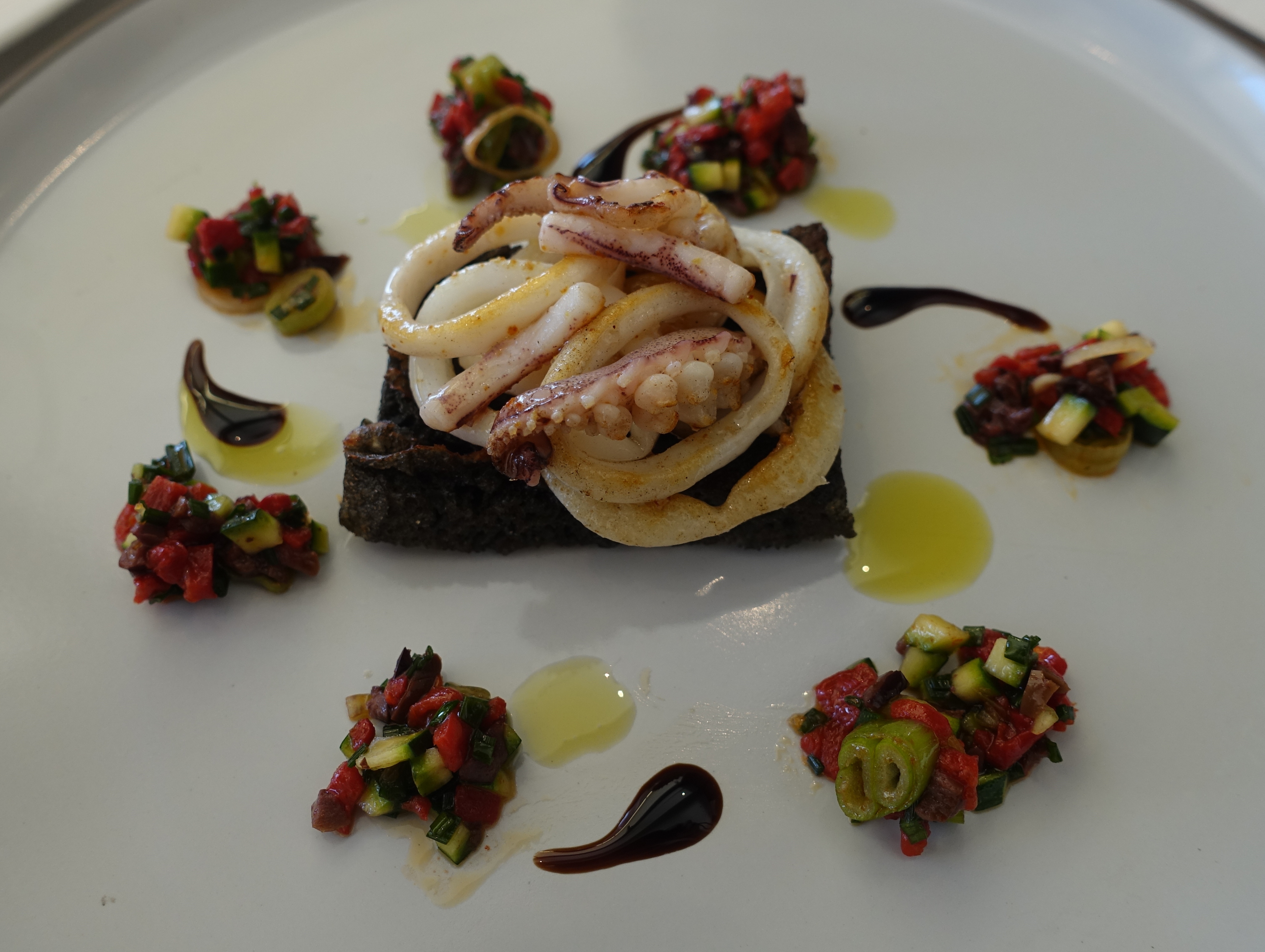 The roasted mackerel with leeks and truffle infused mashed potato was also good, although I'm not usually a big fan of mackerel.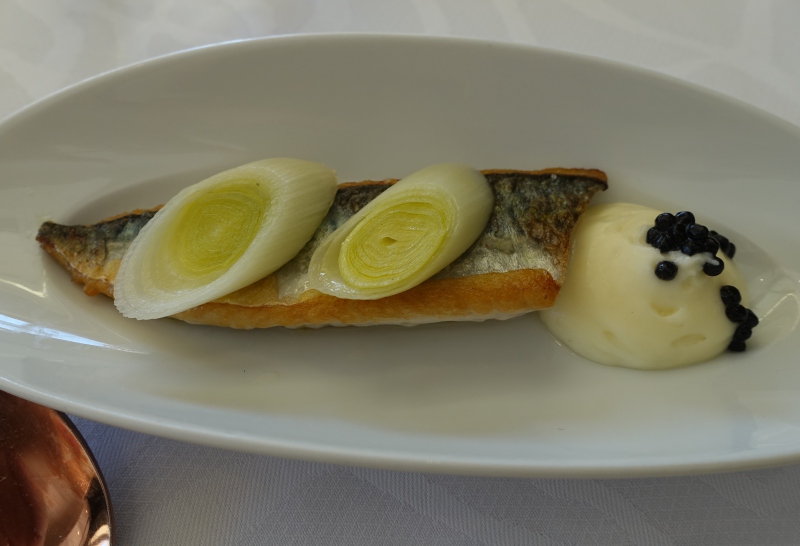 For the main, I chose the pork chop with autumn vegetables and pumpkin polenta. The highlight for me was the polenta and roast vegetables since the pork, while tasty, in my view was a bit dry and slightly overcooked. I'm not sure if it was brined, but if not, it would have benefited from brining and not being cooked quite so long, so as to have been juicier.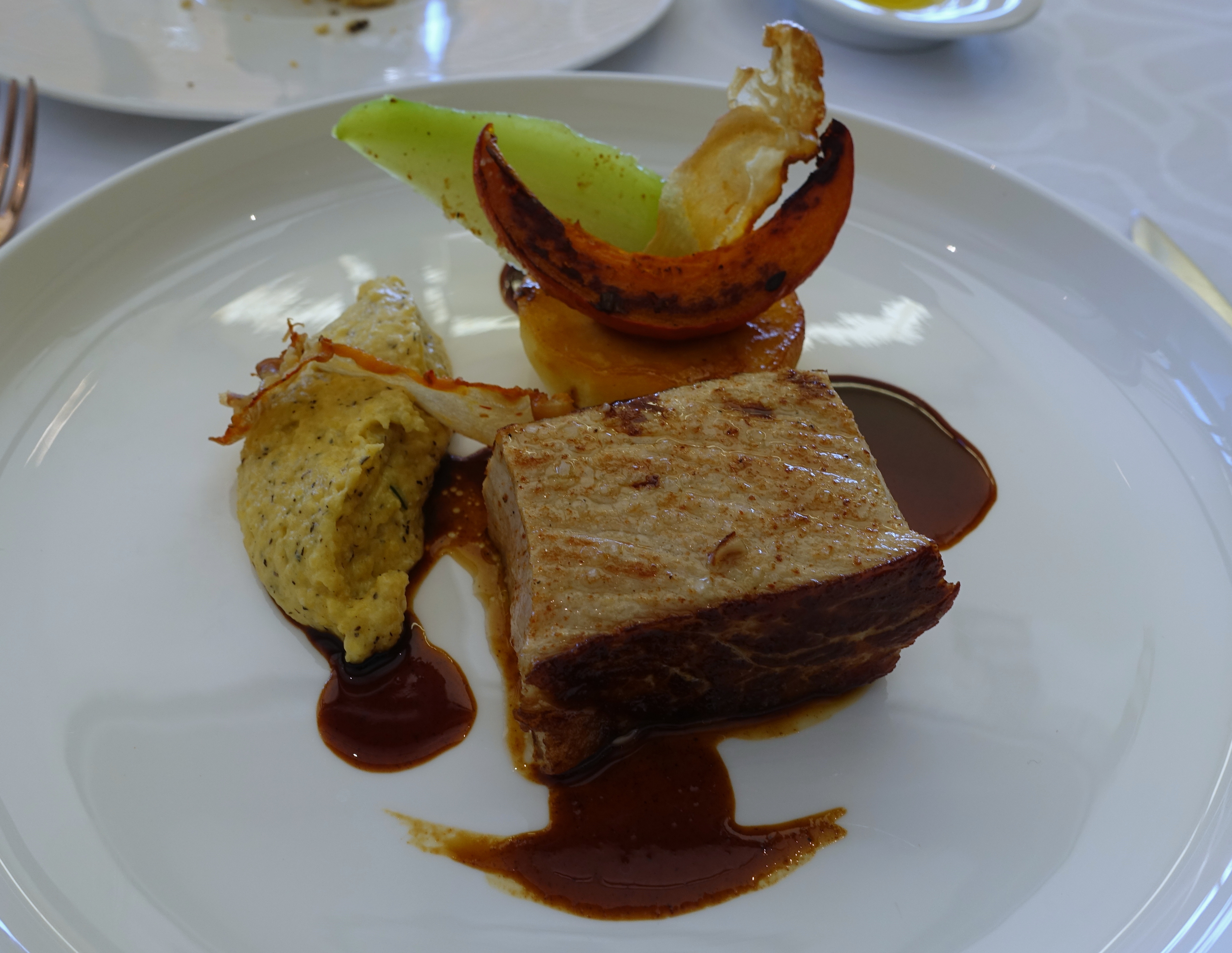 The dessert was described as Chocolate Crisp with Sea Salt and Ganache, so the presentation of three chocolate crisps with whipped cream, spiral tuiles, and what tasted like pumpkin puree surprised me a bit. Where was the ganache? In any case, it was beautifully plated, tasty, and lighter than most chocolate desserts. The pumpkin is perhaps more innovative for French palates, where pumpkin is generally used in savory dishes and not desserts, but I've always enjoyed pairing pumpkin and dark chocolate.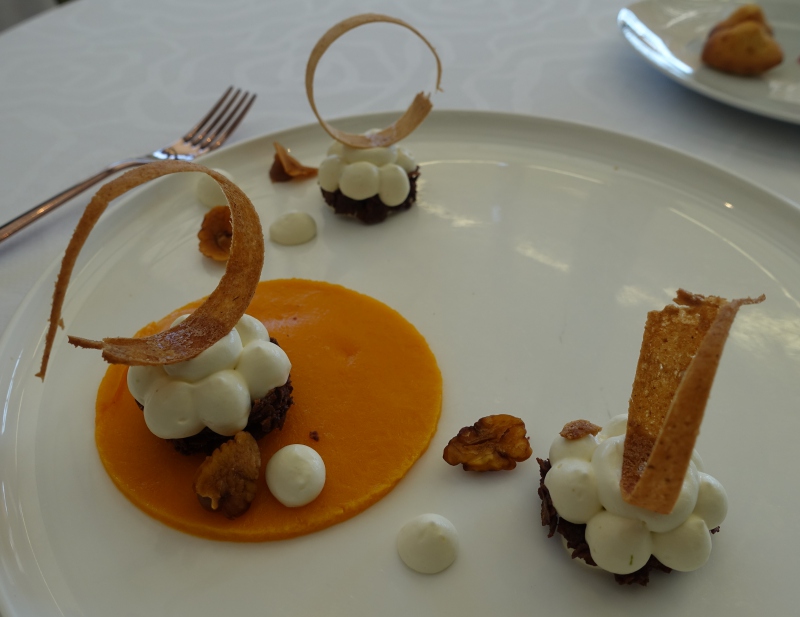 Instead of the usual petits fours and mignardises, Le Park 45 offered a couple of freshly baked madeleines and strawberry jam, truly French comfort food and a wonderful ending to the meal.
The Verdict
Some critics of French fine dining complain that dishes are too rich and heavy, but my lunch at Le Park 45 was full of flavor yet light, with the fresh ingredients taking center stage. I particularly enjoyed the house-baked savory brioche, the roasted squid atop squid ink and parmesan french toast, the pumpkin polenta, the chocolate crisp dessert, and fresh baked madeleines. The only real criticism is of the pork, which I found just slightly overcooked and not as juicy as I'd have liked.
If you've dined at Le Park 45 in Cannes, what was your experience?
Related Posts
Grand Hotel du Cap-Ferrat Joins Four Seasons
Le Cinq Paris Restaurant Review, 3 Michelin Stars
Review: Mathieu Pacaud Histoires Paris, 2 Michelin Stars
Need Award Booking Help? Our fee is as low as $75 per ticket if you book your hotel through us.
If you enjoyed this, join 200,000+ readers: please follow TravelSort on Twitter or  like us on Facebook to be alerted to new posts. 
Become a TravelSort Client and Book your Cannes or French Riviera Luxury Hotel with Virtuoso or Preferred Partner Benefits!