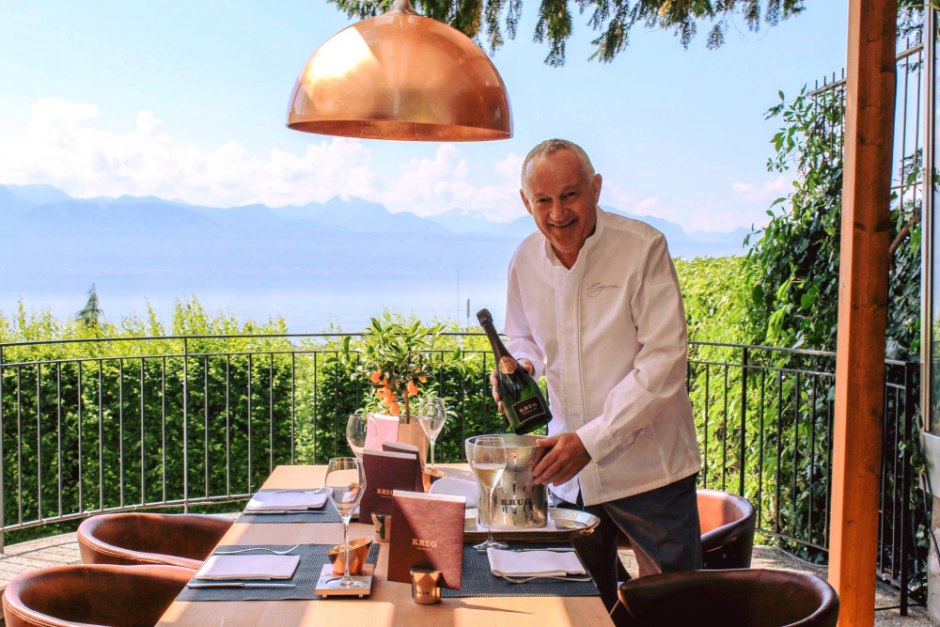 La Table d'Edgard is the 1 Michelin Star Restaurant at the Lausanne Palace & Spa hotel, and was easily one of, if not the best dinner I enjoyed in Switzerland on a recent week-long trip. Chef Edgard Bovier is a native of Valais, a southwestern Swiss canton that borders France and includes the ski resort town of Zermatt.
Interested in a trip to Switzerland? See 8 Things I Love About Switzerland and all posts tagged Switzerland.
La Table d'Edgard Location and Hours
La Table d'Edgard is located in the Lausanne Palace & Spa, at 7-9 Rue du Grand Chene, and is open Tuesday to Friday for lunch from 12noon to 2pm and dinner 7pm-10pm, and for dinner on Saturday from 7pm-10pm. It is closed on Sundays and Mondays.
La Table d'Edgard Menu and Food
Given that this is a Michelin star restaurant in Switzerland, as you'd expect, the a la carte menu prices are on the high side, with starters in the CHF 40-50 range and main courses in the CHF 60-70 range. There is also a 3-course prix fixe lunch menu for CHF 78, which includes coffee and changes weekly, and a signature 6-course menu for CHF 185.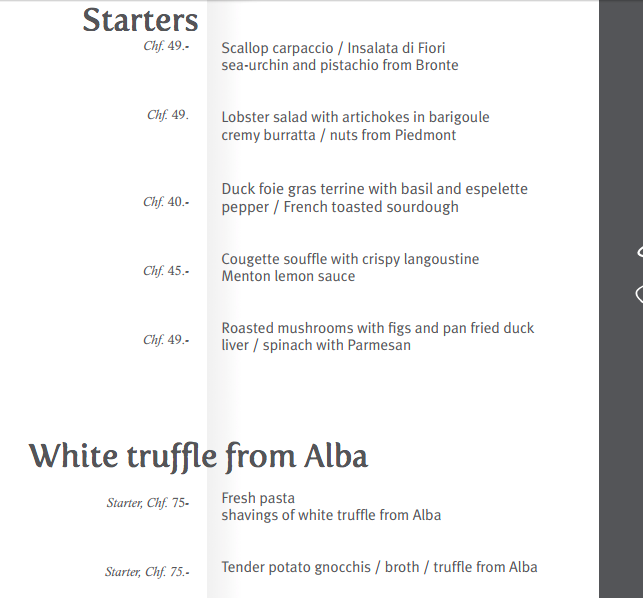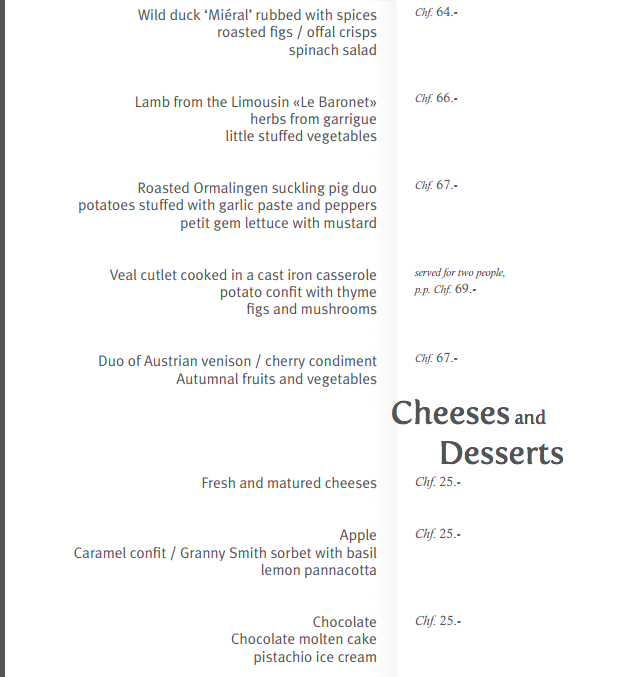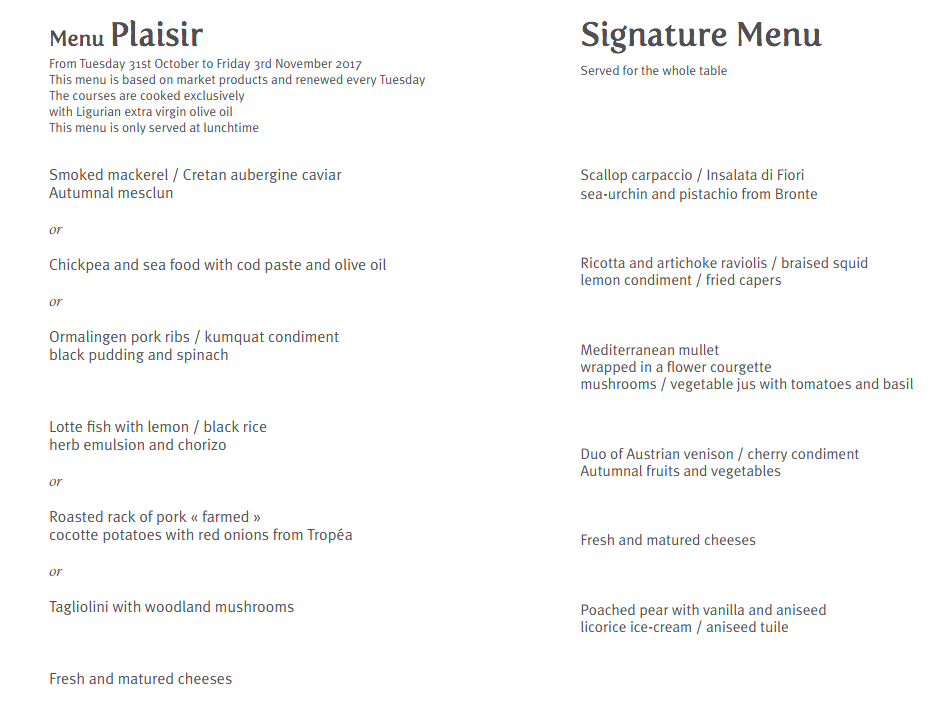 We had a special menu for our group, with matching wines, as follows: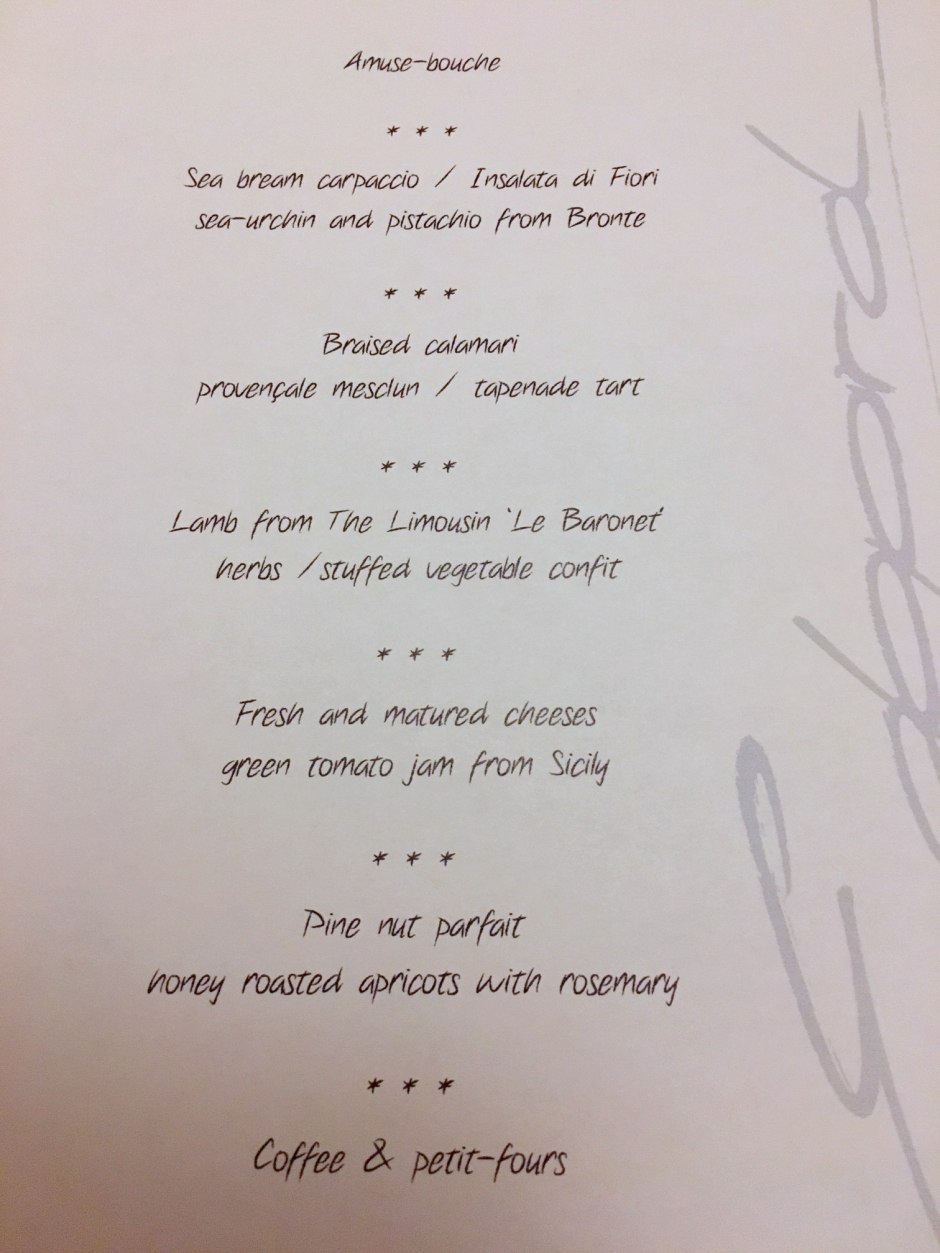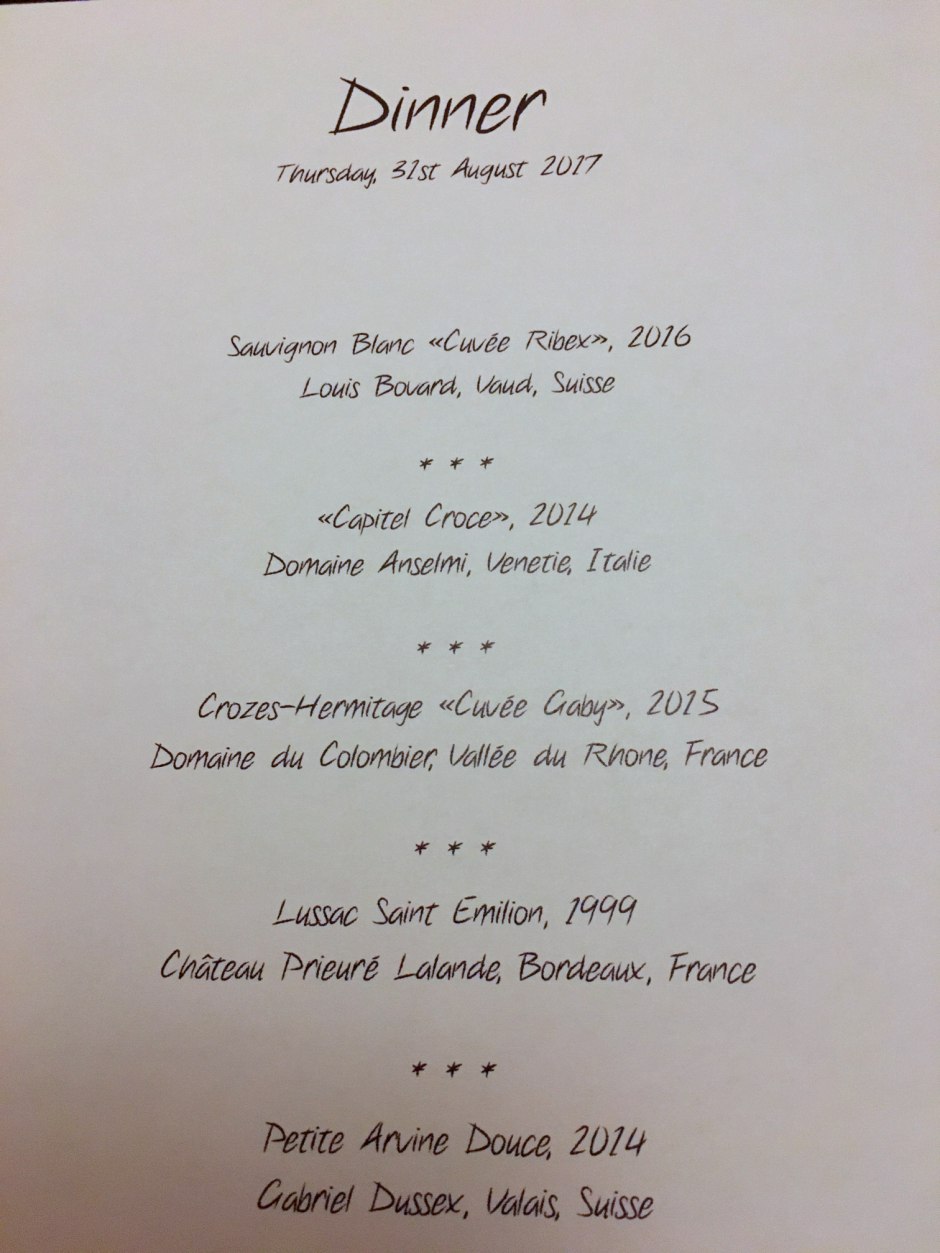 With our preprandial champagne, we enjoyed a couple of different amuse bouche, with the definite favorite the mushroom, which was infused with some truffle.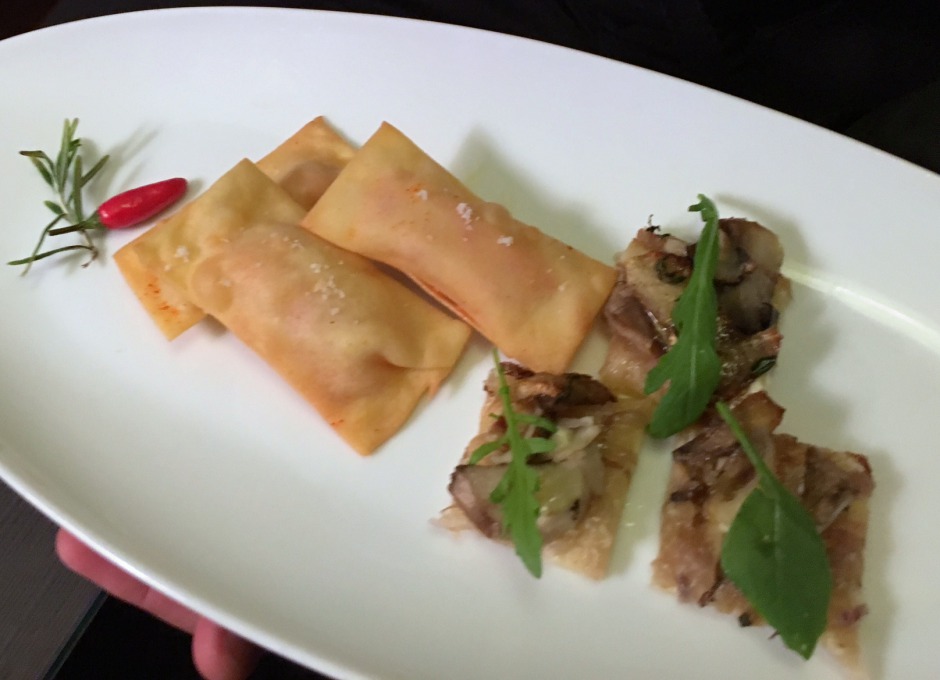 In the private dining room, with beautiful rose bouquets on the table, we were first served an appetizer of Sea Bream Carpaccio, with Sea Urchin and Pistachios. The restaurant's menu features a this dish using scallop carpaccio, but the sea bream version was fantastic, a fresh canvas for the interplay of flavors and textures from the herbs, tomato, sea urchin, pistachio, and Ligurian extra virgin olive oil.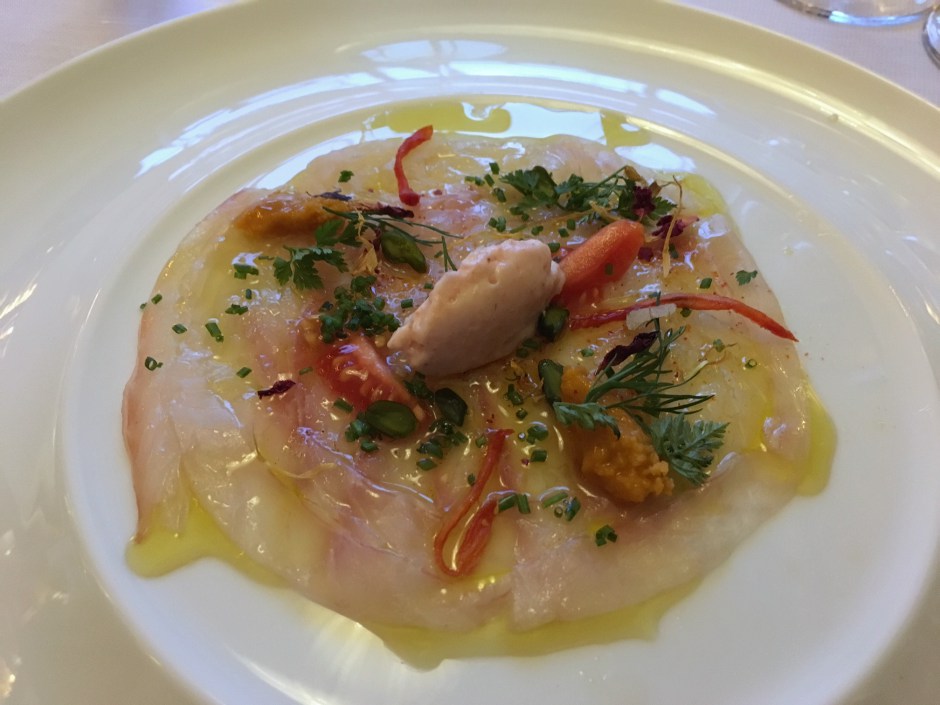 The braised calamari that followed, while perhaps more classically Mediterranean and not as creative, was just as delicious. Tender calamari was complemented with the piquant tapenade tart and fresh pesto drizzled atop.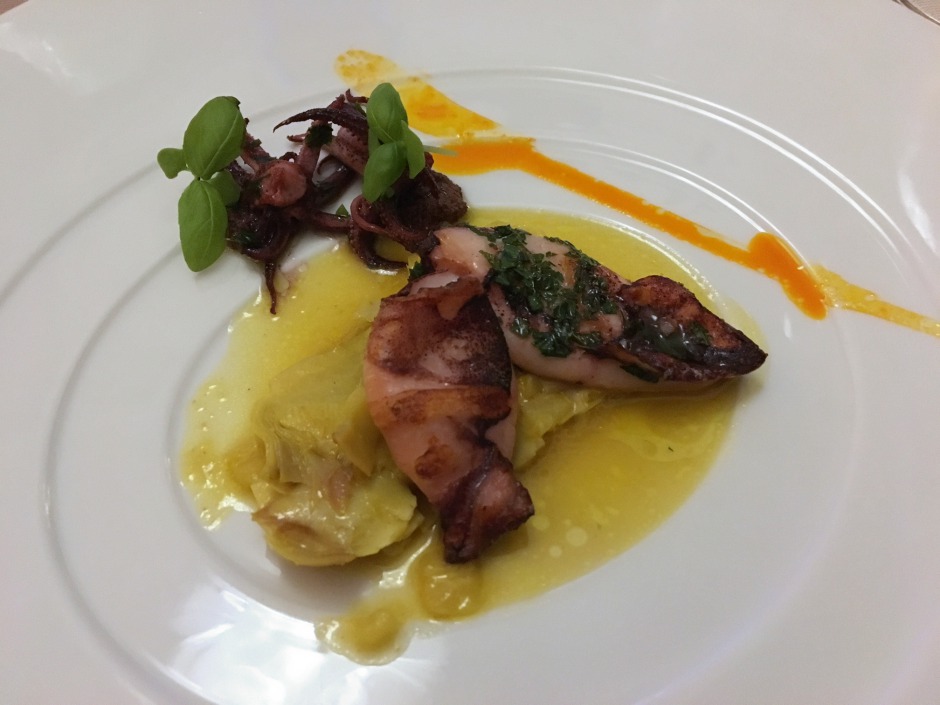 Limousin, France is well known for the quality of its lamb and other meats, and our third course featured Limousin lamb with stuffed vegetables. The taste and quality were impeccable, although the meat was not quite as tender as I'd have hoped.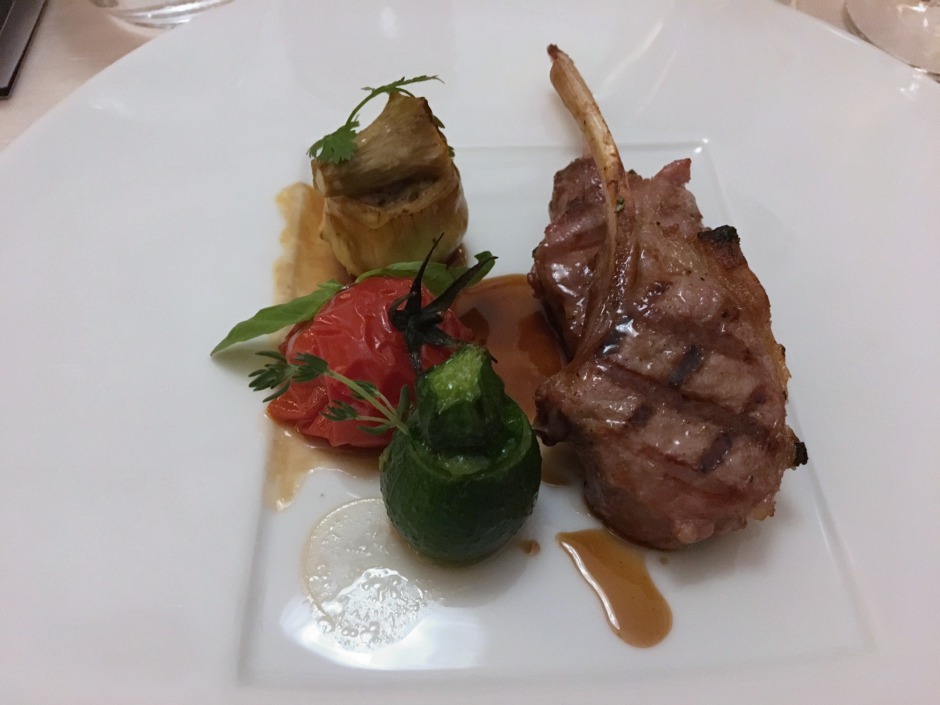 Switzerland is well known for its cheeses, so the cheese course was a particular highlight, accompanied by Sicilian green tomato jam.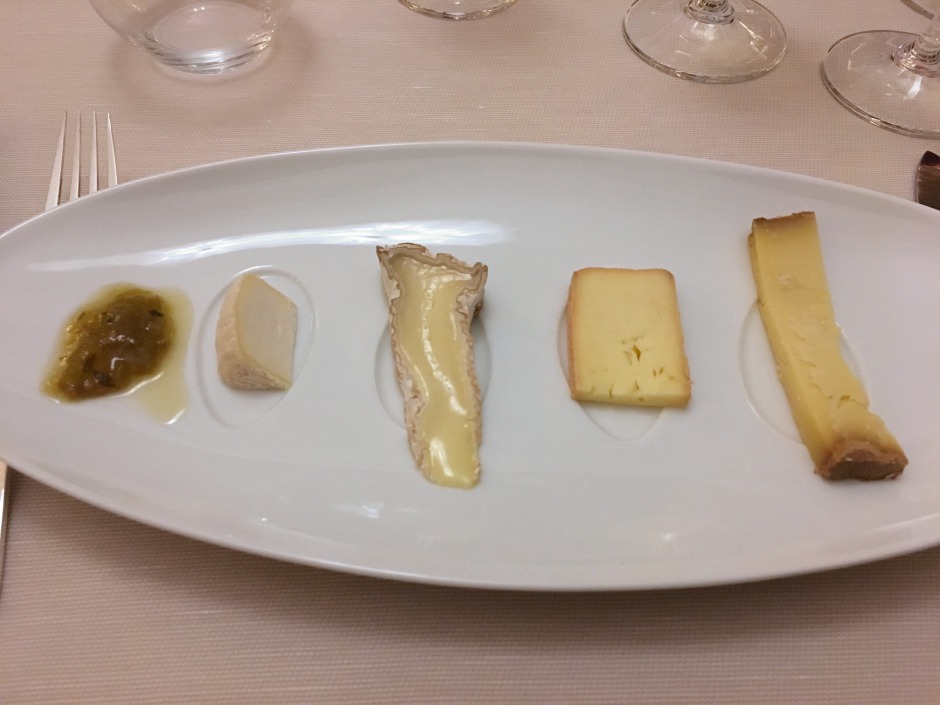 As befits a Mediterranean menu, dessert was fruit based, with a pine nut parfait accented by roasted apricots. Roasting is a great way to deepen fruit (or vegetable) flavors, and apricot is one of the last truly seasonal fruits, so I particularly enjoyed the apricots in this course.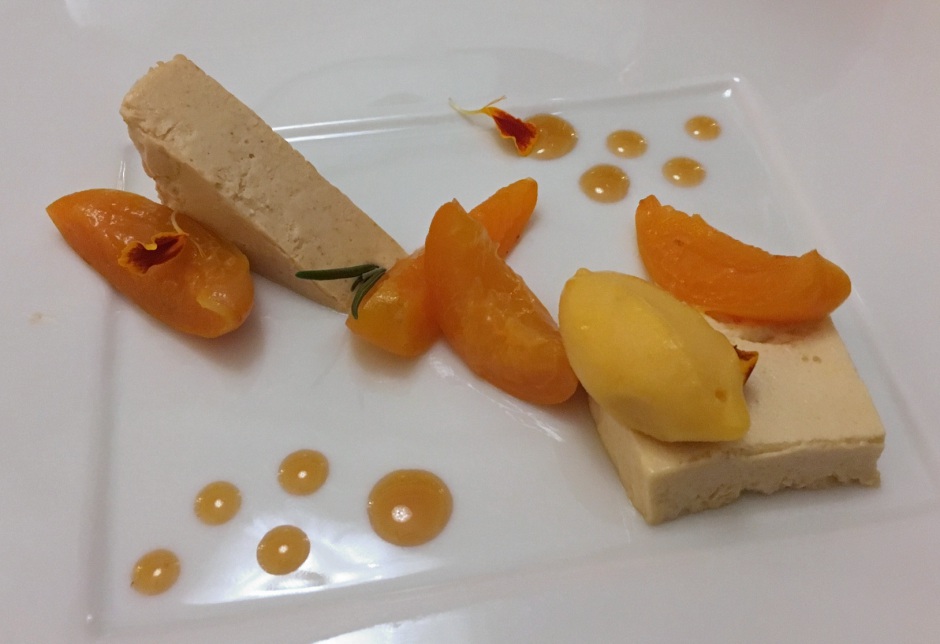 As much as I love dessert, I unfortunately had no room for the attractively displayed mignardises. Some of my fellow diners tried them, however, and pronounced the mini eclairs especially delicious.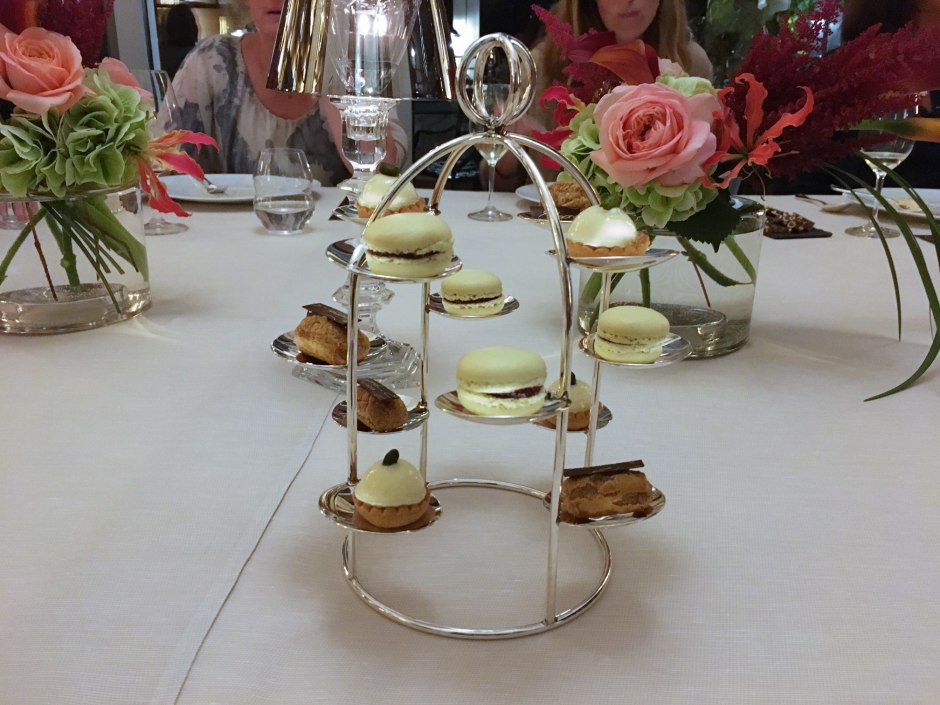 The Verdict
This was my personal favorite dinner in Switzerland, for the quality and creativity of the dishes, service, and overall atmosphere. While I wouldn't have personally sprung for the wine pairing, La Table d'Edgard is well known for its wine cellar and oenophiles will likely want to indulge here.
Highlights for me were the mushroom amuse bouche, Sea Bream Carpaccio with Sea Urchin and Pistachio (a variation of the Scallop Carpaccio starter on the menu), the braised octopus, the cheese plate, and the roasted apricots. The Limousin lamb, while very tasty, wasn't quite as tender as I'd have liked. I didn't have room for the mignardises, but heard from others that they were excellent.
Recommended Posts
Review: The Lausanne Palace & Spa Hotel
Review: Four Seasons Hotel des Bergues Geneva
8 Things I Love About Switzerland
Review: SWISS A330 Business Class
Disclosure: I was a guest of La Table d'Edgard as part of a Virtuoso study trip and enjoyed a complimentary dinner; however, I have paid for similar Michelin star meals and have reviewed it as if I paid for it.
Need Award Booking Help? Our fee is as low as $75 per ticket if you book your hotel or cruise with us.
If you enjoyed this, join 200,000+ readers: please follow TravelSort on Twitter or  like us on Facebook to be alerted to new posts. Get travel inspiration from TravelSort on Instagram or TravelSort on YouTube
Become a TravelSort Client and Book Your Luxury Hotel with Virtuoso or Preferred Partner Benefits!