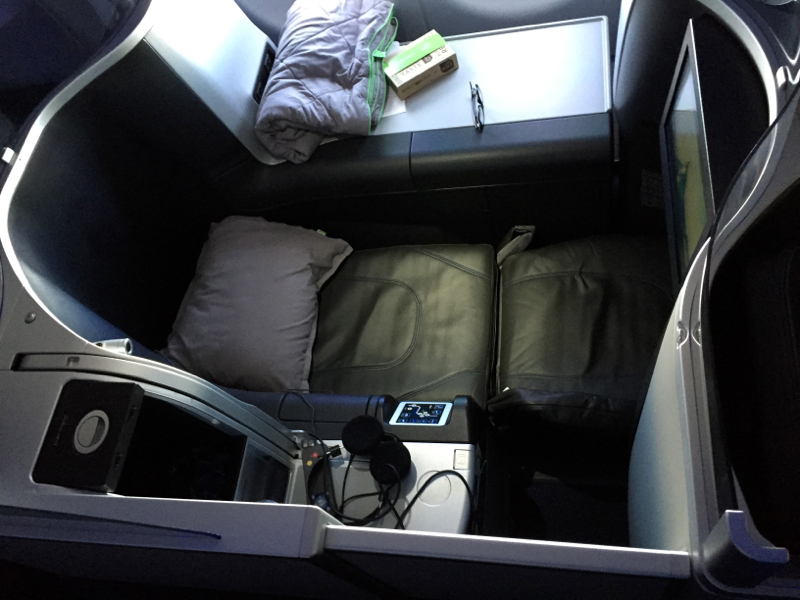 This JetBlue Mint Suite review is from my flight home from San Francisco SFO to New York JFK. I was very excited to experience this JetBlue luxury product, especially as it was coming right on the heels of my A380 First Class Emirates flight from Dubai to SFO.
JetBlue Mint Cabin and Seat Selection
JetBlue Mint, as I mentioned in JetBlue Mint Private Suites and Flat Bed Seats Now on Sale, has 12 business class seats and 4 private suites in an alternating configuration of 2-2 for the seats and 1-1 for the suites. Since currently the private, enclosed suites are the same price as seats, plan ahead so that you can snag one of the suites: 2A, 2F, 4A or 4F.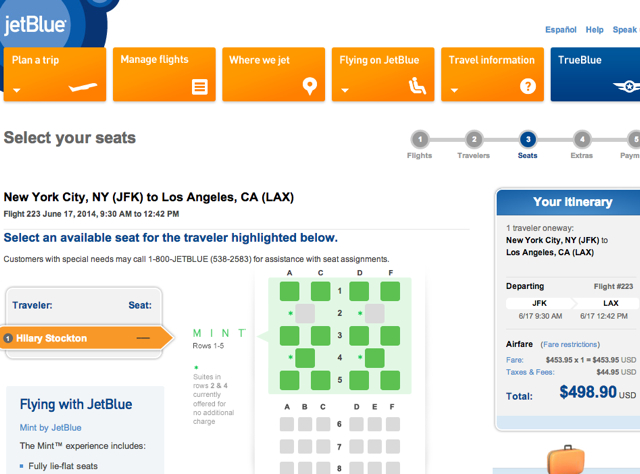 JetBlue Mint Suite
I was shown to my seat by the flight attendant, and offered a refreshing ginger drink (I opted for the Vodka inclusion).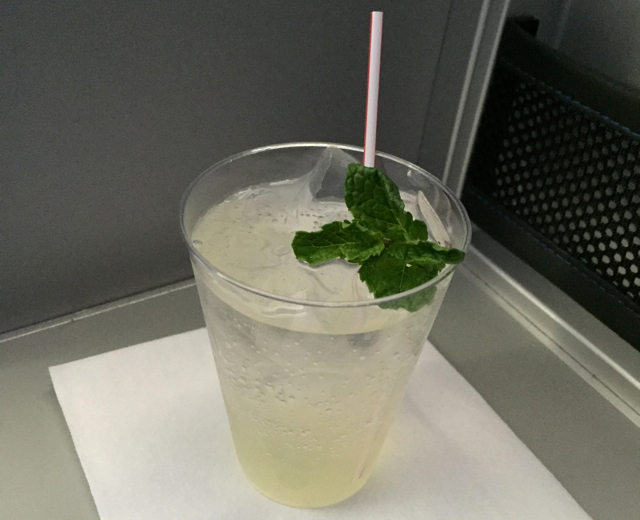 The seat controls are intuitive, although the supposed massage function seemed to be mostly a marketing ploy, as it was barely discernible, at least in my seat.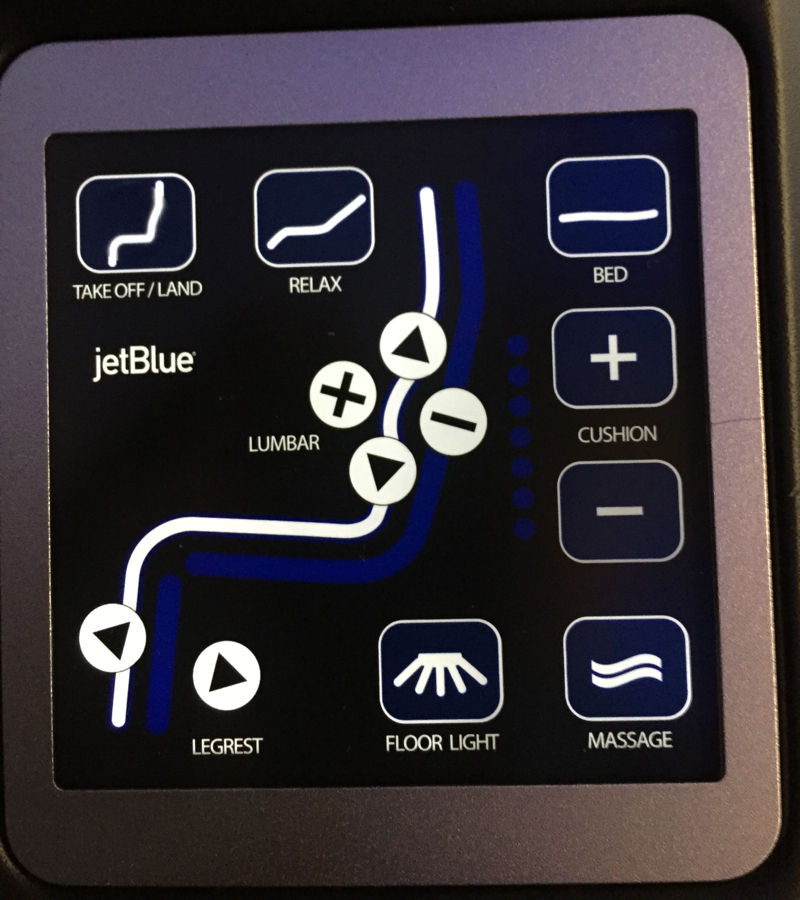 The overall feeling in the cabin was consistent with the Jet Blue brand: the crew was warm, but very casual, and tried to keep the mood fun and light.  I was immediately offered a hot towel and amenity kit, which I'll describe below. The seat compartments in the cabin are small compared with international First Class flat bed products, but the space is very efficiently organized and provides ample room to stretch out your legs.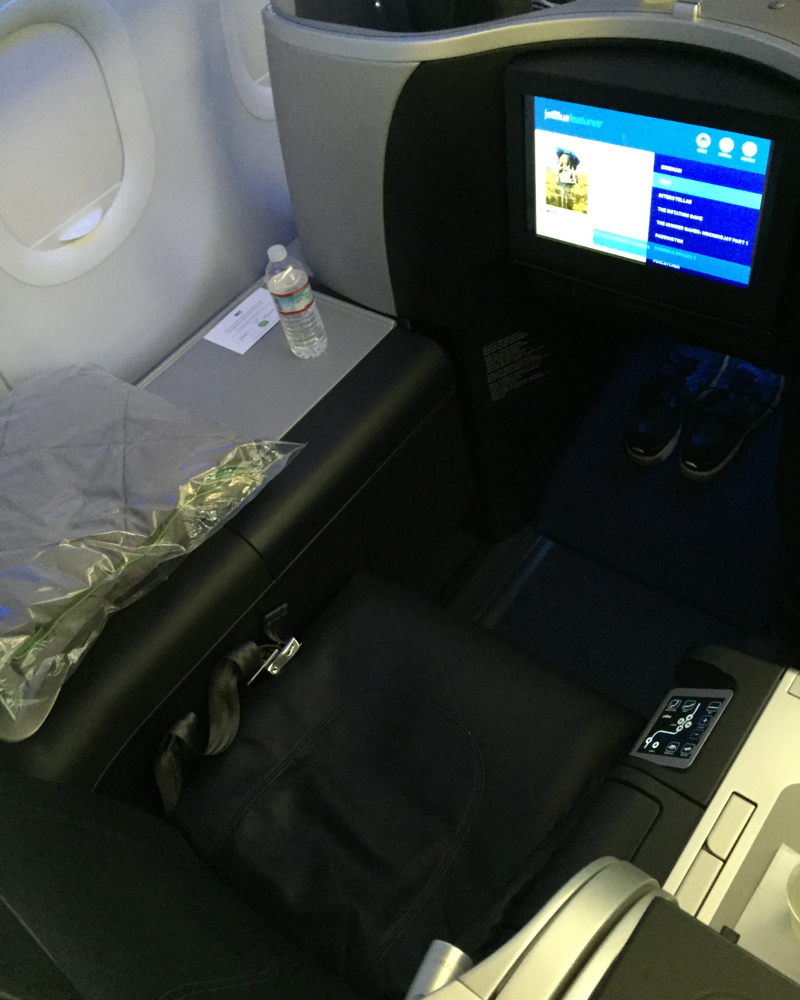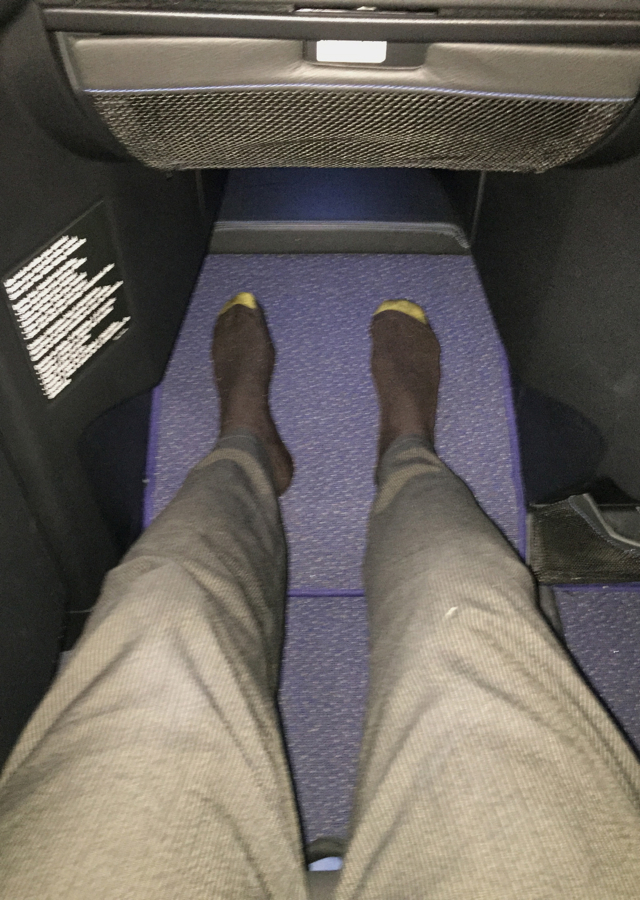 The reason why the seat compartment feels small is that to fully recline the entire seat slides forward and down, such that one's legs slide snugly under and within the console ahead of you, so the overall open space of your compartment is significantly less than your full reclining body length.  But the window-side flat area, the small aisle-side drink table, and water bottle holder, provided enough room to manage any belongings for the flight.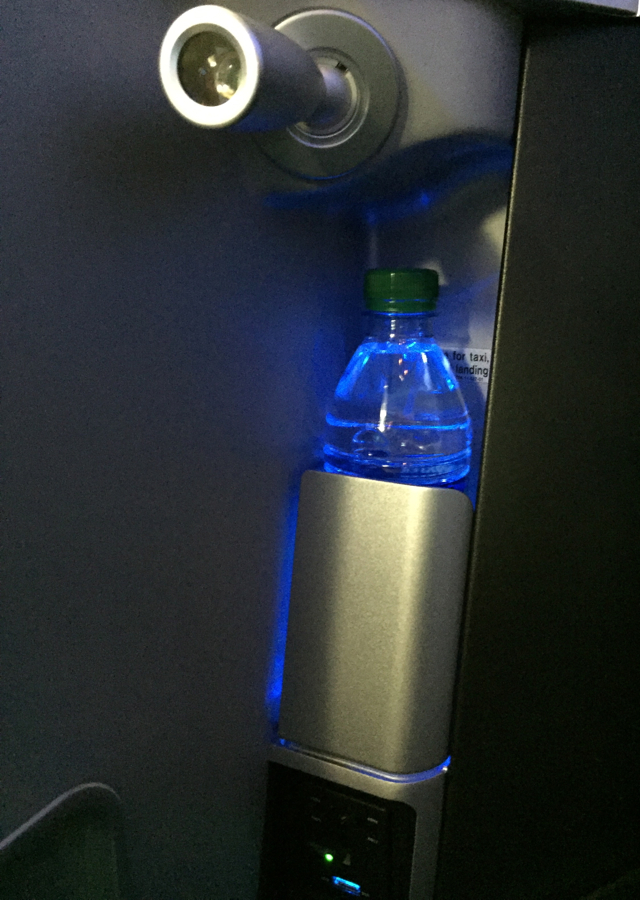 JetBlue Birchbox Amenity Kit
I didn't even open the Birchbox amenity kit on the flight, but it contained the following products, of which the only one I'd use would be the lip gloss (my wife says she'd use the screen cleaning wipes):
Lab Series Age Rescue+ Water Charged Gel Cream
V76 by Vaughn Lip Balm 76
Hanz de Fuko Claymation hair styling gel
Billy Jealousy Golden Gloves Therapeutic Hand Cream
Proraso Shave Cream
La Fresh Travel Lite Lens & Screen Cleaning Wipes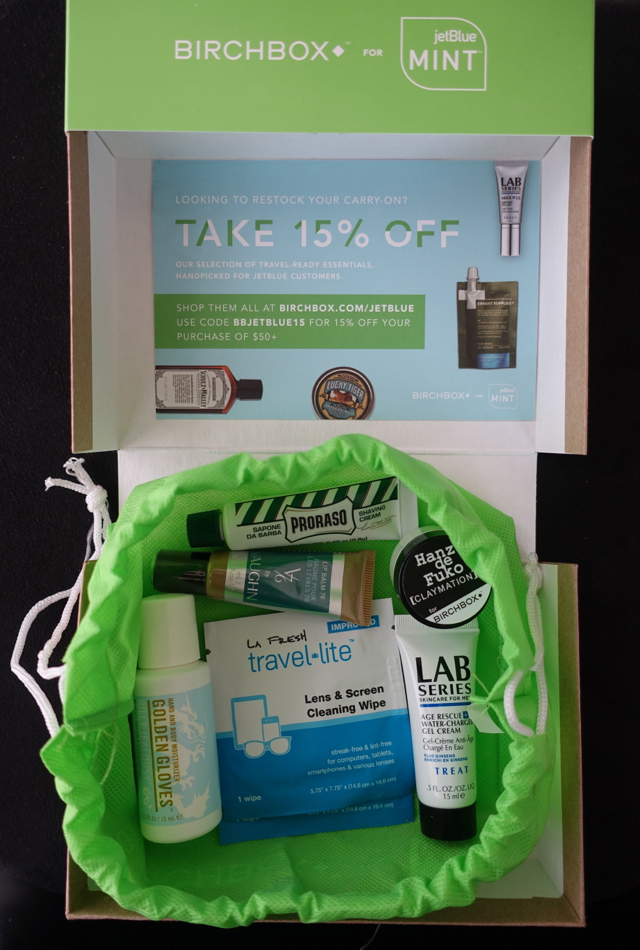 JetBlue Mint Menu and Food
The JetBlue Mint menu changes regularly, so this was my menu for an April flight (even though it said March on it):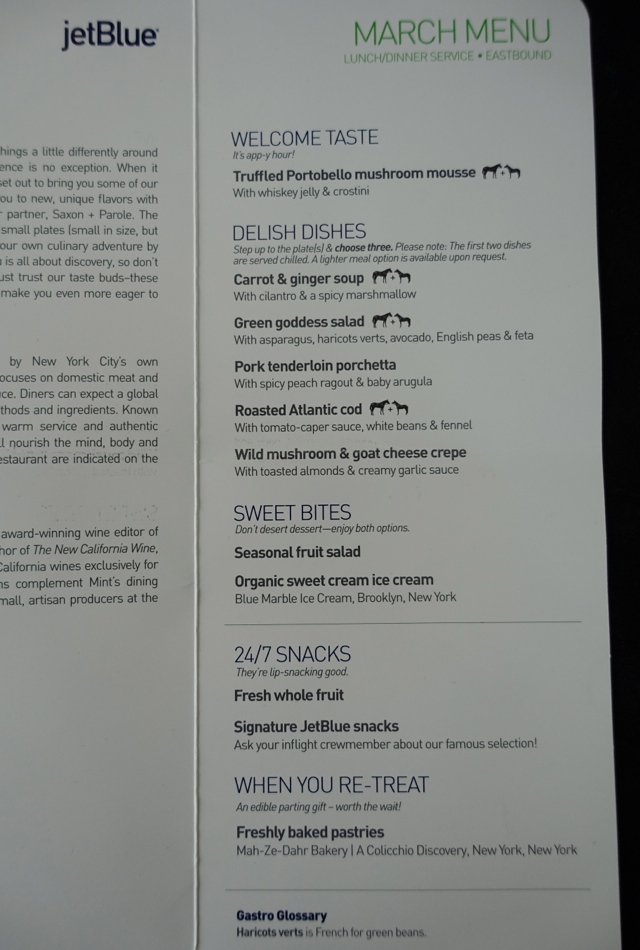 Meanwhile, the current lunch/dinner menu for similar East bound flights is the following–I was happy to see that Brooklyn Roasting Company espresso drinks are now offered, since it's my favorite coffee company in NYC:
From the menu I first ordered the truffled portabello mushroom mousse, which was rather tasty, although the accompanying bread was just mediocre.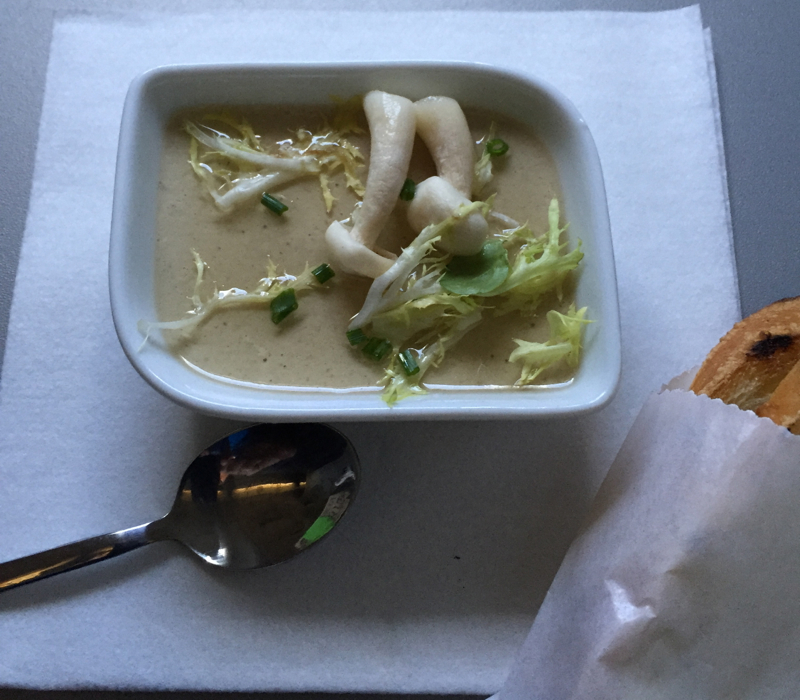 For the main course it was possible to pick three small plates, so I ordered the carrot & ginger soup, Green Goddess asparagus pea salad with feta and avocado, and pork tenderloin porchetta. The pumpkin soup was very zesty and delicious. The pork tenderloin was relatively fresh, served on top of a bed of spicy peach ragout, topped with radish and baby arugula. The accompanying fruit had a nice kick to it.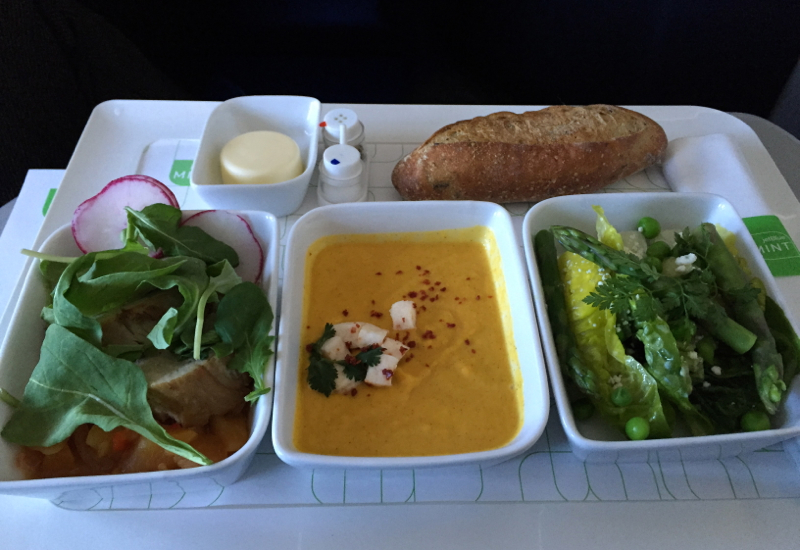 For dessert, I had organic chocolate ice cream which was very light and fluffy, which went nicely with the peppermint tea I had ordered. The dessert also came with a fruit plate of watermelon, pineapple, melon, and a few blueberries, which was mediocre.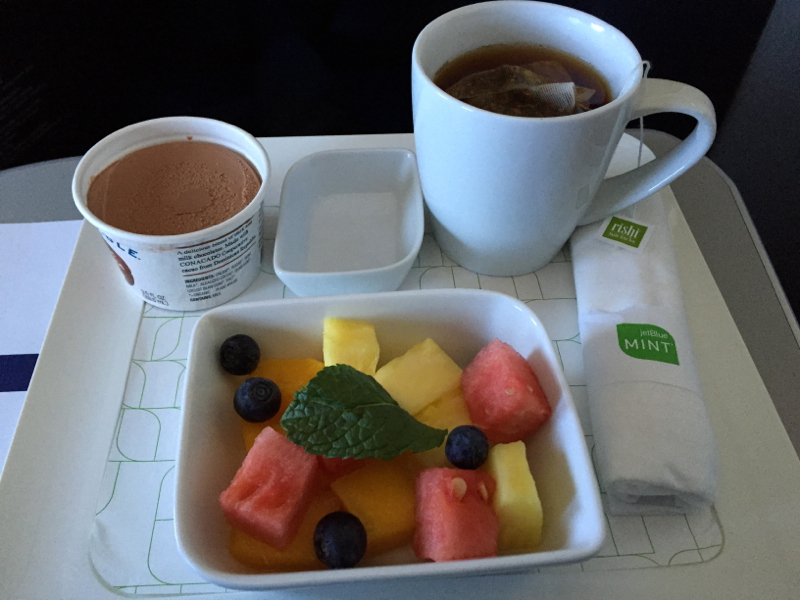 Toward the end of the flight, we were served a marshmallow treat and granola/oatmeal bar from the Mah-Ze-Dahr bakery in San Francisco.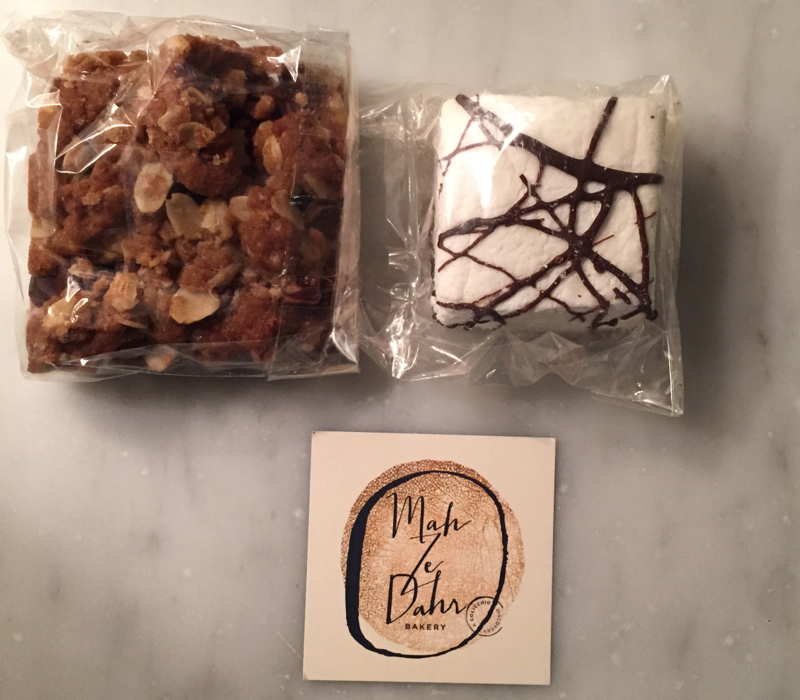 JetBlue Mint Flat Bed and Comfort
As I mentioned before, the seat in the reclining position is a very snug fit. Only your body from the thighs up is given open room; from the thighs down your legs slide inside the tube-shaped leg area in front of you. I had the distinct and unpleasant recollection of sliding inside an MRI machine as my seat fully extended and my legs slid inside the tube. Once I was in position, the flatbed was not too bad, but of course it was rather hard and small compared with international service. I had no trouble taking a nap, but if I wanted to roll from one side to the other I had to maneuver very carefully due to the cramped leg-tube. To be fair, the seat, at 6'8″ was at least long enough for me, and I'm 6'5″.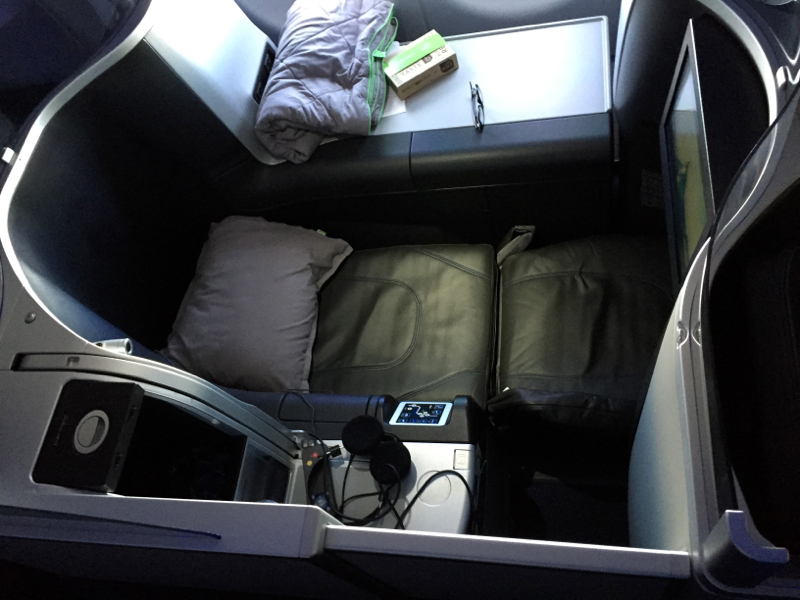 JetBlue IFE
The film selection was much more limited than an international flight, but there was a good selection of quality, contemporary American films.  I watched Birdman, Foxcatcher, and Into the Wild. The cabin rather noisy because it was a daytime flight and the crew can be chatty, but the headphones worked well to cancel any noise and I felt nicely secluded when I shut the sliding compartment door.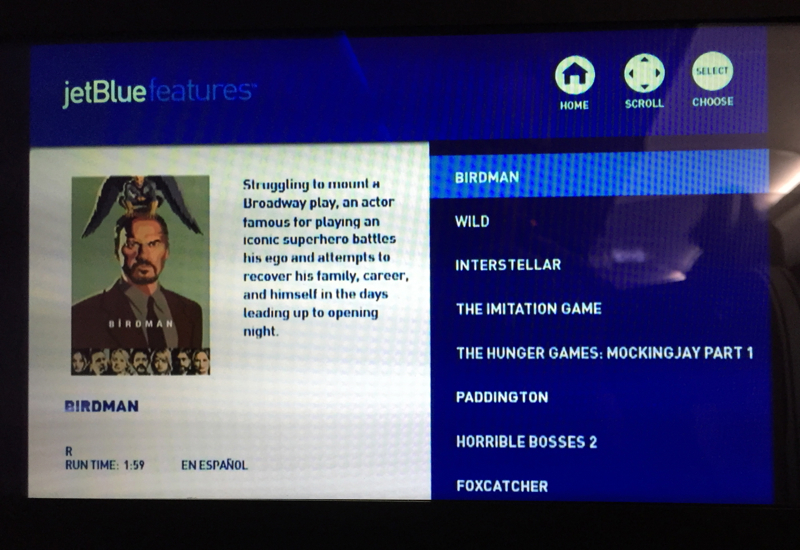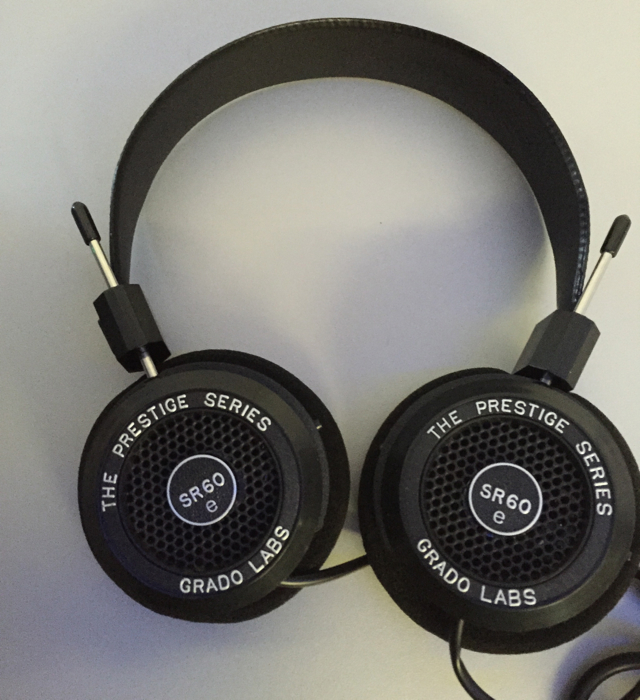 JetBlue Mint Service
The service was certainly nowhere close to the standard of an international first class flight.  But the Jetblue flight attendants were always friendly and courteous. I am never very interested in chatting with the crew, who respected this choice, but still remained helpful.
The Verdict
If you find long-haul US domestic flights, from SFO to NYC for example, too uncomfortable because you need a flat-bad seat, then this Jetblue service is for you. But aside from the flat-bed seat, there is nothing particularly special or compelling about this product, though no doubt it is along with AA's First Class one of the best ways to fly coast to coast given the state of U.S. domestic air travel these days. It is simply a more humane way to fly coast to coast without losing out on sleep, if a flat-bed seat is what you need in order to get some quality sleep.
If you've flown JetBlue Mint, what was your experience?
Related Posts
JetBlue Mint Private Suites and Flat Bed Seats Now on Sale
Review: Airspace Lounge at JFK Terminal 5 Before a JetBlue Flight
JetBlue: New Private Suite on A321 Unveiled
JetBlue Family Pooling Account: How It Works
Top Transcontinental First Class and Business Class Awards
Need Award Booking Help? Our fee is as low as $75 per ticket if you book your hotel through us.
If you enjoyed this, join 200,000+ readers: please follow TravelSort on Twitter or  like us on Facebook to be alerted to new posts. 
Become a TravelSort Client and Book 5-Star Hotels with Virtuoso or Four Seasons Preferred Partner Amenities!