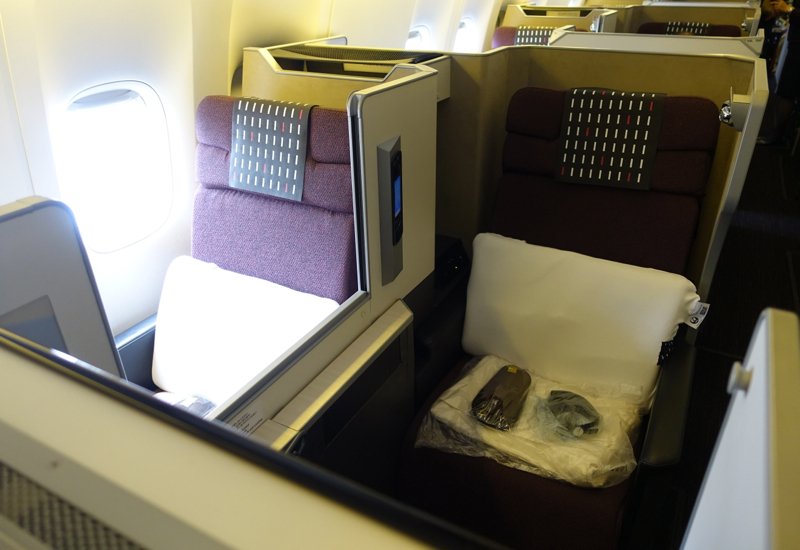 This Japan Airlines (JAL ) Sky Suite Business Class Review from Tokyo NRT to New York JFK on a 777 is part of a trip report including Qantas First Class, British Airways Business Class, Cathay Pacific Business Class, and luxury hotels and dining in London, Dubai, and Hong Kong.
For the previous posts, please see:
Review: British Airways Concorde Room Lounge NYC JFK Terminal 7
Review: British Airways Business Class on the 747-400 JFK-LHR
Best Seats in British Airways New First Class 747-400
Review: British Airways Arrivals Lounge in LHR and Heathrow Express to London
Launceston Place London Restaurant Review
London Tips: British Museum with Kids
Review: Rivea at Bulgari London Hotel
Review: British Airways First Class Lounge London Heathrow Terminal 3
Qantas First Class A380 Review London to Dubai
Review: Atmosphere Lounge at the Burj Khalifa Dubai
Armani Hotel Dubai Photos and Virtuoso Client Review
Dubai Fountain by Burj Khalifa Photos and Video
Review: British Airways Galleries Lounge in Dubai (DXB)
Cathay Pacific Business Class Review A330-300
Review: Lung King Heen at Four Seasons Hong Kong
Review: The Upper House Hong Kong
Review: Cafe Gray Deluxe at The Upper House 
Amanpulo Menus and Restaurant Review
Amanpulo Activities: Top 7 Things to Do
Review: Plaza Premium Lounge Hong Kong and Sleeping Room
We were ready to fly home from Tokyo to New York, and hopefully get some good sleep on the way, in JAL Sky Suite Business Class on the 777. Some consider this the best airline business class product currently, so I was excited to try it.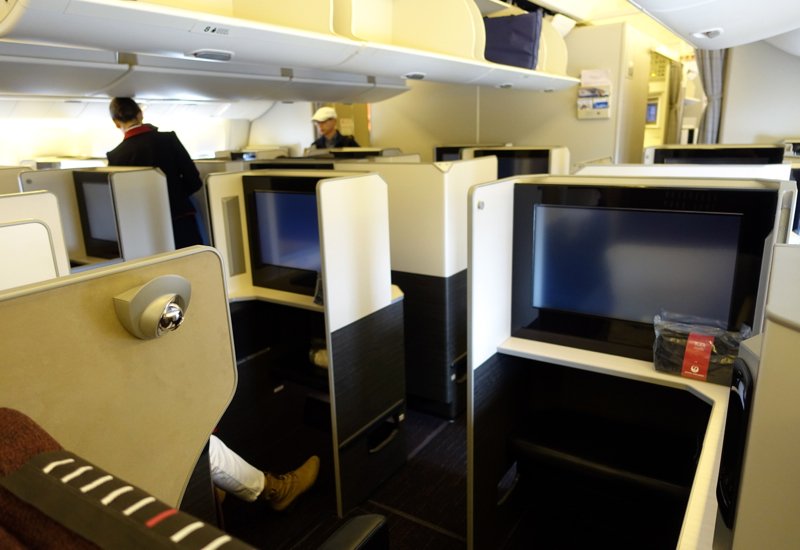 JAL Sky Suite Business Class Seat Selection on the 777
JAL Sky Suite Business Class is in a slightly staggered 2-3-2 configuration, such that each passenger has direct aisle access. Since even the window Sky Suites and the middle Sky Suite of the 3 in the center of the cabin have direct aisle access, I highly recommend that you *not* choose an aisle Sky Suite since they're more exposed and subject to disturbance by foot traffic in the aisles.
In fact, the only Sky Suites I recommend choosing are window Sky Suites, which is what I did for my son and me–we opted for 8K and 9K, window seats one in back of each other. Each window Sky Suite has 3 windows and very private–a real step up from most international business class.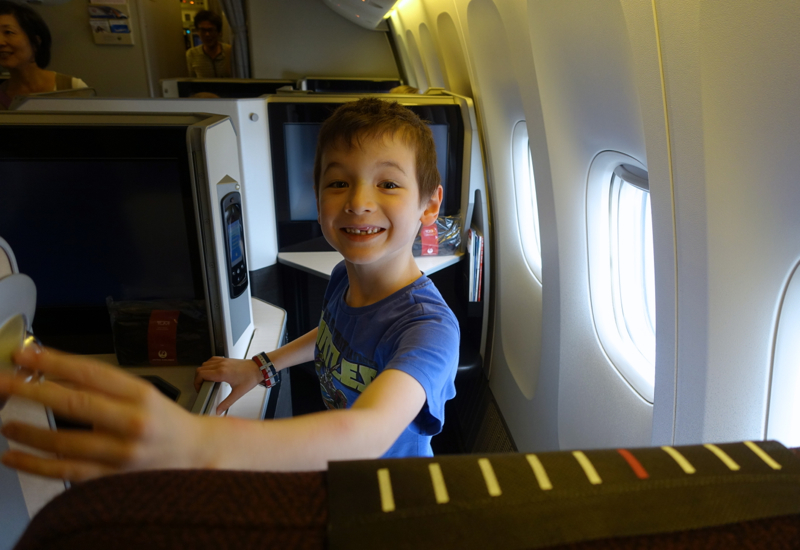 JAL Sky Suite Business Class Seat
As you'd expect from a 2-3-2 configuration, JAL Sky Suite seats are fairly narrow (25.5 inches in width) but offer tons of leg room. The fabric upholstered seat doesn't feel as luxurious, as say 
Singapore New Business Class
, with its wider design and sleek leather seats.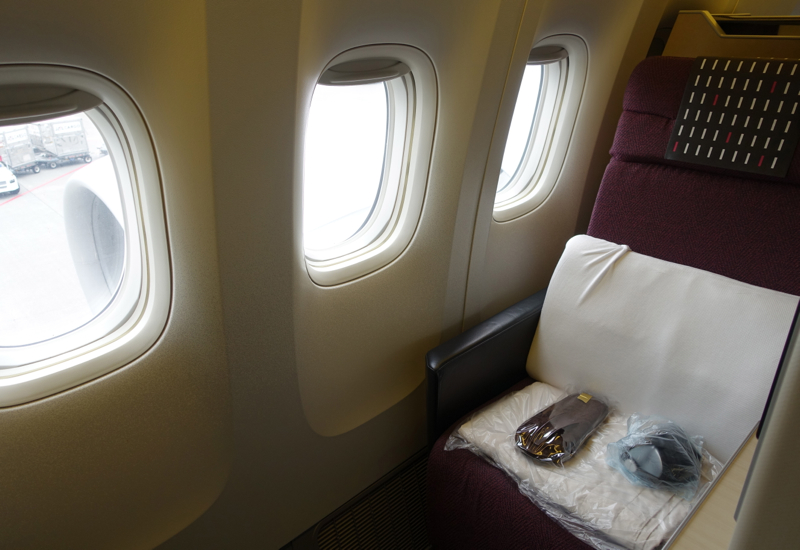 Seat controls are intuitive and were easy to operate.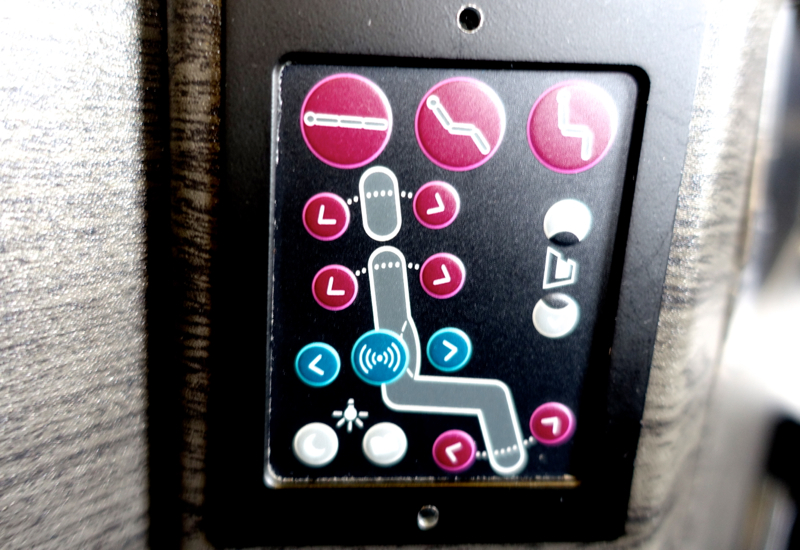 While I didn't have occasion to use it, it's possible to order food and drink through the touch screen interface that also offers the entertainment options, flight map, etc.: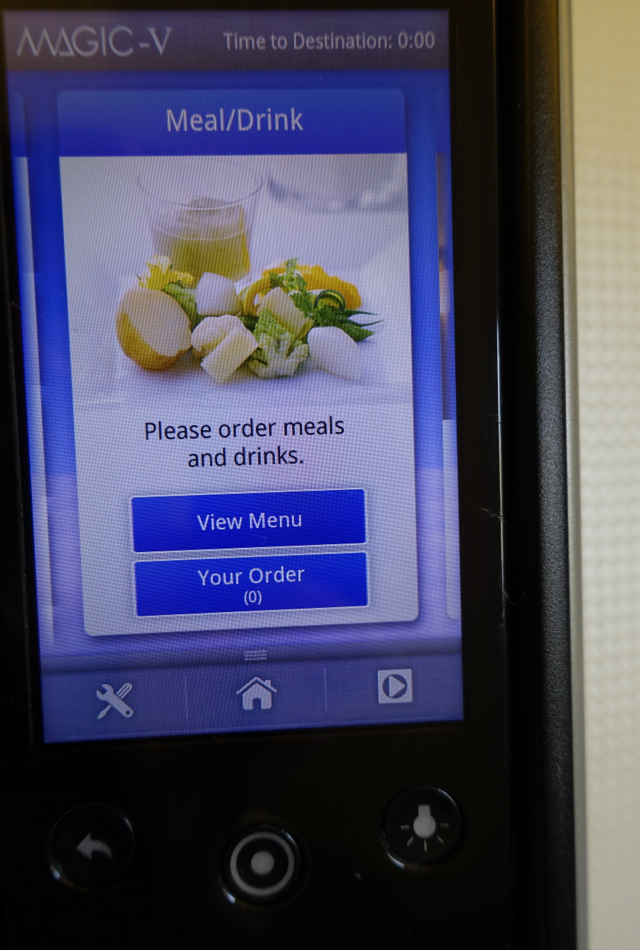 The LCD monitor is 23 inches, which is the same as in JAL First Class and one of the largest in business class (Singapore New Business Class has an 18 inch screen) and the ottoman below the screen, which forms part of the fully flat bed, offers storage space during the flight.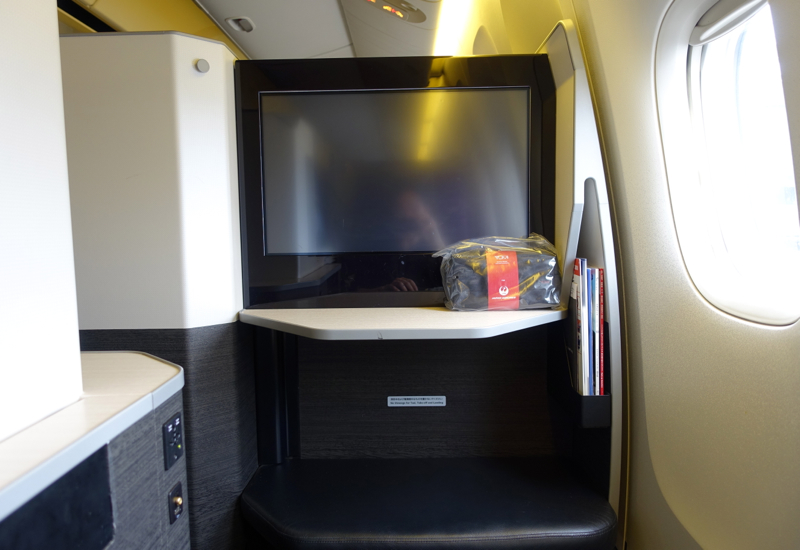 JAL Business Class Tumi Amenity Kit
Business Class amenity kits are usually very basic (recall that British Airways' Elemis amenities were in a simple fabric pouch) so JAL's presentation in a TUMI amenity bag was a nice touch, even though the products themselves were similar to what you get on many international business class flights. The only TUMI branded part was the sleep mask, and the other inclusions were a toothbrush/toothpaste, ear plugs, chap stick, tissues and some kind of Japanese moisture mask.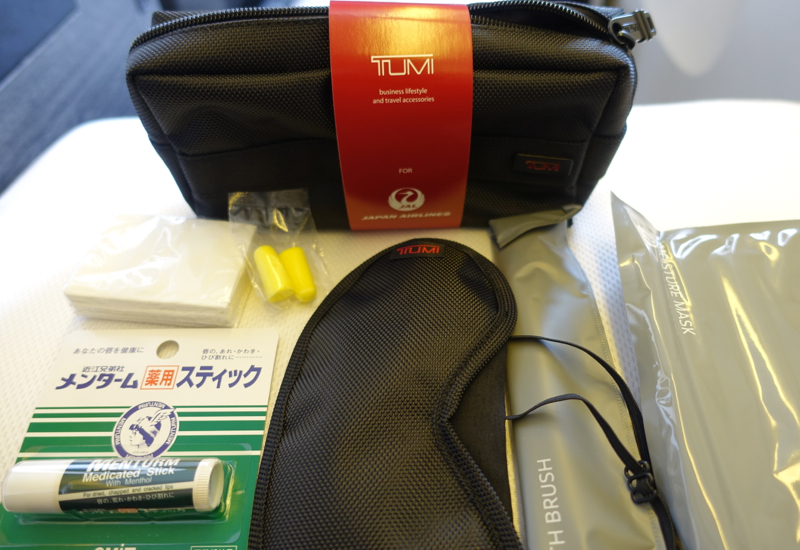 In addition to the amenity kit, slippers were provided (I would have been very surprised if they were not, on a Japanese airline, given how important slippers are in Japan):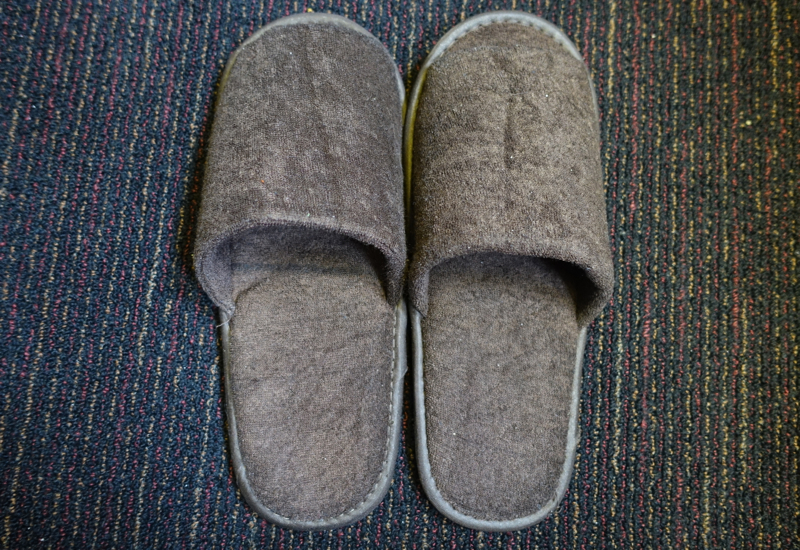 JAL Business Class Menu and Food
I'd heard great things about Japan Airlines food, so I was at least as excited about the Japanese food as about the prospect of getting several hours of uninterrupted sleep.
Prior to pushing back, we were offered a pre-flight drink, for which I chose orange juice.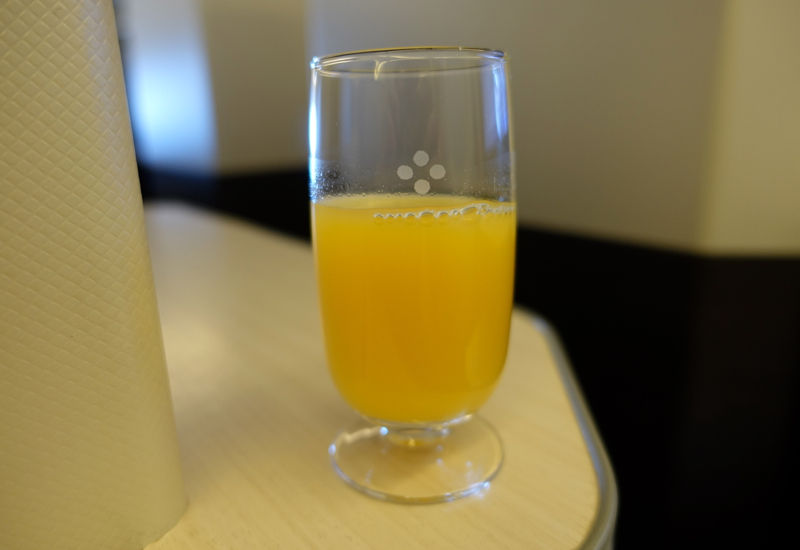 A hot towel was also offered, which came in a little holder rather than being handed to you, and we were given a menu.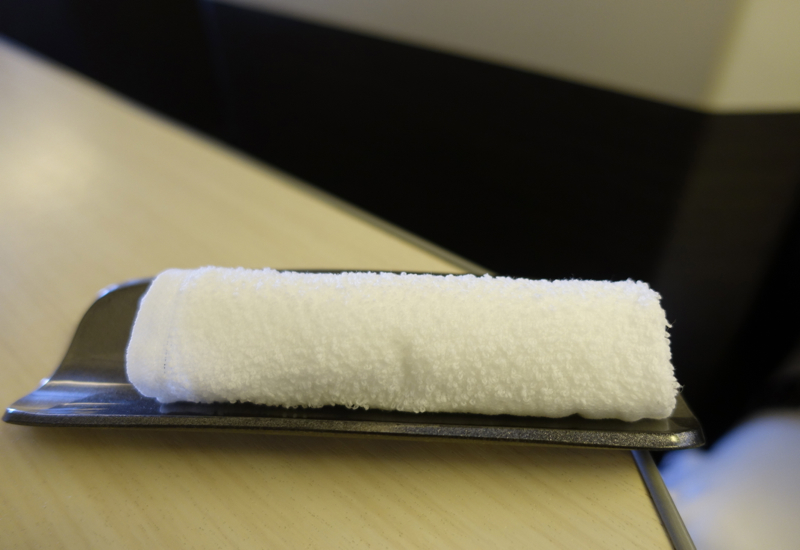 Here's the Japanese lunch menu: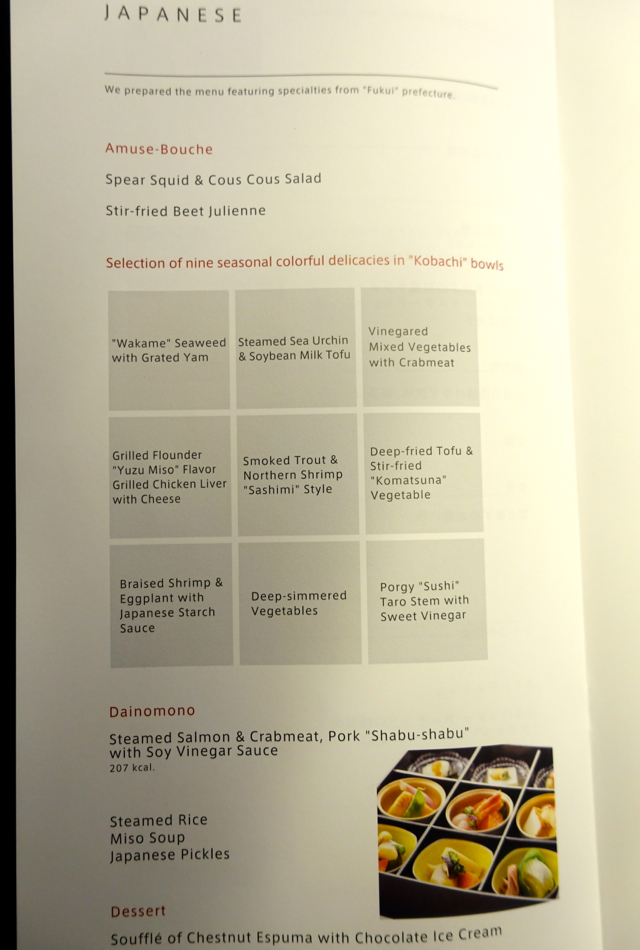 And the Western lunch menu: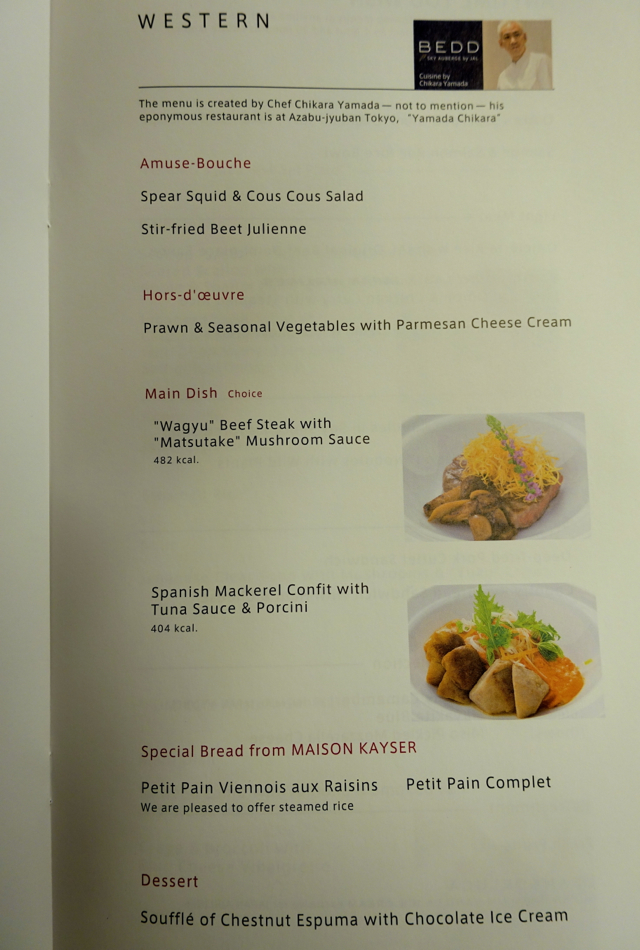 I chose the Western menu for the munchkin, with the Wagyu beef steak as an entree, but the Japanese menu for me. Both started with the same amuse bouche: Spear Squid & Cous Cous Salad and Stir-fried Beet Julienne. I can't say that either was impressive–I would have expected something more tasty and interesting, although at least the beets were probably very healthy.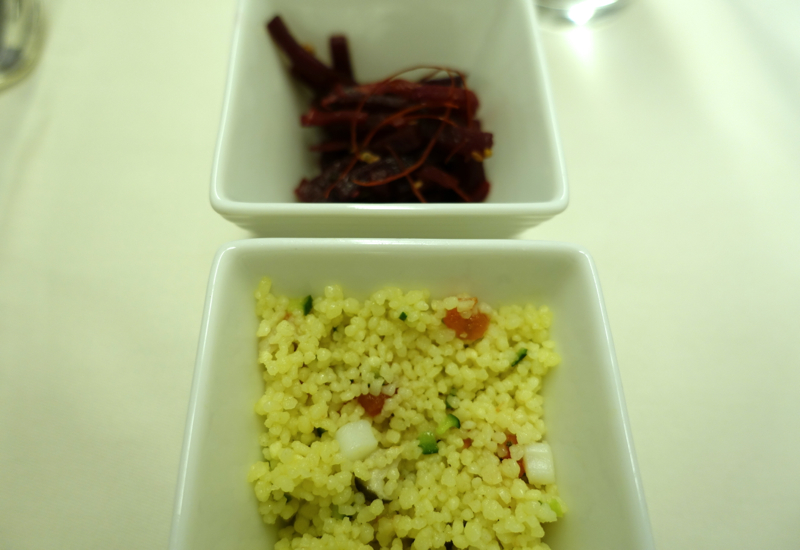 The selection of nine seasonal delicacies in Kobachi bowls that served as the appetizer for the Japanese menu was visually stunning, and unfortunately my photos don't do justice to them.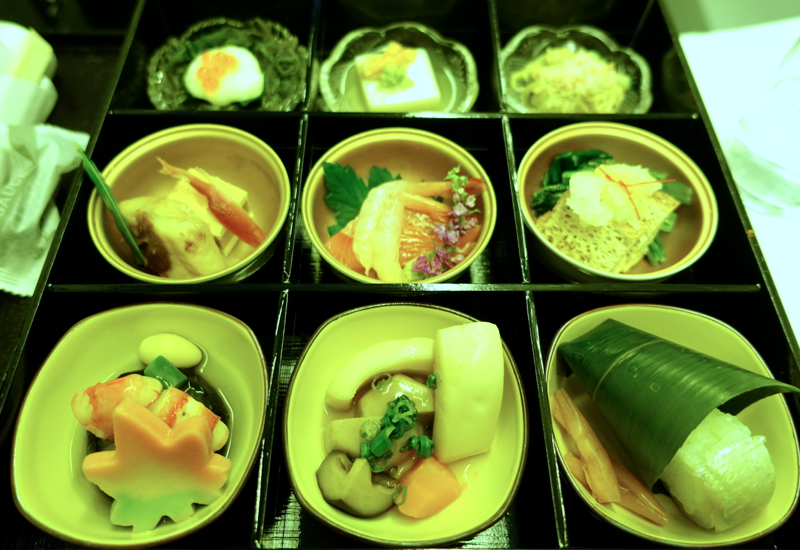 Notwithstanding the beautiful presentation, I can't say I liked all of them, even though I love Japanese food, having lived and worked in Japan for a year. I'd say my favorite was the Smoked Trout and Northern Shrimp Sashimi Style:
I also enjoyed the Sea Urchin (uni) that accompanied the tofu. Sure, I've had better uni at sushi restaurants, but where else in business class are you served sea urchin?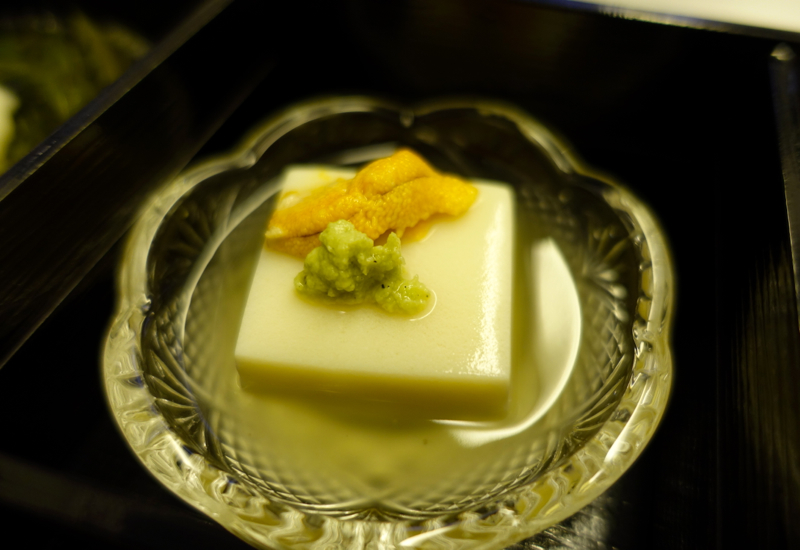 After that beautiful appetizer set, the main dish of Steamed Salmon & Crabmeat was very lackluster, and I didn't finish it, although I did enjoy the miso soup: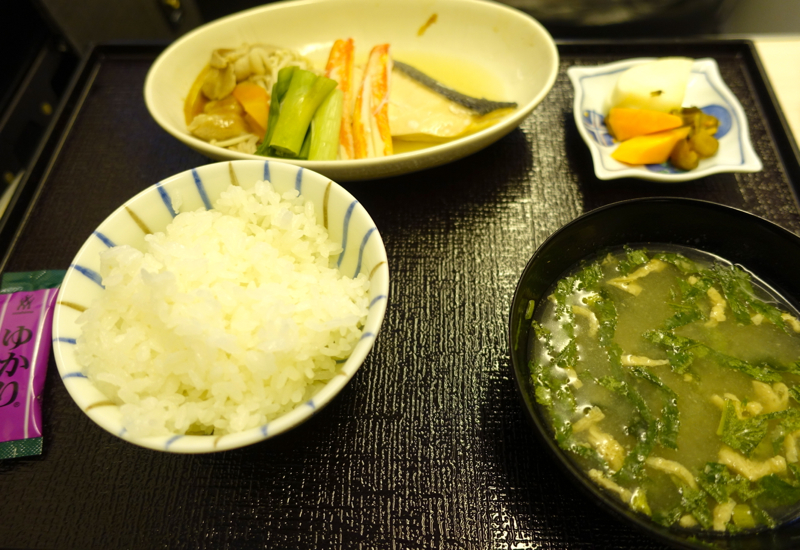 The true fail, however, was the ostensible "Souffle of Chestnut Espuma with Chocolate Ice Cream." Sounds great, right? Well, this is what it looked like, and it was also frozen rock solid. You would have needed an ice pick initially to eat this, so I had to wait a long while before it softened slightly. A disappointment, and considering that Tokyo has a discerning dessert scene, with outposts of pastry lumineries such as Pierre Herme, I would have expected a better dessert than this.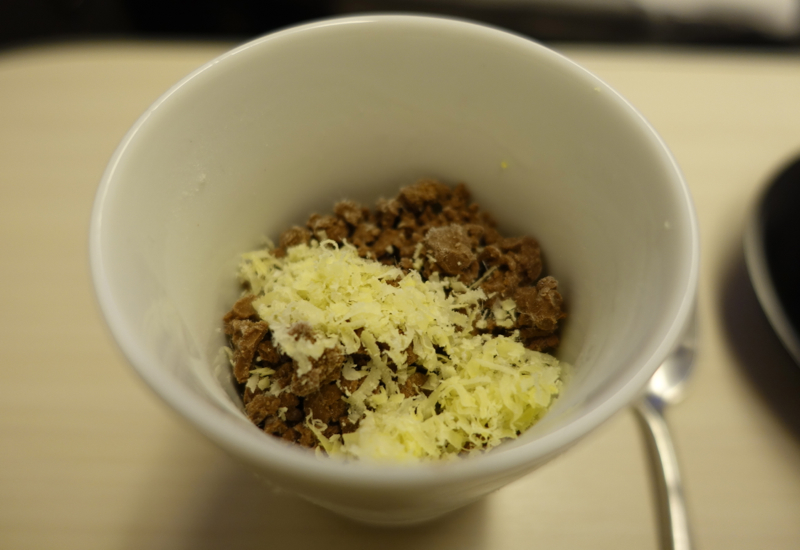 After a good sleep (more on the JAL Sky Suite bed below) I did some work, then was in the mood for a snack a couple hours before we were to land. I perused the Anytime Menu and the Light Meal Menu: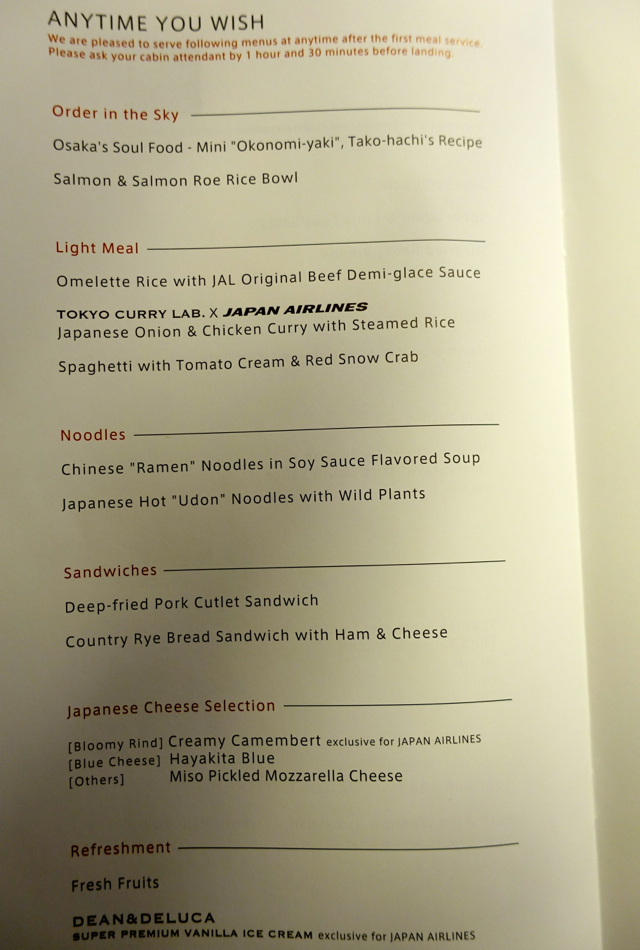 I asked one of the flight attendants if I could have the Okonomiyaki from the Anytime Menu and the Scallop dish from the Light Meal Menu, along with some Dean & Deluca vanilla ice cream, and she was happy to oblige.
Okonomiyaki is one of those Japanese street foods, along with Takoyaki, that I loved to get at street fairs when living in Japan. I haven't found a great source for it in NYC, but I'm sure there probably is one near St. Mark's Place. This mini version lacked of course the crisp crust of a freshly made version, as to be expected from needing to be reheated on an airplane, but the sauce and condiments accompanied it, so at least much of the flavor came through, even if the texture wasn't great.
The seared scallop similarly suffered a bit since of course it wasn't freshly seared, but the scallop sashimi with salmon roe was excellent.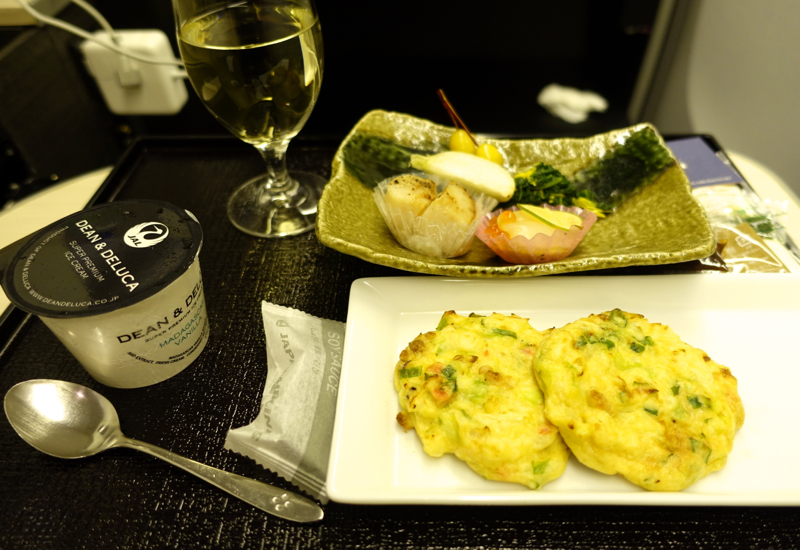 Fortunately, this time round the dessert didn't require an ice pick to eat–the Dean & Deluca vanilla bean ice cream was the right consistency to eat with the provided spoon, and delicious, even if I would have preferred more variety in terms of dessert choices (it was vanilla ice cream or fresh fruits).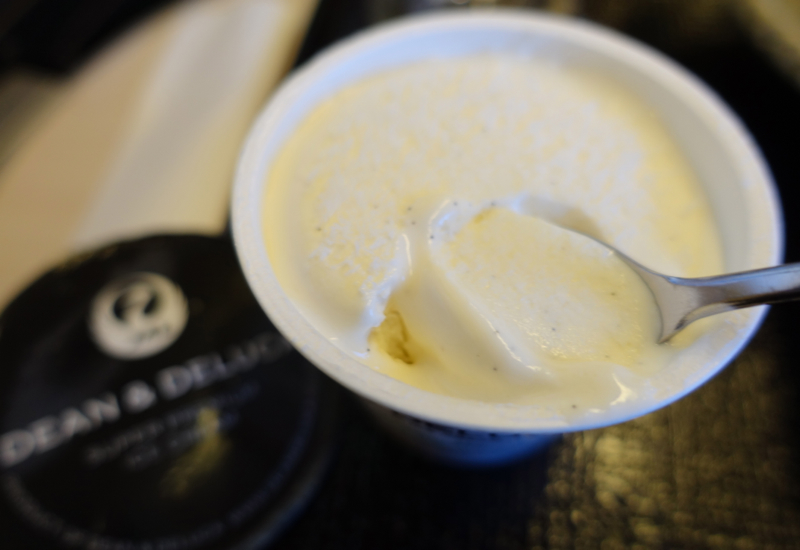 Since I wanted my son to get as much rest as possible, I let him continue to sleep, and simply got some Maison Kayser bread to take with me for him on the ride home from JFK. Now, if only JAL would cater some Maison Kayser desserts, in addition to the delicious bread…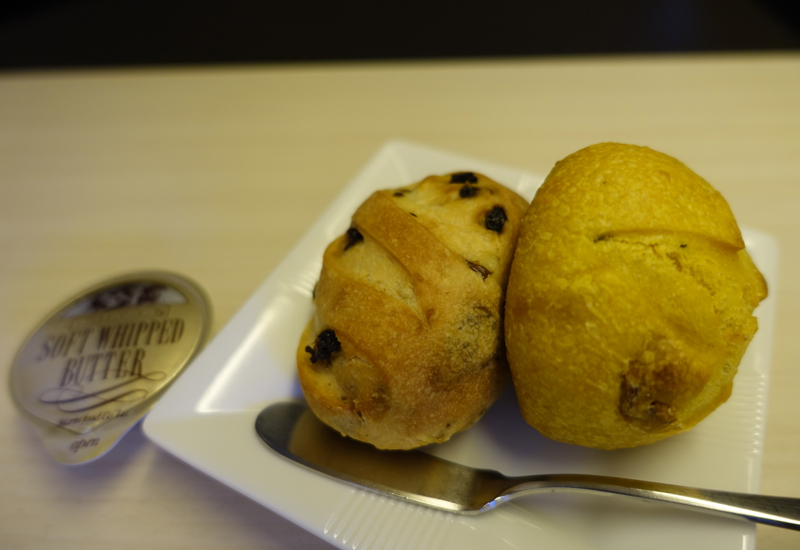 JAL Sky Suite Business Class Bed and Sleep Quality
Ironically, given how much I was looking forward to trying the JAL Sky Suite bed, I was too tired for my long sleep to go find the JAL airweave mattress topper to make up the bed properly. Even so, I slept a pretty solid 6 hours, I was so tired. So this is how the bed looked the first time: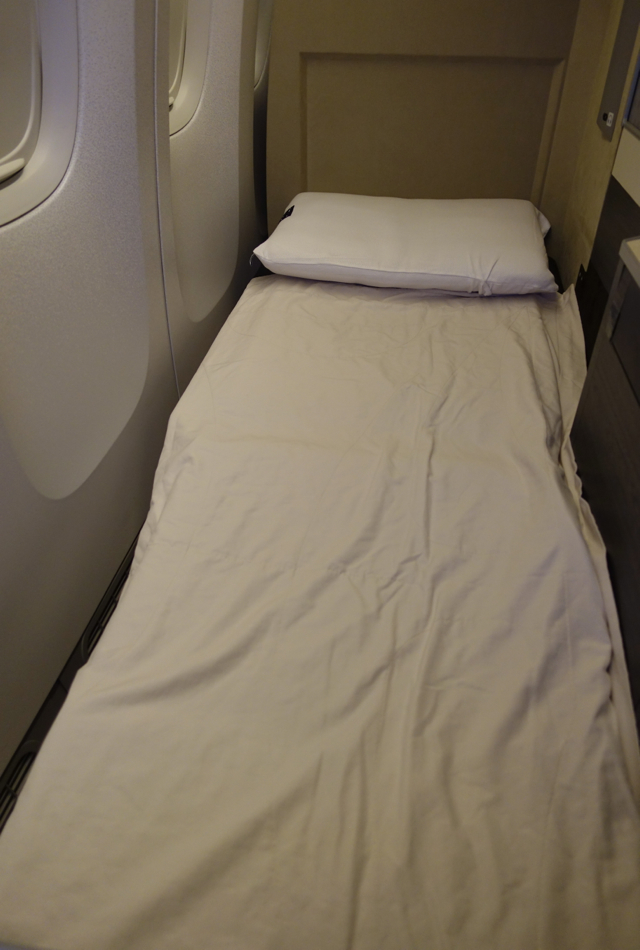 I should have, though (note that the mattresses are located in one of the overhead bins), because when I finally got the airweave mattress on top, it was easily the most comfortable business class bed I've slept in. Most business class seats don't even offer a mattress pad, and even many first class mattress pads are thin and flimsy. The airweave memory foam product is great, and the only mattress pad I've experienced that is equivalent or better is the Singapore Suites memory foam mattress pad.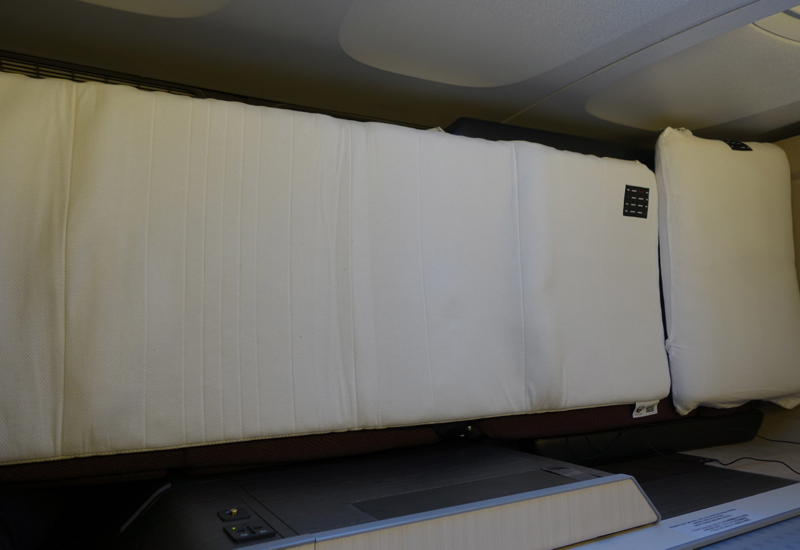 The only issue some will have with JAL Sky Suite Business Class beds is that they may not be long enough for tall passengers, at 74 inches. That's not long enough if my 6'5 husband wants to stretch out, although if you normally sleep on your side with your knees bent, it could still work.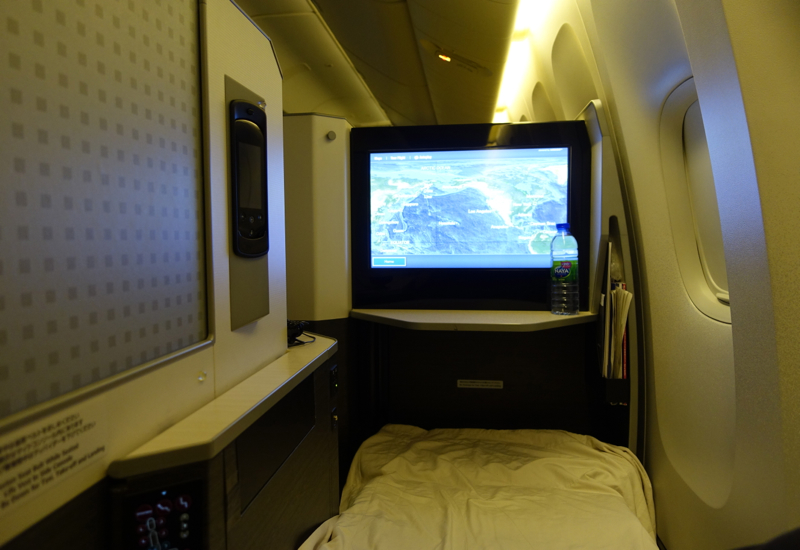 JAL Business Class Service
I always tell my clients that Business Class is all about the bed and hard product, it's not where great service is at–attentive service these days is usually only the purview of first class. So I'm not picking on JAL Business Class when I say that service was perfunctory, since that's pretty much what you can expect, and I don't fault them for it given the number of passengers.
Other than the initial passing out of menus, pre-flight drinks and hot towels and clearing away meal trays, I'm hard pressed to remember any pro-active thing a flight attendant did–I needed to find an attendant for anything I needed. Then again, perhaps it's just a style difference–you're expected to simply use your flight attendant call button and order food/drinks via the IFE.
The Verdict
While I've had friendlier and more proactive service in Singapore Airlines Economy Class, I give full marks to JAL Sky Suites Business Class for its terrific hard product. I love the 3 windows and privacy of the Sky Suite window seat, and with the airweave mattress, I view it as the most comfortable business class bed in the sky, at least if you fit within its size parameters.
The food was a bit disappointing, but that's mainly because I had high expectations–probably unrealistically so, given that this is, after all, still business class. Overall, a top notch business class product assuming you can get a window Sky Suite.