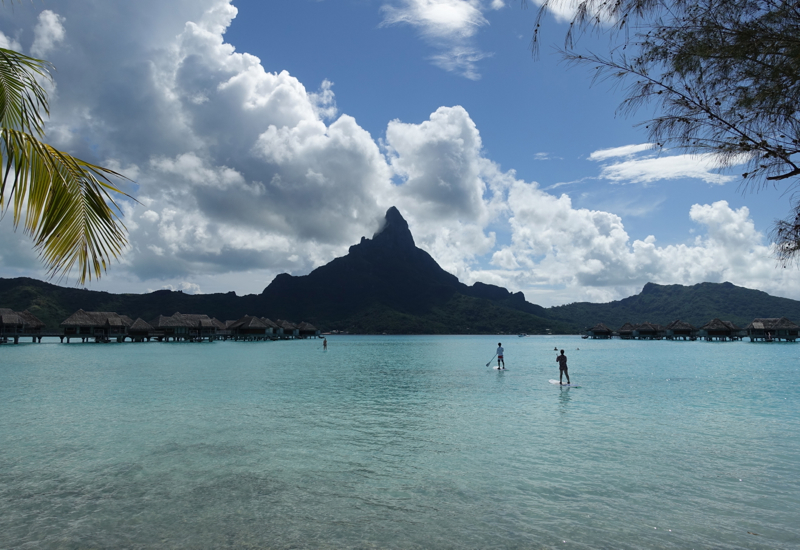 This InterContinental Bora Bora Thalasso Review is part of a new trip report on Bora Bora and Tahiti luxury resorts, dining and activities. For the prior posts, please see:
Review: American A321 Business Class New York to Los Angeles
Paradise! Can You Guess the Place?
Review: Residence Inn by Marriott LA
Review: Los Angeles International Lounge
Review: Air Tahiti Nui Business Class
A Must in New Zealand: The Farm at Cape Kidnappers, Hawkes Bay
Review: American Airlines A321 First Class JFK to LAX
Four Seasons Bora Bora Restaurant Reviews and Menus
Four Seasons Bora Bora: Top 10 Things to Do
Since I have clients ask me about both the Four Seasons Bora Bora and the InterContinental Thalasso, I thought it would be helpful to stay at both of them, so as to have an informed opinion about both Bora Bora resorts. Note that the InterContinental Bora Bora Thalasso is not a Virtuoso property, so no Virtuoso amenities apply. Those who have Ambassador status are supposed to receive a guaranteed upgrade, although during peak occupancy times such as our stay dates, I doubt these would have been possible, certainly not to the Diamond Otemanu Bungalows, since there are so few of them.  I do always recommend reserving with TravelSort or other luxury travel advisor, since in the event your stay doesn't go as hoped for, your advisor can help to get your stay back on track or help with goodwill compensation so that you can spend less of your time problem solving on vacation.
Also note that starting September 1, 2016, the resort will be constructing four 2BR overwater villas with private pools at the end of its 4 pontoons, and these are slated to be available by June 2017. Most of the construction is due to take place September – December 2017, so you may want to avoid stays during that time if possible.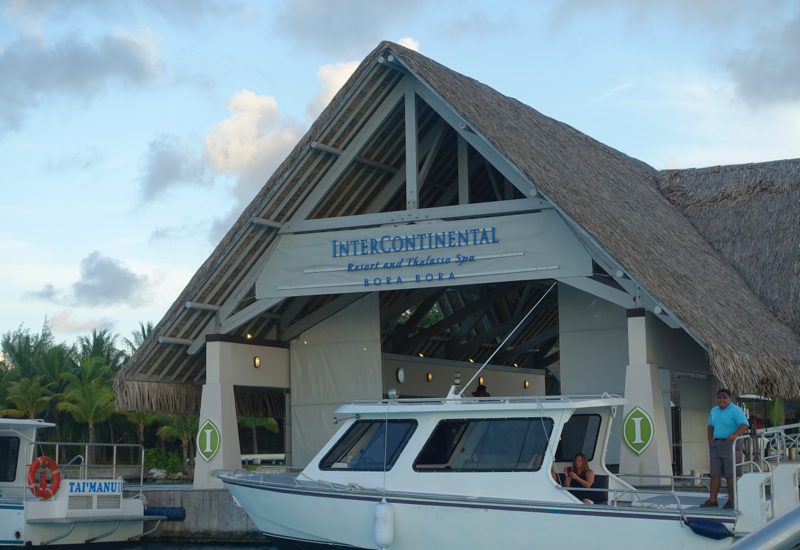 InterContinental Bora Bora Thalasso Location and Check-In
The InterContinental Bora Bora Thalasso is located about a 20 minute boat ride from Bora Bora Airport (BOB). The round trip transfer cost is XPF 12,785 (~$122) per person, at time of writing.
Since we were transferring from the Four Seasons, however, the Four Seasons was kind enough to take us there in one of their boats, and it's only about a 5 minute ride from the Four Seasons.
We alighted at the boat jetty, greeted by a man in Tahitian attire blowing a conch shell, and were taken in a buggy to reception, where I completed our paperwork and we were offered cool towels and a welcome drink, which turned out to be iced tea. My son made a face, not having acquired a taste for tea yet, and it was too sweet for me, but my husband drank some of his–he's more of an iced tea fan than I am.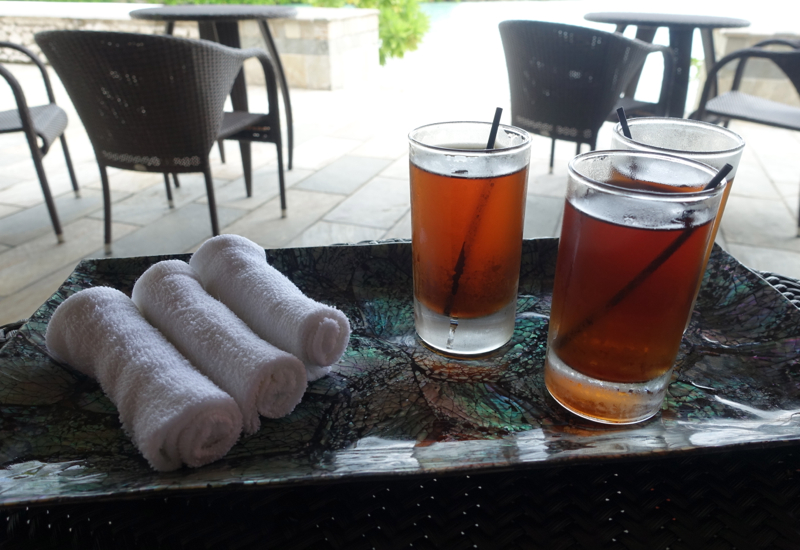 InterContinental Bora Bora Thalasso Emerald Overwater Villa
Most of the InterContinental Bora Bora Thalasso Overwater Villas are each 100 square meters, or 1076 square feet; the difference in pricing is the view. We were in the entry level Emerald Overwater Villa, which faces the resort's beach, although has the benefit of being a shorter walk to the main resort and restaurants. It was still the same lovely water color you see around Bora Bora, although not of course the majestic view of Mount Otemanu we were treated to at Four Seasons Bora Bora.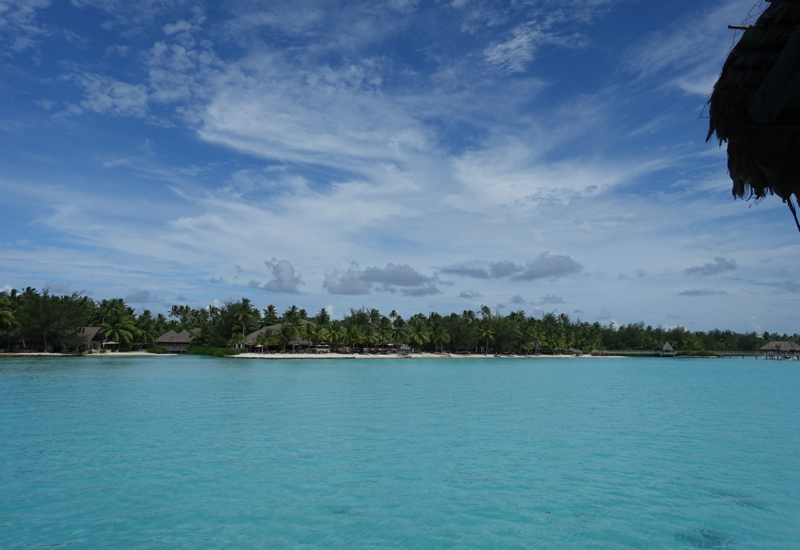 As we entered, there was a table with an empty basket. It looked like a fruit basket, without any fruit, but perhaps it was just decorative and not meant to hold fruit.
The resort had provided us a nice bottle of champagne and cakes in honor of our 10th wedding anniversary, atop a glass coffee table with a view of the ocean below. The coffee table was perhaps our favorite part of the InterContinental Villa, although the water was so shallow we didn't see any marine life below us.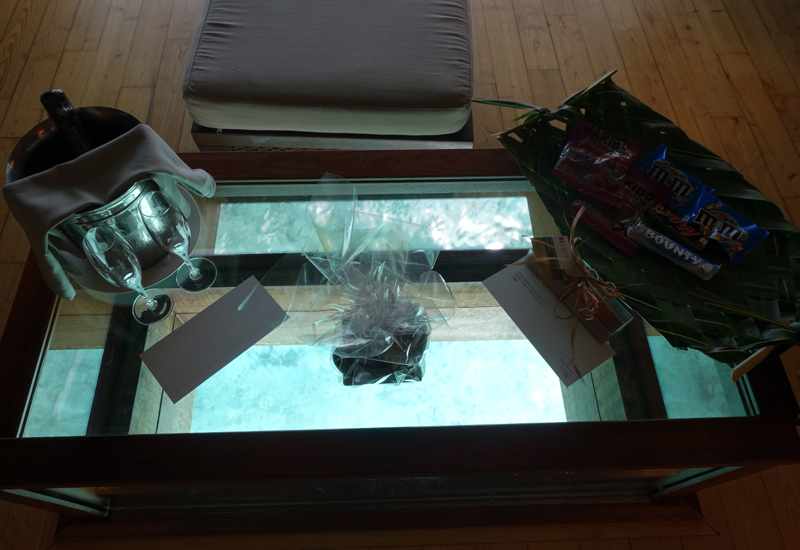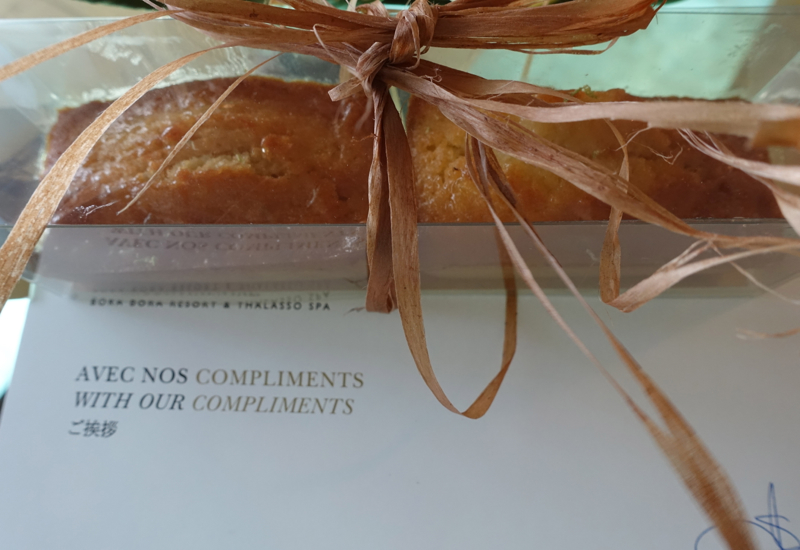 Kids' welcome amenities for our son were candies, which we quickly removed and stashed. We're not opposed to him having sweets or even candy sometimes, especially as I have a sweet tooth myself, but M&Ms and Bounty bars are not what I consider high quality treats, although then again, the snack basket of Mars bars, Pringles and other junk food in Emirates First Class also seems weird to me. I did find it strange that there was no fresh fruit provided at all.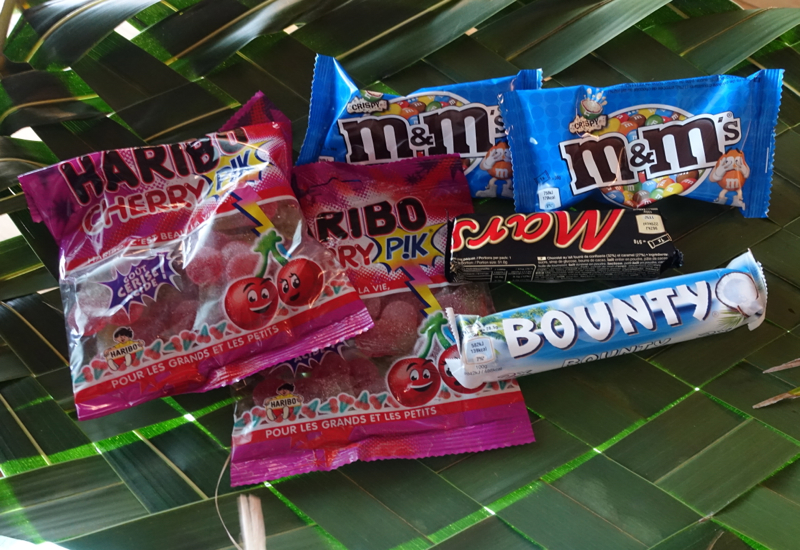 The living room was ample enough for our family meals when we did have room service, although we all had to sit around the coffee table as opposed to having a larger table on the deck or inside. The sofa cleverly had a trundle bed that was taken out to make our son's bed.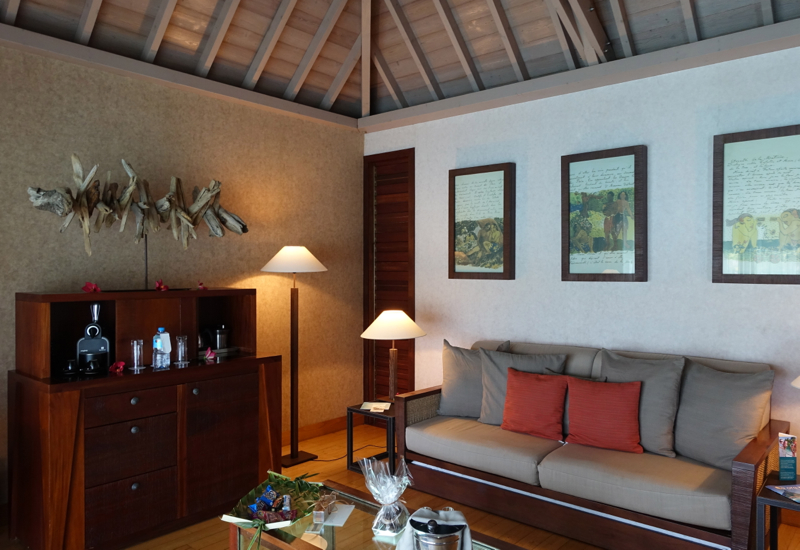 Initially I was happy to see a Nespresso Machine, but then was unpleasantly surprised to see that the resort was actually charging XPF 400 per Nespresso pod (see Luxury Hotel Charging for In-Room Coffee?) I've never seen a luxury hotel or resort try to charge for Nespresso before.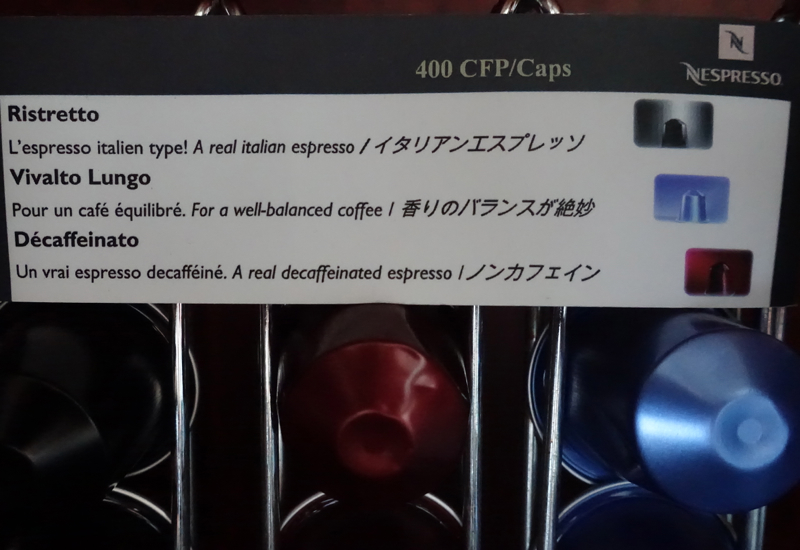 The bedroom was separated only by a curtain, so it wouldn't have worked well to try to watch a movie while our son was sleeping, due to the sound. We slept quite well, even though the bed was a bit firmer than we prefer. The air-conditioning worked well in keeping the villa cool, although it was quite noisy.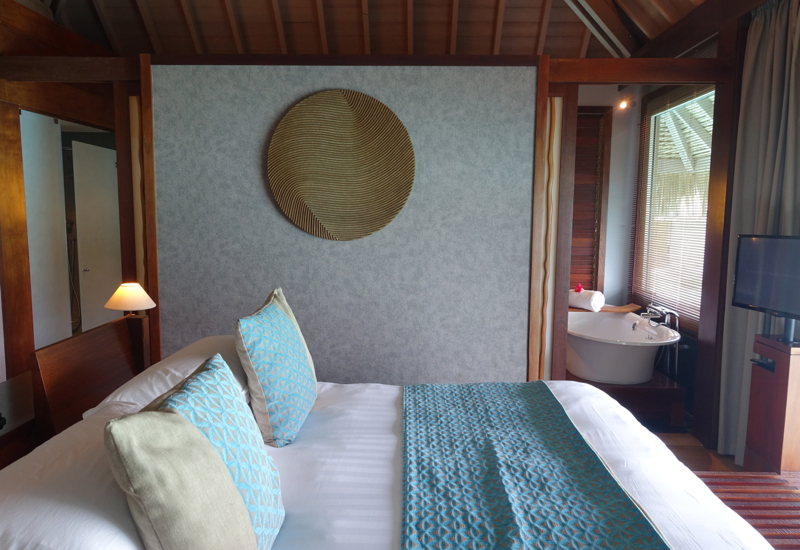 The bathroom featured dual his and hers sinks, a stand alone bathtub, and a walk-in shower.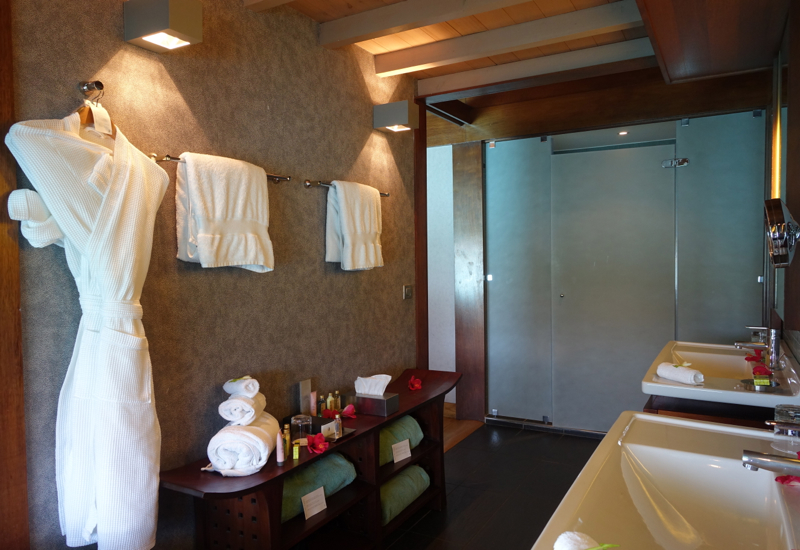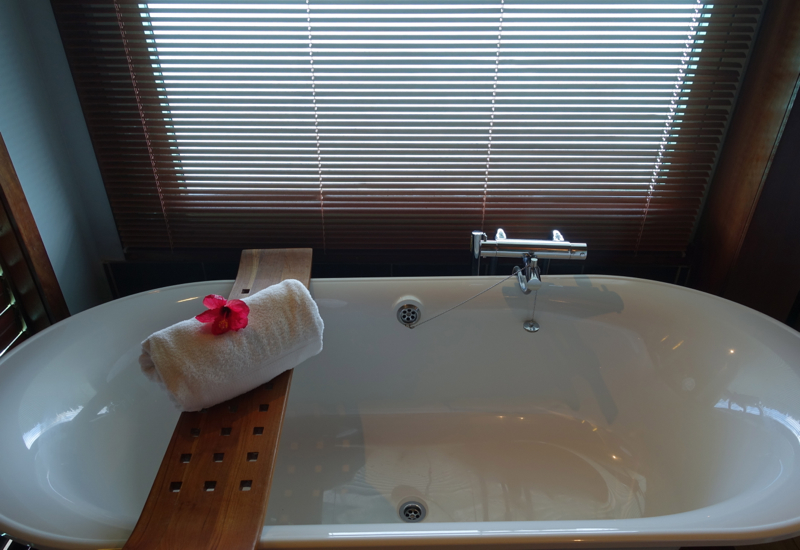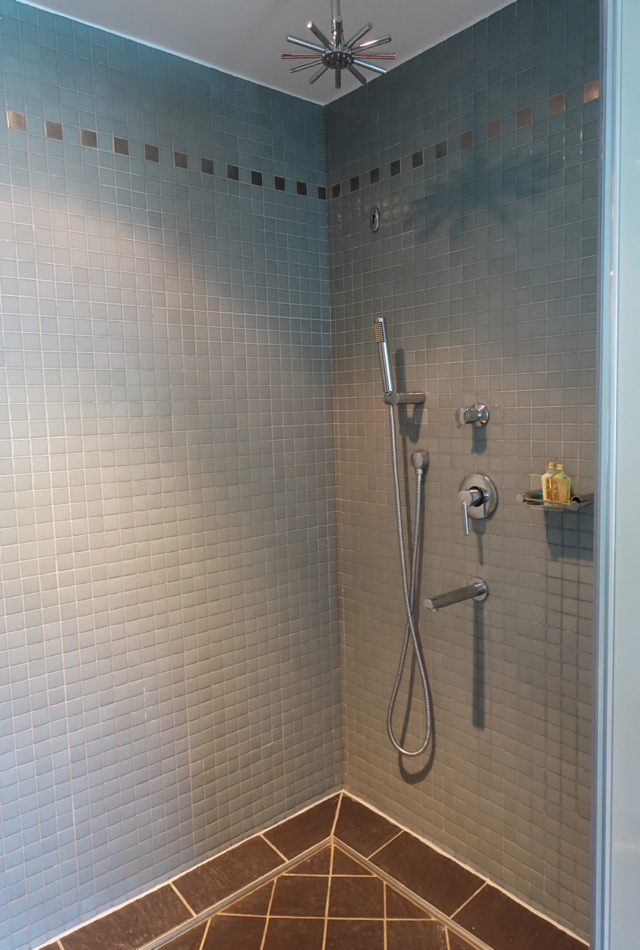 Bath products were by Algotherm, which is the third party that runs the InterContinental Bora Bora Thalasso's Deep Ocean Spa.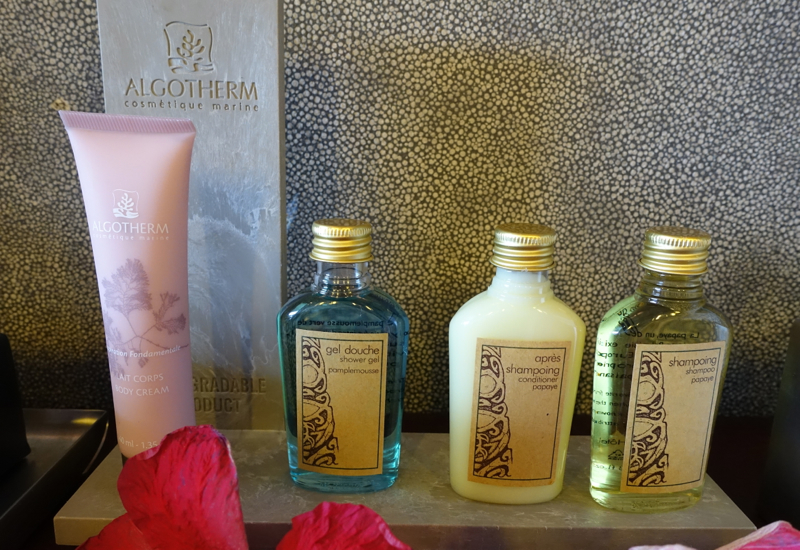 Everything worked well, but I was put off by the mildew in the grout of the shower. I know it's a humid climate, but this is an issue that needs addressing, particularly when aiming to provide a luxury product.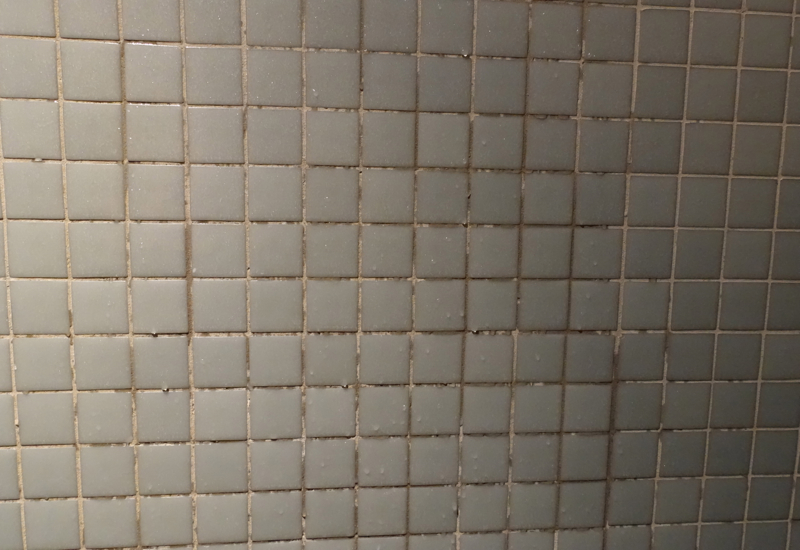 InterContinental Bora Bora Thalasso Beach, Pool, Lagoon and Views
A big attraction at the InterContinental Bora Bora are the even closer views of Mount Otemanu, which we enjoyed from the shore both during the day and at sunset: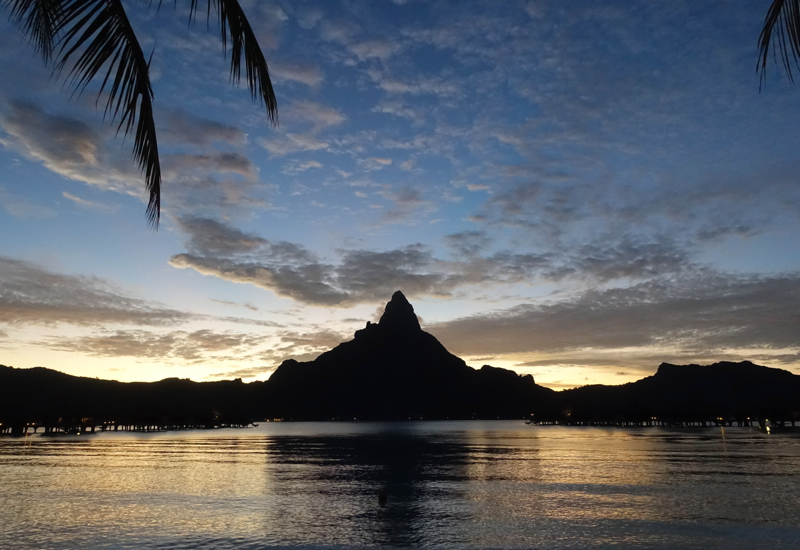 The beach sand itself is rather gritty, so I'd recommend water shoes or Tevas if entering it or wading, for example when looking at the stingrays around their daily 2pm feeding time.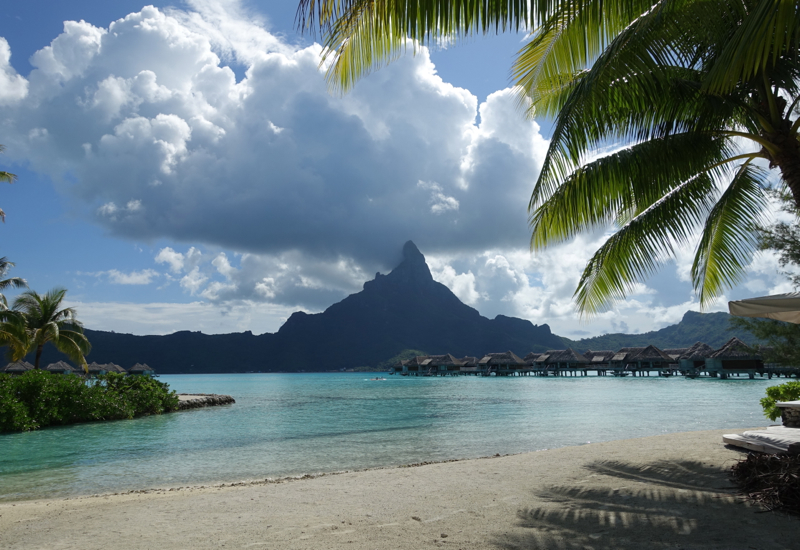 My son enjoyed the main pool when he went, and found other kids to splash around with.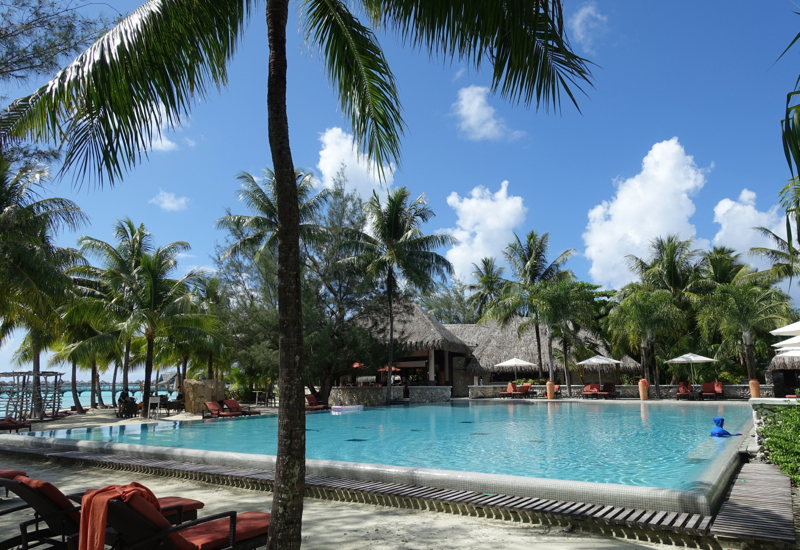 There's a lagoon near the chapel that's supposed to be one of the better places to snorkel with fish, although I didn't see any when I went there. No matter, since we had organized off-site snorkeling and diving.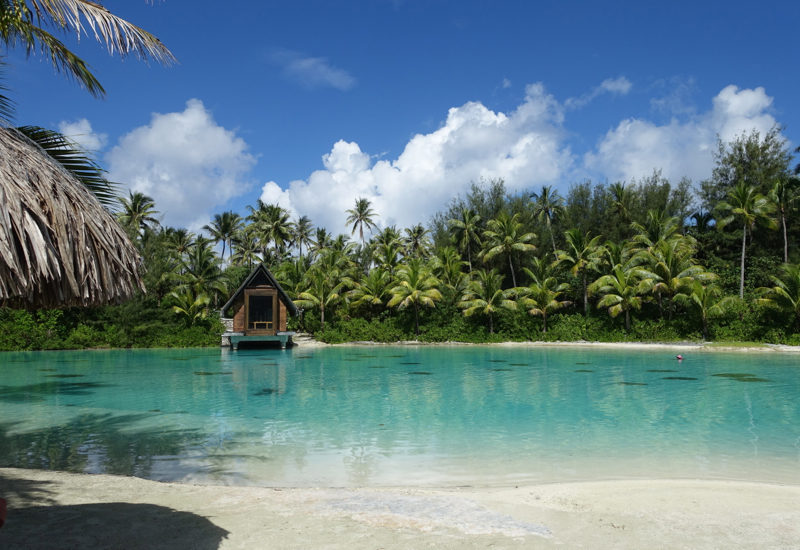 InterContinental Bora Bora Thalasso Deep Ocean Spa by Algotherm
While we didn't have any treatments, I did view some of the treatment rooms and pools available. There was almost no one there at the time of my visit. Note that since it's run by a third party, Algotherm, you must pay to use the facilities, even if not having a treatment.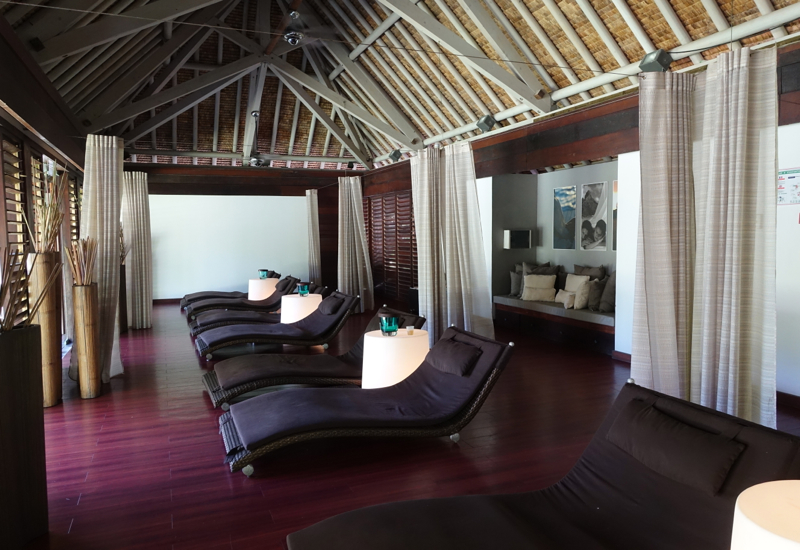 InterContinental Bora Bora Thalasso Breakfast, Restaurants and Dining
I'll cover our breakfast and dining experiences, primarily at Reef Restaurant and In-Room Dining, in a separate post.
The Verdict
We liked but didn't love the InterContinental Bora Bora Thalasso. My husband really missed the Four Seasons during our visit, and couldn't help comparing everything, to the detriment of the InterContinental Bora Bora. I reminded him that the Overwater Villas at the InterContinental Bora Bora are less expensive than at the Four Seasons, and you get what you pay for. Don't get me wrong–you still have magnificent views, accommodations that most of the world just wishes they could enjoy, and mostly friendly service. I do think the mildew issue should be addressed promptly, and that the resort should stop charging for Nespresso pods, as neither is consistent with a luxury product.
Related Posts
Review: Air Tahiti Nui Business Class
Flat Bed Business Class to Tahiti and Bora Bora?
Top Things to Do in Bora Bora if You Don't Scuba Dive
Disclosure: I received two complimentary nights, inclusive of breakfast, and reserved a third night at a travel professional rate, so as to be able to guarantee late check-out on our day of departure. The opinions in this review are mine.
Need Award Booking Help? Our fee is as low as $75 per ticket if you book your hotel through us.
If you enjoyed this, join 200,000+ readers: please follow TravelSort on Twitter or  like us on Facebook to be alerted to new posts. 
Become a TravelSort Client and Book Your Hotel with Virtuoso or Four Seasons Preferred Partner Amenities!