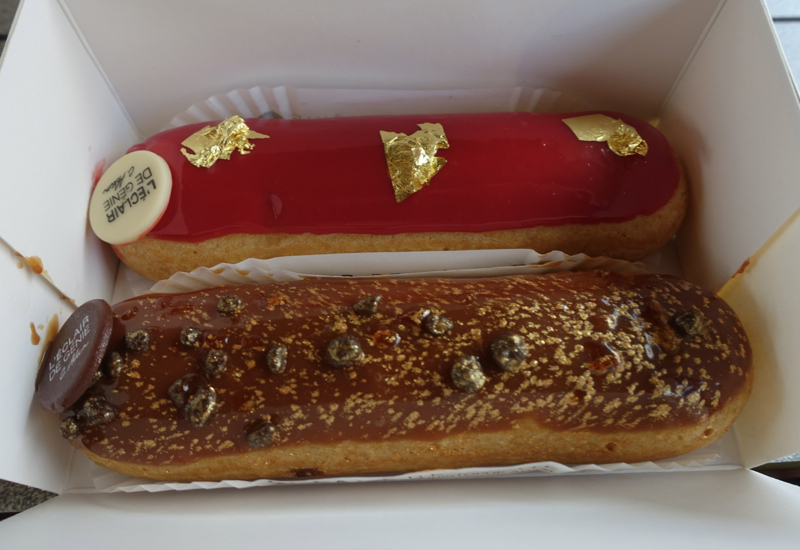 This Review of a Hidden Paris Gourmet Walking Tour is from our recent small group tour with our wonderfully charismatic guide, Eglantine. Hidden Paris also offers other small group tours as well as private tours, which I'll detail below. For other posts from our recent Paris visit, please see:
Review: Pur' Paris Restaurant, Park Hyatt Paris
Hotel Review: Park Hyatt Paris-Vendome
La Cuisine de Philippe Paris Review
Review: Paris Muse Discovery Walking Tour for Families
Hotel Review: The Mandarin Oriental Paris
Review: Mathieu Pacaud Histoires Paris, 2 Michelin Stars
Hidden Paris Walking Tour Options and Cost
Please note that as with many Paris restaurants, Hidden Paris Walking Tours is closed August 1-31, so please plan accordingly.
Also note that since these are truly small group tours, with a maximum of 8 people per tour, you need to reserve in advance, by emailing hiddenpariswalkingtours@gmail.com; you can't just show up as tours do fill up ahead of time.
Classical Tours, all 1.5 hours, EUR 20 per adult and EUR 10 per child under 12
Montmartre: Tuesday, Friday, Saturday 10:30-12noon
Le Marais: Tuesday, Thursday, Sunday 3-4:30pm
Saint Germain des Pres: Wednesday, Thursday 11am-12:30pm
Ile de la Cite: Monday, Sunday at either 5:30pm, 7:30pm or 8:30pm (confirm at time of booking)
Belleville: Monday 3-4:30pm
The Latin Quarter: Wednesday, Friday 3-4:30pm
Food and Lifestyle Tours, all 2.5 hours
Gourmet Tour: Friday, Sunday 10am-12:30pm EUR 35 per adult, EUR 17 per child under 12
Sweet Paris: Tuesday, Saturday 2:30-5pm, EUR 45 per adult, EUR 30 per child under 12 (includes tastings)
Cheers: Thursday, Friday 5:30-8pm, EUR 35 per adult, EUR 17 per child under 12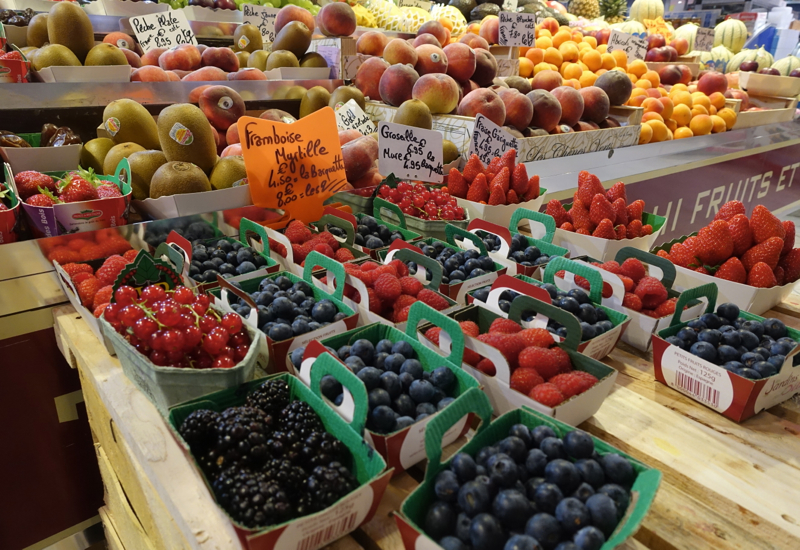 Highlights of Our Hidden Paris Gourmet Tour
I have to admit that we missed the first two stops on this tour, entirely my fault. I'd been working until the wee hours the night before and overslept, so we only managed to arrive in the approximate area of the tour by 10:25. Eglantine was very gracious and told us exactly where to meet them, just a block away.
The stops I missed were Pierre Herme (which in my view has the best macarons in Paris, and also some of my favorite pastries, such as the 2000 Feuilles, made with caramelized puff pastry and praline from Piedmont hazelnuts) and La Mere de Famille, which sounds like a fantastic chocolatier–will have to visit it next time I'm in Paris.
Of the other stops, here are my favorites. Note that the tour does not include tastings, but you are welcome to buy anything you wish at any of the places the tour visits, although absolutely no pressure to do so. This worked out perfectly for us, as we were able to put together a little picnic for our Eurostar train trip to London.
1. Marche Saint Germain
Our tour was in the Saint Germain area, so we also visited the covered food market, Marche Saint Germain, located at 4-6 Rue Lobineau, generally open 8am-8pm.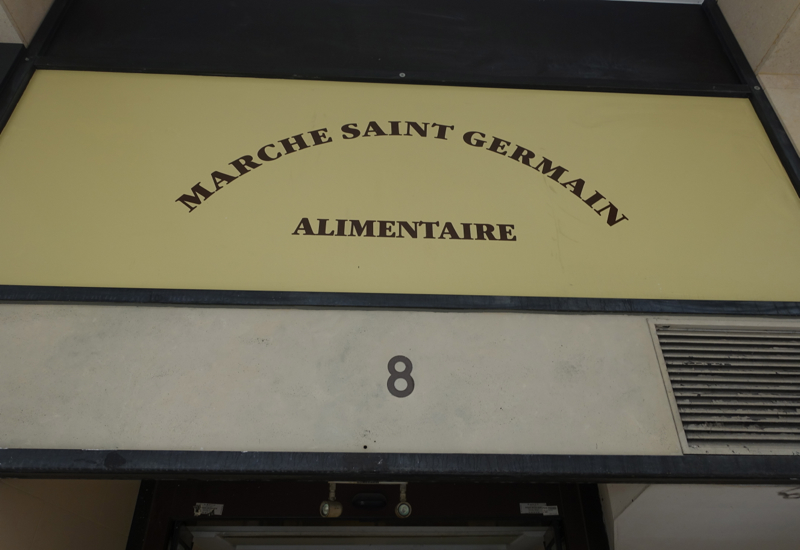 We were kindly given tastings of excellent sausages at two stalls, but it was the cheese monger where we made most of our purchases for our picnic. Everyone in my family loves cheese, and this was a great selection, including of raw milk cheeses, which have character lacking in pasteurized varieties: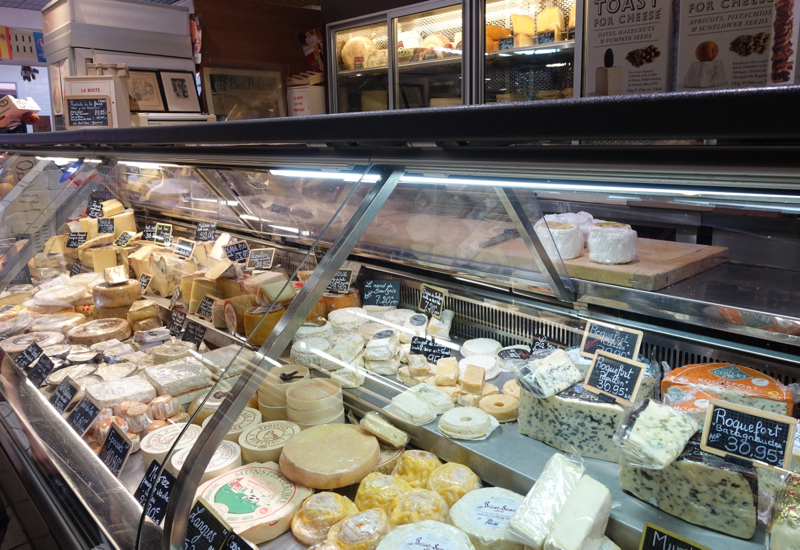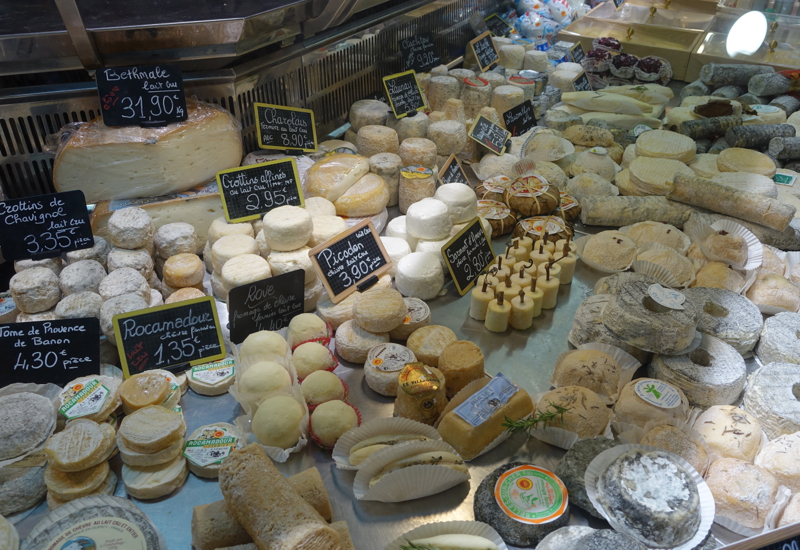 I'd never seen some of the chevre varieties on offer, including cute cylindrical ones shaped around grapevine twigs: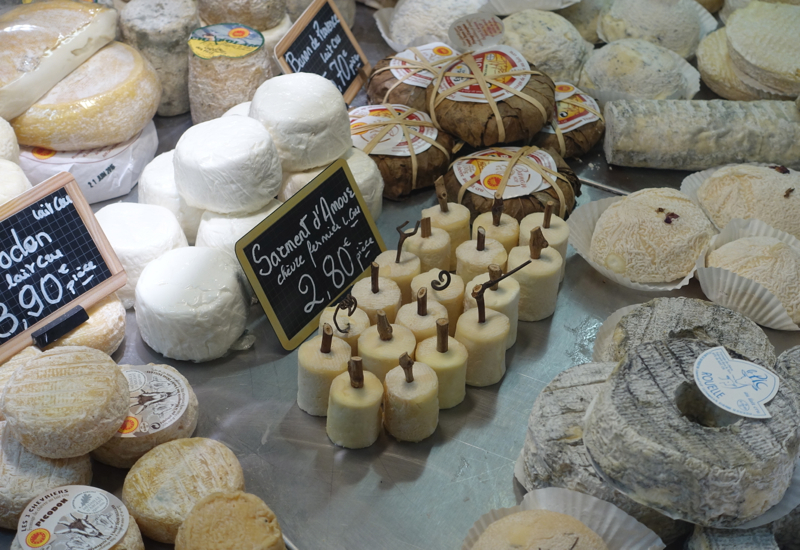 I was also thrilled to see fresh fraises du bois (wild strawberries) which is the source of my favorite Berthillon sorbet flavor, so I bought some of those too: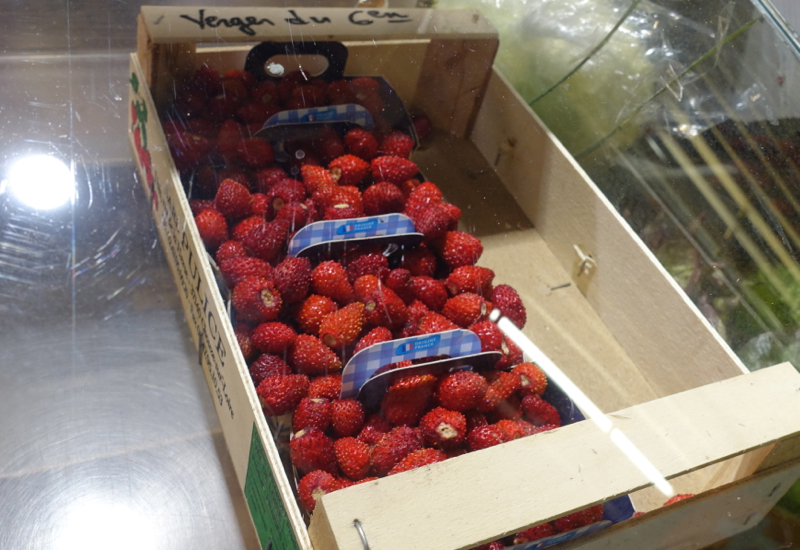 2. L'Eclair de Genie
The reputation of L'Eclair de Genie by Christophe Adam preceded it, since one of my French friends who is a wizard in the kitchen has Christophe Adam's cookbook and was showing me the pictures. Even with my sweet tooth I'm not ambitious enough to attempt those eclair recipes, so I was thrilled his L'Eclair de Genie was part of the Hidden Paris Gourmet Tour.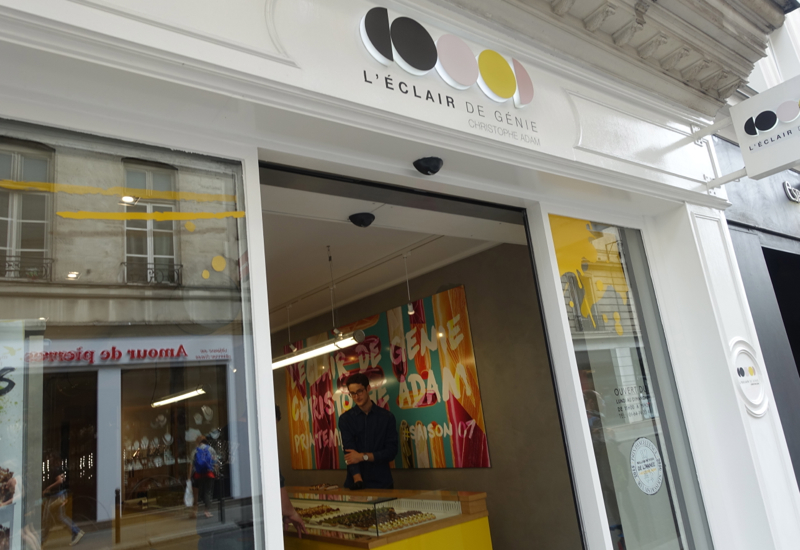 Here are a few examples: his Pistache, Chocolat Grand Cru, Caramel Beurre Sale and Citron Yuzu: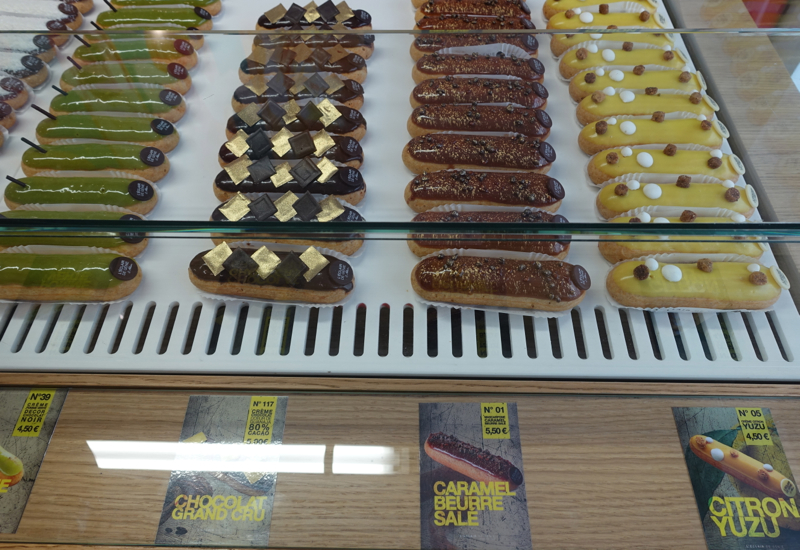 As at Pierre Herme, his creations are jewel-box gorgeous and look almost too good to eat, although that didn't stop us from savoring them as the finale to our Eurostar picnic, both the Fraises du Bois (although I'll admit Berthillon sorbet has a more intense flavor) and his Caramel Beurre Sale / Salted Caramel which was my favorite.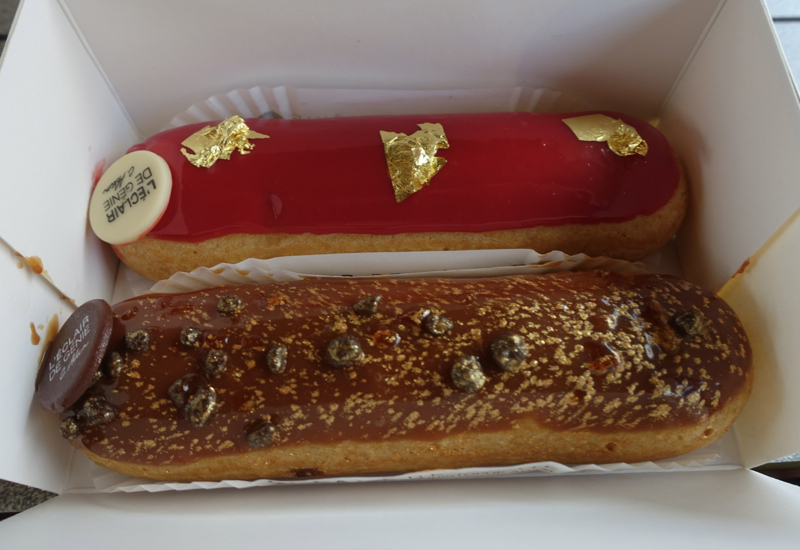 3. Gerard Mulot
As Eglantine pointed out, generally there's a stark division between bakers, who excel at bread, and patissiers, who excel at pastry. Gerard Mulot is by trade a baker, so even though his shops do feature a wide range of pastries, this is really not the place to buy macarons–go to Pierre Herme instead.
That said, in addition to a baguette to go with our cheese, we also bought two pieces of clafoutis, one with apricots and one with cherries, and these were very good, even if not quite as good as at La Cuisine de Philippe.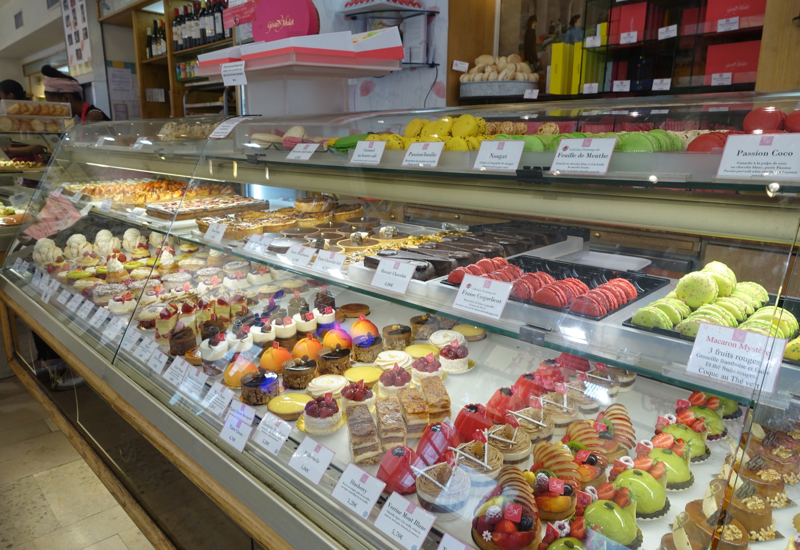 4. Un Dimanche a Paris
Un Dimanche a Paris specializes in chocolate in all its forms, from chocolates and truffles, chocolate bars, chocolate pastries, to decadent drinking chocolate.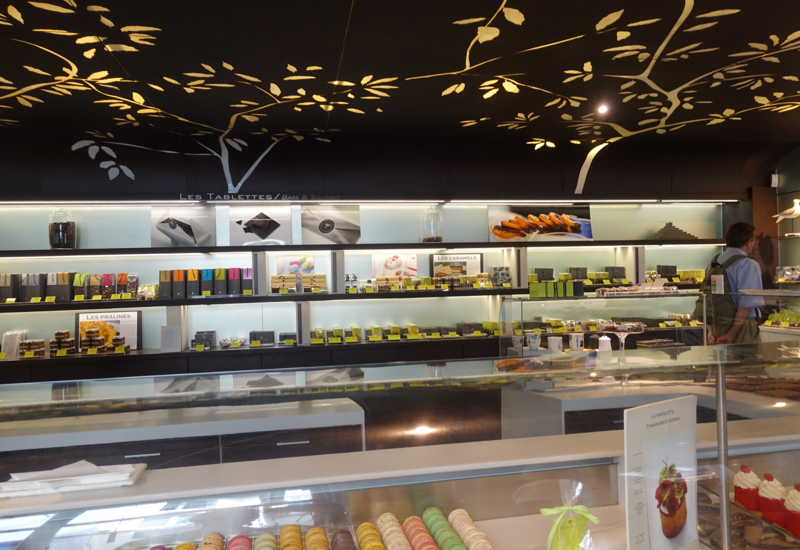 There were even some delicious samples for us to try: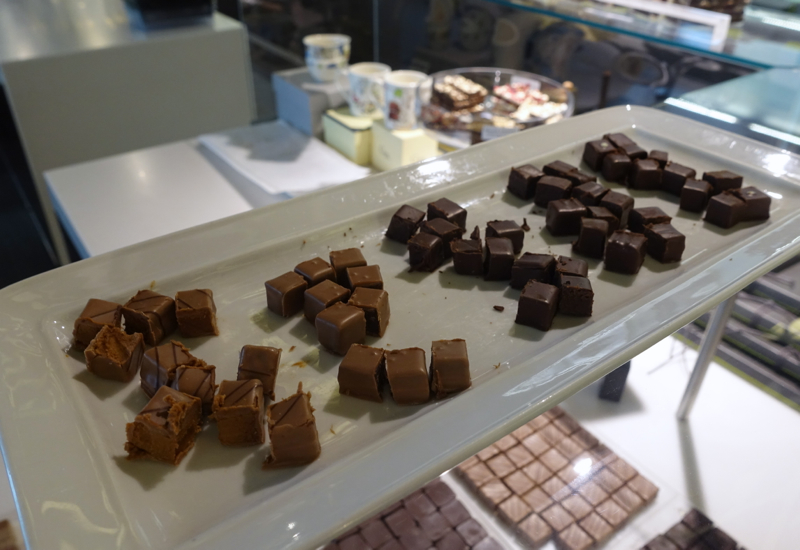 I picked up some chocolates for friends we were visiting outside London, while my son enjoyed watching the chocolatiers at work: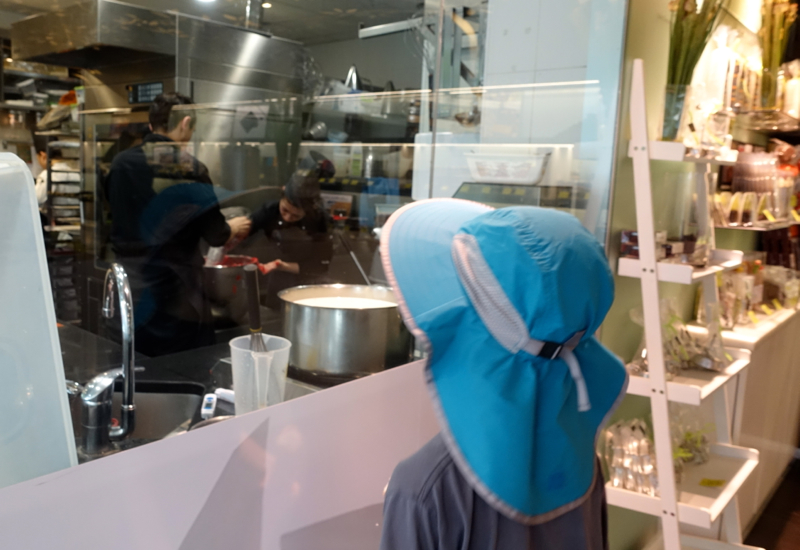 5. Polmard
What Pierre Herme has done for pastries, is what Polmard aims to be for meat, Eglantine told us. This is obviously not your ordinary butcher, as the choice morsels are for the most part already carefully portioned and displayed. While it wasn't practical for us to buy any raw meat (although there are also cured meat items) it would be perfect if you're actually living in Paris (and are a great cook–these are not cuts you want to mess up with the wrong preparation!)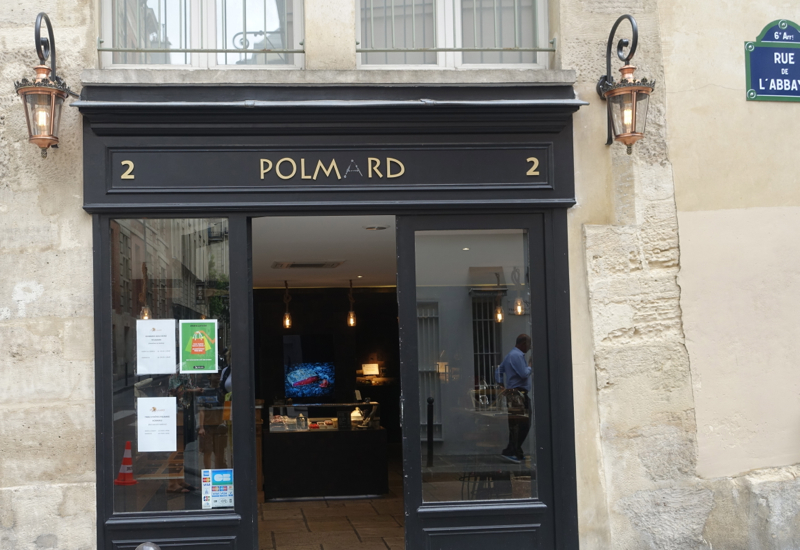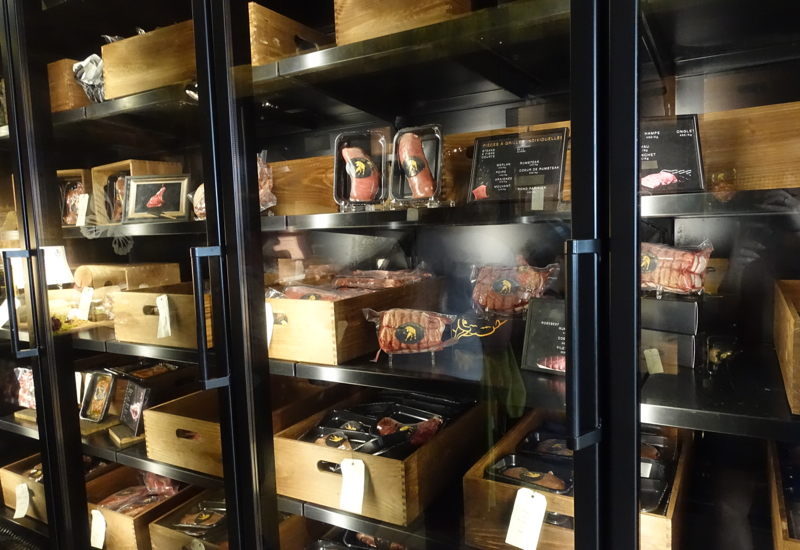 The Verdict
While I regret oversleeping and missing those first two stops at Pierre Herme and La Mere de Famille, I certainly appreciate Eglantine graciously helping me meet up with the group, and we really enjoyed the rest of the tour. I'd never been to any of the other stops, except for Le Comptoir (which I'll admit I think is somewhat overrated for what it is, but opinions differ), so it was fun to explore these new places.
I loved that we were such a small group of four, with just two Australians on our tour, and Eglantine clearly has a great rapport with the places we visit, as well as a great passion for sharing French cuisine and culinary delights with visitors.
If a private tour is out of your price range, I recommend seeking out Hidden Paris small group tours.
If you've taken a small group walking tour with Hidden Paris, what was your experience?
Related Posts
Review: Paris Muse Discovery Walking Tour for Families
Le Cinq Restaurant Review, Four Seasons George V Paris, 3 Michelin Stars
Review: Mathieu Pacaud Histoires Paris, 2 Michelin Stars
La Regalade Conservatoire Paris Restaurant Review
La Cuisine de Philippe Paris Review
Disclosure: We paid the usual rate for our tour of EUR 35 for me and EUR 17 for my son, plus gratuity
Need Award Booking Help? Our fee is as low as $75 per ticket if you book your hotel through us.
If you enjoyed this, join 200,000+ readers: please follow TravelSort on Twitter or like us on Facebook to be alerted to new posts.
Become a TravelSort Client and Book Your Hotel with Virtuoso or Four Seasons Preferred Partner Amenities!