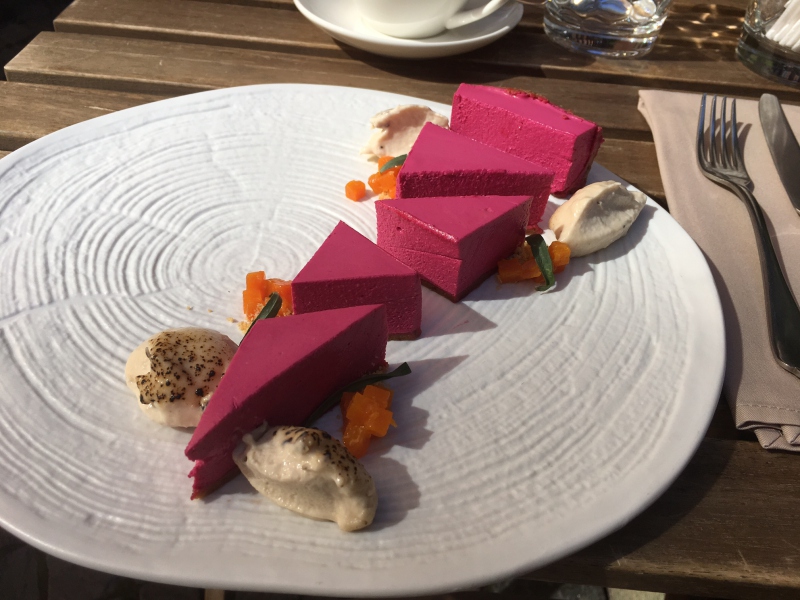 This review of Hamlet + Jacks in St. Petersburg, Russia is one of our St. Petersburg dining reviews. We're in St. Petersburg, Russia every summer, and it's great to see that the dining scene has really evolved. Young and talented chefs have opened unpretentious gastrobars with modern Russian-Nordic cuisine that are a hit with locals and visitors alike.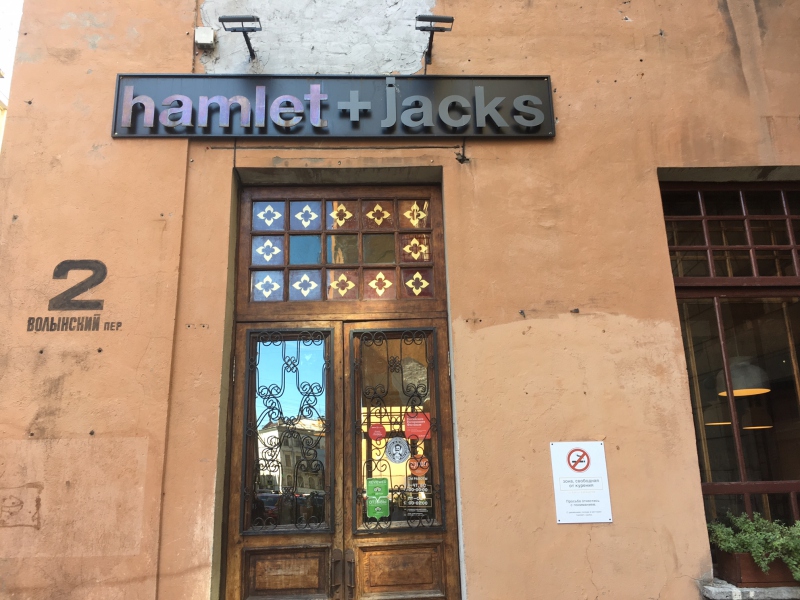 Hamlet + Jacks, St. Petersburg Location and Hours
Hamlet + Jacks is located on Volynskiy Lane 2 (Волынский переулок 2), a quiet street a short walk from Nevsky Prospect, St. Petersburg's main street. The closest Metro is Admiralteyskaya, from which it's about a 10 min. walk. After crossing Nevsky Prospect (you'll have to cross at Bolshaya Konyushennaya Street, since there's no crosswalk or underpass at the Moyka Embankment itself), backtrack along Nevsky, turn right on the Moyka Embankment, and the first street on your right will be Volynskiy Lane. Hamlet + Jacks will be on your left, identifiable by its small but pretty outdoor terrace.
Hamlet + Jacks is open from 1pm daily, closing at 12 midnight Mondays-Thursdays and Sundays, and at 2am on Fridays and Saturdays.
The Scene
I was there for lunch, and was the very first guest, since the restaurant opens at 1pm and I was famished. Soon after, however, another few guests and then a table of 8 friends arrived, ll of them also seated in the courtyard, and all of them Russian.
So if it's a beautiful day and you want to dine al fresco, I recommend coming on the early side, or making an advance reservation for an outside table.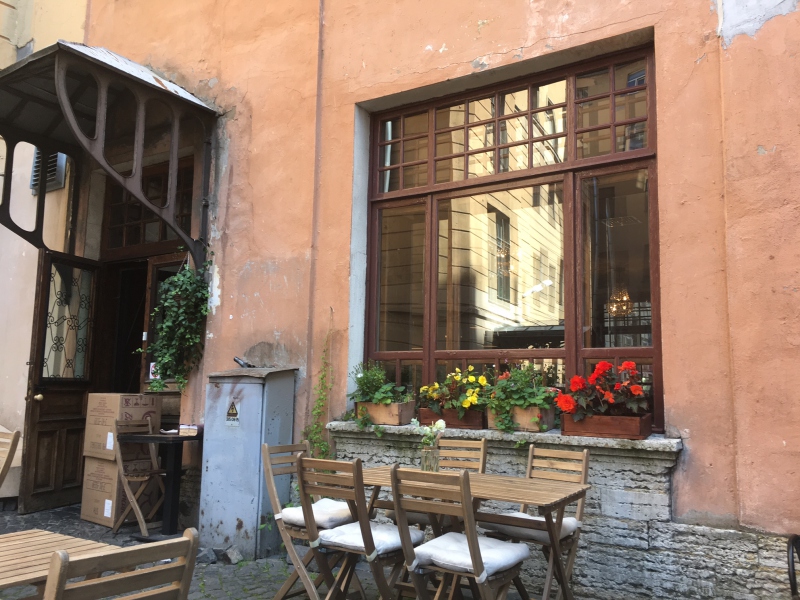 Hamlet + Jacks Menu and Food
Even before the sanctions increased the price of many imported foods in Russia (most are still available, they just enter the country through Belarus) there was already a movement to "farm to table" and sourcing the best seasonally available ingredients. And as the largest country on earth, Russia has a wealth of produce, fish and meat to draw from, from all kinds of foraged wild mushrooms and berries (including cloudberries, as in Scandinavia) to venison, Kamchatka crab, caviar, scallops from the Far East, locally made cheese and dairy products, and more.
Russians are also familiar with other cuisines, and not just those of Georgia and the "stans" such as Uzbekistan and Kazakhstan–sushi and Japanese cuisine as well as Italian and French have been popular for some time.
It's natural then that Hamlet + Jacks divides its menu into "Ours" (referencing dishes with entirely Russian ingredients) and "Ours + Theirs" (with dishes that include both Russian and international ingredients and influences).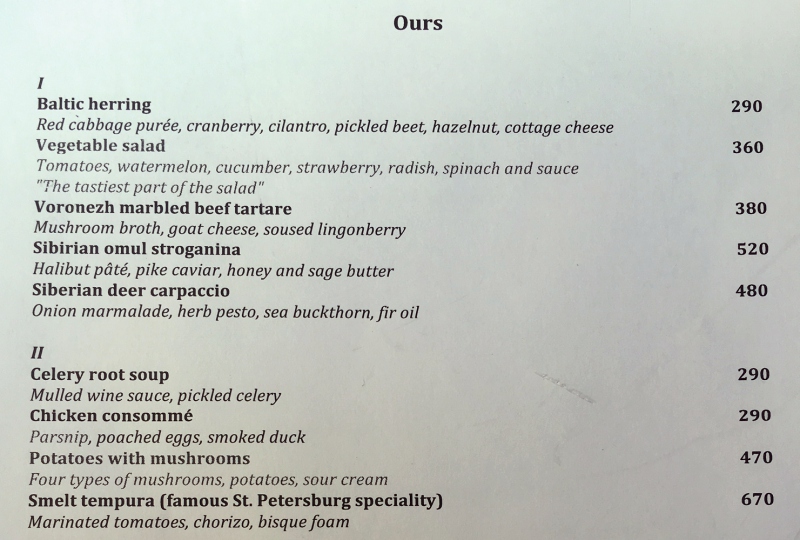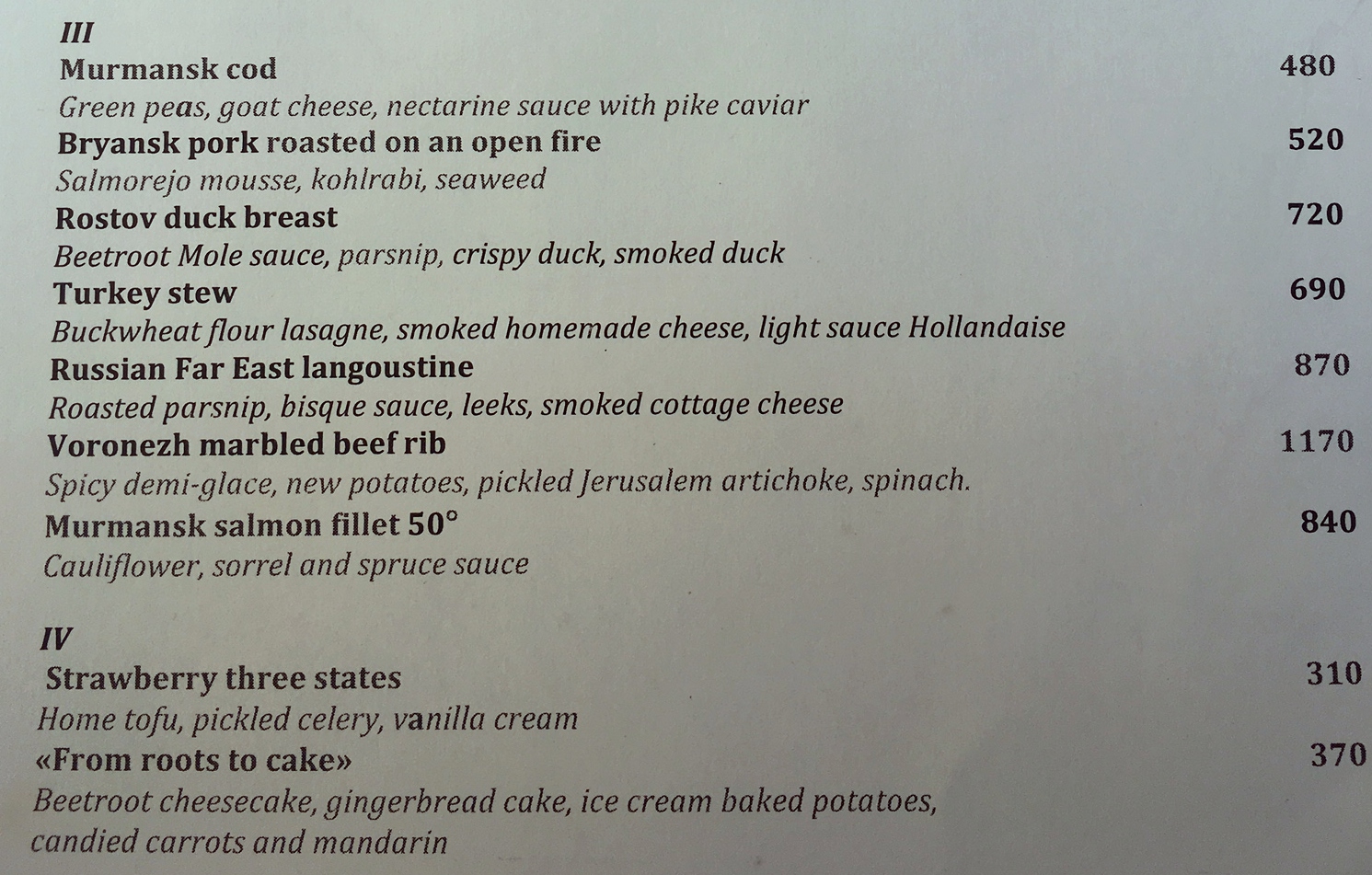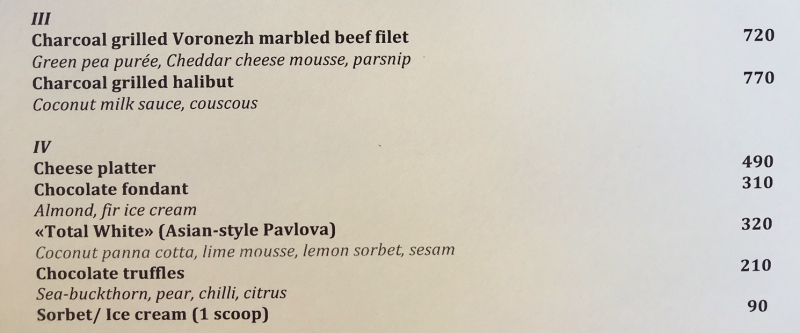 Until 4pm, there's an attractively priced "Business Lunch" menu. All the dishes on it are from the regular menu, but it offers a more limited selection, and not the most expensive dishes. You can choose two courses for RUR 470 (~$8 at the current exchange rate), and this also includes a choice of tea or coffee. Plus, unlike most restaurants, complimentary filtered water is offered, although it's also possible to pay for bottled water.
My green tea came quickly and was in an attractive glass tea pot: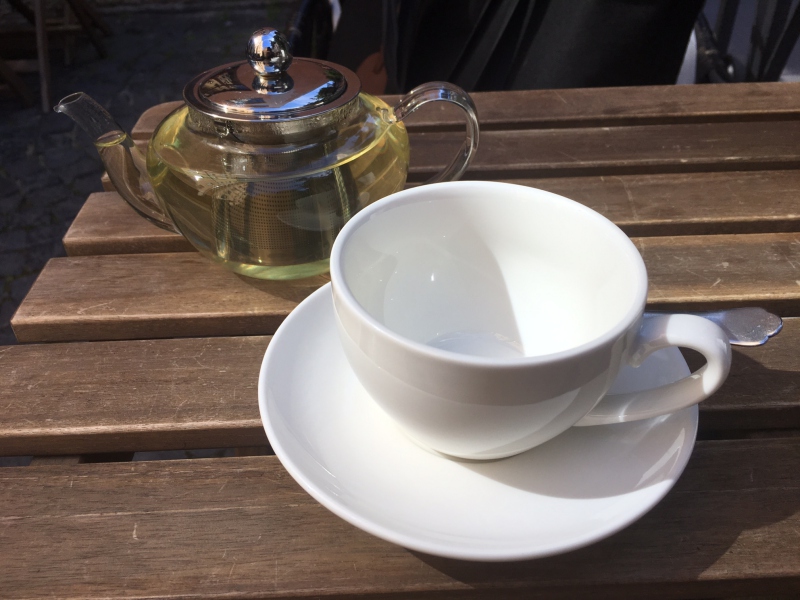 Whenever I see a delicious sounding chanterelle dish on the menu I order it, and I was pleased to see draniki (potato pancakes) with fish and chanterelles. This was an amazing dish on several levels. The crispy crust of the potato draniki wonderfully contrasted texturally with the tender smoked fish, creamy sauce, and chanterelles. The garnish of Japanese bonito was an inspired choice as well–I'd never have thought of cross-pollinating Japanese and Russian cuisine this way, but it worked extremely well in this dish.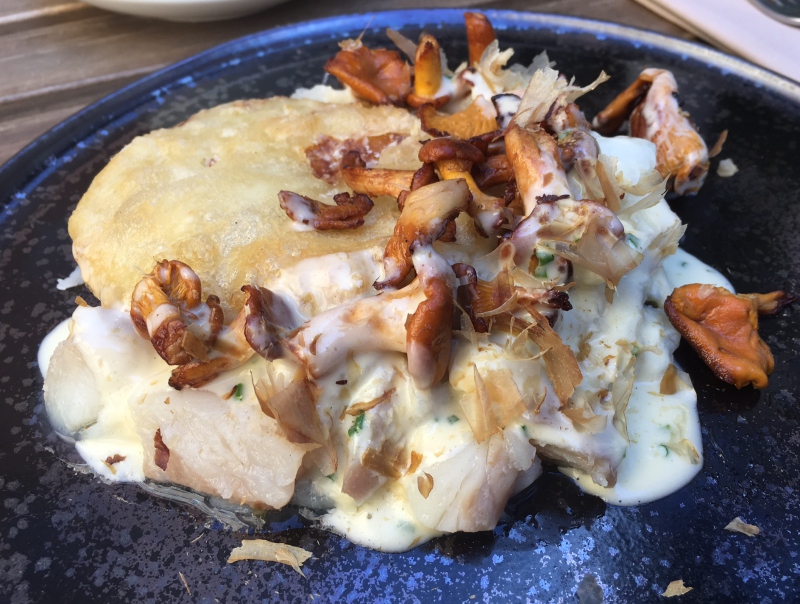 For the main course, I chose the Bryansk pork with Salmorejo sauce (a tomato and bread sauce associated with southern Spain), Kohlrabi and seaweed, with some cilantro. This dish was if anything even more stunning to look at, with the salmorejo sauce looking like hot lava swirling around outcroppings of rock (pork) and some green vegetation swept along with it.
That said, I found that the pork, even though I was told it had been marinated and prepared via sous vide, was not as tender as I'd have liked. I can take or leave most Spanish food, so I wasn't overly enamored of the sauce, either. So ultimately, I'm glad I tried it, but I wouldn't order this particular dish again.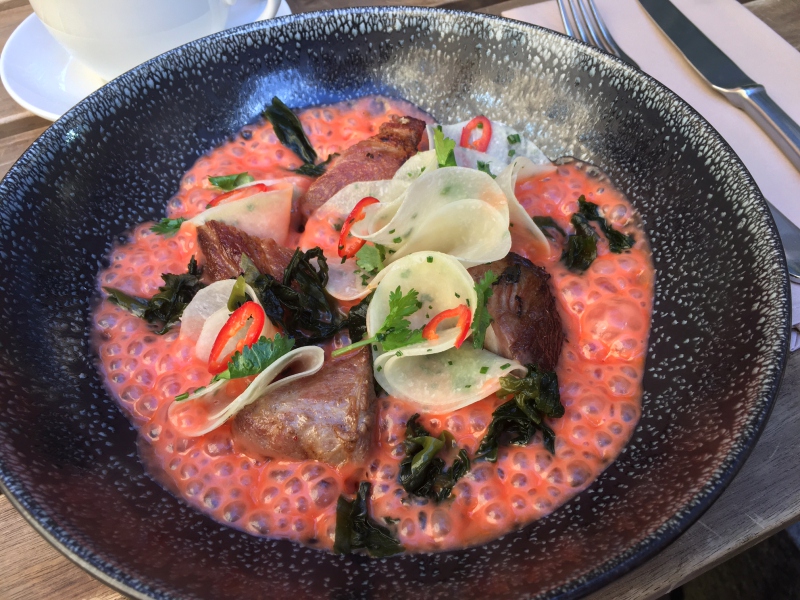 This certainly should have been enough, as the portions were well-sized for a lunch meal. Nevertheless I was curious about the "From Roots to Cake" dessert, and intrigued that it was beet cheesecake. Beets are one of the most underrated vegetables, and the best beet dishes I've had have been in Russia, but still, dessert?
As I expected, this too was plated very artistically. What I didn't expect was the tableside finishing of this dessert, as my server bruleed the potato ice cream that went with the dish, and explained that the idea was to start at the end of the dessert closest to me and finish with the piece at the far end, as the gingerbread-like crust would make that part the sweetest and most dessert-like.
Even if you're not sure you'd want to try beet cheesecake, you have to agree–the color of this dessert is beautiful. And I loved that this wasn't an overly sweet dessert; I was so taken with the flavor combination I plan to try making a version of this at some point, when I have some time (perhaps minus the carrot confit and the bruleed potato ice cream).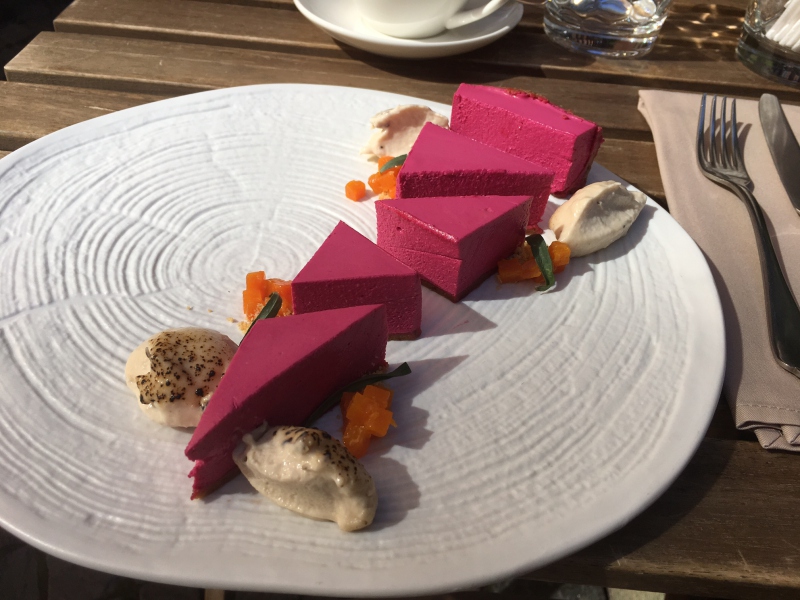 The Verdict
Sure, New Nordic cuisine a la Noma is all the rage right now, but honestly, there's amazing delicious and creative New Russian-Nordic cuisine for a fraction of the price in St. Petersburg (and probably in Moscow too, although I haven't dined as extensively there recently). Don't worry if the Web site menus are in Russian; each of these restaurants I've been to also has an English menu and young, friendly servers who speak excellent English. Perhaps you won't care for every dish, but for an satisfying and beautifully presented 2 course meal for $8 + tip, or $17 for a 3 course meal with a fancy dessert, including tip, no complaints.
Recommended Posts
Vkus Est (Taste to Eat) Review, St. Petersburg, Russia
Duo Gastrobar Review, St. Petersburg, Russia
Volkonsky Bakery Cafe (Пекарня «Волконский») St Petersburg, Russia Menu and Review
Review: Four Seasons St. Petersburg, Russia
10 Travel Tips for St. Petersburg, Russia
Need Award Booking Help? Our fee is as low as $75 per ticket if you book your hotel or cruise with us.
If you enjoyed this, join 200,000+ readers: please follow TravelSort on Twitter or like us on Facebook to be alerted to new posts.
Become a TravelSort Client and Book 5-star hotels with Virtuoso Perks and Four Seasons Preferred Partner Benefits