This review of the Grand Hyatt Seattle is part of a Seattle and Vancouver trip report including Cathay Pacific First Class to Vancouver, plus reviews of luxury hotels, food, and family friendly things to do in Vancouver and Seattle. Prior posts include:
Cathay Pacific First Class NYC to Vancouver
Four Seasons Vancouver Hotel Review
Bishop's Vancouver Restaurant Review
Stanley Park Miniature Train: Vancouver with Kids
YEW Vancouver Restaurant Review
Vancouver Aquarium in Stanley Park with Kids
Pestle Rock Thai Restaurant Review, Seattle
Four Seasons Seattle Hotel Review
Chihuly Garden and Glass: Must-See in Seattle
Toulouse Petit Seattle Restaurant Review
Theo Chocolate Factory Tour in Seattle, Washington
Getting There
The Grand Hyatt Seattle is wonderfully easy to get to from Seattle's Sea-Tac Airport (SEA), thanks to the light rail that takes you directly from Seattle Airport to Westlake station, just 1 block from the hotel. It's only $2.75 each way, and is apparently on the honor system, as there were no turnstiles to go through or ticket takers on the train itself.
Check-In
The first thing I noticed when entering the hotel lobby was how dark it was, a strange contrast from the bright sunny day I'd left outside. If you enjoy soaring atrium lobbies, the Grand Hyatt's lobby is pretty much the antithesis of that. I don't know how the front desk employees stand being in the modern day equivalent of a cave all day, but the staff member who checked me in was very welcoming and pleasant.
When I'd made my reservation I'd asked to apply a Platinum Extras Certificate for a Grand Club Upgrade, so I presented the certificate. I also requested a high floor, for a better view, and receive a Corner Suite on the 22nd floor, as the Corner Suites on higher floors were taken.
Corner Suite
As the Corner Suite was quite reasonably priced for my date I booked it, wanting to be able to get work done after putting my son to bed, without having to work in the bathroom. The entrance foyer was simple but attractive, with a floor length mirror and bamboo plant: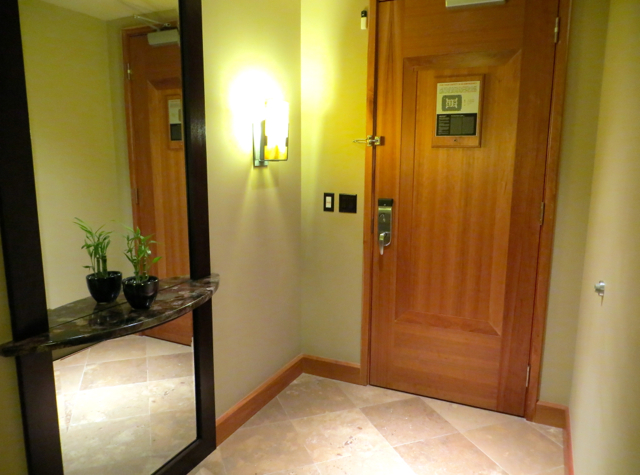 The sitting area was rather nondescript but perfectly functional. While the desk chair was ok, it would have been better to have a more ergnomic chair if you were planning to do a lot of work in the hotel room. I also would have preferred to have the desk in the bedroom in order to be able to do work at it while my son slept on a rollaway in the living area, since for a Corner Suite it's only possible to fit a rollaway bed in the living area. There was a decent sized flat screen that as usual we didn't use: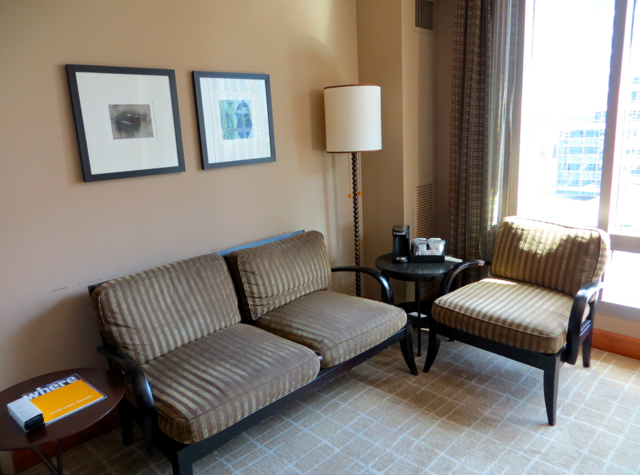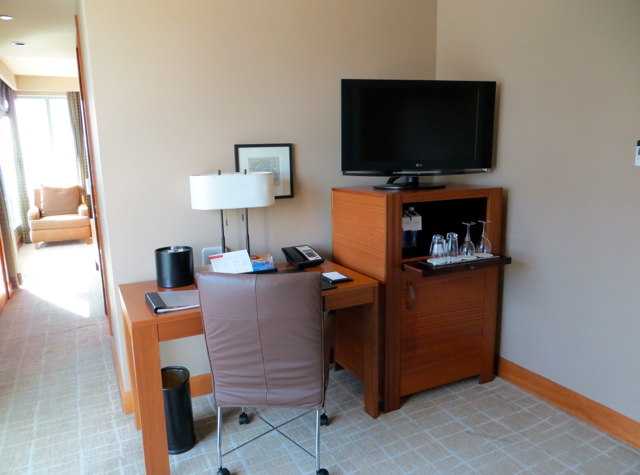 The coffee maker included standard Arabica coffee and Tazo Tea, although again we didn't use it as we had breakfast the next morning in the Grand Club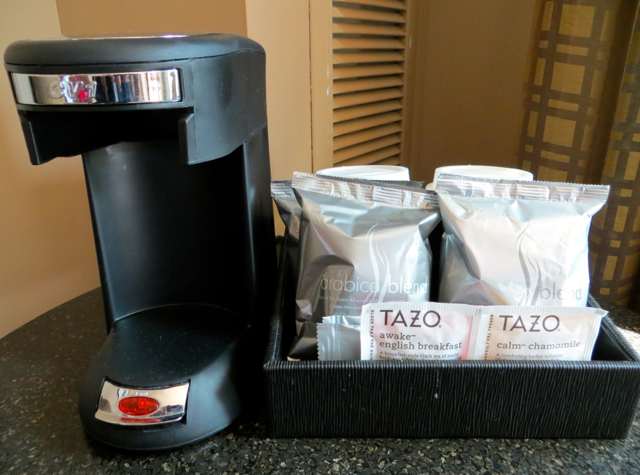 There's a long hallway connecting the living room area to the bedroom. The bathroom is on one side, and there's a closet on the other.
The bedroom itself was on the small side, but the King Bed was immaculately made up and comfortable.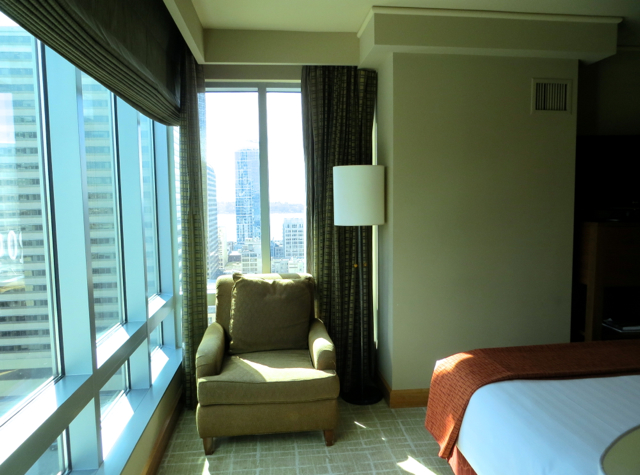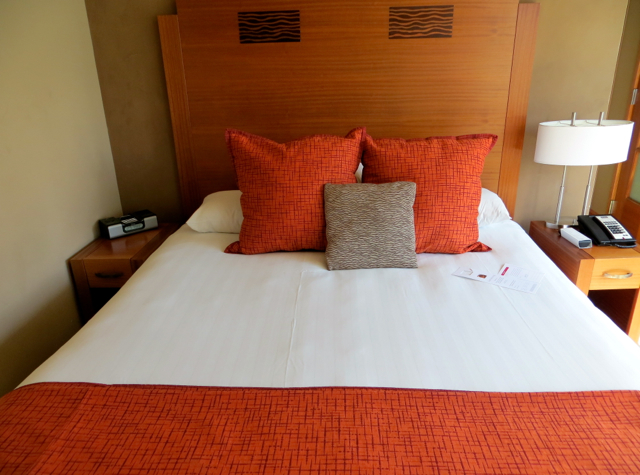 The bathroom was actually nicer than I expected, with a very deep bathtub and separate glass enclosed shower: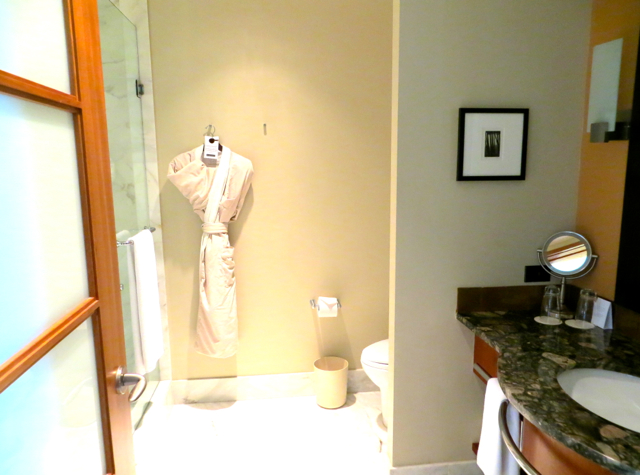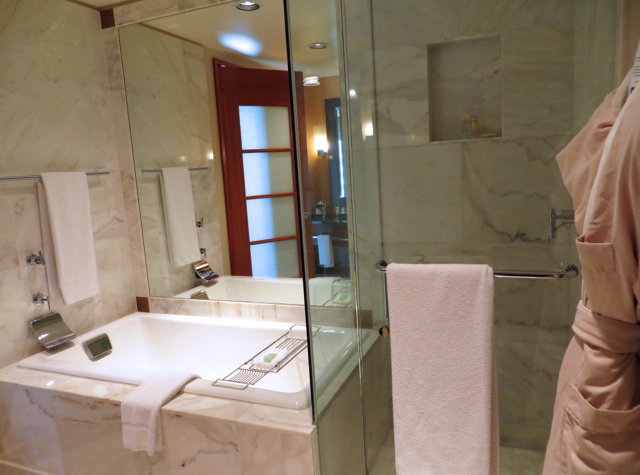 That said, there was only one sink, not a dual vanity. At least when traveling as a family or even as a couple and staying for any length of time, I find it's very convenient to have dual vanities.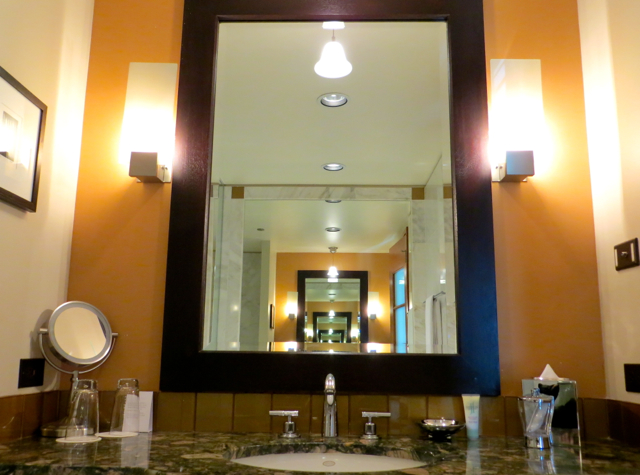 Bath amenities clearly demonstrated how Hyatt is in the midst of changing from its Portico white ginger toiletries (which I personally think smell atrocious) to the June Jacobs green tea cucumber amenities. The shampoo and soap were June Jacobs, but hair conditioner was Portico. While I don't care much for the June Jacob amenities and was glad to have saved the L'Occitane amenities from the Four Seasons Vancouver, at least the June Jacobs products are a lot more neutral smelling and less cringe inducing.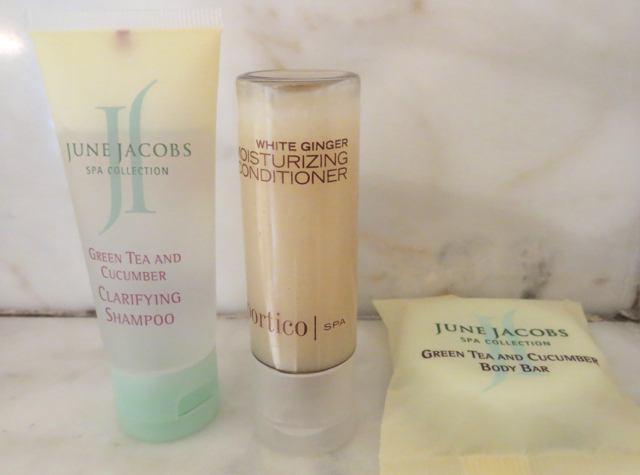 One place I really have to hand it to Hyatt is in providing amenities that you may have forgotten. Now, while a step up from that is simply providing them all in the first place, as is done with many Asian hotels (for example, the luxurious Lotte Hotel Moscow and even the more mid-range Langham Place Mongkok in Hong Kong) so that you don't even have to call housekeeping for them, it's still nice to have such a clear list of what you can call housekeeping for, helpfully divided into amenities that are complimentary for you to keep, and items you may borrow during your stay.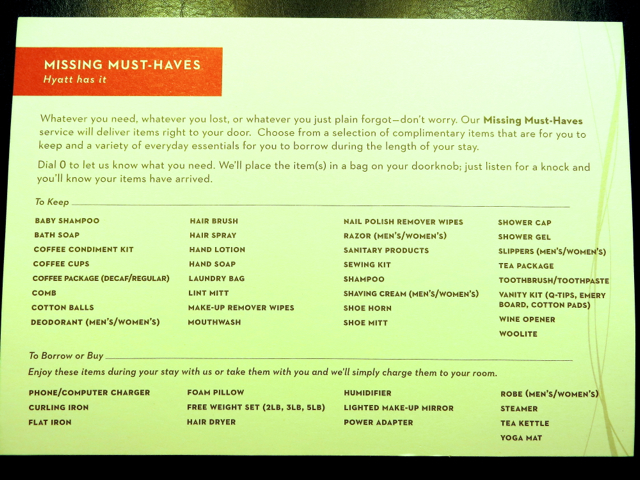 The initial Corner Suite we were placed in had a bit of a view of the water, although considerably blocked by buildings: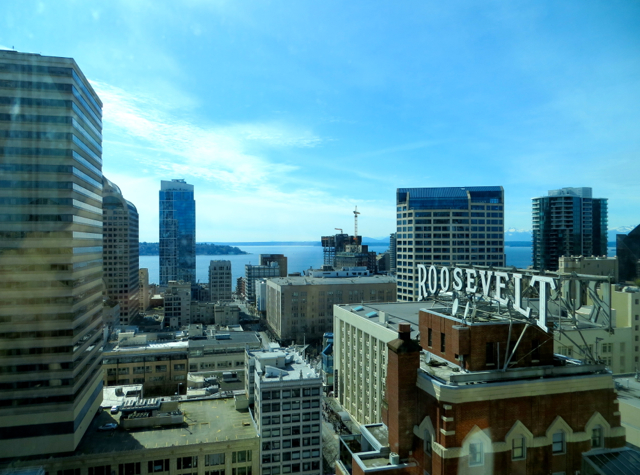 I asked if we could change to one with a view of the Space Needle, and as it wasn't ready when we arrived, we left our bags and they were moved over later once the room was cleaned. Even though it was night after we got back from our dinner, it was thrilling for my son to be able to see the illuminated Seattle Space Needle from our room: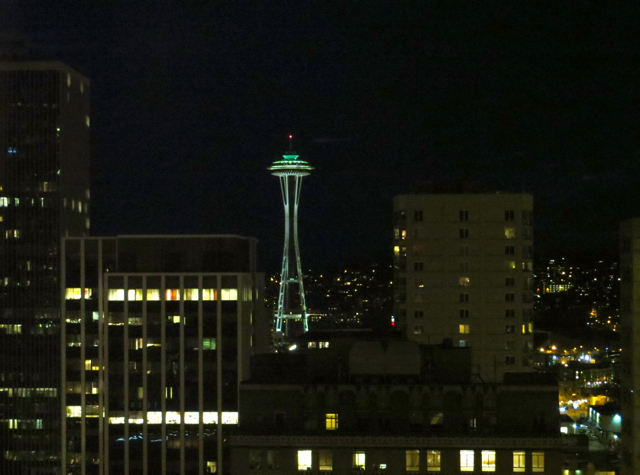 Grand Club
Since we met up with relatives in the evening, we didn't try the Grand Club's evening canapes and drinks. In the morning, however, we were quite hungry and took the elevator up to the 27th floor where the Grand Club is located.
I liked that the Grand Club got plenty of natural light, and was quite handsome with the natural wood finishings. It felt much more welcoming than the dark and dreary lobby. That said, the views themselves weren't great–we enjoyed much better water views from our subsequent stay at The Four Seasons Seattle. We picked out a table by the window, and I first tackled the fresh fruit, focusing on the watermelon and pineapple.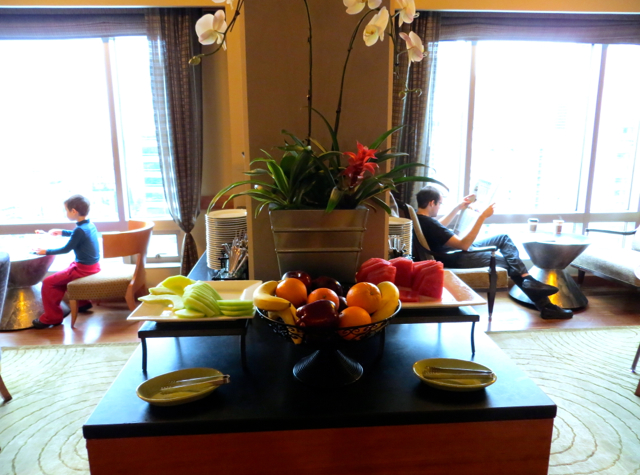 There were standard bagels and some quite decent wholegrain berry muffins, as well as some cakes: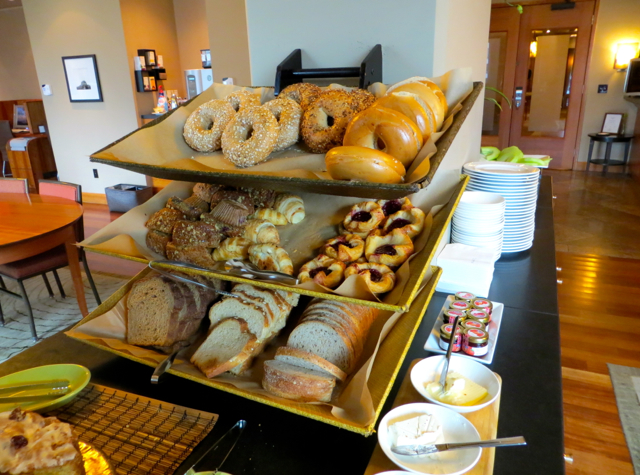 There were also plenty of newspapers to peruse while eating. Since my camera memory card chose to malfunction, I missed getting photos of a few other food items. There was a small fridge with Danone yogurt (plain and fruit flavored) and drinks; brewed coffee; cereal and housemade granola; and even a small hot buffet section just to the right after you enter that offered scrambled eggs, bacon and sausages.
Which Credit Card to Pay With
If you're on a paid stay at a U.S. Hyatt, the best credit card to use is actually the SPG Business Card with OPEN Savings, since you receive a 5% rebate and accrue SPG points, which are still valuable to accrue for transfers to airline partners. In my view, the discount plus value of SPG points beats using the Hyatt Visa, even with elite bonus points.
The Verdict
The Grand Hyatt Seattle was about what I expected: good value for an upscale although not luxury hotel, conveniently located in downtown Seattle. Staff were very pleasant, the Corner Suite including Hyatt's signature Grand Bed was comfortable, and the Grand Club breakfast was perfectly adequate. All in all, while nothing exciting to write home about, likely one of the best values for money if you're seeking a stay within one of the major hotel loyalty programs while in Seattle.
If you've stayed at the Grand Hyatt Seattle, what was your experience?
Disclosure: I paid for this stay using a Travel Agent rate and used a Platinum Extras Certificate for a complimentary Grand Club upgrade
Related Posts
Four Seasons Seattle Hotel Review
Chihuly Garden and Glass: Must-See in Seattle
Toulouse Petit Seattle Restaurant Review
Theo Chocolate Factory Tour in Seattle, Washington
Need Award Booking Help? Our fee is as low as $75 per ticket if you book your hotel through us.
If you enjoyed this, join 90,000+ readers: please follow TravelSort on Twitter or like us on Facebook to be alerted to new posts.
Become a TravelSort Client and Book 5-Star Hotels with Virtuoso or Four Seasons Preferred Partner Amenities!