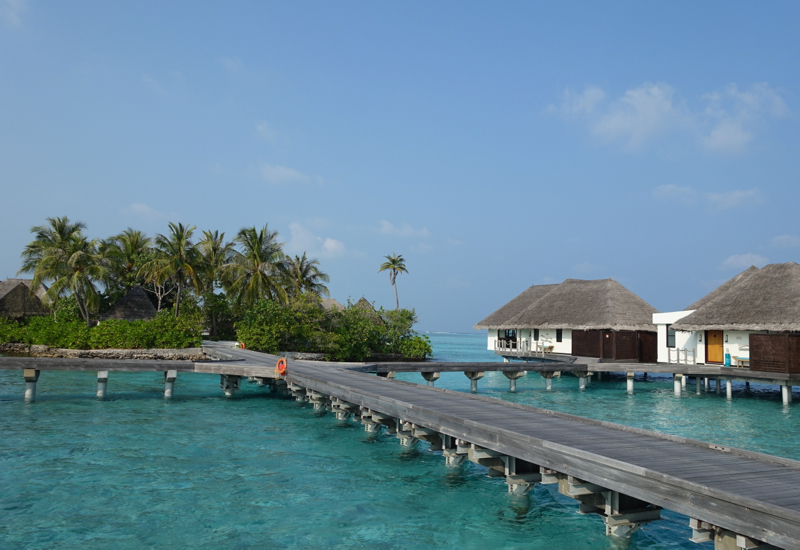 This Four Seasons Maldives at Kuda Huraa Sunset Water Bungalow Review reserved with Four Seasons Preferred Partner benefits is part of a trip report including both Four Seasons resorts in the Maldives as well as luxury hotels in Southeast Asia and Etihad First Class and Business Class. For the prior posts, please see:
Review of Etihad's Lounge at Washington Dulles Airport (IAD)
Etihad First Class 787-9 Dreamliner Review
Review: Wingtips Lounge JFK for Etihad First Class Passengers
Review: Etihad First Class 777-300ER NYC to Abu Dhabi
Review: Etihad Business Class Lounge Abu Dhabi AUH Terminal 1
Four Seasons Maldives at Landaa Giraavaru Review
Four Seasons Maldives at Landaa Giraavaru Restaurant Reviews and Menus
Four Seasons Maldives at Landaa Giraavaru Activities: Top 10 Things to Do
Interview with Armando Kraenzlin, General Manager of Four Seasons Maldives at Landaa Giraavaru
Review: Four Seasons Maldives at Kuda Huraa
Surfing in the Maldives at Four Seasons Kuda Huraa
TravelSort Clients receive these Four Seasons Preferred Partner benefits, when reserving the Four Seasons Maldives at Kuda Huraa:
Upgrade of one category, based on availability at time of check-in (excluding signature suites and villas)
Daily full American breakfast for two people per bedroom, served through In-Room Dining or in the hotel restaurant (including buffets)
Spa credit of USD100 once during stay (not applicable to products)
Complimentary basic Internet (up to 2 devices) in all guest rooms, complimentary premium Internet (up to 4 devices) in all suites.
Four Seasons Maldives at Kuda Huraa Sunset Water Bungalow
We originally reserved a Sunrise Water Bungalow, but thanks to reserving with Four Seasons Preferred Partner benefits, we were upgraded to a Sunset Water Bungalow, which was perfect since I love a beautiful sunset and am not a morning person.
Since we'd already packed our few things up in our Beach Bungalow, Four Seasons staff took care of moving them to our new Sunset Water Bungalow while we visited the Marine Discovery Center and had a
Surfing Lesson
. We were out and about in the afternoon at the spa and on a turtle safari, so it was late afternoon by the time we finally got to our bungalow to explore it and relax.
While you can ask for a buggy anytime, Kuda Huraa is small enough that we usually walked to and from even our water bungalow. This is the jetty leading out to the water bungalows: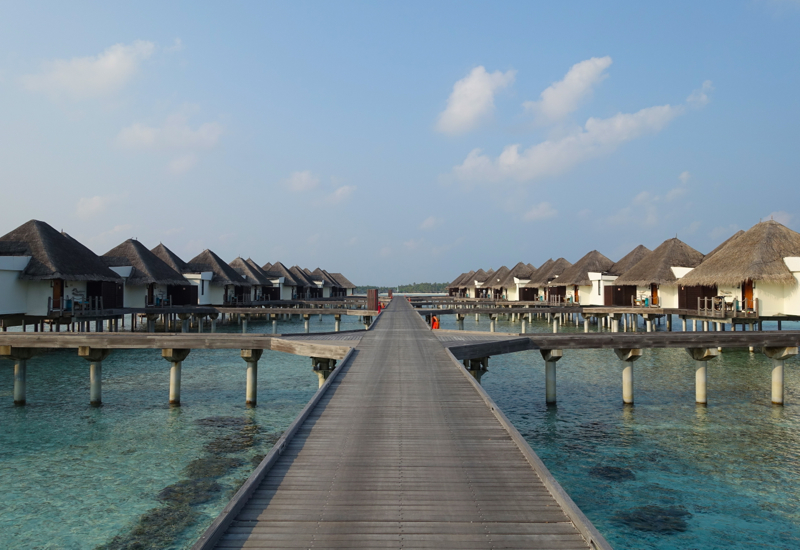 As you walk out along the jetty, Sunrise Villas are on the left, and Sunset Villas on the right. Sunrise and Sunset Water Bungalows are 657 square feet, but somehow with the views of the water and natural light seemed even more spacious than that. We were in Sunset Water Bungalow 312, so further out along the jetty than the initial set of water bungalows. Here's the entrance, facing into the bedroom, with the bathroom on the left and walk in closet on the right: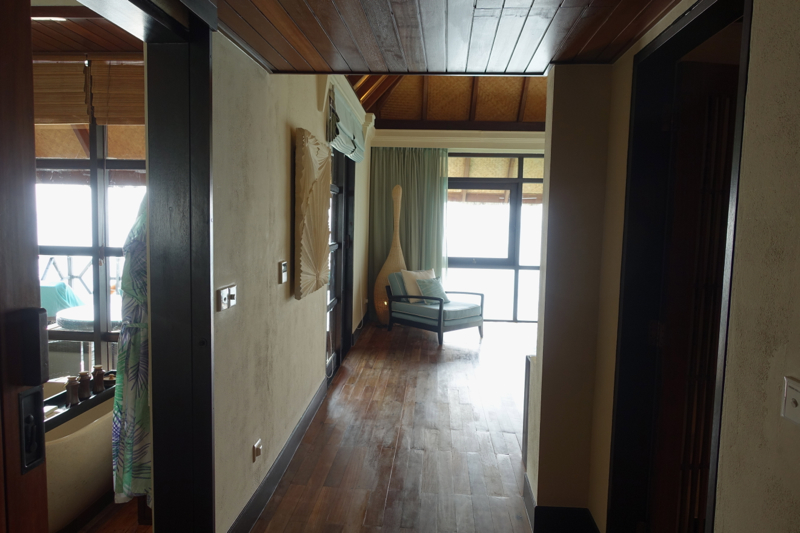 The bedroom featured a King bed, again with the ultra comfortable Four Seasons mattress that, along with our stay at Landaa Giraavaru, gave us our best sleep in the Maldives.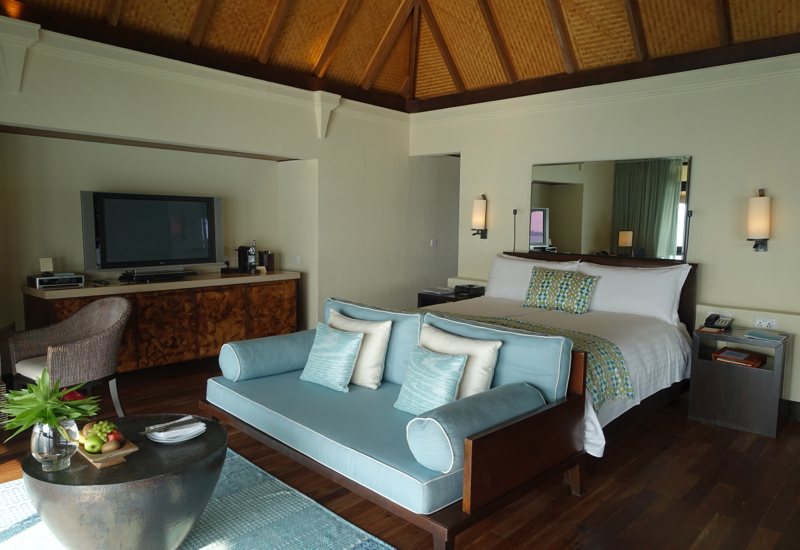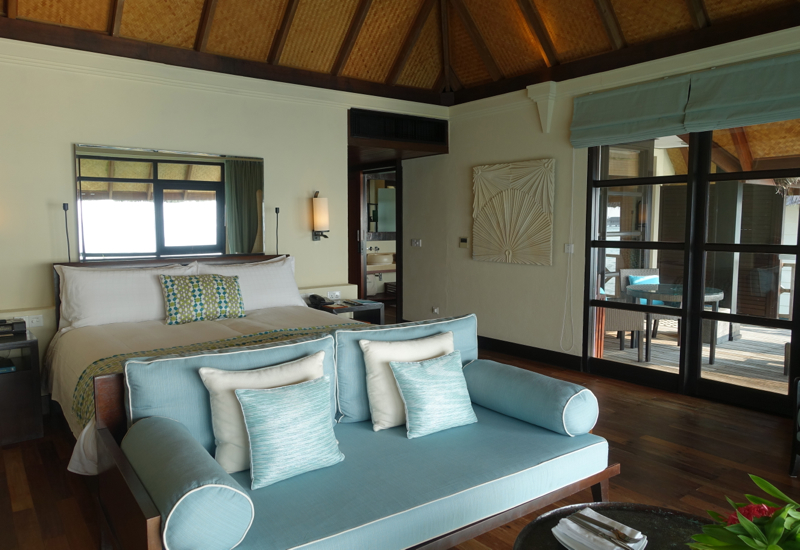 A fruit welcome amenity and flowers also awaited us, on a coffee table by the sofa: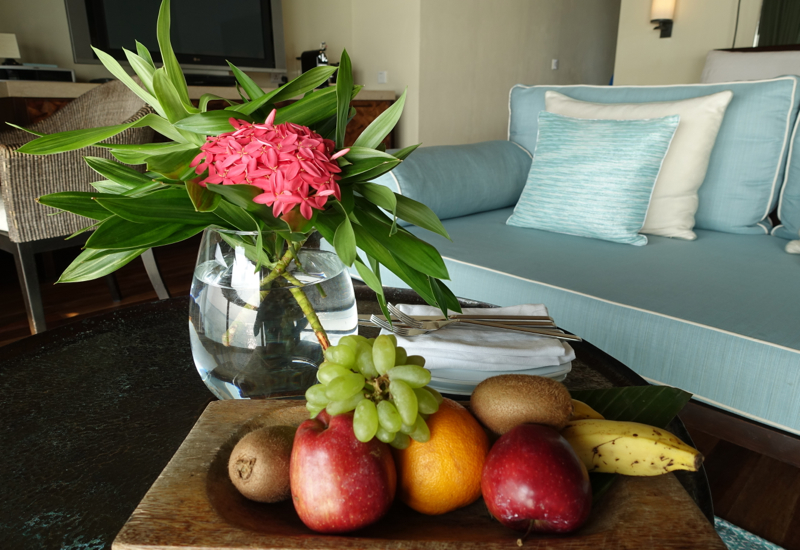 The bathroom featured similar fixtures to the Beach Bungalow, except that the bathtub was longer and of course right by a window with a view of the deck and ocean beyond.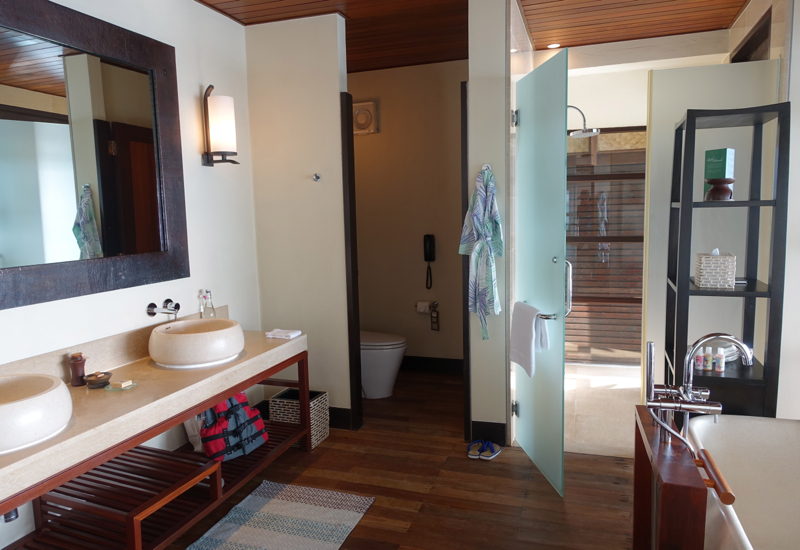 In addition to handmade lemongrass infused bath products for adults, there were kids' paraben-free and phthalate-free kids' bath amenities, which I appreciated and used for a bubble bath for the munchkin.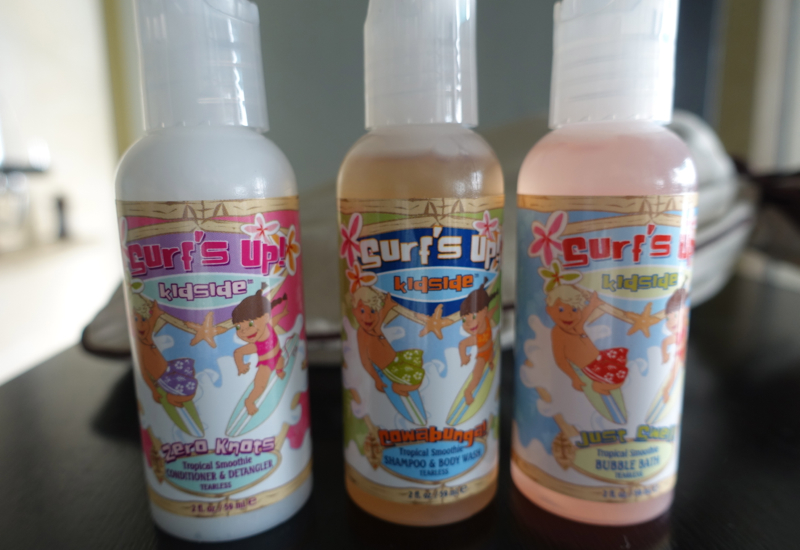 In addition to the indoor shower, there was also an outdoor shower, handy for rinsing off after a swim: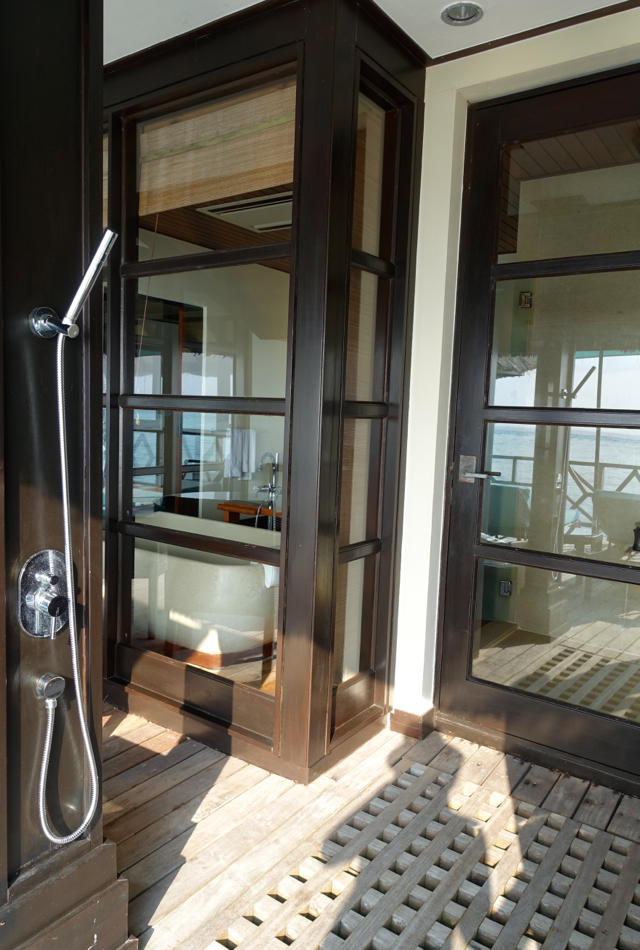 And of course a highlight was the deck itself, which my son was soon relaxing on and enjoying the view: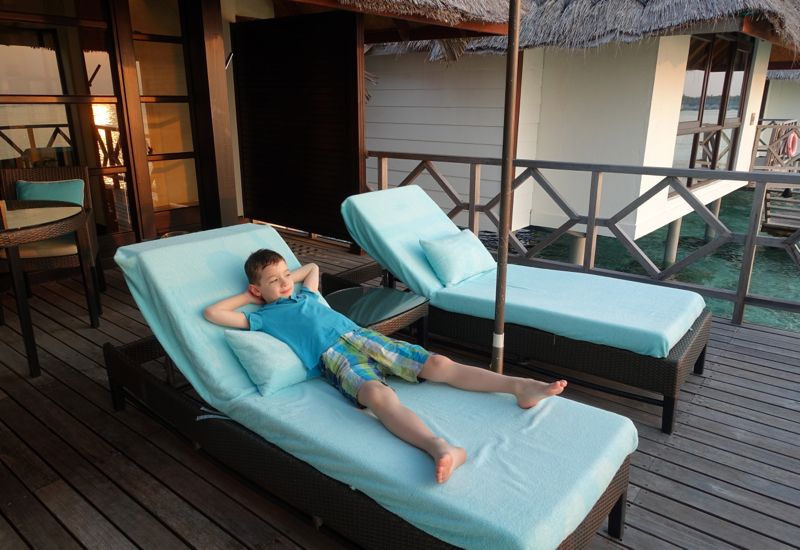 And the sunset was indeed lovely: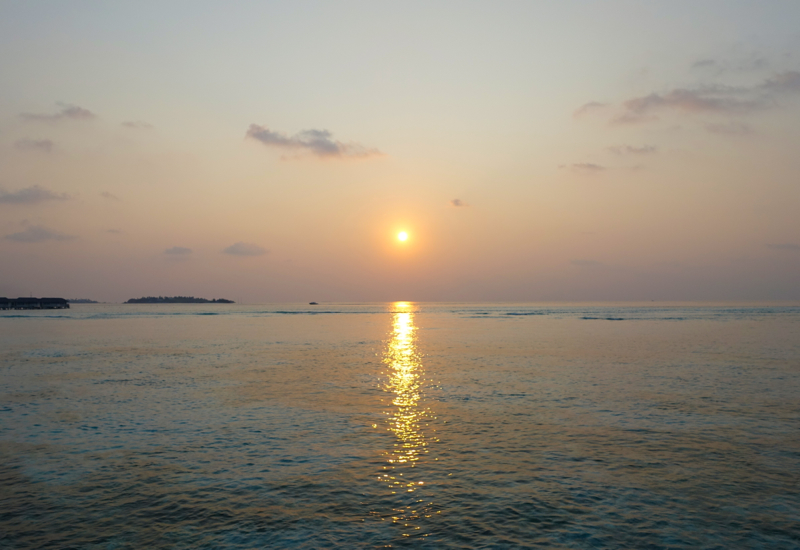 Verdict
Even before our trip, my son was building elaborate water bungalows out of his blocks at home, so our stay in a Four Seasons Kuda Huraa Water Bungalow was a dream come true for him, as much as for me. Pros of these water bungalows are that they're an easy walk to get to, since Kuda Huraa is a small island; have the most comfortable beds (along with Landaa Giraavaru) that I've slept on in the Maldives, include fantastic and friendly Four Seasons service, and have a lovely true sunset view if you select a Sunset Water Bungalow or are upgraded to one with Four Seasons Preferred Partner. While not the newest water bungalows in the Maldives, they are immaculately maintained, and air conditioning worked well, which is also a consideration since some water villas in the Maldives suffer from inadequate air conditioning, leaving them uncomfortably hot.