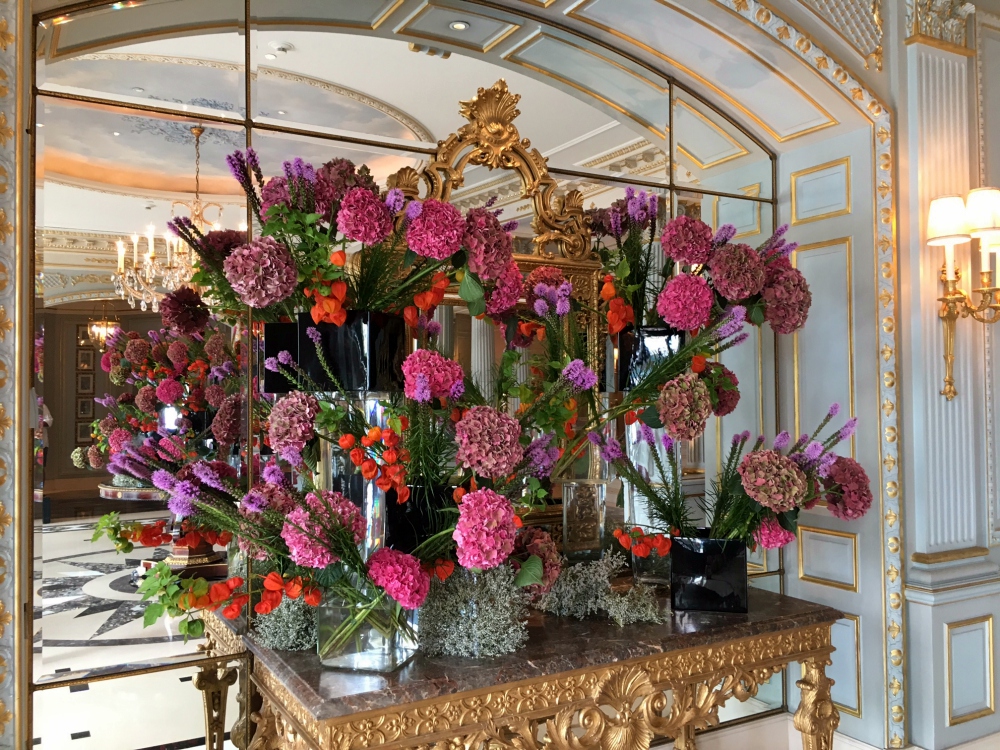 This Four Seasons Hotel des Bergues Geneva Review is part of my Switzerland Trip Report. The best way to reserve a Four Seasons hotel or resort is with Four Seasons Preferred Partner benefits, because these reservations receive highest priority when it comes to upgrades. TravelSort Clients can reserve the Four Seasons Geneva with these Preferred Partner benefits:
Four Seasons Preferred Partner Benefits, Four Seasons Geneva
Daily full American breakfast for two people per bedroom, served through In-Room Dining or in the hotel restaurant (including buffets)
Hotel credit of $100 ($200 for suites) once during stay
Upgrade of one category, based on availability at time of check-in (excluding signature suites, villas, and private residences)
Complimentary basic Internet in all guest rooms; complimentary premium Internet in all suites
Four Seasons Geneva Location, Lobby and Check-In
The Four Seasons Hotel des Bergues, Geneva is located right by Lake Geneva, at Quai des Bergues, 33, and I was able to walk there from the Geneva train station in just 10 minutes. Keep in mind that the Geneva city center train station is just a 7-8 minute train ride from the Geneva Airport train station, and that you can get a free transport pass at the airport for your journey. That makes getting door to door from the airport to the hotel (at least once you're boarding the train at Geneva Airport) under 20 minutes.
The lobby is small but gorgeous, thanks to a profusion of beautiful flower arrangements that reminded me of sister property, Four Seasons George V, Paris. Surprisingly, when I shared photos of the hotel in my Guess the Hotel post, no one managed to guess the Four Seasons Geneva. Perhaps not too many readers have stayed at the hotel.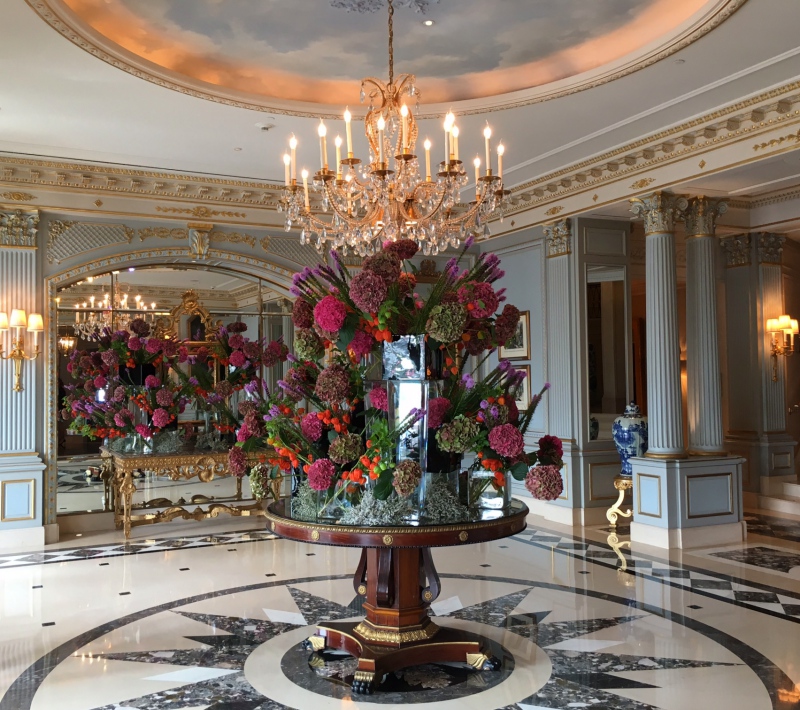 I arrived mid-morning, and there was no line at reception, where I was warmly greeted and escorted to my room.
Four Seasons Geneva Junior Suite
The hotel had kindly upgraded me to a Junior Suite, with a view of Lake Geneva. Particularly in late spring, summer, and early fall, I highly recommend reserving a room or suite with a view of the lake. Even though when I first arrived it was a bit cloudy, it was still nice to have a view of the water, including the fountain (known as the Jet d'Eau), from the Juliet balconies.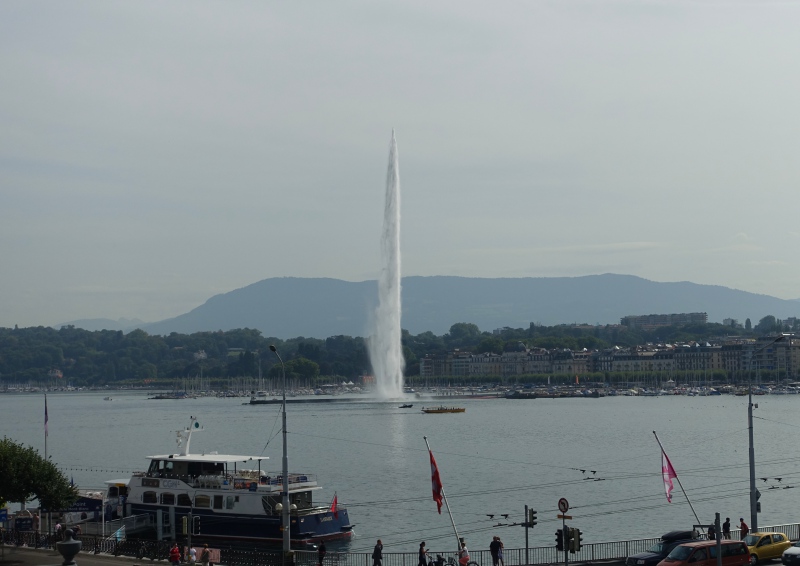 Later, when I departed the hotel, I was able to include a Swiss Flag in my photo of the Jet d'Eau: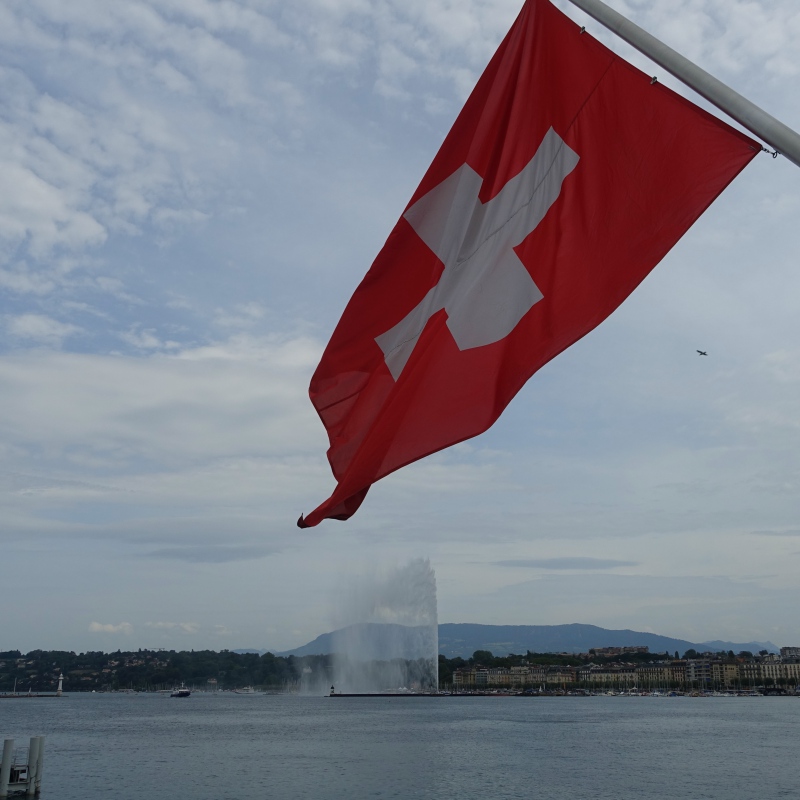 Junior Suites range in size from 344-527 square feet, due to the historic nature of the hotel, but my Junior Suite seemed very spacious, with quite a bit of floor space between the King bed and the living area, with the sofa and coffee table.
Junior Suites can accommodate a third adult or child in an extra bed, but note that some of the rooms accommodate a maximum of one or two people. Standard Rooms with a double bed accommodate 1 person, while Standard Rooms with a Queen or King accommodate a maximum of two people, no extra bed allowed. Similarly, Superior Rooms accommodate two people maximum, no extra bed allowed, and Loft Studios accommodate a maximum of 2 adults and one infant in a crib, with no extra bed allowed. Of the rooms, only Deluxe Rooms can accommodate an extra bed.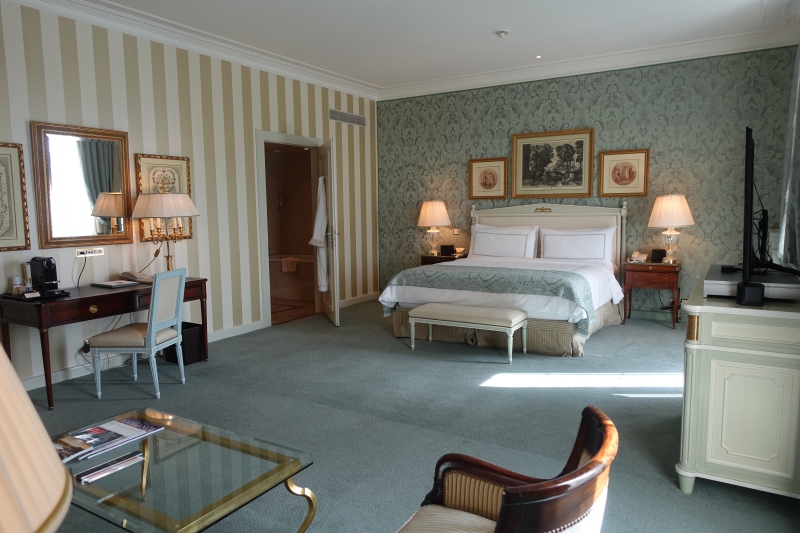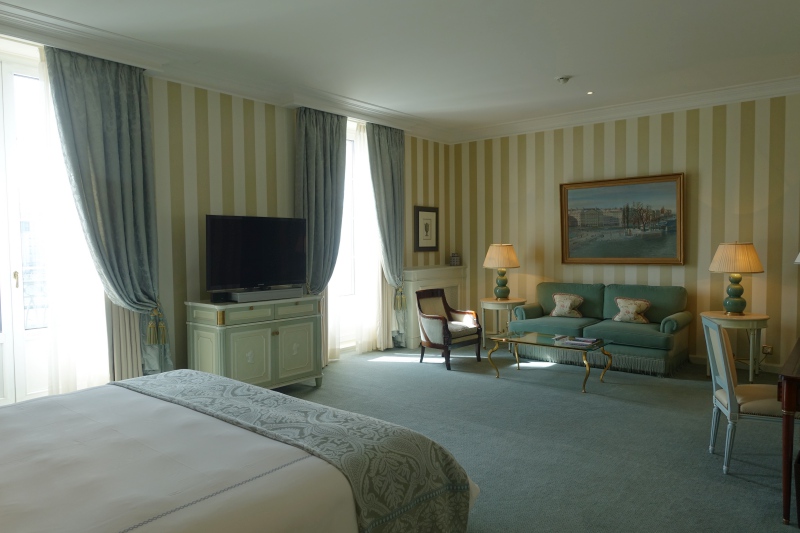 The Junior Suite included a walk-in closet on the left after entering, with ample space to hang clothes and place shoes. A lovely orchid was on the table across from it.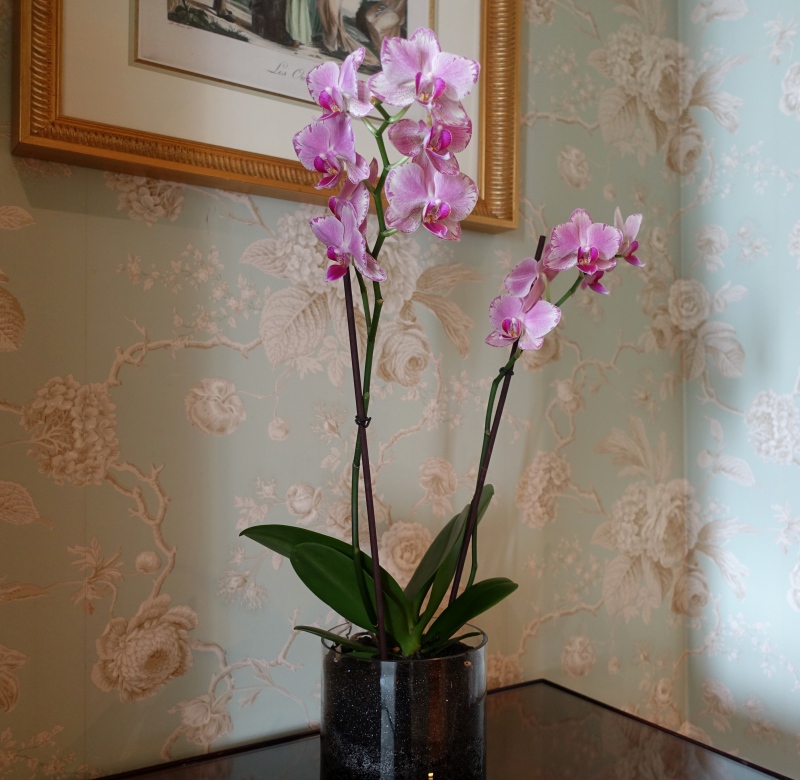 On the desk was a Nespresso machine, always appreciated.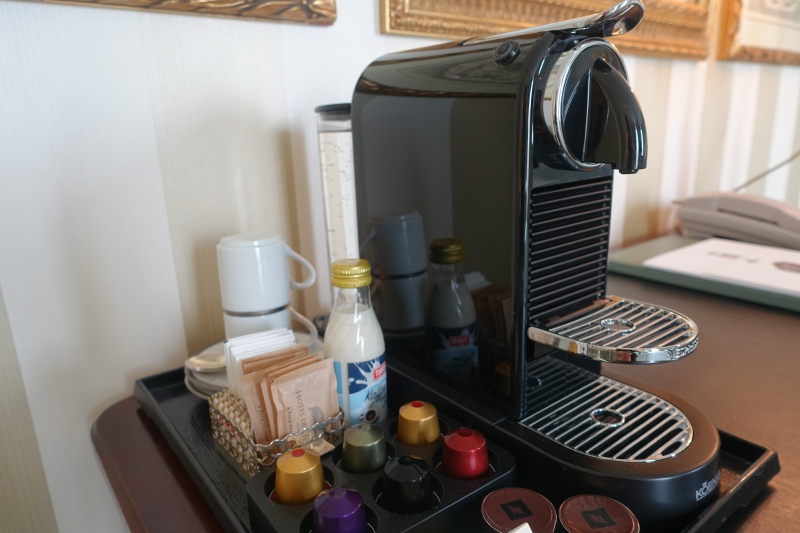 The Junior Suite bathroom has double sinks, a soaking tub, and a separate shower (although not a rain shower). Bath products are Bulgari.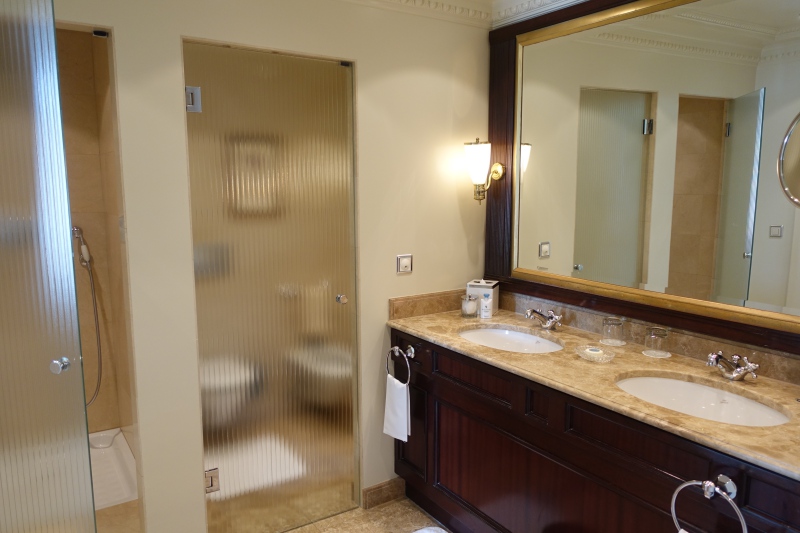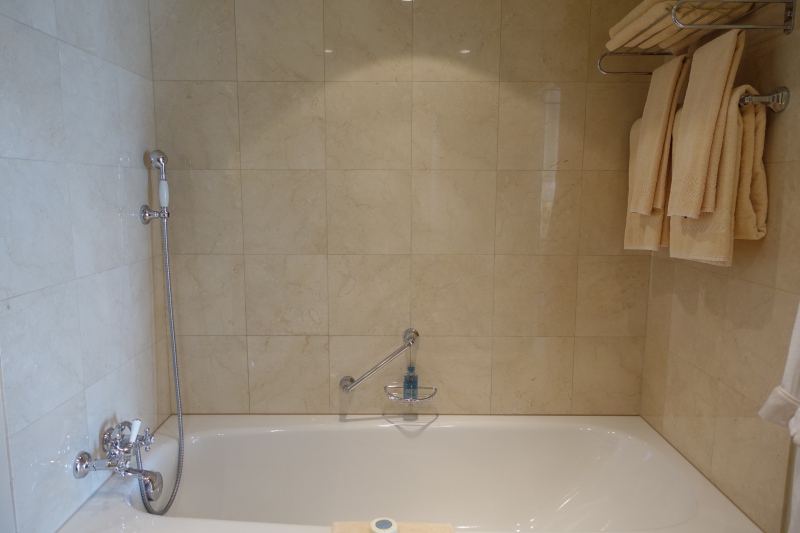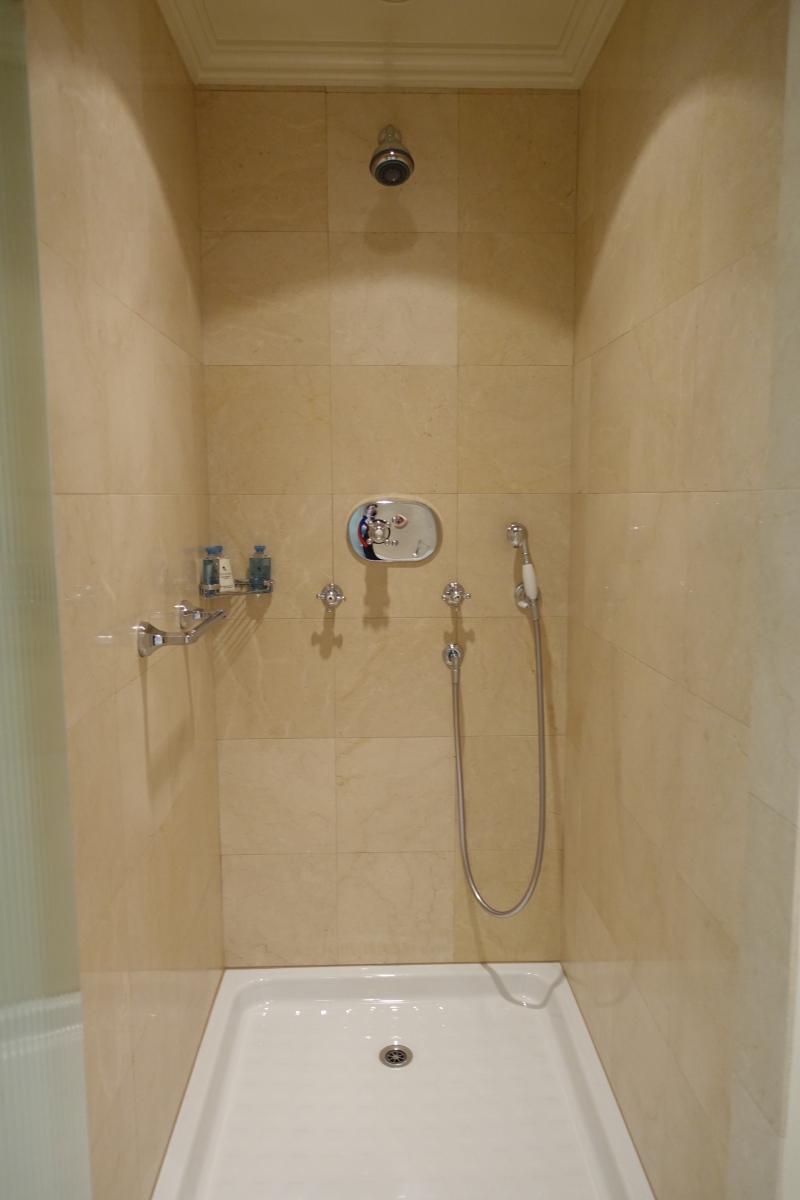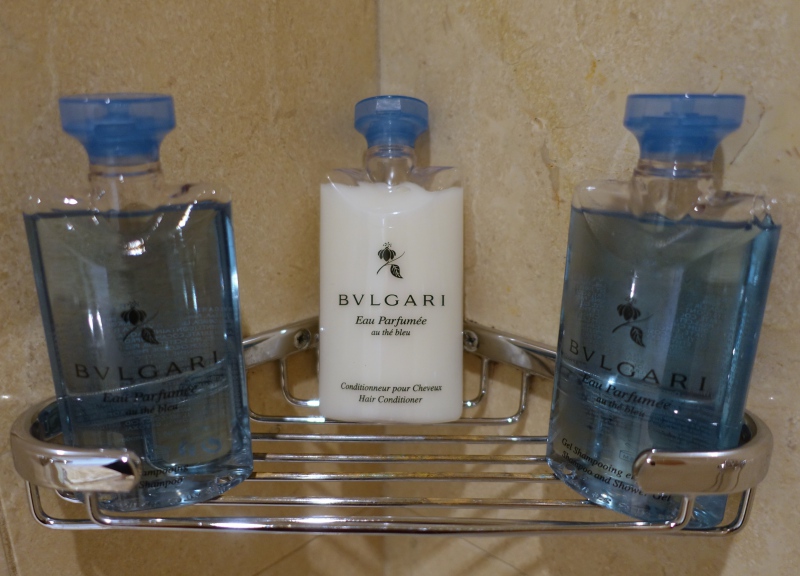 Here's my Four Seasons Geneva YouTube Video:
Pool and Fitness Center
While I didn't have a chance to go for a swim, I had a peek at the indoor rooftop swimming pool, as well as the Fitness Center. Both have great views, thanks to their location on the top floor.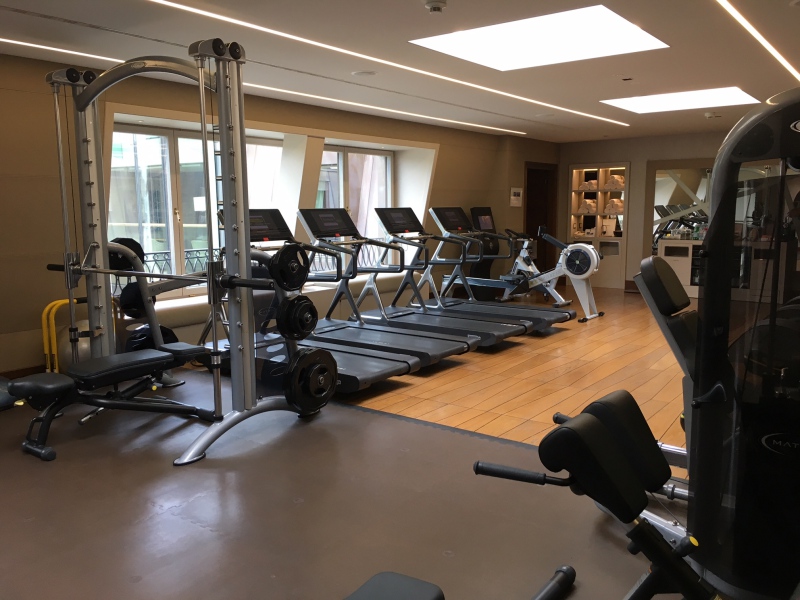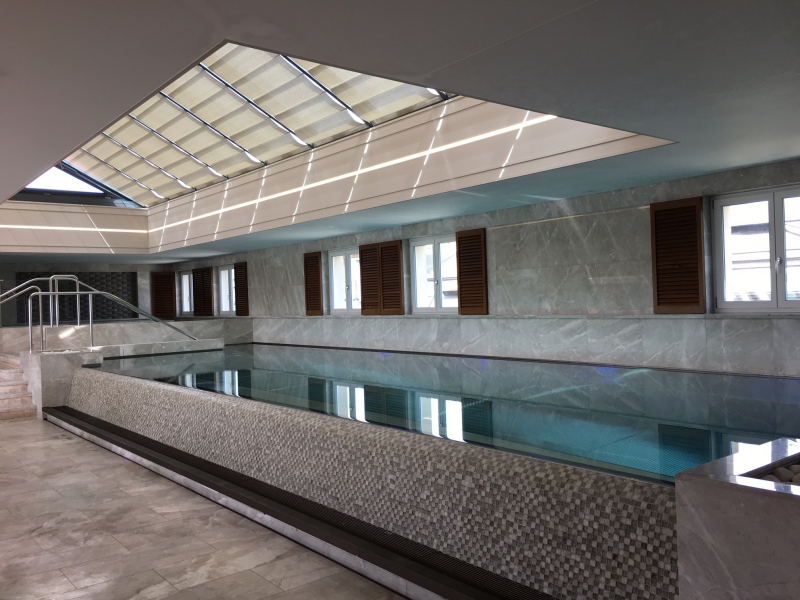 The Verdict
I wished I'd had more time at the Four Seasons Hotel des Bergues, Geneva. It's no wonder the hotel operates at high occupancy year-round, and this is a property I highly recommend reserving well in advance, particularly as there are only a few rooms or suites for many of the categories. The rooftop is lovely in summer, and the perfect venue for IZUMI, the Japanese restaurant. But it was an inspired choice to make the pool indoor, under a glass atrium, so that it can be enjoyed in winter and on colder days as well.
While my Junior Suite was elegant and in a more traditional style, those who prefer a modern chalet look may reserve one of the Loft Studios or Suites, as these have a contemporary look to them. Service was excellent from all I interacted with: Reception, the Restaurant, Concierge, and Fitness Center/Spa.
If you've stayed at the Four Seasons Hotel des Bergues, Geneva, what was your experience?
Recommended Posts
Review: SWISS A330 Business Class
8 Things I Love About Switzerland
JFK: SWISS Business Class Lounge Review
Best Luxury Ski Resorts for Skiers and Non-Skiers
Need Award Booking Help? Our fee is as low as $75 per ticket if you book your hotel through us.
If you enjoyed this, join 200,000+ readers: please follow TravelSort on Twitter or  like us on Facebook to be alerted to new posts. 
Become a TravelSort Client and Book Your Luxury Resort with Virtuoso or Preferred Partner Amenities!