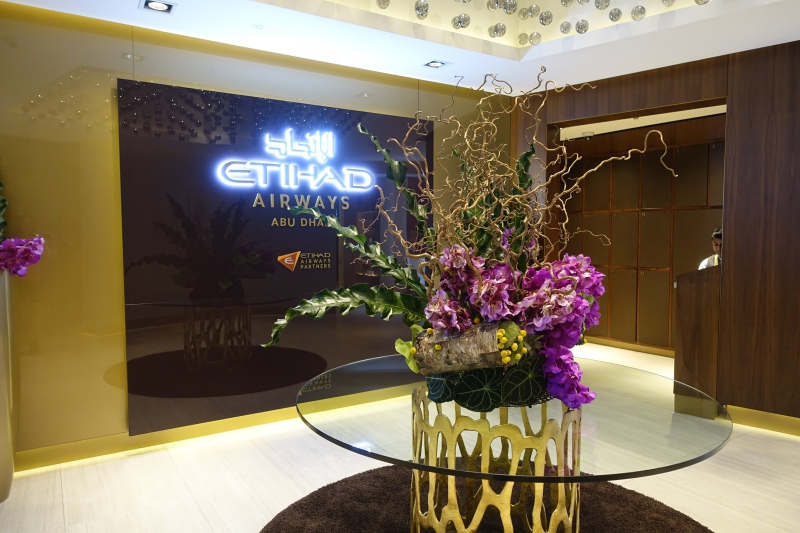 This review of Etihad's First Class Lounge and Spa in Abu Dhabi is from our recent visit on the way back from Cheval Blanc Randheli in the Maldives. After several delays in its construction, the new Etihad First Class Lounge, Abu Dhabi opened in late May, 2016. See all of our airport lounge reviews and all our Etihad Airways posts.
Etihad Airways First Class Lounge Abu Dhabi Location, Access and Hours
The Etihad First Class Lounge & Spa at Abu Dhabi (AUH) is located in Terminal 3, although it wasn't the easiest to find as a connecting passenger, at least in our sleepy state. We knew of course to follow signs to Terminal 3, such as this one: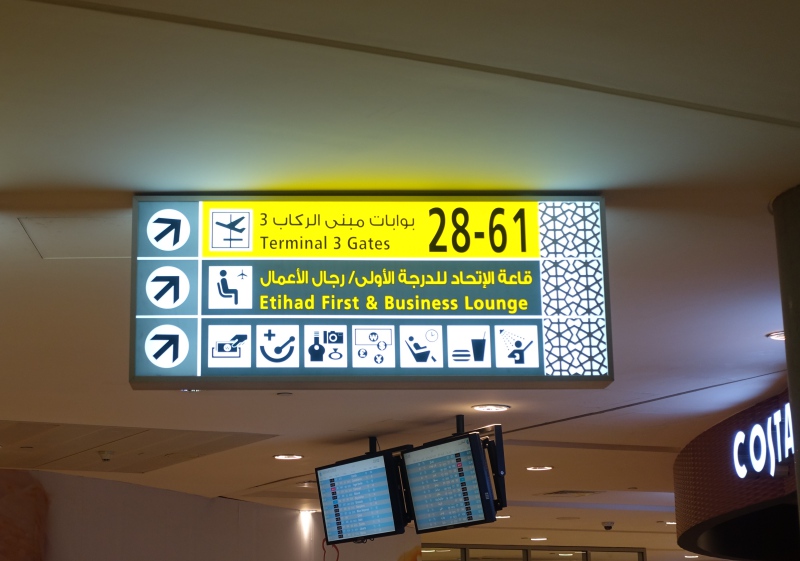 Once we got to Terminal 3 we went a few wrong directions before finally finding this sign, near a sign to Bulgari:
We finall found the entrance, where we were greeted by an associate and our tickets were checked, before being ushered to the elevator to access the lounge.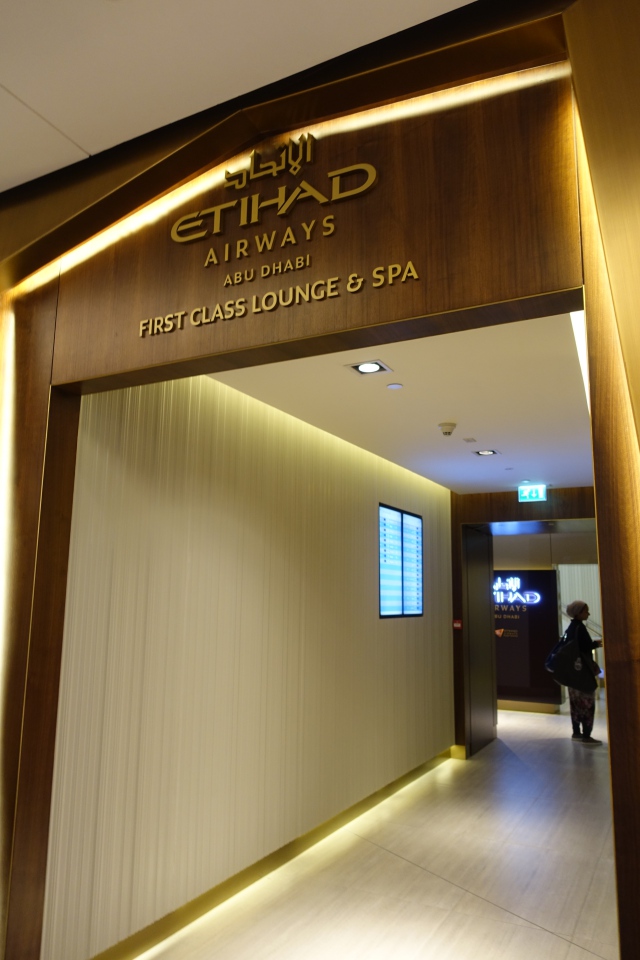 The lounge is open 24 hours, and these passengers have access:
The Residence guests
First Class guests
Etihad Guest Platinum elite frequent flyer members, plus 1 guest
Etihad Airways Partner airlines Platinum elite frequent flyer members, plus 1 guest
Virgin Australia Velocity Platinum elite frequent flyer members, plus 1 guest
Etihad Airways First Class Lounge Abu Dhabi Amenities
The new Etihad First Class Lounge is about 18,000 square feet. Just off of the main entrance to it is a luggage storage area, although we didn't actually make use of it.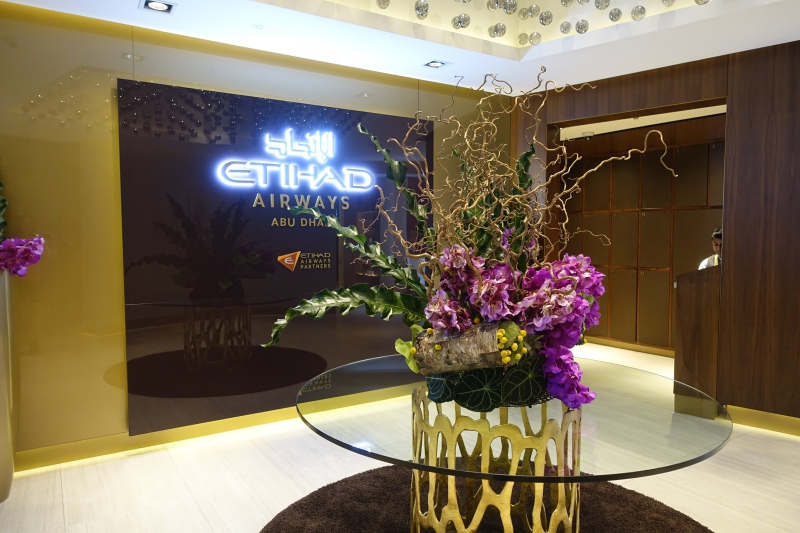 Proceeding down the hall, on the right is the Salon, offering Express Salon treatments such as haircuts, shaves and manicures. First Class passengers can choose between a complimentary Express Salon treatment or a complimentary 15 minute Six Senses massage or facial treatment. Here's the Express Salon treatment menu: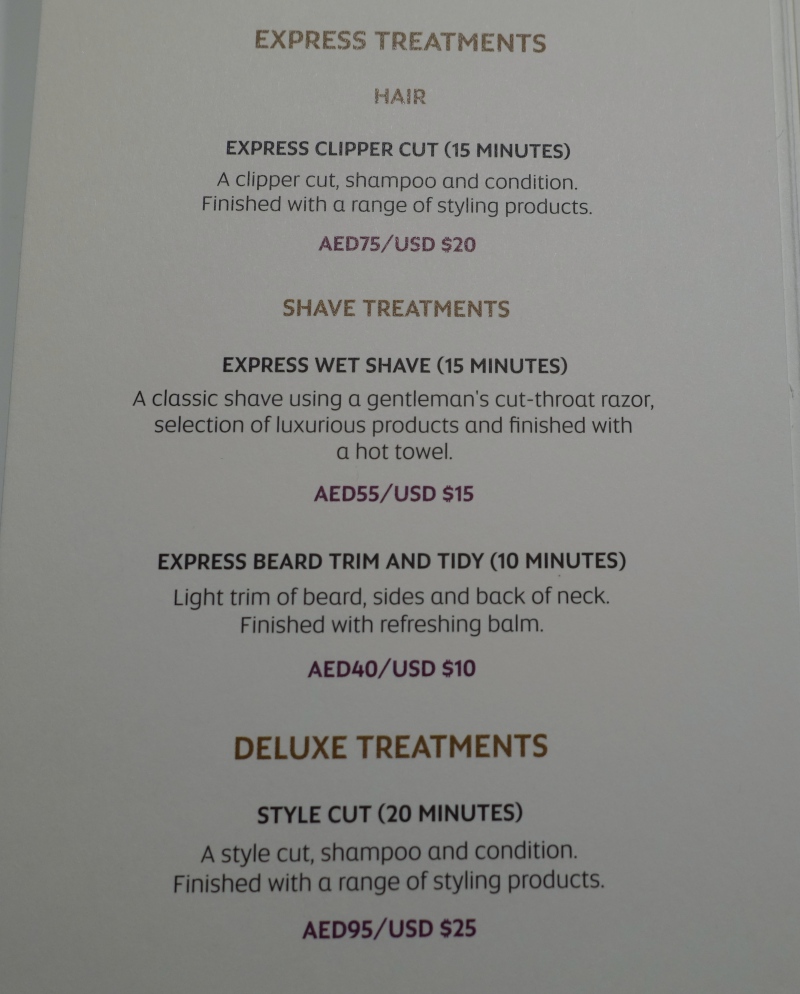 Next to the Salon is the Fitness Center, which I think is a great feature, even though understandably at the time of our visit (midnight to 2:30am) no one was using it.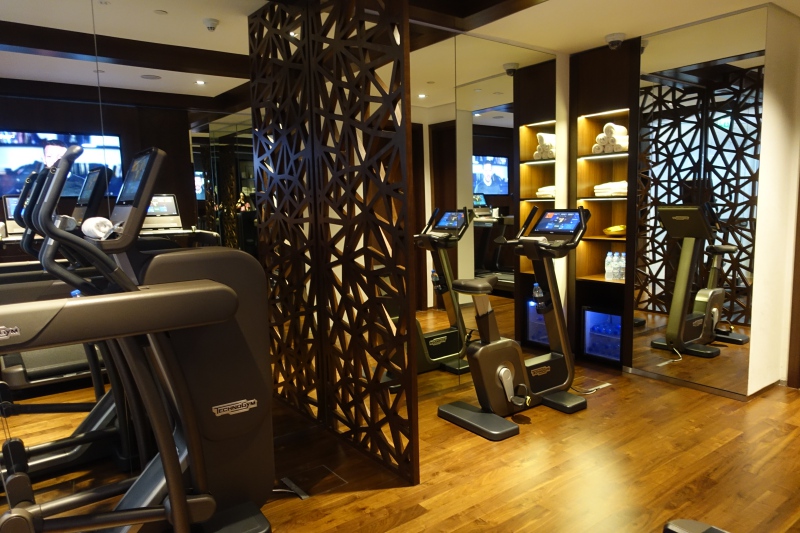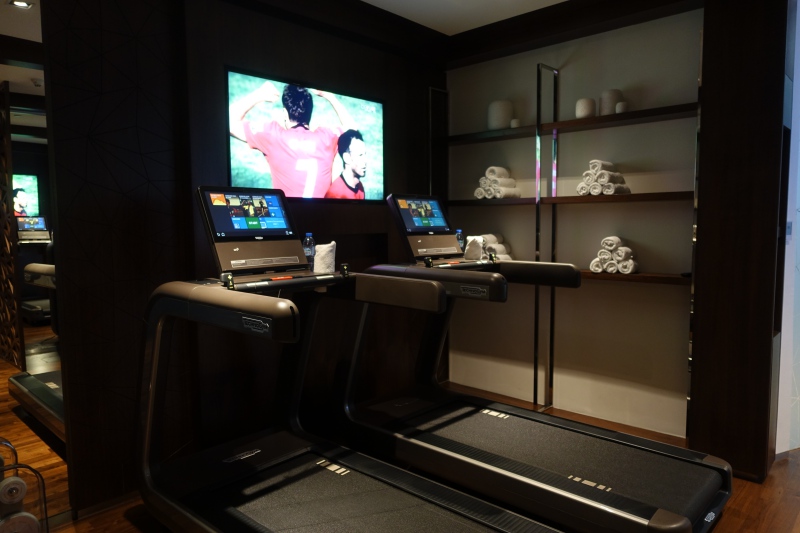 There's a shower just off the Fitness Center, so easy to freshen up after a work out.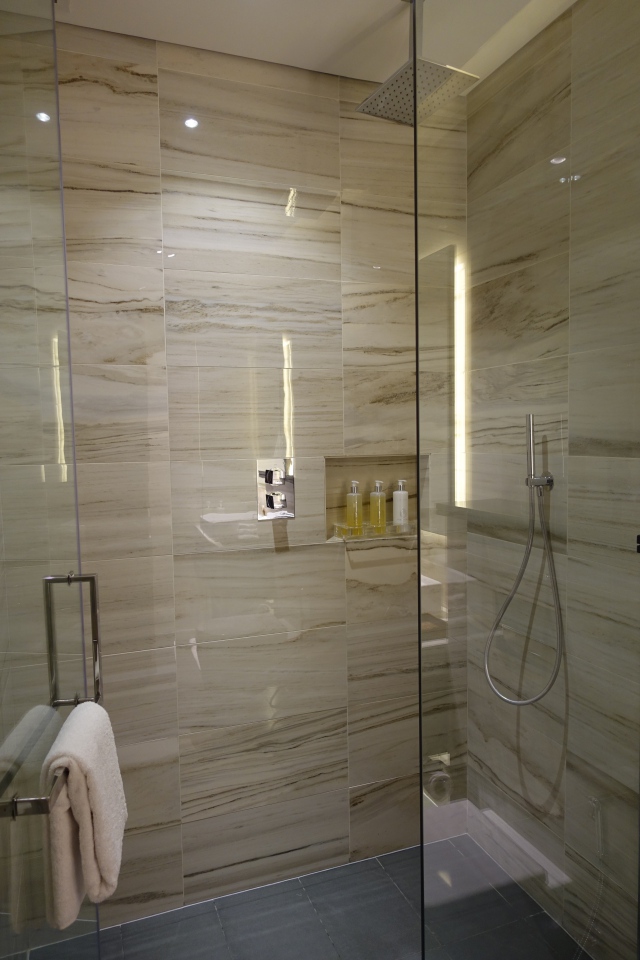 The shower bath products are Omorovicza from Hungary.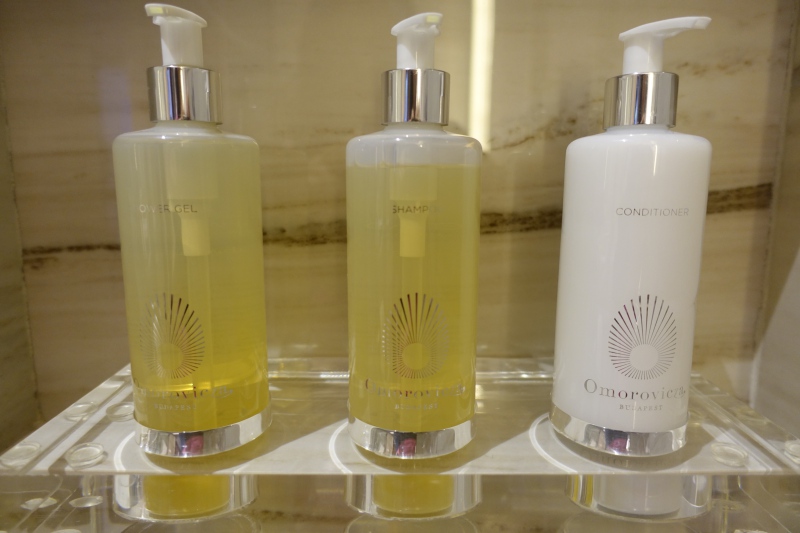 Further down the hallway and also on the right is the Six Senses Spa, which I recommend stopping at first, if you'd like to schedule a complimentary massage.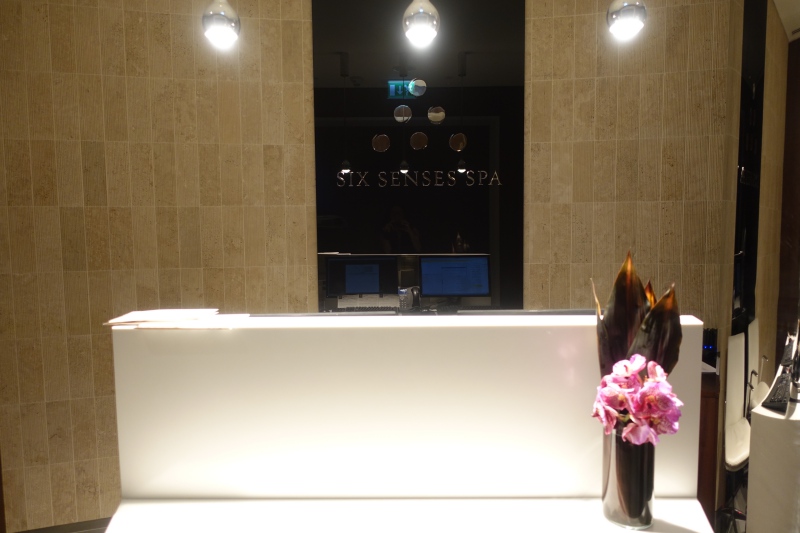 Here's the spa treatment menu: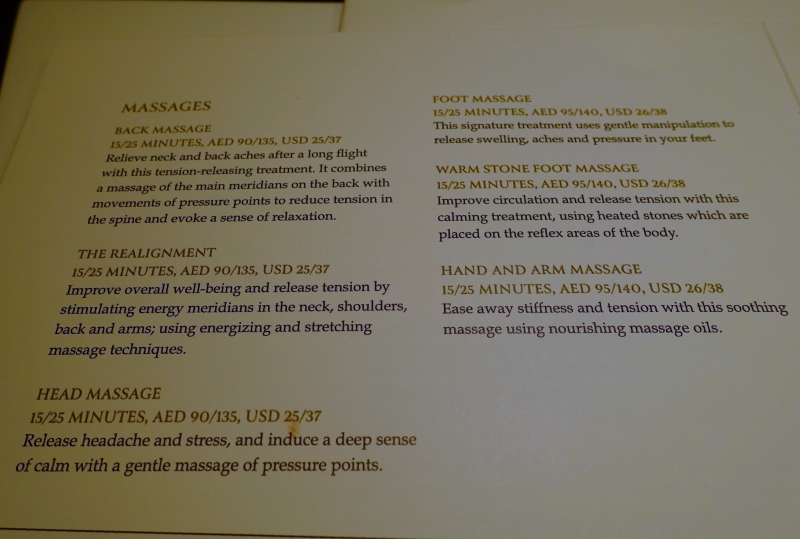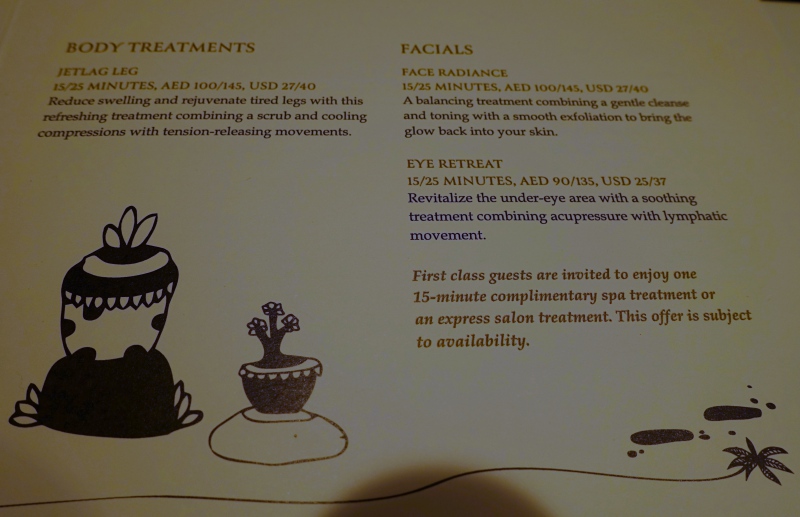 I selected the back massage, and as with my prior experience a few years back in the old Etihad First Class Lounge Six Senses Spa, the therapist was excellent and very intuitive. These have been the best short airline lounge massages I've received, that really helped with the knots in my neck and back (I exclude the 1 hour massage at the Thai First Class Lounge Royal Orchid Spa, since it's not fair to compare a 1 hour to a 15 minute massage).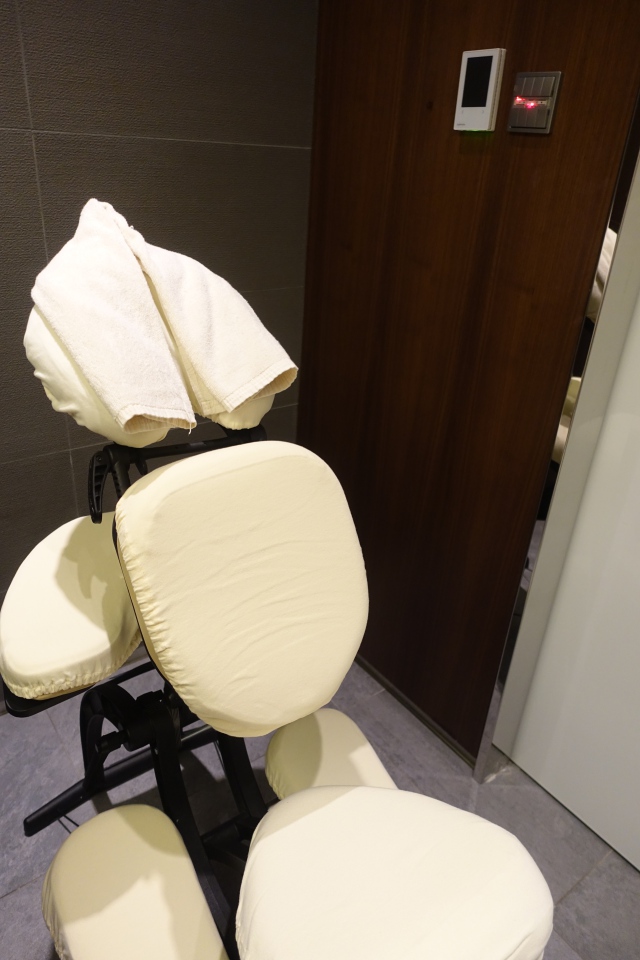 Also on the right hand side near the spa are the restrooms; here's the women's bathroom: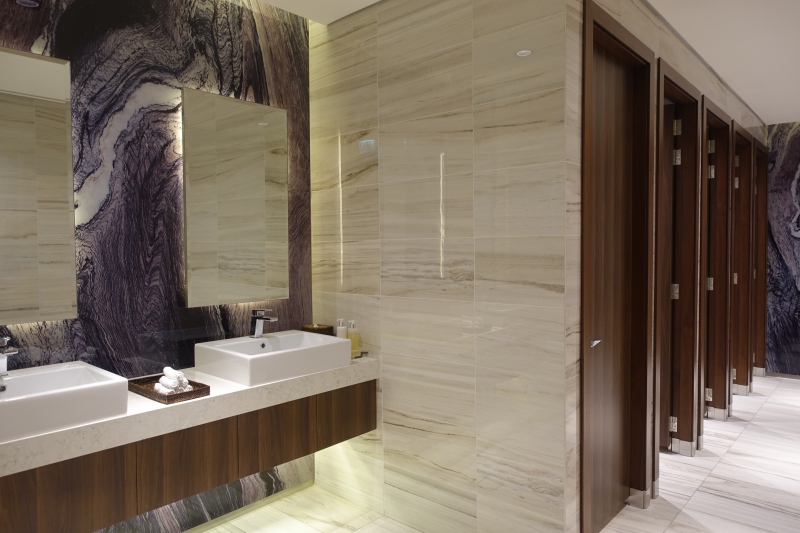 On the left hand side is a Kids' Play Room, which is mainly targeted at younger kids. My son did love that they had an illustrated version of Harry Potter and the Sorcerer's Stone, since he's still a huge Harry Potter fan.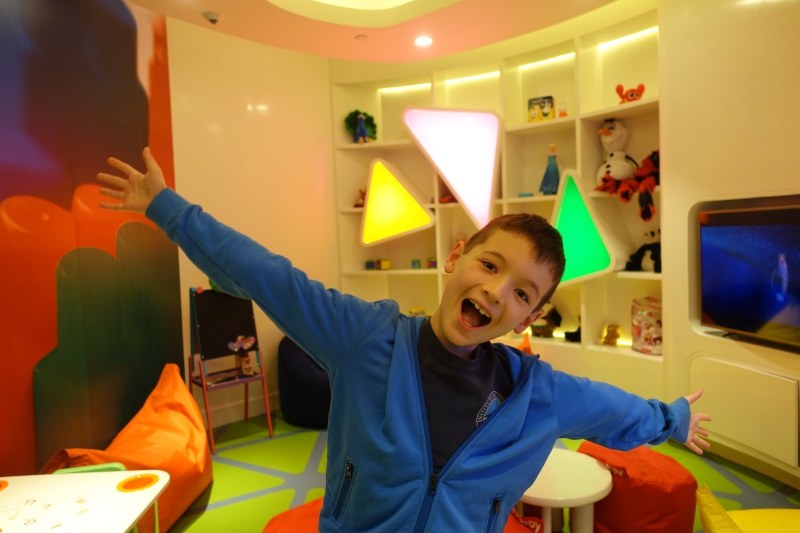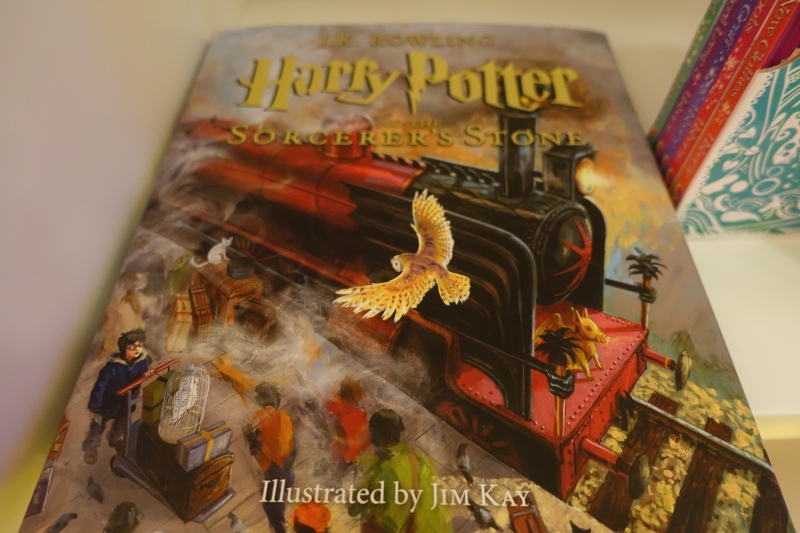 The main lounge itself is the first left, with a reception/concierge area on the right.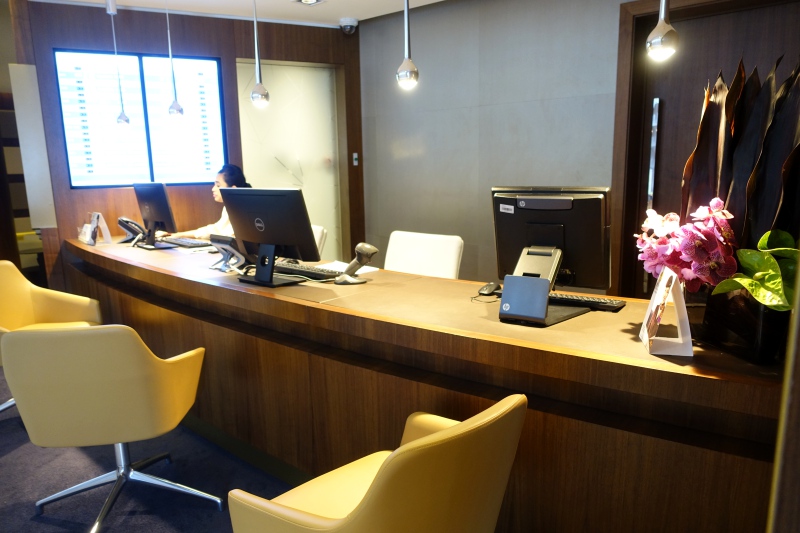 Just after the reception, also on the right, are exclusive seating areas for guests of The Residence, which include dedicated butler service and access to a private shower.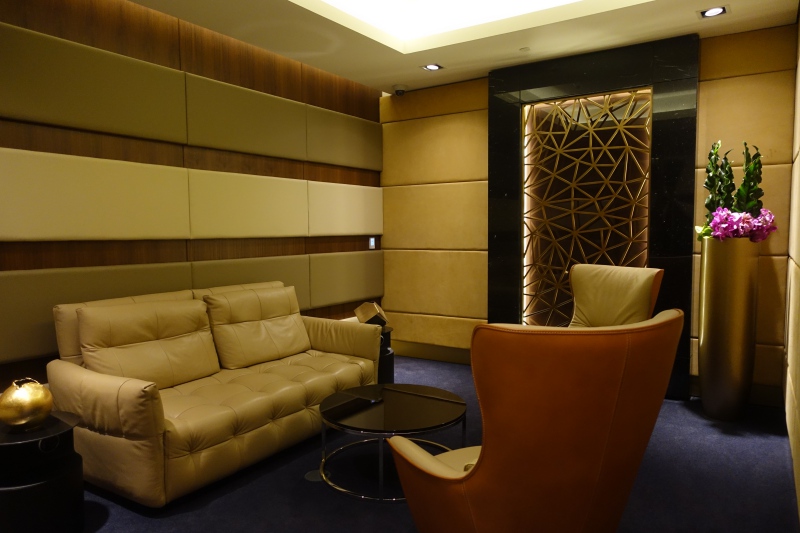 On the right is the main dining room, which I'll get to in the next section, covering food and drink.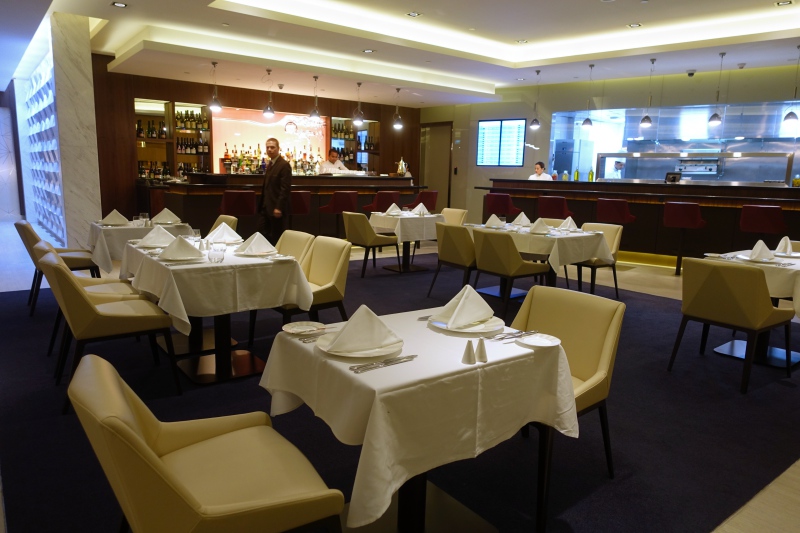 Further on is the bar, which prepares a variety of cocktails and mocktails, and stocks 75 premium spirits.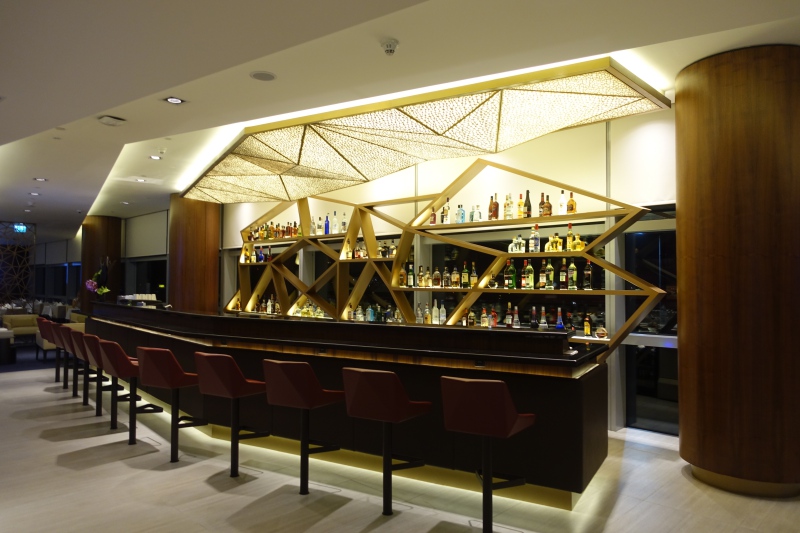 Near the bar is the Relax & Recline Room, which I'm sure many passengers wish had actual beds or flat sleeping services, but it just has recliner chairs.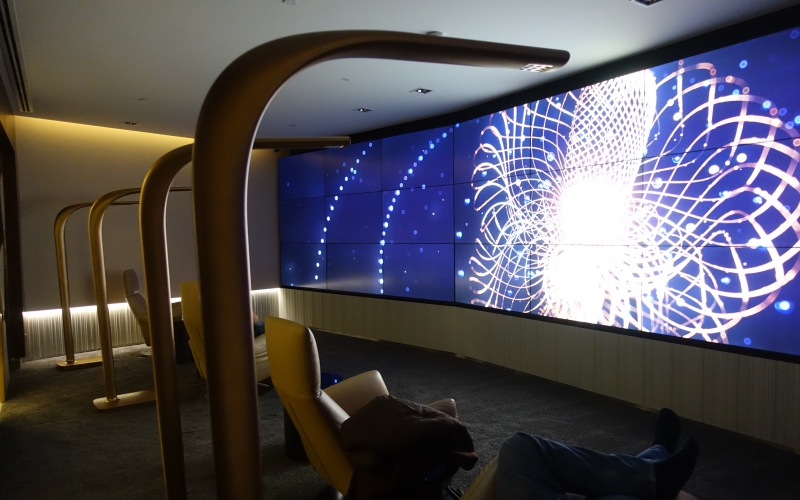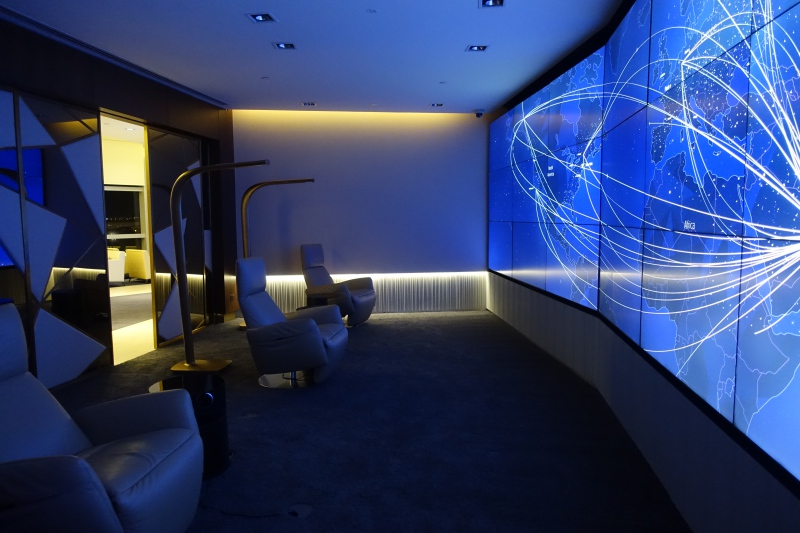 Initially we couldn't see where to recline the chair; it's a bit hidden by the leather on the right hand side of the chair: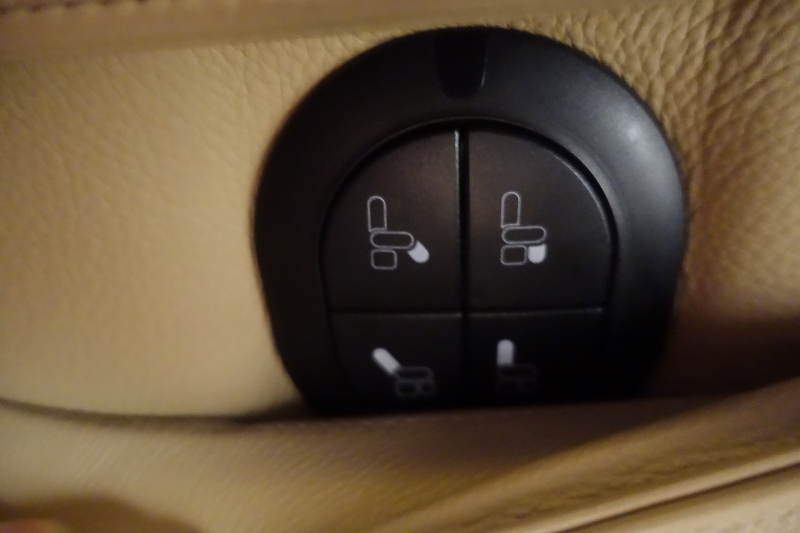 Since I knew there were no beds in the lounge, we brought an inflatable mattress for our son, which we inflated and put in a corner of the lounge. Initially our son had trouble falling asleep because of another guest on one of the recliners who was not only asleep but snoring very loudly, but eventually he fell asleep, about 45 min. before we had to leave the lounge.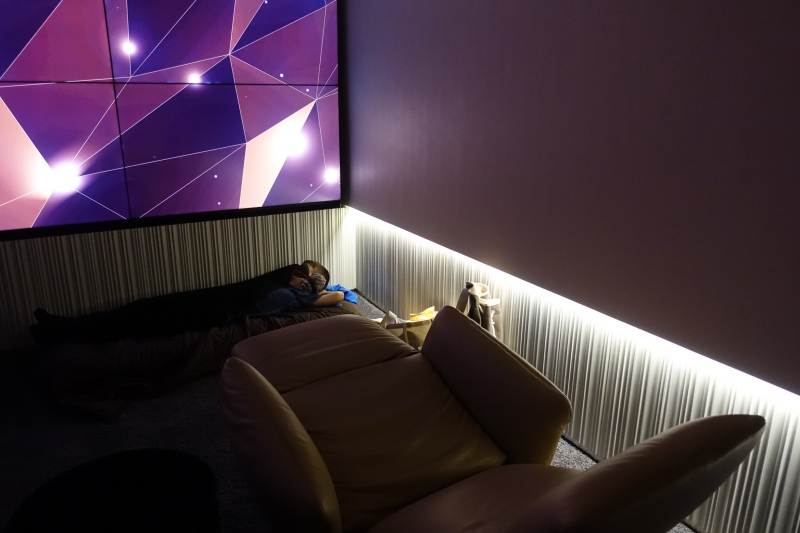 Other lounge amenities we didn't make use of include:
Cigar Lounge
Prayer Room
Clothes-pressing service
Etihad Airways First Class Lounge Abu Dhabi Menus, Food and Drinks
On the left is the main dining room, which was where we seated ourselves initially since our son was pretty hungry, not having eaten anything since late afternoon, due to sleeping on our flight from Male to Abu Dhabi. There's a regular a la carte menu, as well as one developed in partnership with the Emirates Palace hotel's fine dining restaurant, Mezlai.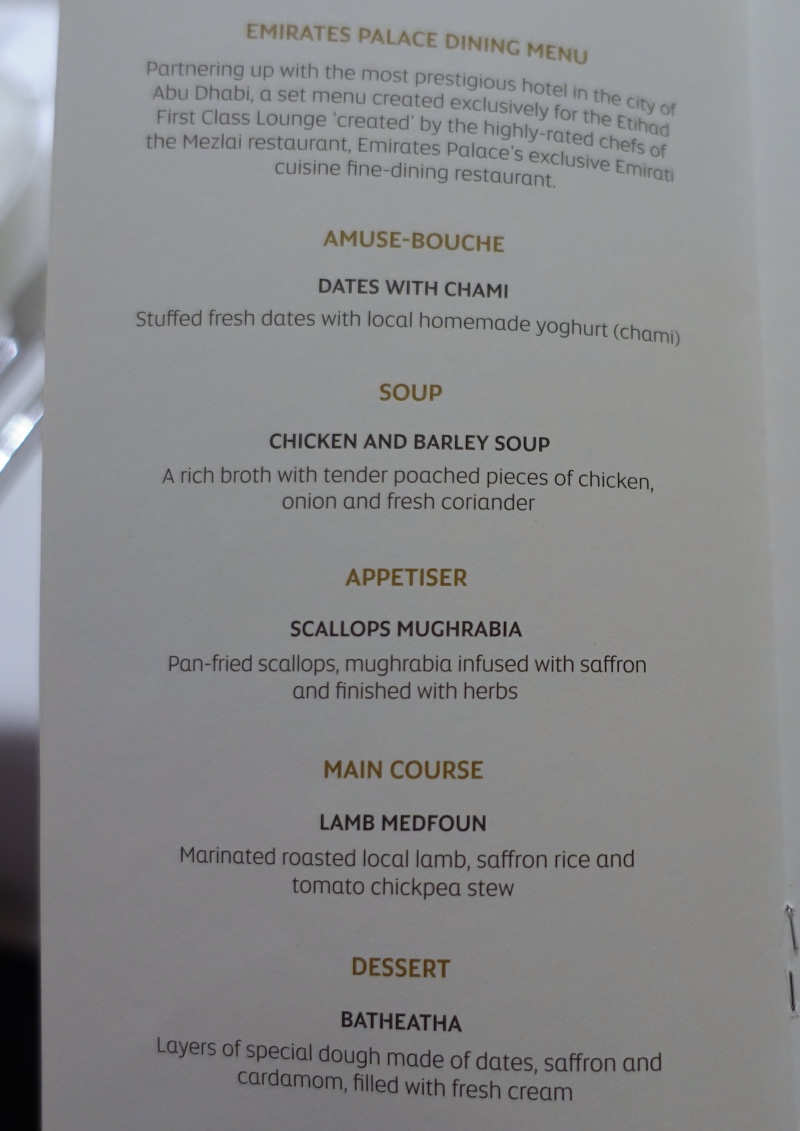 The champagne on offer was Bollinger "La Grande Annee" 2005, but I preferred to have a bit of red wine to go with the quail I ordered. The Chateau La Tour du Pin 2006, a St. Emilion Grand Cru, was a good food wine, but a little too tannic for my taste.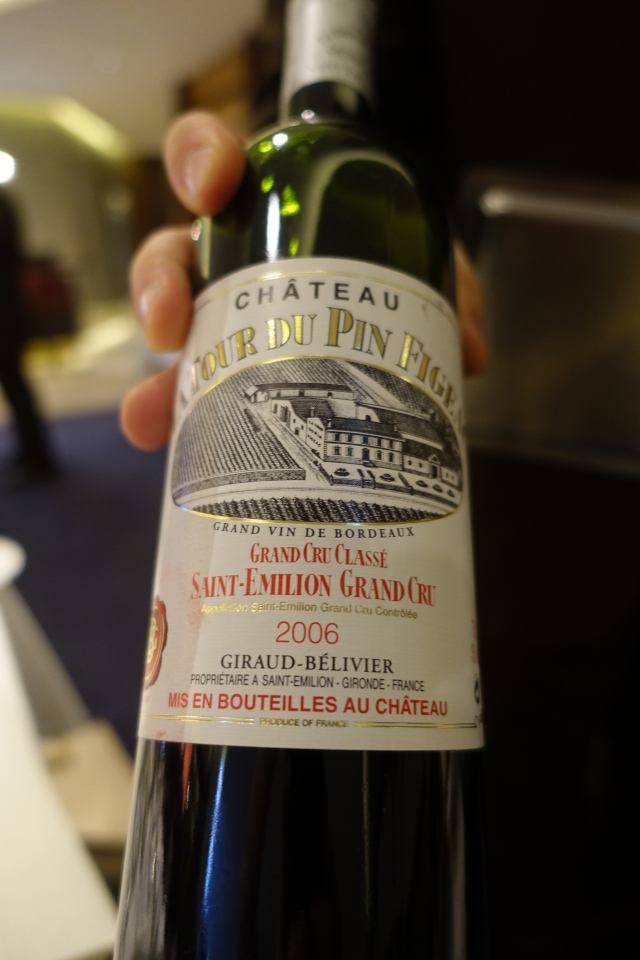 Our son loves watermelon, so he started off with Watermelon in Two Textures, with soft feta cheese with mint and pine nuts. Very light and refreshing, so perfect while jet lagged, and something that would also be an excellent choice in the hot Maldives.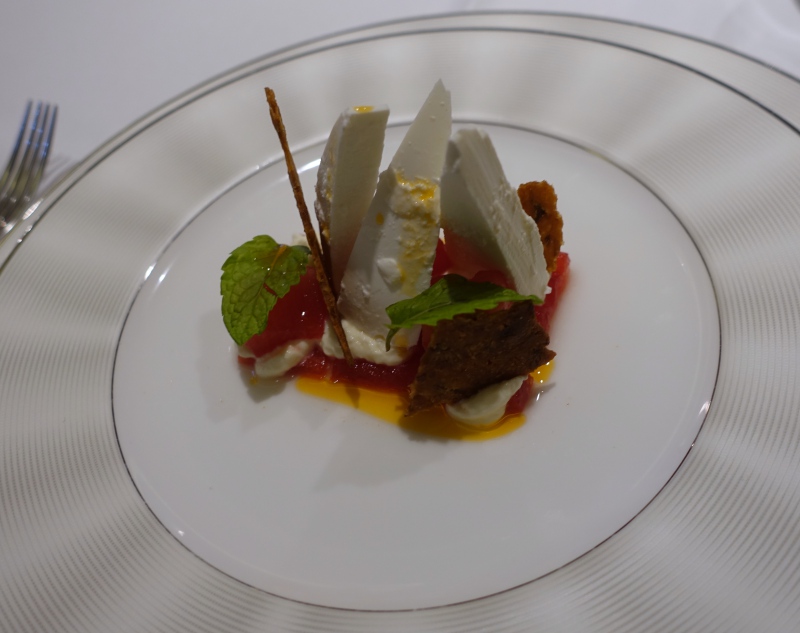 For a main, he chose the Lamb Medfoun with saffron rice and tomato chickpea stew from the Emirates Palace menu. The lamb was tasty and very tender, but also rich and filling, so he didn't manage to finish it.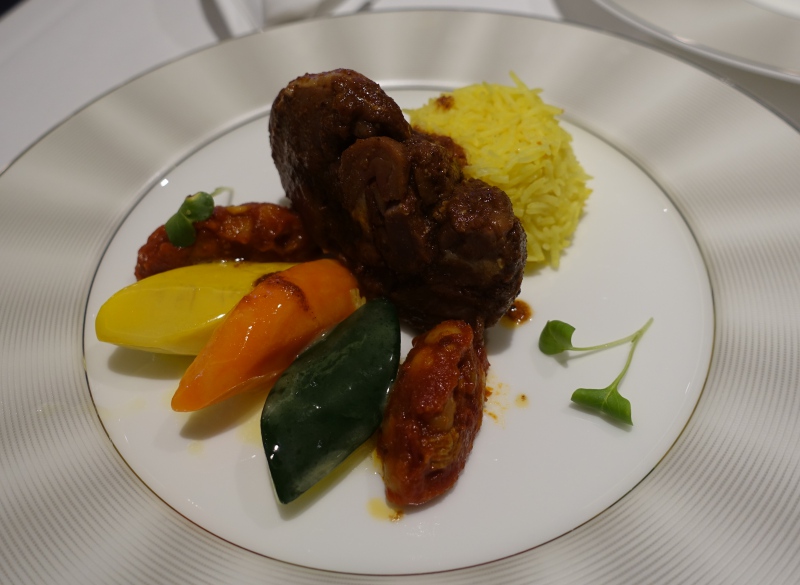 Meanwhile, I was very happy with my Sous-Vide Confit Quail, which included braised endive, onion cake and grape hazelnut sauce. Not everyone will care for the bitter flavor of endive, but it's a nice contrast to the richness of confit quail.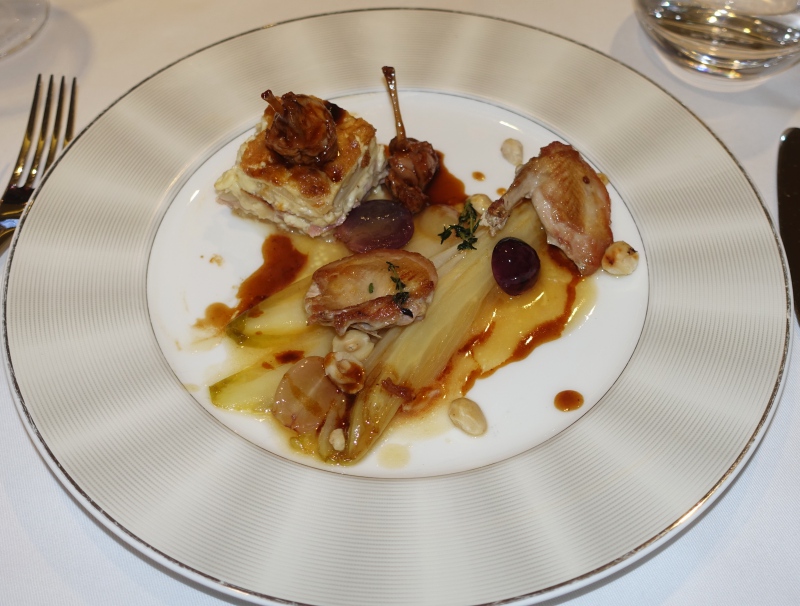 My husband wasn't hungry, but he kept us company by nursing a cappuccino, which he said was very good.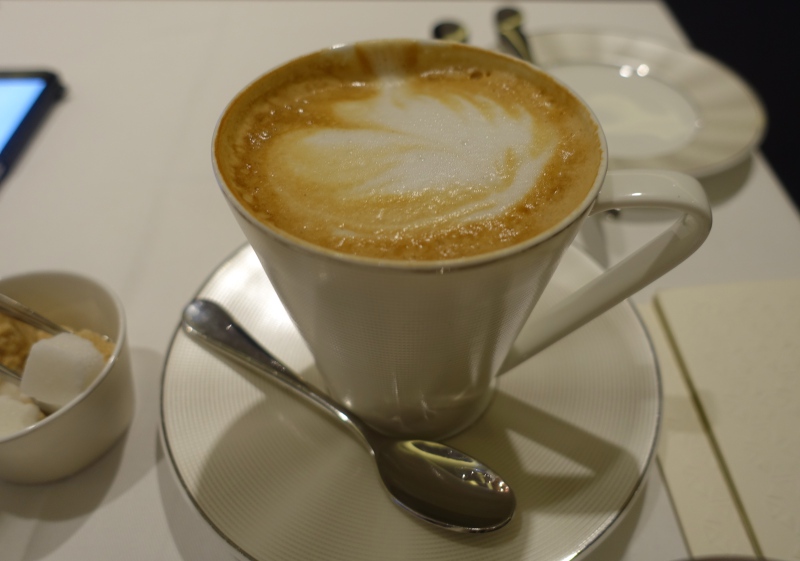 Later on, I tried a Winglet Mocktail from the bar, with house pressed apple juice, spices, elderflower and olive oil, which I really enjoyed.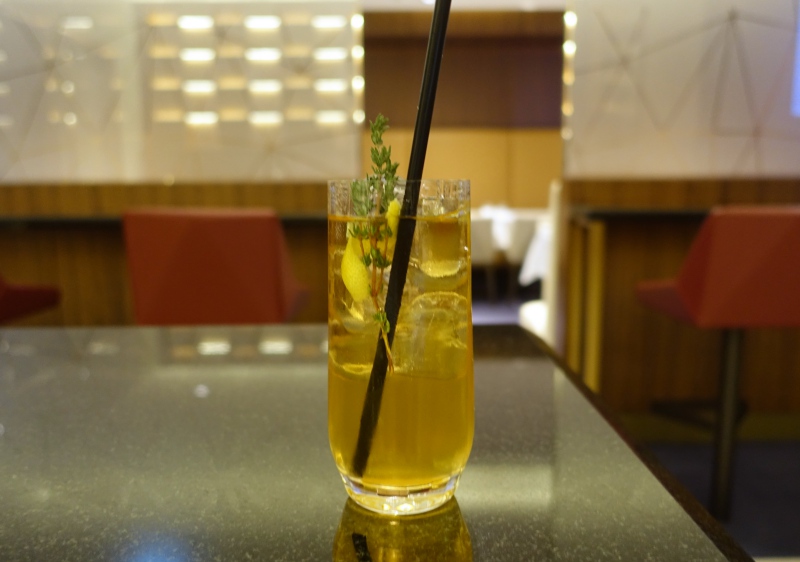 Here are the signature cocktail and mocktail lists, and bar and lounge food menus, in case you feel more like comfort food than the dishes served in the dining room.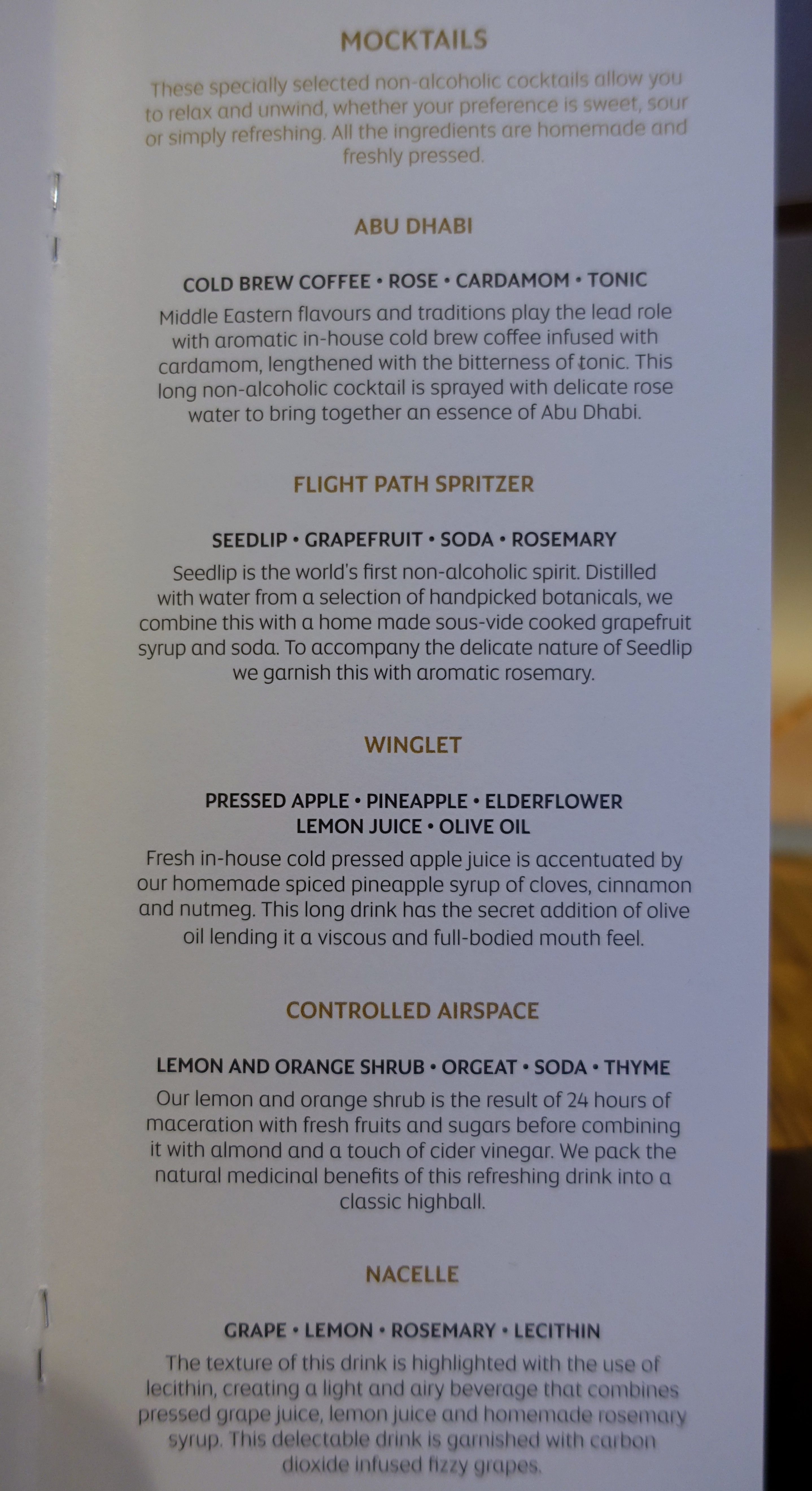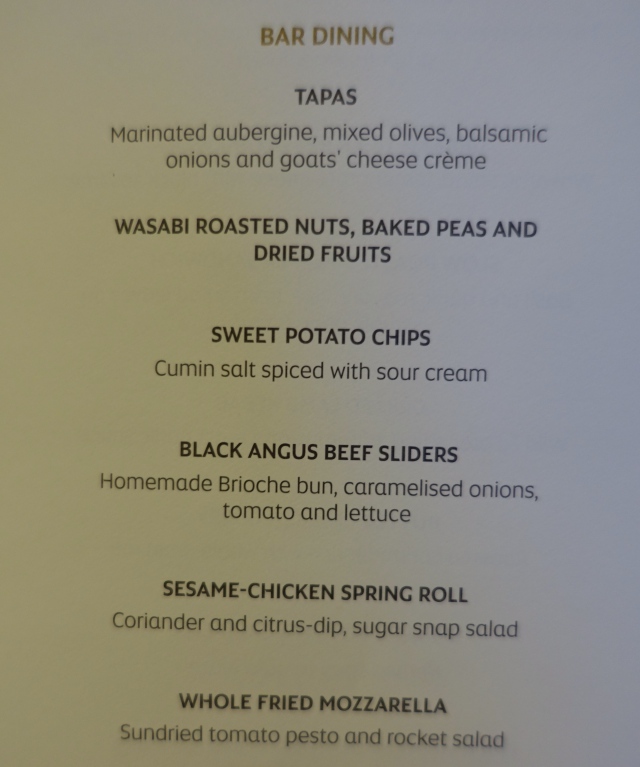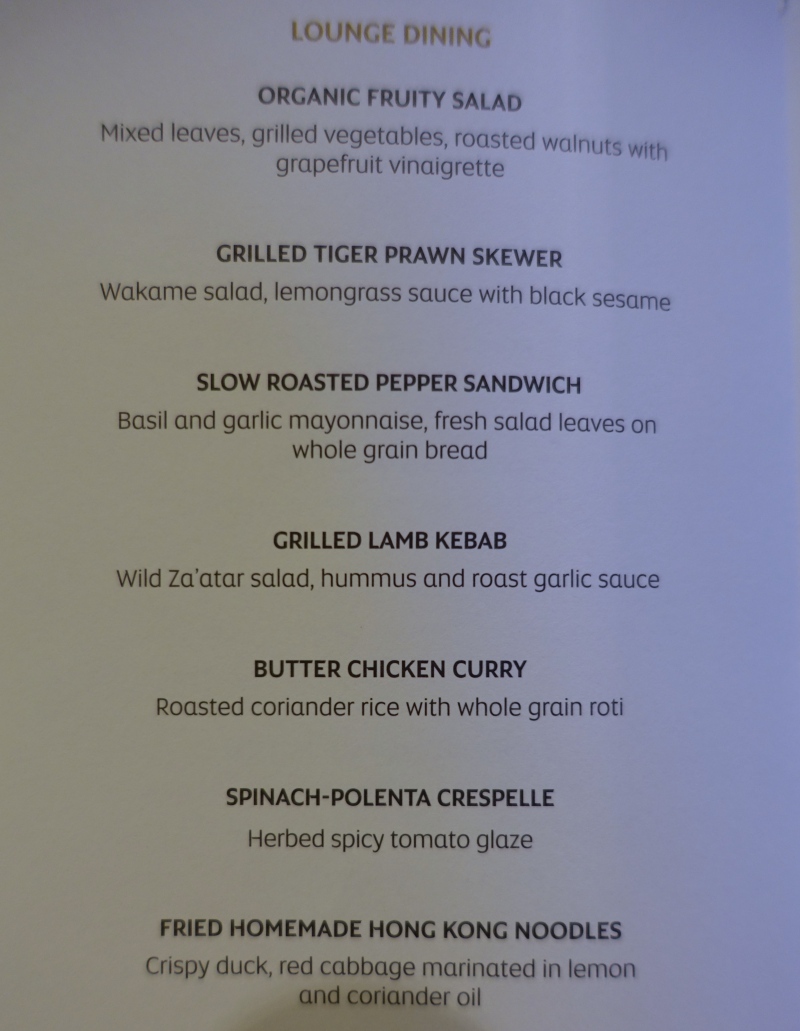 The Verdict
The Etihad First Class Lounge & Spa made our stopover in Abu Dhabi very comfortable, and I particularly enjoyed my Six Senses massage, confit quail dinner, and that there was a quiet place (well, apart from a snoring guest) we could give our son a nap. I also really like that there's a fitness center for workouts, since that, as well as a shower or a nap, can really help combat jet lag. The two things I wish this lounge had (in addition to more signage to get to it) are 1) a real sleep room, similar to the Lufthansa First Class Terminal; and 2) international power outlets, since I wasn't able to get my power adapter to work. Fortunately I had enough computer power to hold me over until we got on the flight, but international power outlets would have been nice.
If you've visited the new Etihad Abu Dhabi First Class Lounge, what was your experience?
Related Posts
Review: Etihad First Class Apartment A380 Abu Dhabi to New York JFK
Review: Etihad A380 First Apartment Sydney to Abu Dhabi
Review: Etihad First and Business Class Lounge Sydney
Review: Etihad Lounge New York JFK
Etihad A380 The Residence and First Apartments
Need Award Booking Help? Our fee is as low as $75 per ticket if you book your hotel or cruise with us.
If you enjoyed this, join 200,000+ readers: please follow TravelSort on Twitter or like us on Facebook to be alerted to new posts.
Become a TravelSort Client and Book luxury hotels with Virtuoso or Four Seasons Preferred Partner Benefits!