This Etihad Business Class Review on the A330-200 and Leeli Business Class Lounge, Male Review is from my husband, who was in business class on the same flight my son and I flew economy class on (see my Etihad Airways Economy Class Review). See all our airline reviews and posts tagged Etihad Airways.
Leeli Lounge at Male Airport, Maldives
The Leeli Lounge at the Male Airport is a perfectly serviceable business class lounge, although there is nothing especially stylish or distinctive about it.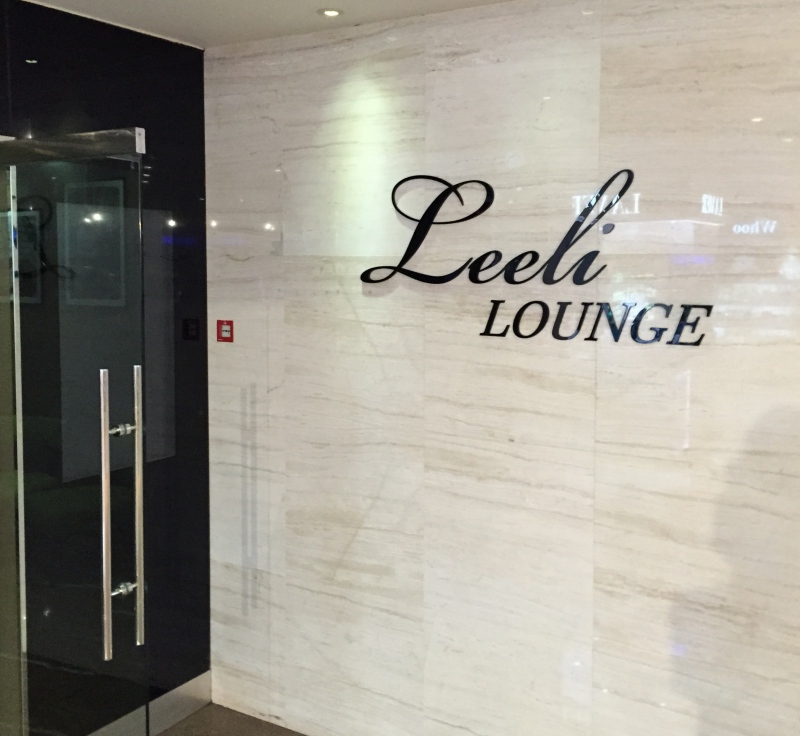 The brown leather chairs over the brown and orange square-patterned carpet reminded me of my uncle's den from the 19070's: I half-expected to see Kojak, Columbo or some other cigar-smoking TV detective from that era appear to start questioning the patrons.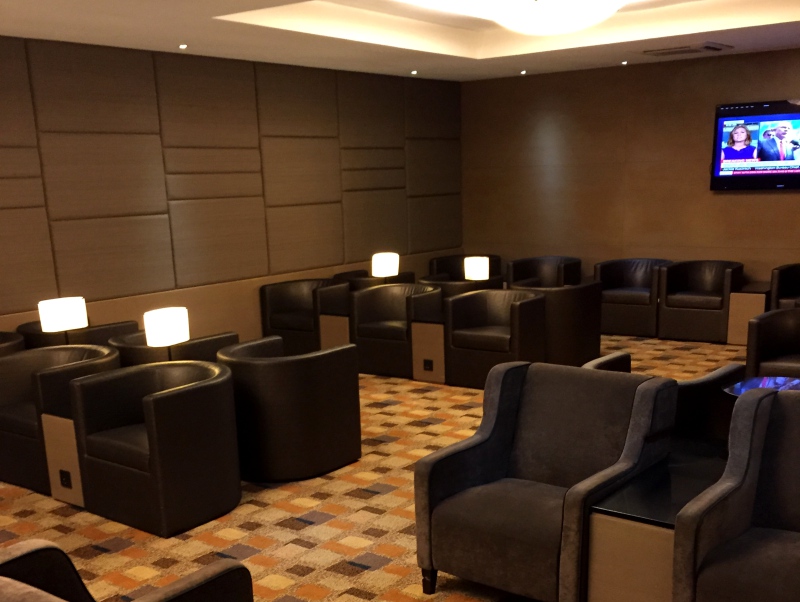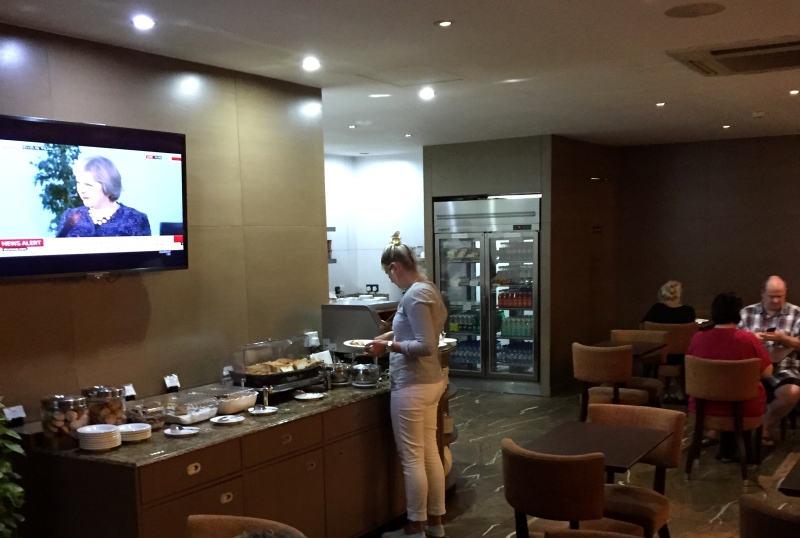 There wasn't a business centre per se, but there were some computers available to use.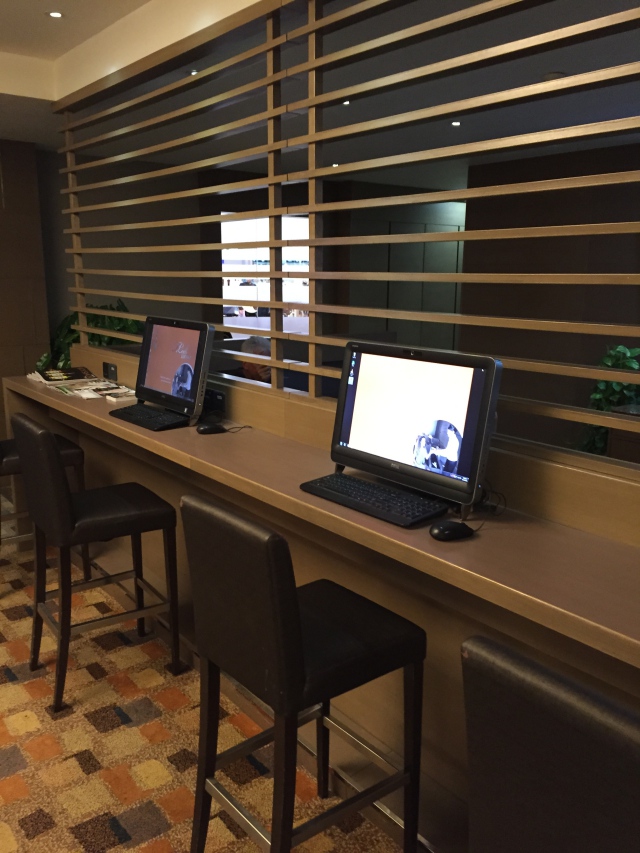 The food was edible.  I didn't have much time before my flight but here are some photos of the rice, fried chicken, vegetables and pasta.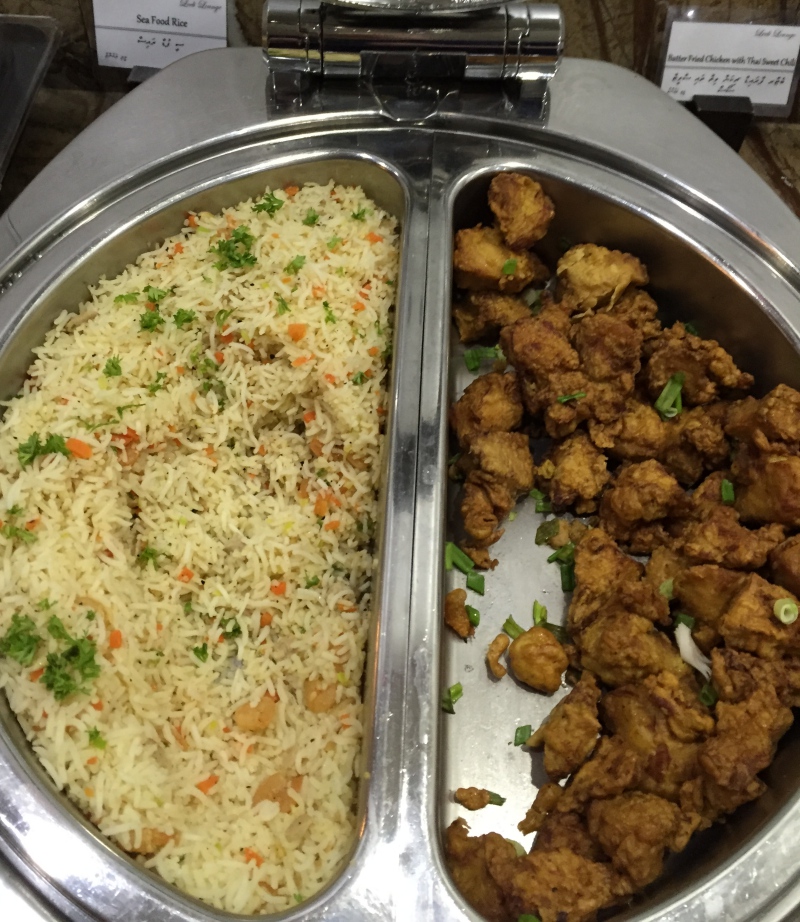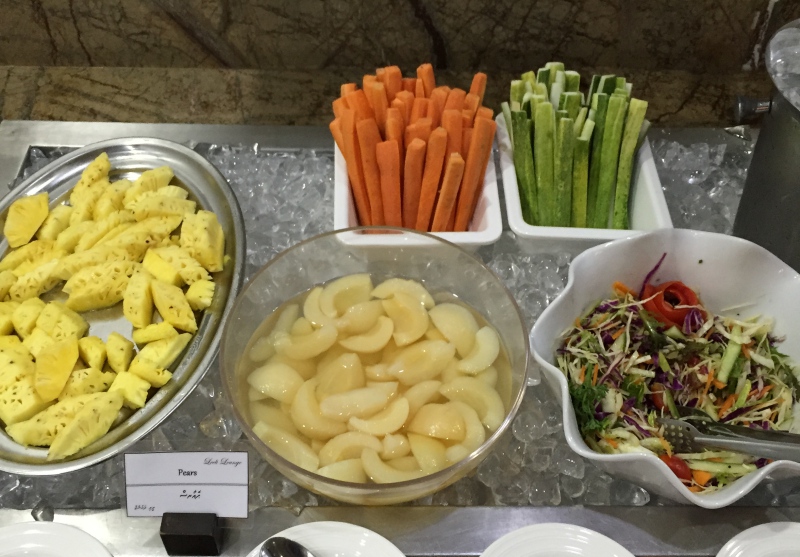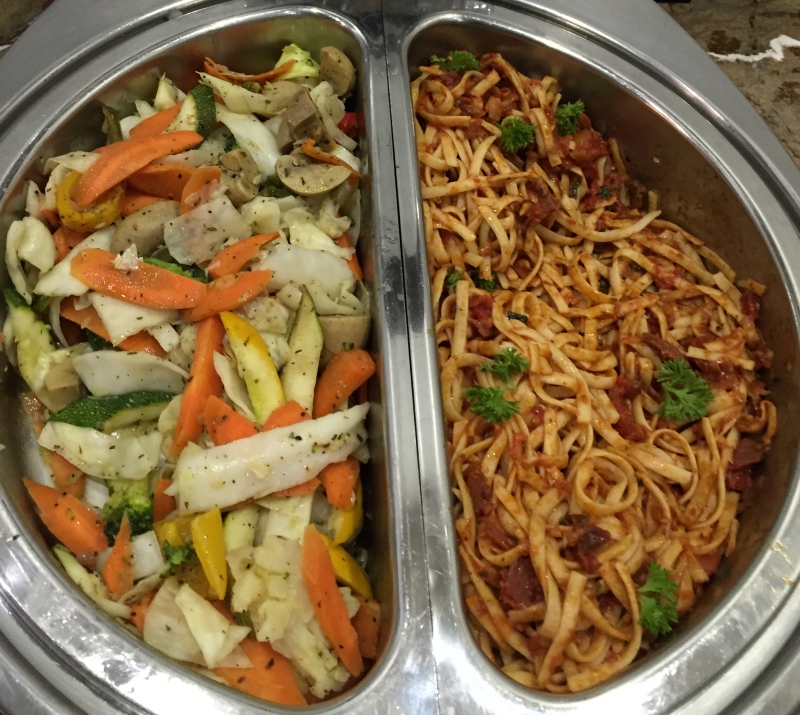 There was a selection of soda, juice, and coffee, as well as some desserts, but few of the guests were trying these.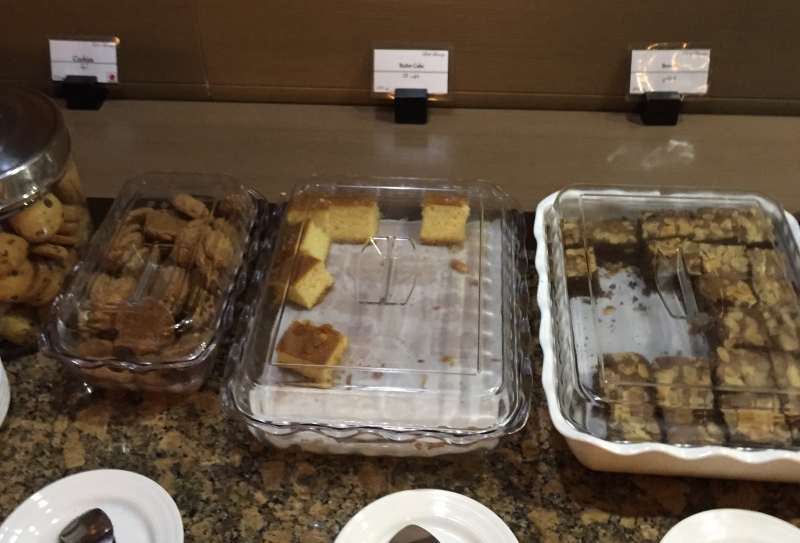 There were some big brown reclining chairs that did look very comfortable, but it was time for my flight.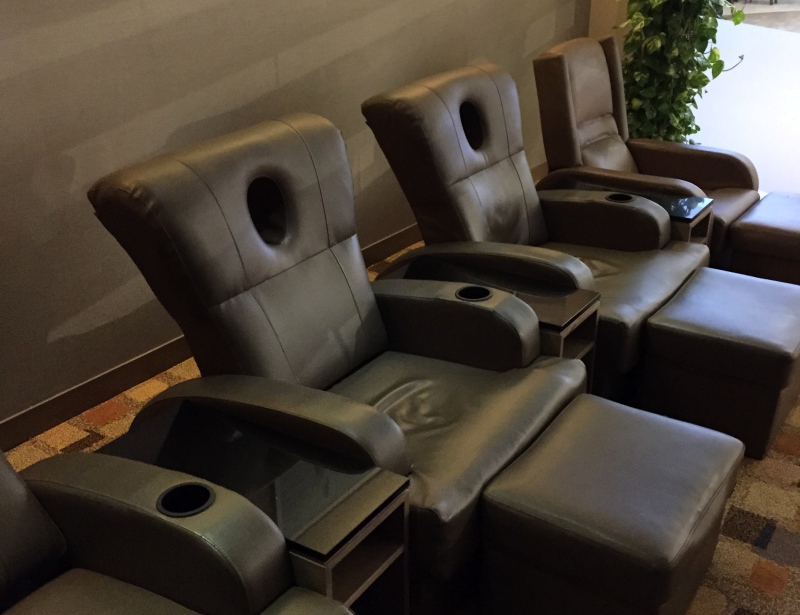 Etihad Business Class Cabin on the A330-200 and Seat Selection
There are 22 business class seats on Etihad Airways' A330-200, in a 1-2-1 configuration, with direct aisle access for each seat. The seats are staggered, and most travelers flying solo will want the seats that are closest to the window, such as 7A and 7K, rather than those closest to the aisle, such as 6C, 6H, 8C and 8H. You'll probably want to avoid 5K, which is right by the lavatory, and 5A could also suffer a bit from light and noise from the galley.
For couples traveling together, the best "honeymoon" seats are 7E/7G and 9E/9G, avoiding the first row 5E/5F as these are close to the galley and lavatory.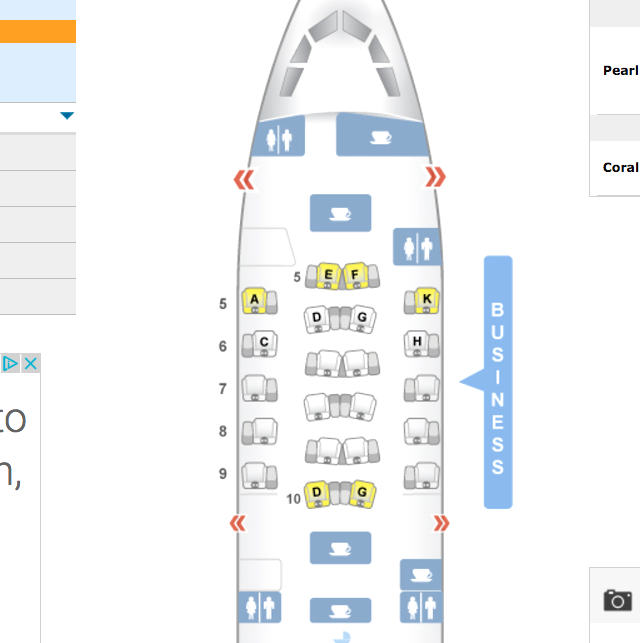 Etihad A330-200 Business Class Seat Map, Courtesy SeatGuru
As soon as I boarded the plane, a glass of champagne and hand towel was thrust at me by the flight attendant.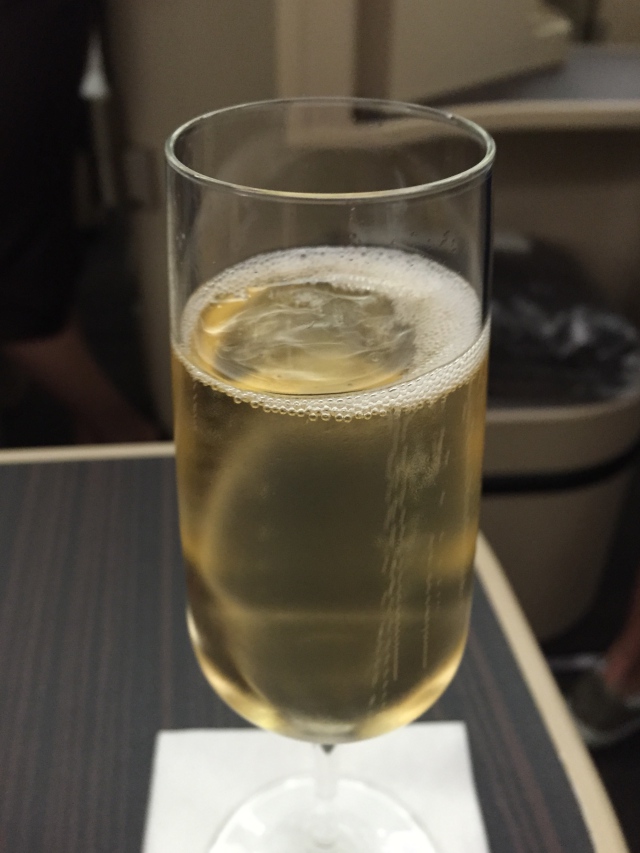 Business class was crowded, so the flight attendant was trying to cover a lot of ground.  The cabin itself was rather hot and humid, but there was no fan to alleviate the effect.  I was in seat 7K, by the window.  Each row in the cabin is arranged with 2 seats in the middle, and one on each side by the window.  The flight attendant next offered newspapers and magazines. Again, the service was very perfunctory.
Etihad Business Class Seat, A330-200
The seat itself is narrow, with a width of 20 inches, as of course are most business class seats as compared with first class. But there is ample legroom and the seat is still fairly comfortable.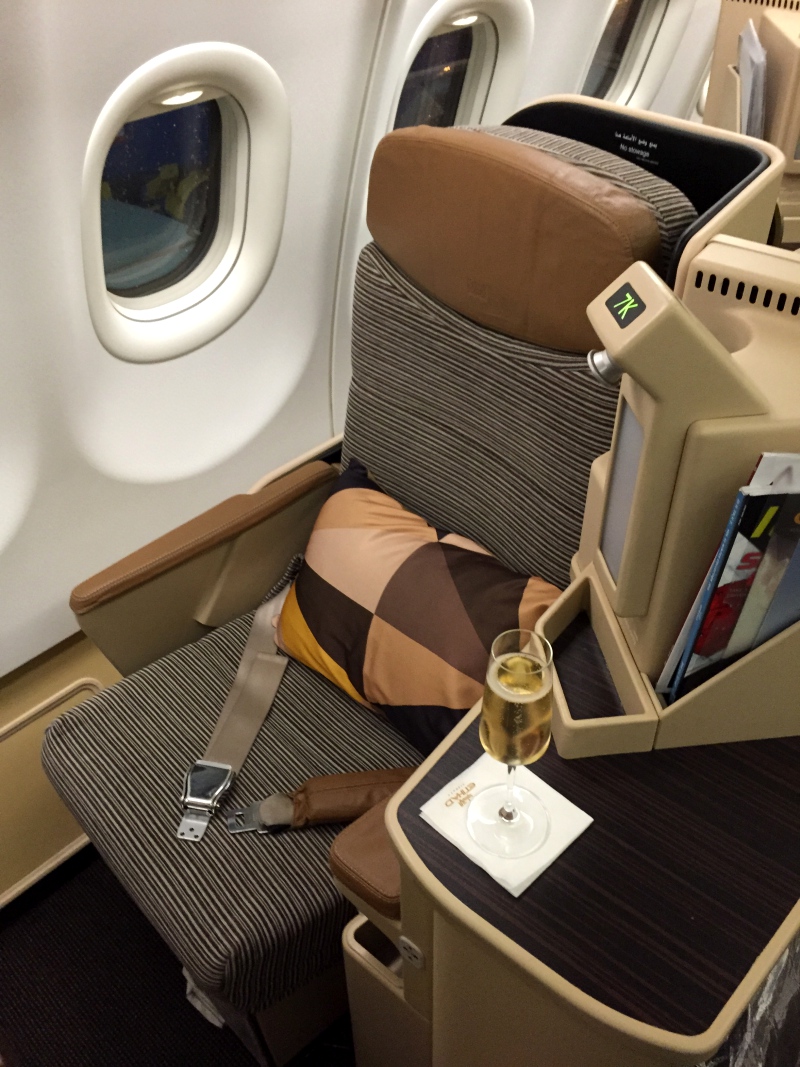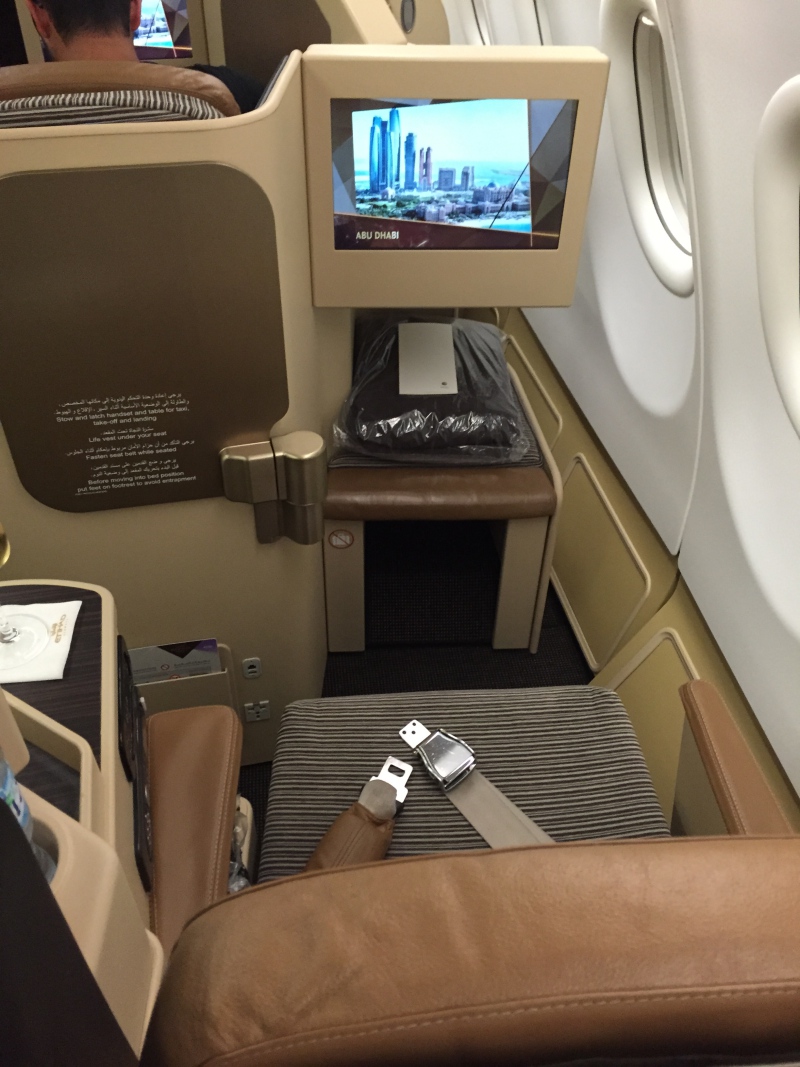 I do really like the cup-holder for the water bottle; on many flights my water bottle is rolling around on the table or ledge by the window.  But although there is a small ledge for placing personal items, there is otherwise not much storage space.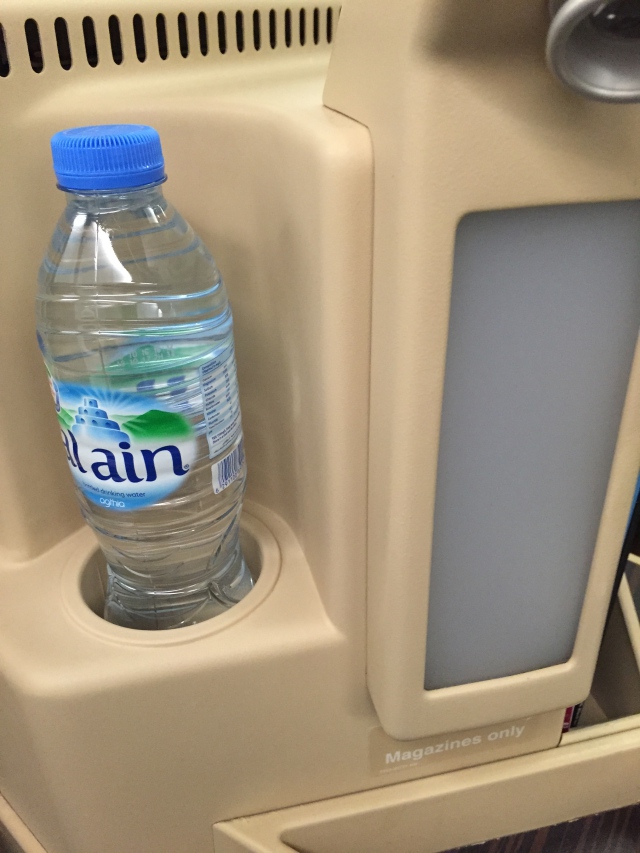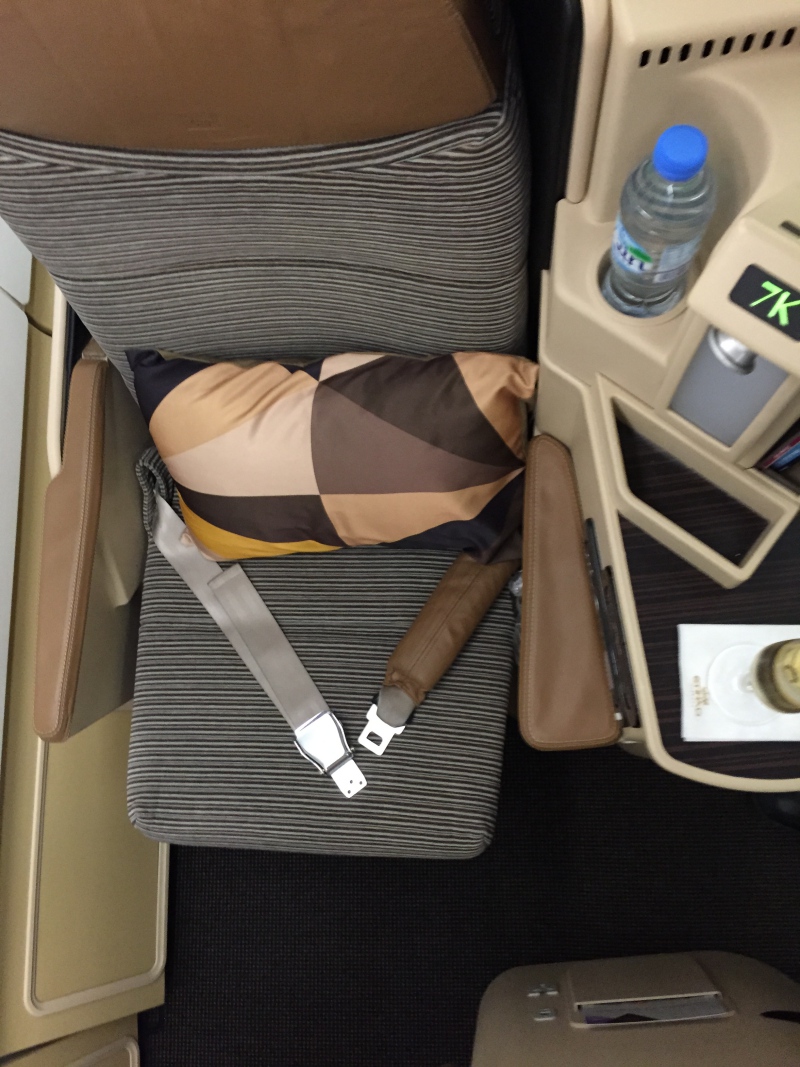 Because it was a late night flight, after dinner I changed the seat to the flatbed position, with the easy to use seat controls, which are directly above the IFE controls.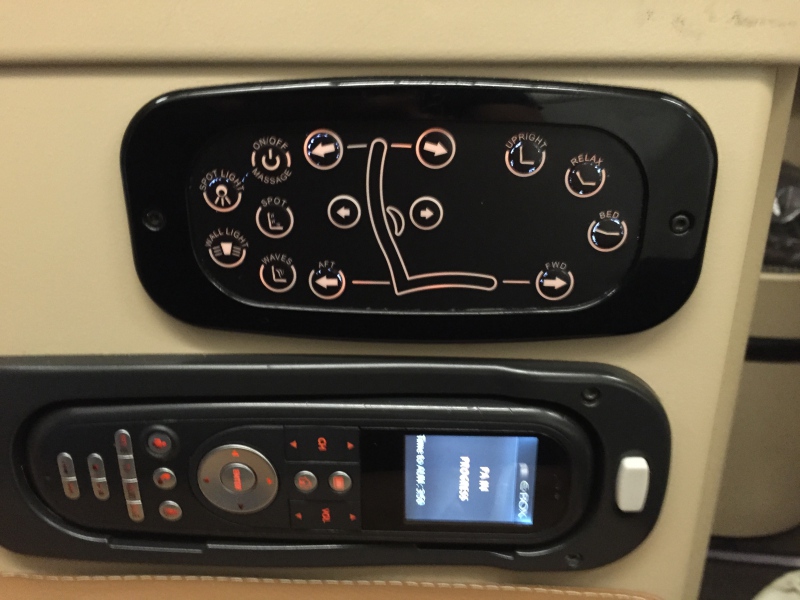 It was comfortable enough.  But I couldn't really lie flat because the flatbed was several inches too short for my 6'4" height.  I suspect for most people it will work fine, even if the flatbed is not very soft.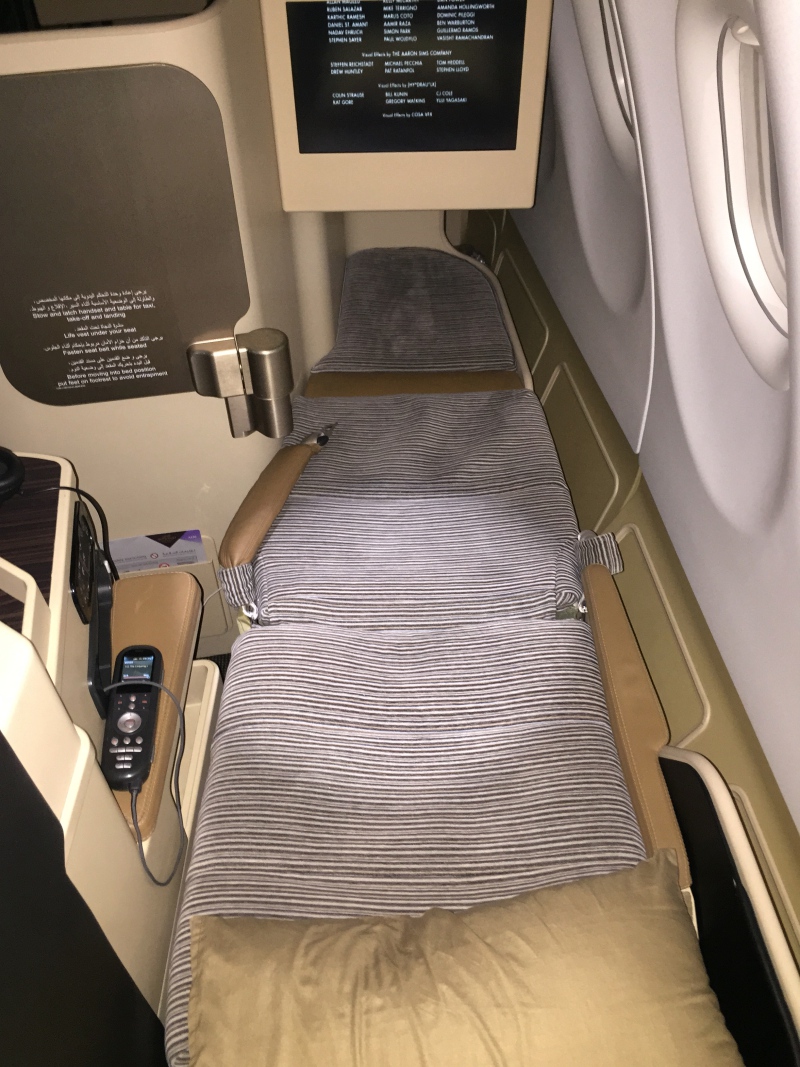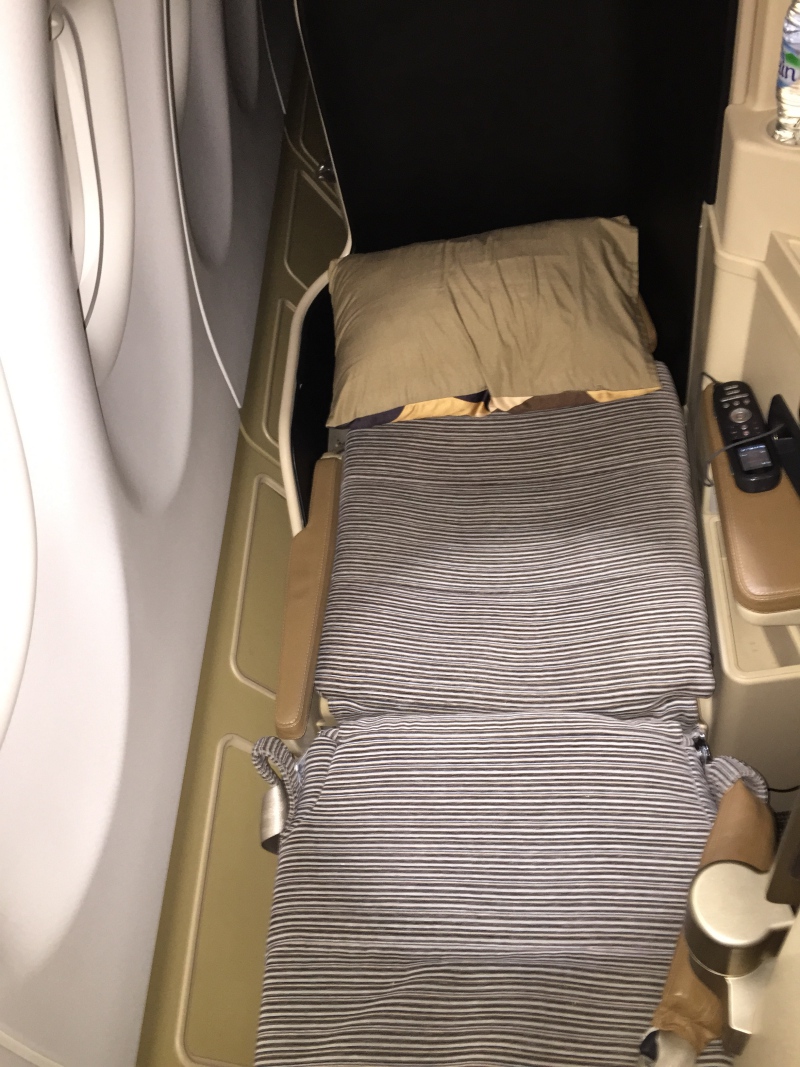 Etihad Business Class IFE
The in-flight entertainment system was very intuitive and easy-to-use.  But I do find it irritating that the IFE does not work until after take-off.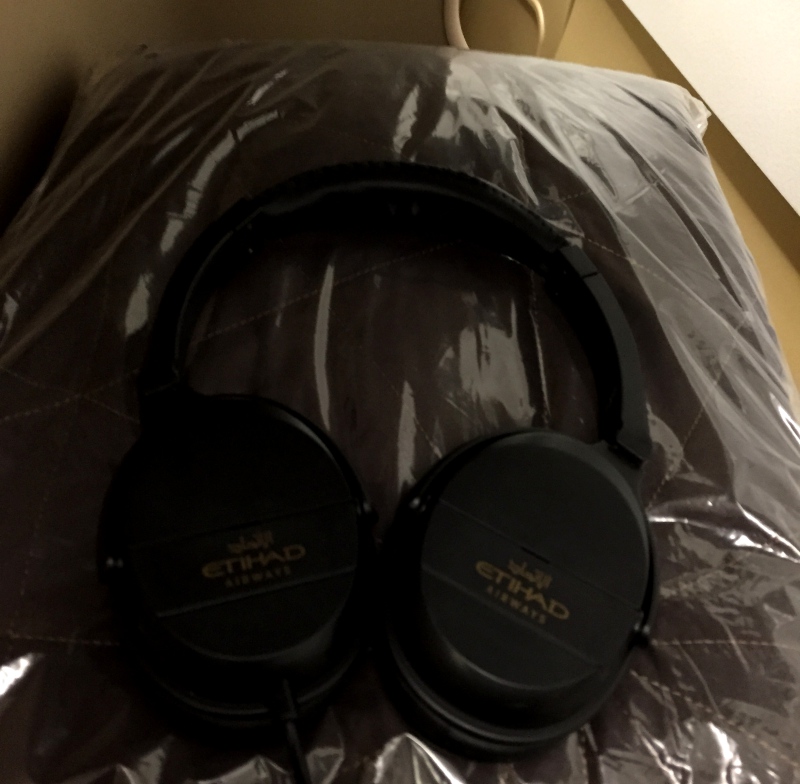 The film selection was relatively good, with a mix of Hollywood and international films.  I watched The Conjuring 2, which was a worthy sequel to the hair-raising original.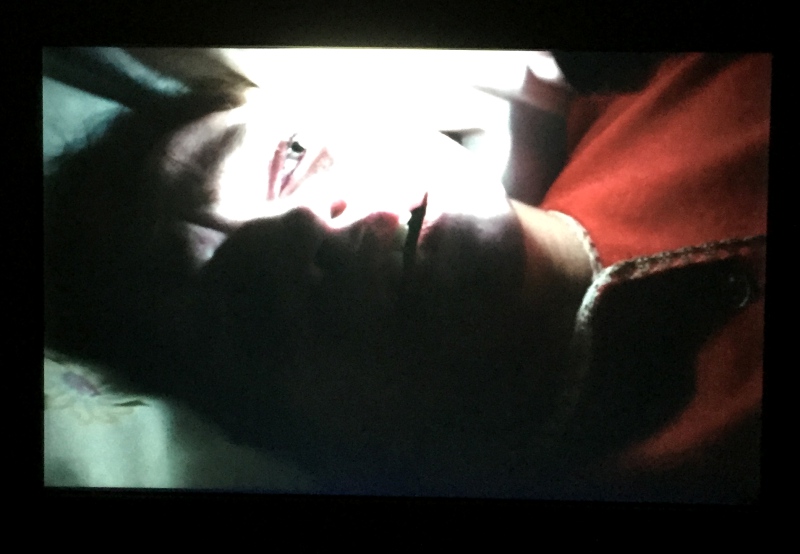 I also watched Outside the Box, a hilarious German comedy about management consulting.  OK, maybe "hilarious" is a bit of a stretch.  But this film, about German management consultants having to perform degrading and humiliating tasks as part of a military-style team-building off-site retreat, does unwittingly confirm some of the more hilarious German stereotypes, with actual punchlines such as "There's a lot of pressure.  You have to perform!"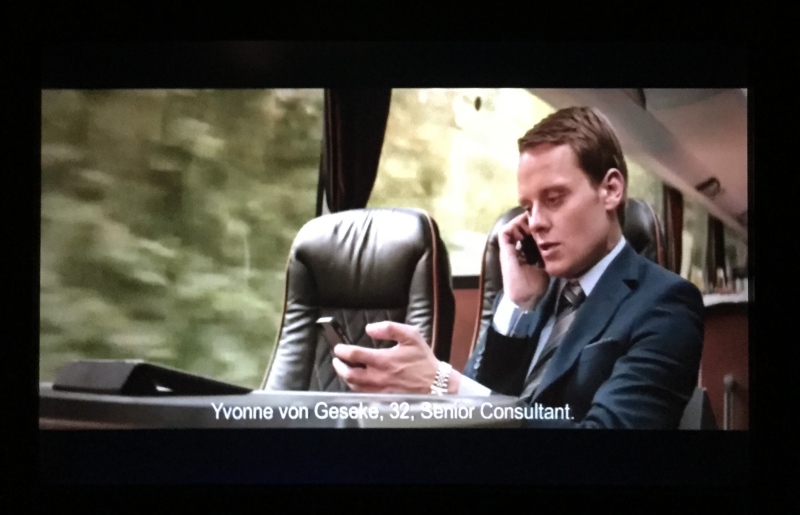 Etihad Business Class Menu and Food
We were given the following menu for our Male, Maldives to Abu Dhabi evening flight, which is about 4.5 hours: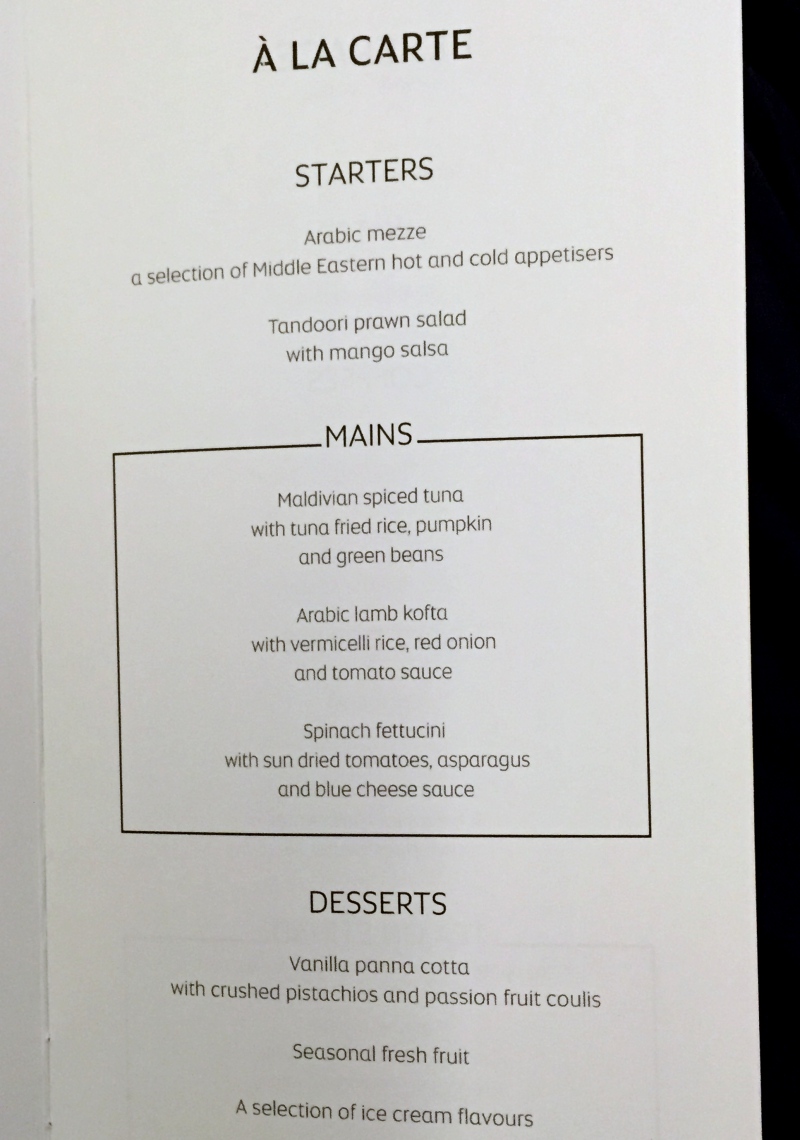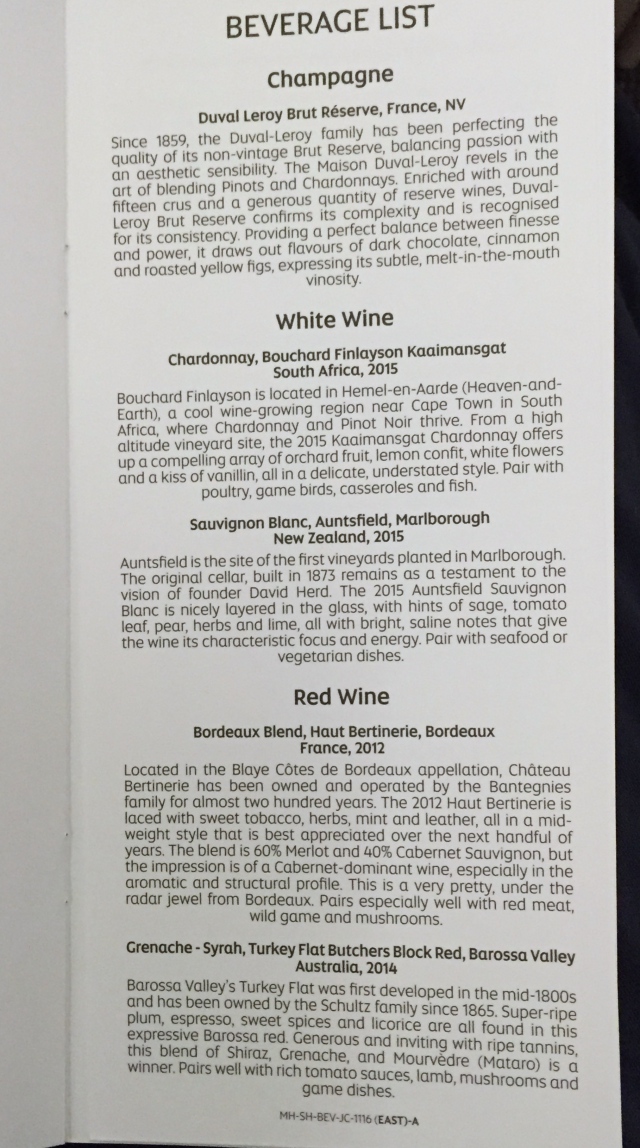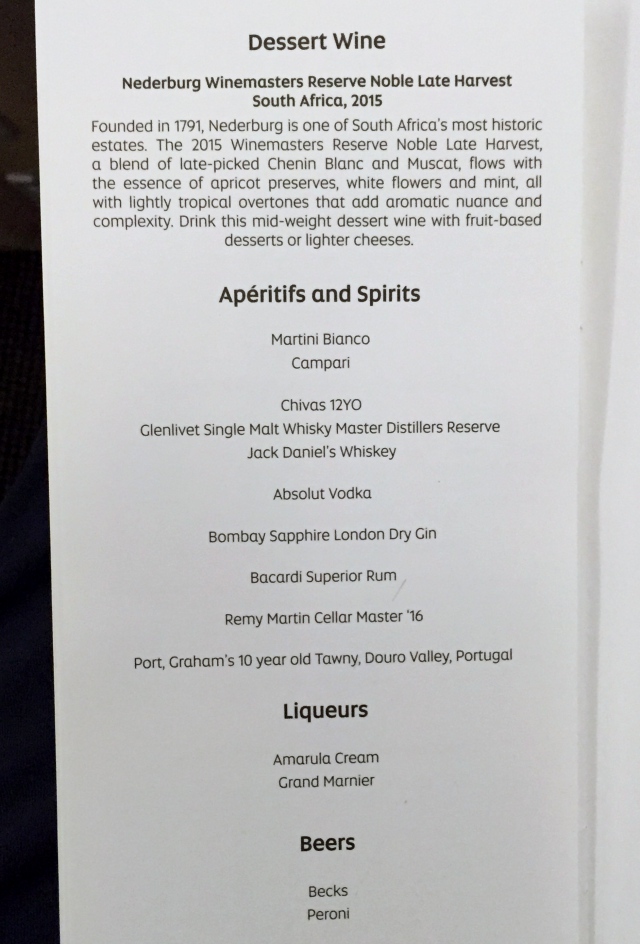 For a pre-dinner snack, nuts were served.  I ordered an accompany glass of Chardonnay, which was not bad.  For a starter I had the mezze, which was a very plain and boring stuffed grape leaves, pita, hummus, and tabbouleh.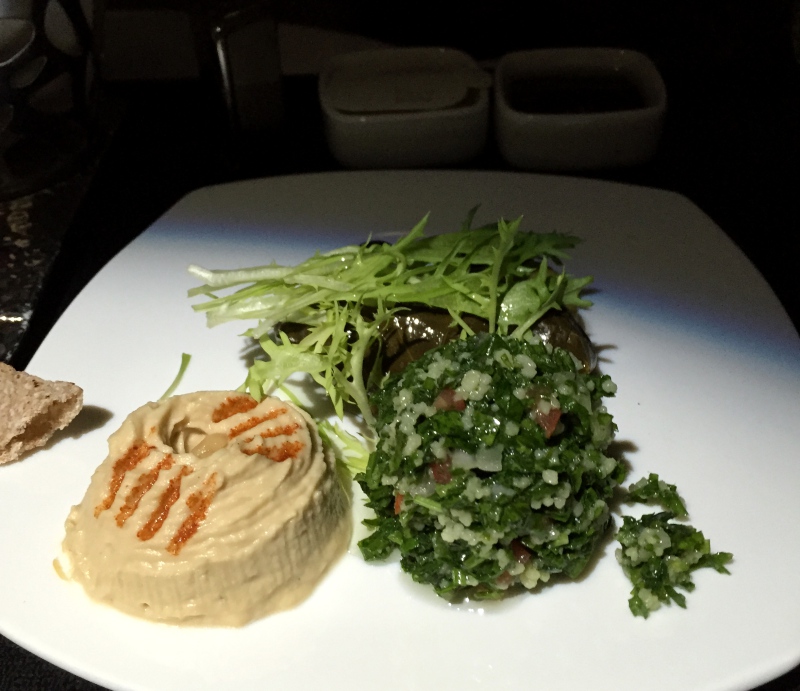 For my main I had Maldivian spiced tuna with rice.  The tuna was very dry and overcooked, although the spices were nice.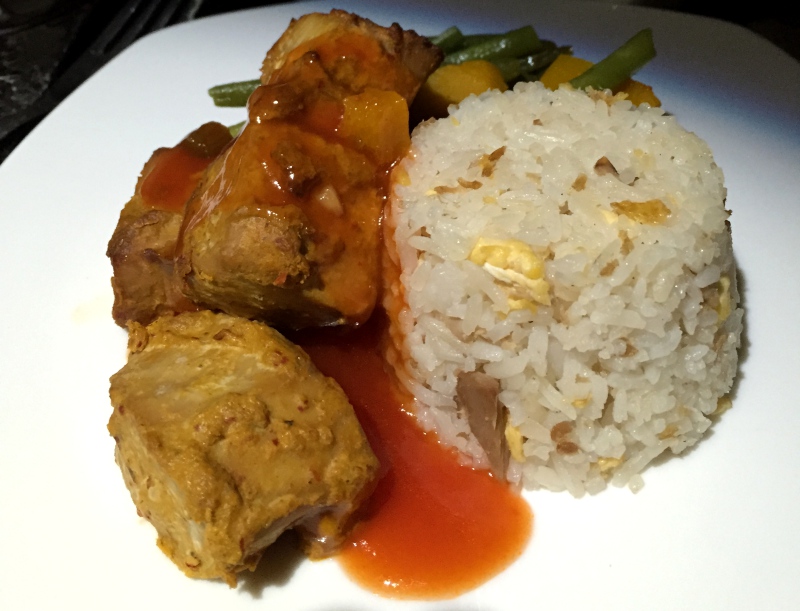 For dessert I chose a simple dish of vanilla ice cream, which was too sugary.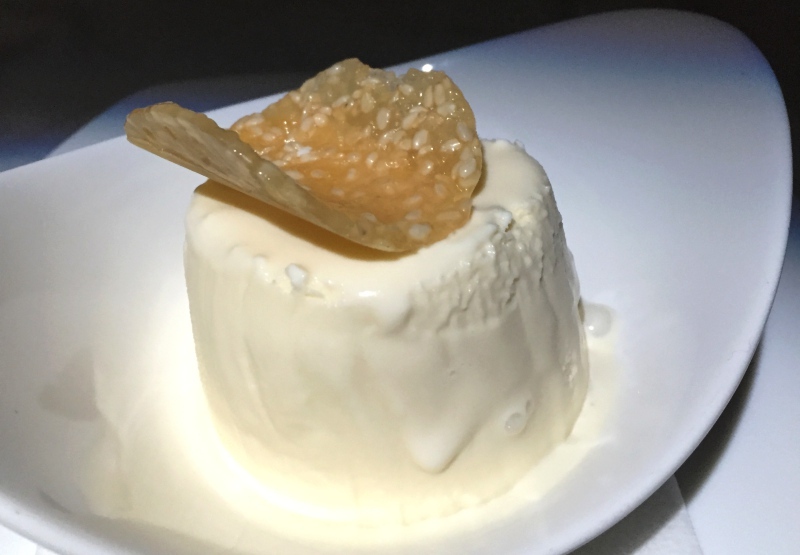 The Verdict
It was a short flight, so the quality of the flight was less impactful—but this Etihad business class experience overall seemed very "check-the-box".  Nothing was absent for this class of service and nothing was particularly bad, but for sure nothing stood out as very good.  I would not avoid flying Etihad business class, but neither would I really look forward to it either.
If you've flown Etihad Business Class on the A330-200, what was your experience?
Related Posts