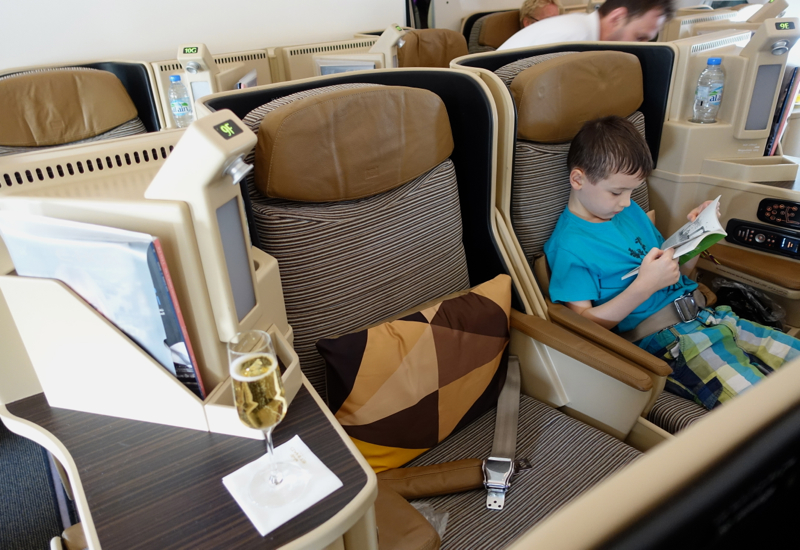 This Review of Etihad Business Class on the 777-300ER is part of a trip report including Etihad First Class and luxury resorts in the Maldives and Southeast Asia. For the prior posts, please see:
Review of Etihad's Lounge at Washington Dulles Airport (IAD)
Etihad First Class 787-9 Dreamliner Review
Review: Wingtips Lounge JFK for Etihad First Class Passengers
Review: Etihad First Class 777-300ER NYC to Abu Dhabi
Review: Etihad Business Class Lounge Abu Dhabi AUH Terminal 1
Etihad A330-200 Business Class Cabin and Seat Selection
Etihad's Business Class Cabin on the A330-200 has 22 seats in a 1-2-1 configuration. The middle seats alternate rows between couple's seats with the seats close together, and those with seats farther apart and closer to the aisle.
Those traveling solo will want a window seat; I'd recommend any of them in rows 6-9, avoiding 5A and 5K due to their proximity to the galley and lavatory. For couples or friends traveling together, select the odd numbered rows except for the first row: 7 E and 7F or the seats we were in, 9E and 9F (first photo of the post).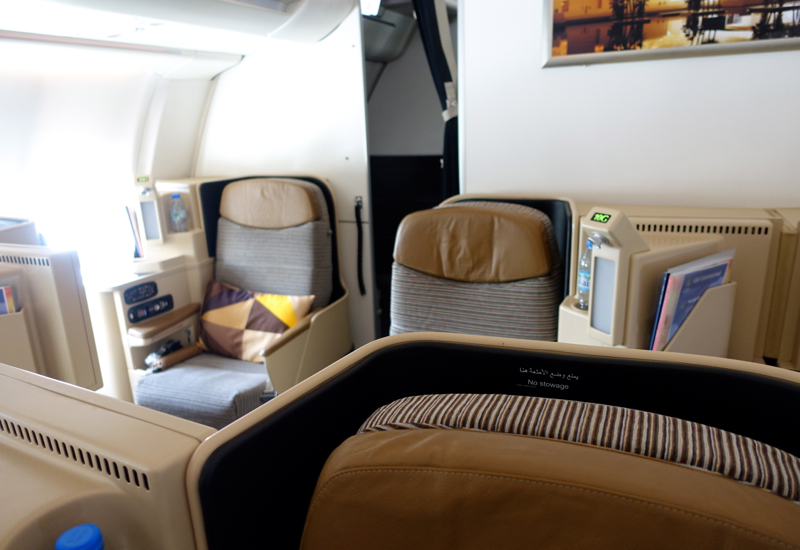 Etihad A330-200 Business Class Seat
On our last trip to the Maldives, our Etihad Business Class flight from Male to Abu Dhabi was in recliner seats (see Etihad Business Class Review: Male to Abu Dhabi), which weren't comfortable for napping or sleeping. I was happy that the seats on Etihad's new A330-200 business class offers flat bed seats, even though this time there was less need for them as we were on a morning flight into Male.
Seat controls were straightforward: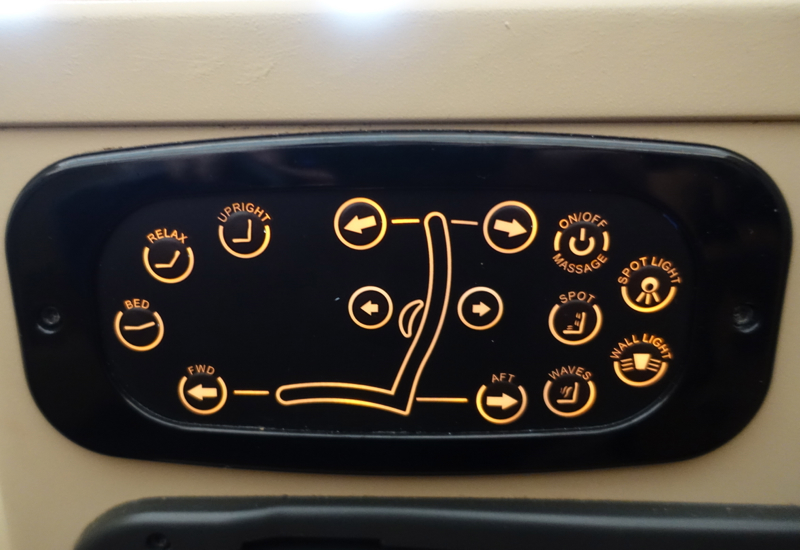 There was ample footwell space, and above it, a shelf forms part of the flat bed, otherwise serves as storage space, and above that, the IFE screens.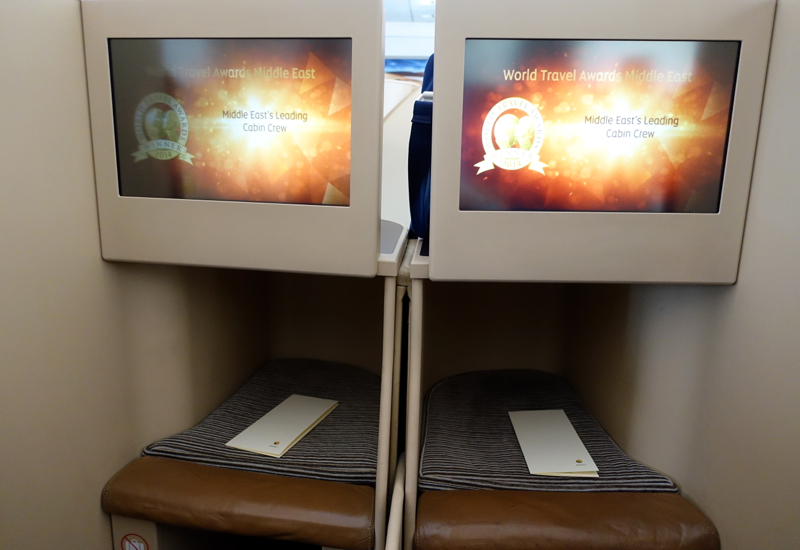 After meal service, I reclined the seat fully flat into a bed. It was quite comfortable as business class seats go, although at 73 inches, not long enough for taller passengers such as my husband.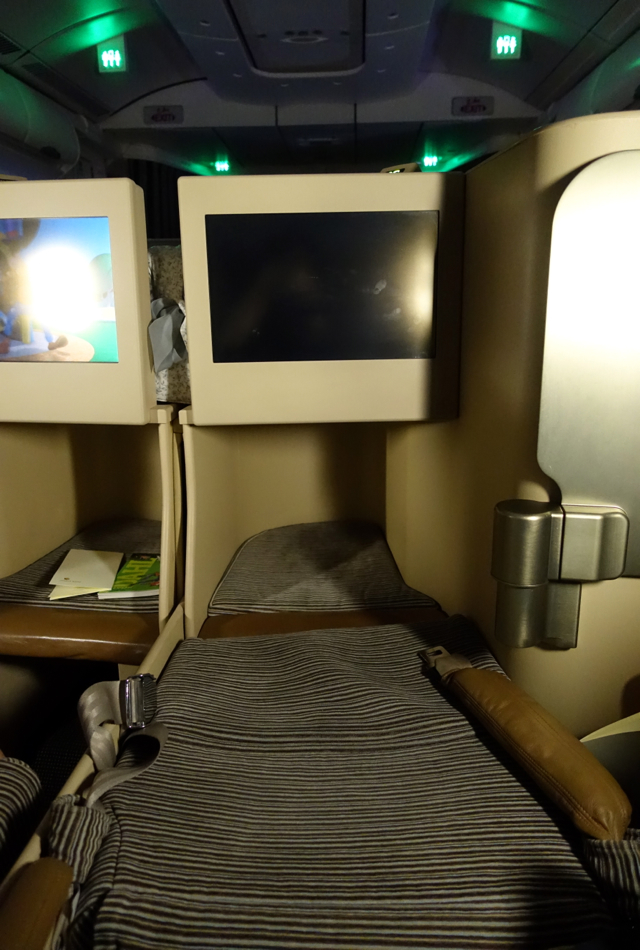 Etihad Business Class Menu and Food
Soon after being welcomed aboard and shown to our seats, we were offered a cool towel and a pre-flight drink. My son accepted orange juice, which tasted freshly squeezed, while I opted for a glass of champagne.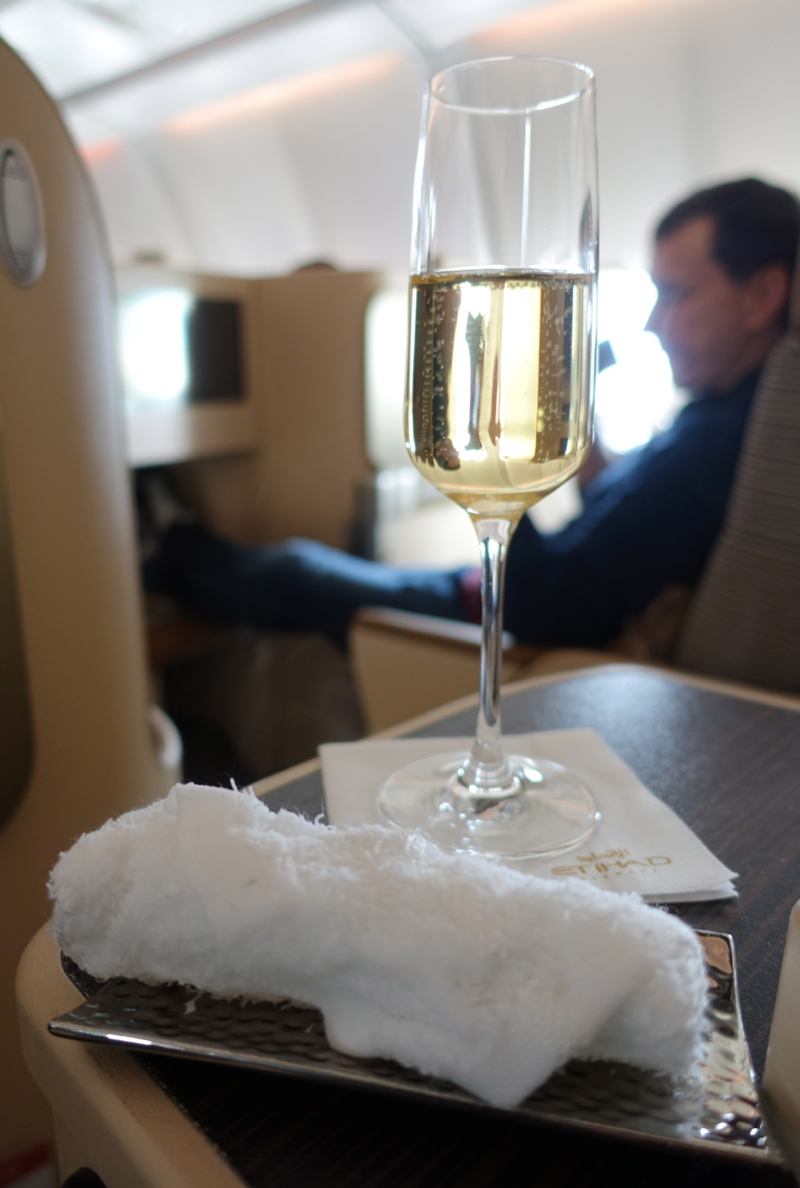 We were also given a menu with breakfast and drink options: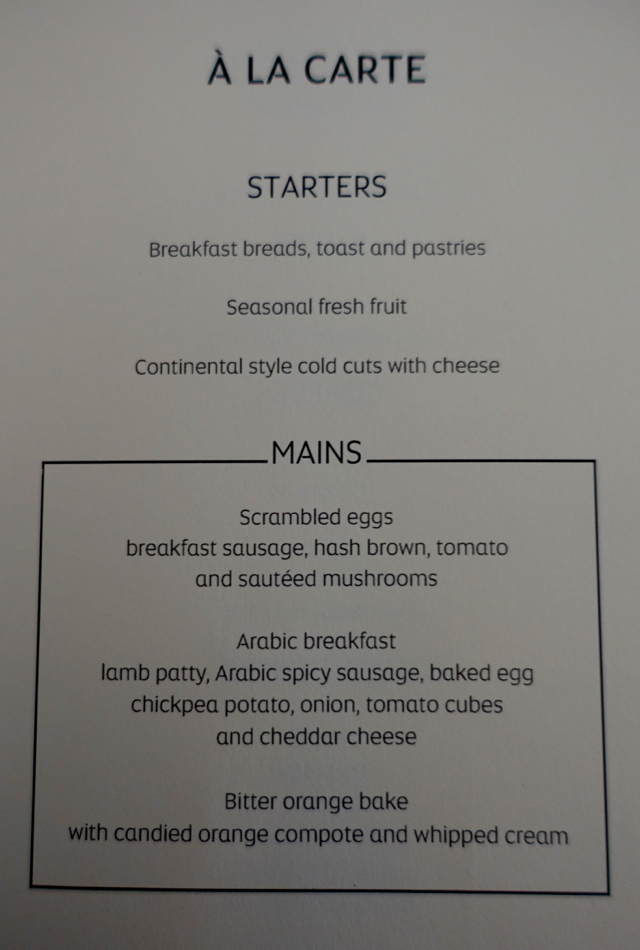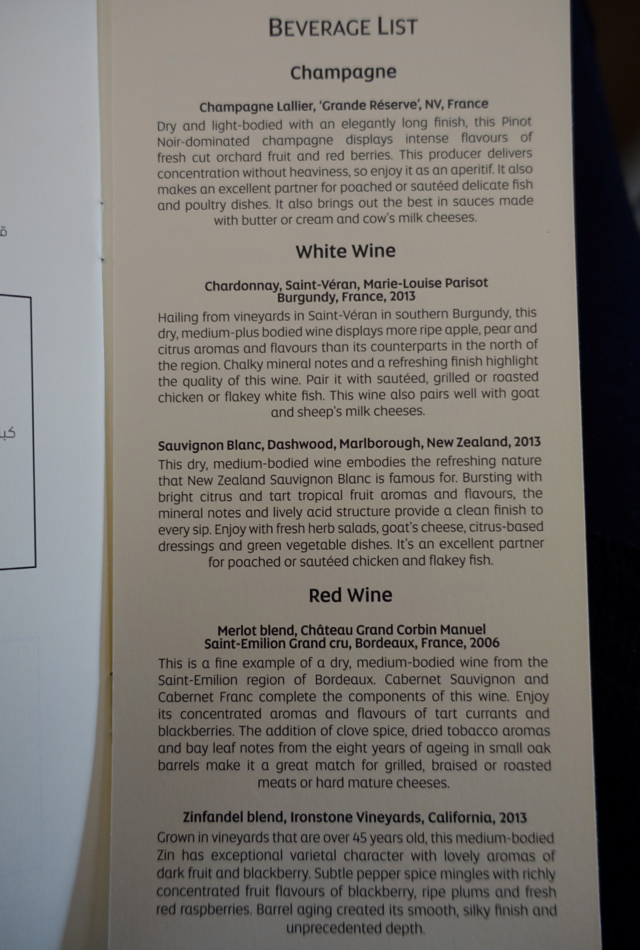 After we were airborne, the flight attendant offered mixed nuts and a another drink choice. The munchkin's fresh orange juice was so tasty I decided to enjoy this as my next drink.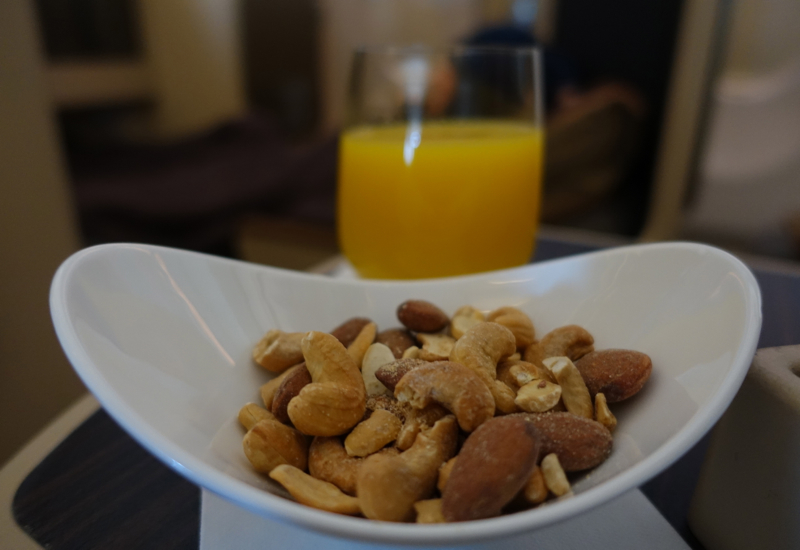 For a breakfast appetizer, my son had the fresh fruit plate, which turned out to be the better choice. It even included fresh passion fruit, a rarity for business class.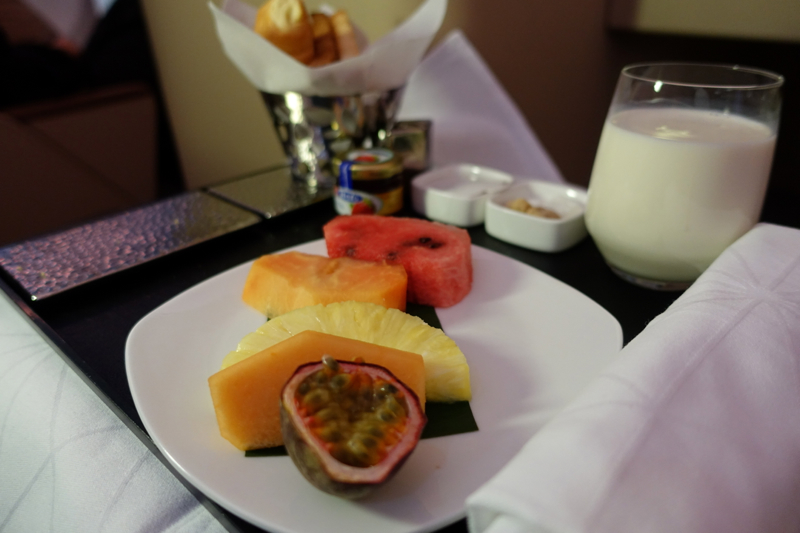 My cold cuts plate with cheese was fine, but forgettable. Both appetizers came with a cone of assorted breads.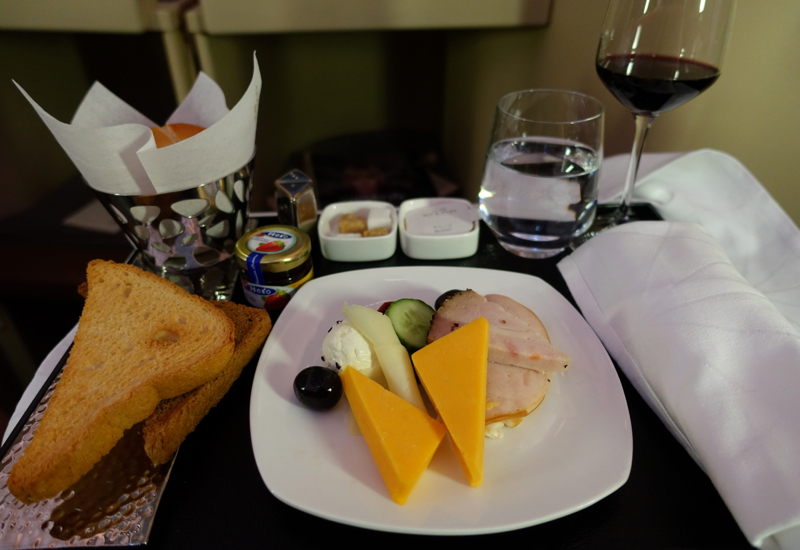 As a breakfast entree my son asked for the scrambled eggs with sausage, which was decent; better than you'd expect to get on a domestic U.S. business-first class flight.
I liked my Arabic breakfast of lamb patty, spicy sausage, baked egg, and chickpeas with potatoes. I also tried a little of the Chateau Grand Corbin Manuel Saint-Emilion Grand Cru 2006, but it was too dry for my personal taste; I regretted not trying the Zinfandel instead.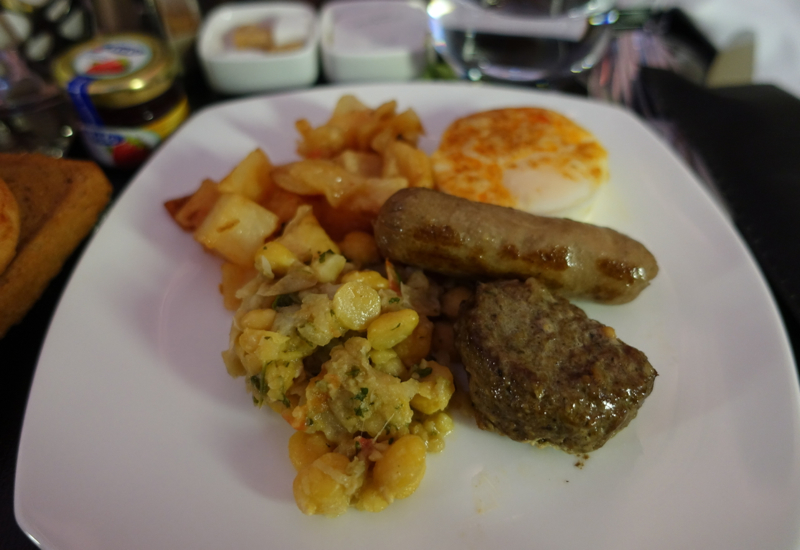 Weirdly, we (nor anyone else that I could see) was ever served the dessert listed on the menu, the bitter orange bake. Since it didn't sound all that appetizing, I didn't ask for it, but it was odd that it wasn't offered.
The Verdict
The Etihad Business Class A330-200 flat bed hard product is a much appreciated improvement over the old Etihad recliner seats we flew in 2 years ago. Food was fine, although not a highlight, which is typical for business class. Service was friendly but could have been more polished. And I had to wonder if dimming the lights after quickly serving the appetizer and breakfast entree on a morning flight, with no attempt at dessert service, was a way to minimize crew work during the flight.
That said, I was very appreciative when the purser and ground staff helped me retrieve my phone, which unfortunately fell underneath the seat late in the flight, to a place where it was impossible for me to retrieve it on my own.
If you've flown Etihad Business Class on the A330-200 recently, what was your experience?
Related Posts
Review: Etihad Business Class Lounge Abu Dhabi AUH Terminal 1
Review: Etihad Lounge Washington Dulles Airport
Etihad A380 The Residence and First Apartments
Etihad A380 NYC to Abu Dhabi Starts December 2015
Need Award Booking Help? Our fee is as low as $75 per ticket if you book your hotel through us.
If you enjoyed this, join 150,000+ readers: please follow TravelSort on Twitter or  like us on Facebook to be alerted to new posts. 
Become a TravelSort Client and Book 5-Star Hotels with Virtuoso or Four Seasons Preferred Partner Amenities!