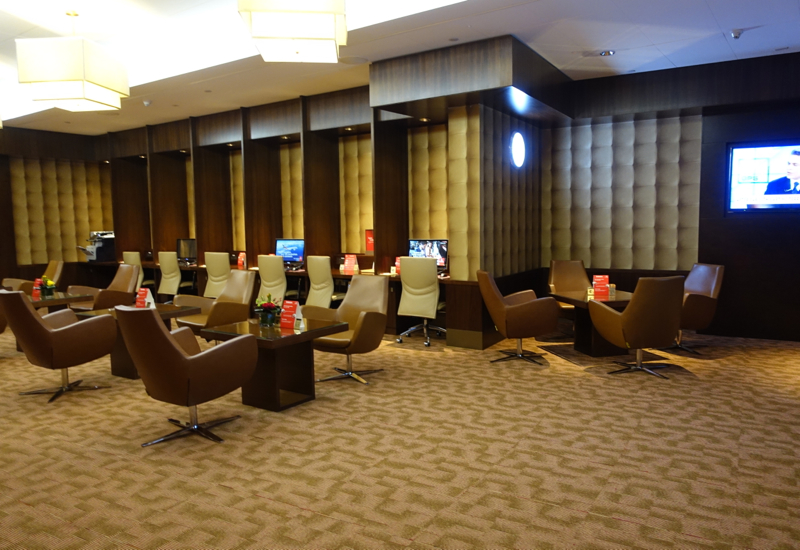 This review of Emirates' First Class Lounge at Dubai Airport (DXB) is part of a trip report featuring Emirates A380 First Class, Qantas A380 First Class, stays in New Zealand luxury lodges and Sydney, Australia, and Etihad First Apartment on the A380.
Location and Access to Emirates First Class Lounge, Dubai Airport
The following passengers have access to the Emirates First Class Lounge at Dubai Airport:
Departing passengers in Emirates First Class
Departing passengers in Qantas First Class
Emirates Skywards Platinum Members
Qantas Frequent Flyer Platinum Members
Qantas Frequent Flyer Chairman's Lounge Members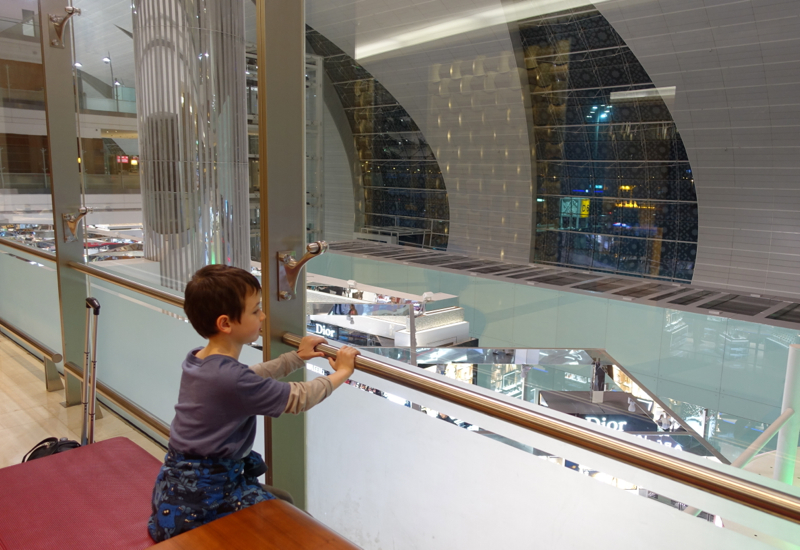 Emirates First Class Lounge Dubai Amenities
The Emirates First Class Lounges in Concourse A and Concourse B span the length of the entire concourse, as you can see by this map: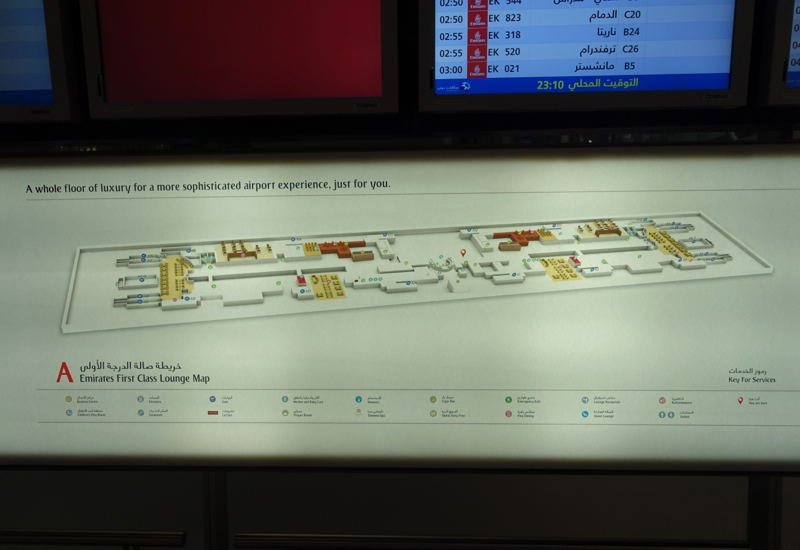 Expect many, many seating areas, long hallways, business center and workstations, dedicated quiet rooms with chaise lounges, showers, and a restaurant with both buffet and a la carte menu service. With all the space, I'm surprised they didn't put in a swimming pool and jacuzzi, although they do have the Timeless Spa, with complimentary 15 minute treatments if you're flying Emirates First Class.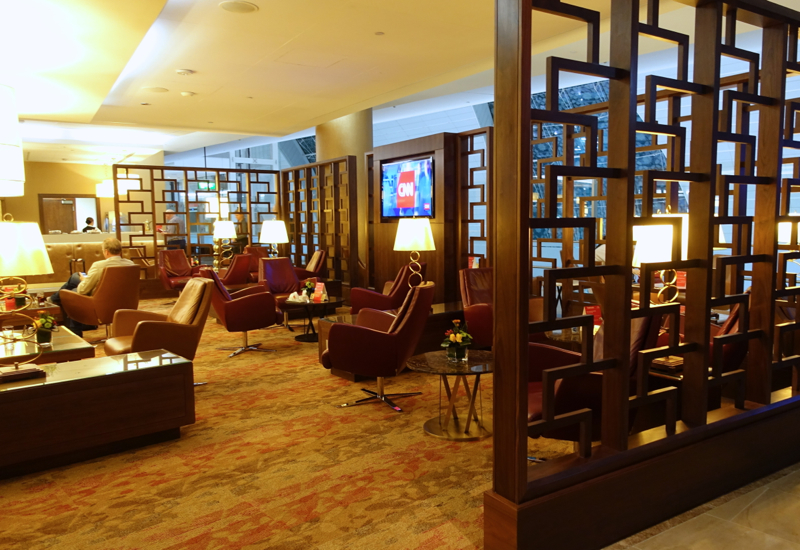 Emirates First Class Lounge Dubai Menu and Dining
We wandered over to the restaurant, since my son was rather hungry. We were courteously seated, and first had a look at the buffet, which had both cold and hot offerings. Cold dishes included salads, hummus, and dips:
Sushi and balik salmon: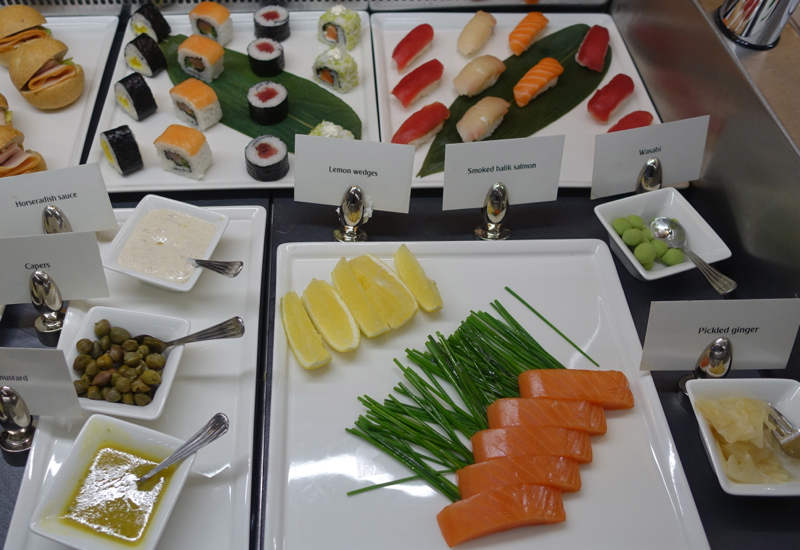 And berries and desserts: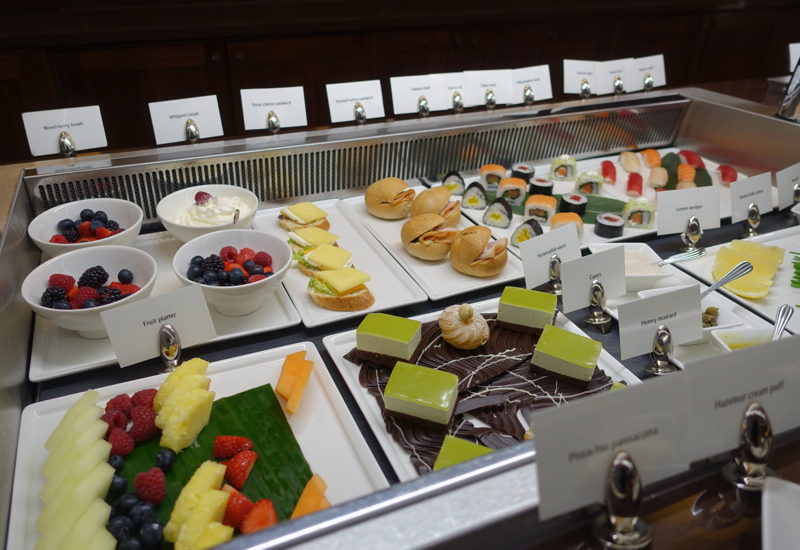 We started off with balik salmon, but also decided to look at the menu. Here's the breakfast menu: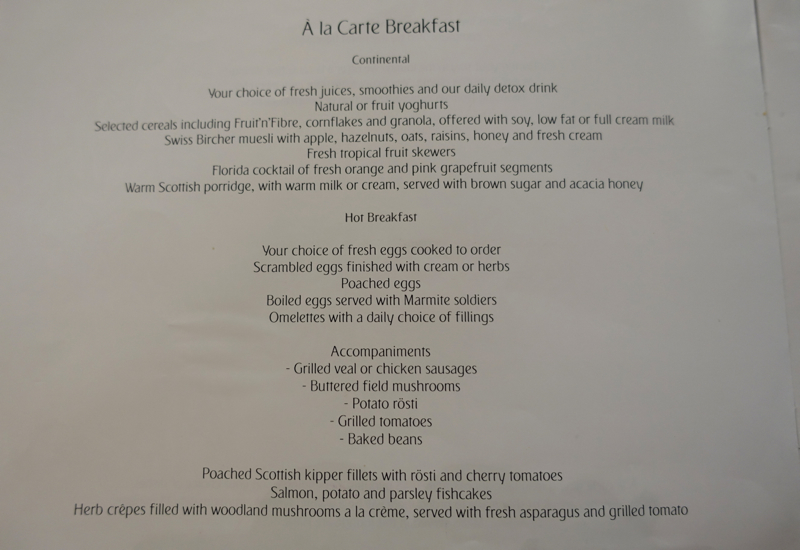 And here's the lunch and dinner menu, with a number of appetizers, a couple soups: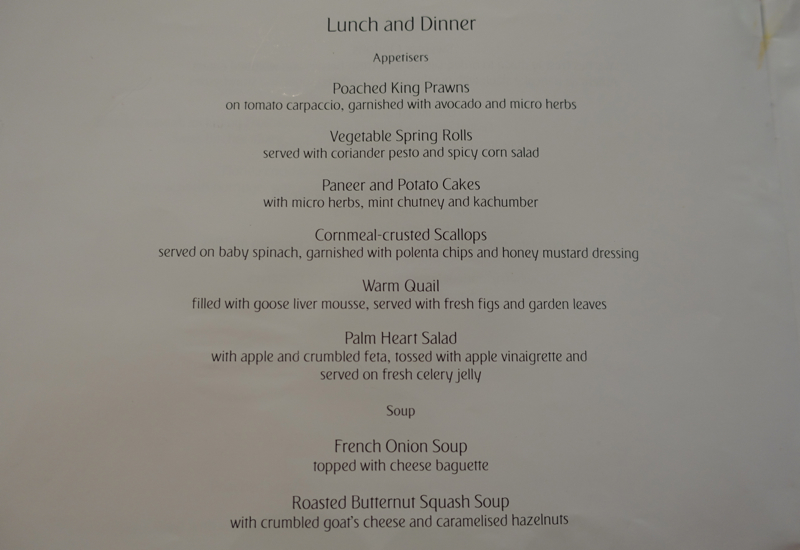 Main courses: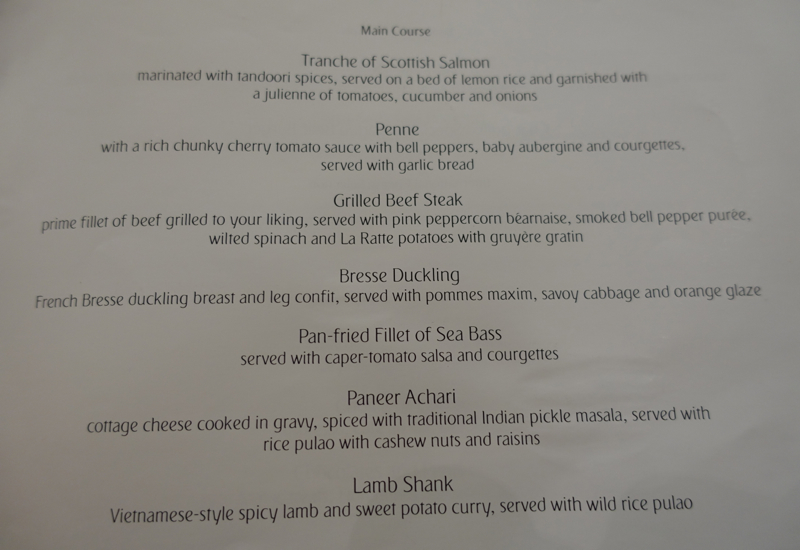 Club sandwich and burger choices:

And desserts, although none of the dessert options really appealed to me, which jives with what my husband and I have experienced as well on Emirates flights–desserts, for whatever reason, are not their forte.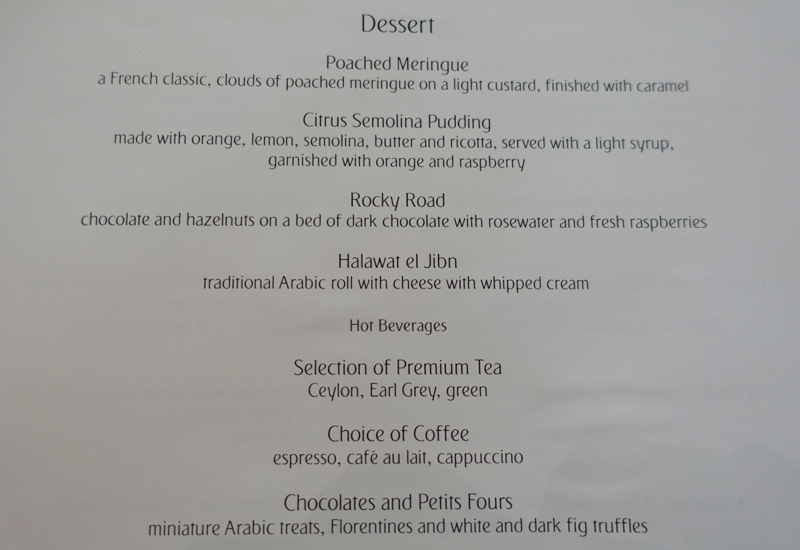 We started off with some fresh squeezed orange juice and a berry smoothie. While fresh, we were surprised that they weren't cold, but room temperature. I definitely would have preferred them chilled, or with ice.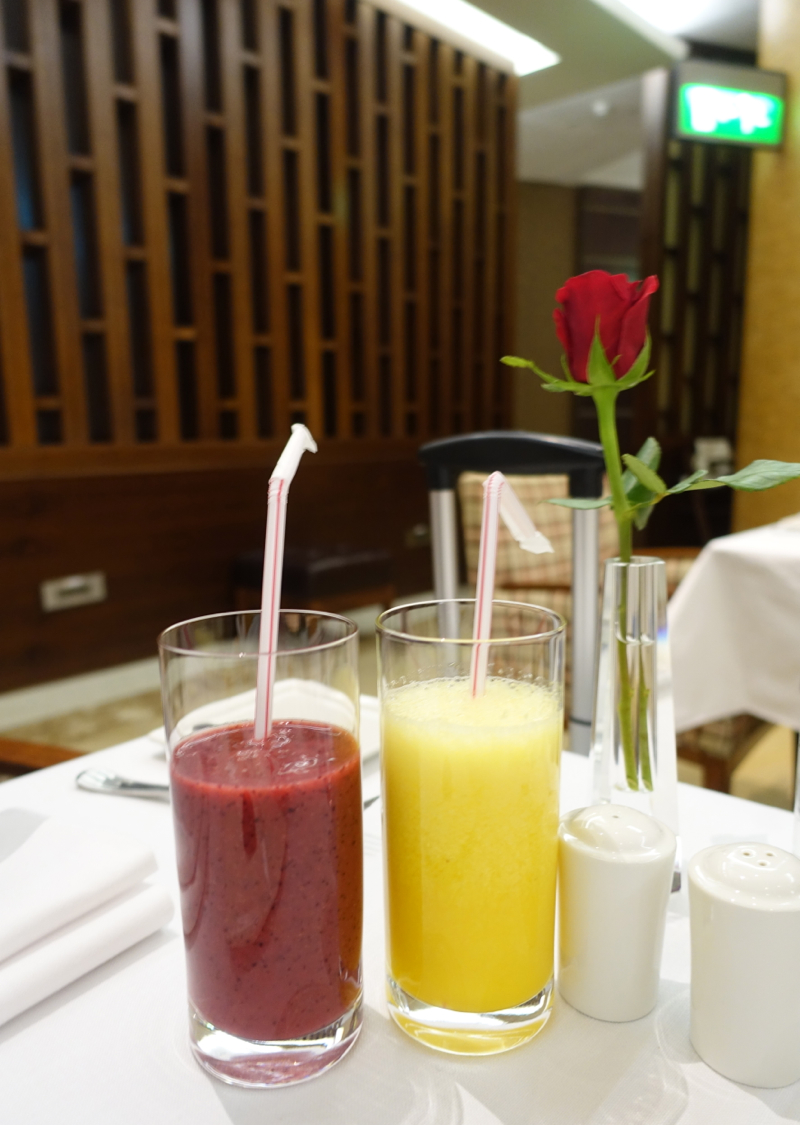 My son felt like eating comfort food, so he ordered the Wagyu Beef Burger. It was huge, so he didn't even have room to eat much of the fresh salad that I asked to accompany it. Interestingly, we weren't asked how he'd like it to be cooked, but it came out medium-well, which is what he prefers, though it was too well done for my taste, when I tried a bite.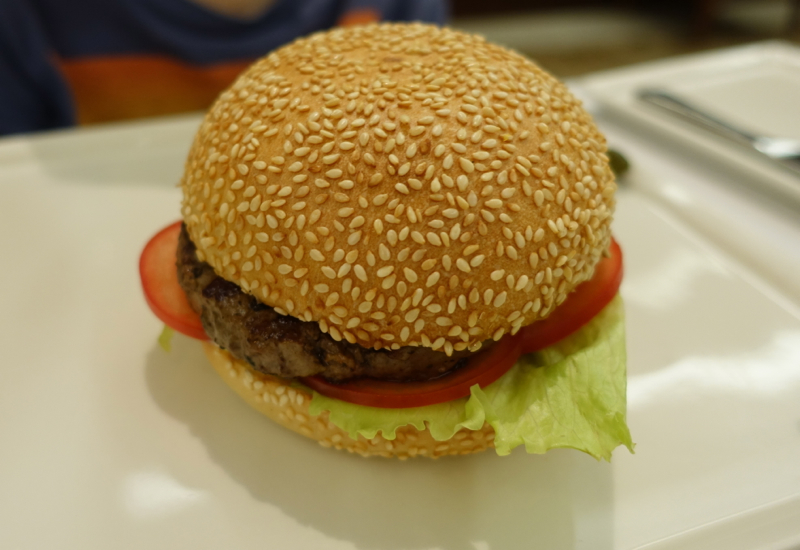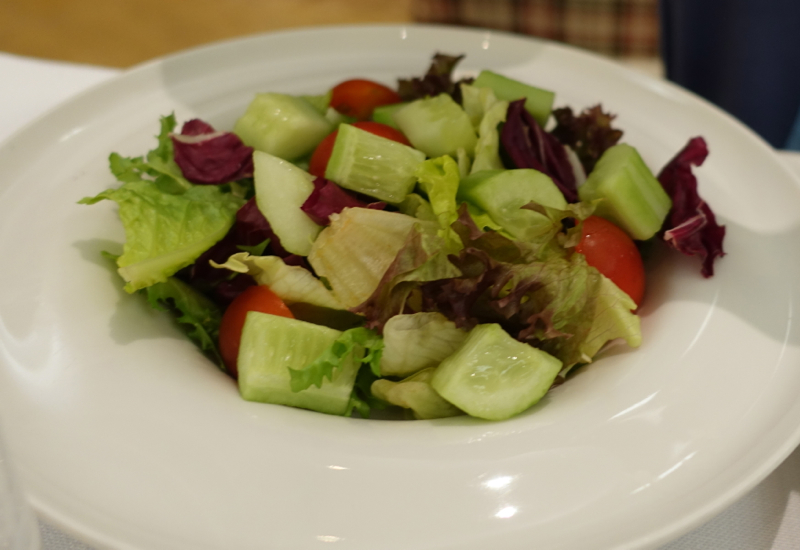 I ordered an appetizer of cornmeal crusted scallops that were delicious. I was pleasantly surprised just how good this was.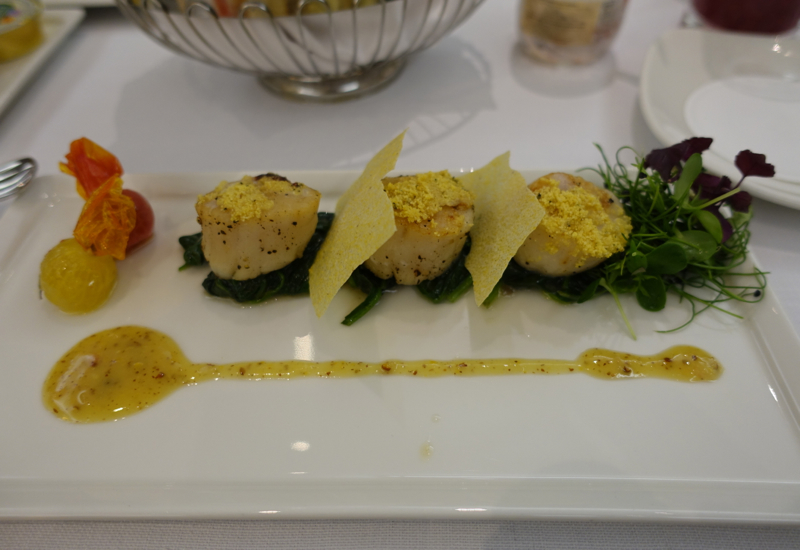 Although it wasn't on the menu, I also asked for some yogurt, and was brought an excellent French variety from la Ferme des peupliers, from Normandy. I appreciate high quality yogurt, and after a taste of mine, my son wanted his own.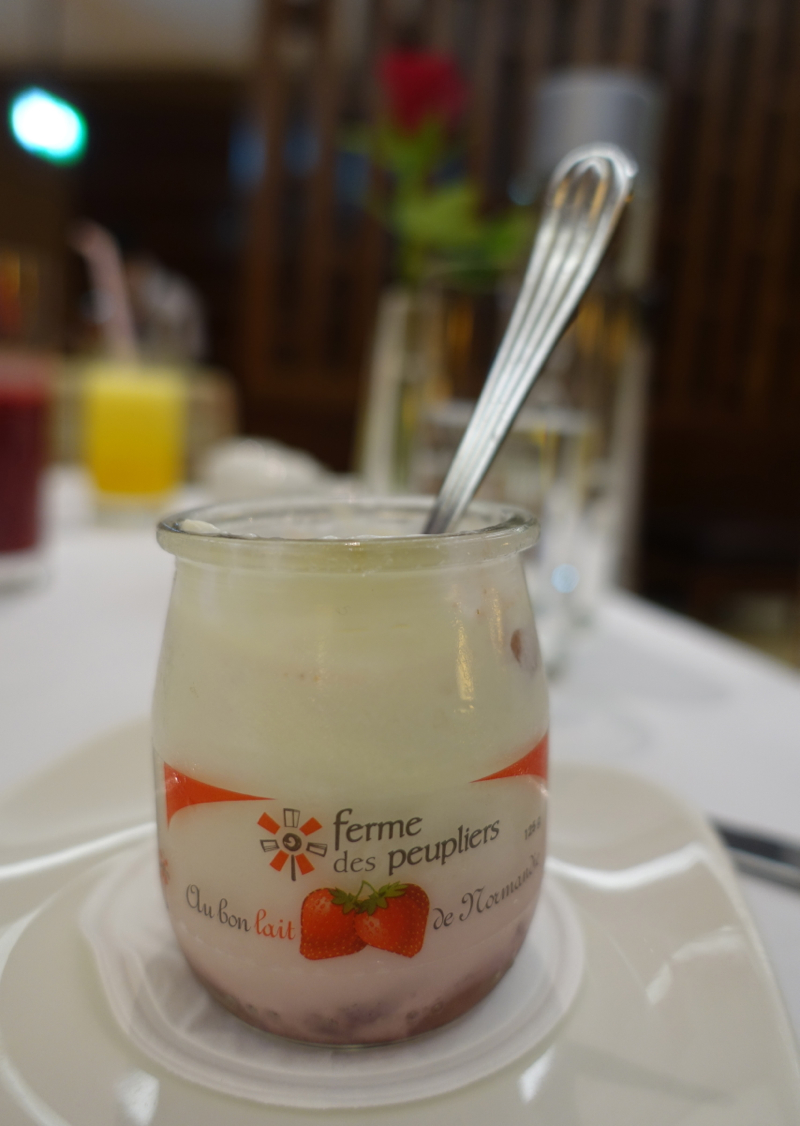 The Verdict
While we didn't have a lot of time to explore the Emirates First Class Lounge, Concourse A during our layover between our Qantas First Class flights from London to Dubai and from Dubai to Melbourne, we enjoyed the meal we had at the restaurant, and loved the convenience of boarding right from an A gate in the lounge. With all the space though, I'd love to have seen something a little more innovative in the lounge, such as a swimming pool, jacuzzi (perhaps there's one in the Spa, since I didn't visit it), a tennis court, or fitness classes of some kind. So much seating taking up the space seems a bit of a waste (how many first class passengers are there anyway, even during peak times?)
If you've visited the Emirates First Class Lounge at Dubai, what was your experience?
Related Posts
Review: Emirates First Class A380 New York to Dubai
Review: Emirates Lounge London Heathrow Terminal 3
Review: British Airways Galleries Lounge, Dubai
Emirates First Class Lounge Dubai Review
Change Emirates Awards Booked with Alaska Miles?
Need Award Booking Help? Our fee is as low as $75 per ticket if you book your hotel or cruise with us.
If you enjoyed this, join 200,000+ readers: please follow TravelSort on Twitter or like us on Facebook to be alerted to new posts.
Become a TravelSort Client and Book Luxury Hotels with Virtuoso Amenities and Preferred Partner Amenities!