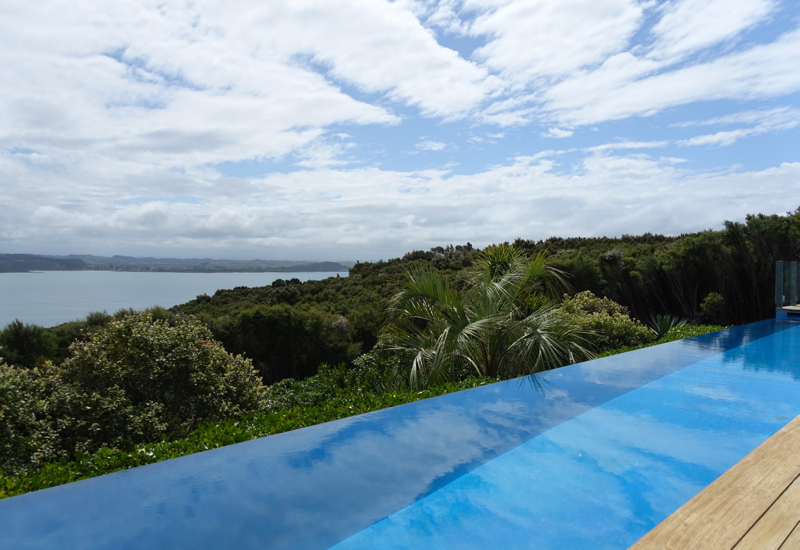 This review of Eagles Nest in the Bay of Islands, New Zealand, is part of a New Zealand trip report featuring Virtuoso luxury lodges, fine dining, and things to do in North Island and South Island (Christchurch and Queenstown). For the prior post, please see Review: Sofitel Auckland Viaduct Harbour, New Zealand.
TravelSort Clients enjoy these Virtuoso benefits when reserving Eagles Nest:
Upgrade on arrival, subject to availability. (Note, however, that upgrades are rarely available as this property only has 5 accommodations, which are multi-million dollar award winning holiday homes.)
Daily breakfast provisions provided in each villa
Summary of the environment: Russell is one of the last areas where two rare birds – Kiwi and North Island Weka – can be seen in the wild.
Enjoy a relaxed walk with us to learn more about our native forest and the creatures that live within it. You will encounter wild New Zealand birds in their natural habitat, plus fascinating insects and native plants. Our walks are suitable for most fitness levels.
Night time guided Kiwi Experience Walk: The forest changes when the sun sets! The sounds and sights of the day are replaced by the creatures of the night. This is when Kiwi come out to forage, giving you a chance to hear, or even see, wild Kiwi in their natural environment. Ruru (a native owl) can be heard, shy insects emerge from their shelters, and glow-worms light up. (Subject to availability, Duration: 2 hours, Maximum Group size: 6 maximum Minimum Age: 10 years old*)
OR
Day Time Ecology Experience Walk: Enjoy a guided walk meandering through a forested valley in a Private Forest and Kiwi Conservation Area. This fun and informative walk is different each time. What we see and hear depends on the time of the day, the weather, the season and what the walking group is most interested in. Find out about native plants and their traditional uses. Walk or sit quietly to see or hear native birds: Weka, Tui, Fantail, Grey Warbler, Fernbird, Kingfisher, and Pipit. Search for Weta, a harmless giant insect. Learn how the creatures of the forest rely on each other. (Subject to availability, Duration: 2 hours. There is no minimum age but, for safety, it is recommended not to carry children.)
Early check-in/late check-out, subject to availability
Eagles Nest Location and Check-In
Eagles Nest is located at 60 Tapeka Road in Russell, New Zealand, in the Bay of Islands, on a 75 acre estate. Its vantage point on the cliffs gives each of its five villas spectacular water views, and for celebrities and other VIPs who reserve its Presidential Villa, Rahimoana, that villa comes with its own helipad lawn for private helicopter transfers.
While it's possible to drive up to Russell and Eagles Nest from Auckland (it takes about 4 hours without stopping) we chose to fly to the nearest airport, Kerikeri (KKE) which is just over 1 hour away and includes a scenic car ferry at Paihia.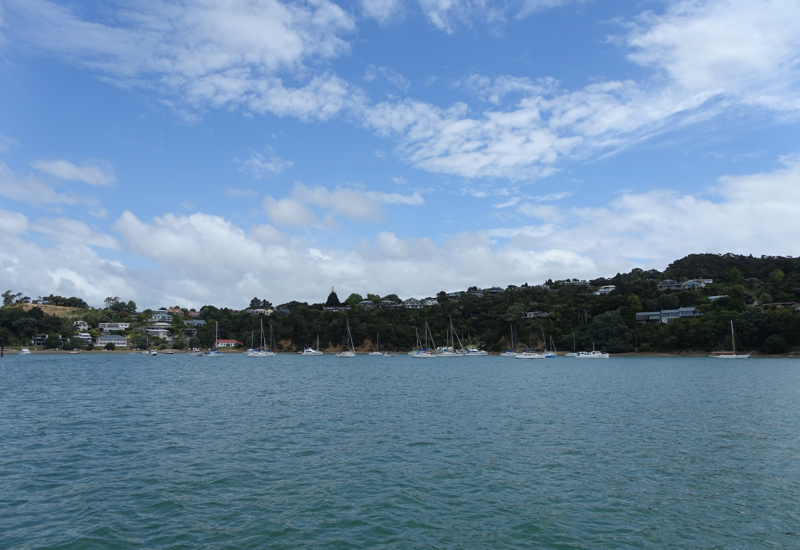 While we did manage to drive past the turn to Eagles Nest, which only has a discreet logo on the sign, we soon realized our mistake, made the correct turn, and found ourselves at the main check-in, where we rang a buzzer and soon were met by Ciaran, the Assistant Manager, who showed us to our villa.
Eagle Spirit 3 Bedroom Villa, Eagles Nest
We stayed in the spacious 3 Bedroom Eagle Spirit Villa. Right after you enter, your eye is drawn to the living room, with its spectacular view over the infinity pool to the Bay of Islands beyond: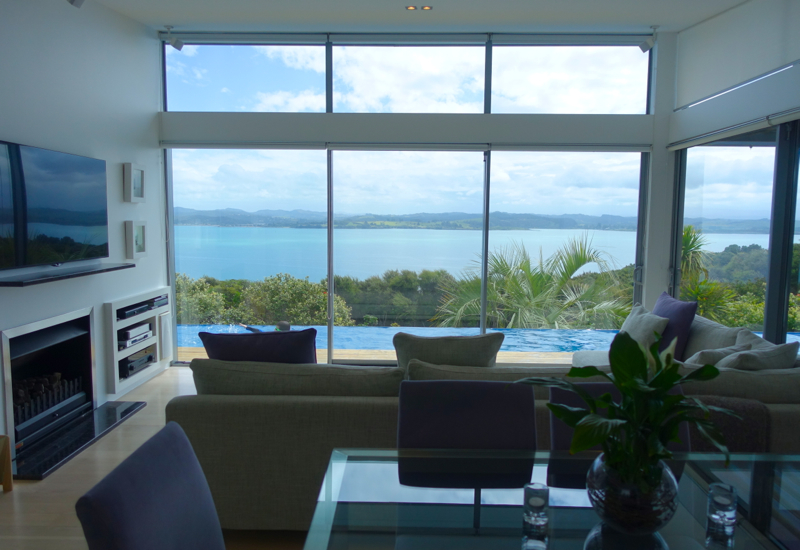 The vaulted ceiling of the open plan living and dining area enhances the spacious feeling in the center of the villa, making it the place we spent most of our time when not actually outdoors in the pool or jacuzzi.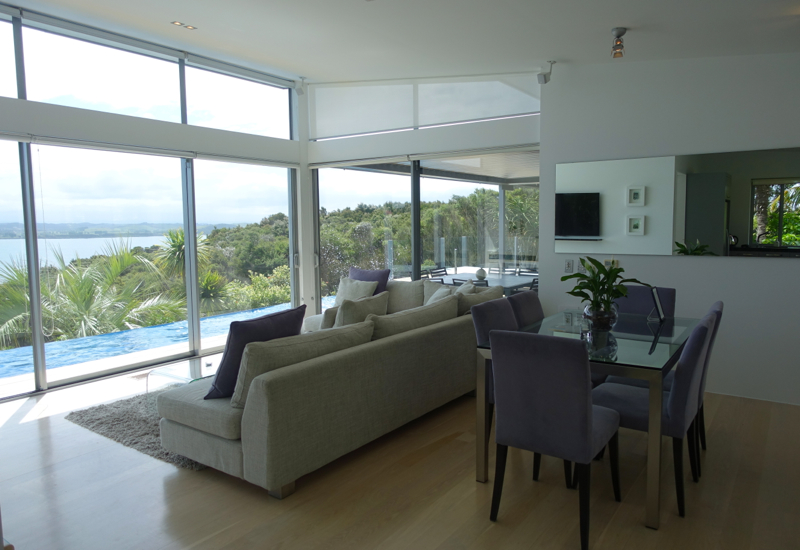 Each of the bedrooms is furnished tastefully with a very comfortable bed fitted with high thread count sheets, and are virtually identical in design, so there are no worries about deciding who gets which bedroom, if you're traveling with relatives or friends.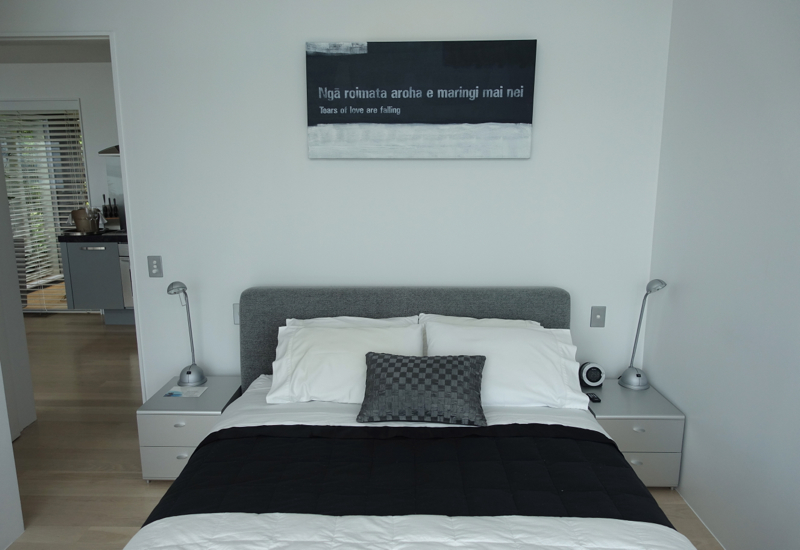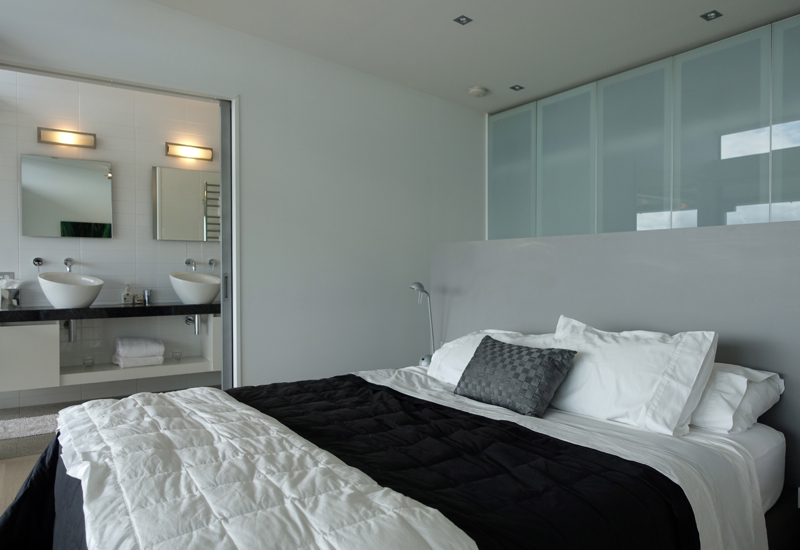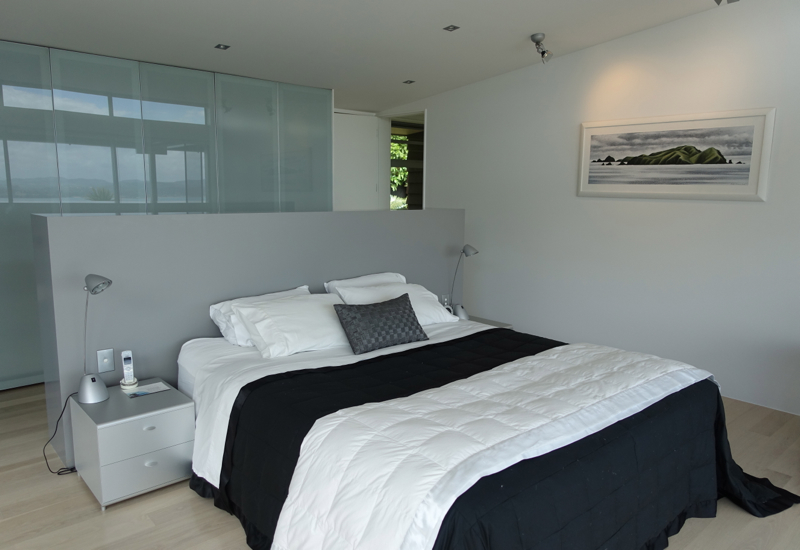 Each bedroom also has an en suite bathroom, with double his and hers sinks and a walk in shower (except the third bedroom, which has a bathtub–great if your family or party includes small kids who don't want a shower).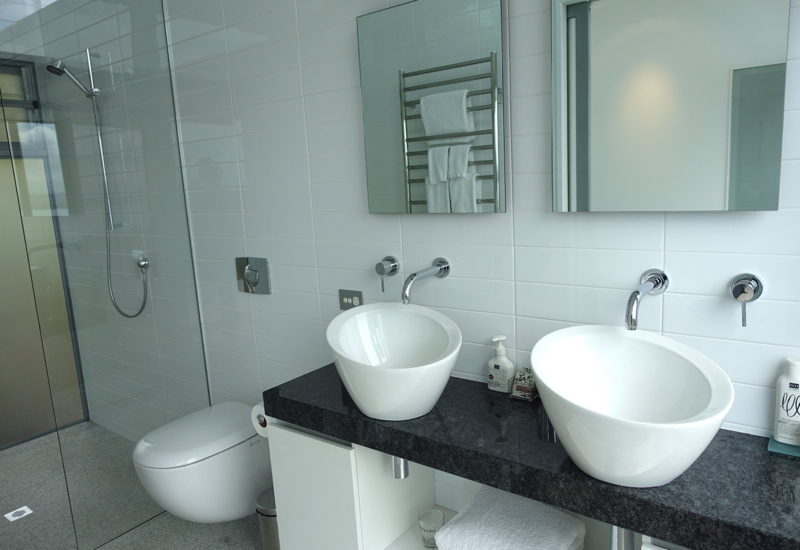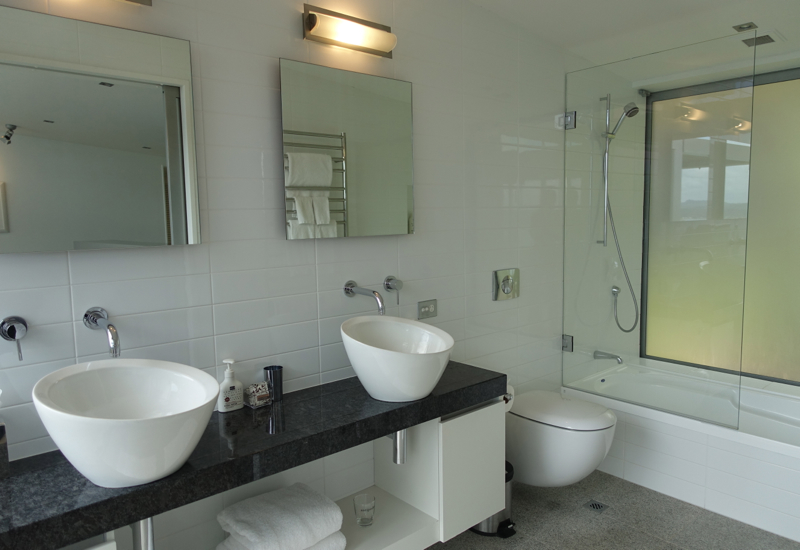 I loved that the Nespresso machine came with a milk frother and very clear directions on how to make a latte or cappuccino, along with a wide array of different pods.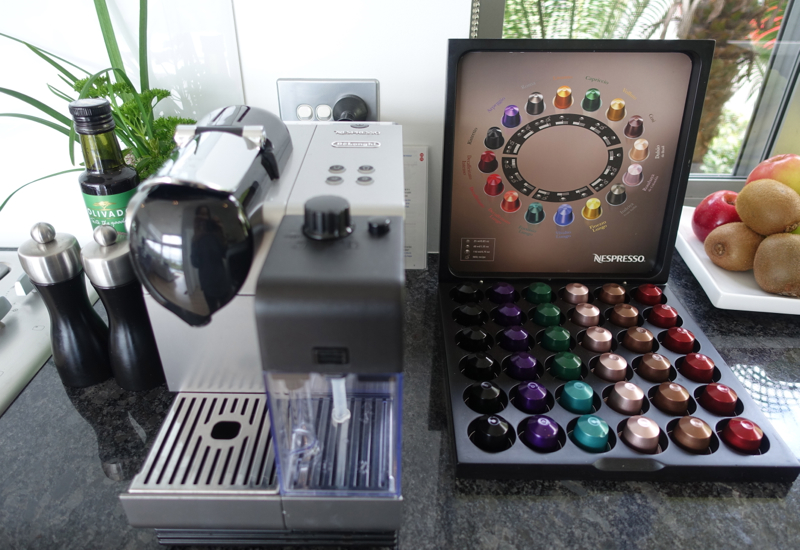 There was also fresh fruit, and even a kit for making your own espresso martinis if you so desired.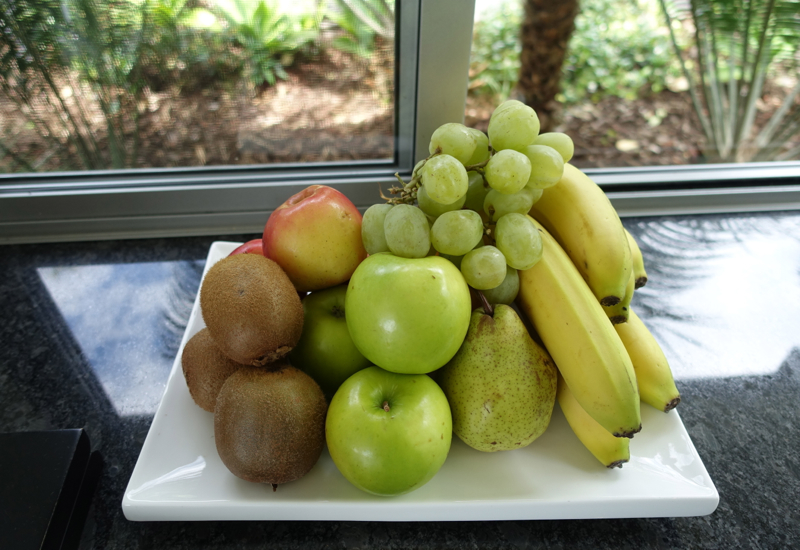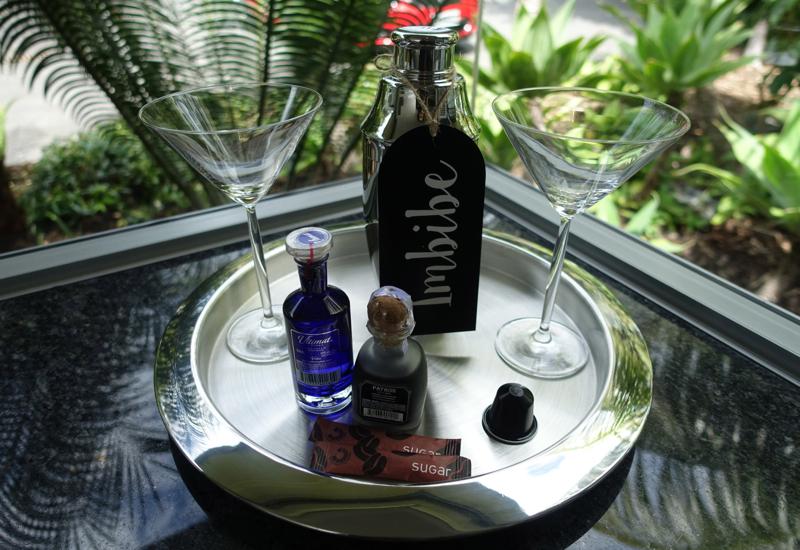 But easily our favorite parts of the villa along with the views were the infinity pool and jacuzzi hot tub. There was even a BBQ, handy if you opted for a private chef bbq dinner.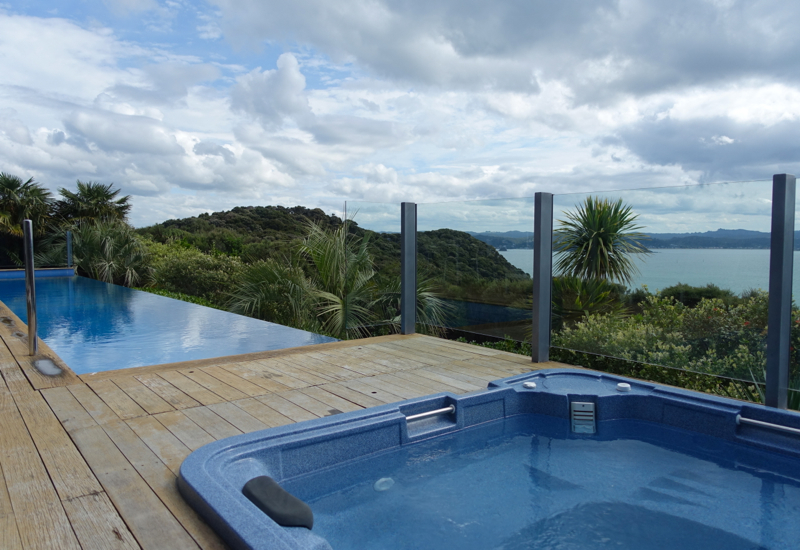 And Eagle Spirit is perfectly positioned to enjoy glorious sunsets: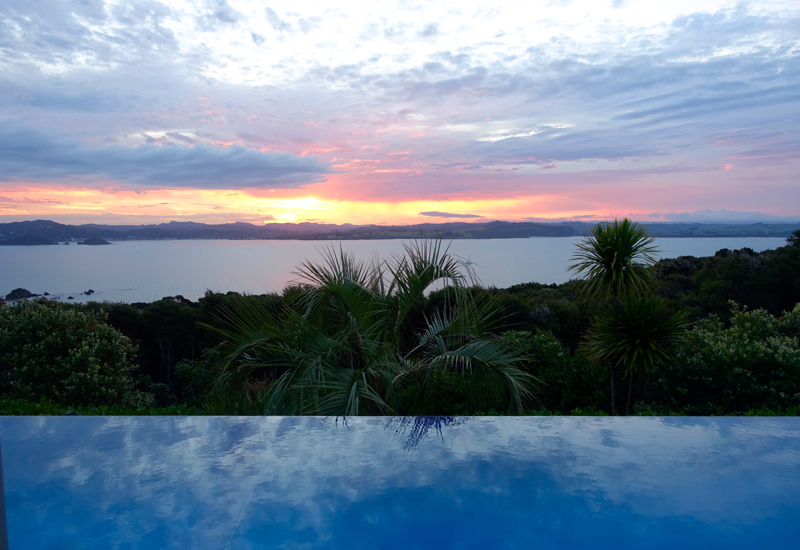 It got a bit chilly in the evening, making the fireplace a welcome and cozy amenity: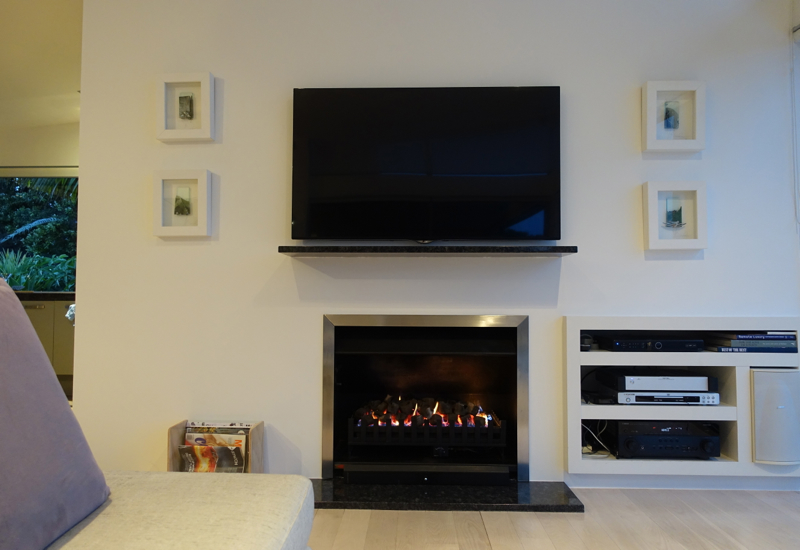 Pre-stocked Fridge and Breakfast
Since Eagles Nest is not a hotel, it doesn't have any common areas or restaurant shared among the five villas–guests who come here value their privacy. Instead, there's the option of hiring one of their private chefs to prepare a meal, if you want to savor the views and not go out to any of the restaurants in Russell.
Normally I'm not keen on doing any food shopping or preparing any meals when we travel, as it doesn't feel like a proper vacation, but Eagles Nest made it so easy, having already prestocked the fridge with all kinds of breakfast fixings: eggs, milk, bacon, delicious mango and plain yogurt, berries, smoked salmon, juice, breakfast cereals, bread, jam and more. Some items were chargeable, such as the cheese and the wines, apart from a lovely welcome bottle of wine (originally it was champagne, but since we prefer wine, Ciaran was happy to switch it out for us).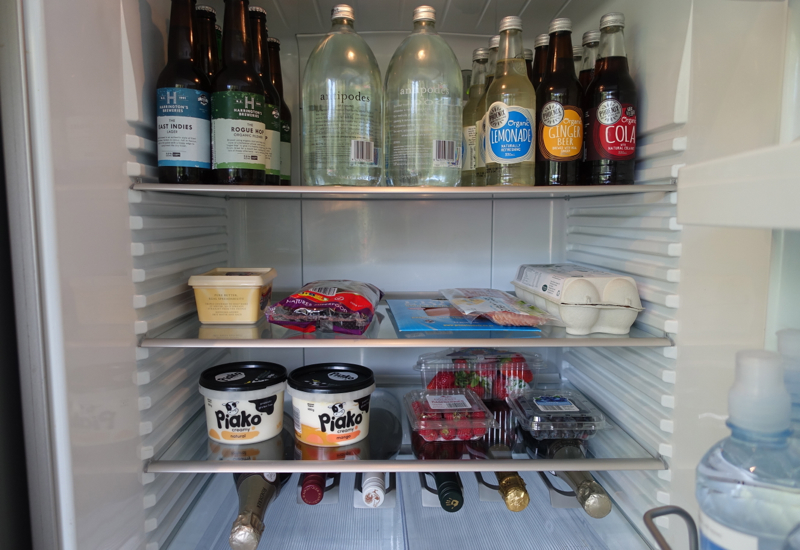 Since we were all hungry upon arriving, I didn't mind whipping up an omelet for lunch, accompanied by some of the ripest tomatoes I've seen since our wine bar meal in Florence, Italy.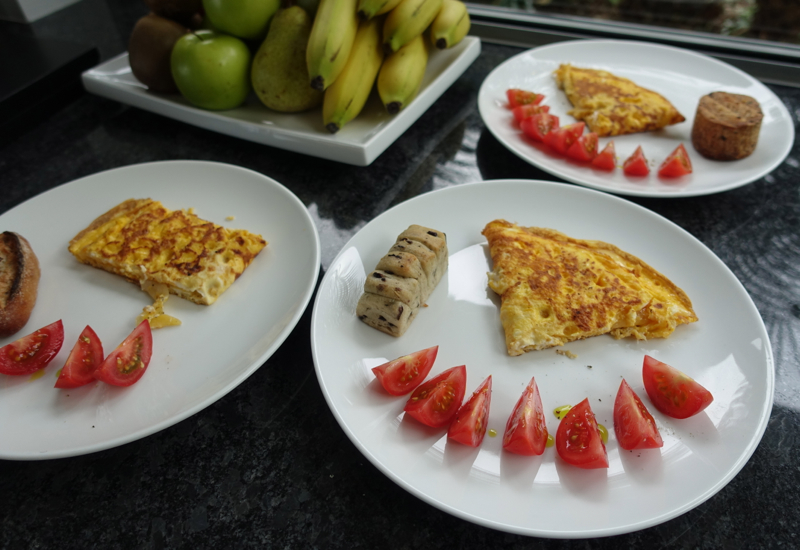 The Verdict
Eagles Nest has been a hit with clients I've sent there, and now that I've stayed there personally, I can see why. With the water views, nature paths, yet a short distance from the quaint town of Russell (New Zealand's first capital) and lure of sailing or diving in the Bay of Islands, with a great glass of New Zealand wine to sip on the deck as the sun sets, what's not to like? Don't miss it, if you visit New Zealand.
One of the Pacific's Best Hidden Secrets: Guess the Place
Virtuoso Hotels: Bookings with Upgrades, Complimentary Breakfast and VIP Perks
Disclosure: I received one complimentary night and a travel professional discount on our second night. The views expressed in this post are mine.
Need Award Booking Help? Our fee is as low as $75 per ticket if you book your hotel or cruise with us.
If you enjoyed this, join 200,000+ readers: please follow TravelSort on Twitter or like us on Facebook to be alerted to new posts.
Become a TravelSort Client and Book Your Hotel with VIP Amenities!