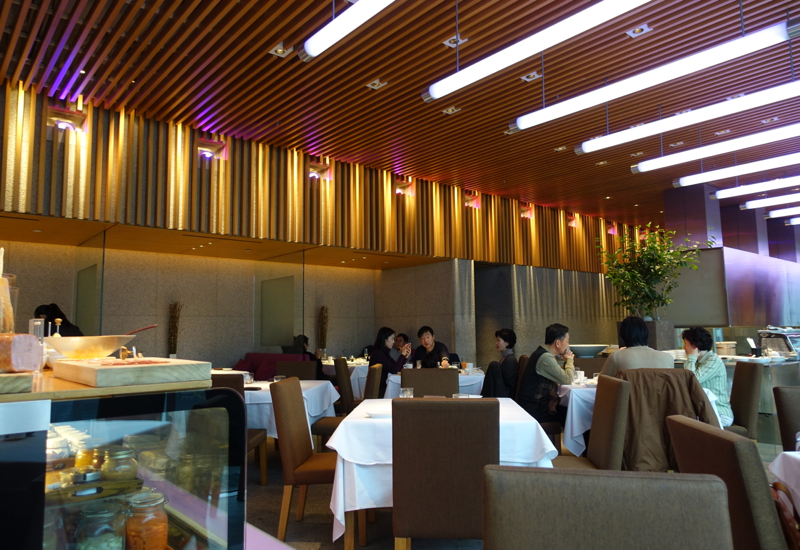 This Cornerstone Restaurant at the Park Hyatt Seoul Review is part of a trip report covering luxury travel in northern Thailand and Siem Reap, Cambodia. For the prior posts please see:
SWISS Lounge JFK Terminal 4 Review
Review: Asiana First Class Suite NYC JFK to Seoul ICN
The Park Hyatt Seoul is a Virtuoso hotel, so TravelSort Clients receive complimentary breakfast and a food and beverage credit among other benefits when booking a qualifying paid rate:
Continental breakfast daily, for up to two in room guests

Food & Beverage credit of KRW50,000 once during stay

1 Bottle of Red Wine in the Guest Room

12 Noon early check-in and 4 pm late check-out, subject to availability

Upgrade on arrival, subject to availability (from Park King to Park Deluxe)

Early check-in/late check-out, subject to availability
Getting to Cornerstone Restaurant
If you're staying at the Park Hyatt Seoul, the Cornerstone Restaurant is just an elevator ride away, on the hotel's 2nd floor.
Otherwise, make your way to the Park Hyatt Seoul at
606, Teheran-ro in Seoul's Gangnam district.
The Scene
I was at Cornerstone for weekend brunch on a Saturday, so there was a good mix of couples and families, and at the time I was dining, most of them appeared to be locals (or were at least Korean speaking, if guests of the hotel).
There are no views to speak of, since the restaurant is on the 2nd floor, but the high ceilinged and modern decor is in keeping with the rest of the hotel.
Cornerstone Restaurant Brunch Menu and Food
Cornerstone's weekend brunch includes one drink of choice, either a cocktail or non-alcoholic beverage, and several small dishes plus a cooked to order entree, in addition to the buffet. Here's the menu, including current pricing: KRW 105,000 (~$95) per person for adults, and KRW 55,000 (~$50) per person for children.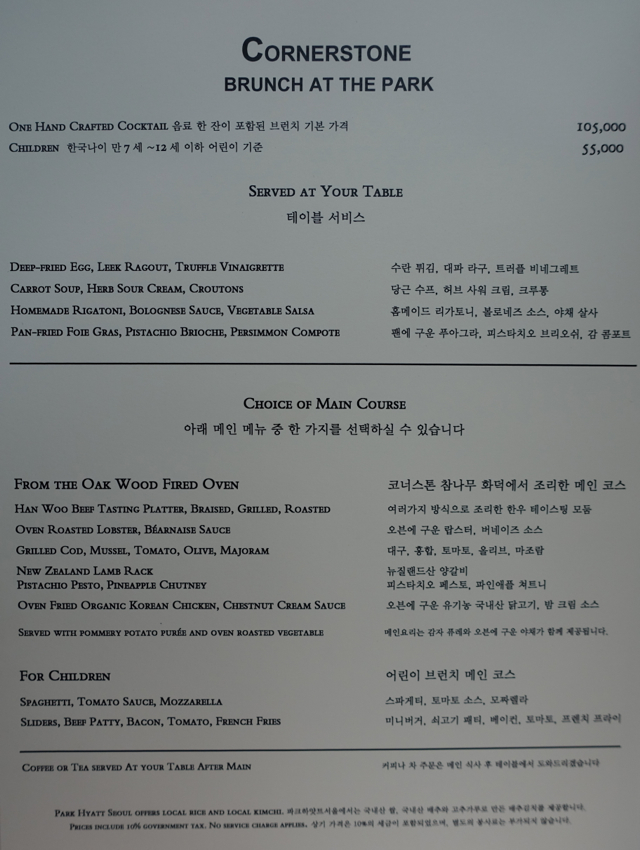 The cocktail and drinks menu included three interesting drinks I'd never seen before, such as the Red Angel, with Absolut Vodka, grapefruit juice, pineapple juice and Omija syrup (best I can tell, Omija, also called "five flavor berry," is the same as what in Russia is known as
Лимонник or
"Limonnik," used for medicinal purposes or to infuse vodka.)
Since I had a long travel day ahead of me, however, I opted for a simple non-alcoholic combination of fresh squeezed orange juice and pineapple juice.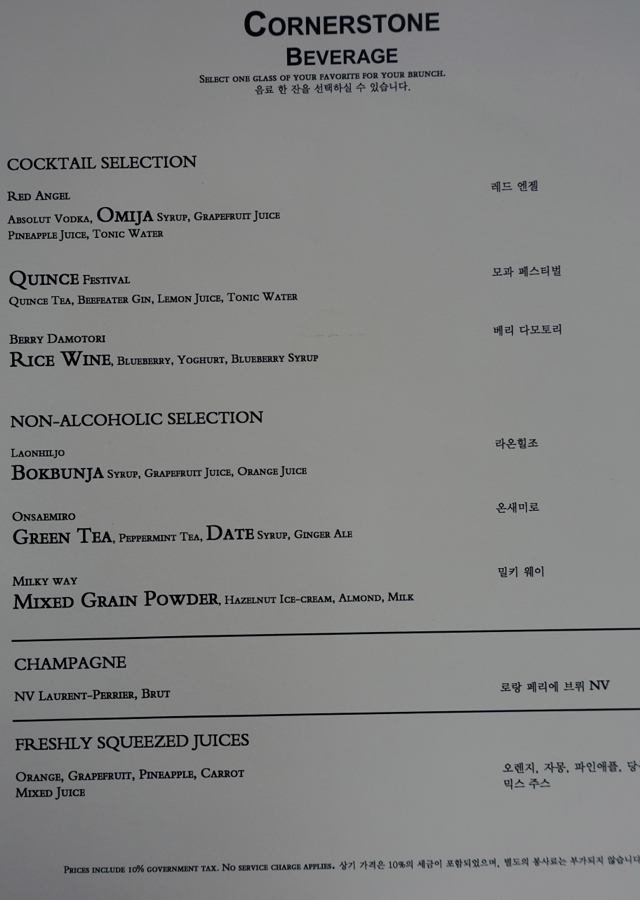 While I was waiting for the included small plates, I walked around the buffet to see what was on offer. The first thing you see upon entering is a display of desserts on the right: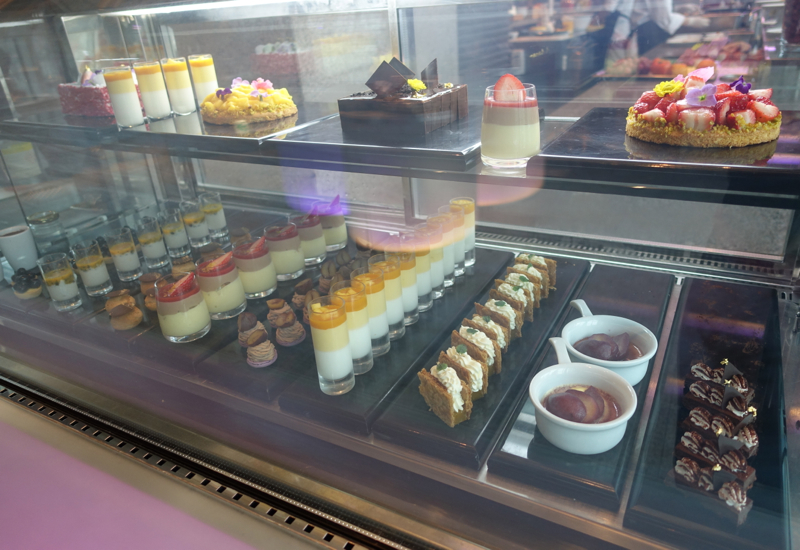 And of gelatos and sorbets on the left: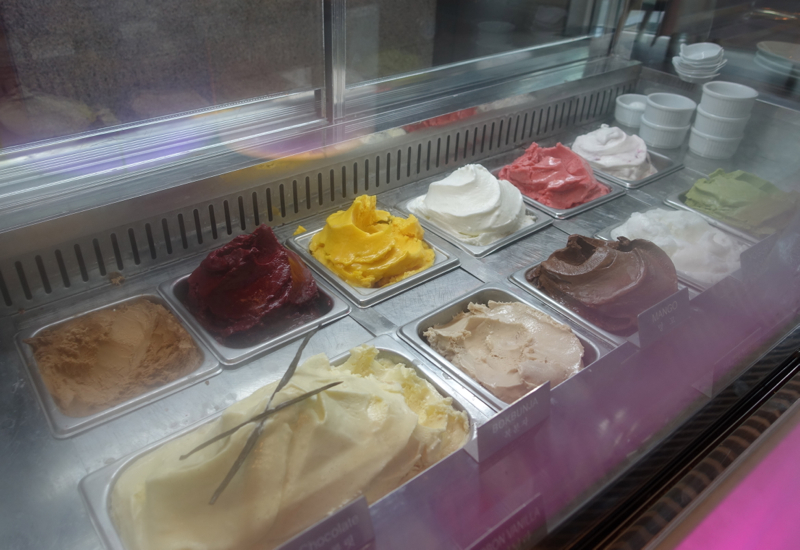 There were also the usual types of danishes, breakfast pastries and breads: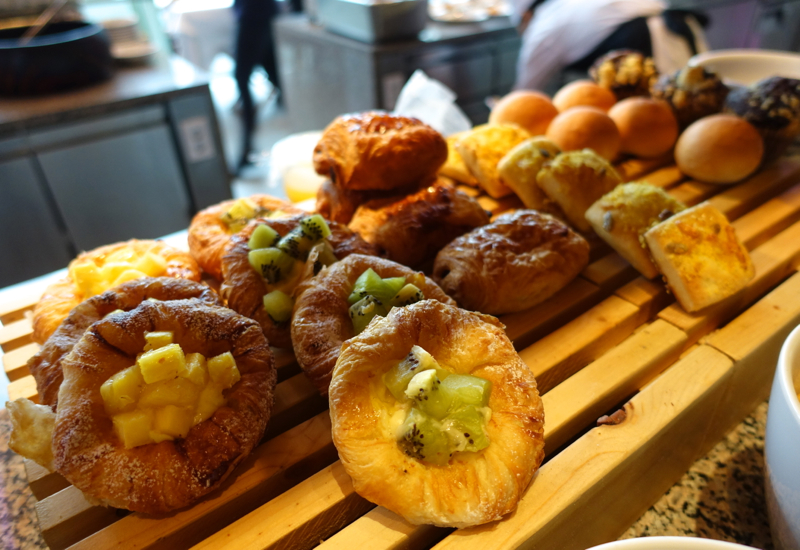 The cheese board was small, but I was impressed that they offered one of my favorites, Tete de Moine (literally, "Monk's Head"), which you could shave yourself, although shaving it is harder than it looks.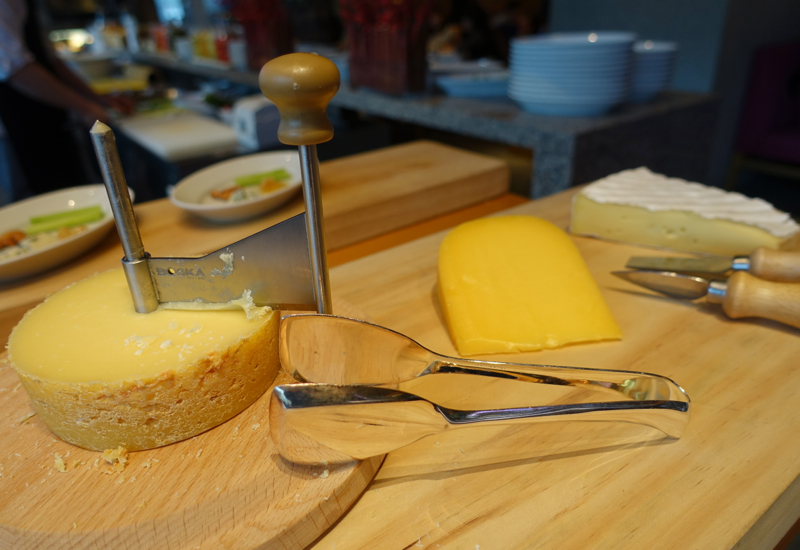 What I was most impressed by was the seafood selection. There was a whole fish on offer: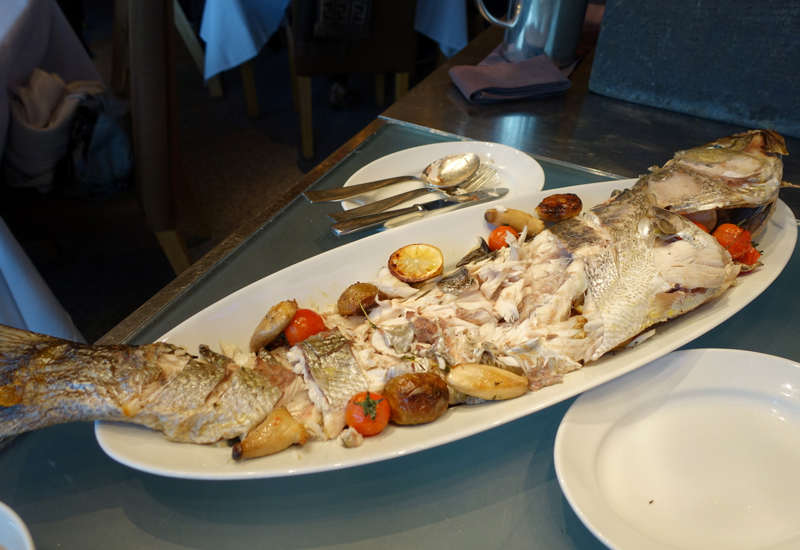 As well as oysters with Mignonette sauce: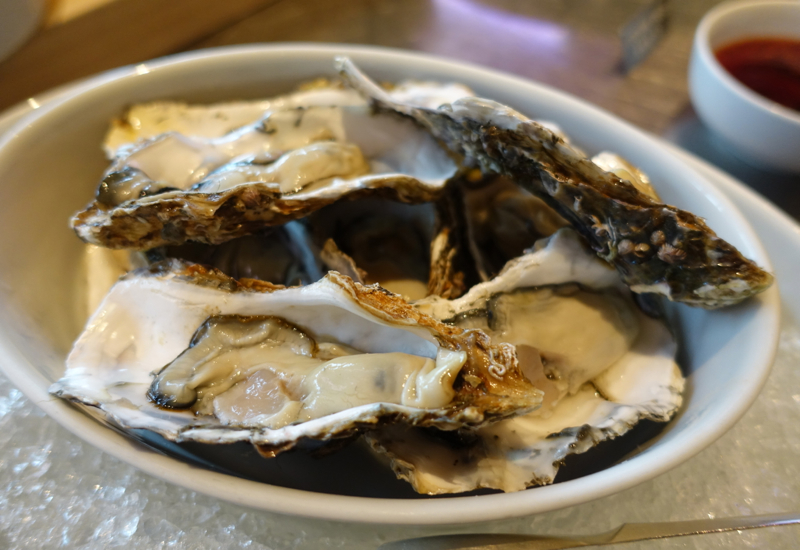 There were fresh head-on prawns, which are messy to eat but delicious: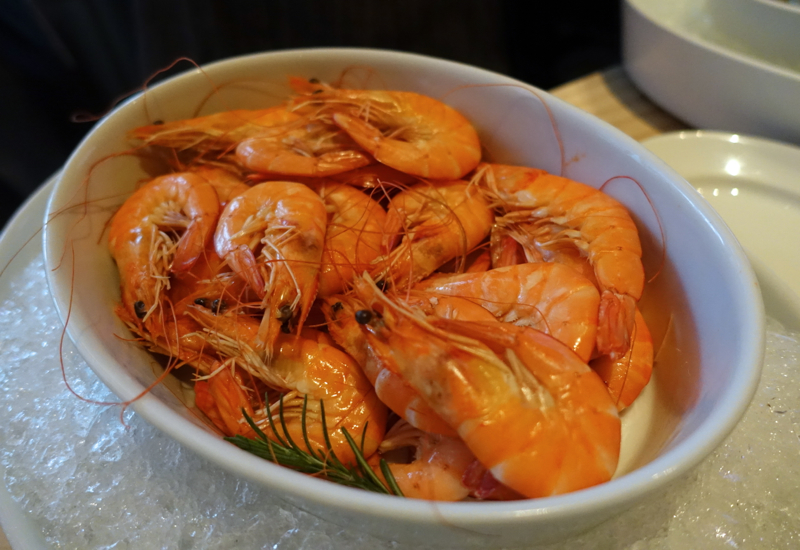 Also fresh crab, which I enjoy, but don't have the patience to crack and eat: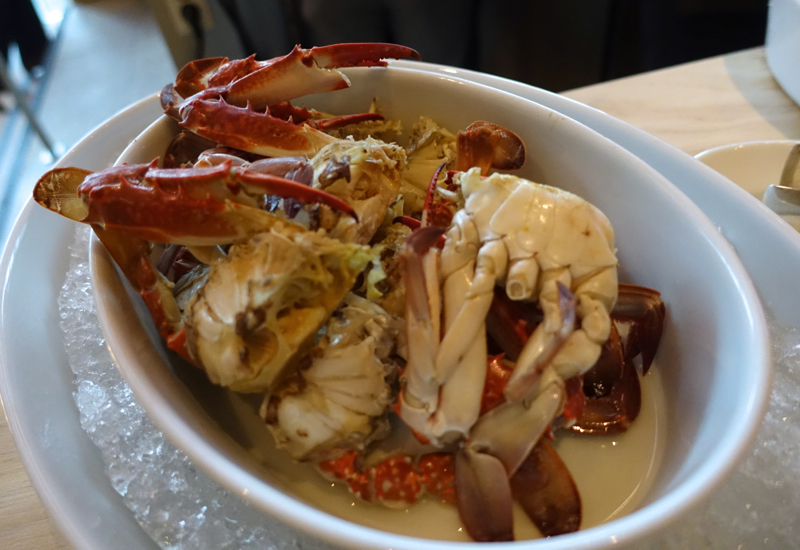 Fresh abalone in their iridescent shells were also available: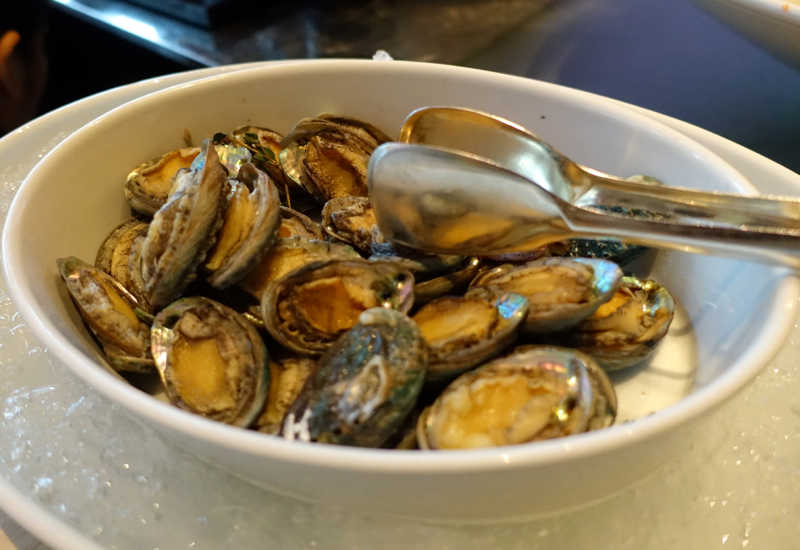 Going back to the sweet side, there was honey with bits of honey comb sourced from Worak Mountain: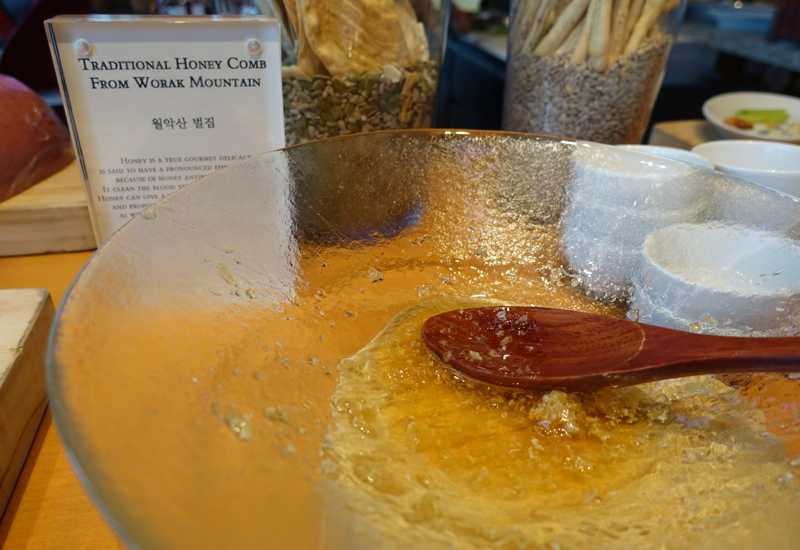 And also, along with the myriad desserts, chocolate–just in case your sweet tooth wasn't quite satiated.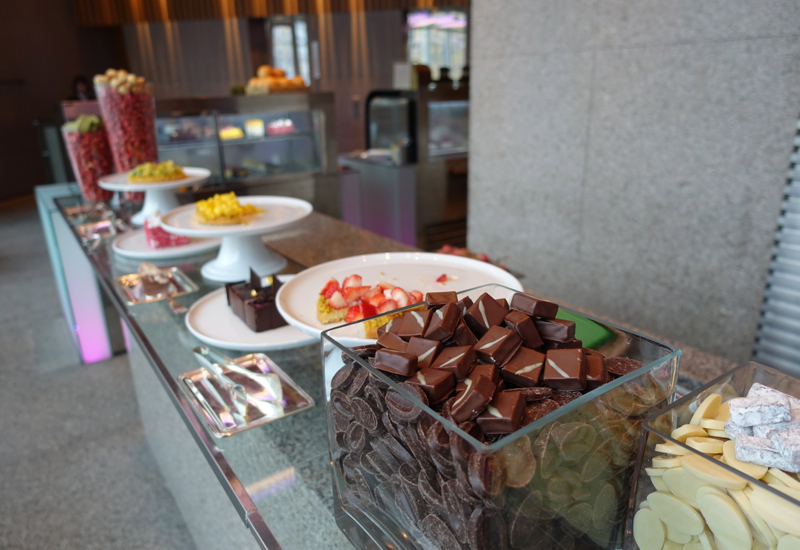 The opening dish was excellent: a deep fried egg, with a truffle vinaigrette. I've always loved the contrast of a crispy exterior and silky interior, and the hint of truffle elevated this dish nicely.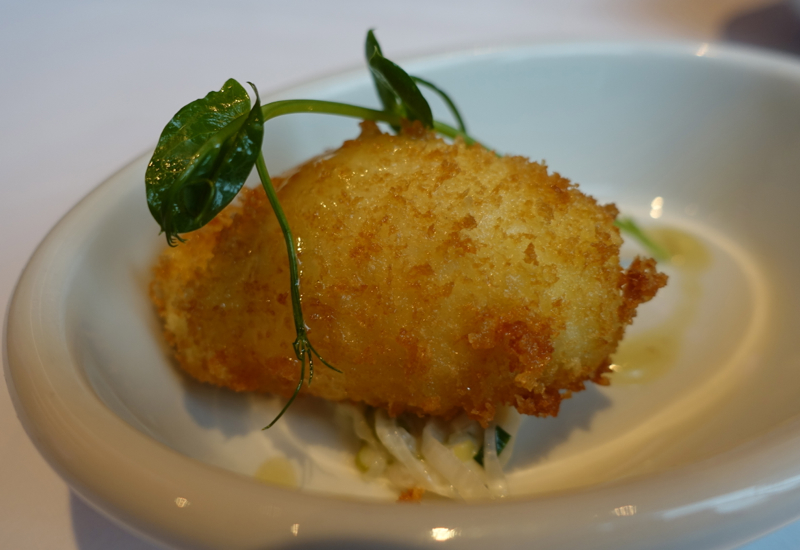 The next course of carrot soup was beautifully presented, but not especially interesting flavor-wise. I dutifully ate some of it, for the sake of Vitamin A, but didn't finish it, as I wanted to save room for seafood.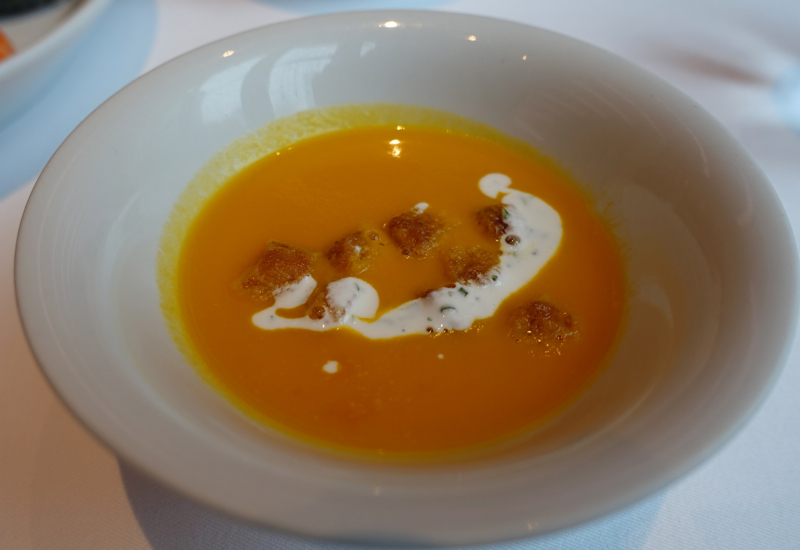 The next courses were switched in order from the menu, not that it mattered. The seared foie gras on brioche was superb–I would have happily eaten another: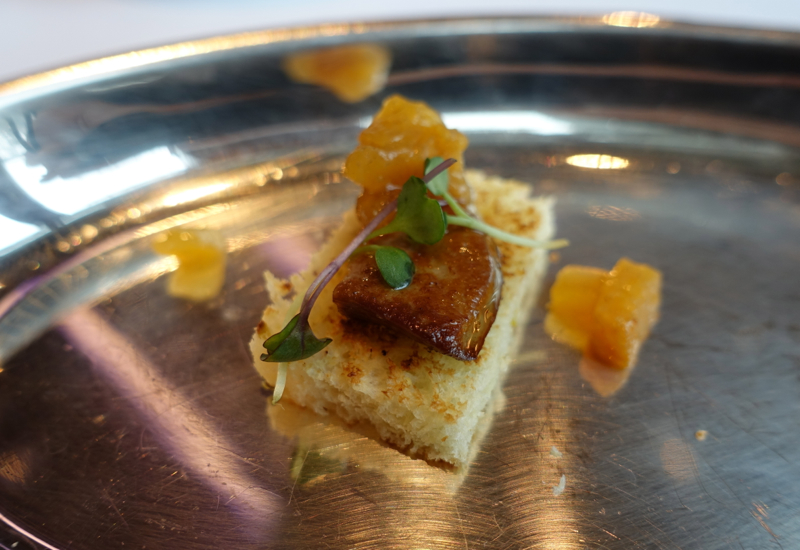 The rigatoni with bolognese sauce, however, seemed like something better saved for the kids' menu, and after the first bite, just to make sure I wasn't missing anything, I passed on it.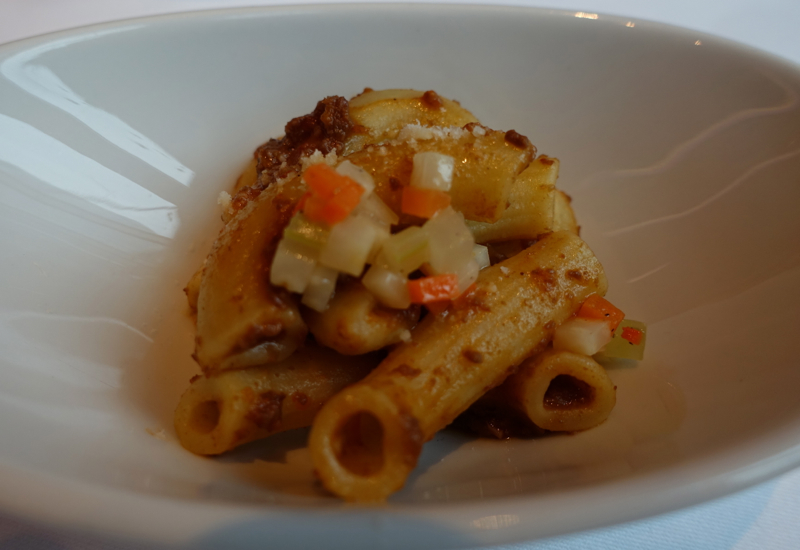 I then turned my attention to some of the seafood I'd helped myself to from the buffet–an oyster, fresh shell-on prawn, abalone, marinated scallop and shrimp, and a crispy baked mushroom. My favorite was the oyster, which was very good, although not quite as flavorful as one I'd eaten the night before with a Seoul friend who had treated me to one of the very best seafood restaurants in Seoul (not sure of the restaurant's name, however, so that writeup will have to wait).
The buffet did have a few things missing that I would have expected, one of them being yogurt–I looked all around and couldn't find any, so eventually I asked my server. She asked if I'd prefer plain or berry yogurt, and brought me a bowl of it, which I appreciated. It was fine, although not nearly as good as the types I get at home in NYC, or have gotten at places such as the
Four Seasons Koh Samui
,
Amanjiwo
, etc.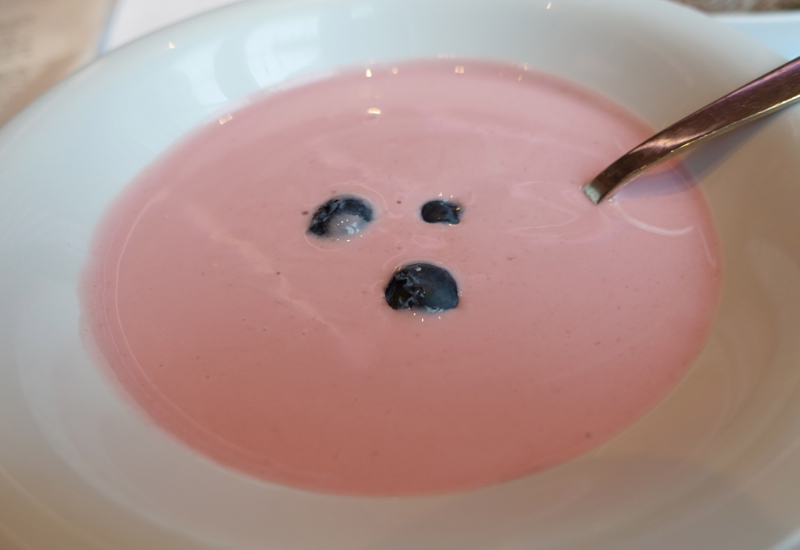 Lobster is one of my favorite splurge dishes, so when it's one of the choices on a prix fixe menu (or as a choice for
Singapore Airlines Book the Cook
), I usually order it. Cornerstone's version was excellent–cooked perfectly, and with a delicious bearnaise sauce on the side.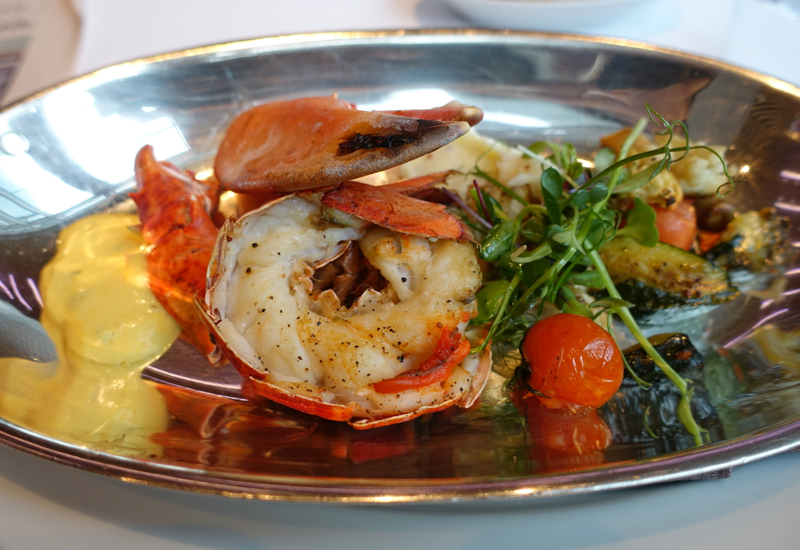 By this point, I had very little room left for dessert, but with my sweet tooth I had to try a few things anyway. The mango tart was good–I especially liked the use of vanilla beans in the pastry base.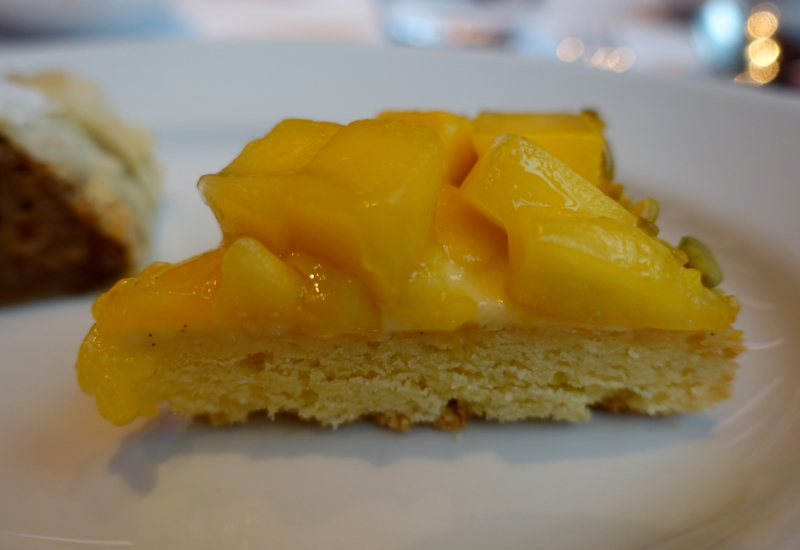 There was an intriguing sorbet flavor, "Bokbunja," and when the server at the gelato counter couldn't explain which fruit it was similar to in English, I was even more interested in trying it. Apparently it's a type of black raspberry, and I liked it, although I'll admit to liking black currant / cassis (which has a similar color) even more. Both it and the chocolate gelato were a bit icy, probably from softening too much and refreezing, so the texture wasn't as smooth as I'd have liked.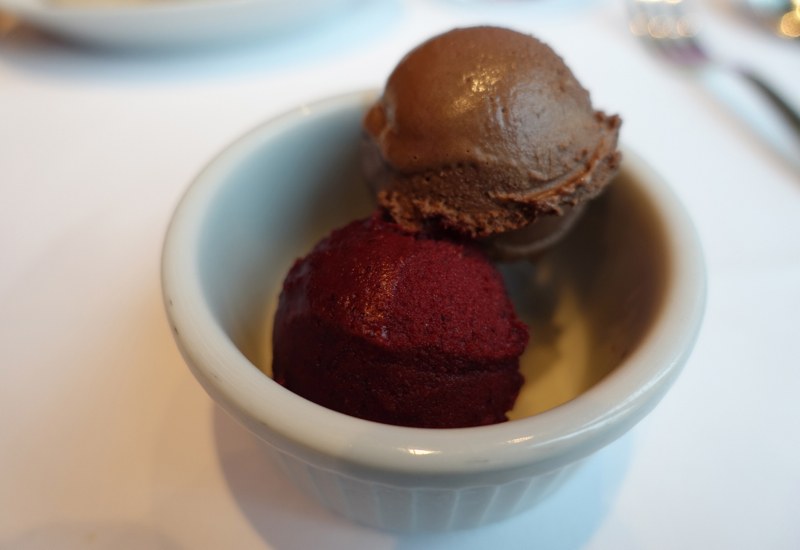 Probably my favorite of the three desserts was the apple strudel. Great apple cinnamon flavor in the filling, and flaky crust. Naturally I've had better in Vienna, Budapest, and Germany, but this was the best apple strudel I've had in North Asia.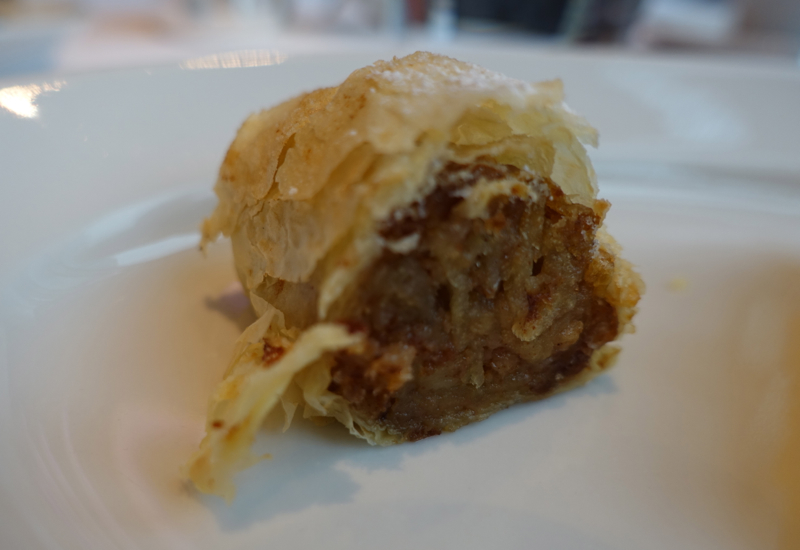 The Service
Service from being welcomed to table service was very professional. I didn't have much time, since I needed to check out and depart for the airport relatively soon, but the servers were very accommodating and brought dishes out at a perfect pace, kept my water glass refilled, and promptly brought my check when I asked for it. Absolutely no complaints where service is concerned.
The Verdict
I enjoyed my Cornerstone brunch, particularly the seafood dishes, deep fried egg and seared foie gras. The desserts, while beautiful, were in my view pretty standard and not exceptional, and there could have been more choices in the dairy area, such as a few more cheeses on the cheese board and yogurt offered on the buffet, ideally with housemade granola. Brunch is on the pricey side, at $95, so I'd say it's only worth it if you enjoy seafood, since that's where the value lies.