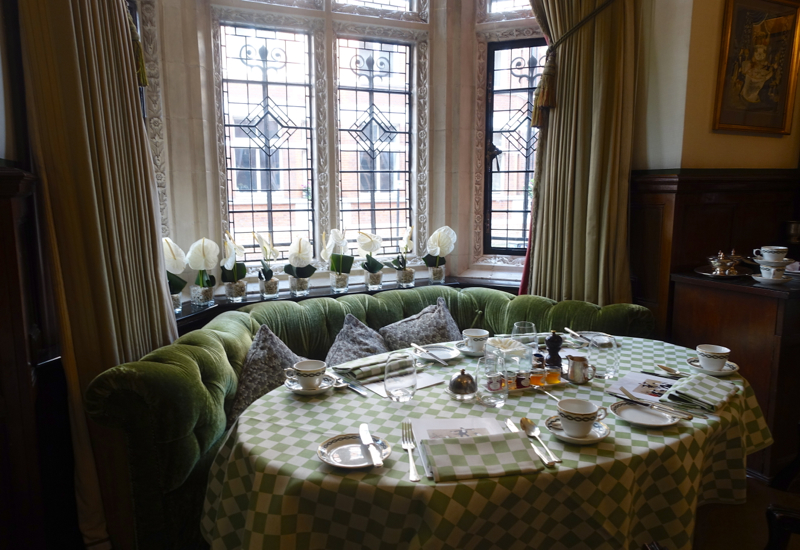 This review of Cheneston's Restaurant is from our recent stay at The Milestone Hotel in London. For other posts from our London and Paris site inspections and visits, please see:
Review: Pur' Paris Restaurant, Park Hyatt Paris
Hotel Review: Park Hyatt Paris-Vendome
La Cuisine de Philippe Paris Review
Review: Paris Muse Discovery Walking Tour for Families
Hotel Review: The Mandarin Oriental Paris
Review: Mathieu Pacaud Histoires Paris, 2 Michelin Stars
Review: Hidden Paris Gourmet Walking Tour
Review: The Milestone Hotel, London
TravelSort Clients enjoy $100 off a dining experience at Cheneston's during their stay, or for Afternoon Tea, as well as complimentary full English Breakfast daily, as part of their Virtuoso benefits.
Getting to Cheneston's at The Milestone Hotel
Cheneston's Restaurant is at The Milestone Hotel, at 1 Kensington Court, just a short walk from the High Street Kensington Tube Station (District Line and Circle Line), so it's easy to get to.
The Scene
We dined early, so that I could get my son to bed at his usual time, taking into account the 1 hour time difference with France, where we'd arrived from that afternoon, so there was only one other couple dining. I imagine if we'd dined later there would have been other diners, and during our stay at the hotel we saw a good mixture of both younger and older couples and families.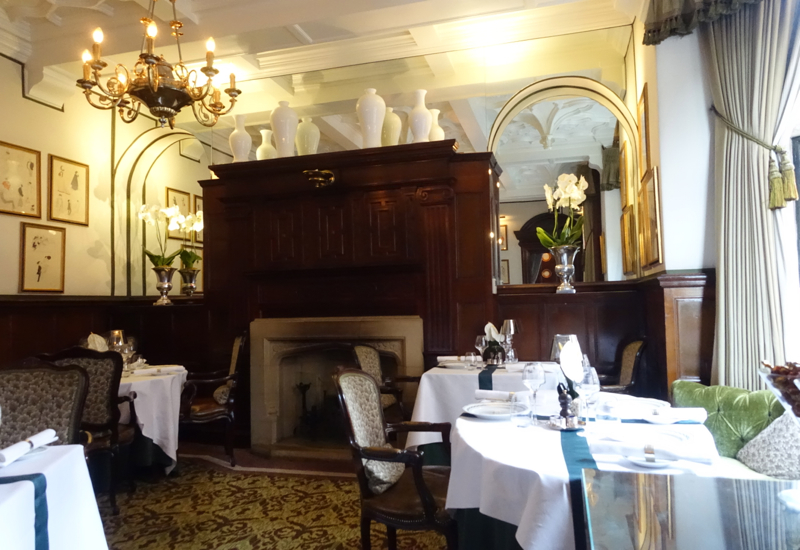 Cheneston's Dinner Menu and Food
I'm always more reassured by a restaurant that has a moderate number of choices, rather than one where there are pages and pages of items, as I'd like some reassurance that the kitchen can actually execute well on all of the menu offerings. Hence, I was happy to see that while the Cheneston's dinner menu offered a variety of appetizer and main dish courses, the choices weren't overwhelming.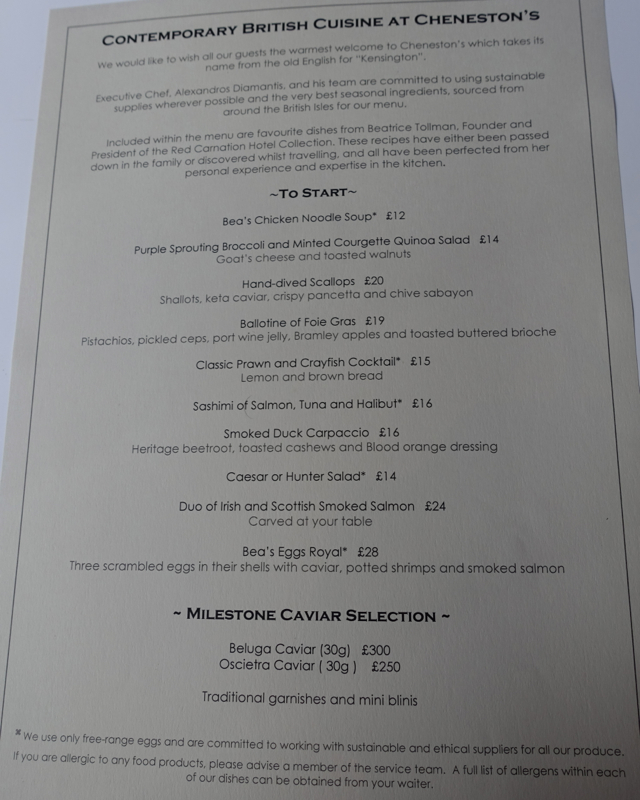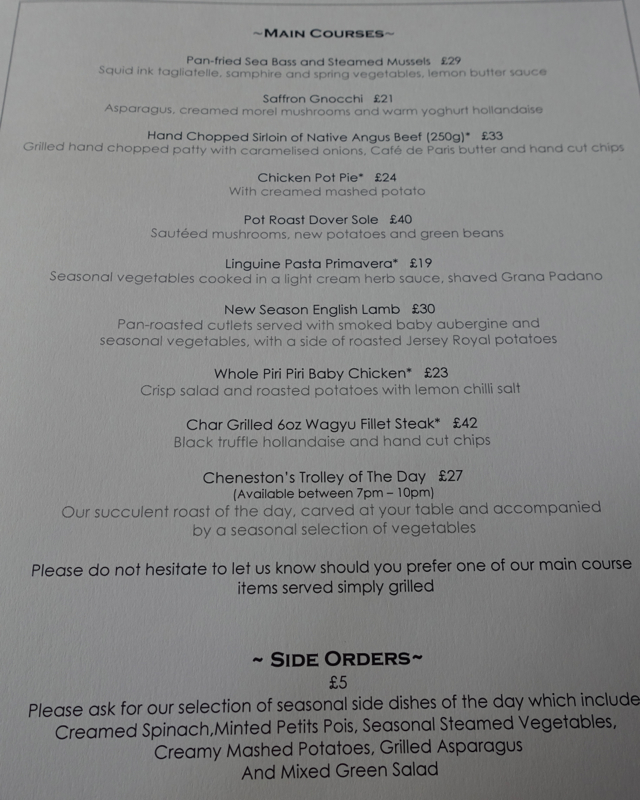 There was also a kids' menu:
Our server introduced himself and started us off with a basket of fresh bread that included lavosh, an olive roll, seeded roll, and mini ciabatta rolls, along 5 (!) types of butter, my favorite of which was the black truffle butter–mmm.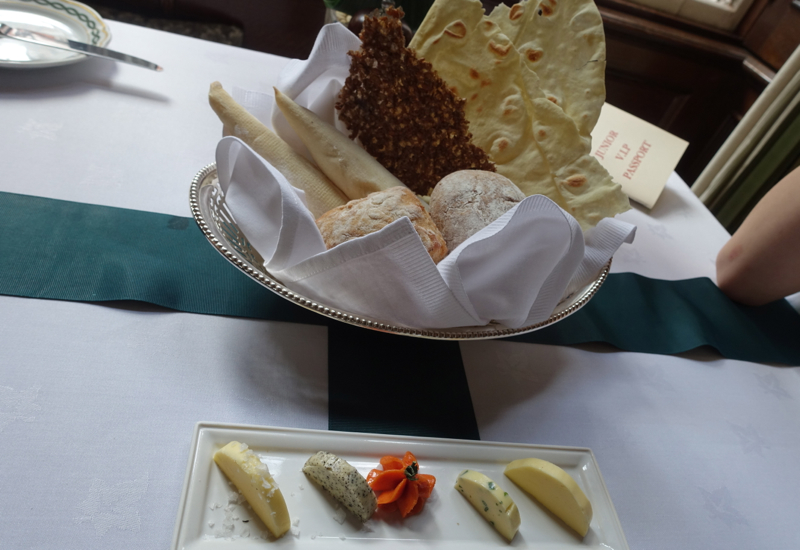 As an amuse bouche, we were brought a vibrant carrot ginger soup, which even my son enjoyed (and he generally refuses all soup).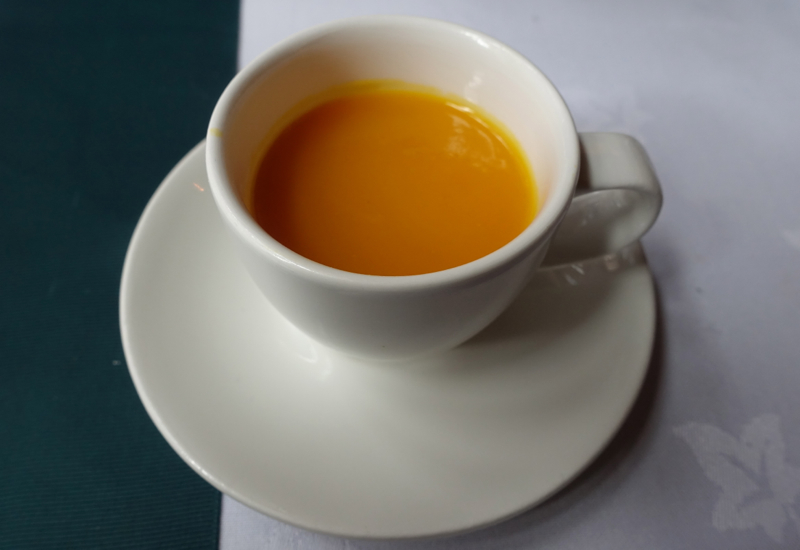 My son felt like pasta, so he ordered the Linguine Pasta Primavera, which was delightfully creamy, with a generous serving of broccoli, carrots, peas and mushrooms mixed in.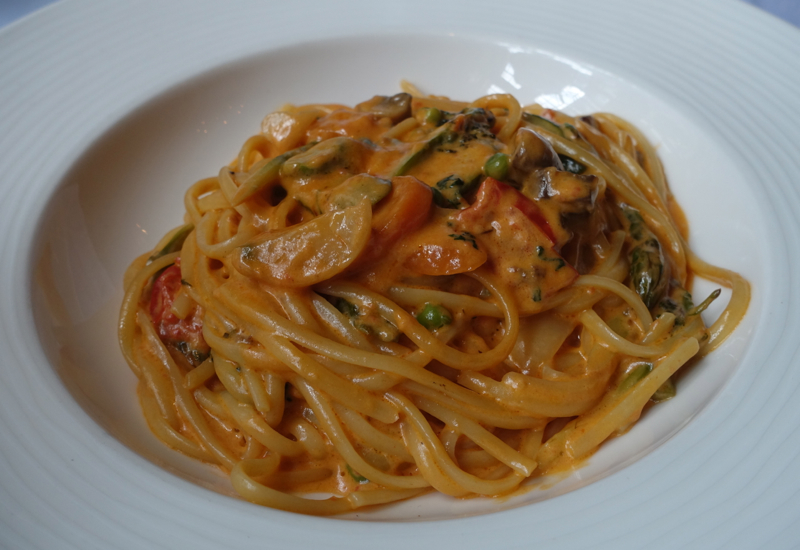 I felt like something wholesome and with a bit of spice to it, so I selected the Piri Piri Chicken with a crisp salad and roasted potatoes with lemon chili salt. When our server heard I was looking for a bit of spice, he asked the chef to include some spicy chili sauce on the side.
It was exactly what I was hoping for: grilled marinated chicken that reminded me a bit of the huli huli chicken that is a favorite in Hawaii, along with crispy roasted potatoes in a mini cast iron pot and fresh salad on the side.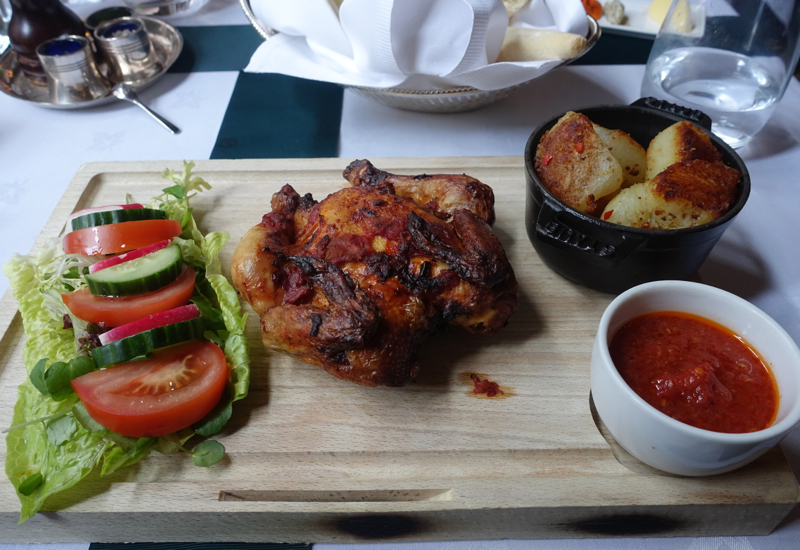 Breakfast at Cheneston's
Breakfast the next morning was quite busy, with most of the tables occupied when we arrived about 8:30am for breakfast. We were welcomed and seated at a nice table, and were invited to both help ourselves to the buffet and to order any hot breakfast items we wished.
Here are the breakfast menus: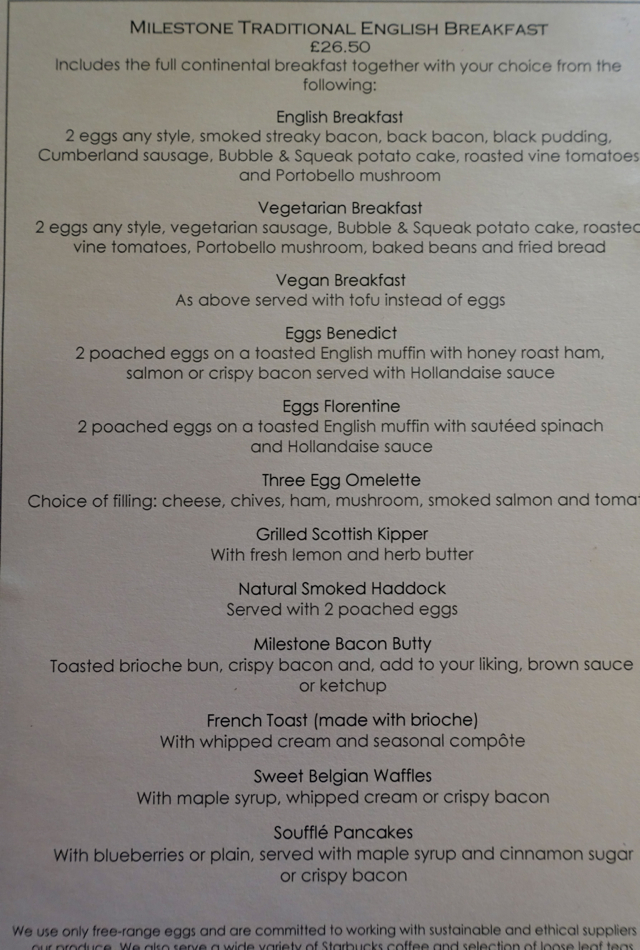 This was easily one of my favorite breakfasts in London, as everything we tried was extremely fresh and top quality. I really enjoyed the light, cakey blueberry pancakes I ordered, which came with perfectly crispy bacon and pure maple syrup: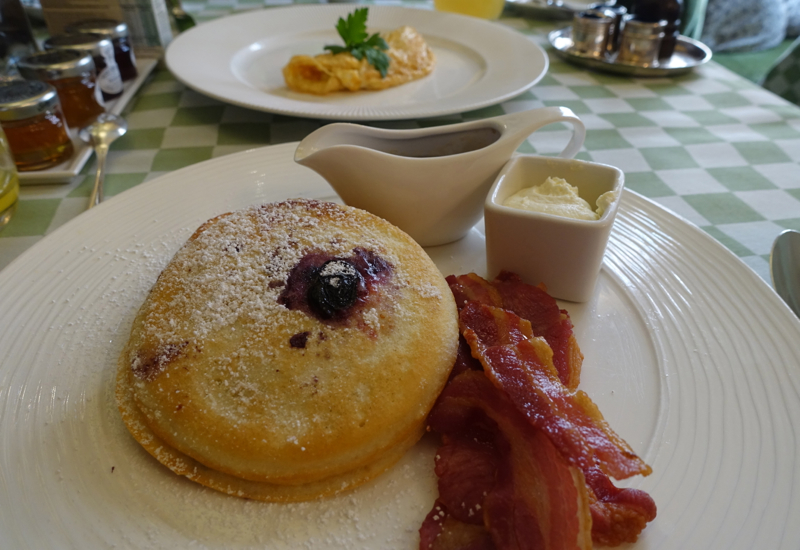 Since we wanted to try items from the buffet, we ordered a two egg omelet for my son rather than the usual 3 egg version, and it was perfectly cooked as well: moist but not runny, with just the right amount of cheese: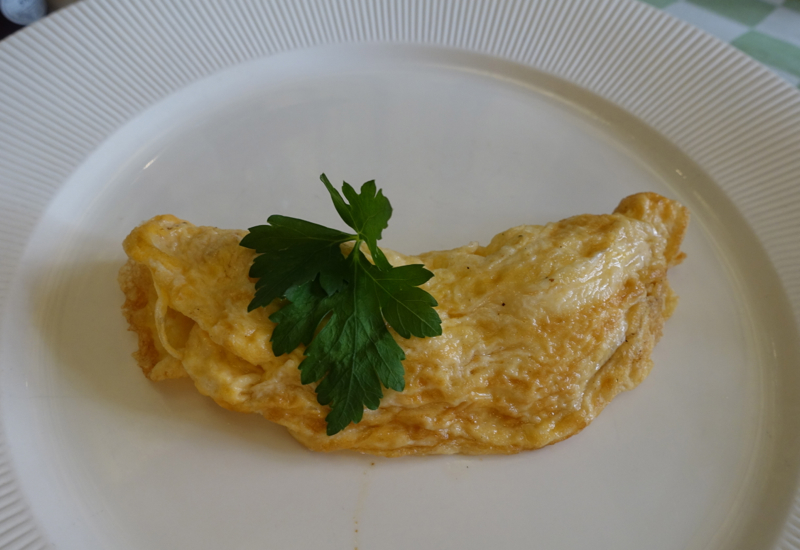 I was especially impressed to see yogurt from la Ferme des peupliers, a superb French artisinal yogurt maker from Normandy; I'd last enjoyed this yogurt at the Emirates First Class Lounge in Dubai.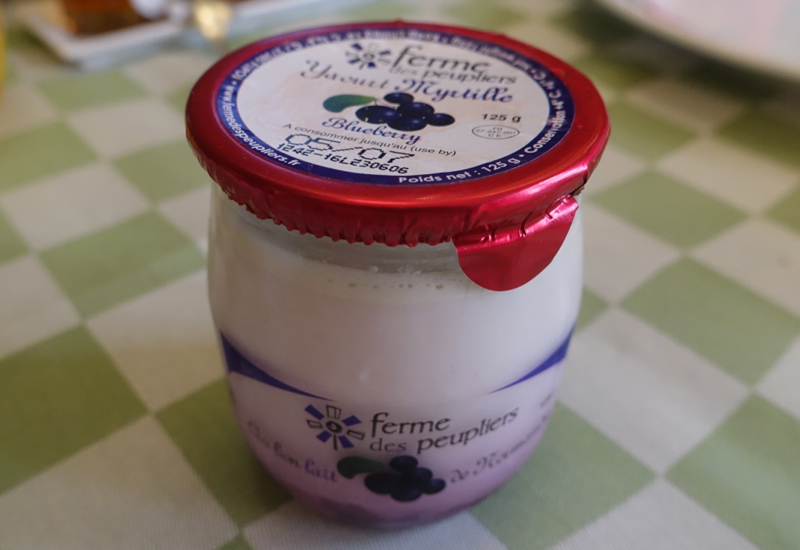 Our fresh squeezed orange juice and apple juice was also delicious: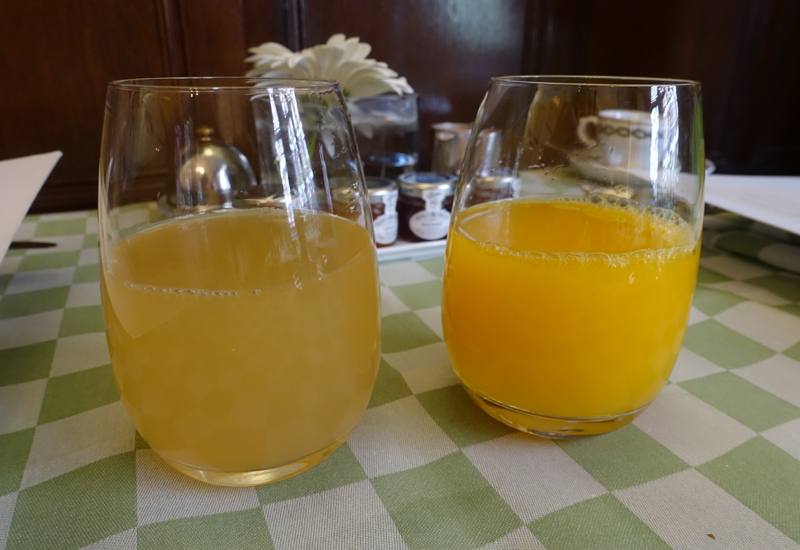 There was Dorset Cereals muesli (which we love and buy ourselves):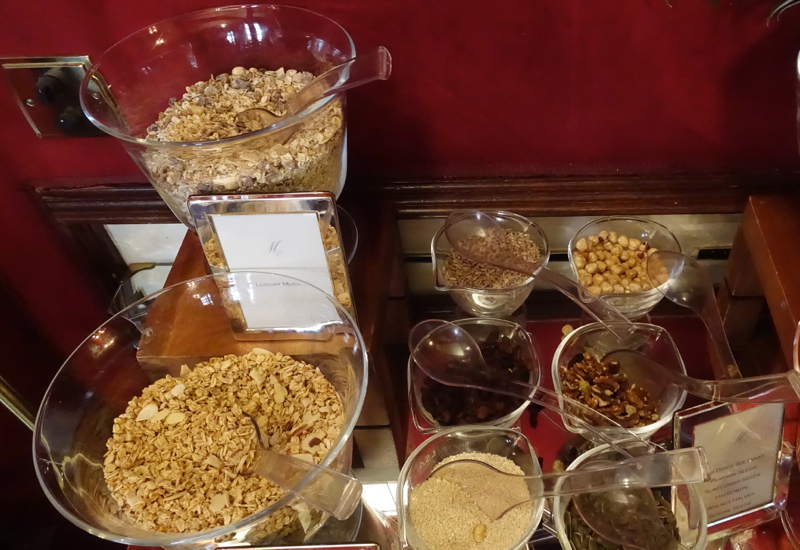 Or if you have a favorite boxed cereal, that was available as well: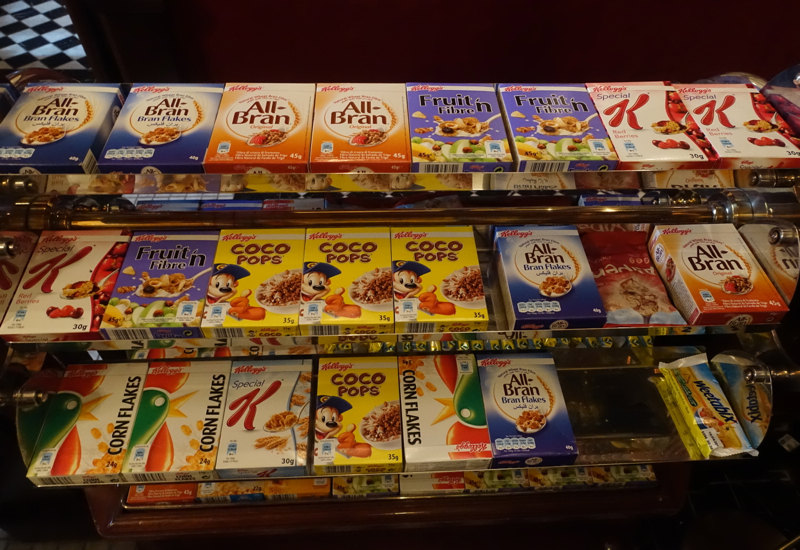 A variety of fresh fruit was also on offer, including watermelon, strawberries, grapefruit, fruit salad and melon: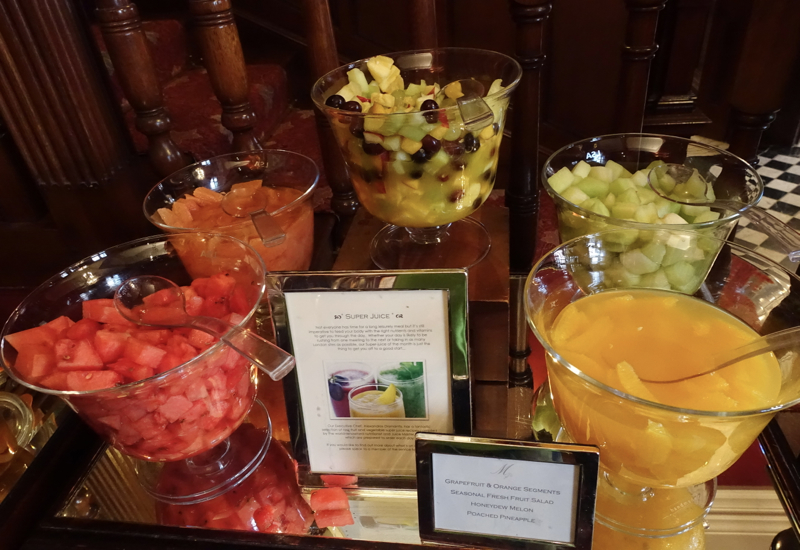 There was also smoked salmon, breakfast meats and cheeses, although we didn't have room to try any beyond some of the excellent smoked salmon.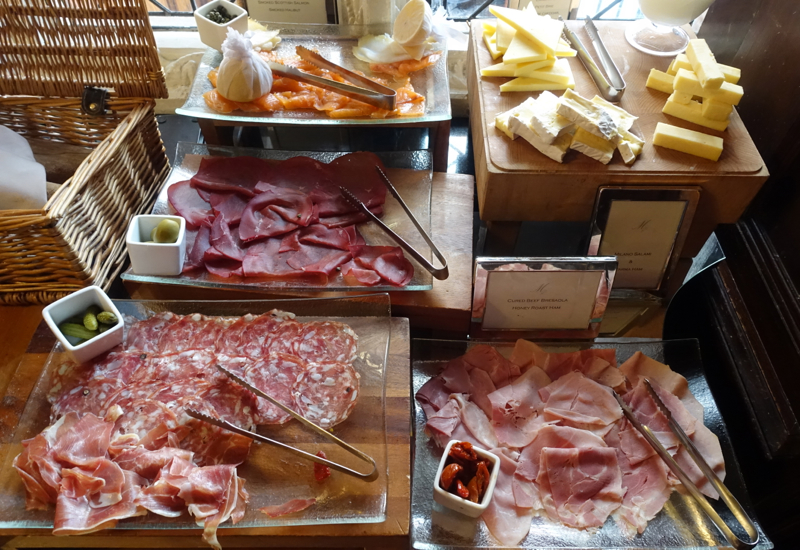 The Verdict
Since we'd had a pretty busy day in Paris and in traveling to London, we were happy to enjoy a great dinner at Cheneston's Restaurant and not have to go outside the hotel. While we ended up ordering off the regular menu for both of us, I was happy to see a kids' menu available, as London is a popular destination for many of my family clients, as well as couples. Our server was friendly and struck the perfect balance between bantering with us and helping us feel at home, and giving us the space to enjoy our meal.
Breakfast was one of the best I've enjoyed in London, based on the quality of the food served. Generally speaking, "pancakes" in the UK are crepes and U.S. style pancakes are not done particularly well, but my blueberry pancakes were light and delicious. My son's omelet was also flavorful–you can tell when free range eggs are used, they taste so much better. And the fact that La ferme des peupliers yogurt was served was a further testament to high quality sourcing. I'd much rather have a smaller assortment of items that are of high quality, than a large buffet of mediocre quality.
For guests that want a great breakfast along with a luxury boutique hotel stay in London, The Milestone Hotel is an excellent choice.
Related Posts
Review: The Milestone Hotel, London
Petrus London Restaurant Review
Review: We paid for our own dinner and enjoyed a complimentary stay and breakfast as part of our site inspection visit to The Milestone Hotel. The opinions expressed in this post are my own.
Need Award Booking Help? Our fee is as low as $75 per ticket if you book your hotel through us.
If you enjoyed this, join 200,000+ readers: please follow TravelSort on Twitter or like us on Facebook to be alerted to new posts.
Become a TravelSort Client and Book the Milestone Hotel with Virtuoso Benefits!