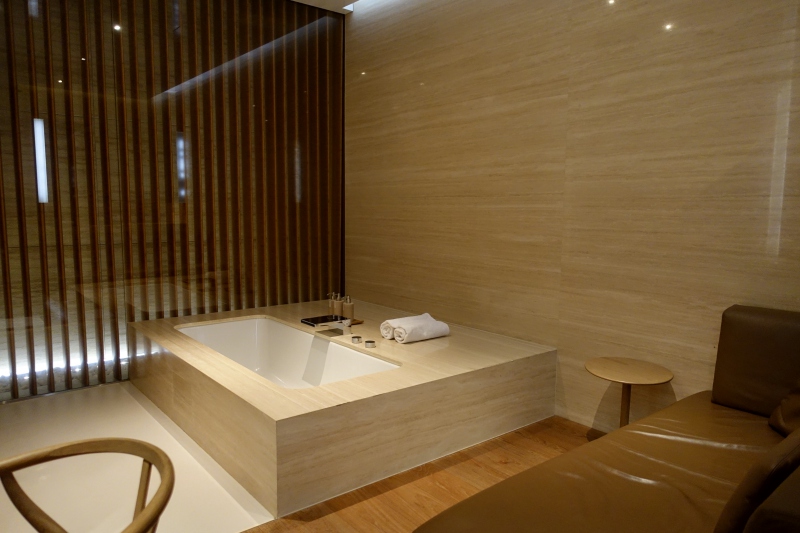 This Cathay Pacific The Wing First Class Lounge HKG Review is from a recent Cathay Pacific First Class trip, including stays at luxury hotels in Hong Kong and Vietnam. For prior posts in this trip report, see
Review: The Centurion Lounge New York LaGuardia Airport (LGA)
Review: American Airlines Old A321 First Class with Recliner Seats
Qantas First Class Lounge Los Angeles LAX Review
Review: Cathay Pacific 777 First Class
Review: Cathay Pacific The Pier First Class Lounge, Hong Kong Airport
Cathay Pacific The Wing First Class Lounge Hong Kong Location, Hours and Access
Cathay Pacific's The Wing First Class Lounge is situated in Terminal 1, Level 7, near Gate 2, a short walk after clearing security, and about a 15 minute walk from The Pier First Class Lounge. The Wing First Class lounge is open daily from 5:30am to 00:30, just after midnight, and access is open to these passengers:
Cathay Pacific or Dragonair First Class + 1 guest
oneworld First Class + 1 guest
Asia Miles Marco Polo Diamond Member + 2 guests departing on Cathay Pacific, Dragonair or oneworld carrier flights only
oneworld Emerald elite member + 1 guest departing on Cathay Pacific, Dragonair or oneworld carrier flights only
After checking in at the 6th floor entrance to the first floor of The Wing Business Class Lounge, you go upstairs and The Wing First Class Lounge is on your right. You'll need to show your boarding pass again at the reception on the 7th floor, since on the left is the business class section of The Wing.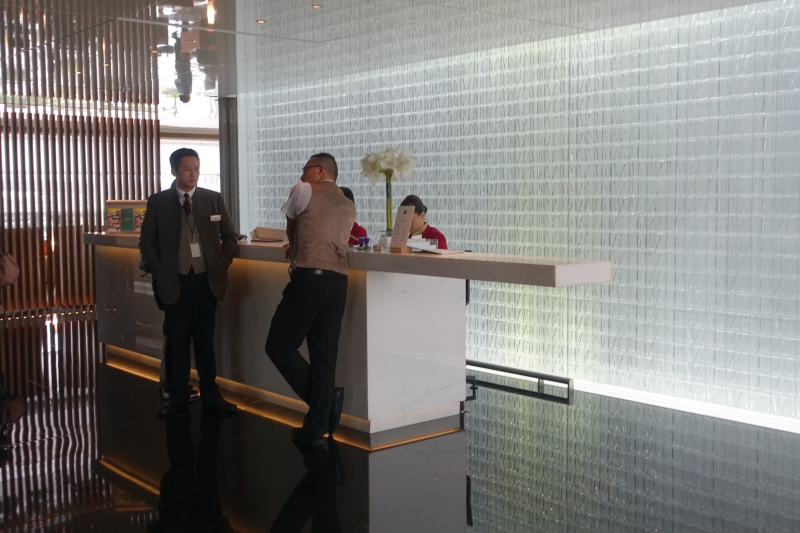 Cathay Pacific The Wing First Class Lounge Hong Kong Amenities and Cabanas
Cathay Pacific's The Wing First Class Lounge doesn't offer spa massages, but it does have its own highlight: Cabanas that are far newer, cleaner and sleeker than the British Airways Concorde Room Cabanas. There are 5 Cabanas, so if you'd like to reserve one, I recommend going straight to the reception desk. At the time I was there, in the late morning, there was no wait and I was escorted straight to a Cabana, but during busier times they may all be taken and there's a wait list.
In consideration of other passengers, Cathay asks that you limit your time in a Cabana to 1.5 hours: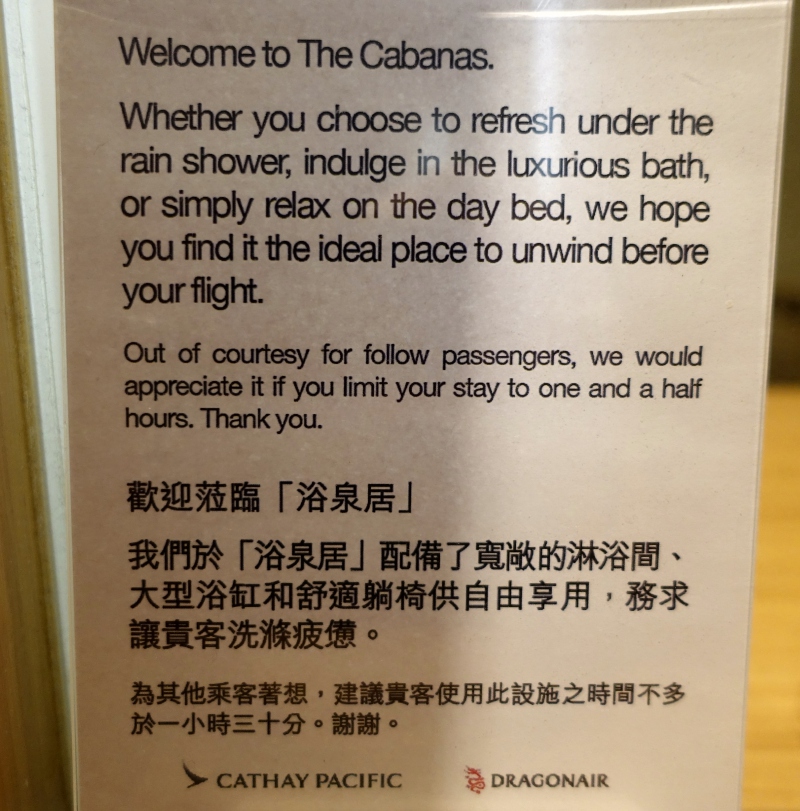 Here's the Cabana as seen from the entry way, with a view of the vanity, sink, and soaking tub: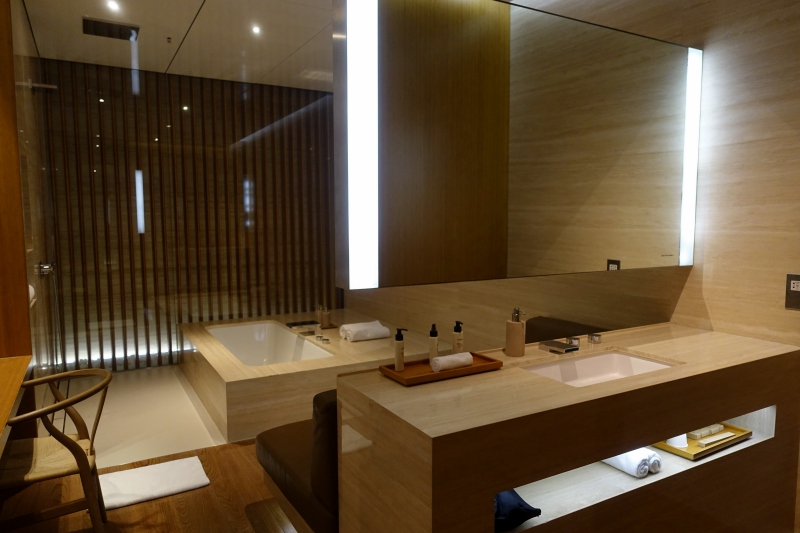 On the immediate right is a separate toilet chamber: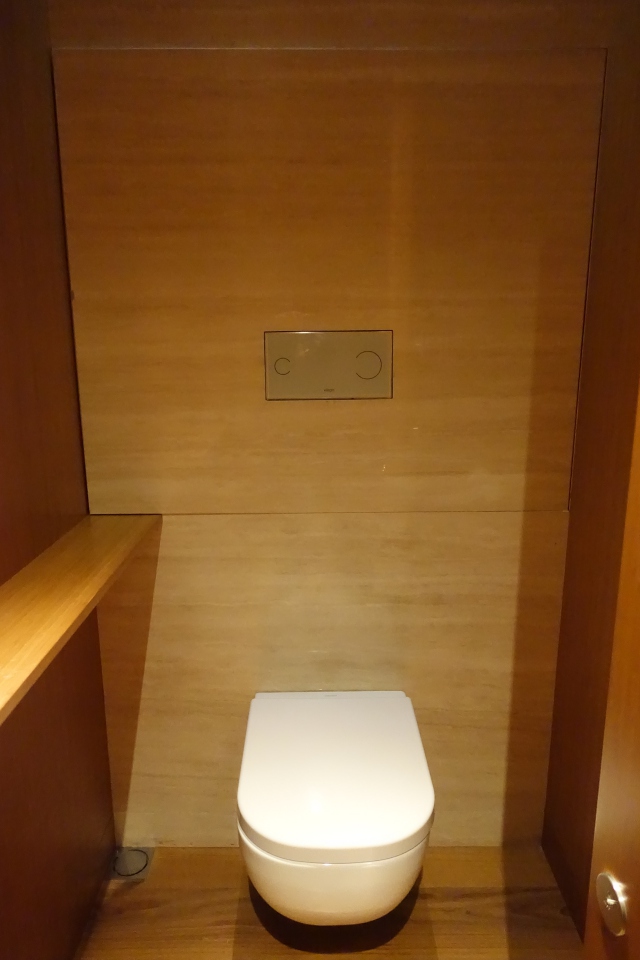 Here's the soaking tub filling with water, for a bath: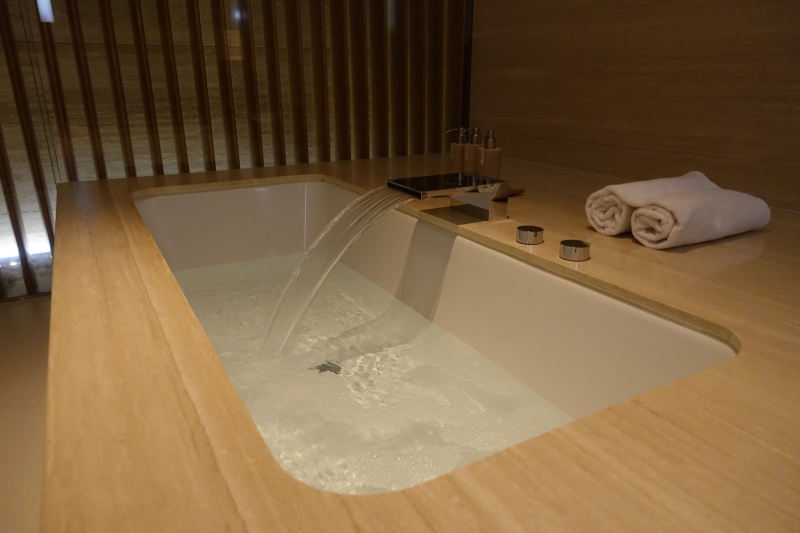 There's also a rain shower:
Bath products are Jurlique, also an Australian brand, but interesting to not see Aesop, since Aesop is used elsewhere, for Cathay Pacific First Class amenity kits and in the first class lavatories as well as elsewhere in the First Class Lounge bathrooms.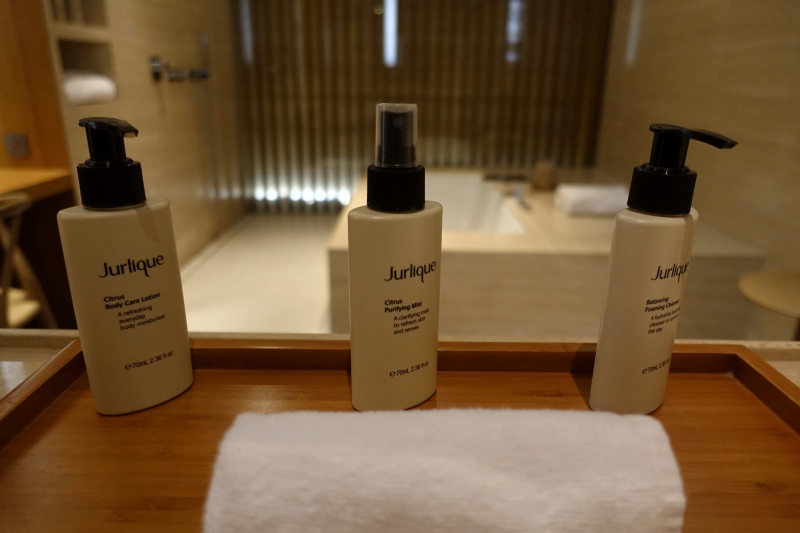 There are also some basic toiletries offered: dental kit, shower cap, cotton balls: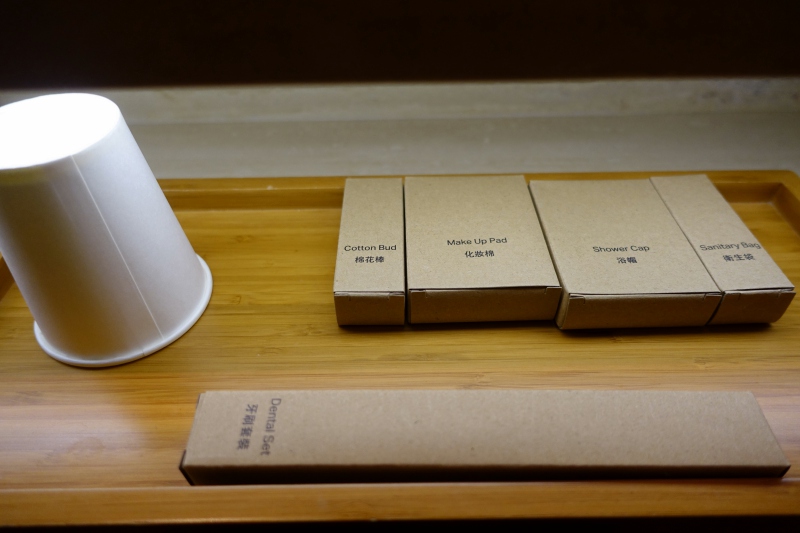 Although Cathay's Web site states that each Cabana is temperature controlled, I didn't see where the temperature control was (although I could easily have missed it in my jetlagged state) and it was quite cold. I did like that it was easy to turn the lights off completely, in case you're able to fall asleep instantly, but I found the day bed too short to be comfortable, and I'm 5'7." Apparently you can ask for a pillow and duvet, but I personally find it hard to fall asleep for a short period and wanted to be respectful of the 1.5 hour maximum, so I just rested my eyes for awhile.
Here's a quick YouTube video of my Cabana:
While The Pier has views of the Tarmac, The Wing First Class Lounge has a great deal more natural light, since its 7th floor balcony location means that it's completely open one one side, overlooking the gate waiting areas and the tarmac beyond.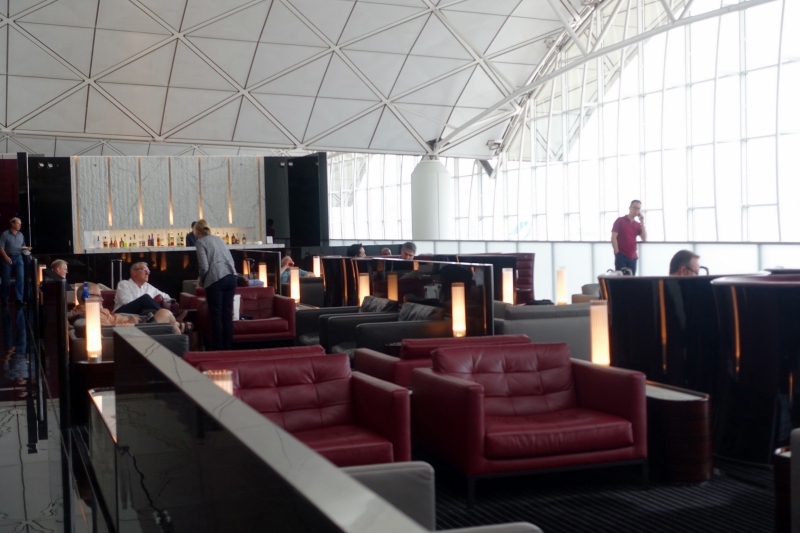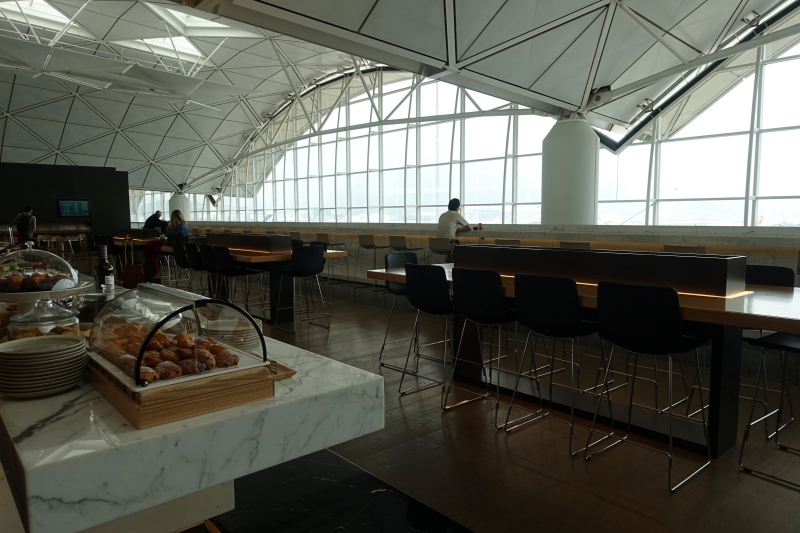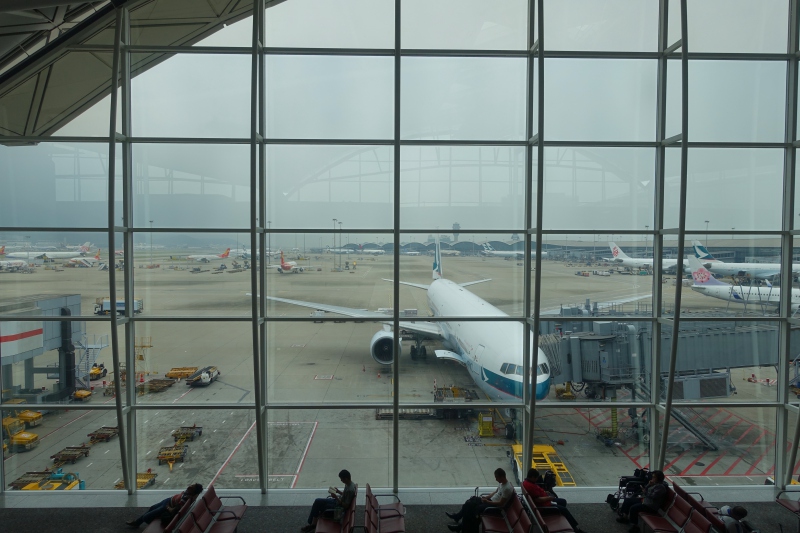 The Haven Dining Menu and Food at The Wing First Class Lounge
The Wing does offer a light self-serve buffet and tea bar in one of the main open seating areas, with some sandwiches, fruit and fruit tarts: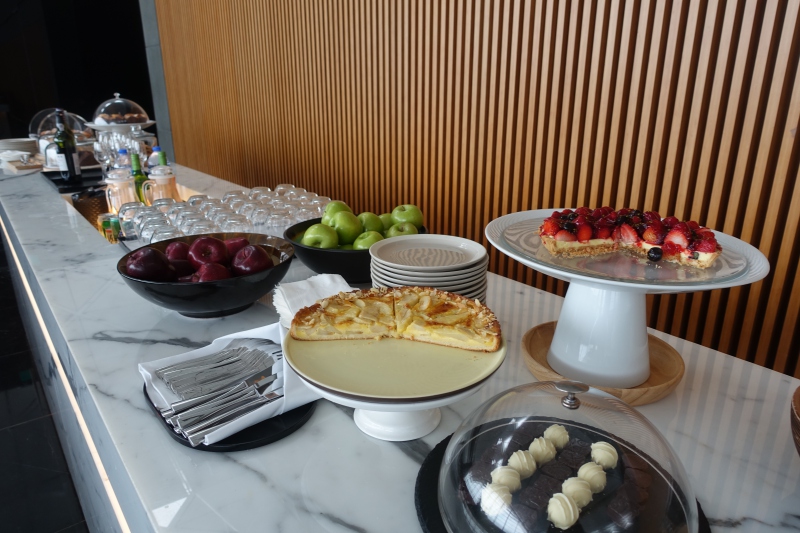 There's also a bar, where I had a mango juice. I asked if it was freshly squeezed and was told it was, although it tasted canned and not fresh squeezed at all.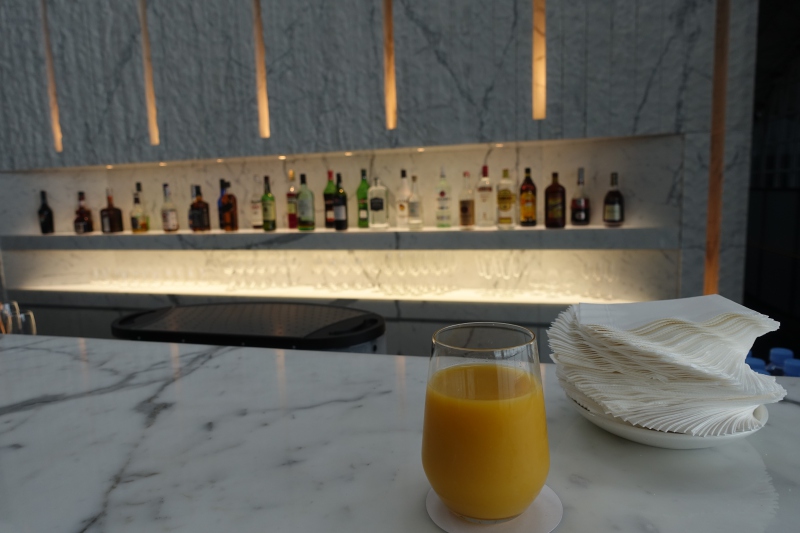 Here's a wine list and cocktail menu: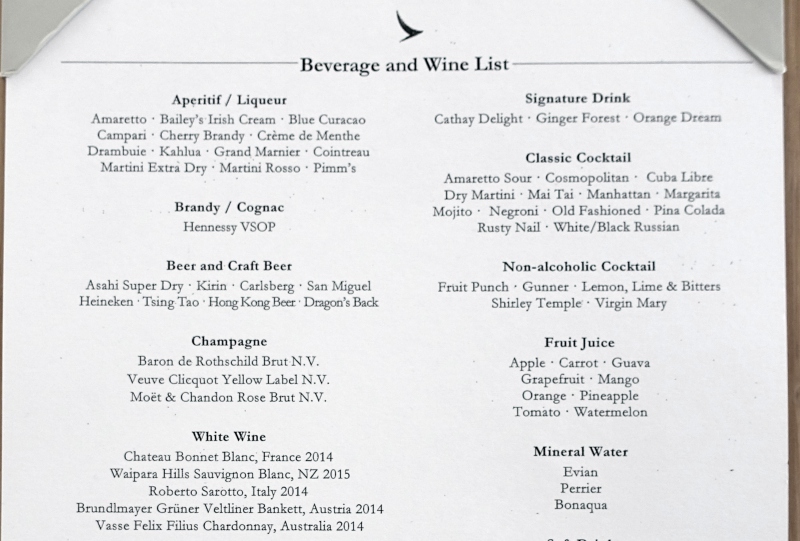 The Haven is the main dining room at The Wing, and offers both a self-serve buffet as well as a la carte dining.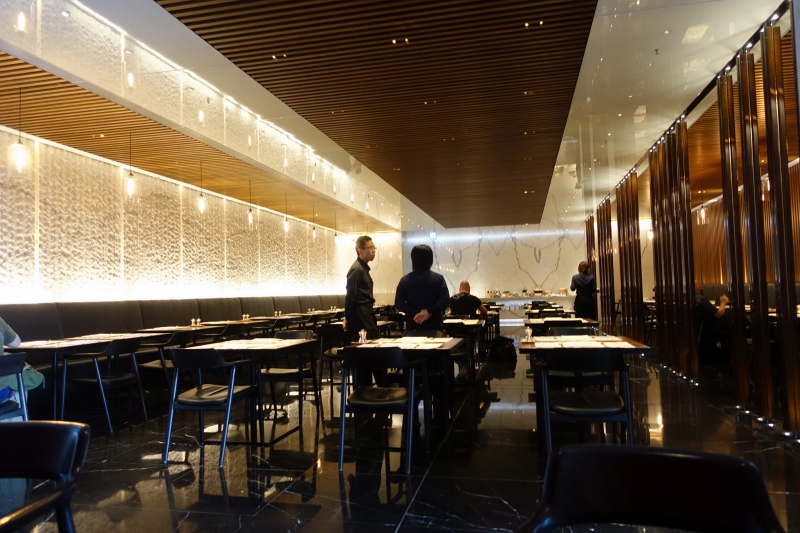 Here's the menu from my visit: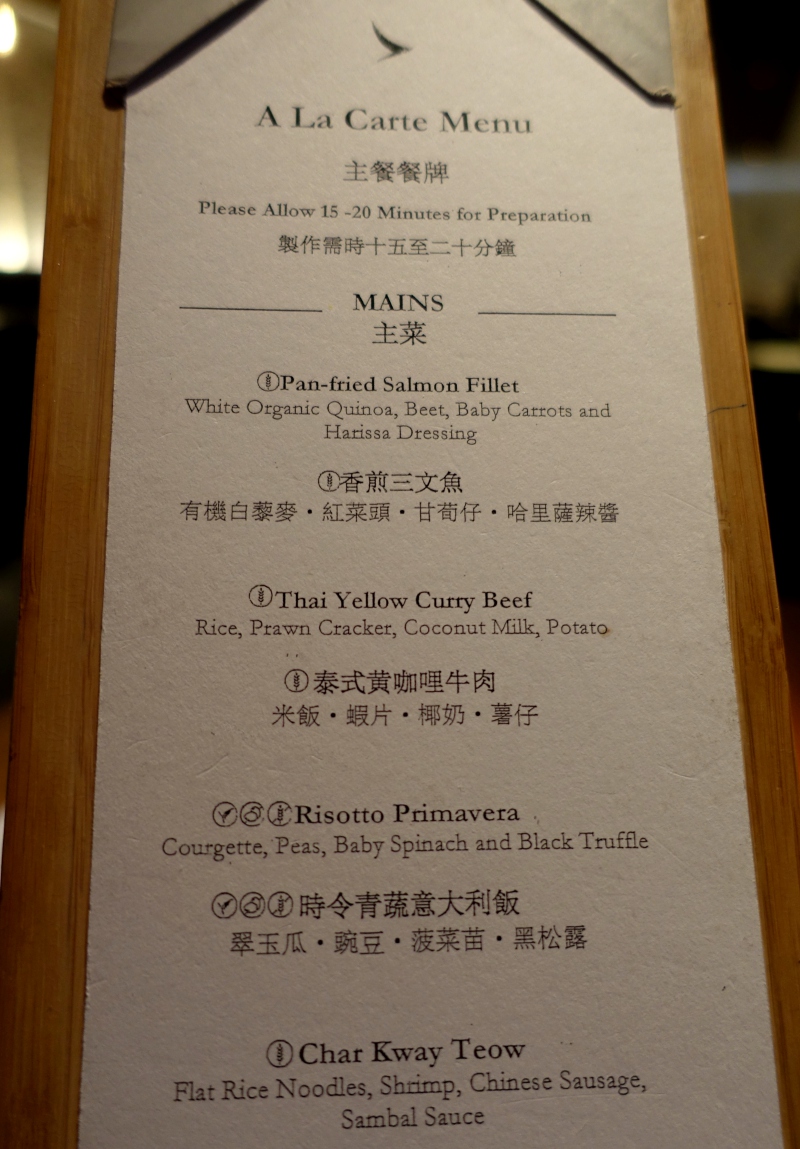 I chose the Salmon Fillet with White Quinoa and Beet, which was so quick to come out, it seemed doubtful that the salmon had been prepared to order; it was probably reheated in some way, which would explain why it was slightly overcooked. It was still tasty, and I do give credit for at least having organic white quinoa and the nice presentation.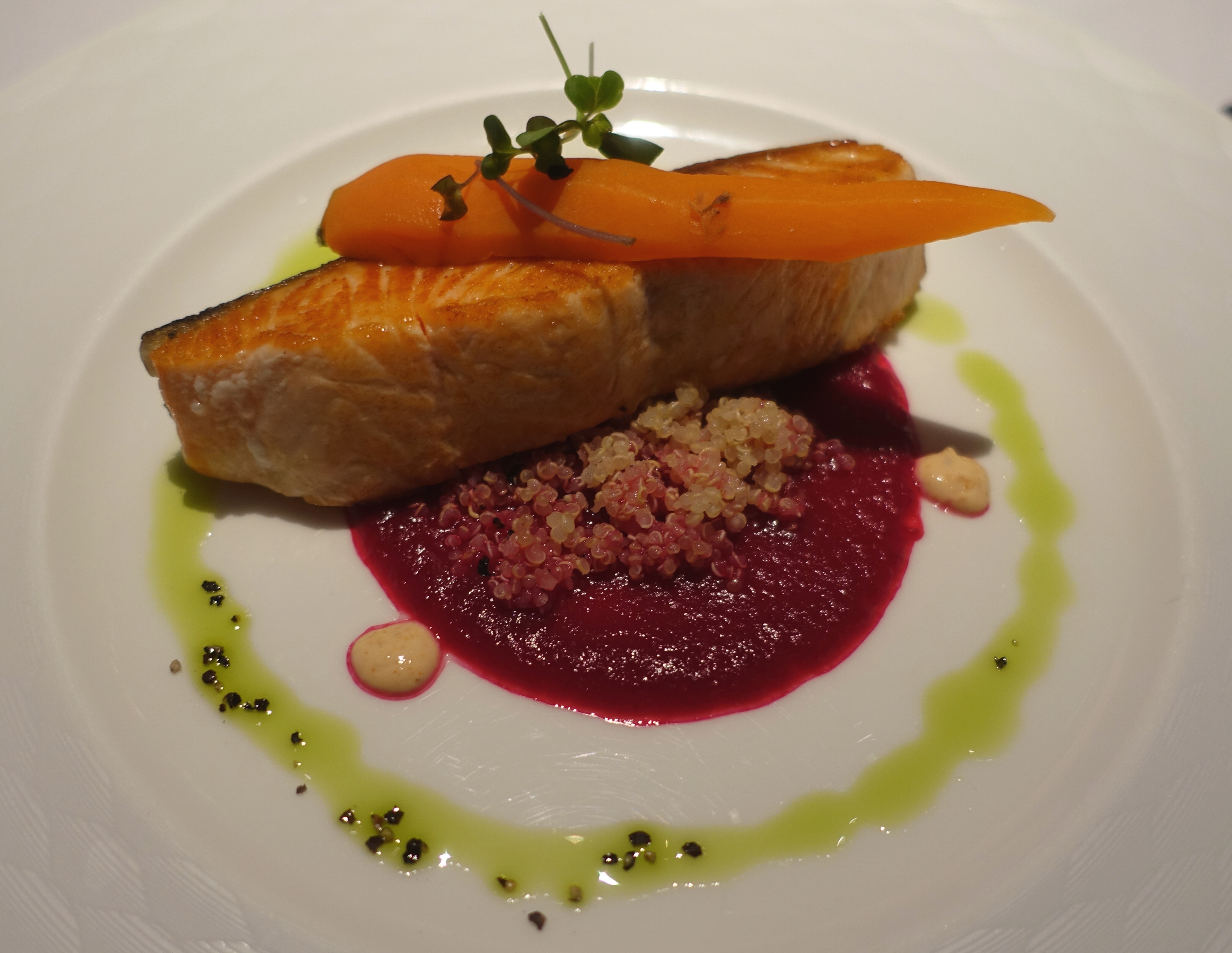 The portion was the perfect size, not too large, so I tried a few items from the self-serve buffet as well, which offered char siu pork (delicious), steamed dim sum (very average), sushi (average), fresh fruit, smoked salmon, cheeses and desserts.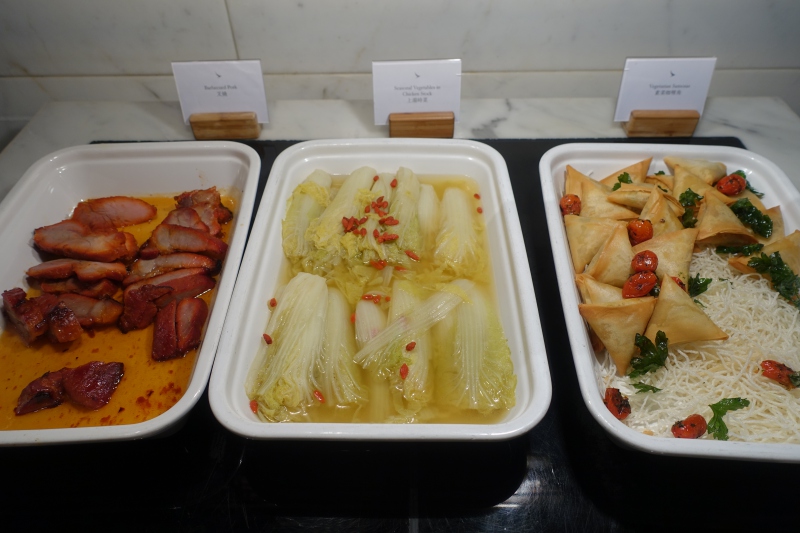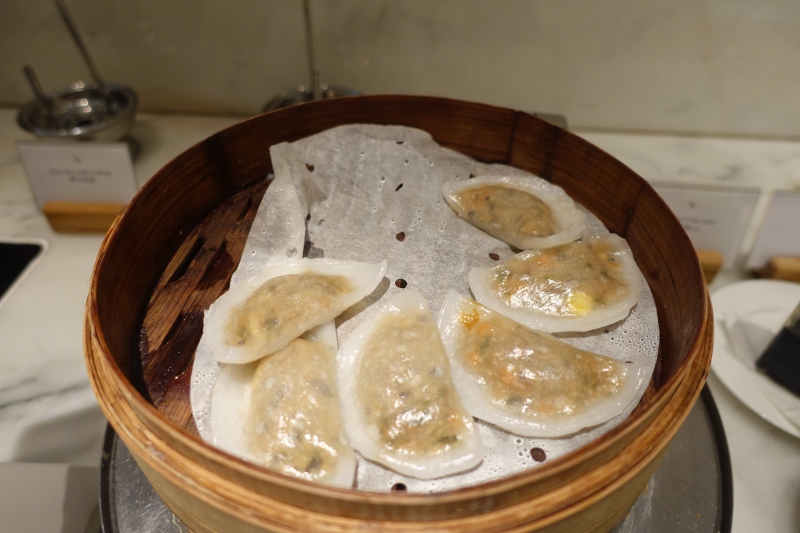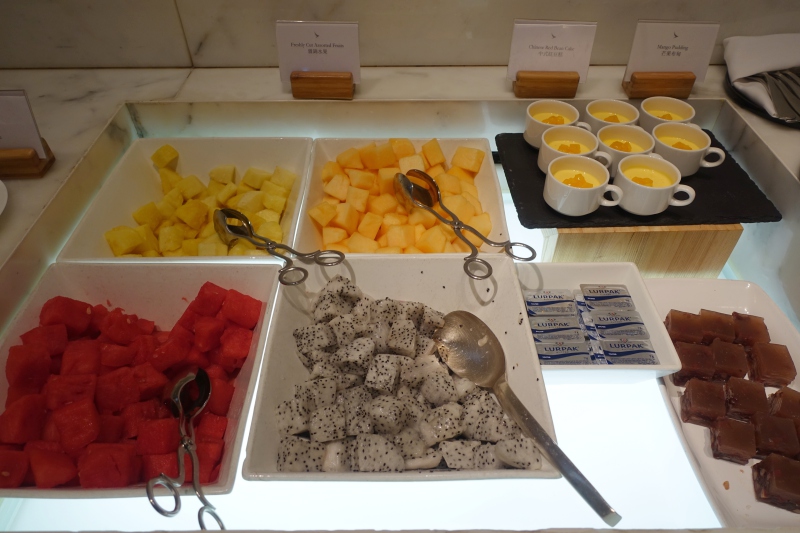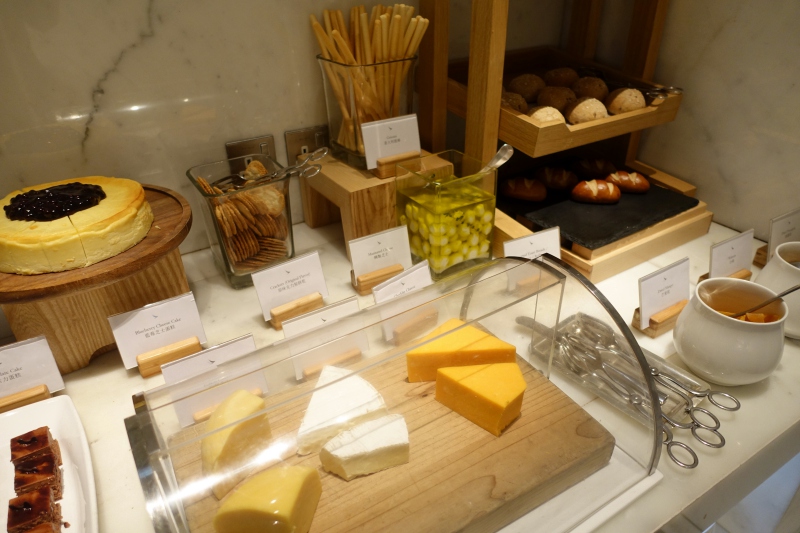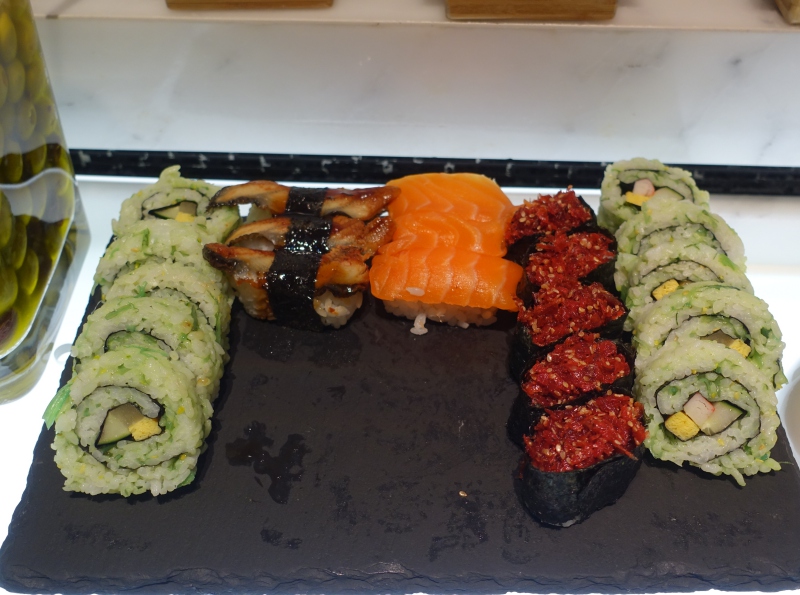 The Verdict
It's not hard to see why the Cabanas are the highlight at The Wing First Class Lounge, as the only truly private area and one that offers the chance to have a relaxing bath and potentially a nap, although personally I found the day beds too short to do this comfortably, not to mention the requested 1.5 hour maximum.
While dining options at The Haven are fine, as at The Pier, dining really isn't a highlight here, although I do appreciate the effort to source organic quinoa and the very nice plating of my salmon dish. As at The Pier, I couldn't find any fresh squeezed juice. Perhaps the alcohol is better, but alcohol isn't what I'm looking for when traveling. Wifi speed was fine for my purposes of email, small file uploads and a Skype call, and service was very good in The Haven, if somewhat perfunctory at the Cabana reception and at the bar.