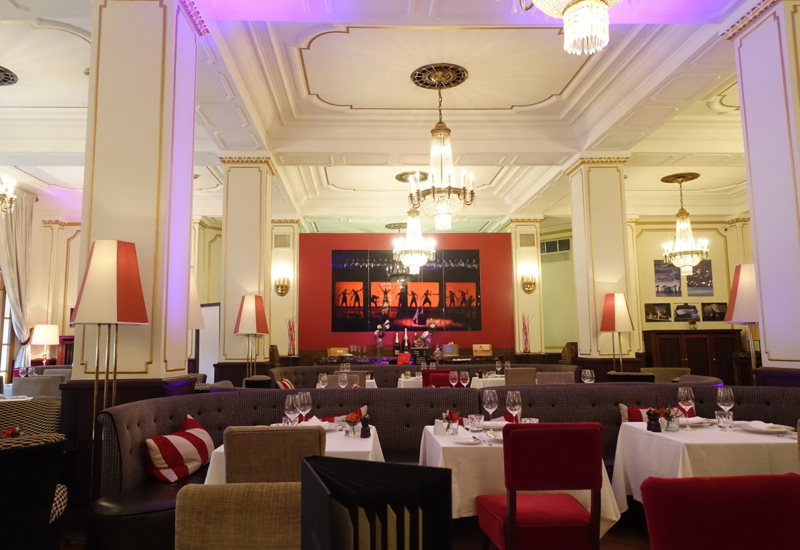 Astoria Cafe is the signature restaurant of Hotel Astoria in St. Petersburg, Russia. As I mentioned in my prior review, this was where Hitler had planned to hold his victory dinner after conquering Leningrad, which fortunately didn't happen, although visit the Siege of Leningrad Museum in St. Petersburg to get a sense of the enormous human cost.
Visiting St. Petersburg, Russia? See our 10 Travel Tips for St Petersburg, Russia and our posts tagged St. Petersburg.
If you're a TravelSort Client and have reserved Hotel Astoria with Virtuoso or Sir Rocco's Knights benefits, you'll enjoy complimentary daily breakfast for two at Astoria Cafe, as well as one $100 equivalent food and beverage credit to use during your stay, for example for a dinner at Astoria Cafe or one of the hotel's other restaurants, such as the Rotonda Lounge for afternoon tea, or Borsalino, which serves Italian cuisine.
Astoria Cafe, St. Petersburg Location and Hours
Astoria Cafe is located in the Hotel Astoria, at 39 Bolshaya Morskaya Street, near St. Isaac's Cathedral. If you're staying at the Four Seasons Lion Palace St. Petersburg, Hotel Astoria / Astoria Cafe are just a 5 minute walk down Voznesensky Prospect. Or if you take the St. Petersburg metro, the closest station is Admiralteyskaya (the deepest station in the city), about an 8 minute walk from the hotel.
Astoria Cafe is open for breakfast 7am to 10:30am (until 11am on weekends) and is open for dinner until midnight.
The Scene
Astoria Cafe was markedly different at dinner, since we dined early and there were only a few other guests, a couple and a group of businessmen, so it was a very tranquil. Later in the evening, there was even live violin music; I'll try to find my video and post it.
Breakfast, by contrast, was much busier, with many international guests, many of them European (I heard French, German and British English). There was a mix of couples, suits, and families with kids.
Dinner at Astoria Cafe
We were seated by a friendly hostess at one of the comfortable banquettes, and in addition to a regular dinner menu she kindly brought my son the kids' menu, which had an activity sheet on the back. It had one of the most difficult "find the 12 things that are different between the two pictures" that I've ever seen–I think we only managed to find 11, with both of us scrutinizing it for a few minutes.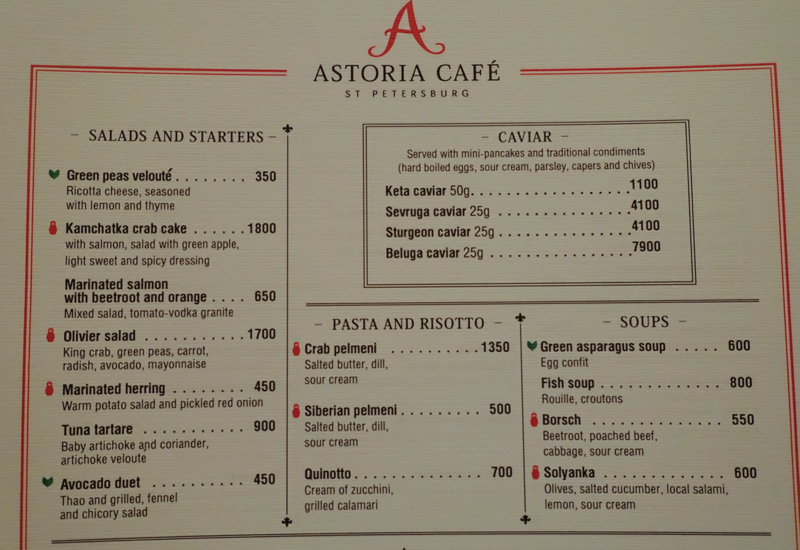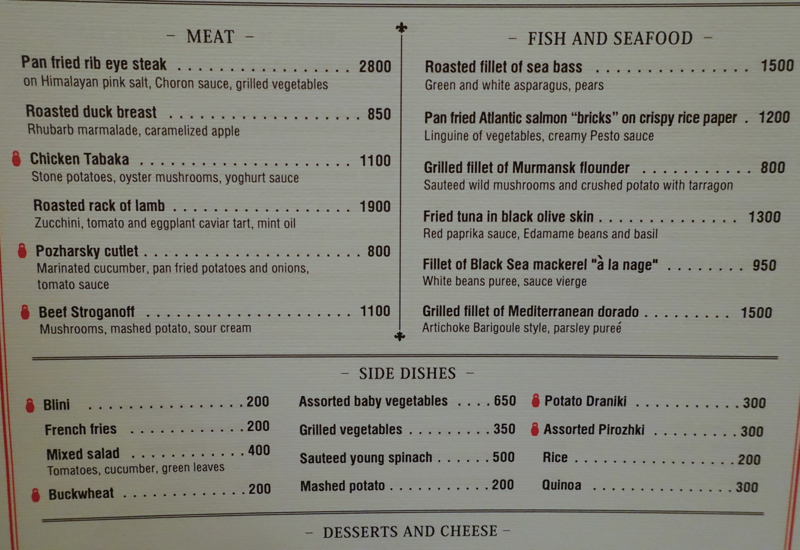 After ordering, our server brought some fresh white and rye bread, and an elegant oil/balsamic vinegar holder.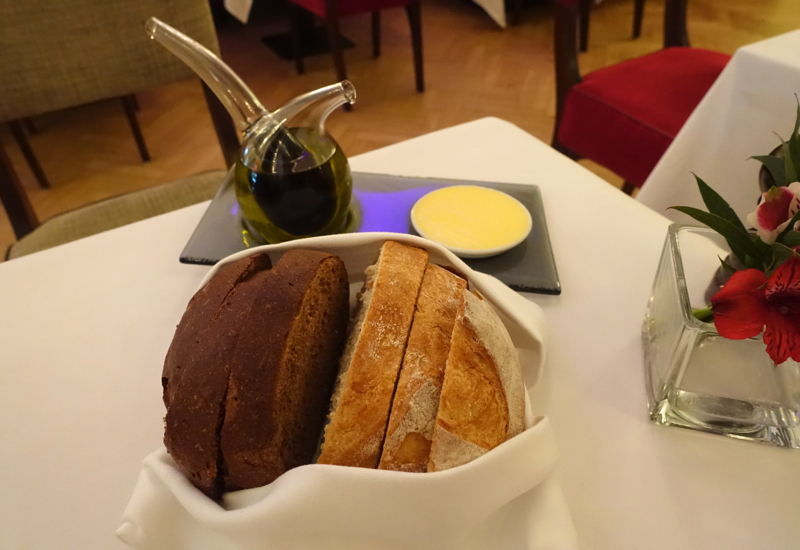 My son had needed some convincing to order the Siberian pelmeni, but loved his meat dumpings, especially with the accompanying sour cream. It was a generous portion for just RUR 390 (~$6) so I got to try a few as well–plump and delicious.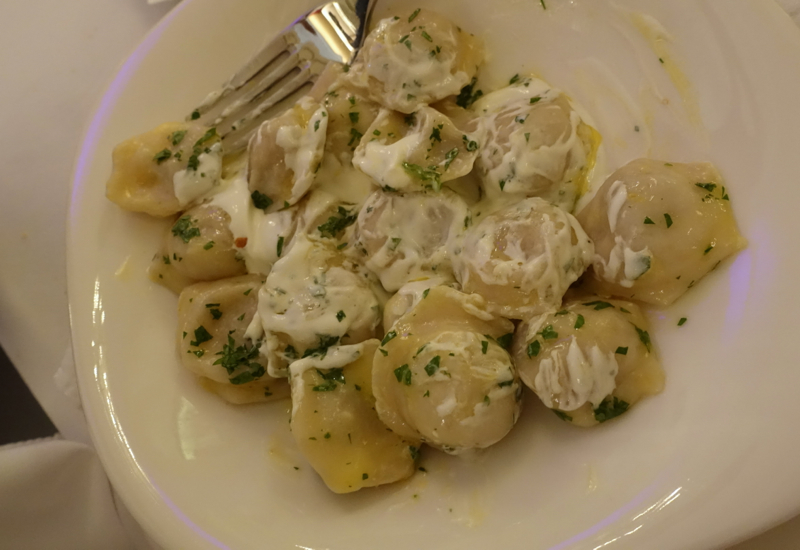 For a vegetable, we ordered some sauteed spinach, and this was well prepared–cooked just until tender.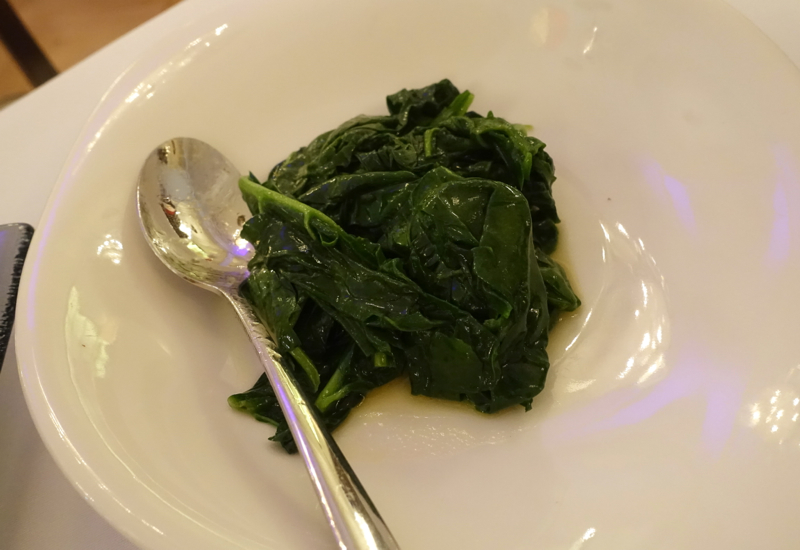 My duck breast was tasty as well, although I would have appreciated a crispier skin. The rhubarb puree and caramelized apple pieces were the perfect foil for the rich meat.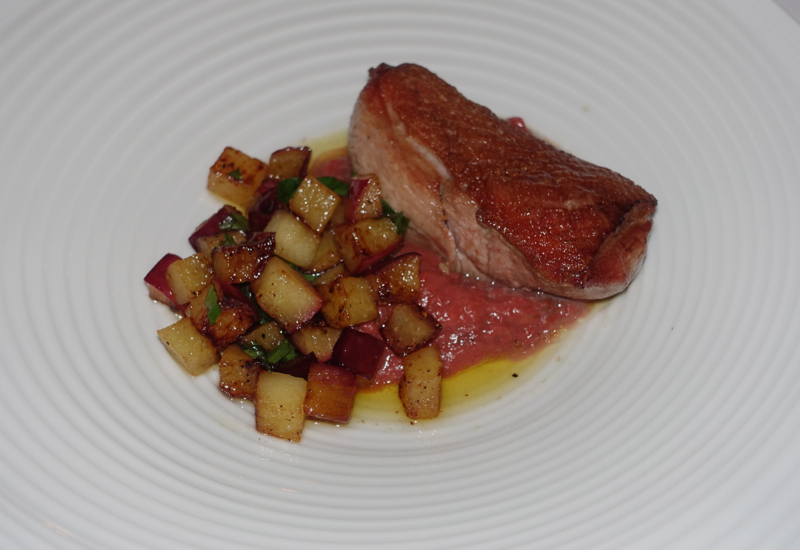 After putting my son to bed, I came back downstairs to do some work, and there was live violin music at Astoria Cafe, both classical pieces and renditions of pop music:
Breakfast Buffet at Astoria Cafe
It's good to have breakfast included with your Virtuoso booking or your rate, as we did, since buffet breakfast would otherwise run you RUR 2200 (although you could instead order a la carte).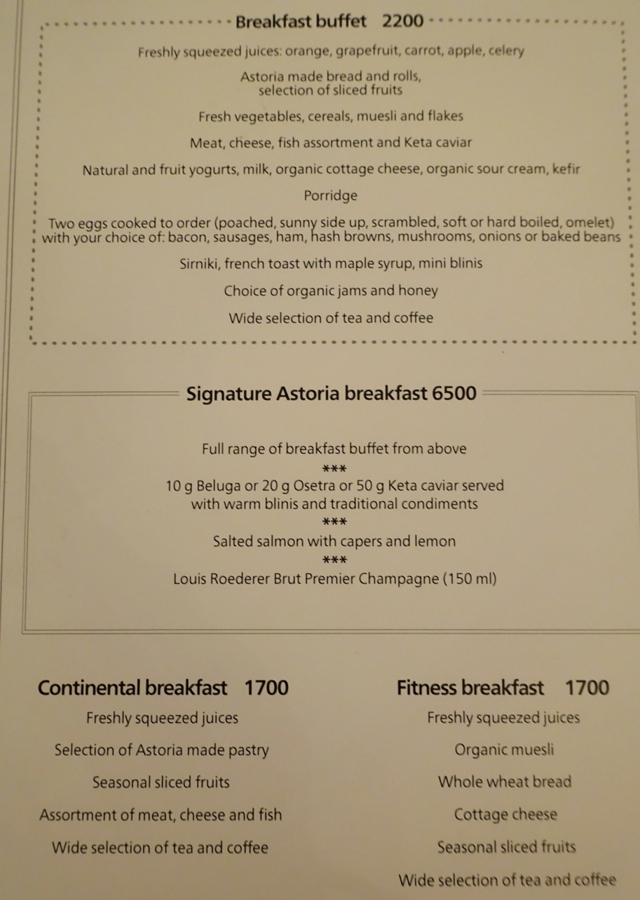 I was happy to see fresh squeezed orange juice and grapefruit juice on the buffet (other juices are also available, but are not fresh squeezed).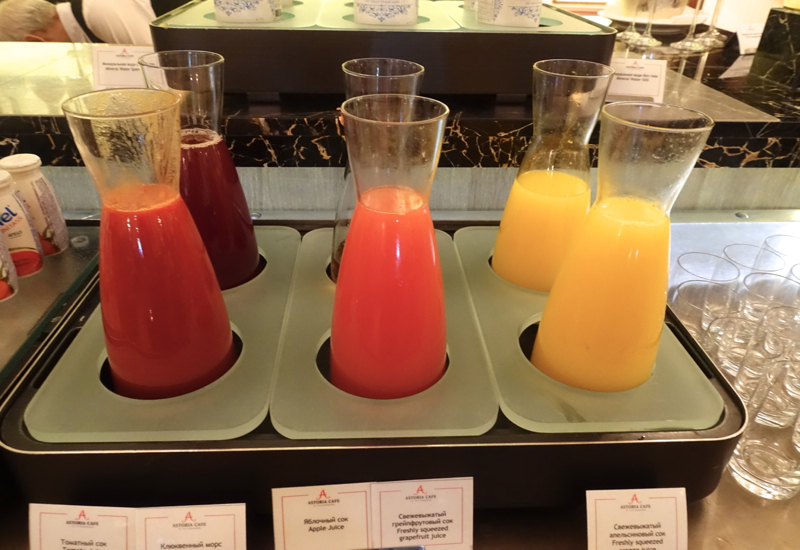 The bar area is stocked with fresh fruit and yogurt: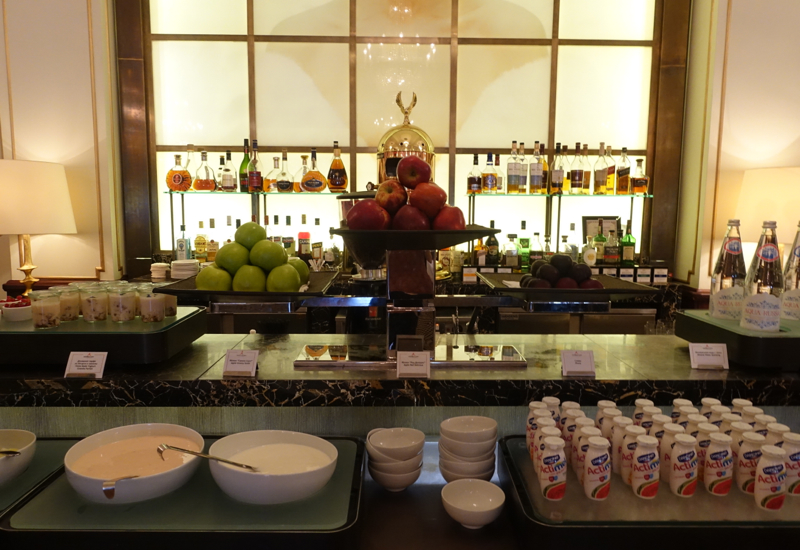 Next to it is a blini station, with ready made blinis plus a chef who will cook you a fresh one. This was one of my favorite items from the buffet. You can add smoked salmon and salmon caviar for savory blini, or add jam, syrup or fruit for sweet blini.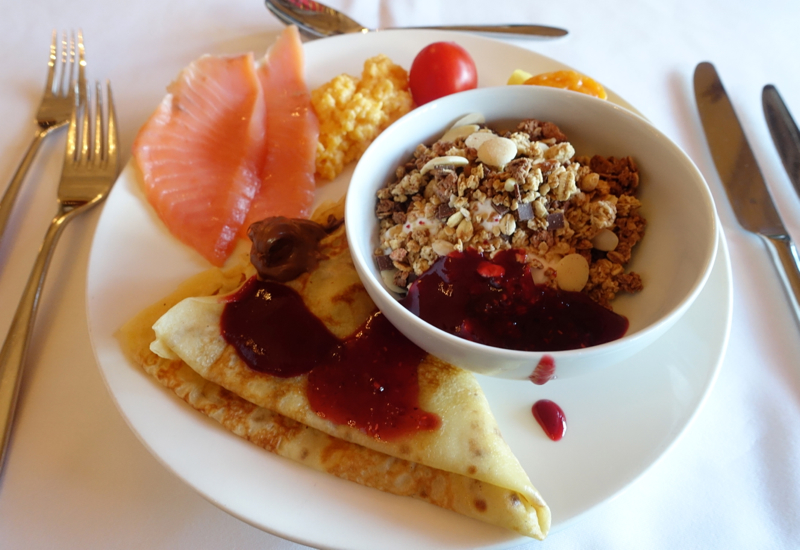 Since we slept in and were there later in the breakfast service, the smoked fish and cheese offerings were somewhat diminished at the time I took the photos below, although there were plenty of breakfast meats and caviar: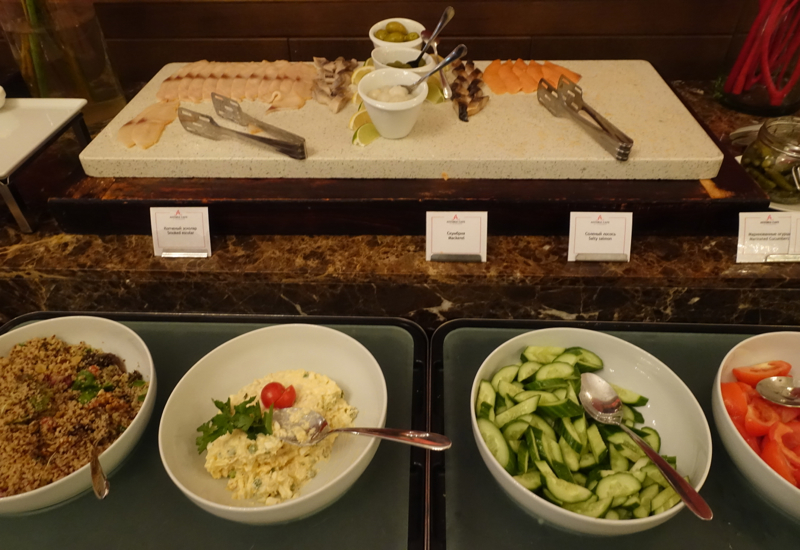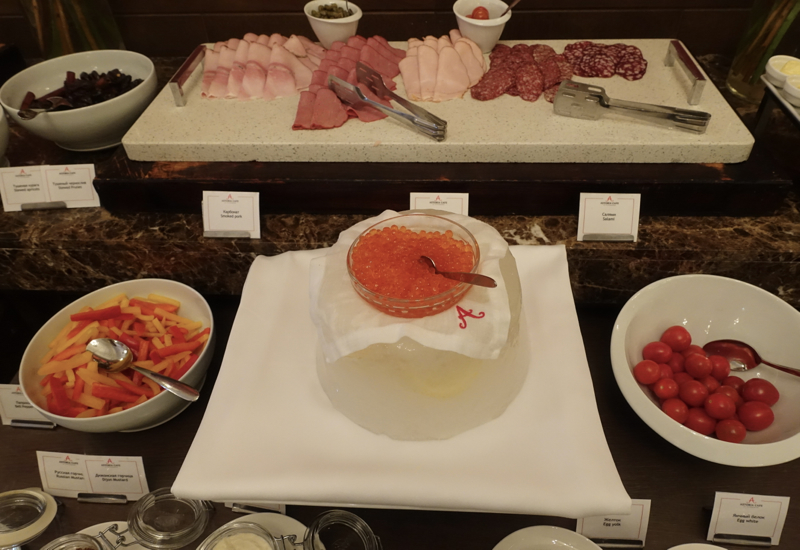 There were also a number of pastries offered: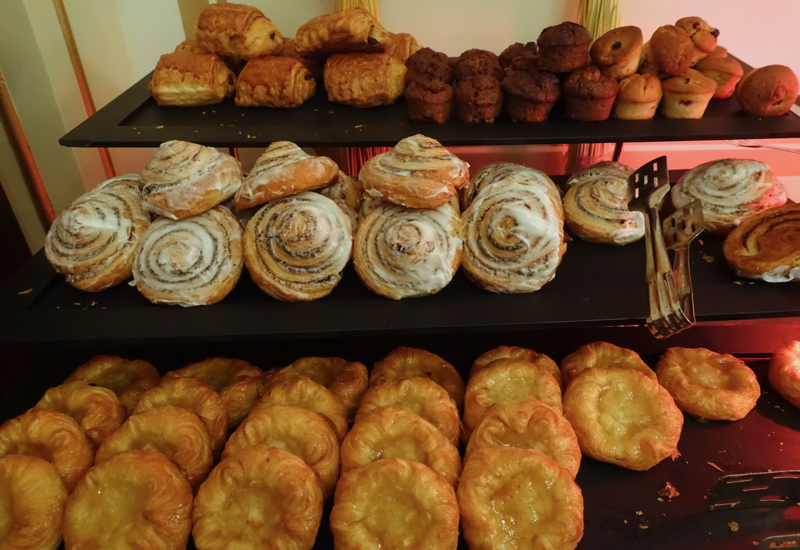 And in addition to scrambled eggs from the buffet, eggs cooked to order were available. My son tried poached eggs the first morning, and an omelet the next day.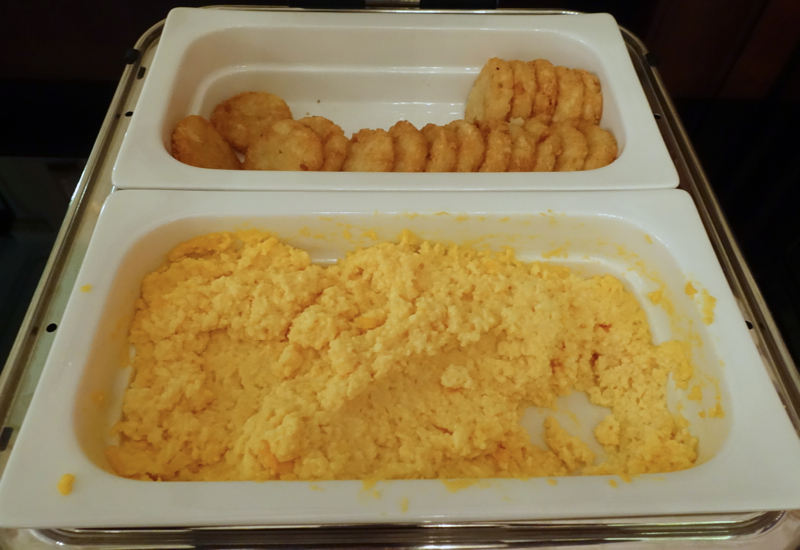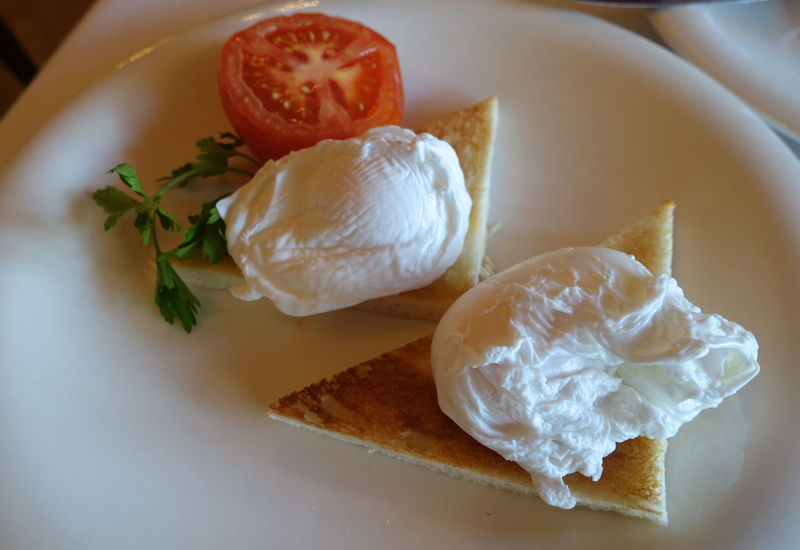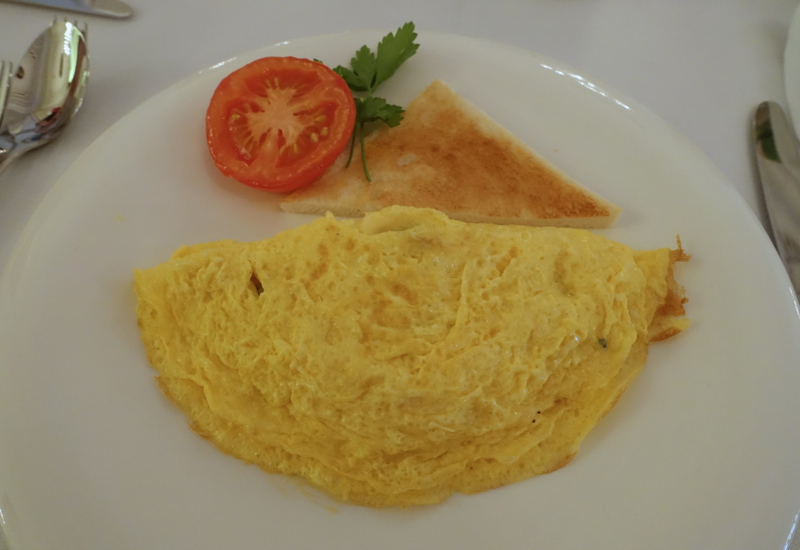 On the second day I tried the syrniki, always one of my favorite Russian breakfast items. They were good, although I definitely preferred the ones at the Four Seasons St. Petersburg, which were lighter in texture and adorned with fresh berries.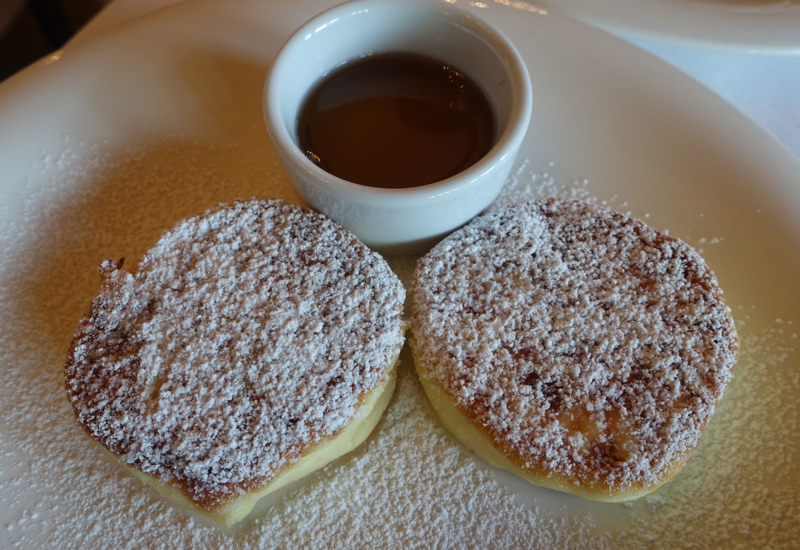 You can also order your choice of tea or coffee; I had a cappuccino, which did the job, but was nothing special.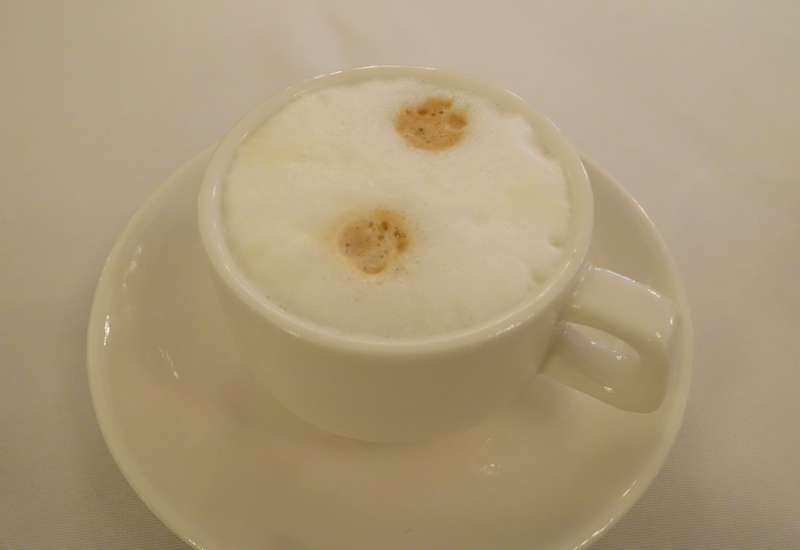 The Verdict
I actually preferred our dinner at Astoria Cafe to our breakfasts, which I thought were cooked with more care (which makes sense, since there were very few other guests dining, whereas breakfasts are much busier). The breakfast buffet offered plenty of choices, although some buffet items were not replenished as often as I'd expect for a luxury hotel, and the cooked to order eggs and syrniki were quite average. The blini station and fresh squeezed orange and grapefruit juices were the breakfast highlights for me. Service was good, and the hostesses and servers were friendly and fluent in English.
Related Posts
Review: Hotel Astoria St. Petersburg, Russia
Review: Four Seasons St Petersburg, Russia
Review: L'Europe Restaurant and Dining at Grand Hotel Europe, St. Petersburg, Russia
Review: Four Seasons St. Petersburg Breakfast and Dining
Disclosure: We paid for our own dinner and breakfast. The views expressed in this post are my own.
Need Award Booking Help? Our fee is as low as $75 per ticket if you book your hotel or cruise with us.
If you enjoyed this, join 200,000+ readers: please follow TravelSort on Twitter or like us on Facebook to be alerted to new posts.
Become a TravelSort Client and Book 5-star hotels with Virtuoso Perks and Four Seasons Preferred Partner Benefits