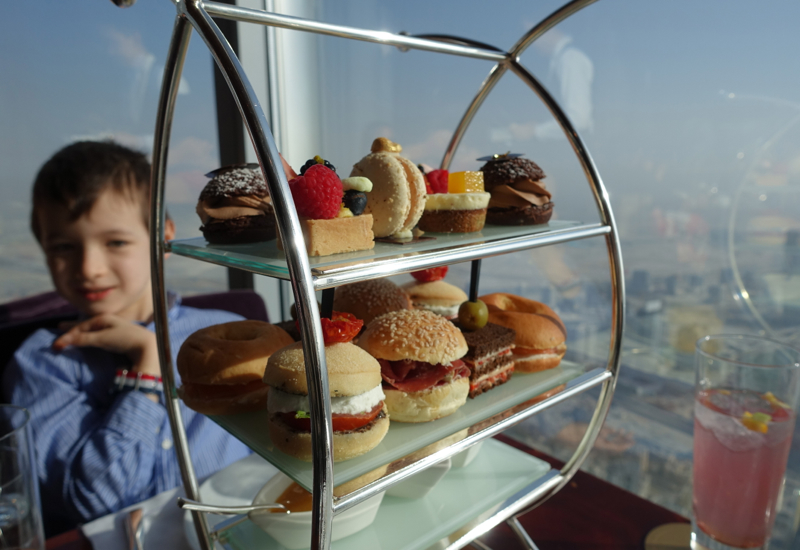 This Atmosphere Lounge at the Burj Khalifa Dubai review is part of a round the world trip report including first class and business class flights, luxury hotel stays in London and Asia, and restaurant reviews.
For the prior posts, please see:
Review: British Airways Concorde Room Lounge NYC JFK Terminal 7
Review: British Airways Business Class on the 747-400 JFK-LHR
Best Seats in British Airways New First Class 747-400
Review: British Airways Arrivals Lounge in LHR and Heathrow Express to London
Launceston Place London Restaurant Review
London Tips: British Museum with Kids
Review: Rivea at Bulgari London Hotel
Review: British Airways First Class Lounge London Heathrow Terminal 3
Qantas First Class A380 Review London to Dubai
It was my son who put Dubai and specifically the Burj Khalifa on our itinerary, with his love of architecture, building intricate structures, and fascination with the tallest buildings in the world. The Burj Khalifa is currently the tallest man-made structure in the world, at a height of 2722 feet. There's an outdoor observation deck on the 124th floor (and, if you pay over $100 per person, the Burj Khalifa Sky Experience includes access to the level 148 outdoor observation deck and lounge).
But given how expensive and likely crowded the observation deck experience would be, I figured afternoon tea at At.mosphere Lounge would be a worthwhile incremental splurge, so I made advance reservations there, and made sure to pack some nice clothes for both of us.
Getting to At.mosphere Lounge at the Burj Khalifa, Dubai
The Burj Khalifa is located in downtown Dubai on Sheikh Mohammed bin Rashid Boulevard, about a 15 minute drive from Dubai Airport. So, if you happen to be flying Emirates First Class or Business Class or Qantas First Class or Business Class, you could enjoy a complimentary chauffeur airport transfer to the Burj Khalifa (see Qantas Chauffeur Drive Available on Some Partner Awards). While I haven't taken it, the Burj Khalifa is also served by the Dubai Metro Red line, although allow about 40 minutes for the trip.
Once we arrived, I asked at the Armani Dubai (which is on the lower floors of the Burj Khalifa) how to get to Atmosphere Lounge, and was escorted to another reception, where they verified our reservation for two, then let us proceed to the elevator. My son's excitement started to build in the elevator, as we watched the floor numbers climb: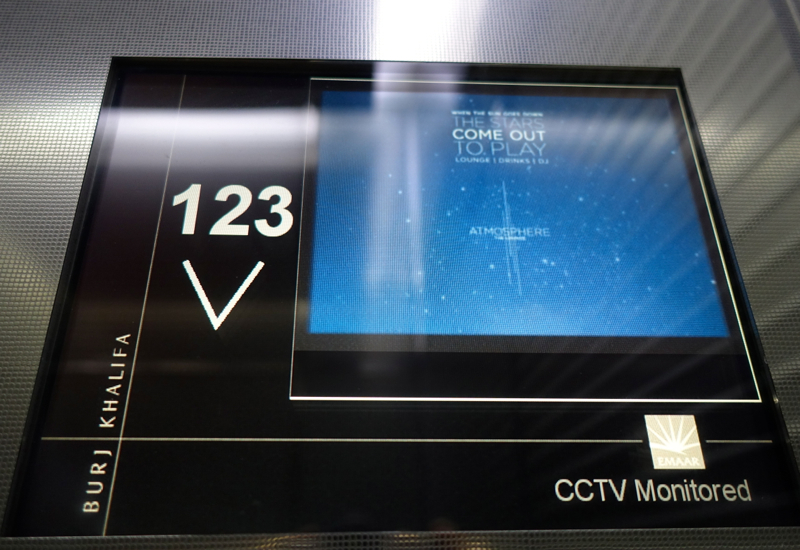 The Scene
The elevator dropped us on the 124th floor, where we descended a staircase and started to take in the magnificent view: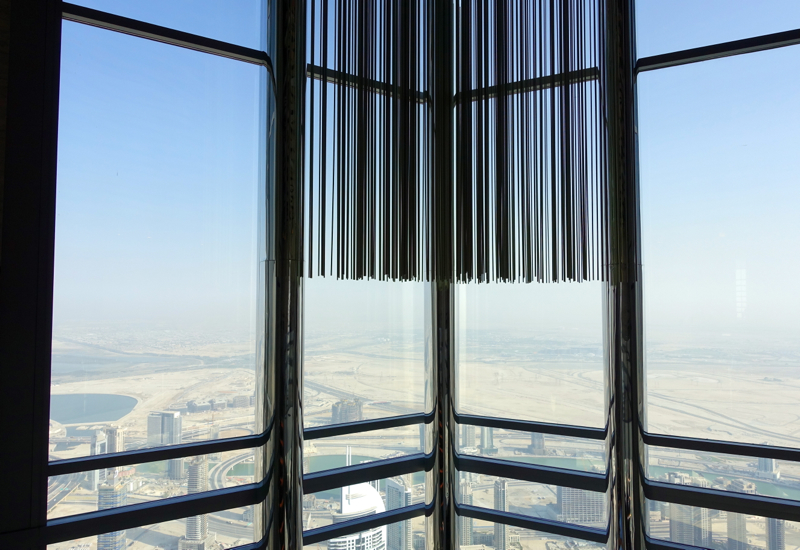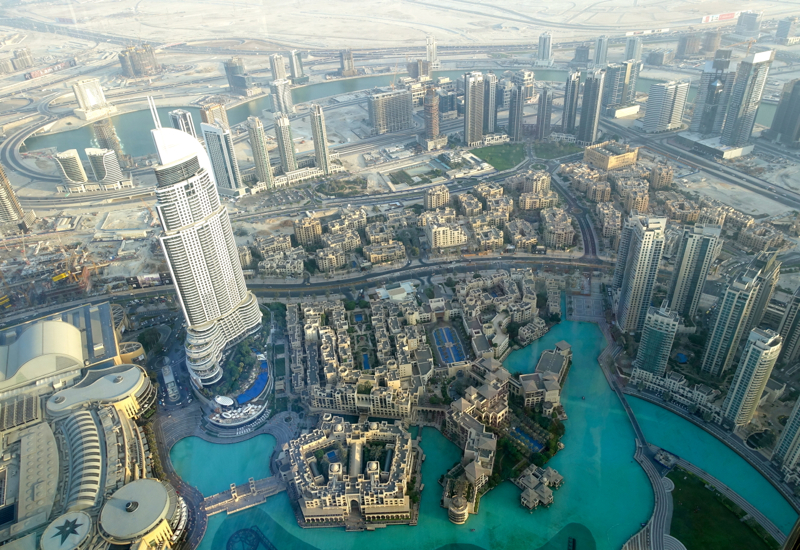 We then were welcomed by hosts, just outside the entrance to At.mosphere Lounge. The lounge is to the left, and the more formal (and more expensive) restaurant is the right of the 123rd floor reception.
Inside At.mosphere Lounge, we were happy to be shown to a window table, which I'd specifically requested when making our afternoon tea reservation. Afternoon tea is served 2:30-5pm, but the last booking is for 3:30pm. Since there's a "smart elegant" dress code that is enforced, everyone was dressed well, and I didn't have to worry about my son complaining about someone else wearing a t-shirt.
In fact, he was pretty lucky to be there at all, given that kids his age are apparently normally not allowed. There were primarily tables of couples, with some "ladies who lunch" types and also a group of women in UAE national dress. I naturally didn't want to take a photo of other guests, so the photo below is after our tea, when we were virtually the only guests left in the lounge: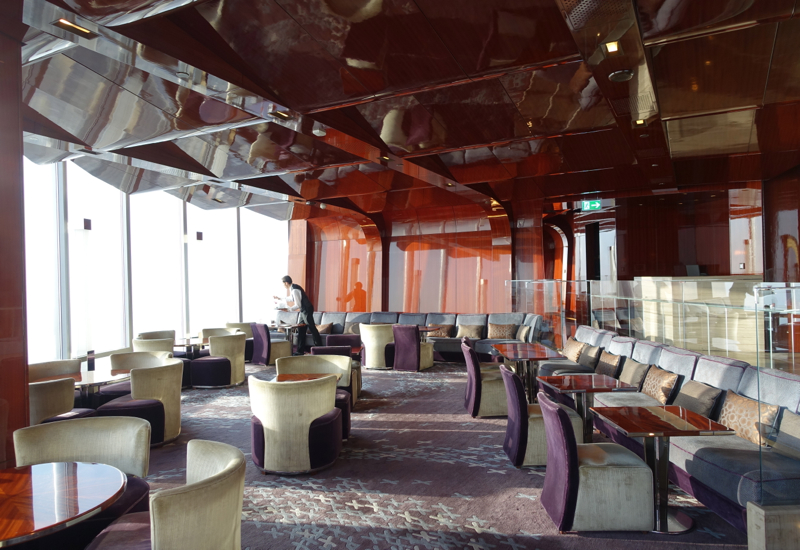 At.mosphere Lounge Afternoon Tea
Traditional afternoon tea is a meal in itself, and includes a fruity housemade iced tea, a small organic chicken and mushroom quiche, finger sandwiches, pastries, English scones, and a variety of hot teas, mocktails, and espresso drinks, all included in the price of AED 320 (~$87). There are also more expensive options if you'd like to start off with champagne (Veuve Clicquot) or Billecart Salmon Blanc de Blancs, caviar and oysters.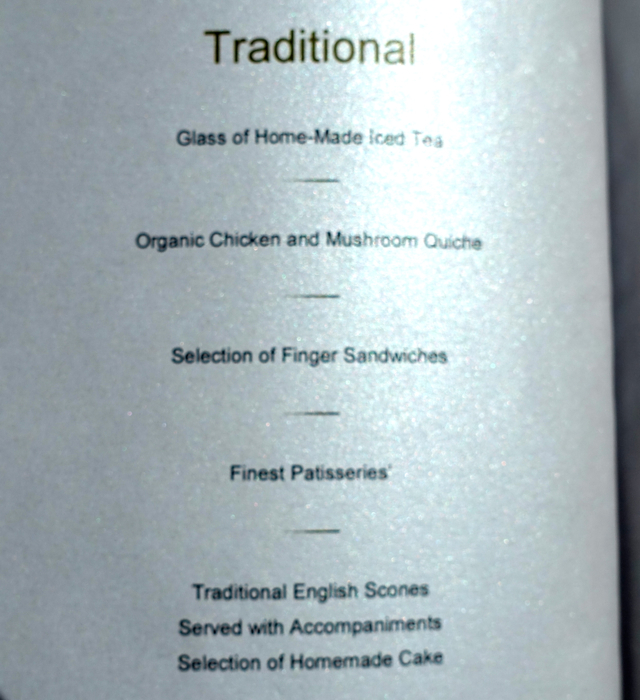 The munchkin of course was skeptical of any type of tea, but given how fruit infused and sweet the iced tea was, he actually enjoyed it even more than I did: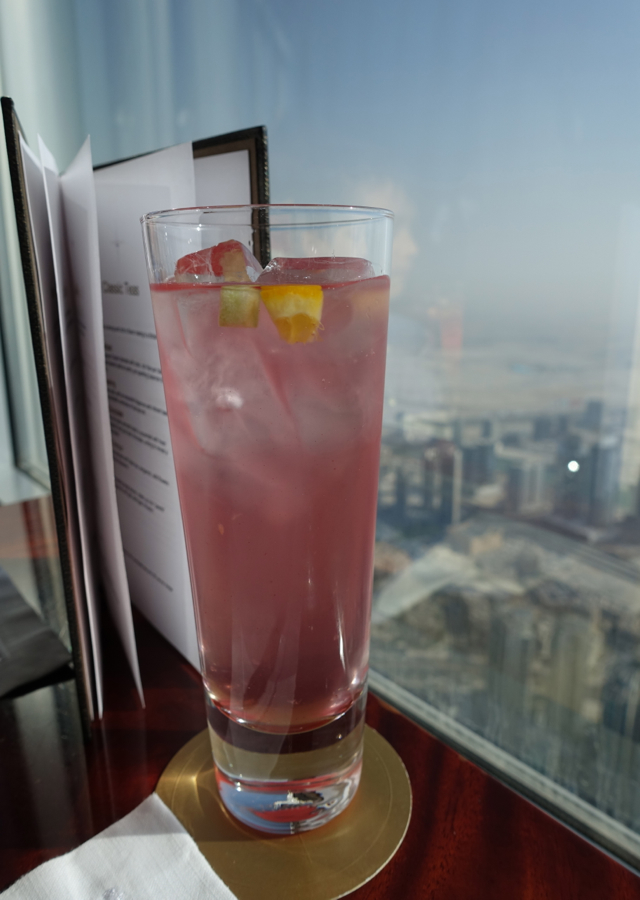 Our organic chicken and mushroom quiches were delicious, and my favorite savory item in the afternoon tea. I'm pretty sure you can enjoy another one if you'd like, although the sandwiches and pastries platter served to us later was so extensive we didn't ask for another.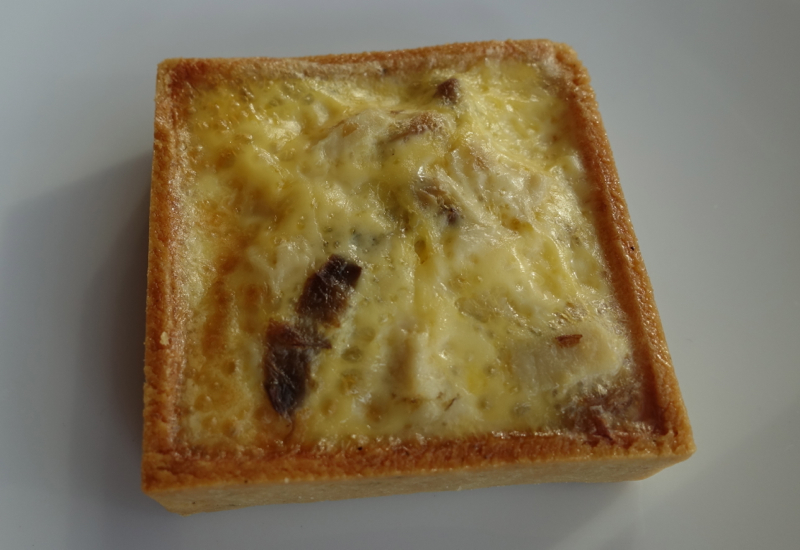 Once we realized that mocktails were included in the afternoon tea price, we had to try the "Tropical Smile" with passionfruit, mango and coconut cream. I barely got a couple sips in before the munchkin finished it and pleaded for another, which we did order later. I had good intentions to try at least one of the other mocktails, the High Berry or the Liquid Spa, but the Tropical Smile was so good we never moved beyond that.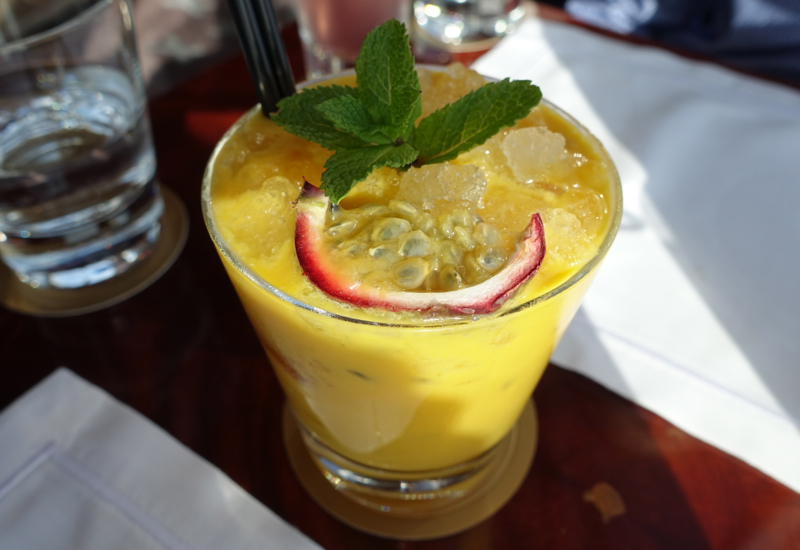 The centerpiece of Atmosphere Lounge's afternoon tea is the tiered tea tray, with savory sandwiches on the second tier, pastries on the top tier, and scone accompaniments of jam and clotted cream on the first tier.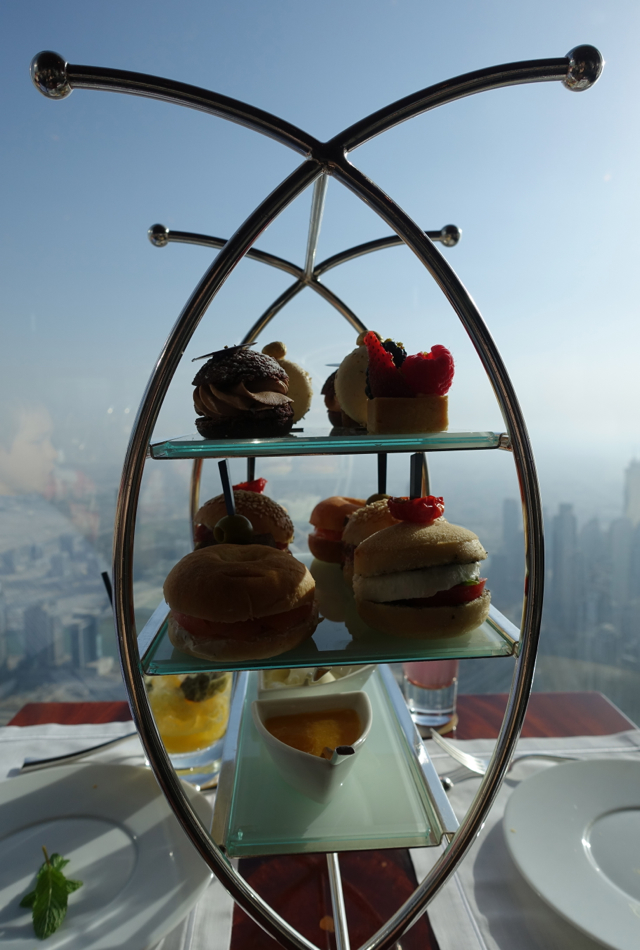 Of the sandwiches, my favorite was the fresh mozzarella with tomato and pesto, while my son's was the classic smoked salmon and cream cheese on a mini bagel.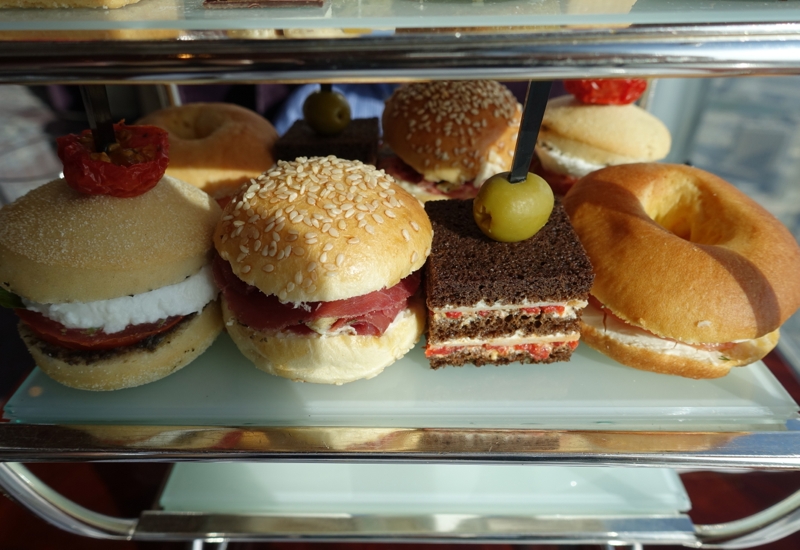 Of the pastries, I enjoyed the fruit tart best. The munchkin liked the macaron, but I've been spoiled by better quality macarons from Pierre Herme and even the fantastic chocolate raspberry one on our Qantas First Class flight to Dubai.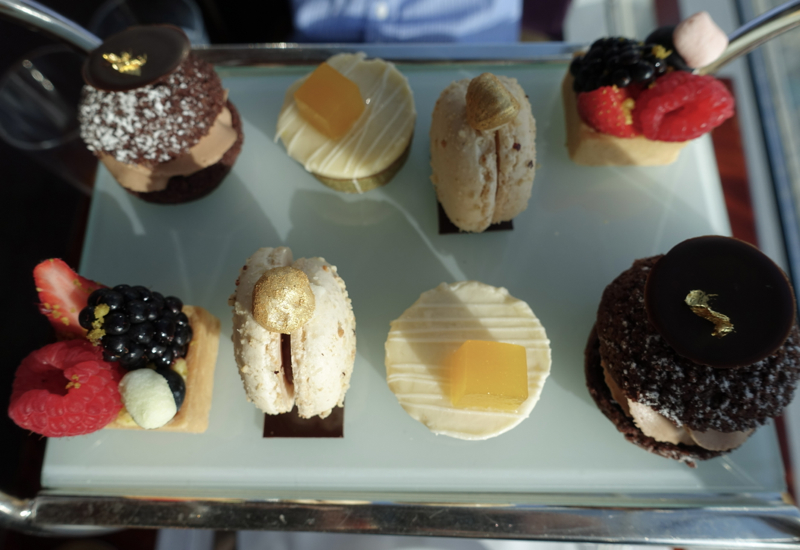 Since this was afternoon tea, I decided I had to try some hot tea. Here are some of the tea choices: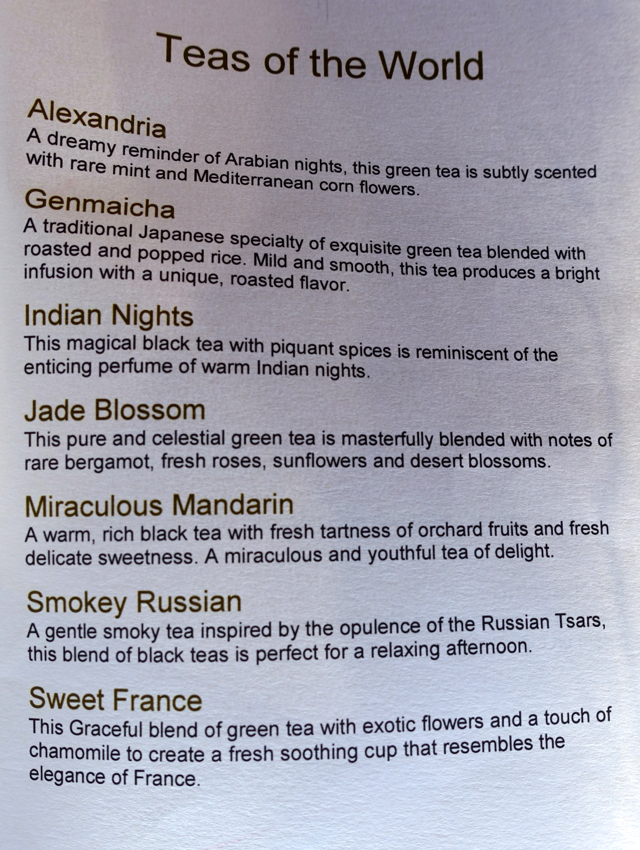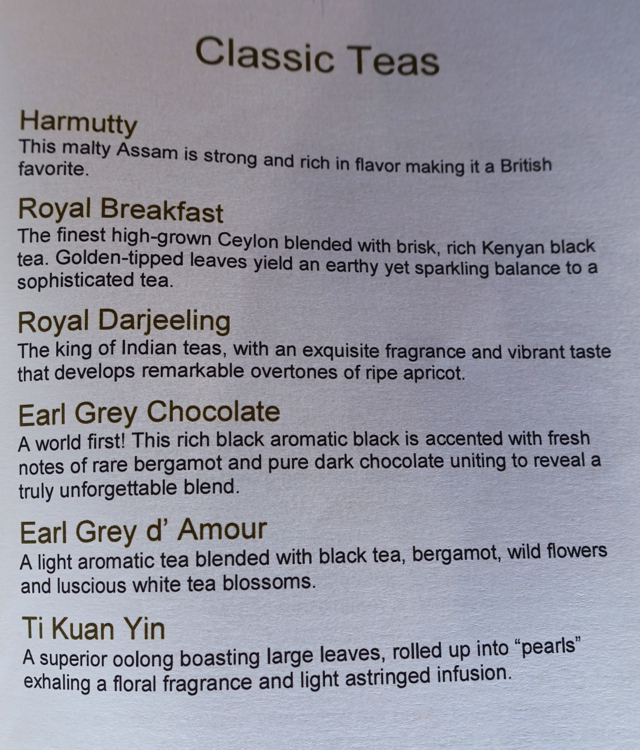 I was intrigued by the Earl Grey Chocolate tea–had never seen that on a tea menu–so I tried that. I wouldn't say the chocolate flavor was very pronounced, but it was good, especially with some milk in it.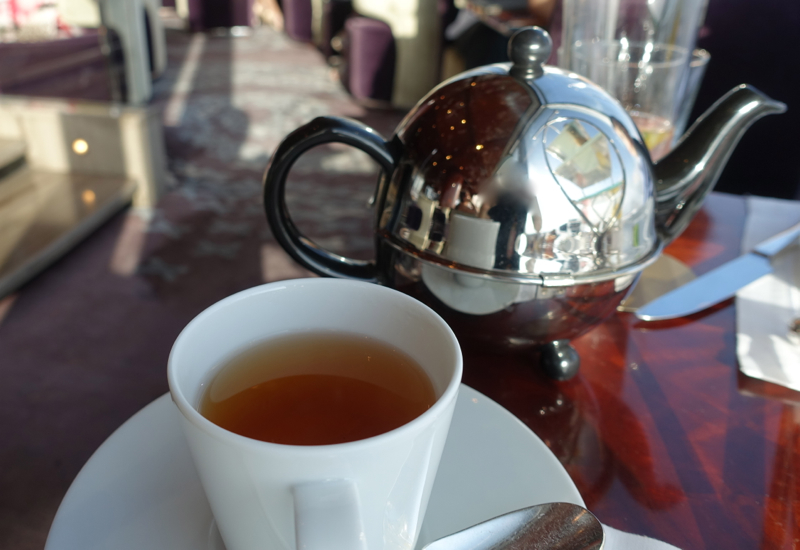 Finally it came time for scones, which we were served from a basket. Our server also offered us banana cake, but we just opted for the scones: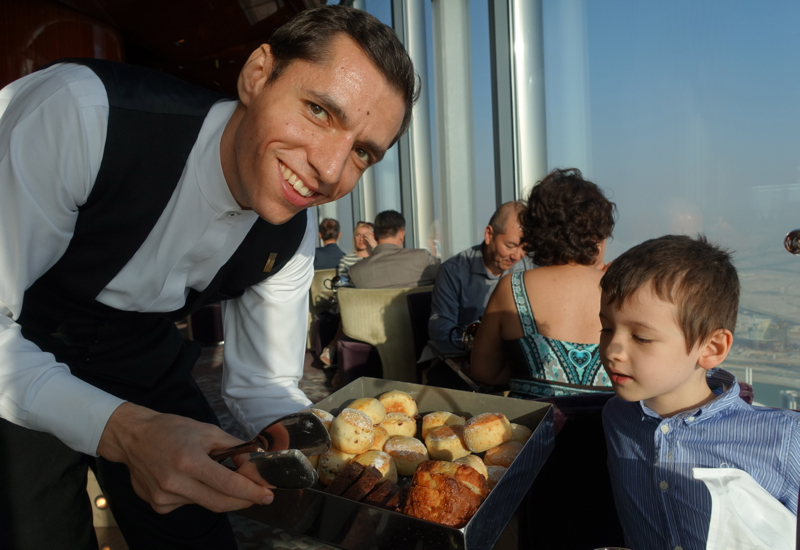 These were far from the best scones I've tried, but they were good vehicles for the tasty raspberry and mango passionfruit jams.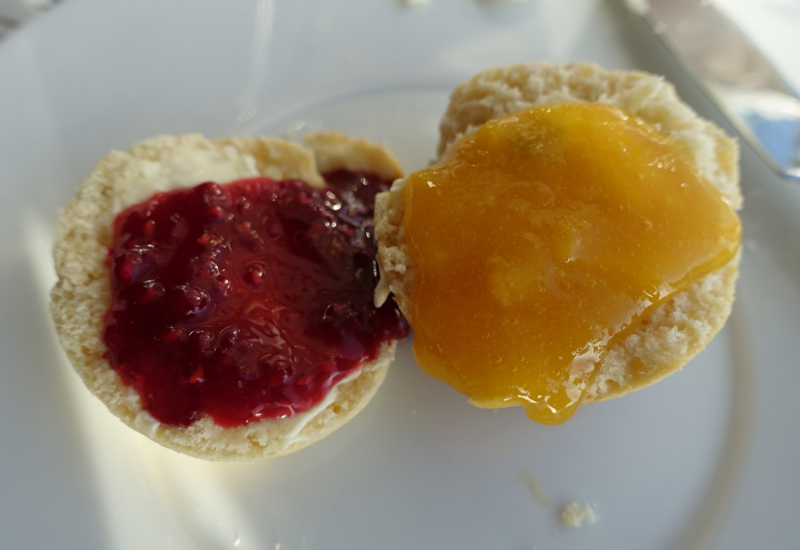 The Service
Atmosphere Lounge was quite busy when we were there, but given how busy it was, service was quite good. We were made to feel very welcome, our classic afternoon tea order was taken quickly, and we were served soon with our iced tea and quiche.
It did take awhile to receive our initial mocktail and for the main afternoon tea tiered tray to be brought, but fortunately the stunning view helped ease the wait for the hungry munchkin.
Another aspect that we both really enjoyed was the live harp music–it was beautiful and really enhanced the ambience. We enjoyed it so much that after our tea we stopped to have a closer look at the young harpist. She turned out to be from Bulgaria, and had been playing the harp since she was a young girl, and the piano from an even earlier age.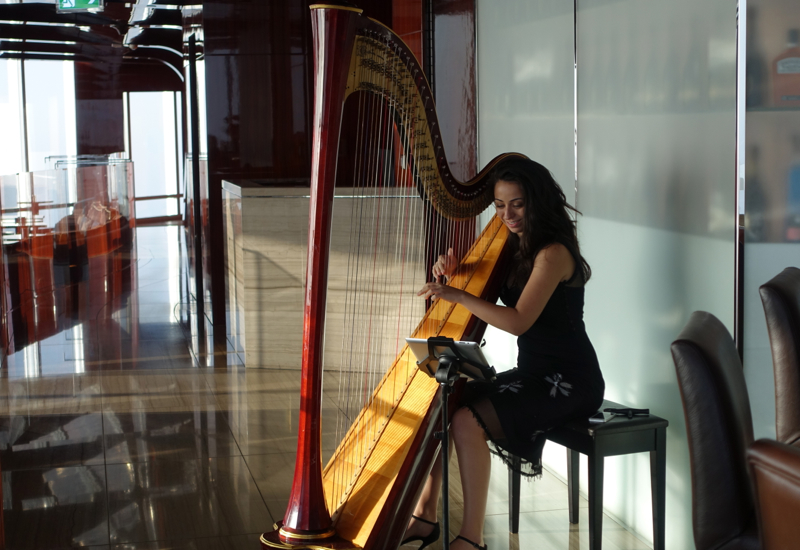 She was very friendly, and even invited the munchkin to run his finger along the harp strings, which he loved: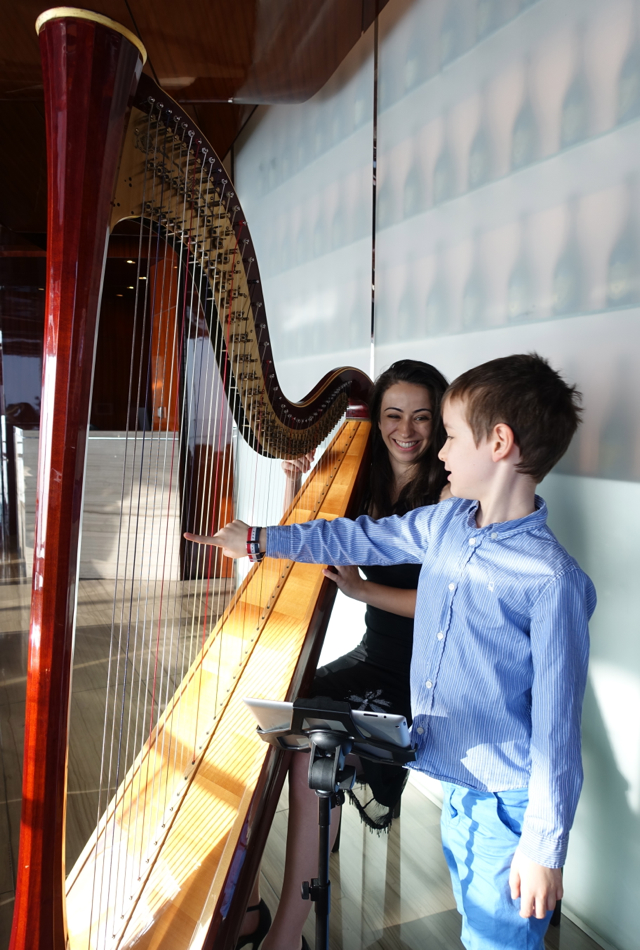 The Verdict
At.mosphere Lounge has been panned in some reviews for its prices, but in my view, they go with the territory of being on one of the top floors accessible to the public of the tallest building in the world. We both really enjoyed our afternoon tea, primarily for the views and overall ambience, but also for the delicious tropical mocktails, quiche, extensive tea selection, and leisurely meal.
If you've been to Atmosphere Lounge at the Burj Khalifa in Dubai, what was your experience?
Related Posts
Qantas First Class A380 Review London to Dubai
Emirates First Class A380 Review
Dubai with Kids: Where to Stay and the Top Things to Do
Need Award Booking Help? Our fee is as low as $75 per ticket if you book your hotel through us.
If you enjoyed this, join 150,000+ readers: please follow TravelSort on Twitter or like us on Facebook to be alerted to new posts.
Become a TravelSort Client and Book 5-Star Hotels with Virtuoso or Four Seasons Preferred Partner Amenities!