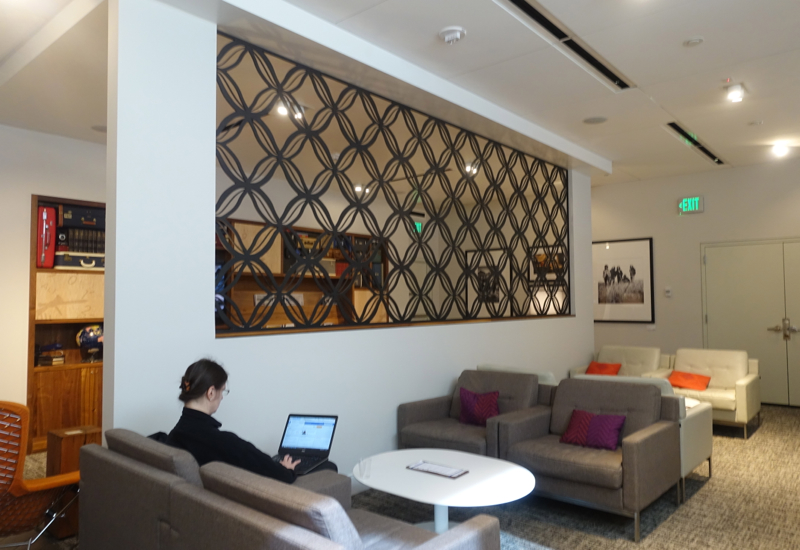 This AMEX Centurion Studio at Seattle Airport Review is one of several AMEX Centurion Lounge reviews, including the AMEX Centurion Lounge in Las Vegas, the AMEX Centurion Lounge in New York LaGuardia, and soon, the AMEX Centurion Lounge in San Francisco. See all of our airport lounge reviews.
AMEX Centurion Studio Seattle Airport Location, Access and Hours
The AMEX Centurion Studio in Seattle Airport is in Concourse B, opposite Gate B3, so Security Checkpoint 3 is the closest one to it, although you can clear security at any checkpoint and walk to it. You can also access it after arriving from a flight, and before exiting the secure airside area of the airport, as we did.
The Centurion Studio in Seattle is open 5am to 10pm. It's smaller than the full fledged AMEX Centurion Lounges, hence the "Centurion Studio" moniker.
Access used to be restricted to AMEX Platinum and AMEX Centurion card members only, but the rules have since changed, and it's now possible for other AMEX card members to buy access for $50 per day, subject to space availability. Note that when you arrive, you'll need to present your AMEX Platinum or Centurion card, a government issued ID and your boarding pass for same day travel (although it can be the boarding pass for a flight you just arrived on).
Access for guests is restricted to one guest of the AMEX Platinum or Centurion card member, or immediate family (spouse or domestic partner and children under 18) at no additional charge. As always, family and guests may not enter or remain in the AMEX Centurion Studio unless accompanied by the card member.
If you're an AMEX card holder (but not a Platinum or Centurion member) and purchase a day pass, you can bring your children under 18 with you for no extra charge, but you must purchase an additional $50 guest pass for each adult guest (including your spouse or partner).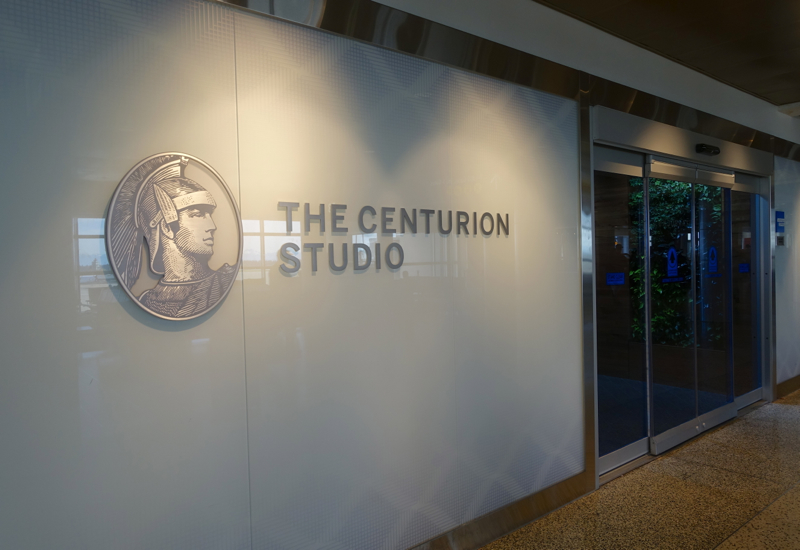 AMEX Centurion Studio Seattle Airport Amenities and Seating
The AMEX Centurion Studio Seattle is essentially one big room, although there are a few different seating areas. On both of our visits, which were two days apart, the lounge was so busy I was limited in the photos I could take of the seating areas.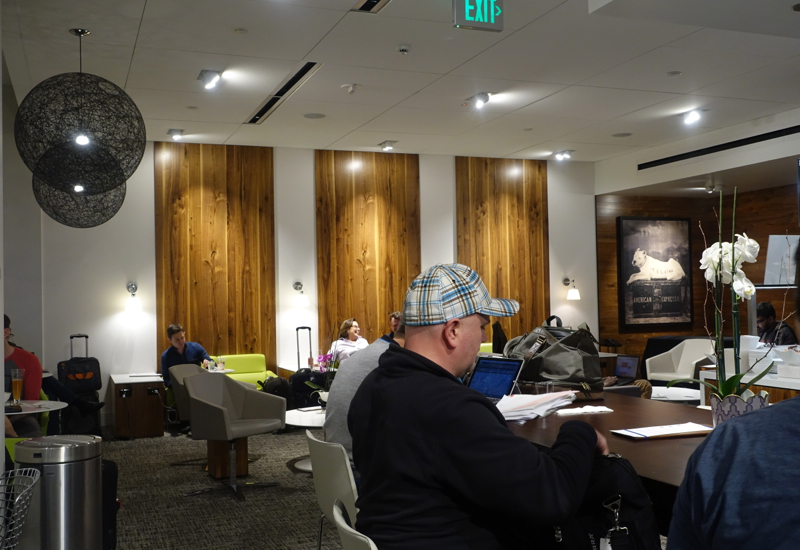 Here's one of the travel-themed bookcase and flat screen TV, which will look familiar if you've been to other AMEX Centurion lounges.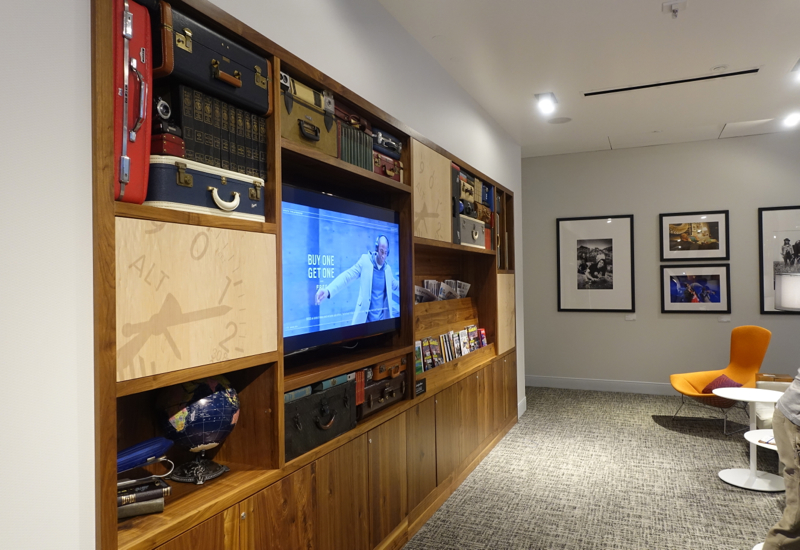 For ease of plugging into power outlets, my son and I opted for one of the bar seats along the wall. When checking in, you're given a WiFi password. WiFi worked well; I have yet to have any WiFi issues during my AMEX Centurion Lounge visits.
Although during both of our visits my son was the only child in the lounge, on the second visit he was given a fun super hero activity book when we checked in. So if you're traveling with young kids in tow, you could ask for this if it's not proactively given to you when checking into the lounge.
The Centurion Studio in Seattle doesn't have a shower, just two bathrooms. Parents with babies will be glad to know there is a baby changing table that pulls down. The bathroom is also accessible, with grab bars.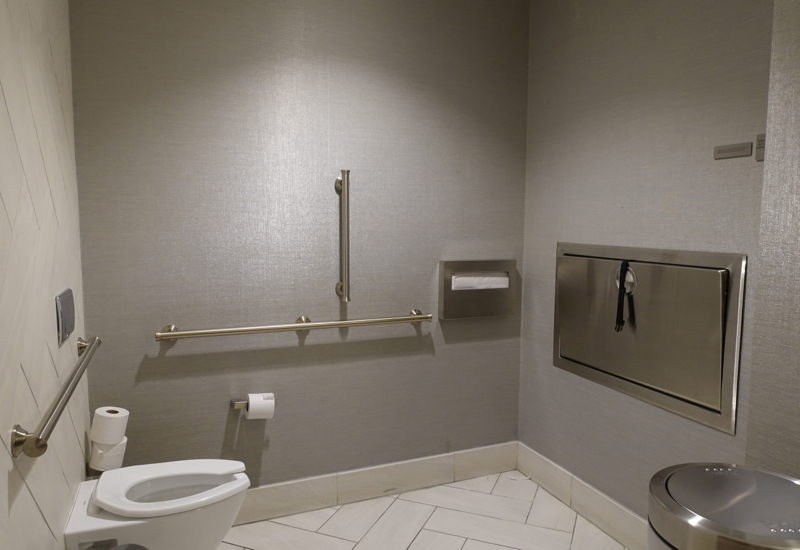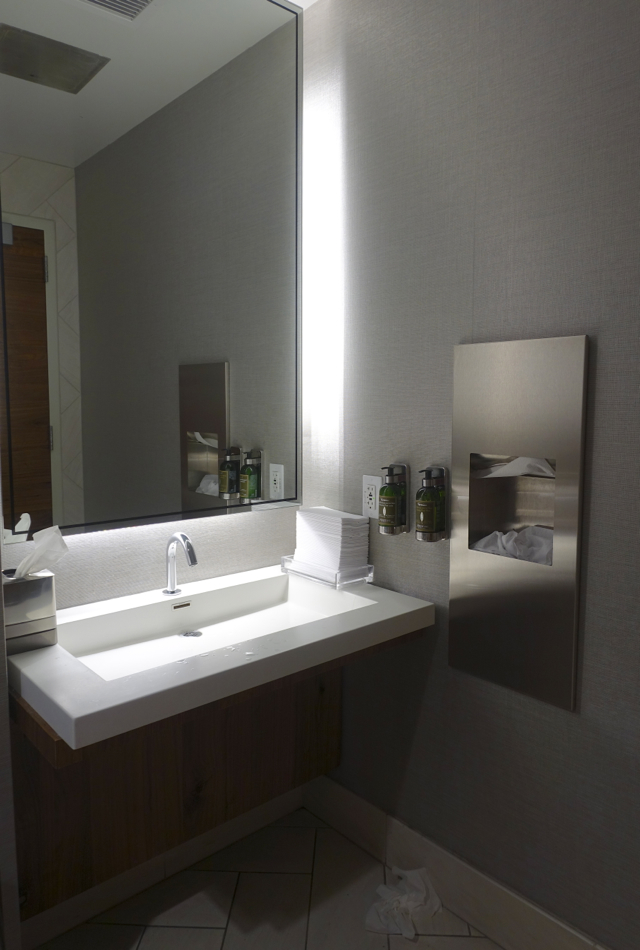 There's L'Occitane Verveine hand soap and moisturizer, as at the other AMEX Centurion lounges.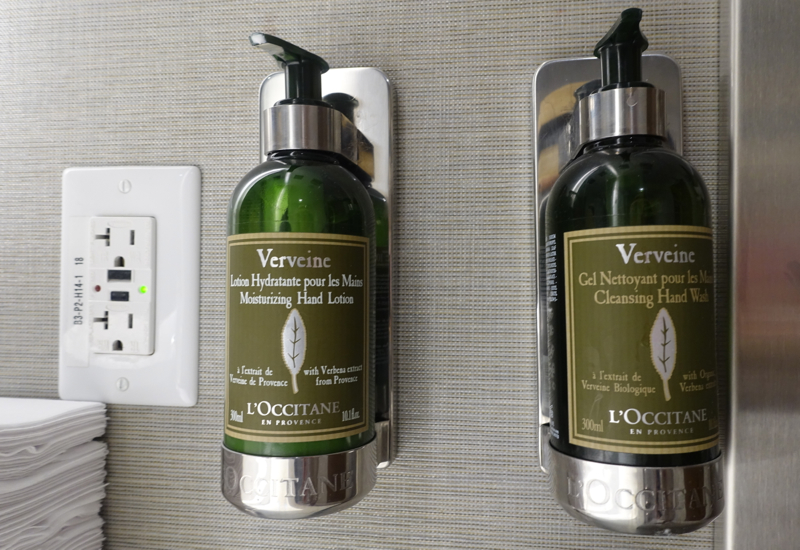 AMEX Centurion Studio Seattle Airport Food and Drinks
Since the AMEX Centurion Studio is not a full service lounge, food and drink offerings are more limited than at the other AMEX Centurion Lounges. The key differences are that there is no hot food buffet (although there was self serve hot soup during our lunch / early evening visits) and there is no bar, although you can flag down a Centurion Lounge associate to request one of the beers or wines on offer.
When AMEX says "Healthy Snacks" they mean it, at least in terms of the savory options. It reminded me of the food offerings at my local Equinox gym, particularly the crudites, hard boiled eggs and hummus dips: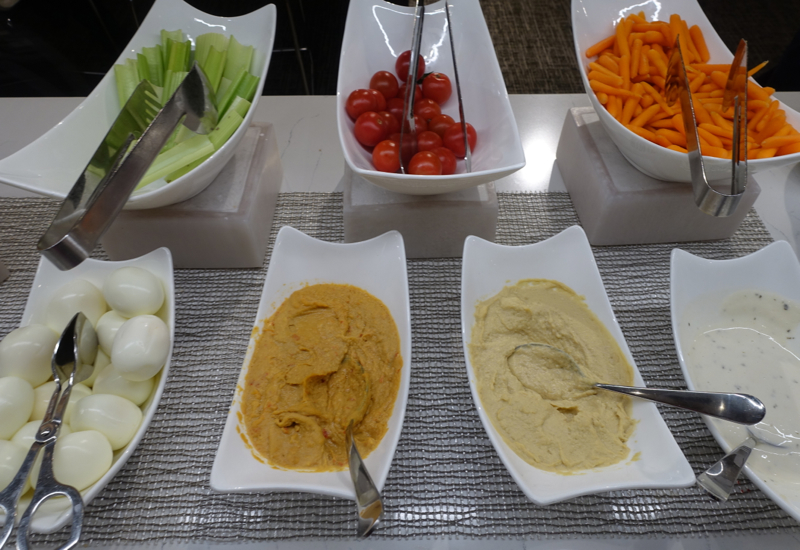 There were also veggie wraps and smoked turkey flat bread sandwiches: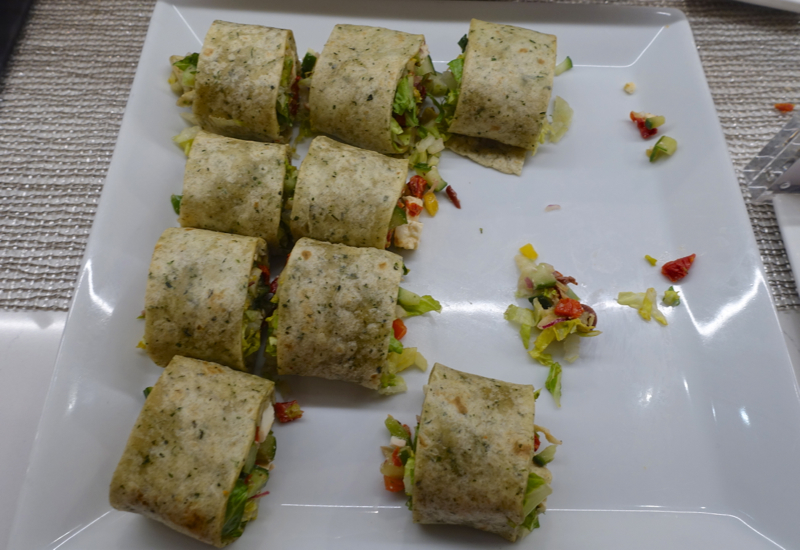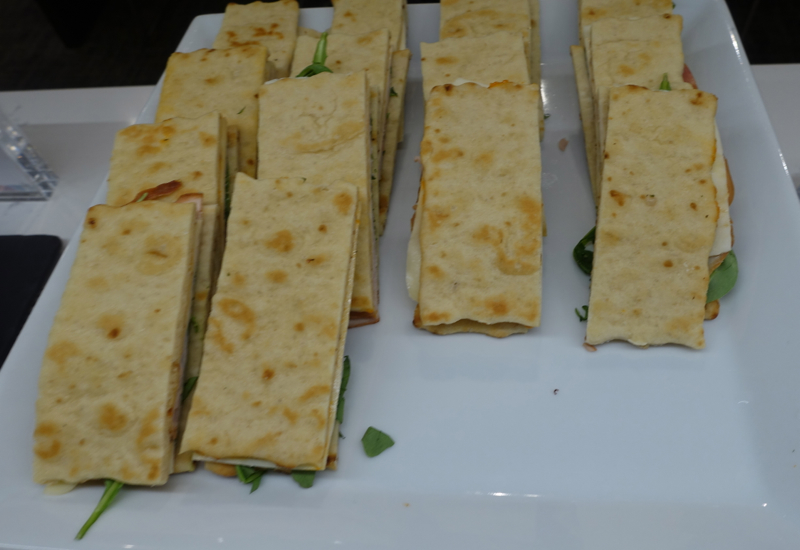 And some broccoli salad as well as fruit salad. Whole fresh fruit was available as well, mainly bananas and oranges during our visit.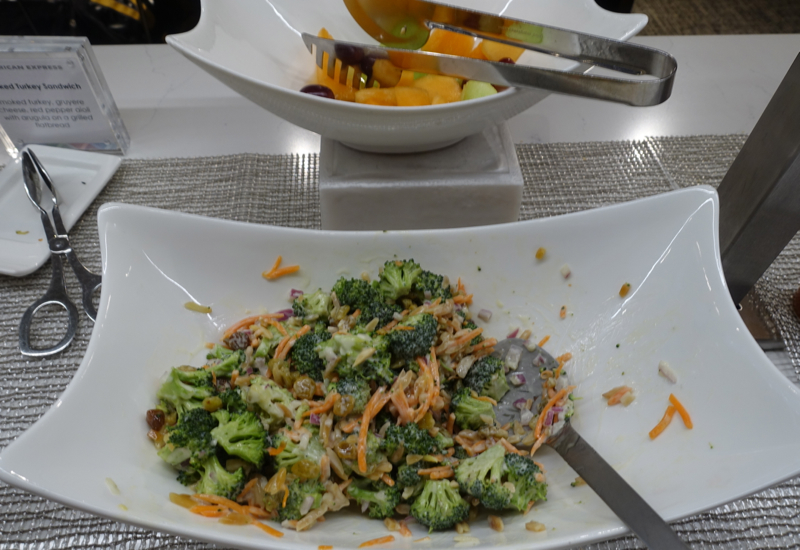 The citrus iced tea and cucumber infused water added a spa-like touch: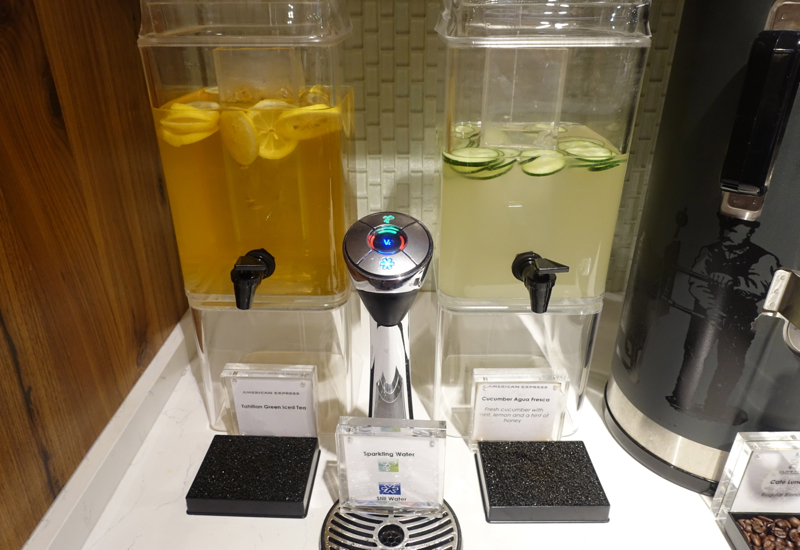 I also like that AMEX Centurion Lounges, including the Centurion Studio in Seattle, offer Mighty Leaf tea, one of my favorite tea brands that has several organic varieties: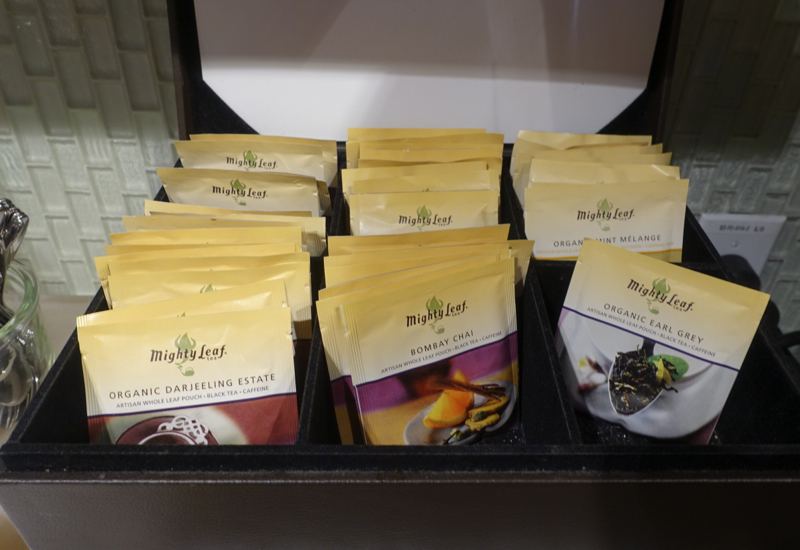 I was ravenous enough both times that I instead chose the Beef Barley soup, probably the least healthy but also most satisfying option. I was a bit disappointed my second visit two days later that there wasn't a different soup on offer (and it also made me wonder how many days they serve leftover soup?) but it was a pretty good soup and staved off hunger.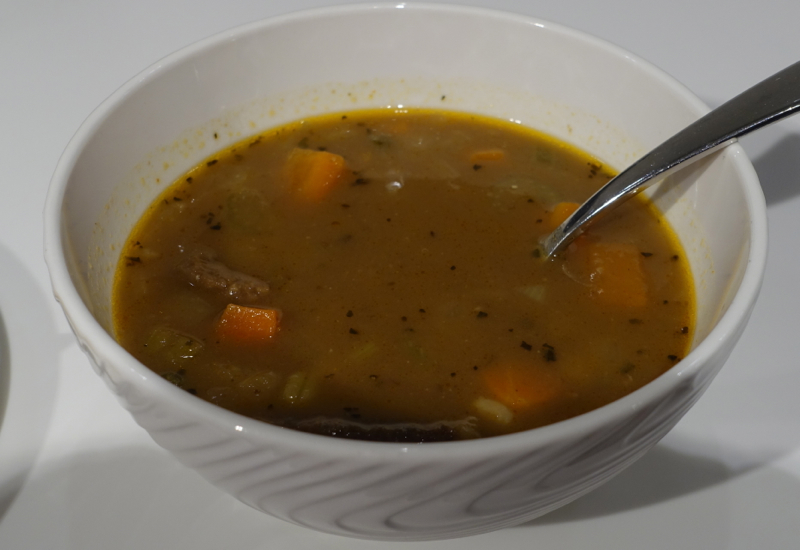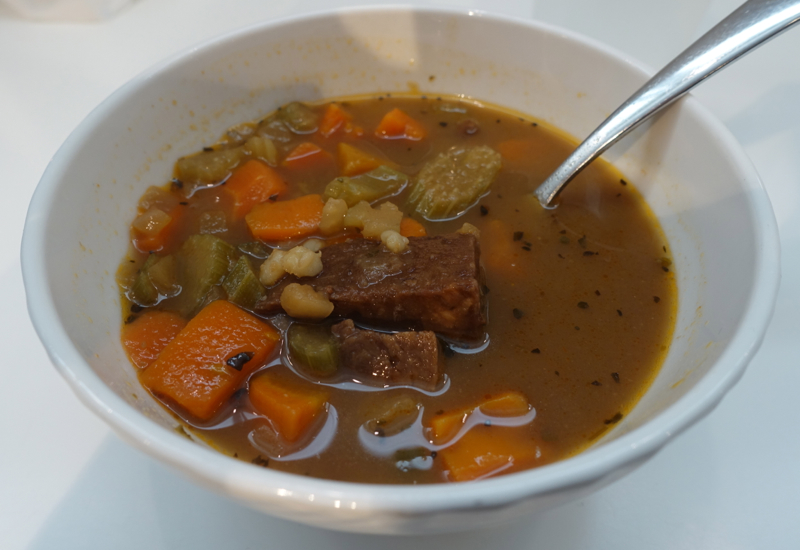 I was also happy to see Wasabi peas, which I don't remember seeing at the other AMEX Centurion lounges, although it's possible I just missed them, but did remember from the Qantas International Business Class Lounge in Melbourne.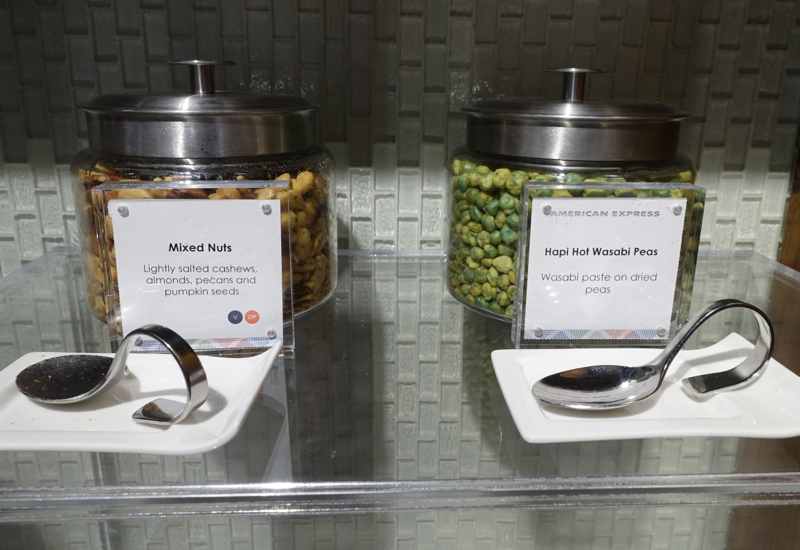 There were some dessert offerings, but unlike earlier reports of Theo chocolates (which I definitely would have gone to town on) there were chocolate chip cookies and brownies. Good but not great.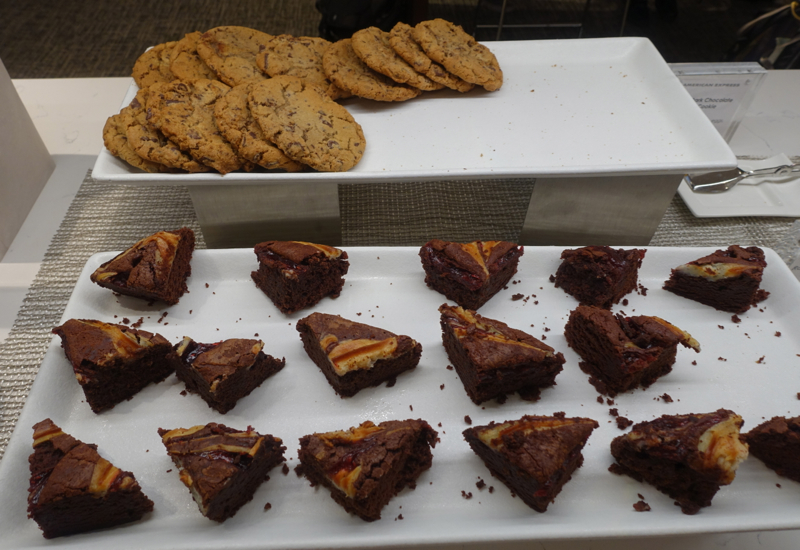 Later, a cheesecake was put out, but this was somewhat disappointing as well. Bring back the Theo chocolates! Or perhaps I just wasn't there at the right time for them.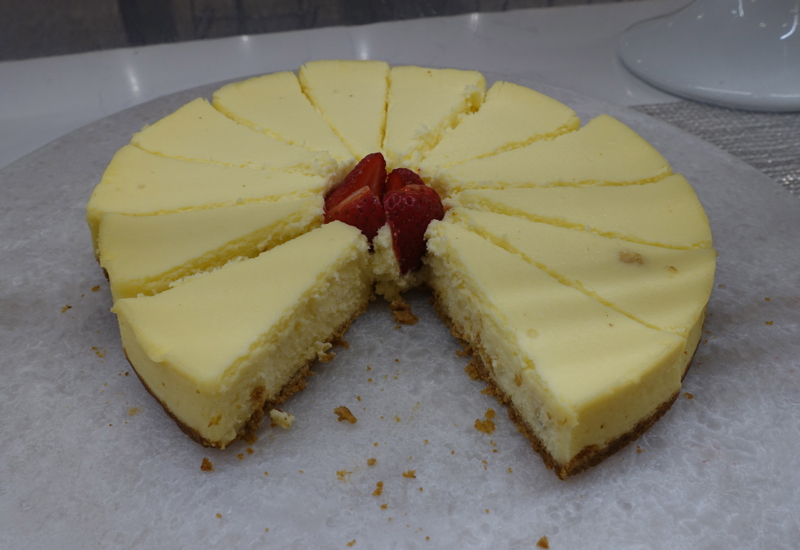 The refrigerated cases contain soft drinks but no juice, so I asked one of the lounge associates for some orange juice for my son, and she brought him a very tall glass of juice very quickly–great service.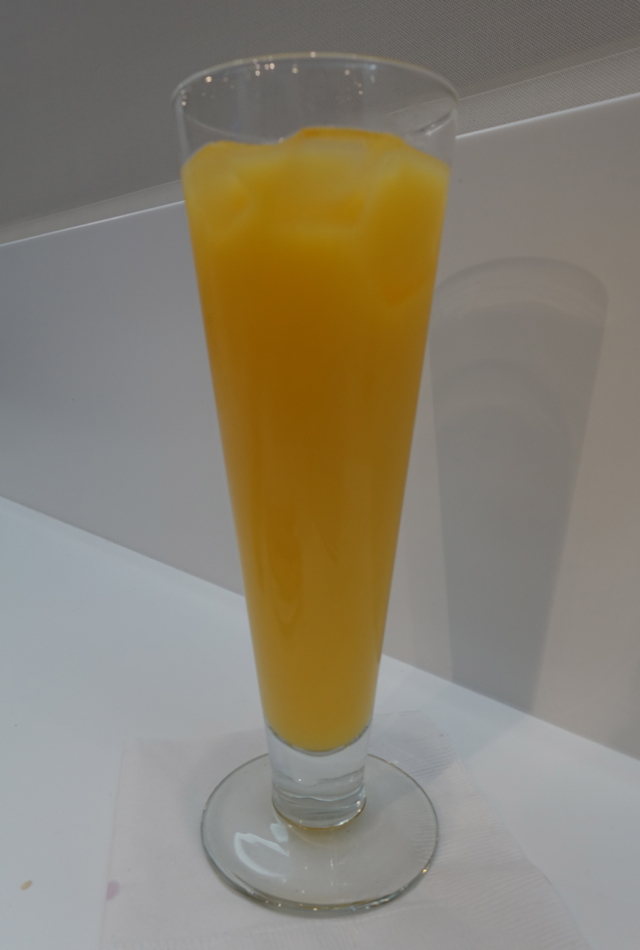 There is a selection of local beers, a couple of North by Northwest wines (a Chardonnay and red wine) and also a sparkling wine. Here's the beer and wine list: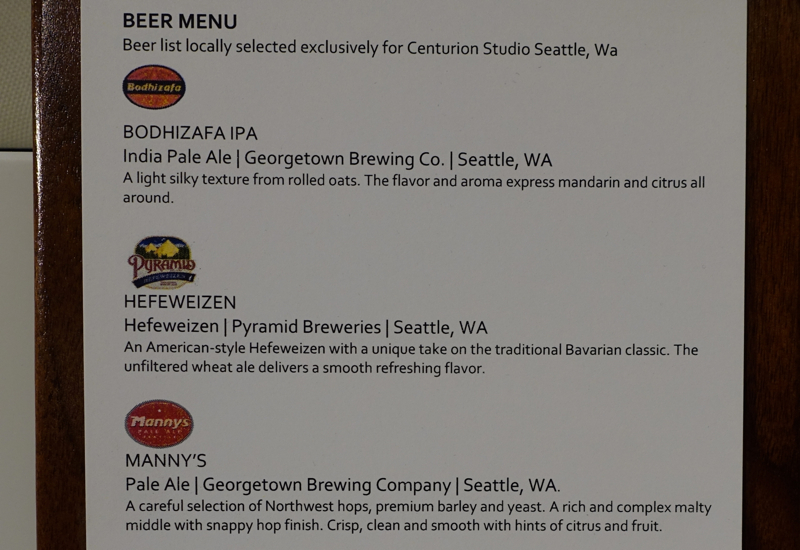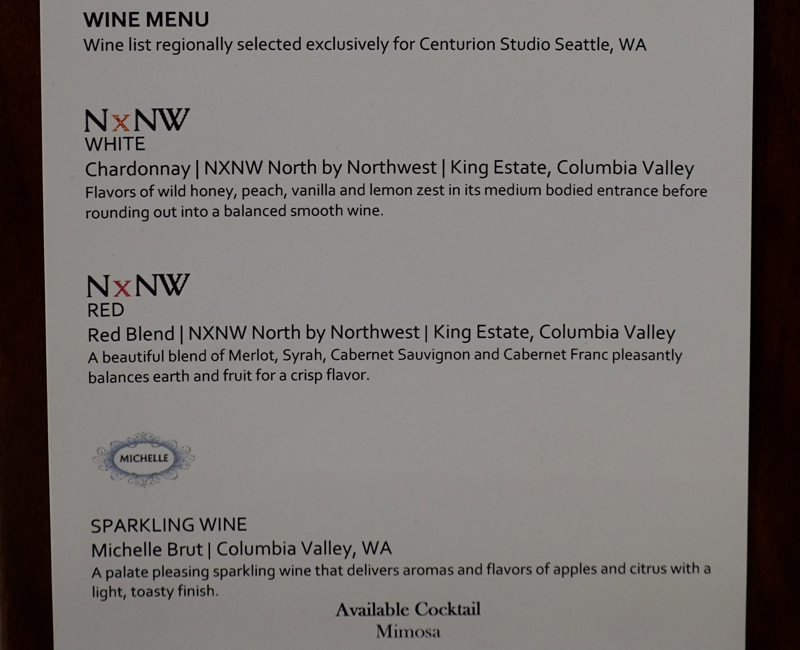 I also tried a glass of the North by Northwest wine, the Red Blend of Merlot, Syrah, Cabernet Sauvignon and Cabernet Franc, and this was very quaffable.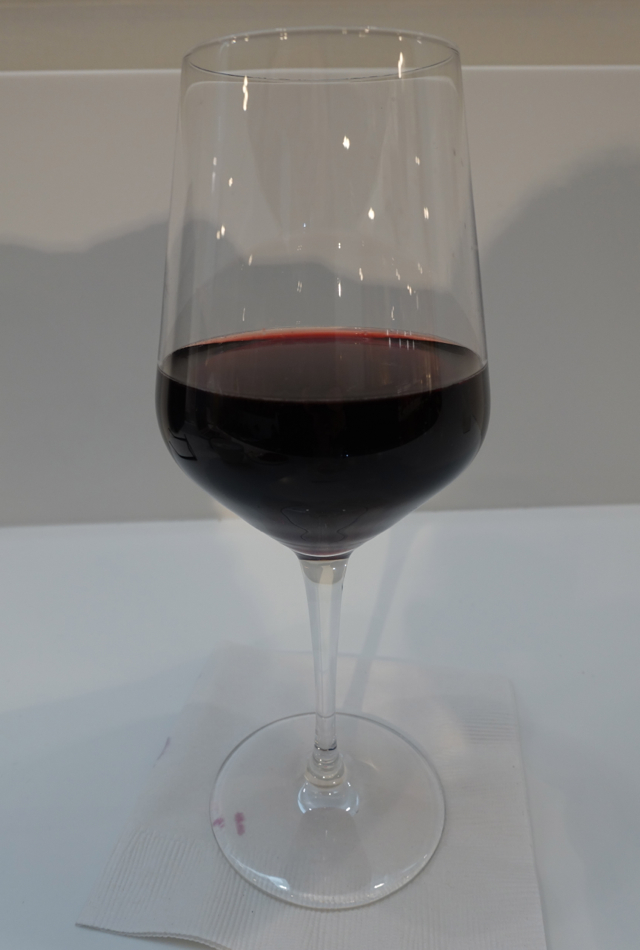 The Verdict
While I would never pay $50 to access the Centurion Studio in Seattle, it's a nice perk of having the AMEX Platinum card, and a good place to grab a quick bite and a drink if you're hungry either before or after a flight, while recharging your laptop, tablet or phone. Generally I find service to be better in the AMEX Centurion lounges than at most other U.S. domestic lounges, so that's a pleasant bonus as well.
If you've recently visited the AMEX Centurion Studio in Seattle, what was your experience?
Related Posts
Review: AMEX Centurion Lounge in New York LaGuardia
Review: AMEX Centurion Lounge in Las Vegas
Four Seasons Seattle Hotel Review
Chihuly Garden and Glass: Must See in Seattle
Best Thai Food in Seattle: Pestle Rock Restaurant Review
Need Award Booking Help? Our fee is as low as $75 per ticket if you book your hotel or cruise with TravelSort.
If you enjoyed this, join 200,000+ readers: please follow TravelSort on Twitter or  like us on Facebook to be alerted to new posts. 
Become a TravelSort Client and Book 5-Star Hotels with Virtuoso or Preferred Partner Benefits