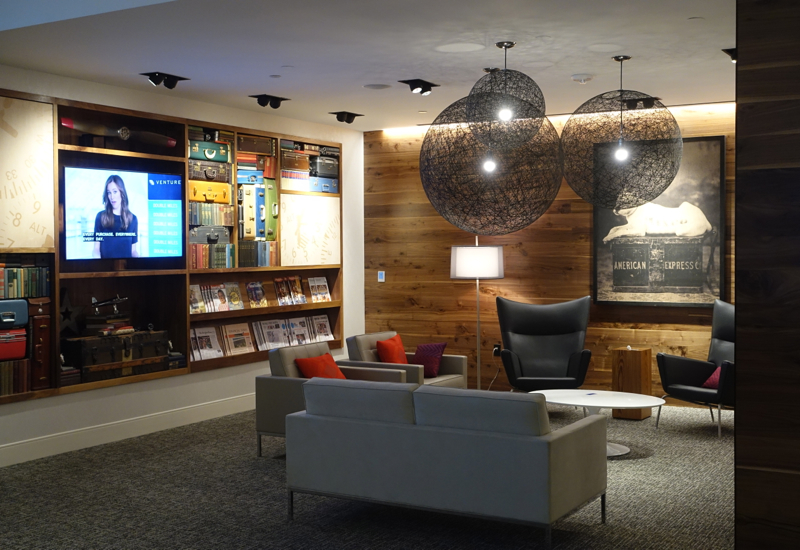 The AMEX Centurion Lounge Houston IAH just opened on June 24, 2016, and we checked it out after a Singapore First Class flight from Moscow to Houston (updated review forthcoming), before our flight back to NYC. But first, we had to find the lounge, which wasn't easy, at least for me.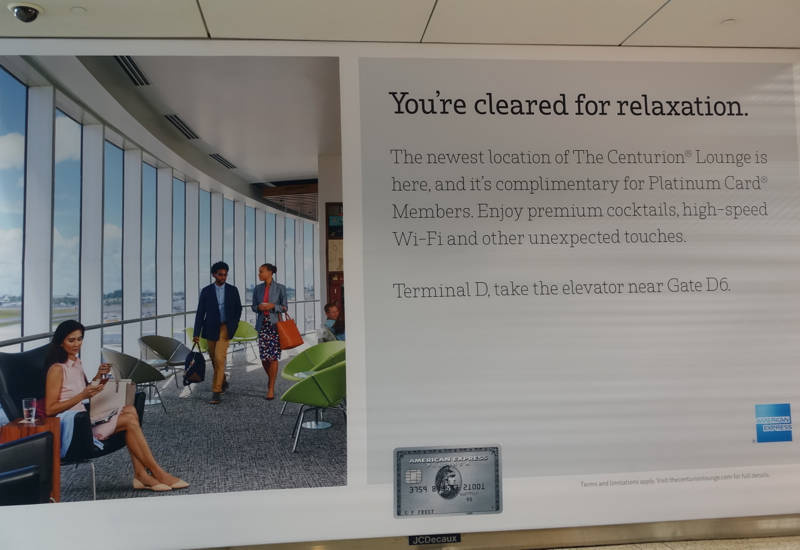 AMEX Centurion Lounge Houston IAH Location, Access and Hours
The new AMEX Centurion Lounge, Houston IAH is only accessible by elevator. The problem is that when I noticed the poster above I didn't focus on that operative word, elevator, and instead just focused on Gate D6. I walked around D6 and of course didn't find the lounge. Nope, you instead need to ensure that you take the elevator to the Mezzanine level. To be fair, the AMEX Centurion Lounge map does mention elevator, although it doesn't mention that the lounge is located on the Mezzanine floor, which would be helpful.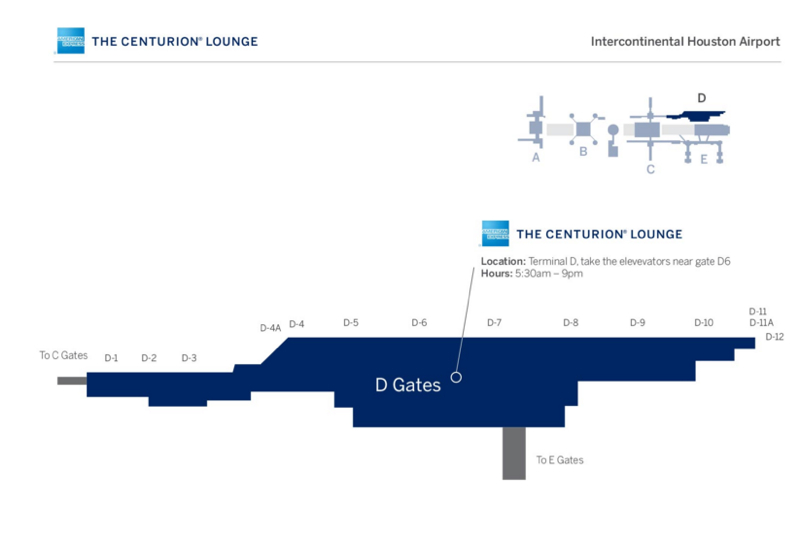 Once you get to the elevator, the fact that it's located on the Mezzanine floor is made clear: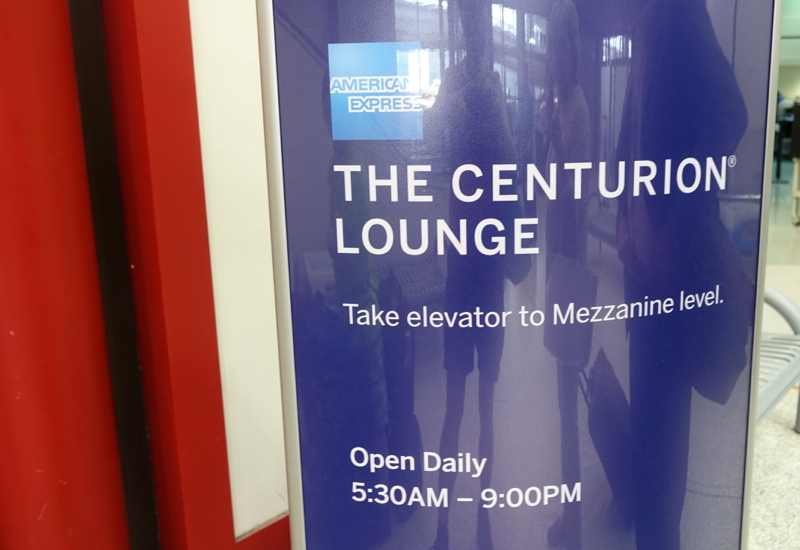 And in the elevator itself the Mezzanine is labeled with The Centurion Lounge: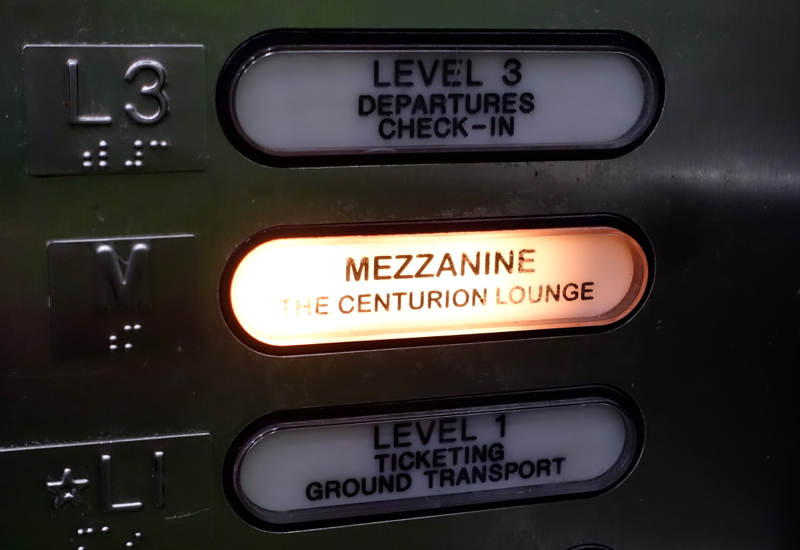 The AMEX Centurion Lounge in Houston is open from 5:30am – 9pm daily. Here's who has access:
AMEX Platinum and Centurion card members enjoy complimentary access with their valid card, boarding pass for same day travel, and government issued ID.
AMEX Platinum and Centurion members who receive complimentary access may provide complimentary guest access to their immediate family (spouse or domestic partner and children under 18) or up to two guests. Guests and family members may only remain in the lounge when accompanied by the card holder.
Other AMEX card holders may pay $50 for access, subject to space availability, and may bring in their children under 18 at no additional charge. You must pay $50 per person for all other guests 18 and older.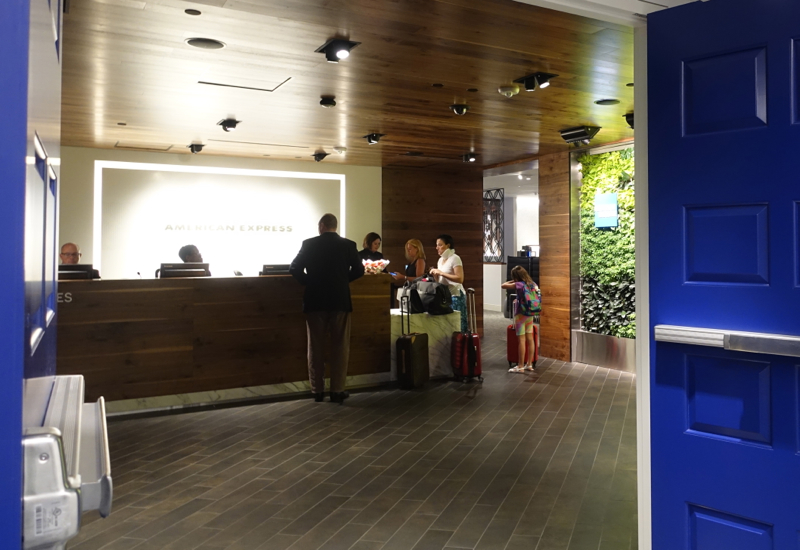 There's a big plant wall to the right of the Centurion Lounge Reception, as is typical for most Centurion Lounge entrances: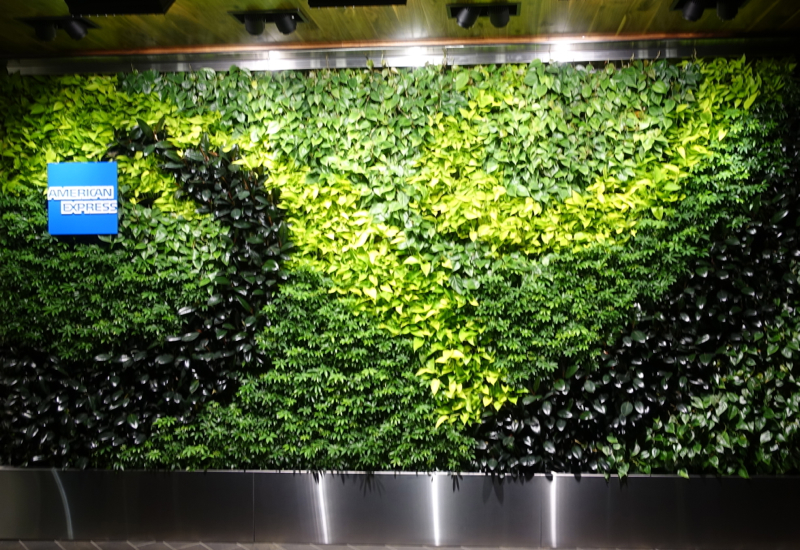 AMEX Centurion Lounge Houston IAH Amenities and Seating
If you've visited other AMEX Centurion Lounges, you'll be familiar with the WiFi password, which is currently at time of writing "MemberSince." WiFi worked fine for my purposes of email and small file uploads.
On the right as you enter is lounge seating that seemed to largely go unused during our 1.5 hour visit.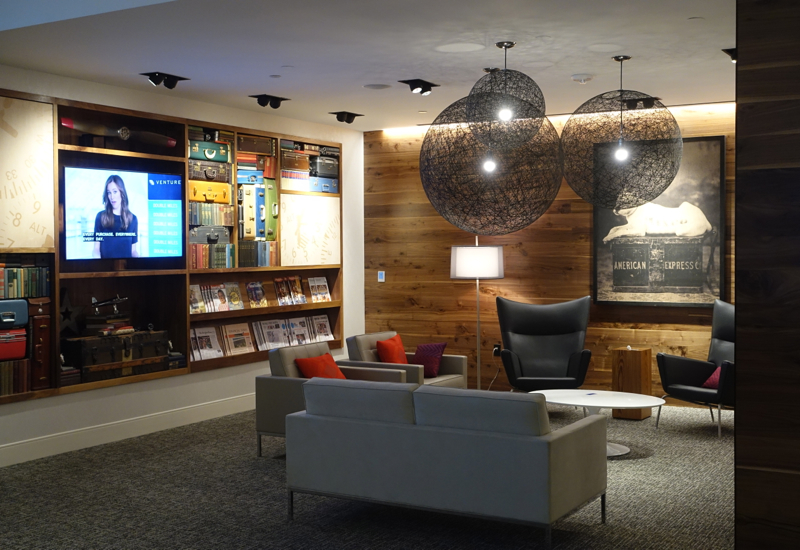 Just next to it is a Family Room / Kids' Play Room, which some of the other AMEX Centurion Lounges have as well. I think it's great for families with young children, and is bound to keep business travelers happier as well, since kids have some place to be kids–build, be silly, rest, read etc.–without disturbing those who are trying to get work done. And while I didn't see any really young kids during our short visit, given the somewhat messy state of the family room it certainly looked as though it had seen some use earlier in the day.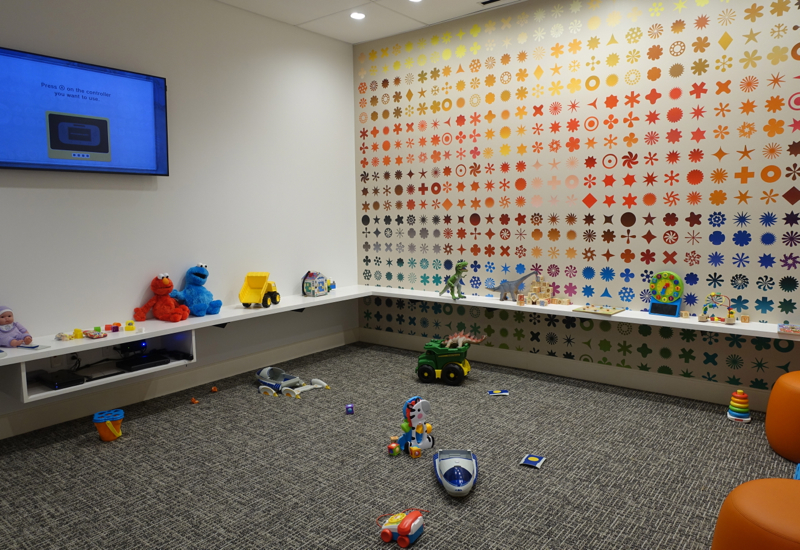 There was additional seating next to the Family Room, as well as some black sofa type seating that I've seen before at other AMEX Centurion lounges, with handy power outlets to plug in devices.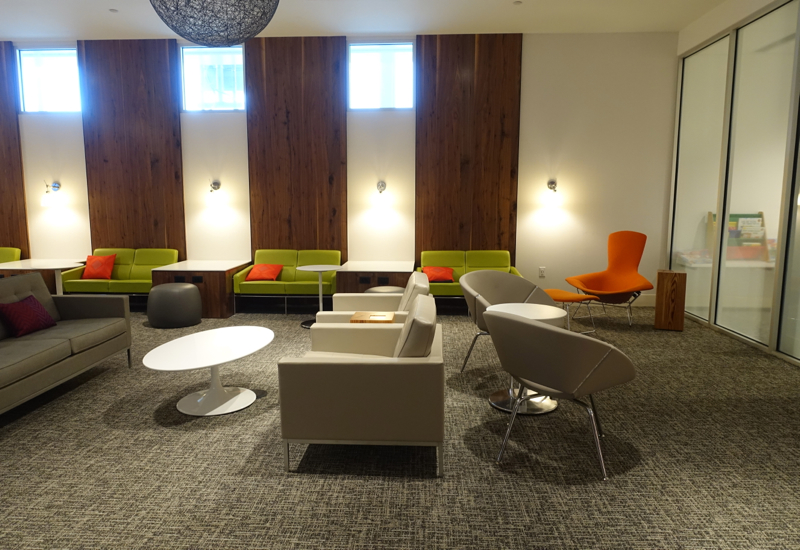 What we really loved and didn't even know about until a kind lounge staffer saw my son flagging in the dining area, is that there's a rest area with day beds that can be used for a quick nap. I can't tell you how welcome this was. I slept several hours on our Moscow to Houston flight, but even though I ensured my son rested with his sleep mask on, he never did fall asleep apparently. So he was tired by the time we got to Houston, and was able to actually sleep some on one of the three day beds.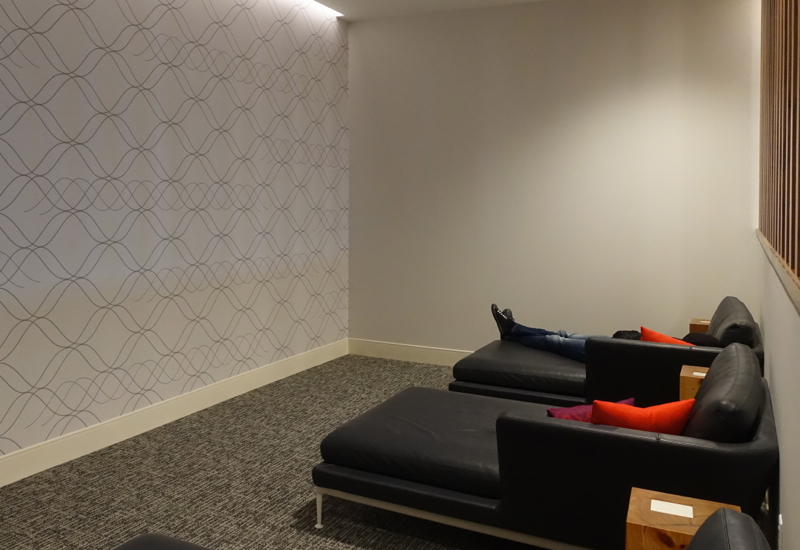 There's also a shower suite which is accessible for the mobility impaired. To access it, check with the front desk when you arrive at the lounge for availability. Here's the suite, which is one large room with a toilet, sink, ottoman where clean towels are placed, and the shower.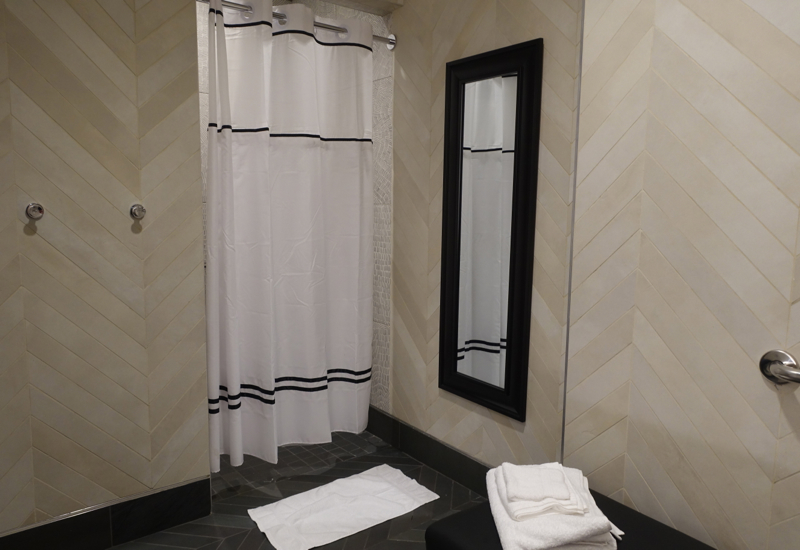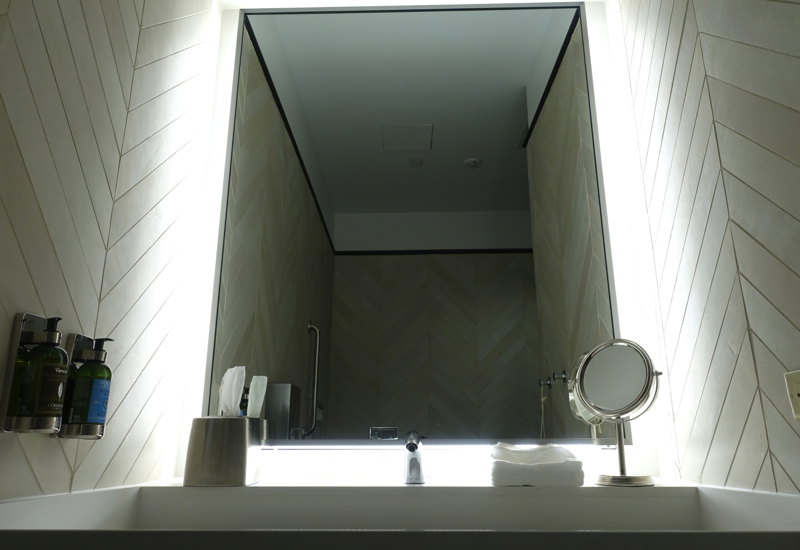 The shower itself took a minute or so to warm up and I've had better water pressure, but it was very refreshing and welcome to have shower facilities.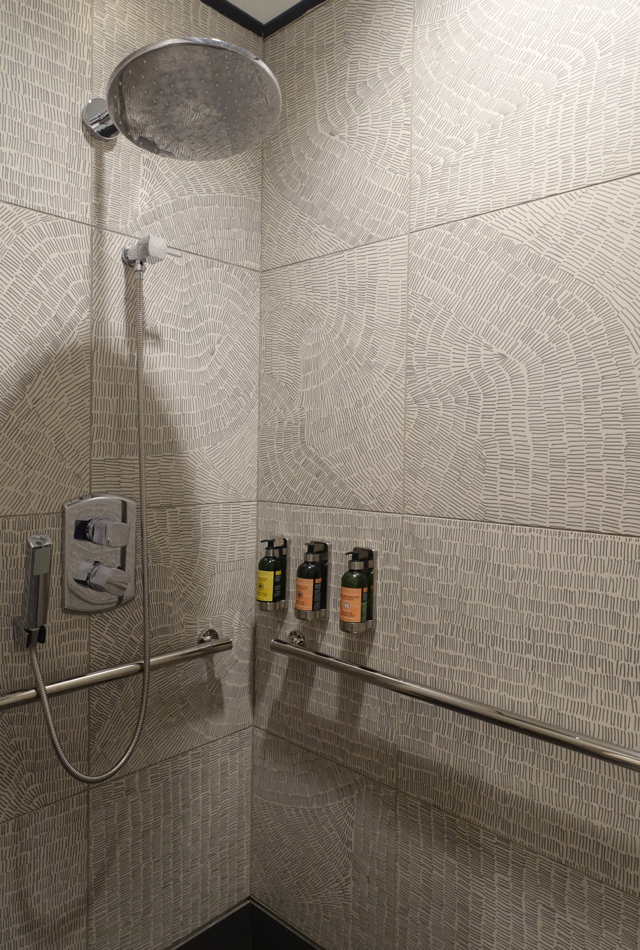 L'Occitane bath products are provided: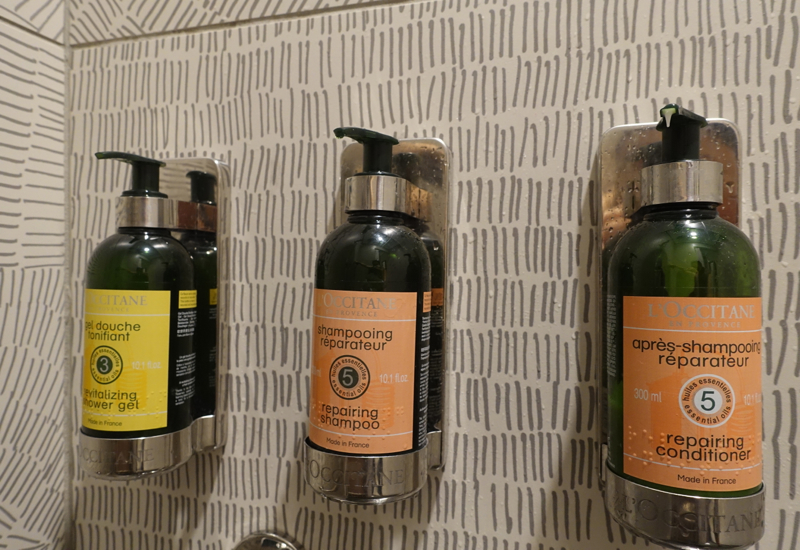 AMEX Centurion Lounge Houston IAH Food and Drink
The dining area is anchored at one end by a map artwork with a communal table: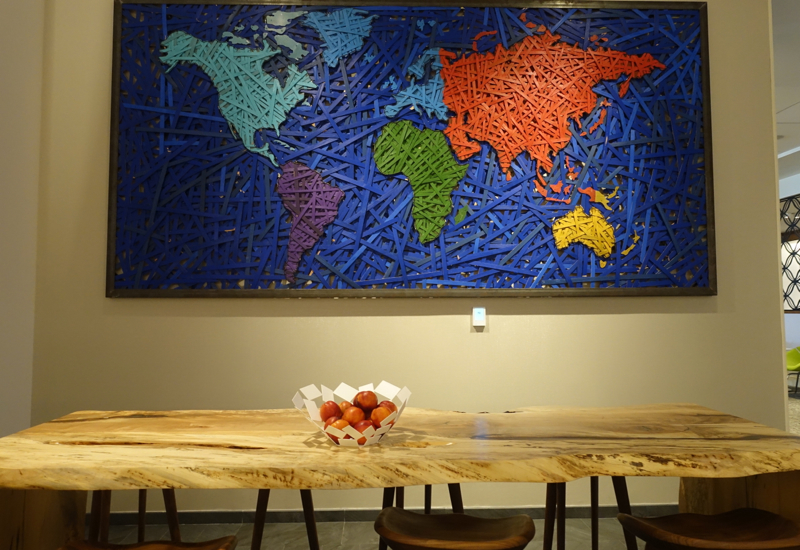 And also by the bar, where a bartender was available to mix complimentary cocktails (menu below). On the opposite wall is a banquette, the most comfortable option for the dining tables.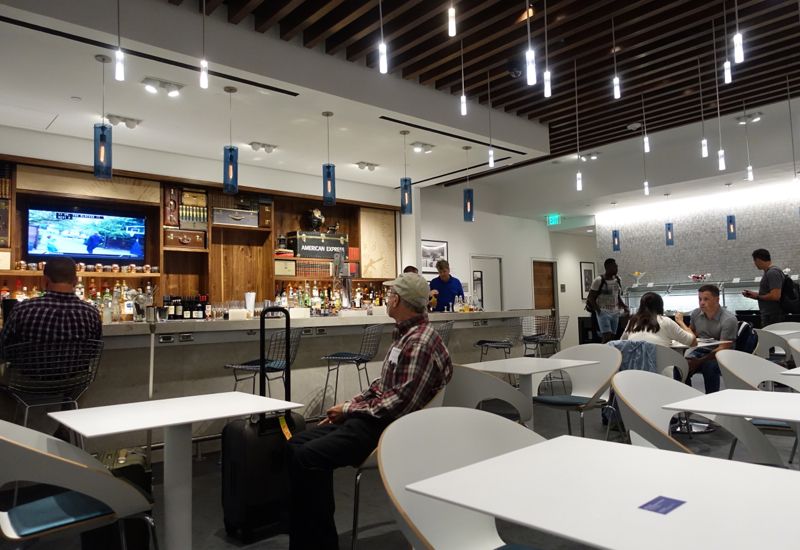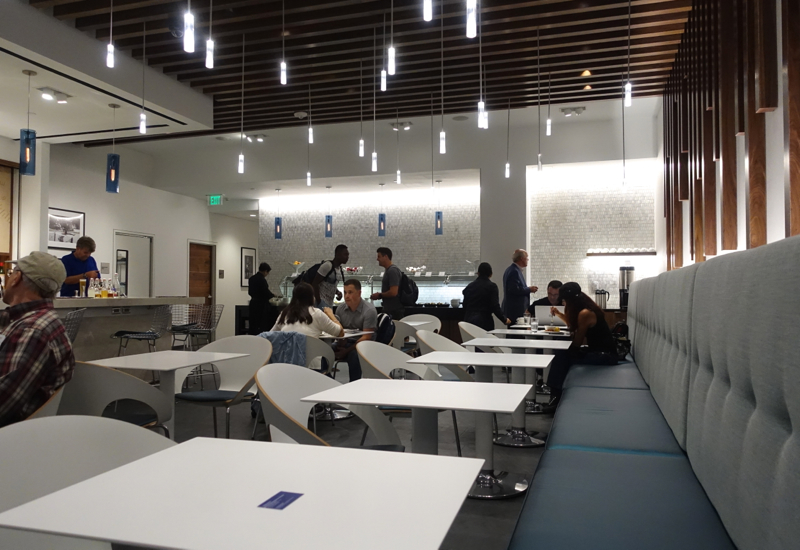 The cocktail menu by mixologist Jim Meehan looked intriguing, and had I not been coming off a long international flight and trying to stay hydrated, get work done, and take care of a tired 8 year old, I would have tried one of the selections.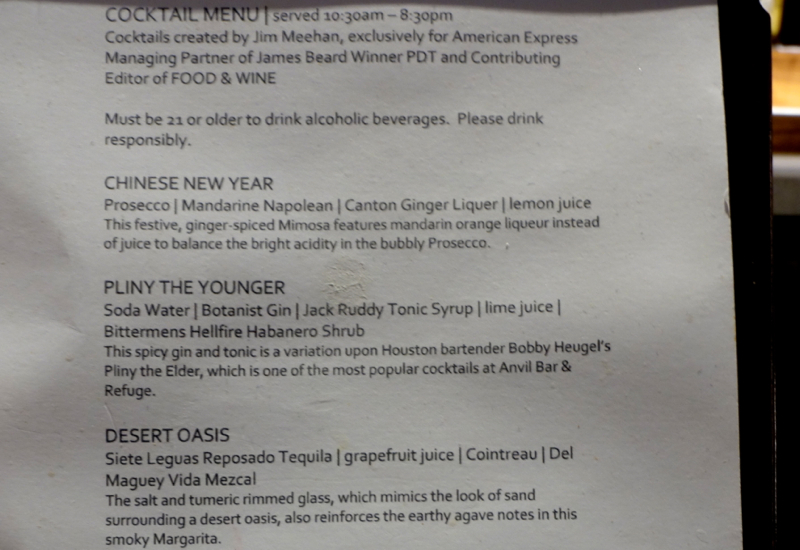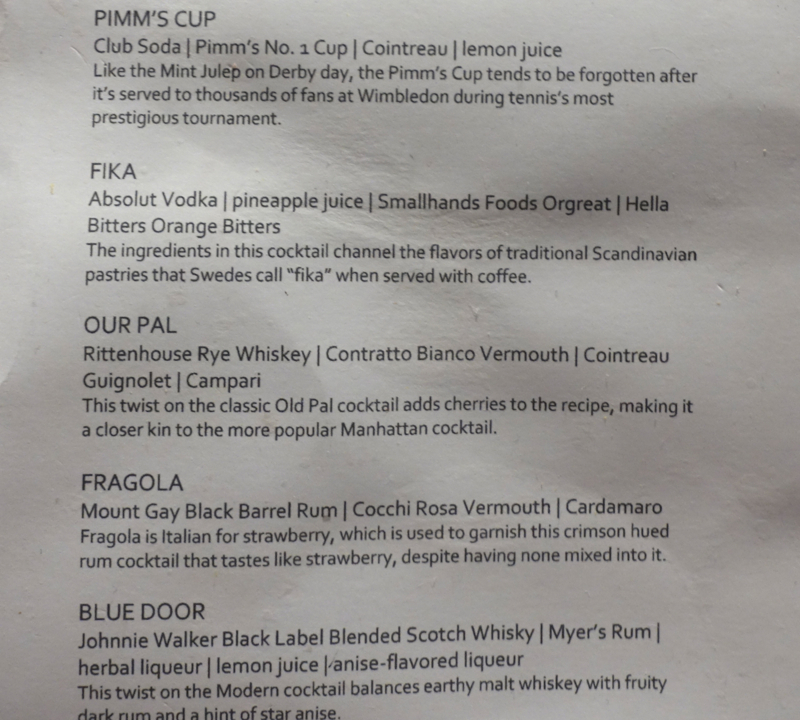 As it was, we decided to refuel slightly. My son wasn't that hungry and at my urging had some healthy salad and fresh fruit: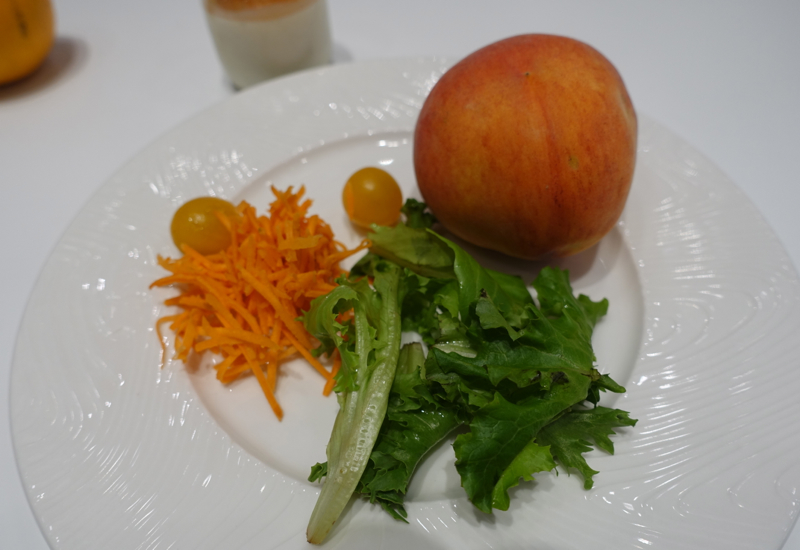 The buffet featured some nice flavors on the buffet, including braised chicken with harissa, dried fruit, nuts and avocado crema and chickpea and egg stew.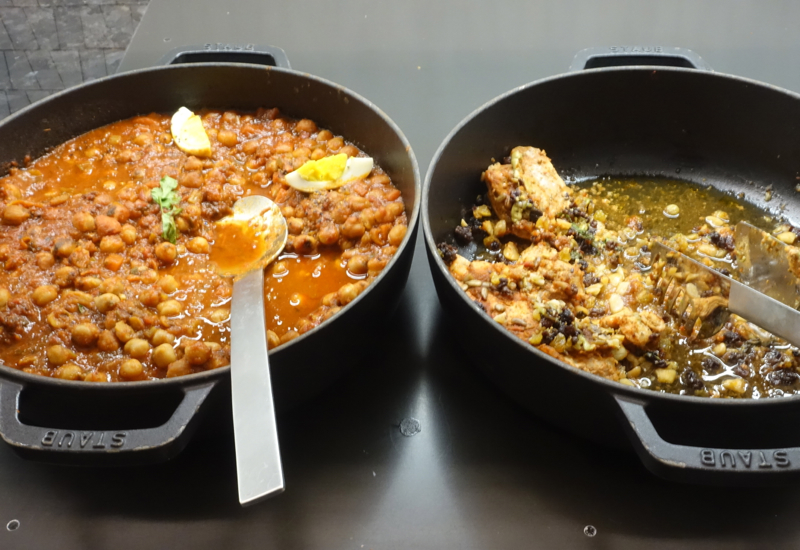 I like that there's always plenty of salad, such as these beets with savory granola and spiced yogurt, as well as other fresh vegetables and fresh fruits offered in Centurion Lounges.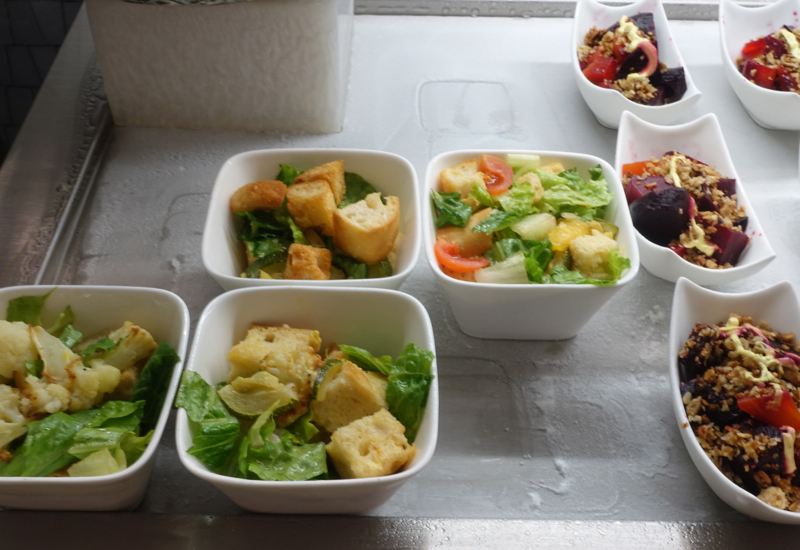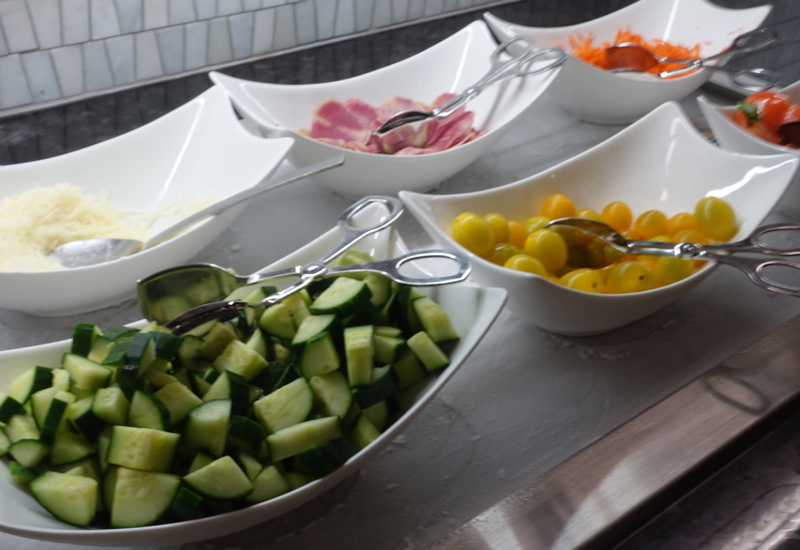 There was also steamed zucchini and summer squash, quinoa and corn on the cob, as well as mushroom broth with miso, that I didn't try.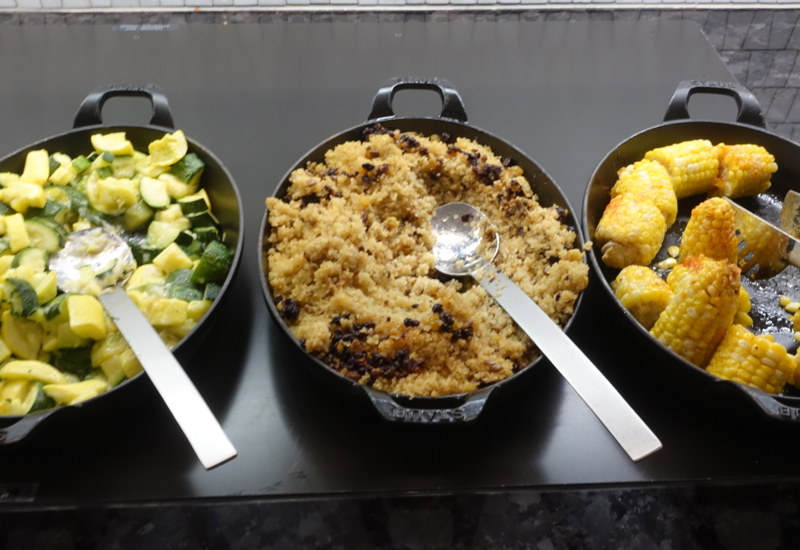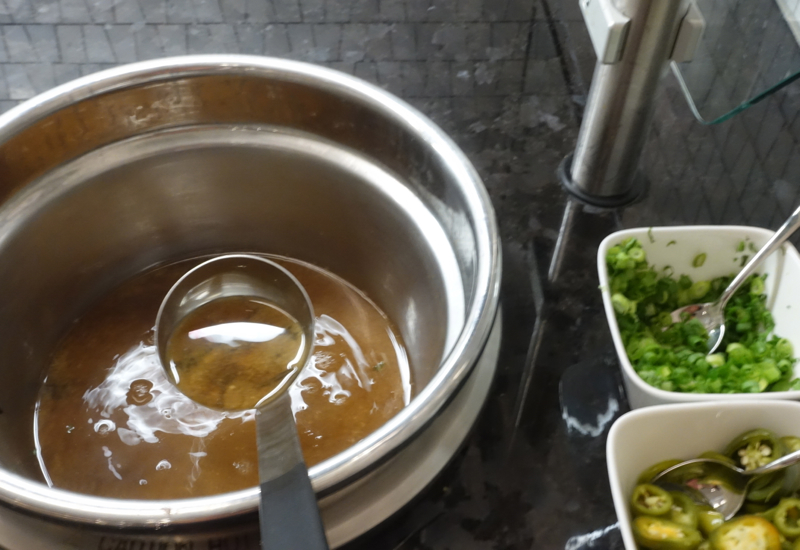 Even the dessert had an interesting twist: black bepper panna cotta with vanilla poached stone fruit. Normally I'm not a fan of panna cotta, but the flavor combination here was delicious.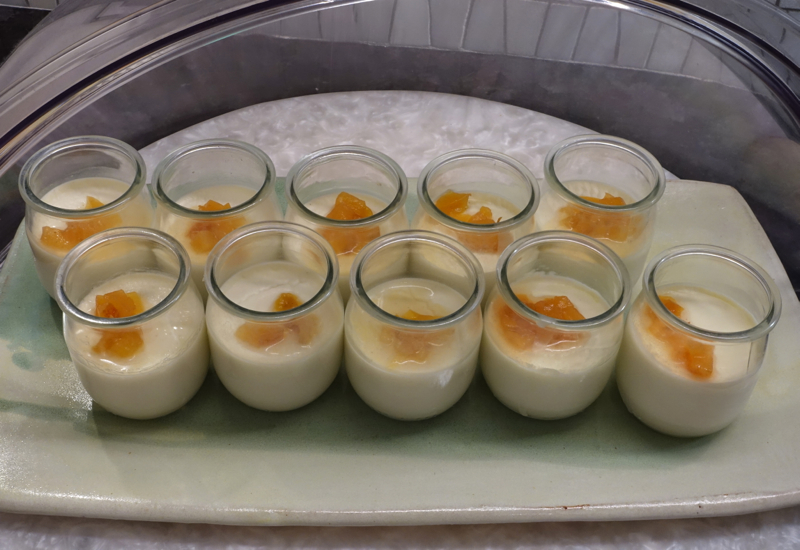 The teas in this lounge were Twinings, and not Mighty Leaf, which I prefer, so I didn't have my usual tea.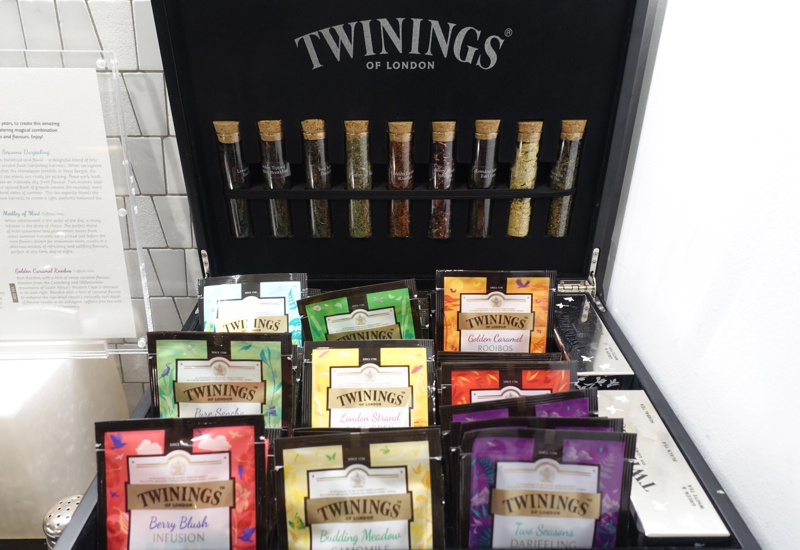 Instead, I opted for a decaf cappuccino with lowfat milk, which you could select from the many espresso drink options on the adjacent coffee machine.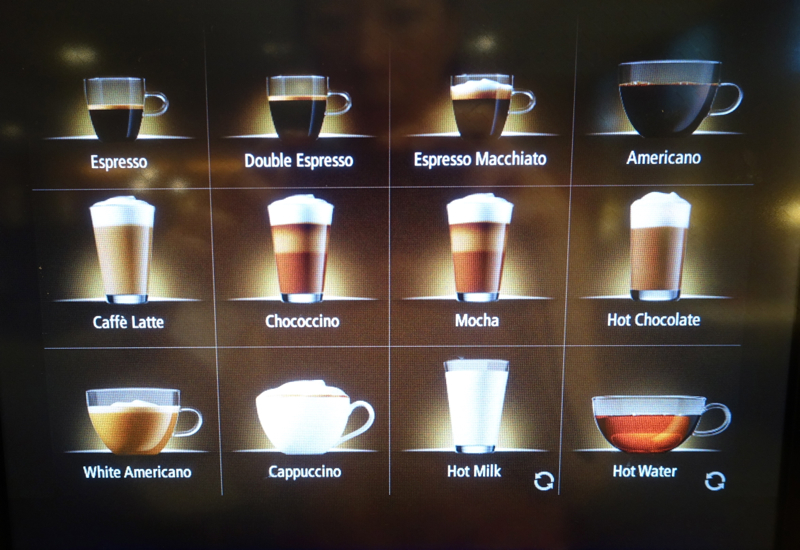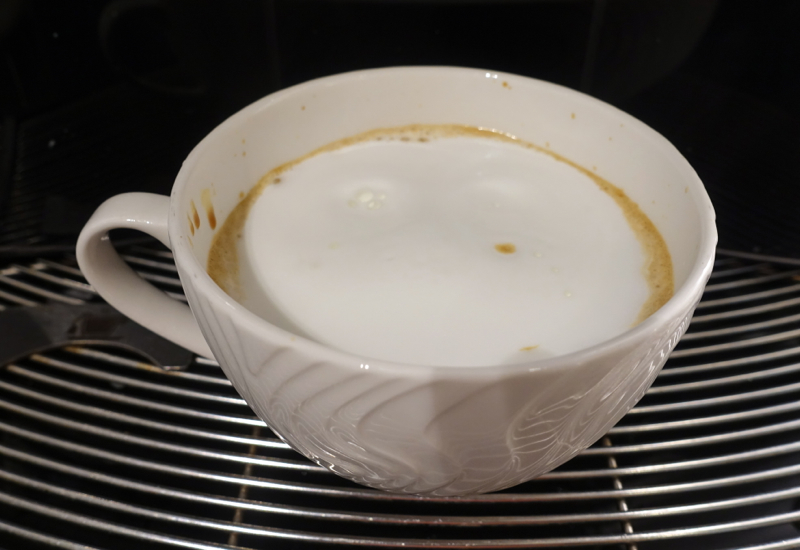 There were also some bar cookies, but these were practically rock hard, and not as good as the brownies that are usually on offer at Centurion Lounges.
If you prefer a cold drink such as iced tea or infused water, that's available as well: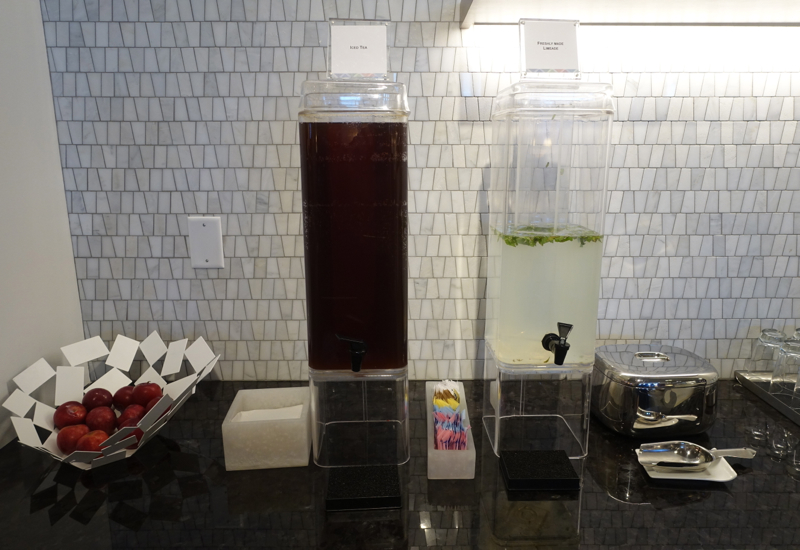 The Verdict
I enjoyed our visit to the AMEX Centurion Lounge in Houston IAH more than most of my other AMEX Centurion Lounge visits, for a few reasons. We were fortunate in that the lounge wasn't very crowded during our mid-afternoon visit on a Tuesday, and a less crowded lounge is always much more pleasant. Also, as I mentioned, the tranquility area with its day beds was fantastic, and my son actually slept there for about 40 minutes. I also was happy to be able to take a shower (most of the larger AMEX Centurion Lounges have a shower suite) and L'Occitane bath products are among my favorites, so that's another plus.
Food and drink is another big highlight at AMEX Centurion Lounges, and my favorites of the current menu were the braised chicken with harissa, the beets with savory granola and spiced yogurt, and particularly the black pepper panna cotta with vanilla poached stone fruit. The cocktail menu looked good, and would be happy to hear from readers who have tried any of the concoctions on their recent visit to the new AMEX Centurion Lounge in Houston.
Related Posts
Review: AMEX Centurion Lounge San Francisco Airport SFO
Review: AMEX Centurion Studio Seattle Airport SEA
Review: AMEX Centurion Lounge in New York LaGuardia
Review: AMEX Centurion Lounge in Las Vegas
Need Award Booking Help? Our fee is as low as $75 per ticket if you book your hotel or cruise with TravelSort.
If you enjoyed this, join 200,000+ readers: please follow TravelSort on Twitter or  like us on Facebook to be alerted to new posts. 
Become a TravelSort Client and Book 5-Star Hotels with Virtuoso or Four Seasons Preferred Partner Benefits