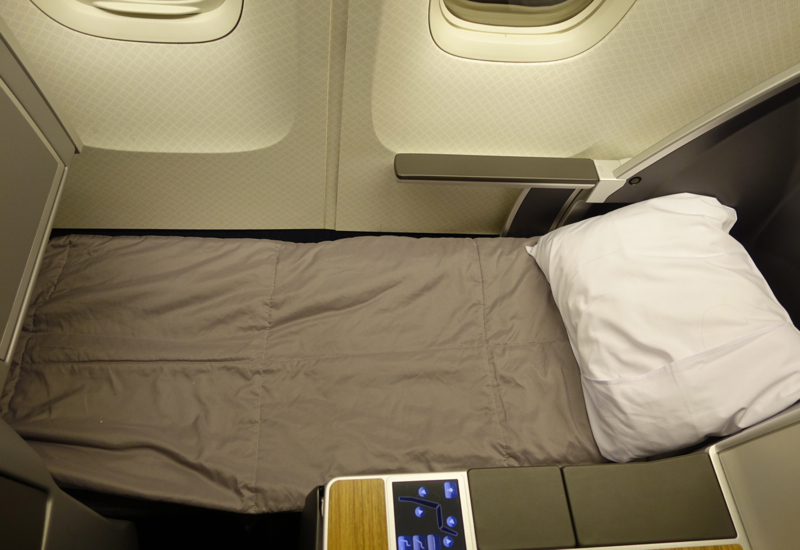 This American 767-300 Business Class review for a flight to Europe from NYC JFK is part of a trip report. For the prior post, please see Review: American Airlines Admirals Club Lounge JFK Terminal 8. While this wasn't an aspirational award, it was useful to us as a positioning flight, and the seats are flat bed so I knew that my son, at least, would get a few good hours of sleep.
American Airlines 767-300 Business Class Cabin and Seat Selection
American's 767-300 Business Class with flat bed seats has 28 seats, 4 across in a 1-2-1 configuration, with 7 rows of staggered seats, each with direct aisle access. What you may not realize from the Seatguru seat map is that even numbered rows have the window seats right next to the window, with a table on your left, close to the aisle, while odd numbered rows have the seat close to the aisle, with the table near the window.
On night flights when you're trying to get some sleep, I recommend selecting an even numbered row so as to get a seat by the window, as it will feel more private.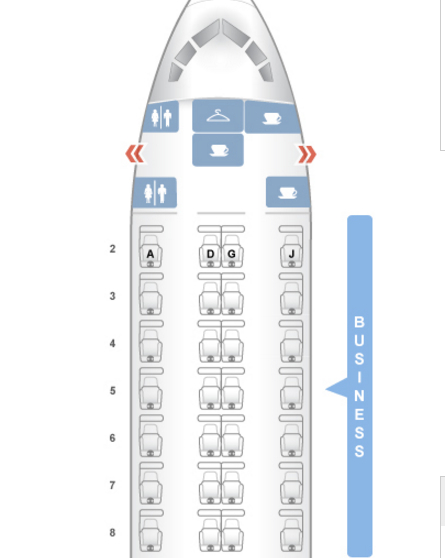 AA 767-300 Business Class Seat Map, Courtesy SeatGuru
If you're a couple traveling together, you'll also want an even numbered row, since these seats are close together with the tables by the aisle. If all the window seats are taken and you're a solo traveler, you may well prefer an odd numbered row, as your table and your neighbor's table will be between your seats.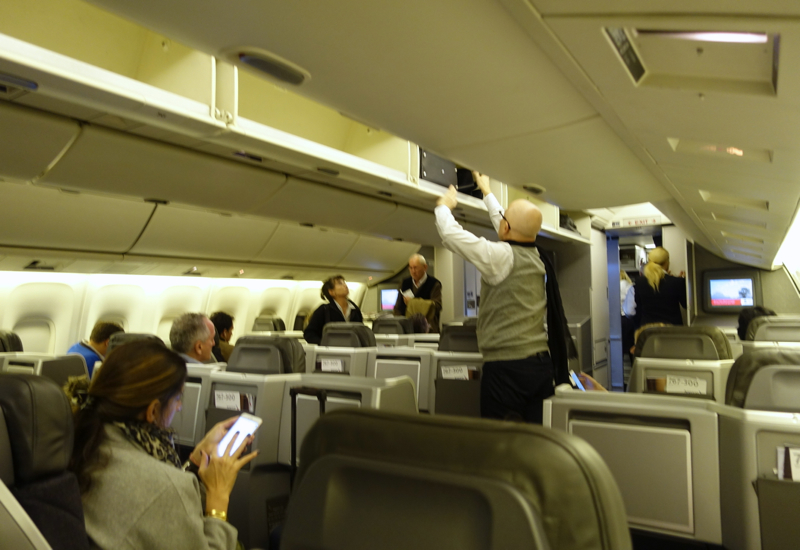 American Airlines 767-300 Business Class Seat
This is business class, not first class, so expect seats to feel very narrow, at 20 inches across. That's the same as an airberlin Business Class seat and British Airways Business Class, both of which are also 20 inches in width, a bit less than SWISS Business Class seats, which are 20.5 inches in width, but a lot less than Singapore Business Class on the A380, where seats are a generous 30 inches in width.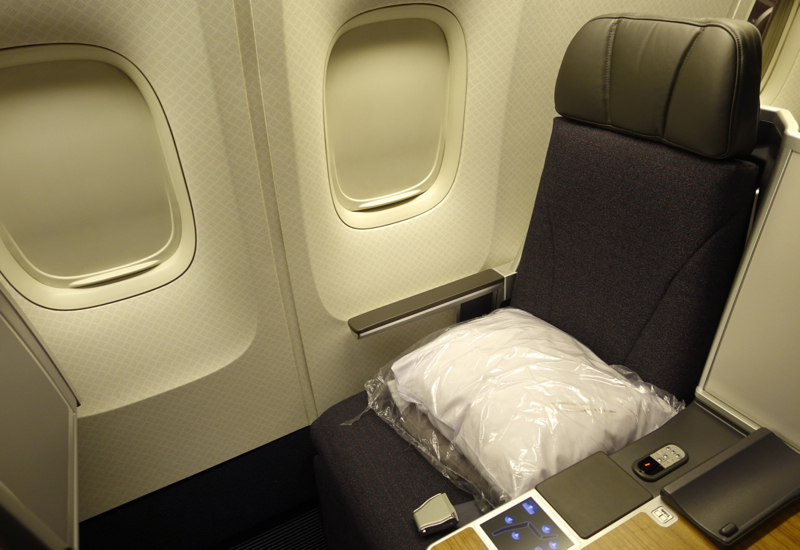 Seat controls are straightforward and thankfully my seat this time was fully operational, including the tray table: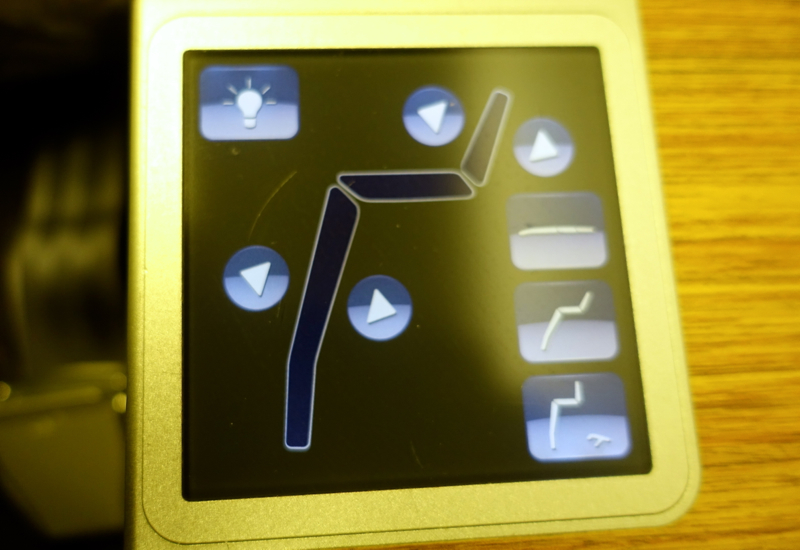 The flight attendant did have to ask a colleague for help in opening the tray table, since it's not the most intuitive design. In fact, given that it was impossible to get in and out of the seat with the tray table up, I opted to use the table next to my seat for dining.
American Airlines 767-300 Business Class Food and Menu
Prior to take-off we were offered a pre-flight drink, and as usual, for business class (where the champagne isn't worth drinking) I chose water.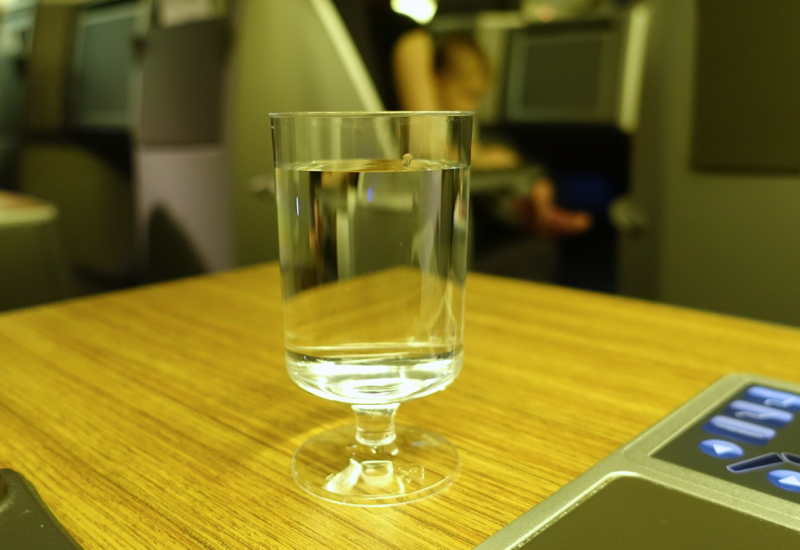 We were also given menus. I hadn't pre-ordered a meal selection, though it is possible to do this, if you select it more than 24 hours in advance. By the time the flight attendant got to my row, row 6 (the 5th row of 7, since the first row is numbered as row 2) the halibut choice was no longer available, but I didn't want it anyway since fish is usually overcooked on airlines.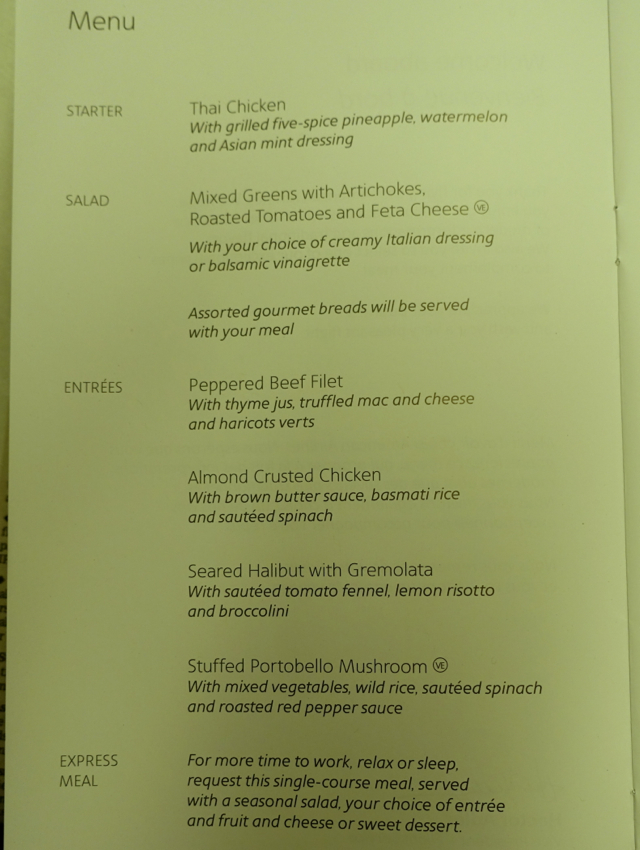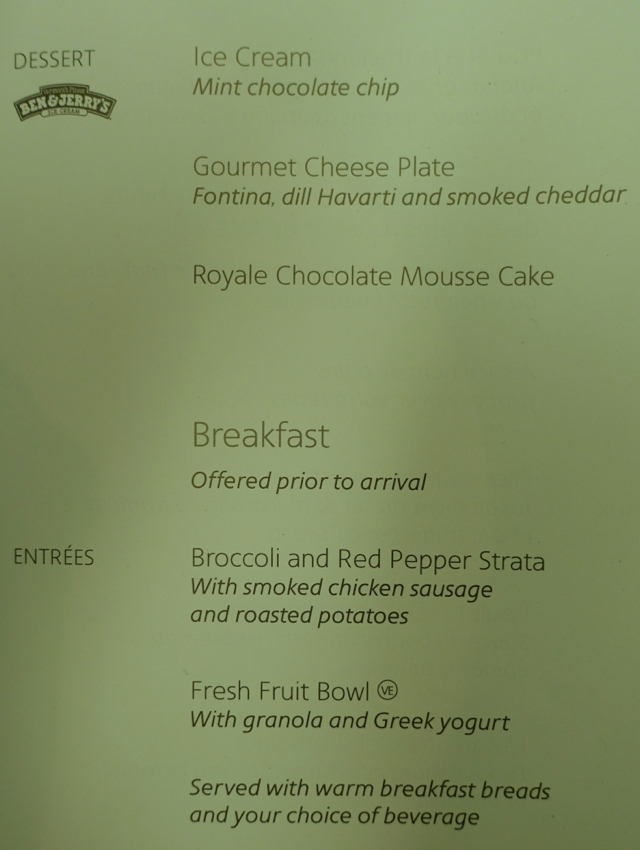 I asked about the Express Meal option, which appealed to me as a way of getting the entire meal earlier, though the same flight attendant who didn't know how to help me open my tray table without a colleague's assistance also was confused by the Express Meal option, telling me she wasn't sure it included a hot entree (although the description stated it did) and stating that she'd never had anyone order the Express Meal option before.
Fortunately one of her colleagues did explain the Express Meal option to her, and I was able to order it. In fact, I was impressed by how quickly it came out, after we were at cruising altitude–long before others were offered even their appetizer–and the more senior flight attendant who served it was very friendly when I thanked her for how quick it appeared.
While the beef was rather chewy and not that good, the truffle mac and cheese was good for business class, as was the appetizer. And I certainly appreciated the Ben & Jerry's mint chocolate chip ice cream, one of my favorite flavors.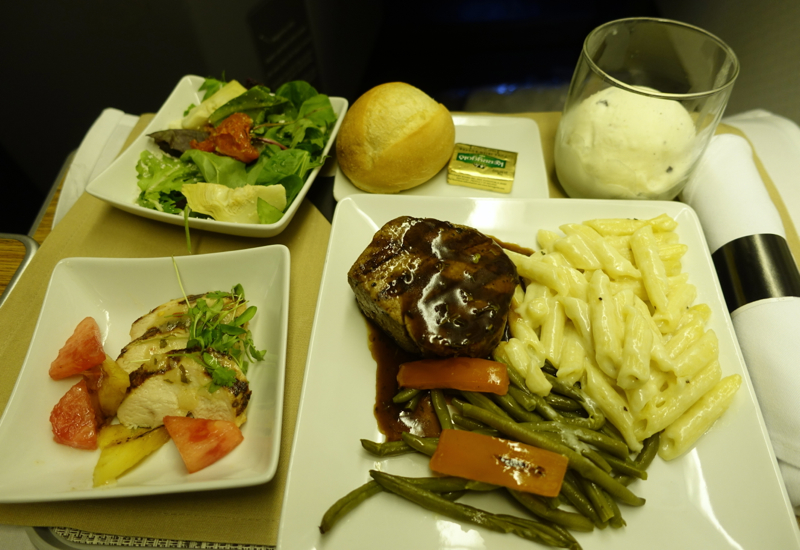 Breakfast wasn't impressive, but one doesn't expect it to be, in Business Class. The Yoplait yogurt was pretty awful, but at least the fruit plate included a few berries, in addition to the ubiquitous cantaloupe and some sad looking pineapple. And the granola was decent.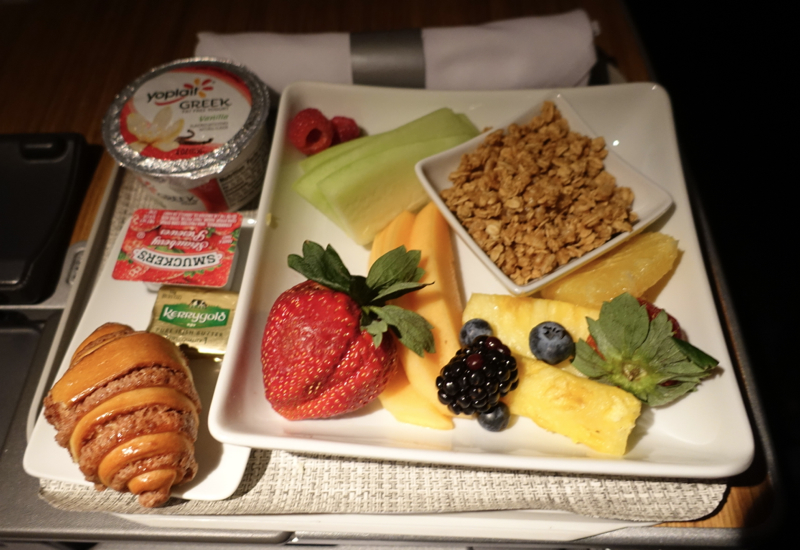 American Airlines Business Class Amenity Kit
I was pleasantly surprised by the AA Business Class amenity kit, probably because it's the same as the one used for AA First Class (or so I've heard; I've not flown American international First Class yet). It won't win any awards vs. Asiana's Bulgari products, JAL's Shiseido skincare or Qantas SK-II anti-aging skincare products, but it did cover all the basics–toothbrush and toothpaste, tissues, lip balm, socks, earplugs, sleep mask, and even a pen, handy for filling out immigration and customs forms. The one omission seemed to be a comb, which wouldn't be expensive to provide and comes in handy if you've forgotten one.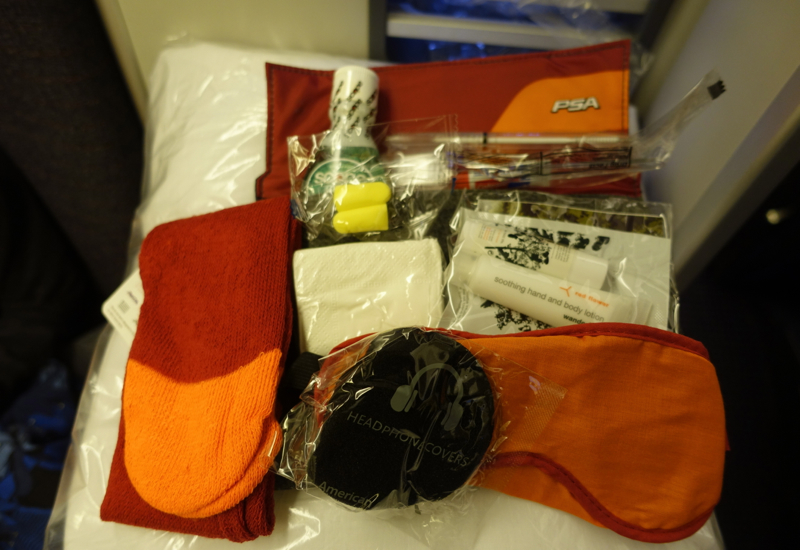 American Airlines 767-300 Bed and Sleep Quality
While certainly not my favorite business class bed (that would be JAL Skysuite Business Class, with its comfortable memory foam mattress) American Business Class on the 767-300 was decent, as far as the seat padding goes, though there's no getting around how narrow the seat and bed are. The cabin was on the cool side, so I ended up using the duvet as a sleeping bag, with one layer on the bed to provide a bit more cushion, and the other as a blanket layer on top.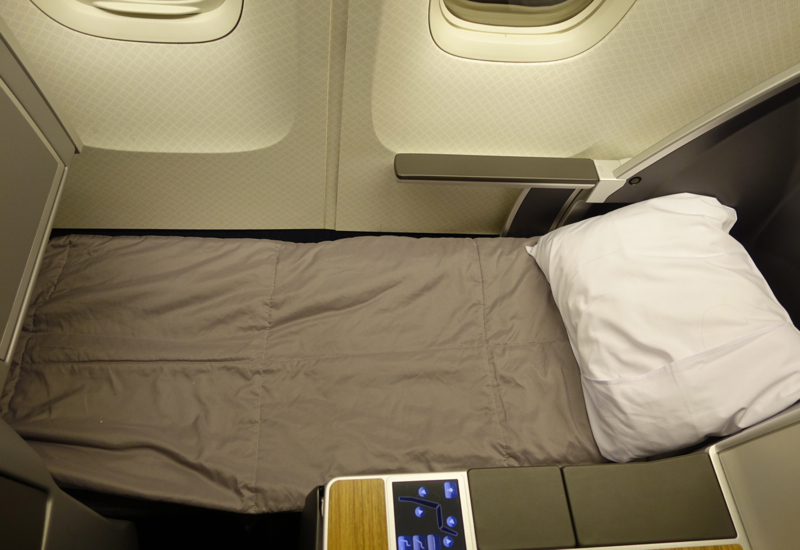 The one thing I really didn't like was that my pillow, even though packaged in plastic, was dirty on one side: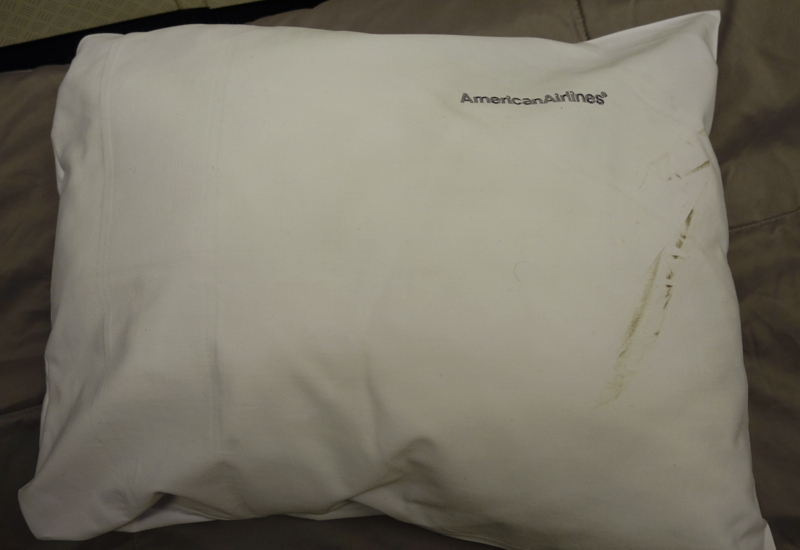 American Airlines 767-300 In-Flight Entertainment
One of the most awkward things about American's 767 Business Class is that there's no built-in IFE. Instead, there's a Samsung Tablet that plugs in. I understand not wanting to add the rather significant weight and cost of built-in IFE, but the current setup leaves a lot to be desired. Several times my tablet became disconnected from the power source and ran down the battery until it stopped working and had to be reconnected. I saw others experiencing similar and other problems, which is not something you expect or want, in Business Class.
One working, there was a good selection of films, which went beyond New Releases to include other categories, such as Academy Award Winners and Arthouse Films.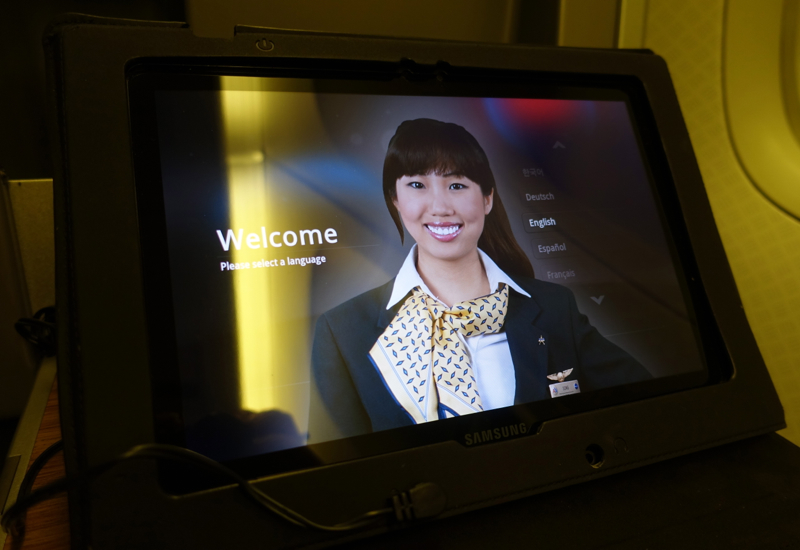 The Verdict
While I had mentally braced myself for potentially abysmal service and food, we actually had a very good American Business Class flight, in the context of a U.S. carrier. The seat was narrow but pretty comfortable for international business class, the amenity kit had almost everything you needed, the food wasn't great but had some highlights, such as the Ben * Jerry's ice cream, and while my flight attendant seemed a bit clueless, at least she and the more senior flight attendants were friendly.
If you've flown American Airlines 767-300 Business Class recently, what was your experience?
Review: American Airlines Admirals Club Lounge JFK Terminal 8
American AAdvantage 2016 Award Chart Devaluation
American Airlines eVoucher Compensation and eVoucher Rules
American AAdvantage Award Ticket Change Fees Explained
Our 2015 Progress Towards 1 Million Frequent Flyer Miles and Points
Need Award Booking Help? Our fee is as low as $75 per ticket if you book your hotel or cruise through us.
If you enjoyed this, join 200,000+ readers: please follow TravelSort on Twitter or  like us on Facebook to be alerted to new posts. 
Become a TravelSort Client and Book 5-Star Hotels with Virtuoso or Four Seasons Preferred Partner Amenities!