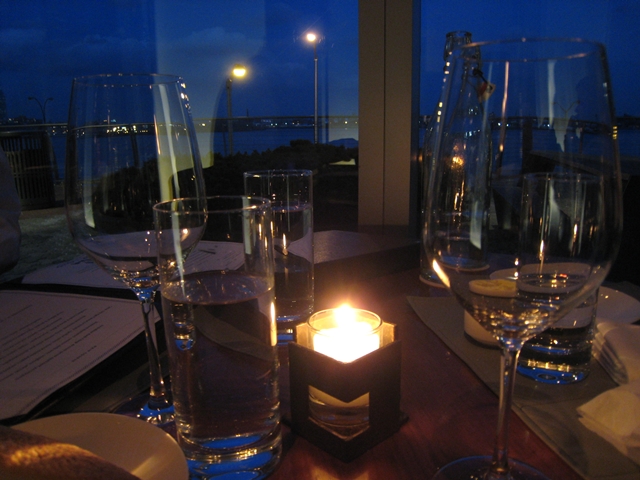 Riverpark was my favorite NYC Summer Restaurant Week meal last year (see my Riverpark NYC Restaurant Week Review), so we also couldn't resist booking it again for NYC Winter Restaurant Week 2013. We were happy that Riverpark participated for Sunday dinner, since it's a better night for us than Friday for an early family dinner.
As usual, we reserved via OpenTable and requested a table near the window. We arrived soon after the restaurant had opened for dinner, and the friendly hostess led us to our table for three by the window. Even at night, I enjoyed the river and city lights. My husband found the chairs a bit uncomfortable, although they didn't bother me. There are some tables with a couch on one side and chairs on the others that probably are a bit more comfortable though if you're tall.
Our server soon came to introduce himself, asked our water preference, and presented us with food and wine menus. One thing I truly love about Restaurant Week at Riverpark is that it's the regular menu, so tons of choice, with a few items requiring supplements.
That, to me, should be the model for all restaurants that are interested in doing NYC Restaurant Week right: make sure that most things fit within the scope of Restaurant Week pricing, and for those that have more expensive ingredients, offer them with a fair supplement. That way you actually showcase the restaurant's best dishes, instead of disappointing potential customers with subpar dishes. Ok, NYCRW rant over.
Here's Riverpark's Restaurant Week Menu: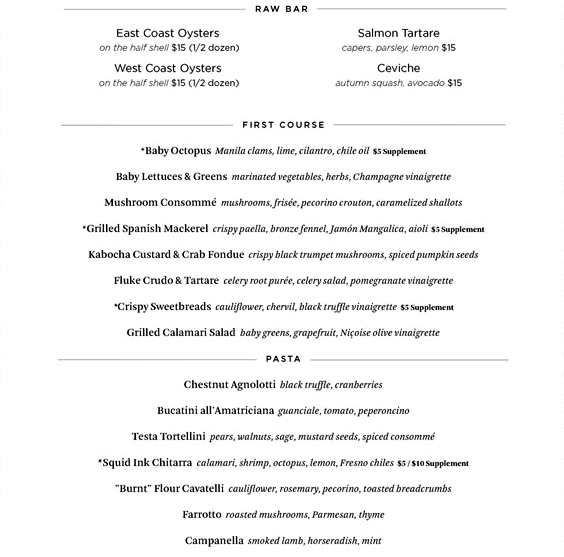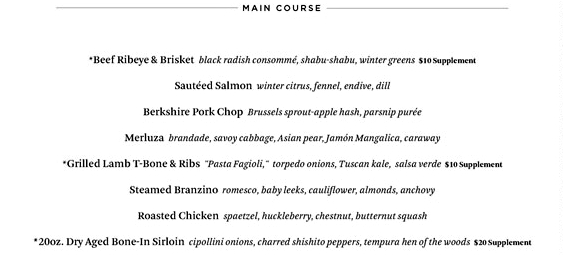 We ordered our food first, then I retrieved a pear from my purse so the munchkin could munch on that while waiting for bread. We'd had a near melt down before heading out to dinner, so bringing our own food supply was critical to ensuring peace and munchkin happiness. As soon as fresh bread rolls and butter were brought, and the munchkin had some buttered bread, he was completely back to being a happy camper. I'll probably be yearning for these days when he's a teenager and isn't quite as easy to satisfy with fresh bread and butter.
Meanwhile, my husband and I opted to split a glass of Gruner Veltliner (Domaine Wachau 2010) to go with our appetizers, and a glass of Cabernet Sauvignon (Penalolen, 2009) with our entrees. Our server attentively asked if we'd like them split in two separate glasses, which was a nice touch, even though we're also fine just sharing a single glass. I especially enjoyed the Gruner Veltliner, which was nicely balanced and just crisp and refreshing enough. The Cabernet was solid, although I enjoy the Layer Cake Malbec we drink at home (courtesy of Trader Joe's) more.
After finishing reading a story with the munchkin, our appetizers arrived. We both decided to order pastas, which can be either an appetizer or an entree as part of the Restaurant Week Menu. My husband thought he'd ordered pesto tortellini, when in fact he'd misread the menu and ordered Testa Tortellini. It was beautiful in presentation, although it was definitely our least favorite of all the dishes we tried. Although ostensibly it had a pork belly filling, I didn't find it to be that tasty or unctuous, as I would have expected. I'd suggest giving this a miss–and don't make my husband's mistake of thinking it's pesto!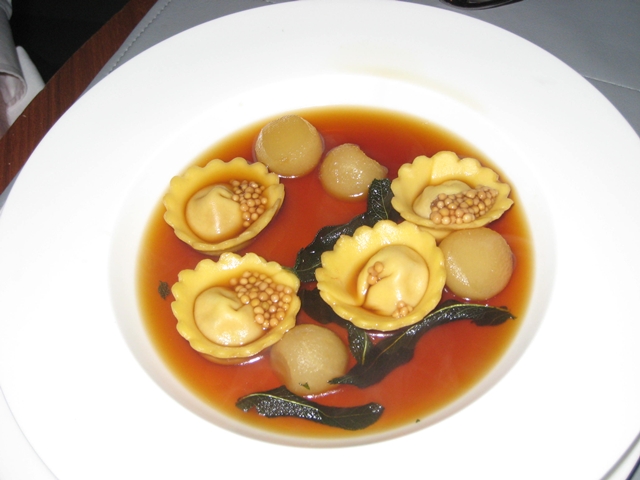 I loved my own appetizer, however: Squid Ink Chitarra, with housemade squid ink pasta tossed with generous helpings of shrimp, calamari, octopus, lemon and Fresno chiles. Wholly worth the $5 supplement, and my husband pronounced it the best thing he'd tasted in a long time. While I got the munchkin to eat a couple bites of shrimp, he made a face when he came to one with apparently a bit of flavor from the chile, and refused to eat any more, reverting to bread and cheese. So, not the most child-friendly dish, but a must-try for anyone who enjoys fresh pasta with seafood and some heat.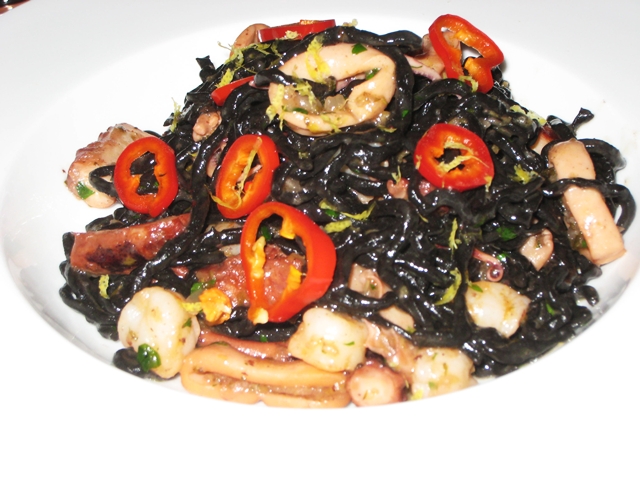 For our mains, my husband chose the Roasted Chicken with Spaetzle, Huckleberry, Chestnut and Butternut Squash. I usually avoid picking chicken when dining out, since it seems so ordinary, but even I had to admit Riverpark excels at turning what could be boring into a fantastic palette of flavors. The chicken was perfectly cooked, moist, and as good or better than the organic chicken I buy. And the huckleberry, chestnut and butternut squash were the perfect fall/winter flavors to take the dish to the next level. I think the only restaurant chicken I'd rather have would be the whole chicken with truffles, brioche and foie gras at Daniel Humm's The Nomad, but that's an $80+ dish, so it ought to be pretty darn amazing.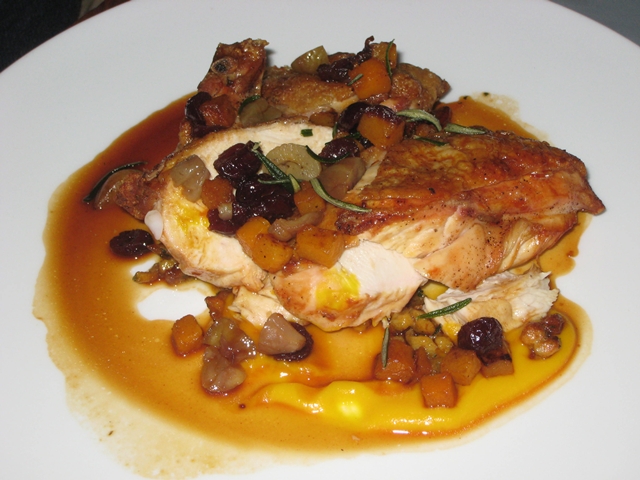 I was even more pleased with my Berkshire Pork, which has never once disappointed me in the various incarnations I've tried at Riverpark. This time, it came with a hearty brussels sprout apple hash, parsnip puree, and even crispy sage leaves–divine. The munchkin thought so as well, and without hesitation devoured every piece I put in front of him.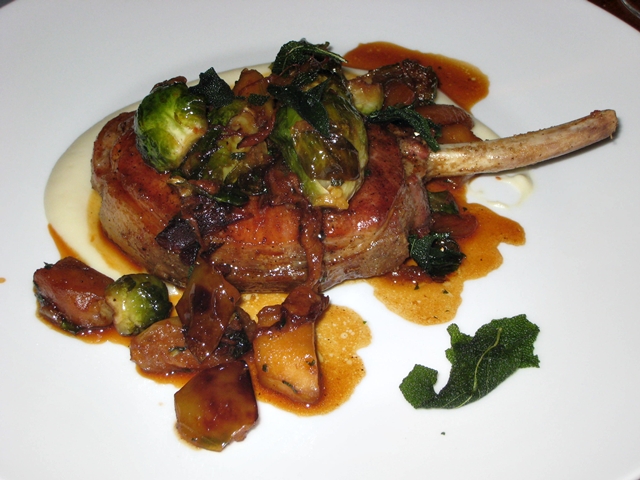 On our past visits to Riverpark, I've felt that the main thing letting the restaurant down was its desserts. On our first visit in 2011, it was painfully clear to me that the restaurant didn't have a pastry chef. Well, fast forward to the present and the desserts are on par with or better than those I've tasted at any other farm to table restaurant in NYC. Our first must-have choice was the Chocolate Souffle Cake with Coffee Ice Cream, which was better than most other chocolate souffles I've had, apart from a really incredible one at Metis in Seminyak on Bali. It was also the perfect amount, given we were sharing with each other and the munchkin.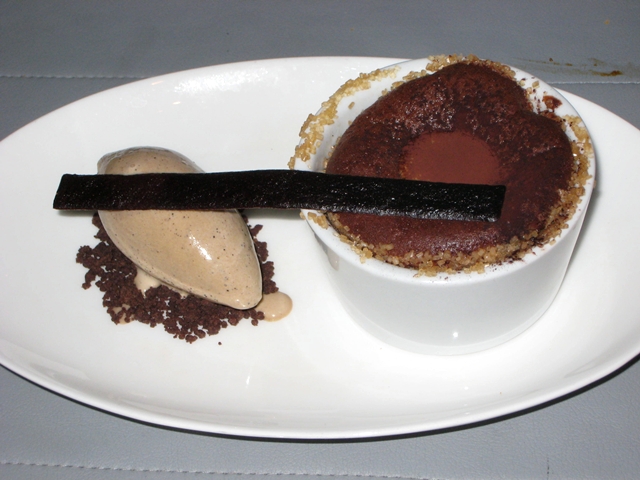 For our second dessert, I chose the Date Sticky Pudding with Salted Caramel and Kumquat. Originally it was supposed to come with yuzu ice cream, which I was open to trying but knew the munchkin wouldn't be keen on, so I asked if we could substitute the housemade gianduja ice cream, and our server happily obliged. In fact, I'd say the gianduja ice cream probably stole the show of this dessert, although the moist date pudding was delicious as well. If I'd been plating, I probably would have added a bit of salted caramel sauce over the sticky date pudding to take it up a notch, and would have taken the kumquat off the plate. It was innovative, and perhaps it does work when paired with yuzu ice cream, but to me at least the citrus notes detracted a bit from the date sticky pudding. But these are truly minor quibbles, given how much more satisfying both desserts were than the ones the restaurant originally started with back in 2011.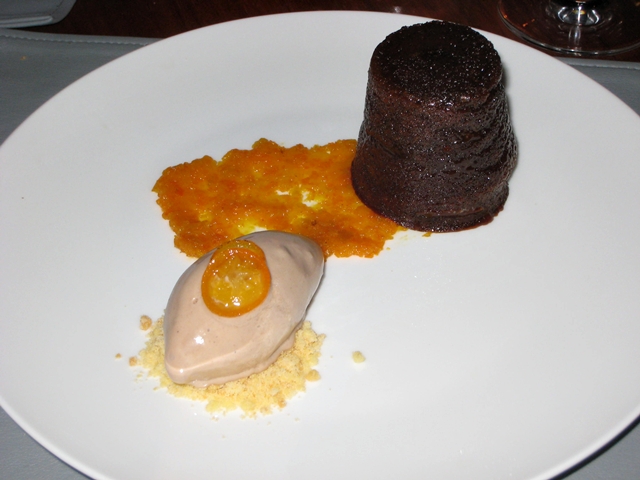 The Verdict: This is the only NYC restaurant where I knew that the $38 Restaurant Week Dinner menu would be worth it. Not only are portions generous, preparations are creative yet still restrained, letting the quality of the ingredients shine through, and service is friendly and knowledgeable. While there's no outdoor terrace in winter, the floor to ceiling windows and city lights still makes for a lovely setting. The main disadvantage, as I've noted in my prior reviews, is the location at 29th and York in an austere office park, and currently there's a giant crane and some construction going on (although not actively going on at night, which is why dinner is a better choice for now). But once you're there, you're in for a treat.
If you've tried Riverpark either for Restaurant Week or any other time, what was your experience?
Related Posts
NYC Restaurant Week Winter 2014: Where to Go
Nougatine at Jean-Georges NYC Restaurant Week Review
Tom Colicchio's Riverpark, NYC Restaurant Review
Where to Eat in NYC: The Best New York Restaurants Right Now
Need Award Booking Help? Our fee is as low as $75 per ticket if you book your hotel through us.
If you enjoyed this, join 90,000+ readers: please follow TravelSort on Twitter or like us on Facebook to be alerted to new posts.
Become a TravelSort Client and Book Your Hotel with Virtuoso or Four Seasons Preferred VIP Amenities!