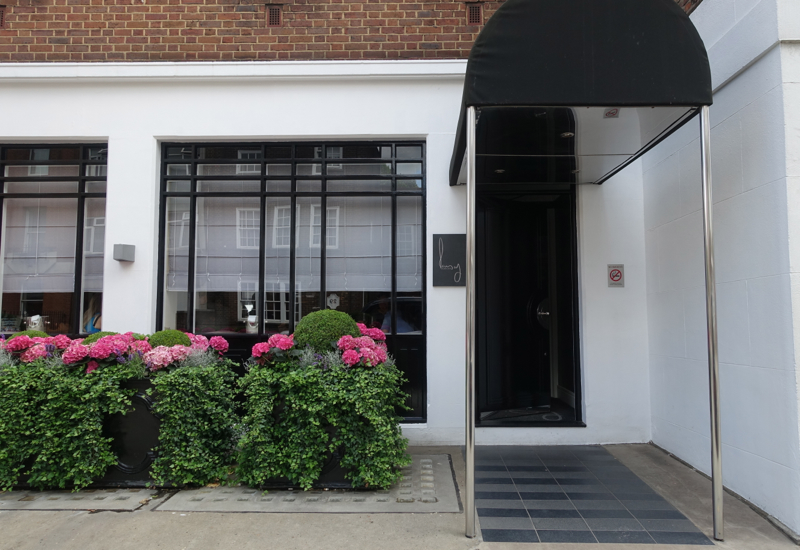 This Review of Restaurant Gordon Ramsay is from our recent visit to London. I was excited to try Gordon Ramsay's eponymous 3 Michelin star restaurant, having enjoyed lunch at Petrus, a 1 Michelin star Gordon Ramsay restaurant, a few years ago.
For other posts from our London and Paris site inspections and visits, please see:
Review: Pur' Paris Restaurant, Park Hyatt Paris
Hotel Review: Park Hyatt Paris-Vendome
La Cuisine de Philippe Paris Review
Review: Paris Muse Discovery Walking Tour for Families
Hotel Review: The Mandarin Oriental Paris
Review: Mathieu Pacaud Histoires Paris, 2 Michelin Stars
Review: Hidden Paris Gourmet Walking Tour
Review: The Milestone Hotel, London
Review: Cheneston's Restaurant, London
Review: Brown's Hotel London West End
Review: London's Natural History Museum Dinosaur Exhibit
Restaurant Review: Wiltons, London (Since 1742)
Review: Shangri-La Hotel At the Shard, London
Getting to Restaurant Gordon Ramsay, London
Restaurant Gordon Ramsay is located at 68 Royal Hospital Road in Chelsea. It's about a 15 minute walk from Sloane Square tube station (District, Circle lines), although it took us slightly longer as we were rolling our carry-ons with us.
The Scene
Restaurant Gordon Ramsay is quite small and unassuming–you could easily walk right past it and not realize it was a restaurant. The dining room is intimate, with only about 9 tables, quite closely spaced. We were there for lunch, so there were primarily couples and some business lunches. In fact, one of the businessmen surprised me with a friendly greeting, mentioning that he reads TravelSort, which was nice and very unexpected. TravelSort is very much a niche luxury travel site, so I'm always surprised to be recognized by anyone.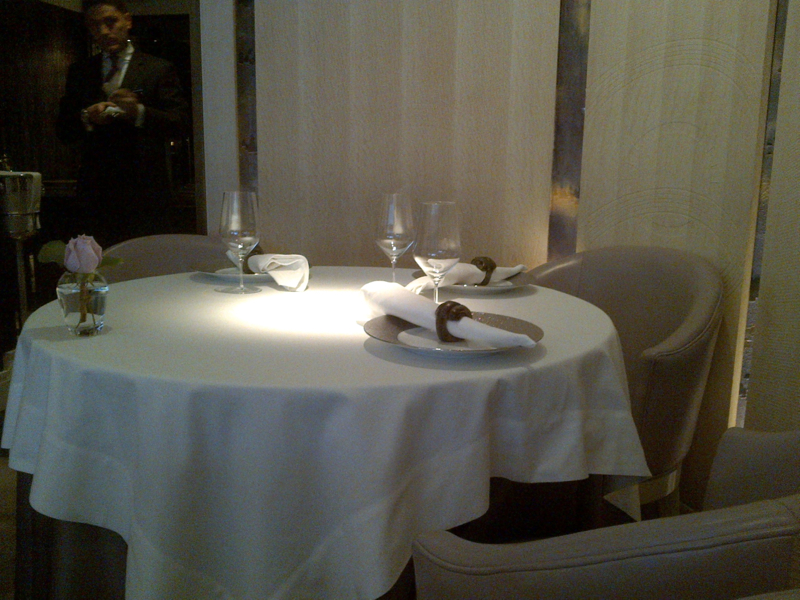 Restaurant Gordon Ramsay Menu and Food
As we had another activity planned that afternoon, we opted for the regular lunch menu, although I did want to try the Apple Tarte Tatin dessert and asked about it. Our server advised that it would be possible, for a supplement of GBP 20, but would take about 1.5 hours to prepare. So do ensure you order this at the outset of your meal if you want to try it.
Here's the lunch menu we ordered from, apart from dessert: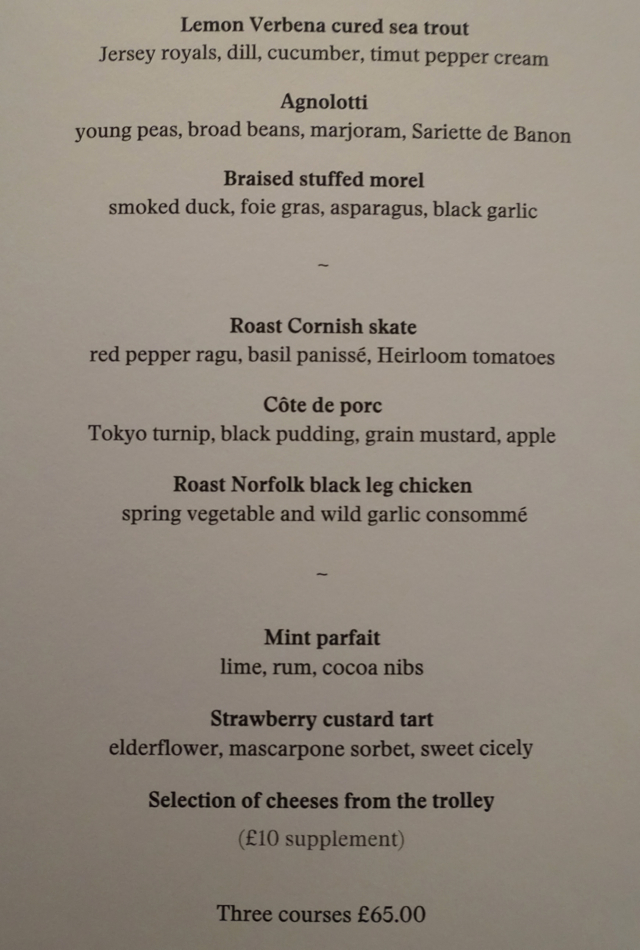 As I was taking photos of the menu, I was advised by our server that cameras were not allowed due to being disruptive to other diners; only phones could be used as cameras. Since I wasn't using my camera's flash and my phone doesn't have a good camera, I politely asked if that requirement could be waived, but was met with a firm "no." I pointed out that I would need to use the flash on my phone to take decent photos, which if anything would be even more disruptive, but the rule still stood. So apologies in advance for the poor photos, most of which are taken with a phone.
After ordering, we were offered a choice of bread, and I can highly recommend the savory brioche bread, studded with lardons.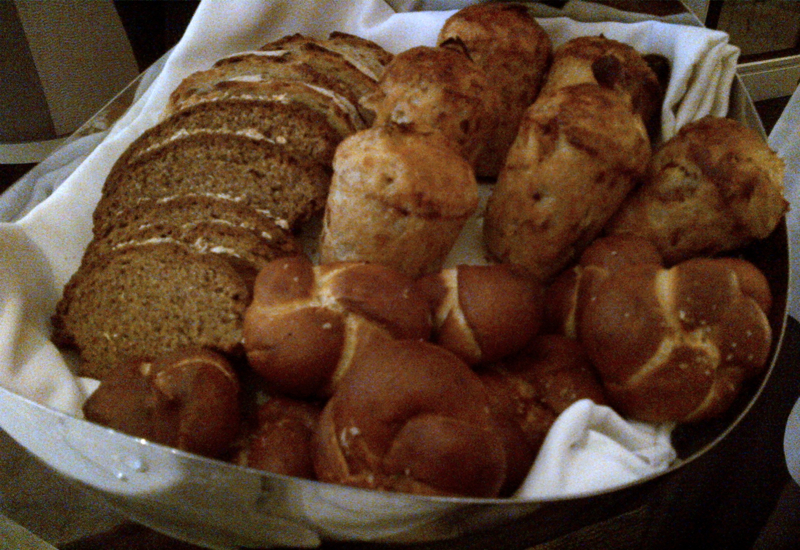 As an amuse bouche, we were offered this pea soup, adorned with edible flowers. Tasty, but a far cry from the delicious amuses bouches at 3 Michelin star Le Cinq at Four Seasons George V, Paris and no comparison either to the extensive array of amuses bouches at Mathieu Pacaud Les Histoires (2 Michelin stars), also in Paris.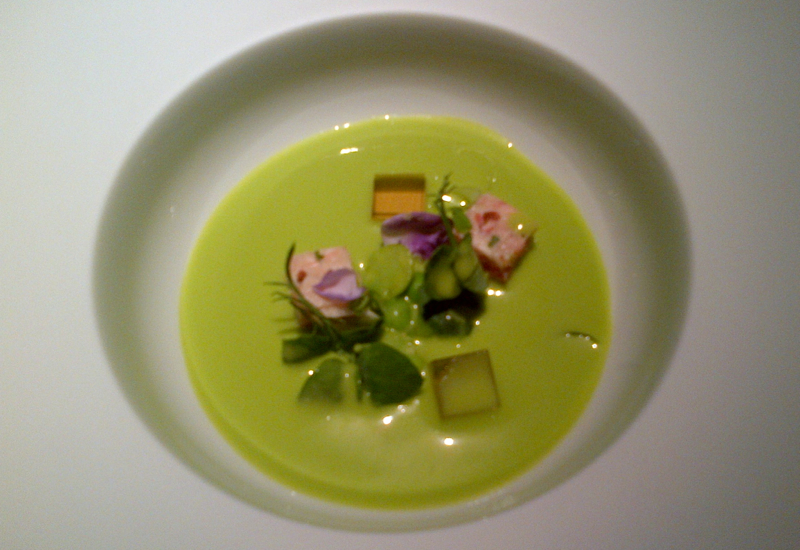 I'd ordered the Lemon Verbena Cured Sea Trout with Jersey Royals potatoes, dill, cucumber and timut pepper cream for my son, and while he shied away from the cucumbers, he did enjoy this dish.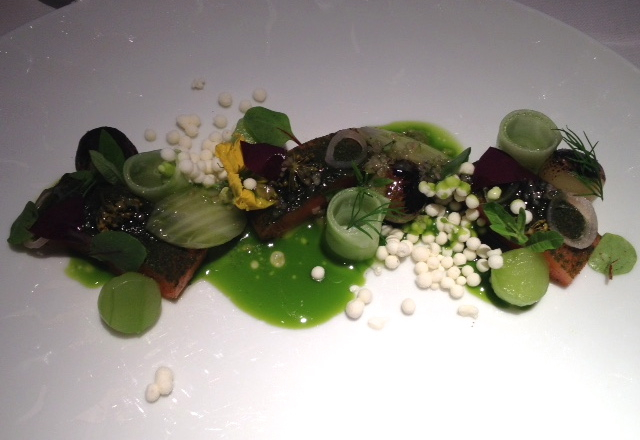 My favorite dish of the lunch, meanwhile, was my appetizer of Braised Stuffed Morel with smoked duck, foie gras, asparagus and black garlic. If I could have, I would have wanted a larger portion of this as my entire lunch, given the wonderfully meaty morel mushrooms and perfect pairing with the smoked duck and foie gras.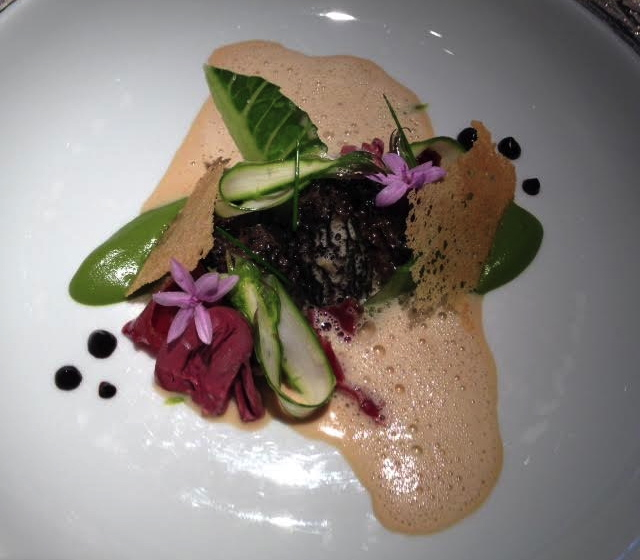 Of our entrees, while I'd thought I'd prefer the Cote de Porc that I ordered for myself, and it was executed well, overall it was a fairly pedestrian dish, even with the grain mustard sauce. Easily one of the most underwhelming mains I've had at a 3 Michelin star restaurant.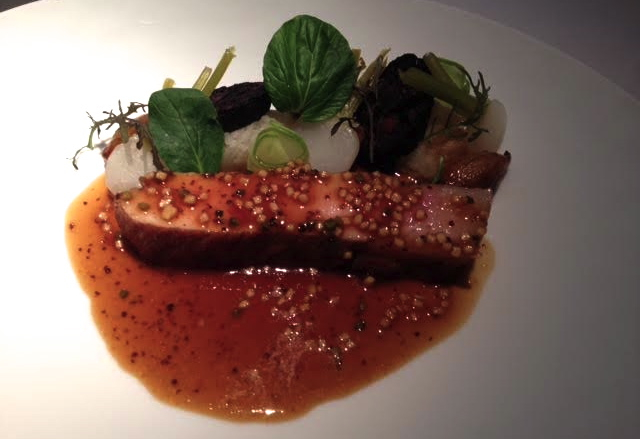 My son's Roast Norfolk Black Leg Chicken, while also simple, had a very nice wild garlic consomme that was worth dunking bread in.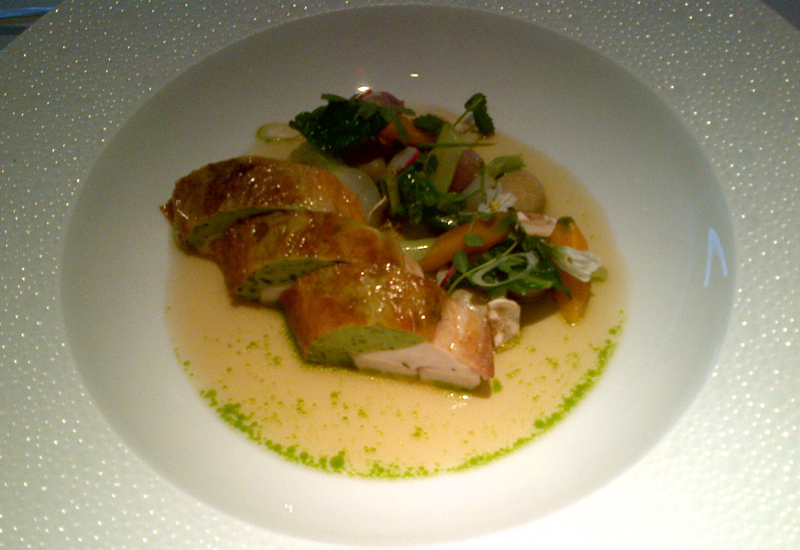 As a pre-dessert we were brought a kind of berry palate cleanser which was forgettable. I honestly prefer the sorbets that Etihad A380 First Apartment and Etihad First Class often provide as a palate cleanser.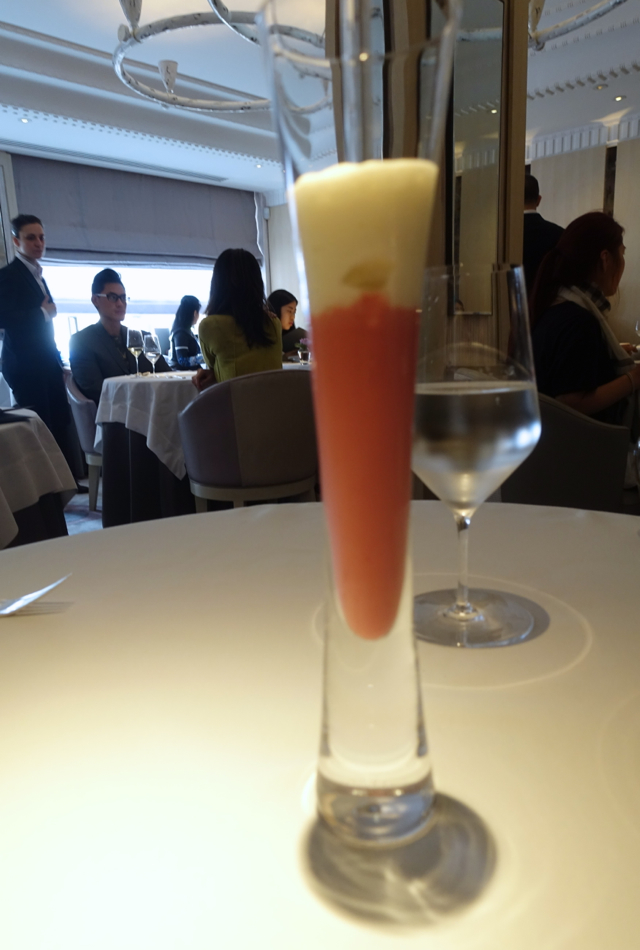 And for all the 1.5 hour preparation time, the Apple Tarte Tatin was something of a let down as well. It was good, but at a 3 Michelin star restaurant you expect great. I've had better apple tarte tatin and French bistros (and at a fraction of the price) even though served more humbly.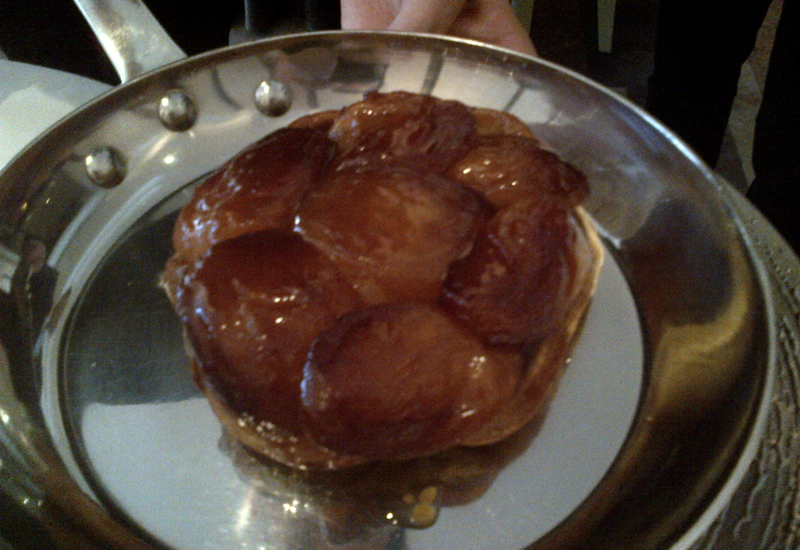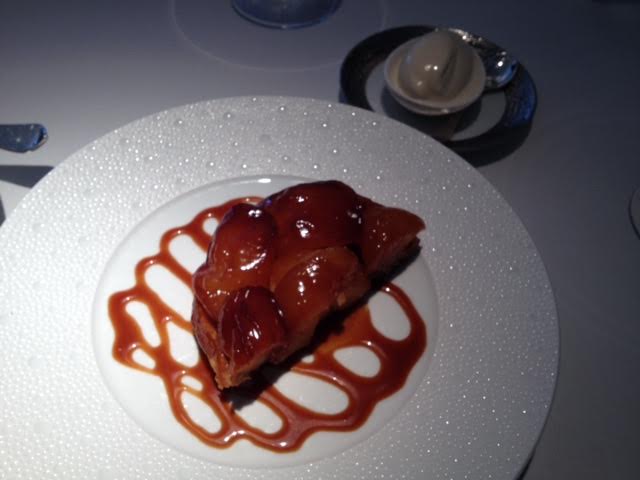 The Verdict
While our lunch started off well, with a very nice bread assortment and excellent appetizer of Braised Stuffed Morel, I was fairly underwhelmed by our lunch at Restaurant Gordon Ramsay. Even given our post-Brexit visit, the lunch, including tip, was well over $200 for the two of us for three courses, no wine or other drinks apart from water. I'm happy to pay that if the meal is exceptional, but it wasn't. I was also disappointed that, unlike at Le Cinq, no mignardises were offered after the meal. And unlike our Paris Michelin star dining, where the servers have been a highlight thanks to not only their professionalism but also their sense of humor, I found the service here overly formal and stilted. I will say that one of the servers was nice enough to offer to take a photo of us, so that was appreciated.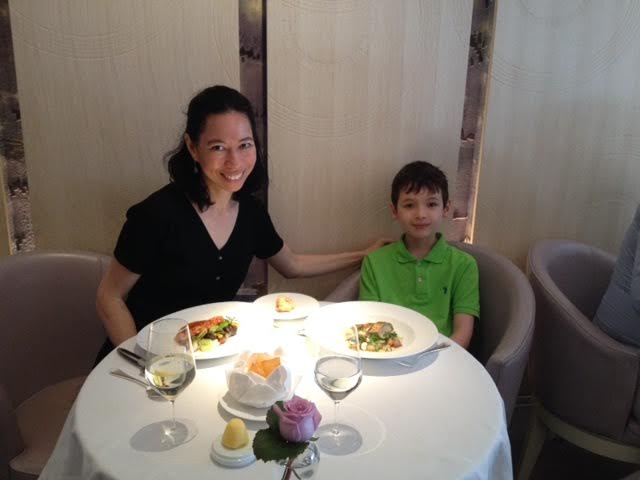 For a better Michelin star experience, I recommend boarding the Eurostar for Paris, and dining at Le Cinq or Restaurant Mathieu Pacaud Histoires.
If you've dined at 3 Michelin Star Restaurant Gordon Ramsay in London, what was your experience?
Related Posts
Petrus London Restaurant Review
Review: Brown's Hotel London West End
Review: The Milestone Hotel, London
Review: Cheneston's Restaurant, London
Disclosure: We paid for our own meal at Restaurant Gordon Ramsay.
Need Award Booking Help? Our fee is as low as $75 per ticket if you book your hotel through us.
If you enjoyed this, join 200,000+ readers: please follow TravelSort on Twitter or like us on Facebook to be alerted to new posts.
Become a TravelSort Client and Book your London Luxury Hotel with Virtuoso or Preferred Partner Benefits!