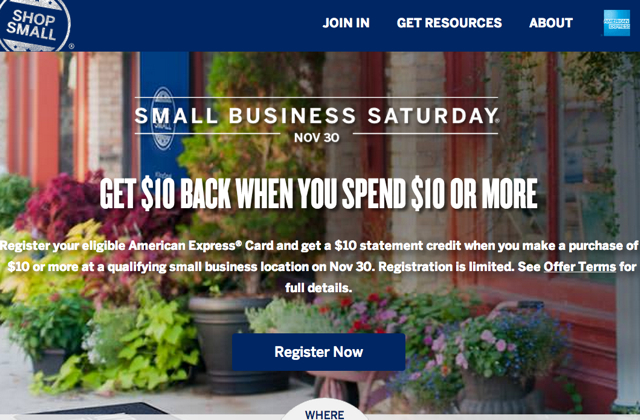 11/30 Update: Today is Small Business Saturday! Don't forget to use all your registered AMEX cards today at small businesses (to be safe, those on the Small Business Saturday Map) for your $10 statement credit per card. No online purchases this year, so consider buying several gift certificates if you don't need to purchase anything now.
—-Original Post—–
Registration is now open for American Express Small Business Saturday 2013 (November 30). As I noted in my updated AMEX Small Business Saturday FAQ, it's not as good a promotion this year, for two reasons:
$10 statement credit per registered AMEX card, instead of $25
Online transactions don't qualify, unlike in prior years
So all else equal, the promotion is worth 40% of what it was last year, and those folks who are out of the U.S. on November 30 won't be able to take advantage of this promotion.
Click on the grey "Register Now" button. I would register as soon as possible, since registration for the promotion is limited and may fill up prior to November 30.
2. Register Each of Your American Express Cards
Now is the time to dig out all your active AMEX cards, included authorized user cards, if the primary card is an actual American Express card (note that authorized user cards of credit cards that license AMEX are not eligible–for those cards, only the primary account holder will receive a statement credit, if registered for AMEX Small Business Saturday).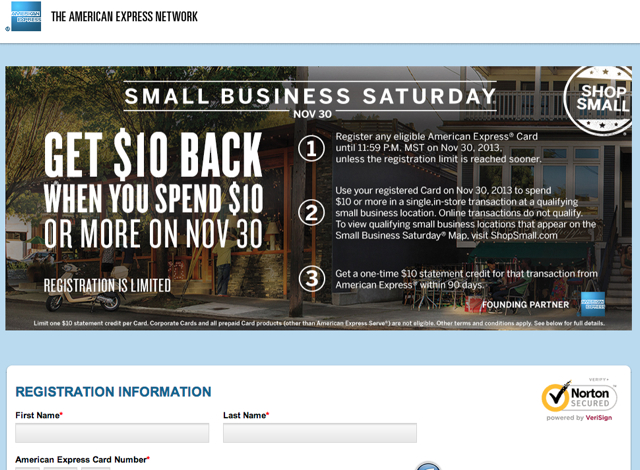 3. On November 30 Use Each of Your Registered AMEX Cards for at Least a $10 Purchase at a Small Business
Be careful that the merchant is truly a small business. Some of our favorite restaurants in NYC, while not chains, are part of a larger group. For example, Gramercy Tavern and Blue Smoke are both part of Danny Meyer's Union Square Hospitality Group, so these aren't qualifying options for New Yorkers. Same with ABC Kitchen and Jean-Georges, since they are part of Jean-Georges' small empire of restaurants, so these don't qualify either.
If you want to play it safe, go with a merchant listed on the
Small Business Saturday map
. Last year, however, I received statement credit for all my small business purchases (including gift certificates for later use) and none of them were on the map. AMEX's criteria are:
Accept American Express Cards
Have a business location in the 50 United States, including the District of Columbia
Have 25 or fewer locations
Have $3MM or less in net American Express charge volume for calendar year 2012
4. $10 Statement Credit per Card Will Appear Within 90 Days (Usually Much Sooner)
Last year my statement credits posted in about a week, but per terms, allow up to 90 days.
Here are the full terms and conditions: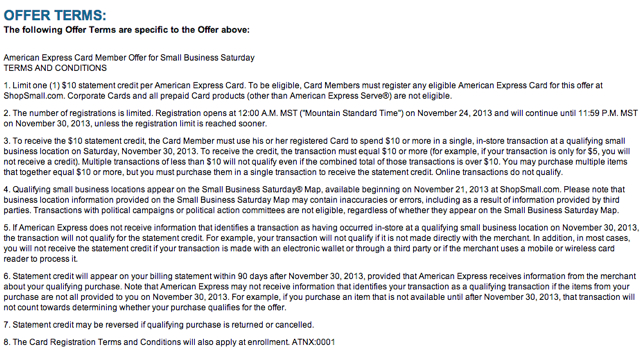 Where do you plan to go for AMEX Small Business Saturday? Or are you sitting it out, given the lower payoff this year?
Related Posts