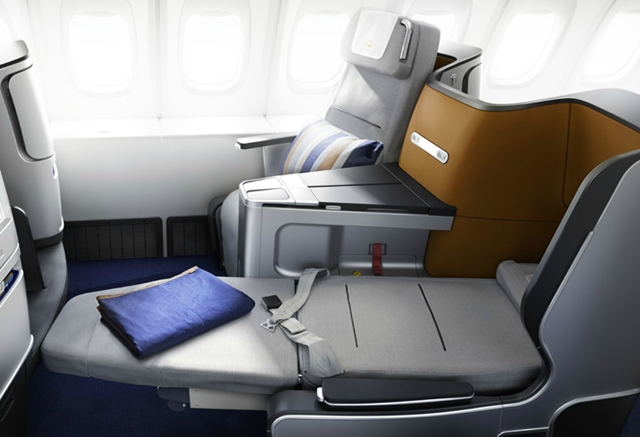 TravelSort reader Paul asks: "What are the rollout dates for Lufthansa's new business class? I'm in San Francisco and want to be able to fly it, instead of in the current old angled flat seats."
Great question Paul, and wish I had better news for you. Just to provide context, for any readers who don't normally fly Lufthansa, Lufthansa has been long overdue for a new business class product, since their old one only provides angled flat seats. Swiss, part of the Lufthansa group, has flat bed seats (although it seemed to have a very slight angle to it, see my Swiss Business Class Review) In contrast, British Airways has had fully flat business class seats since 1999–13 years! Even United and Delta have some international flights with fully flat beds in business class, although certainly not all. See The Best International Business Class Seats for Sleeping. Apparently in no hurry, Lufthansa conducted research back in 2007 and ran trials of the new business class in 2010.
The new seats have been controversial. Sure, they're definitely better than the old angled flat seats, but the person in the window seat has a very awkward time getting out if the passenger in the aisle seat has extended his or her seat into the bed position. It's a head scratcher why Lufthansa decided to go with this design, rather than, say, Swiss, where most business class passengers have direct aisle access, or even better, something such as Cathay's business class suites.
In any case, while much heralded, Lufthansa's new business class is rolling out pretty slowly, over 3-4 years through 2014 or 2015, and currently the only U.S. routes with Lufthansa's new Business Class are Washington Dulles IAD – Frankfurt FRA (served by the new 747-8) and IAD – MUC, served by Airbus A330-300.
Lufthansa has said that the other routes that will be getting Lufthansa's New Business Class in 2012 are:
Frankfurt – Bangalore
Frankfurt – Chicago
Frankfurt – Delhi
Frankfurt – Los Angeles
So unfortunately for now that leaves San Francisco and NYC out of luck. Here's the ostensible schedule for Lufthansa's planes converting to the new Business Class:
| | | | | |
| --- | --- | --- | --- | --- |
| | 2012 | 2013 | 2014 | 2015 |
| A380 | None | 5 of 10 | All | All |
| A346 | None | 10 of 24 | 22 of 24 | All |
| A343 | None | 13 of 26 | 22 of 26 | All |
| A333 | 3 of 18 | 7 of 18 | 18 of 19 | All |
| B744 | None | None | 6 of 17 | 12 of 16 |
| B748 | All | All | All | All |
For the A333, you can apparently tell if your plane has the new business class if in Economy there are 4 seats missing in row 27 (seats D, E, F and G). If it's an A333 and those 4 seats in row 27 are missing, congrats! You'll be on a flight with Lufthansa's new business class, barring any swaps in aircraft.
Since San Francisco is served by the A380 and B744 and NYC by the A343, it's not so great. I'd recommend:
Springing for Lufthansa First Class if you can book or switch your flight last minute, since it's still so much better than the new business class
Flying from LA once the new business class is introduced there
Fly United if you can get one of the routes with a fully flat bed
I'll leave you with a Lufthansa video of the New Business Class:
Related Posts
The Best International Business Class Seats for Sleeping
Lufthansa First Class Award Space Booked 15 Days in Advance
How to Deal with No More Lufthansa Advance First Class Availability
Airlines and Routes with First and Business Class Availability to Europe
Need Award Booking Help? Our fee is as low as $75 per ticket if you book your hotel through us.
If you enjoyed this, join 150,000+ readers: please follow TravelSort on Twitter or like us on Facebook to be alerted to new posts.
Become a TravelSort Client and Book Your Hotel with Virtuoso or Four Seasons Preferred VIP Amenities!