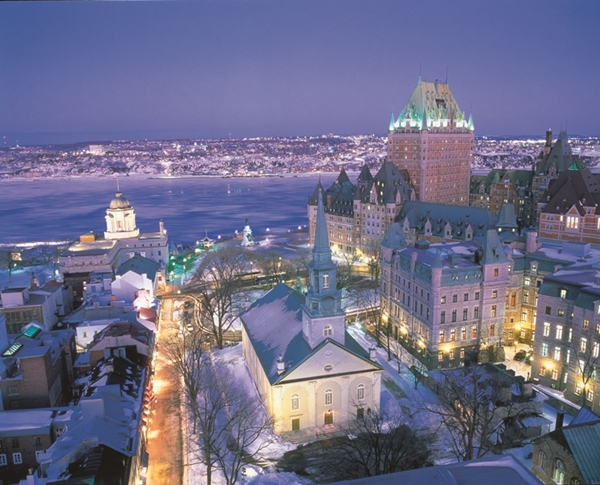 Why go
Winter in Canada: gray skies, cold winds and the kind of freezing temperatures that should dampen a family's enthusiasm for the great outdoors, right? Wrong. Not in French-speaking Quebec City, the world's Snow Capital, set in one of Canada's ten provinces. Here, winter rules and hardy souls of all ages thumb their red noses at the Arctic chills. In fact, for the past 58 years, this breath-taking European-style walled city perched on the banks of the St. Lawrence River, has celebrated its coldest season with a raucous, drum-beating, musical-inspiring, foot-stomping ode to Ole Man Winter. In 2013, the annual Winter Carnival is scheduled for February 1-17 and like the past few, is geared to family fun.
For 17 days each year, the Quebec Winter Carnival serves as an antidote to Quebec City's long hard winters, celebrating Nordic life. Though the first winter carnival was held in 1894, it wasn't until 1955 that a group of innovative businessmen decided that not only would a city-wide celebration lift the spirits of the cold, huddled masses, it might also help the economy. Since then, it has grown steadily with more family-oriented themes added each year, and today is Quebec City's third-largest industry, bringing an estimated one million visitors, 600-plus annual jobs and nearly $48 million in revenue. The Winter Carnival was named in 1000 Places to See Before You Die and among the Top Picks for Winter in Fodor's Magazine in 2006. Reader's Digest (still going strong in Canada) called it "Canada's Best Winter Festival" in 2007.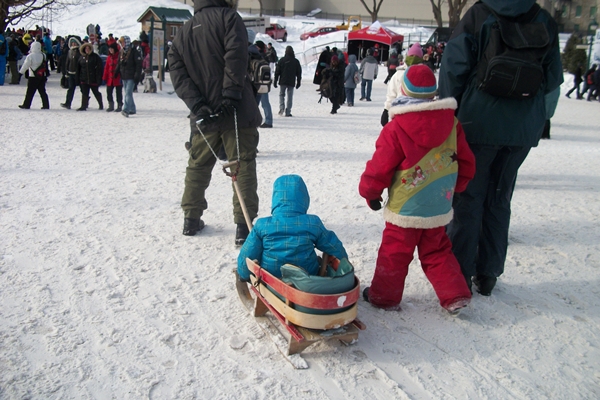 Insider Tips
Getting to Quebec City: the Jean-Lesage International Airport is small but modern and efficient. You have to go through Customs if you are entering the country from anywhere outside Canada but the process doesn't take long. As of February, 2012, the American dollar was weaker than its Canadian counterpart, but most merchants will take American money. Currency can also be exchanged at the airport and some hotels. As a transportation option, hail a cab for the 20-minute to Quebec City. Cost will run about $35.00 one way. Tipping (15% or so) is standard. Coming in by train or car are other options.
Be prepared for extreme temperatures, especially if you're coming from a temperate climate. That means wearing a thermal-insulated coat like a Parka, hat or earmuffs, thick socks and warm, waterproof gloves. For kids and cold-natured adults, purchase disposable packets of feet and hand warmers – small pads that adhere to the outside of stocking feet and last up to about six hours. Make sure you have sturdy walking shoes with grip soles as ice on the sidewalks and steps can be a hazard. Temperatures can easily drop to below zero with wind chill factors so layered clothing is recommended.
Skies are often gray in Quebec during winter months and it snows frequently, as early as September and continuing through March. But even if winter is your least favorite time of year, there are plenty of indoor activities, from art museums to boutique shops and fine hotel dining. The locals have learned how to make the best of hard winters and are just as hospitable when the temperatures fall to zero as any other time of year.
If you take an excursion ferry on the St. Lawrence River expect occasional delays. Ice breakers manage to clear even the most formidable frozen blocks, but a ten-minute ride can turn into half an hour if a storm blows in and causes the ice to build up.
French is the main language in Quebec but English is spoken by nearly everyone. Signs, menus, brochures and most written material are in French (including TV commercials and some TV shows) so carry a French dictionary or use a smart phone app. Kids are especially likely to pick up the basics quickly: bonjour for "good morning" or "good day," bienvenue for "welcome," and sortie for "exit."
The birthplace of French North America and the only walled city north of Mexico, Quebec loves showing off its rich history and European flavor. Old Quebec is the fortified part of the city, with cobblestone streets, quaint shops, colorful wall murals and a profusion of museums. Stop in at The Fudgerie Boutique in Old Quebec for a scrumptious sample of crème brulee or chili pepper fudge, the biggest sellers. Those stringed "sausages" hanging in the window are actually chocolate. Kids will enjoy the street side ice sculptures and the public climbing rope platforms scattered throughout Old Quebec.
For a break, take the family and head 20 minutes north of the city to the largest outdoor playground in North America, the Winter Village Park, for a day of snow tubing, snow rafting and tempting fate by sliding down the 110-foot tall Everest, one of 42 different thrill rides at this popular family get-away. In summer, it doubles as a spectacular water park.
Where to Stay
With more than 17,000 rooms throughout Quebec City, there's a wide variety of accommodations, from large chains to boutique hotels. The Hilton Quebec, recently renovated and conveniently located downtown, has views of the St. Lawrence River, the Parliament and the Laurentian Mountains. It's within walking distance of several attractions including the Winter Carnival. Featured along with a buffet breakfast is a Winter Carnival kit and access to a heated outdoor pool. A full service café is adjacent to the lobby.
Among the more well-known hotels in Quebec is the majestic Fairmont Le Chateau Frontenac, a castle-like behemoth that towers over the city from its perch overlooking the St. Lawrence River and Old Quebec. This is a Four Diamond Award luxury hotel and caters to guests seeking a distinct European-style charm.
For the more adventurous, you can't beat the widely acclaimed Hotel de Glace, or Ice Hotel, a short ride from downtown Quebec City. The only one of its kind in North America, it is built from the snowy ground up each year and designed to last Jan – March. The handmade sculpted hotel, resembling giant connected igloos, is 30,000 square feet in size, houses 36 rooms and features themed suites, a full-service bar, a lobby and even a chapel – all made from thick blocks of ice. Even the beds are ice, covered by a waterproof mattress. Hotel designs change year by year and rates run about $199.00 a night. Raise a toast in an ice-sculptured glass at the bar while the kids are at the outdoor hotel slide, a twin tunnel of ice and snow where no sled is required. Just sit and slide. Not a lot to do here for kids, but even touring the Hotel is a unique experience they'll talk about for years.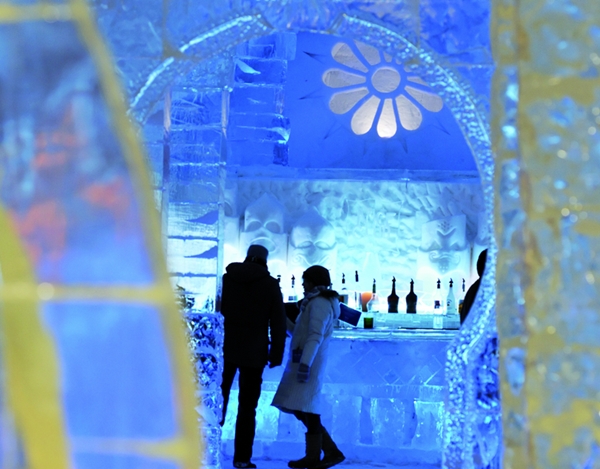 What to eat
Not surprisingly, Canadian winters can mean rich, hearty fare, from thick beef soups to Poutine – crispy French fries topped with cheese curds and brown gravy. That, along with fish and chips, is a favorite of the locals. But salads, seafood and crusty breads are still easy to find. Try the trout fillet with almonds at the Café de la Paix, or the chicken stuffed with spinach and goat cheese.
Quebec calls itself the city with the most restaurants per capita. On Avenue Maguire, a few minutes from Old Quebec, Italian, Indian and continental cuisine can be found. French restaurants are scattered throughout the city where cheese, beef and chocolate fondues are popular menu items.
Fresh lobsters are part of the seafood buffet served at the Fairmont Le Chateau Frontenac on Friday nights, along with oysters, shrimp, seafood salads and an entire bar of desserts including cheesecakes and petit squares. Even the pickiest eaters will find something here.
Smoked salmon and goat cheese, with red onions, capers, cherry tomatoes and toasted almonds make for a great Salad Grizzly at the Lily Marlowe Café on the grounds of the Winter Park Village, north of Quebec City. After a day of snow tubing, kids might like the Burger Tornado, with grilled chicken breast, Swiss cheese, mushrooms, bacon, lettuce and tomato and southwest mayo on a Kaiser bun. Pizzas, sandwiches and soups are on the menu too.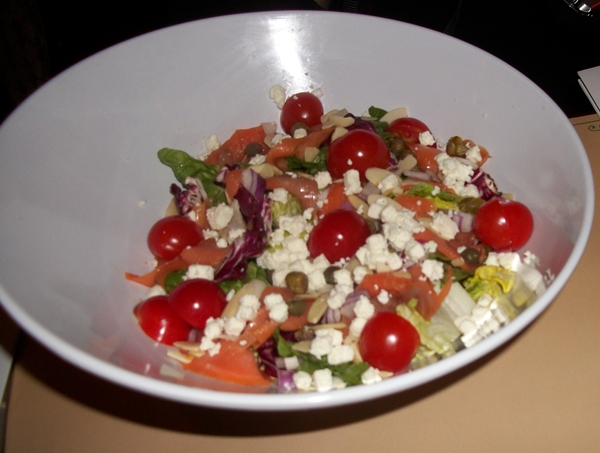 What to See and Do
According to its current president, the Winter Carnival is more family-oriented today than in the past, which draws more local visitors and tourist families alike. To that end, the festival icon, Bonhomme, is often compared to Santa Claus. Translated to mean "good man," Bonhomme resembles a tall, rotund snowman wearing the traditional colorful sash tied about his waist and a red stocking cap. As the Carnival's official ambassador, he travels worldwide during off-season to promote tourism to the region. Kids are naturally attracted to the friendly, waving character and will have fun spotting him at the Carnival events. Plastic and stuffed replicas large and small are seen everywhere else including hotel lobbies and retail shops.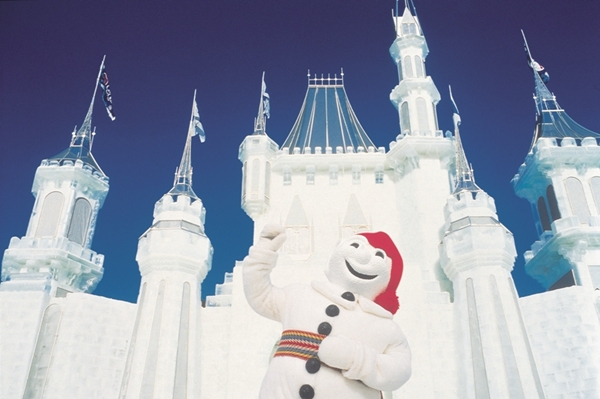 Families bring even their youngest to the Carnival, including toddlers bundled up to their eyebrows against the cold, pulled on a sled or in a sleigh. Best spot to find family fun is at the Plains of Abraham, an expansive playground that serves as a city park during warm weather. It was reportedly named for Abraham Martin, a 17th century Scottish fisherman. During the Carnival, the area is covered with ice and snow. Walking through, look for the sugar shack where treats are sold, including maple-flavored drinks and maple taffy on a stick. You'll also find snow and sledding rides, a Ferris wheel, a soccer field and other family-oriented amusements. Carnival-goers can even camp out on the Plains of Abraham by registering online or in advance. A favorite family activity is snow tubing.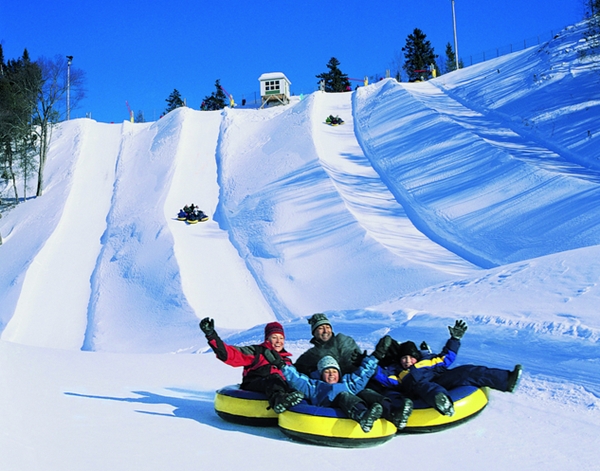 On the same grounds is the Ice Palace where music-lovers can rock out every Friday night. A series of outdoor events range from the sublime to the ridiculous: the legendary Snow Bath where warmly dressed kids laugh at the adults prancing about in bathing suits before rolling around in the snow. There's also a championship horse derby with stunning quarter horses pulling the rider by sleigh. Other major events are scheduled throughout the city during the 17-day Carnival including an International Canoe Race on the mighty St. Lawrence River.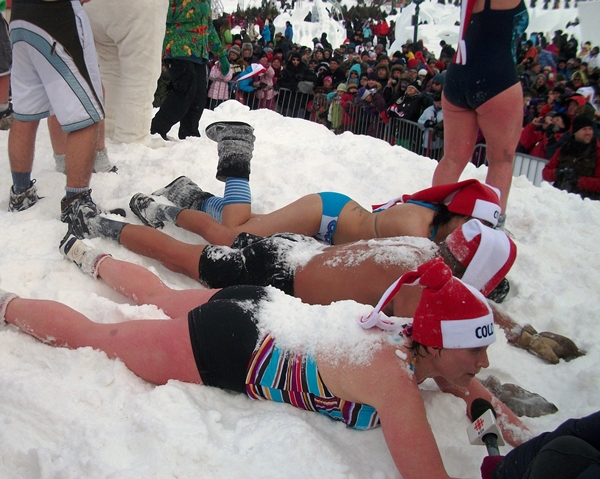 Christmas lights remain on throughout the entire Carnival and fir trees are salvaged post-Christmas for planting on Carnival sites. After the event, the trees are then recycled again into fir tree oil. About 475 tons of ice is used to build glistening structures including Bonhomme's Palace and the World of Ice. Sculptures created for the Snow Sculpture Completion are carved from 50,000 cubic feet of hard-packed snow.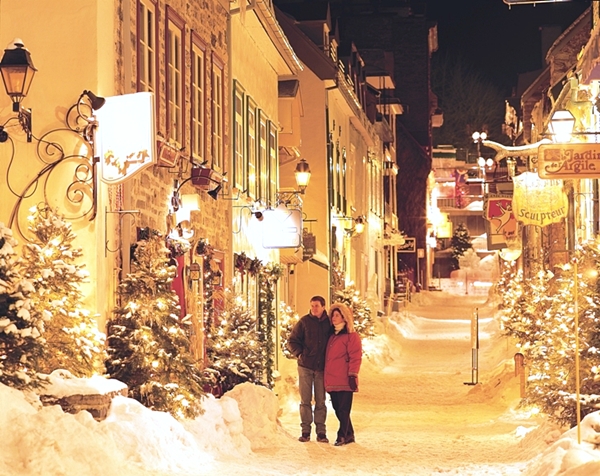 Capping the Winter Carnival event are two glittering Night Parades where elaborate floats, marching bands, stilt performers and a bugle corps bring a whole new round of color and entertainment to the city streets. Families often love this part of the Carnival best as they wait for Bonhomme to arrive and like Santa, work the crowd and spread the cheer.
For details on the 2013 Winter Carnival visit the Carnival Website. For more information on Quebec City go to the Official Quebec Web Site
Disclosure: This writer attended a press tour of Quebec City compliments of Quebec City Tourism at the close of the Carnival in February, 2012.
If you enjoyed this, please follow TravelSort on Twitter or like us on Facebook to be alerted to new posts.
Become a Member to find your perfect luxury or boutique hotel at up to 50% off: TravelSort Hotels