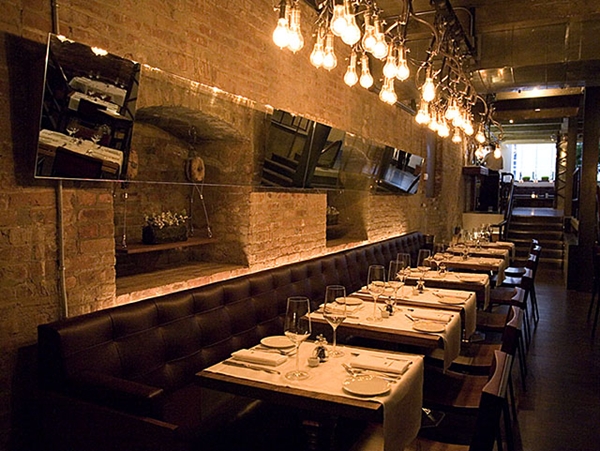 Time for the first of several reviews of restaurants that we recommended booking in our NYC Restaurant Week Summer 2011: Where to Go post. First up is Quality Meats, which we recommended when craving steak or other meaty delights in Midtown West.
Located on 58th Street near 6th Avenue, Quality Meats is a stone's throw from the Plaza Hotel, Bergdorf Goodman, and Central Park. If you're coming by subway, the closest stations are 57th Street (F line) and 5th Avenue/59th Street (N, Q, R).
While Quality Meats is part of the Smith & Wollensky empire, thankfully it's quite a step up from Smith & Wollensky, from more innovative interpretations of steakhouse classics, very polished service and hipper surroundings.
We were greeted and led promptly to our table on the second floor, near a window. It was nice to have a bit of natural light, as the restaurant is quite cavernous and dimly lit even during the daytime. Our server immediately proffered menus and explained that two wines by the glass were offered to accompany the Restaurant Week menu for just $5.93/glass. We asked for his recommendations, and sure enough, the Diver Scallops that we recommended in our post were one of them. With the mains, he said "you can't go wrong with any of them" so we ordered the baby back ribs and the hanger steak, which we had been fortunate to have learned to make some months ago in a cooking class with Craig Koketsu, the Executive Chef of Quality Meats.
Soon after we ordered, our server brought a pan of warm Parker House rolls, sprinkled with coarse salt and rosemary. Delicious and so buttery that the butter provided was entirely superfluous (although it didn't stop my dining partner from slathering it on anyway). Why more restaurants can't provide warm, fresh bread is beyond me, as there are few better ways to start off a meal.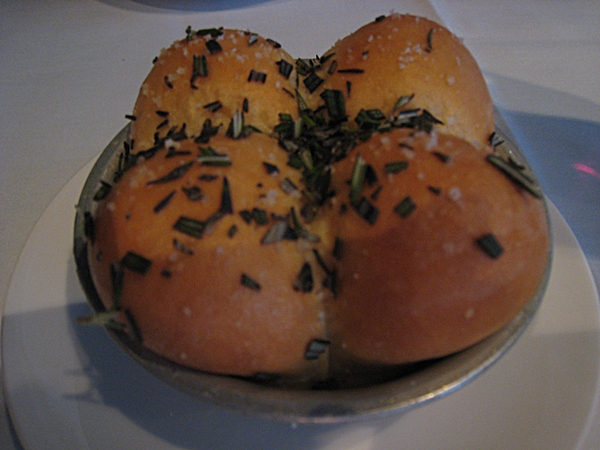 Next up was our appetizer of Diver Scallops with Creamed Corn. Although the description is straightforward, this was in my opinion the best bite of the lunch, with the perfectly seared and pristinely fresh scallops nicely complemented by the natural sweetness of the corn. I would happily have had a few more servings of these to make an entire meal: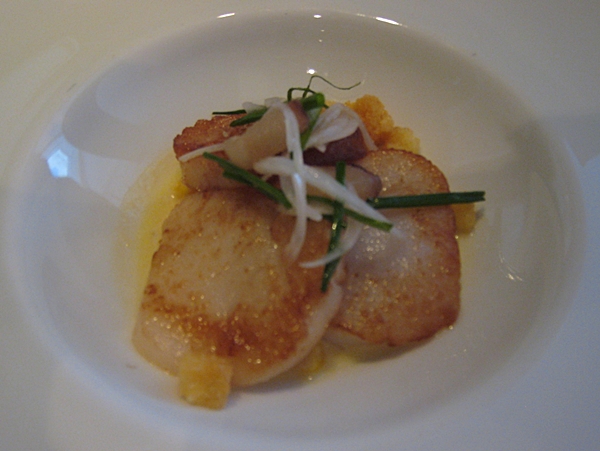 My partner orderd the Baby Back Ribs, which came delightfully caramelized (marinated in sweet soy?), nicely charred, and accompanied by crispy burdock, for an Asian twist: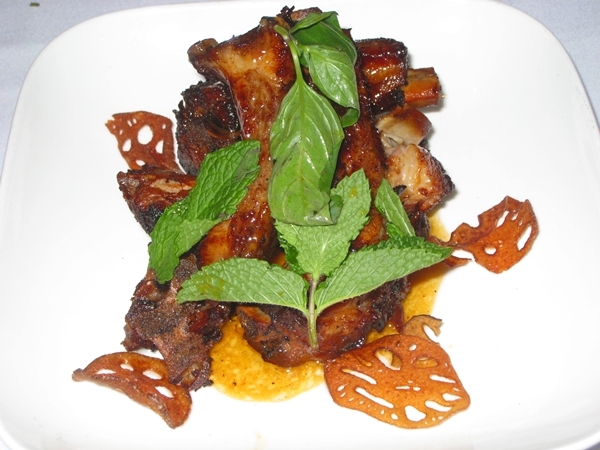 Ironically, I was least impressed with my Hanger Steak with Brandied Cherries, not least because it came quite rare inside, even though I had requested it medium. I ate what I could then sent it back to be finished to medium. The server was apologetic and it took just the 2-3 minutes he promised to cook it to the desired medium. They did bring extra cherry brandy sauce, which was appreciated, since it was a great full-bodied sauce, and the steak was a good size for lunch. In retrospect though, I probably would have ordered the Baby Back Ribs, they were that addictive.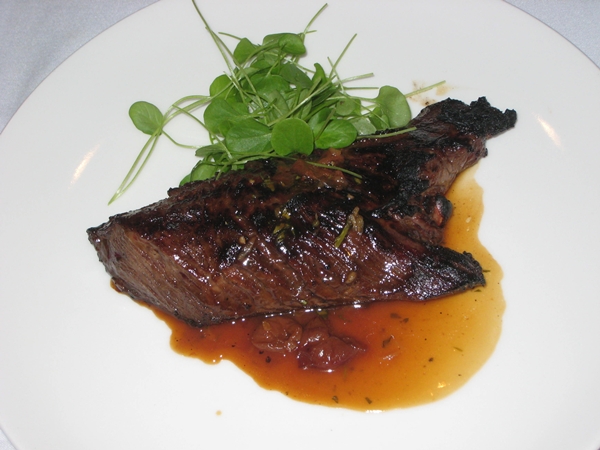 Dessert could almost have been a mini-meal, so generous are the servings of the housemade ice cream. I finished every last bit of my "Coffee with Doughnuts" and my partner almost finished the Mint Chocolate Chunk with Oreos.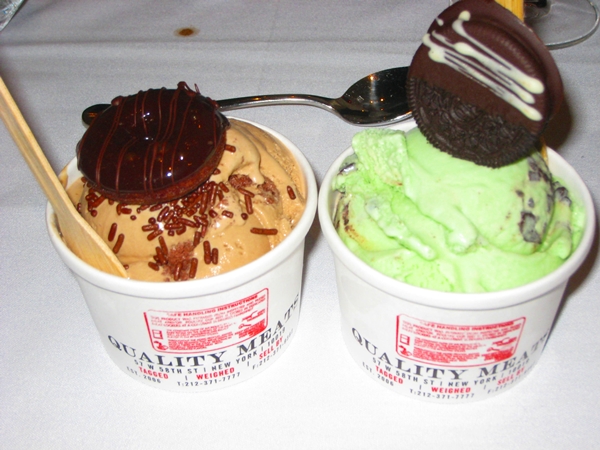 Total damage? As with all Restaurant Week lunch menus, it was $24.07/person for the 3 courses, plus we split an excellent glass of Malbec, for a total of $70 including tax and tip. It was the perfect amount of great food, very professional service, and the only slip and slight disappointment was the steak not cooked to the desired doneness, and this was quickly remedied when I mentioned it.
Food: 4/5
Service: 5/5
Ambience: 4/5
Related Posts
Maialino, NYC Restaurant Review
Daniel Humm's The NoMad: NYC Restaurant Review
Need Award Booking Help? Our fee is as low as $75 per ticket if you book your hotel through us.
If you enjoyed this, join 200,000+ readers: please follow TravelSort on Twitter or like us on Facebook to be alerted to new posts.
Become a TravelSort Client and Book 5-Star Hotels with Virtuoso or Four Seasons Preferred VIP Amenities!