This Pylos Greek Restaurant Review is one of our many NYC Restaurant Reviews. Visiting New York? See all of our posts tagged NYC.
Pylos has been on my list of NYC Restaurants to try for some time. I love Greek food if done well, but haven't been that impressed with most of the Greek found I've tried in NYC. One of my favorite high end Greek meals in NYC a few years back was at Anthos, from Michael Psilakis, but that restaurant closed a couple years ago. His newer Fish Tag wine bar/modern Greek spot on the Upper West Side is great in its own right, but not a place for Greek traditional food. And my favorite more casual Greek restaurants isn't in NYC at all, it's the Greek Taverna in Edgewater, New Jersey.
Pylos is one of the few better NYC restaurants not on OpenTable, so I had to call for a reservation. They were quite full for a Friday night even 10 days out, so I'd recommend calling well in advance if you want to dine at a peak time.
The East Village location isn't very convenient to a subway stop, and is very unassuming on the mostly residential street. We entered and were welcomed and led to our table, which was in the back. Behind us were some lovely flowers: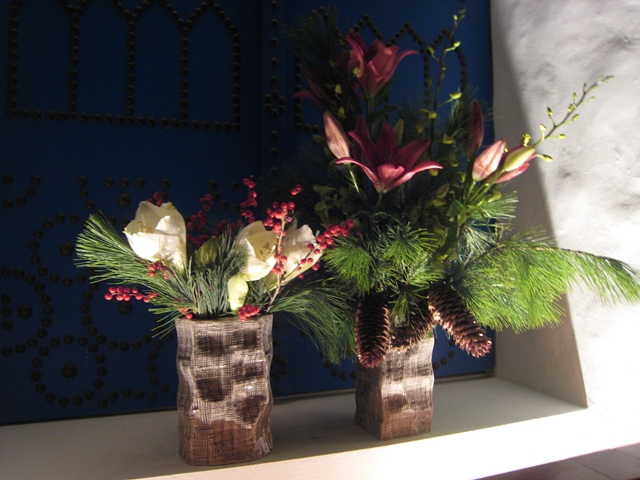 And we faced a bar and communal table, which we later learned is for walk-ins, a nice touch given the restaurant's popularity. The decor is decidedly rustic, with all the clay pots dangling from the ceiling:
The crowd was a mixture of couples, friends, and even, to our right, another family with a young toddler. It's bustling, but not too loud to hold a conversation. Our server came by with menus, which included plenty of great hot appetizer choices: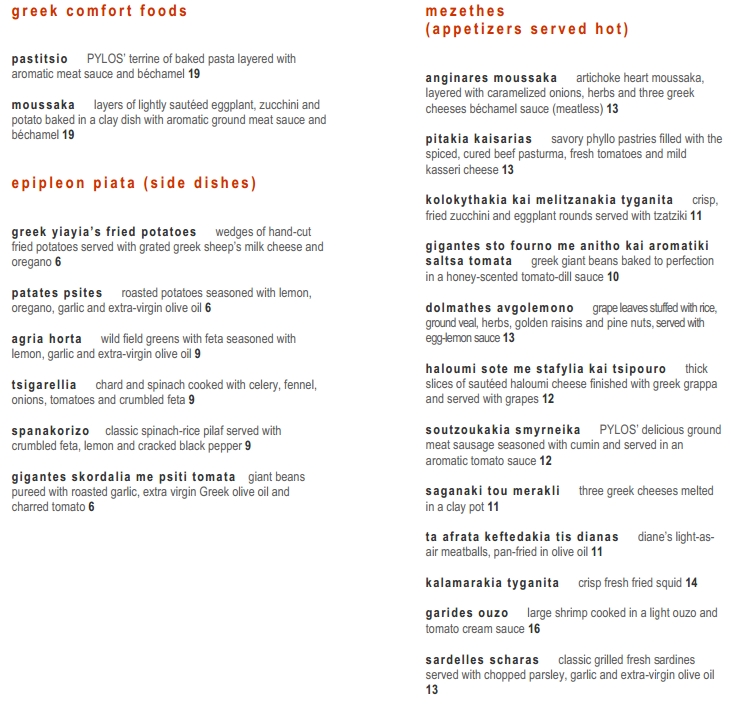 The soups and mains were a mixture of traditionally Greek and some updated classics: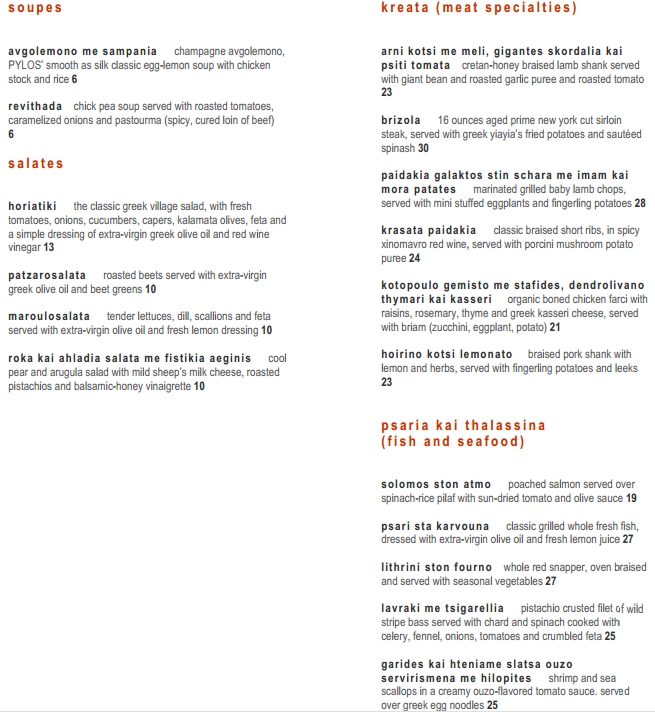 To start us off, our server brought some piping hot fresh pita bread, accompanied with a white bean dip: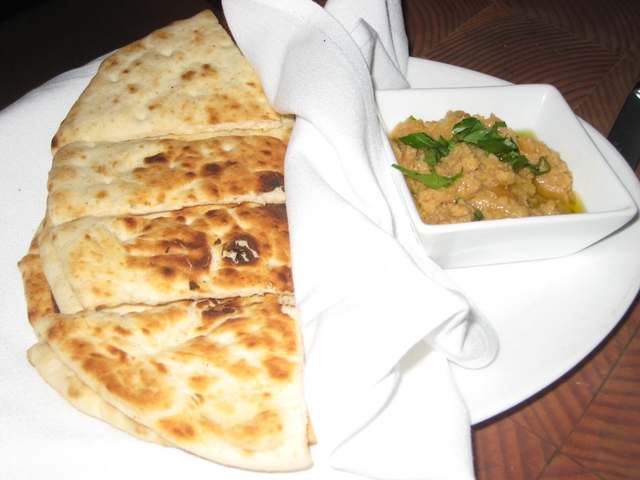 We might not have ordered the poikilia, a trio of dips: tzatziki (yogurt dip), taramosalata (fish roe dip) and melitzanosalata, an egplant dip, if we'd known we'd receive complimentary pita and the white bean dip, but we enjoyed it anyway, particularly the taramosalata which was the best I've had. I was less impressed with the melitzanosalata and personally prefer a really good smoky baba ghanoush.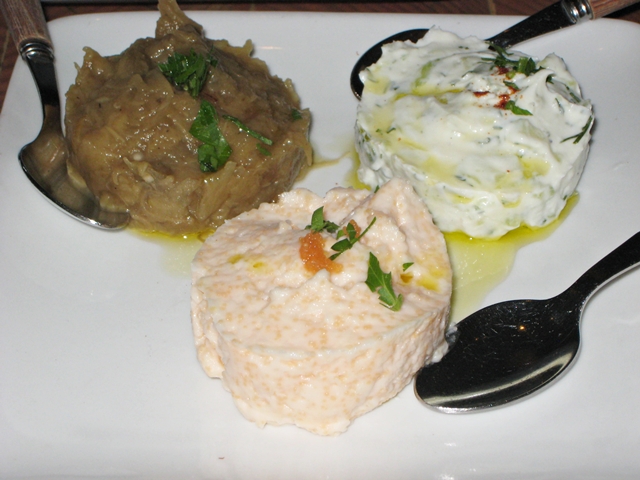 Given how filling the fresh pita bread and dips were, it was a good thing we opted to just share another appetizer and a main dish. We don't normally order fried cheese, but had heard good things about the haloumi sote me stafylia kai tsipouro, sauteed haloumi cheese with grappa and grapes. It was artfully presented, with the sauteed haloumi cheese slices arranged log cabin style around the grappa grape mixture with pine nuts, and the highlight of our meal. The rich, savory cheese, with its crisp exterior, was perfectly complemented by the refreshing fruit and , even though I don't care much for grapes on their own. We didn't have wine, but a nice chilled Torrontes would have been a good pairing.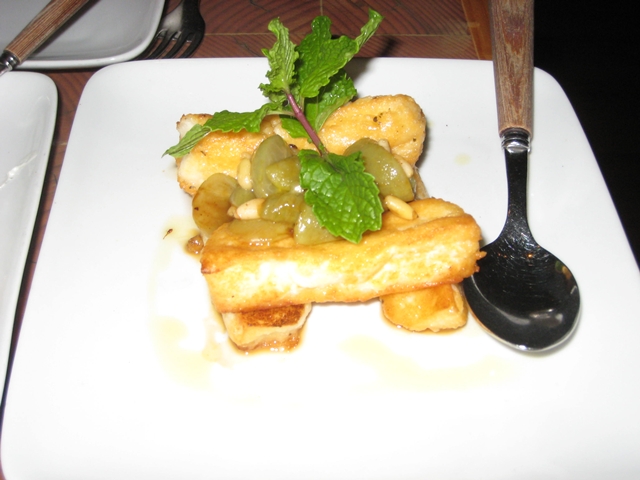 For our main, my husband chose the braised short ribs with porcini potato puree. As expected, this was hearty and flavorful, although to my mind the ribs should have been braised longer to have been even more tender, and I was longing for more of the robust red wine sauce. Solid, but not stellar, and I'd be tempted to either try another main, such as the Moussaka, or simply order more of the hot appetizers next time, such as the Artichoke Heart Moussaka, Grilled Octopus, and the so-called ta afrata keftedakia tis dianas (Diane's Light-as-Air Meatballs).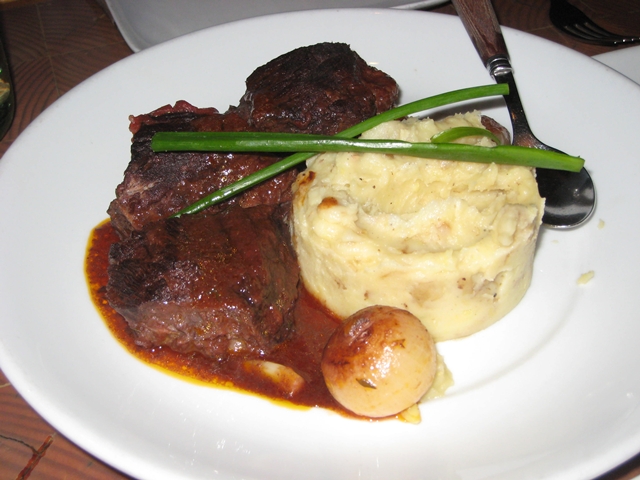 If there were plenty of traditional Greek main dishes and appetizers, I was actually somewhat disappointed that the desserts weren't more traditional. I'm a big fan of the traditional galektoboureko, but instead the only similar option was to order the galektobourekakia, phyllo triangles filled with custard and drizzled with honey. To Pylos' credit, this was my second favorite dish we ordered, although to be honest I still prefer the traditional galektoboureko with its higher ratio of custard to phyllo, which we've gotten a good rendition of at the Greek Taverna in Edgewater.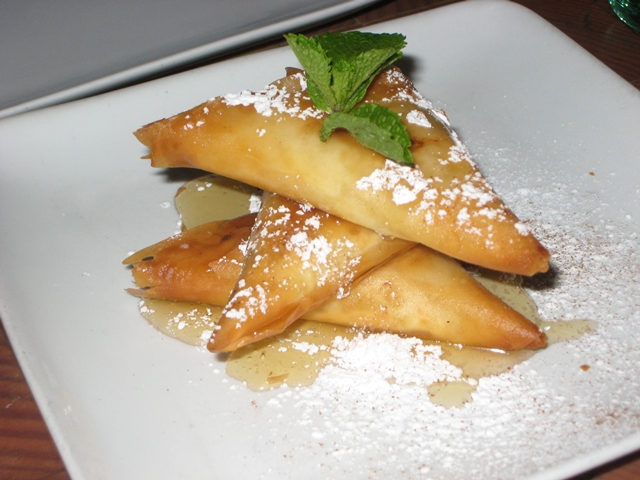 Have you tried Pylos or have another favorite Greek Restaurant in NYC?
Related Posts
Estiatorio Milos, NYC Restaurant Week Review
Fish Tag NYC Restaurant Review
Maialino, NYC Restaurant Review
Daniel Humm's The NoMad: NYC Restaurant Review
Need Award Booking Help? Our fee is as low as $75 per ticket if you book your hotel through us.
If you enjoyed this, join 90,000+ readers: please follow TravelSort on Twitter or like us on Facebook to be alerted to new posts.