Update: See our Four Seasons St. Petersburg Review
This post is part of a trip report including First Class and Business Class to Moscow on Lufthansa, with reviews of luxury hotels and dining in Moscow and St. Petersburg, Russia.
For the prior posts, see:
Lufthansa First Class Award Booked 15 days in Advance
Lufthansa New First Class Review
Review: Lufthansa First Class Lounge in Munich
3-Year Russian Visa Application Requirements and Tips
Radisson Royal Moscow Hotel Review
8 Things to Eat in Moscow, Russia
Les Menus par Pierre Gagnaire at Lotte Moscow, Restaurant Review
Getting Around Moscow by Metro: Top 10 Tips
Sapsan Train Moscow to St. Petersburg Review and Booking Tips
miX in W Hotel St. Petersburg Restaurant Review
Have you dreamed of staying in a palace? The Four Seasons Hotel Lion Palace St. Petersburg, Russia was kind enough to give me a preview tour of the former Lobanov-Rostovsky Palace, now being painstakingly restored to open as a new Four Seasons hotel in mid-2013. The hotel is next to majestic St. Isaac's Cathedral, across from the Aleksandrovsky Garden, and just two blocks from the State Hermitage, the largest art museum in the world.
I arrived at 9:30am, but this being the winter, it was still dark as I greeted the lions who guard the entrance: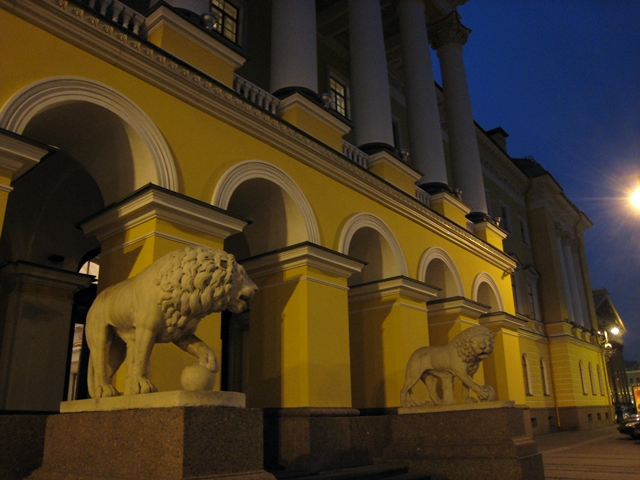 When you enter, your eyes are drawn upward to the gorgeously ornate white and gold ceiling. I can only imagine the labor that went into restoring the intricate moldings, since the palace was used variously as the headquarters of the Ministry of Defence from 1827 to 1917, and during Soviet times as a hostel, a school and an architectural bureau and much of the interior was damaged over the years.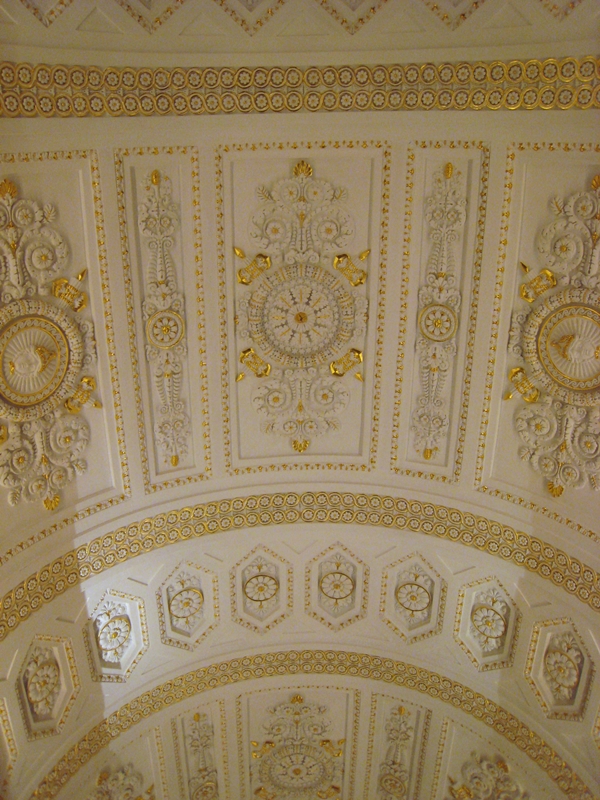 During my visit, Four Seasons staff were meeting in what will be the hotel's glass-roofed winter garden, housing the Tea Lounge, for breakfast, lunch and afternoon tea: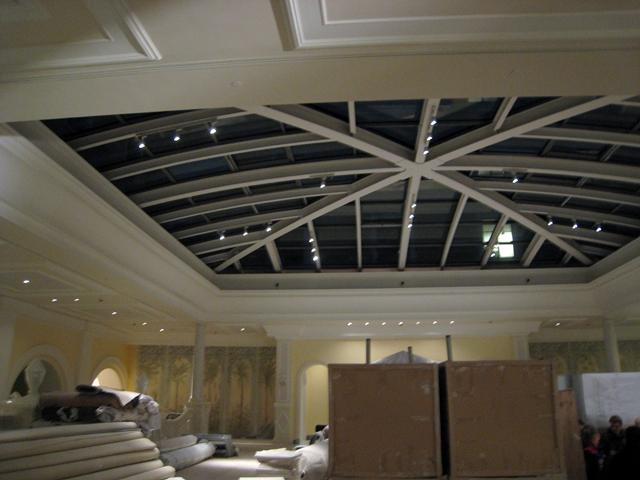 Another example of the intricate restoration work on the walls and ceilings. This one, with its pale blue and white design, reminded me a bit of the Wedgewood Jasperware: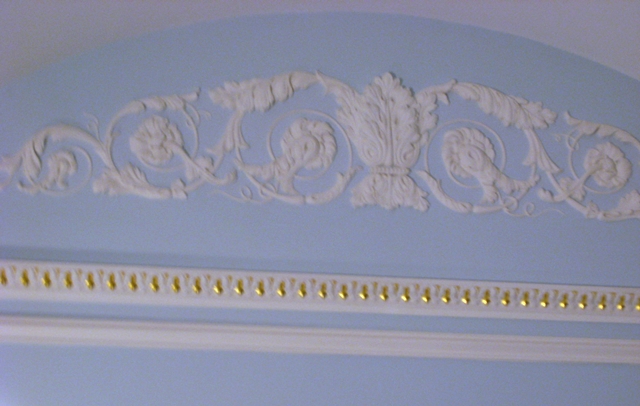 While my photo didn't turn out well, the Xander Bar is incredibly cozy, with its fireplace and richly polished wood. It's exactly the kind of study or lounge you could imagine for Peter the Great, who founded St. Petersburg as Russia's new capital in 1703 and was known for building Russia's powerful naval fleet.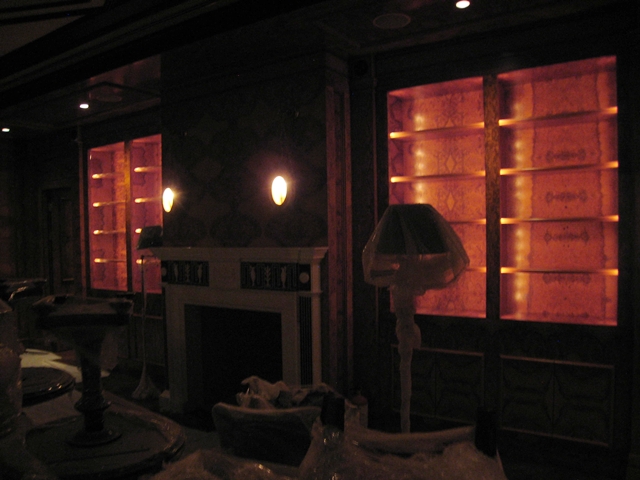 The Xander Bar is also where the architect of the palace, Auguste de Montferrand, had his study during the construction of his other masterpiece, St. Isaac's Cathedral. Prince Lobanov-Rostovsky hired Montferrand after the architect to create the palace after the design for St. Isaac's Cathedral had already been acclaimed, but before construction had begun.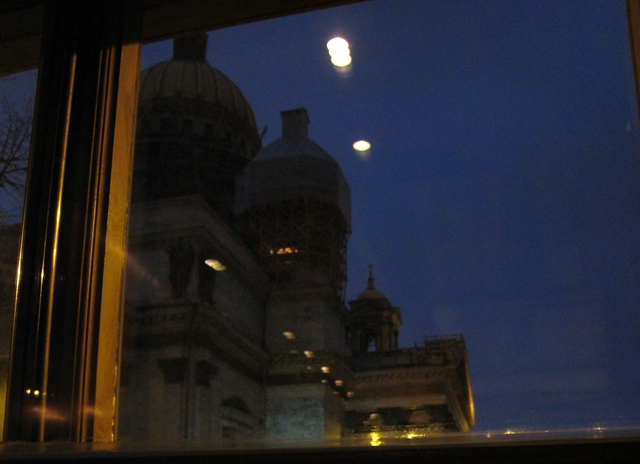 Upstairs, I got to peek at a Deluxe Room that faces the Aleksandrovsky Garden: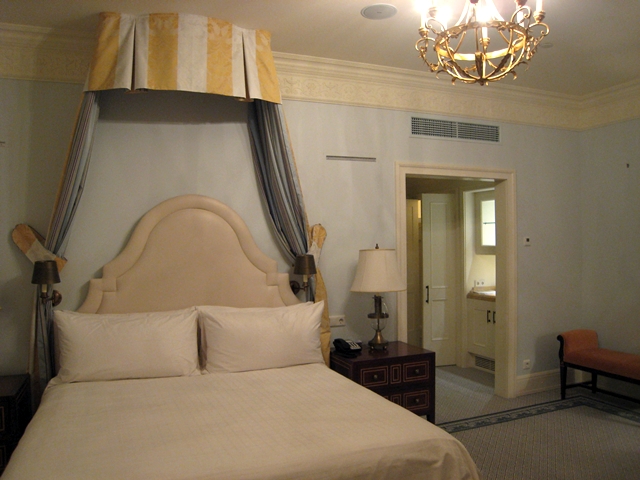 The bathroom enjoys a separate soaking tub and glass enclosed shower, and the customary L'Occitane bath amenities: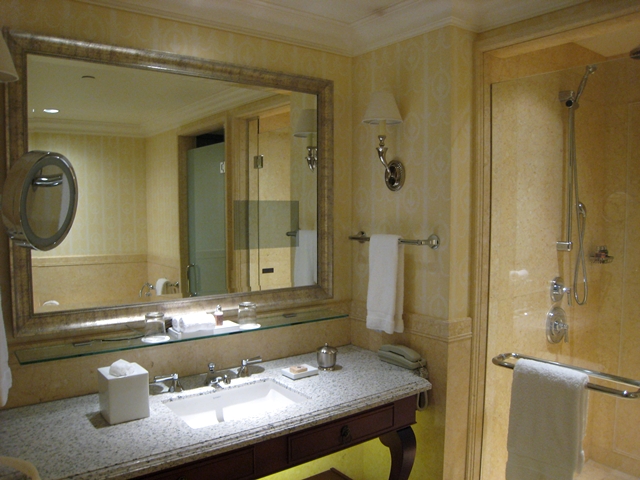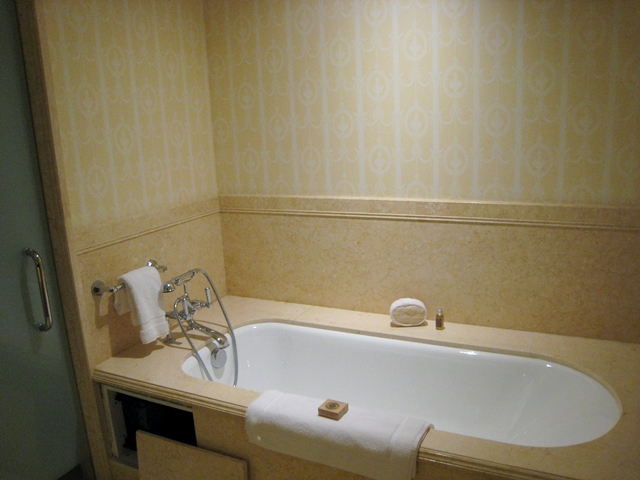 Here's a Four Seasons photo of one of the Premium Rooms in the summer: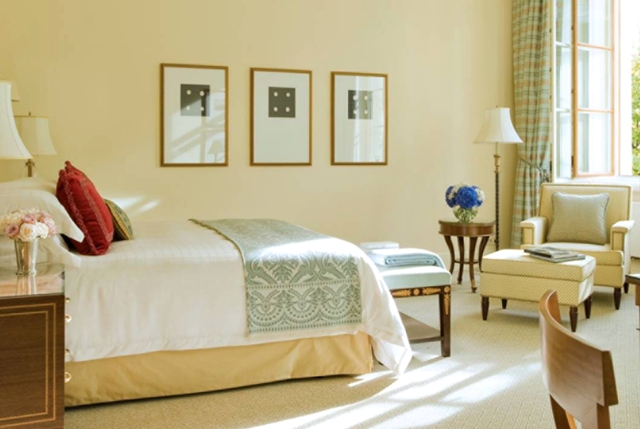 I also saw an Executive Suite; this one has some rustic antler decor around the mirror in the living room, although I was told that each of the 177 rooms and 26 suites are uniquely decorated: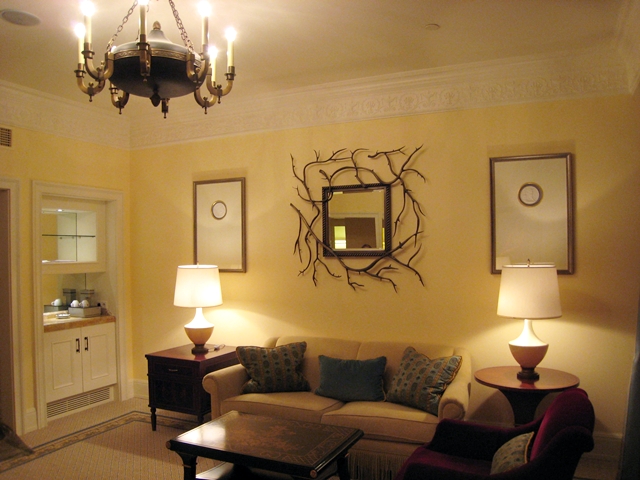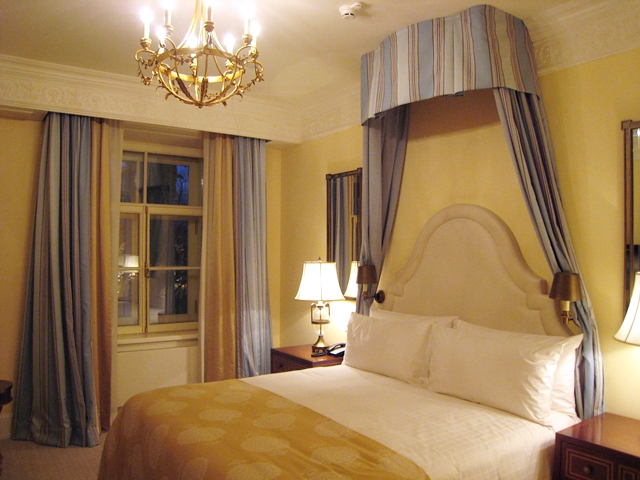 Italian Chef Andrea Accordi will offer modern Italian cuisine in Percorso, with an open kitchen. Sintoho will offer sushi and Japanese specialties, which will undoubtedly appeal as strongly to local diners as hotel guests, given how popular sushi is in Russia. Guests can head to Xander Bar for traditional and modern Russian zakuski (appetizers and light bites).
Although work was still ongoing on the Spa and Fitness Center, so I wasn't able to see them or take photos, I can't wait to see what the triangular rooftop atrium pool looks like! The entire building is built on a triangular plot of land, so the pool is that shape as well.
The Grand Ballroom is completely new, but the design is perfectly in keeping with the rest of the palace's interior: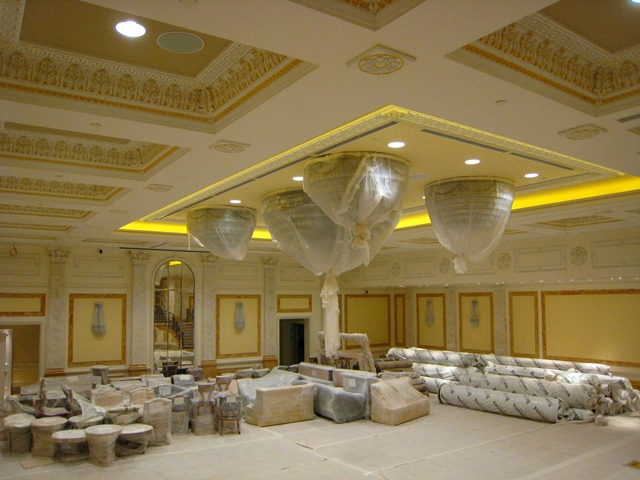 Thinking of going? There's no set date yet for opening, but it's expected to be late Q2 2013. Here's rate information:
Deluxe Room: RUB 17,500 (High Season), 14,625 (Shoulder Season), 11,100 (Low Season)
Four Seasons Executive Suite: RUB 55,000 (High Season), 46,250 (Shoulder Season), 37,000 (Low Season)
Presidential Suite: RUB 465,000
Low Season: January 1-April 1, October 16-December 31
Shoulder Season: April 1-June 1, July 1-September 1, September 11-October 16
High Season: June 1-July 1, September 1-September 11
Don't forget to pay with a credit card that doesn't charge foreign transaction fees. The Sapphire Preferred gives you 2.14X for hotel and other travel and dining spend, and the Ink Bold and Ink Plus offer 2X for hotel spend.
Verdict: It's too early of course to have a verdict yet, since the hotel isn't open yet and I haven't stayed there, but I can't wait to bring my family there. The Four Seasons is a much better choice than the W for families, with wonderful kids' amenities, bathtubs, complimentary pool access, and child-friendly dining. And of course the hotel is likely to be the top choice for couples looking for the ultimate in pampering and top-notch service in St. Petersburg, which is such a romantic destination for art and culture lovers.
Related Posts
Top 5-Star Luxury Hotels in St. Petersburg
A Romantic Trip to St. Petersburg, Venice of the North
St. Petersburg, Russia with Kids
Sapsan Train Moscow to St. Petersburg Review and Booking Tips
Need Award Booking Help? Our fee is as low as $75 per ticket if you book your hotel through us.
If you enjoyed this, join 200,000+ readers: please follow TravelSort on Twitter or like us on Facebook to be alerted to new posts.
Become a TravelSort Client and Book Your Hotel with Virtuoso or Four Seasons Preferred VIP Amenities!