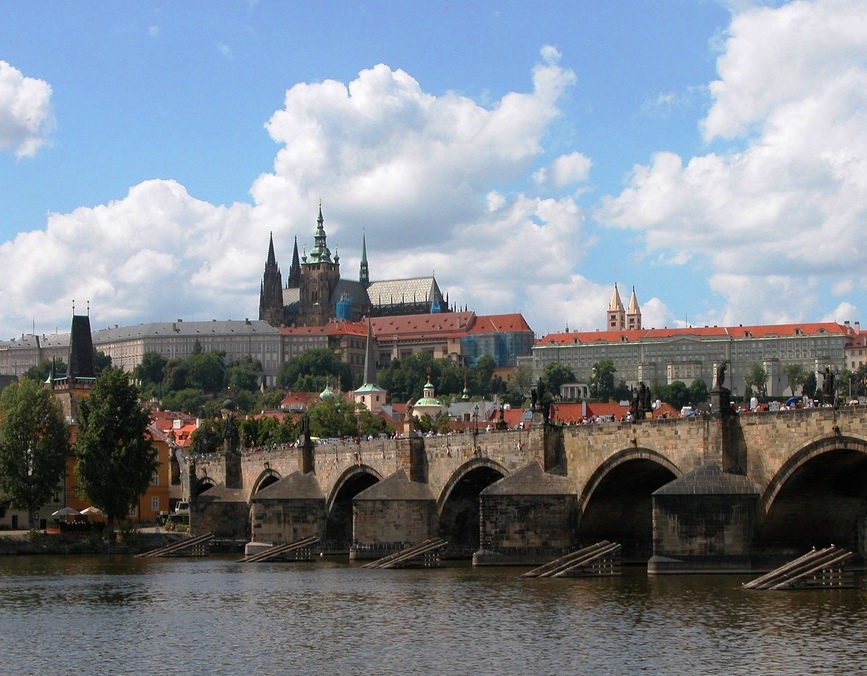 Why go
If you want to enter a medieval fairy tale, then Prague is the perfect place for you! Where else can you see an entire ancient city, not destroyed by war? Here you can find hundreds of unique buildings, each with their own wonderful architectural flourishes; quaint and romantic little streets paved with cobblestones, cozy restaurants and cafes, churches and churches belonging to different faiths, and countless other attractions. You must see at least three of the most iconic sights: the 600-year old Prague Astronomical Clock, the Gothic Cathedral of St. Vitus, and the Charles Bridge. And Prague's Old Town itself is one big open air museum!
Prague is a city where romance is in the air. Have you ever seen on a tram, as we did, a charming man with a huge basket of roses? His lucky girlfriend or lover! Such romantics probably only live in the Czech capital and a few other places.
Insider Tips
Many restaurants and cafes do not have an official closing time and are open until the last customer leaves.
 It is customary to leave a tip of 5-10%. In some cases service is included—check the bill to see if it is.
As you would expect, restaurants and cafes in central Prague can be tourist traps with high prices; seek out places a few blocks from the city center.
If interested in classical music concerts, check out Prague Castle for free concerts within the castle grounds. Also try to visit churches that within the vicinity of your hotel. Often, they hold free concerts from time to time or give free admissions to choir and orchestra rehearsals. Music schools sometimes offer free concerts, although they are hard to hunt down – for instance the HAMU (Music Academy) or the Prague Conservatory.
On many of the streets in central Prague pedestrians have the right of way and cars must yield. A pleasant change from having to be so careful of cars in other busy capital cities.
In some parks, you are allowed to walk on the lawns, but you must first remove your shoes. Kind of nice to have to walk barefoot, actually!
Most of Prague is paved with cobblestones, so the best shoes for walking around town are sneakers or other comfortable shoes with solid soles. Forget trying to navigate them in high heels.
When taking public transit, you must first validate your ticket by inserting it into the machines, which stamp it. The stamp specifies the time for which it is valid (you can also transfer to another bus or tram within this time); if you are past that time you'll have to validate a new ticket. Don't be tempted to cheat, as fines are very high.
 If you want a better look at the Prague Astronomical Clock when it strikes the hour, try to arrive 15-20 minutes beforehand, to get a spot with a good view. Even better, bring along binoculars or a camera with a good zoom lens.
 In the center of Prague there are many folks handing out flyers for performances and concerts. If you don't have a map, these can come in handy as they typically have a little map of the city center printed on the back of them.
If you want a great panoramic view of Prague, try either the observation tower on Petrin Hill, the Žižkov television tower, or one of the Gothic towers on the Charles Bridge.
If you want a boat ride, go to Kama island near the Charles Bridge and buy a ticket. Incidentally, this island is called "the Czech Venice." The ride lasts 1.5 – 2 hours.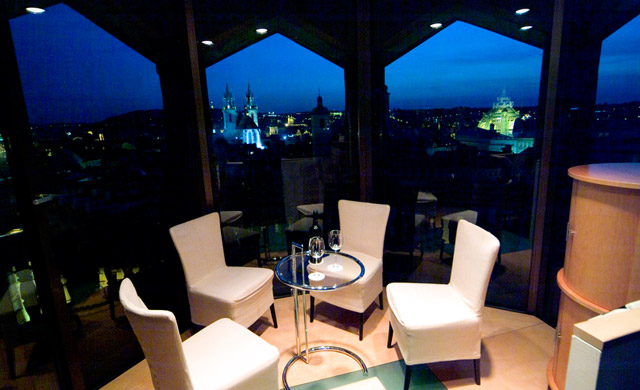 Where to stay
If money is no object, it would be hard to find a more perfectly romantic and opulent base than the Royal Tower Suite at the 5-star Hotel Paris Prague, a wonderfully restored Art Nouveau jewel of a hotel right next to Prague's Old Town. The Royal Tower Suite is on the hotel's top two floors, with a spacious living room, lounge area, bedroom, 2 bathrooms and bar with kitchenette on the lower floor, and on the upper floor, in the tower, a romantic wooden-beamed bedroom with a large round window and view of Prague's Old Town and Prague Castle. Ascend the tower  and you're treated to a glassed-in terrace with full 360 degree panoramic view of the entire city! Incredible and unforgettable.
If you're after a sleeker, design hotel experience, try the 4-star Hotel Josef Prague, also centrally located and just a 5 minute walk from the Old Town Square. Ask for a room on the top floor, as these get lots of natural light and have balconies. Unlike in some design hotels, the details are well thought out and add to rooms' functionality rather than detracting from it. Helpful staff too, and delicious breakfasts in the courtyard.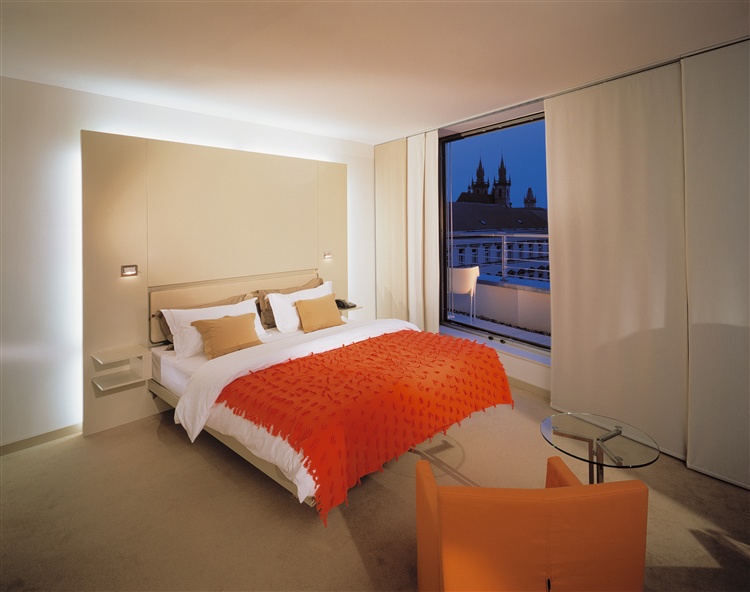 What to eat
In terms of dining, there's never a problem of finding a bit to eat, as almost around every corner there's a cozy place where you can eat a tasty meal, or at least drink a glass of beer. The entire country is of course famous for its beers, and never once did we meet one we didn't like—only good or great beer, wherever we sampled it!  Other liquid options include absinthe (easily purchased here, although banned in many European countries), plum vodka, and "Becherovka," an herbal infusion good for the stomach. And make sure to try Czech dumplings, which come in fruit, vegetable and meat flavors. Other delicacies include roasted goose, roasted rabbit, and, for the intrepid, pig knuckles.
If you're looking for the perfect place for a romantic dinner, try Terasa U Zlate Studne, with a magnficent sweeping view of Prague from its terrace. Try the exquisite tasting menu, featuring specialties such as Anjou Pigeon with Chestnuts and Cognac-chocolate sauce and plum ravioli.
We chanced upon Black Eagle (Černý Orel) and stopped in for lunch. Once inside, I wanted to take pictures of everything, as there were so many reminders of the past, from old irons and coffee grinders, to antique china and silverware. A very cozy place. Our waiter was friendly and efficient, and the dishes were good hearty Czech classics, such as goulash with bread dumplings, smoked pork with cabbage, potato pancakes, etc.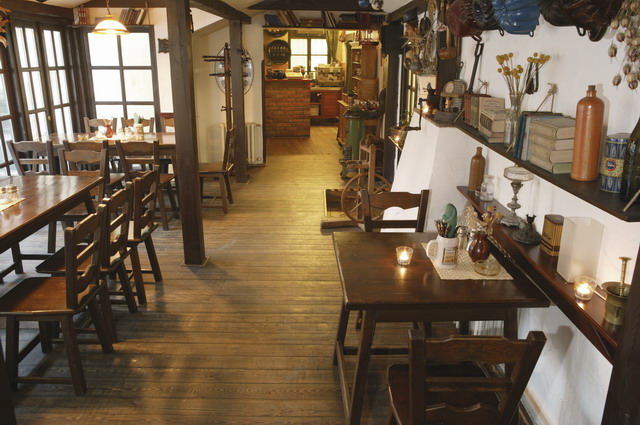 If you're a beer lover, head to New Town Brewery (Novoměstský pivovar), with both light and dark beers. You can even ask the restaurant for a tour to see the brewing process . The menu is mostly traditional Czech, so you can try many national dishes. Among the specialties of the house are Old Bohemian-style roast goose and pork knuckle. Prices are not that high, although portions are small (more room for beer!). We dined in the atmospheric Gothic-style hall, although there are also other rooms decorated in other styles, so pick one that suits your mood.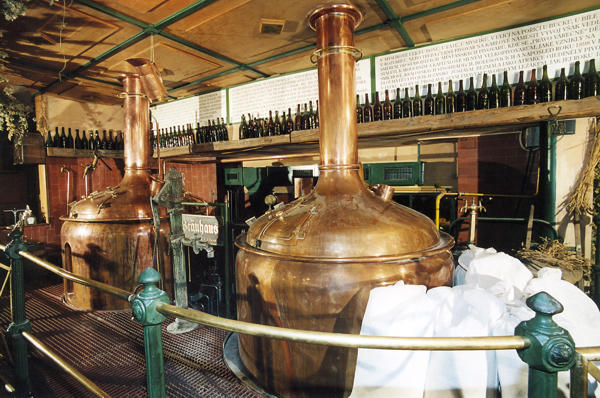 What to see
Prague Astronomical Clock (Pražský orloj) has been on the wall of the Old Town Hall since 1410. The clock draws crowds not only for its history and appearance, but also for its remarkable show. Every hour from morning until late evening, two windows open and twelve apostles appear. At that point other figures on the clock begin to move: the skeleton symbolizes death, the Turk symbolizes lust, the proud man signifies vanity and a merchant, greed.  The skeleton turns over the hourglass and pulls the rope to ring the bell, theTurk shakes his head in protest, the proud man admires himself in the mirror, and the merchant (before the war there was a Jew) shakes a fat purse. As soon as the apostles retreat, a rooster crows and then the bells in the tower ring the hour.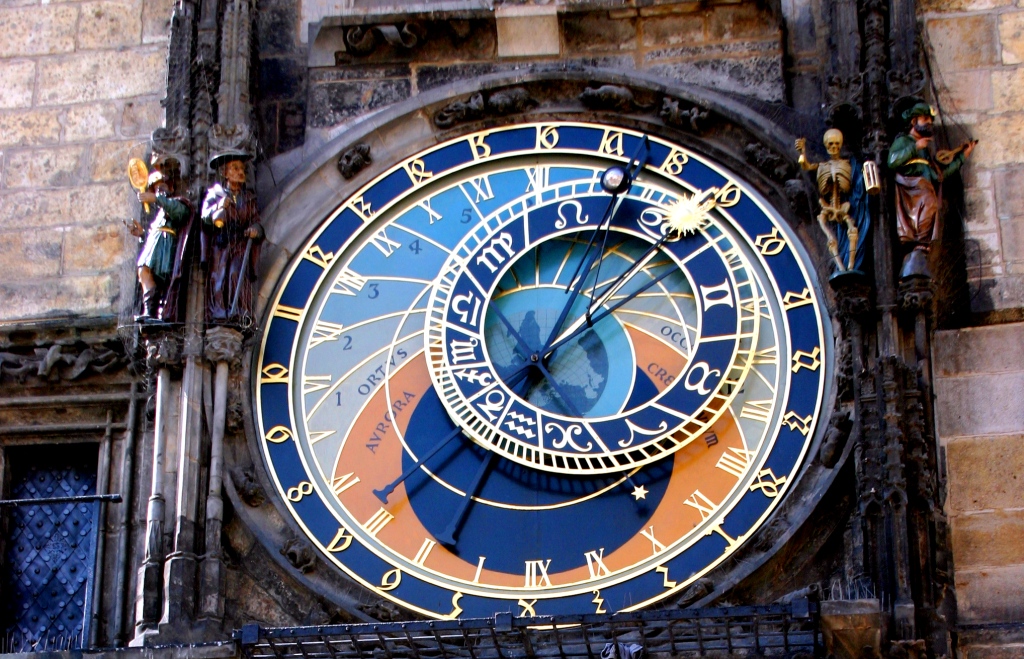 The Charles Bridge is one of Prague's most romantic attractions day and night. Plan to enjoy at least one night on the bridge. Musicians, organ-grinders, and magicians entertain and enchant strollers. Sometimes there's even an entire theatrical performance. You'll have a wonderful view of the city from the bridge, and on the river below you every now and then will be boats with evening tours or lively parties. In the daytime there are artists and vendors with unusual and beautiful souvenirs. The bridge is decorated with 30 statues, and each has its own interesting story or a mystery. Some are even said to grant wishes.
St. Vitus Cathedral (Katedrála svatého Víta), the Roman Catholic Cathedral located within Prague Castle,is over 1000 years old and so huge that it is virtually impossible to photograph in its entirety, when anywhere near it. Kings of Bohemia were crowned here and and the royal regalia (crown, scepter and orb) are kept here. It is believed that while the crown remains here, the Czech people will always thrive. The interior is just as impressive, with enormous stained glass windows, including north nave ones designed by Czech Art Nouveau painter Alfons Mucha. It is believed that the stained glass of the windows are a symbol of the boundary between this world and the next. The exquisite cathedral chapel is  decorated with semiprecious stones.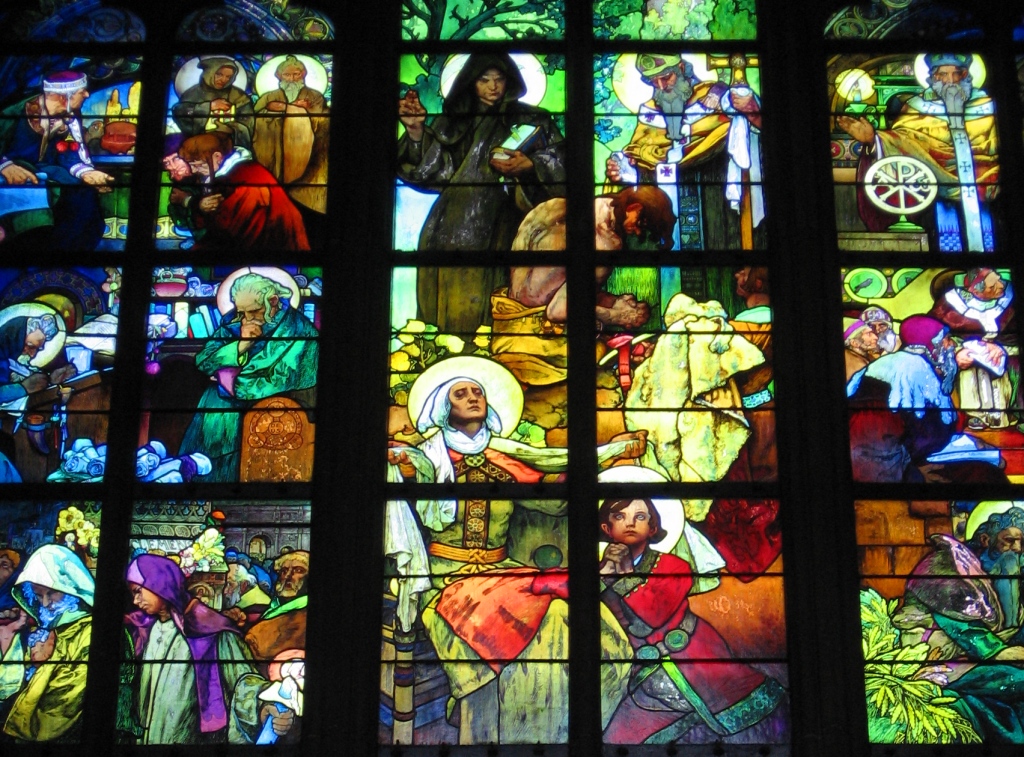 Wallenstein Palace (Valdštejnský palác)was built 400 years ago by nobleman Albrecht von Wallenstein. To build his palace, he bought more than 20 houses, a palace, a brick factory and many gardens. 
Today, the palace houses the Czech Senate and it's only possible to visit the palace on weekends. By the way, after October 31 each year, the majority of castles in the Czech Republic generally closed to the public. But you can walk through the park Wallenstein, which is also lovely. The park consists of two parts. On one side is a swimming pool and greenhouse. Fish swim in the pool, and visitors throw coins into it the pool for good luck. In another part of the park is a fountain with a bronze statue of Venus, an artificial cave with stalactites, a balcony, and bronze sculptures. If you're there in summer, you can catch a theatrical performance or concert.
Photos: Hotel Paris Prague, Hotel Josef Prague, Terasa U Zlate Studne, Black Eagle, New Town Brewery, supa_pedro, Wikimedia