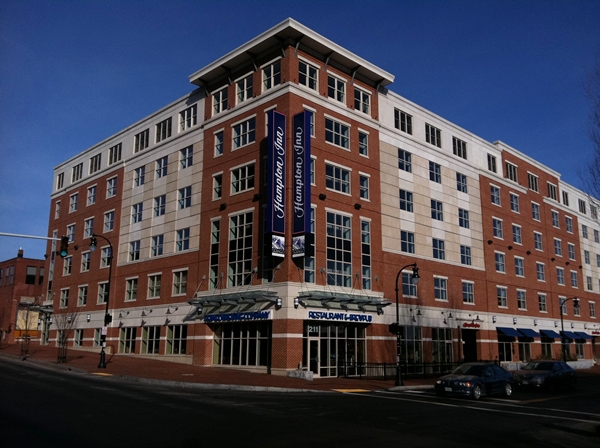 I've never stayed in a Hampton Inn, but if they were all as clean and modern as the Hampton Inn Portland Downtown Waterfront, they'd be among my top picks when it comes to budget hotels.
We celebrated Thanksgiving with relatives in a town just outside Portland Maine, and since they have cats, which my husband and son are allergic to, we opted to stay in a hotel instead of with our relatives. At first I started looking at B&Bs, since Portland does have some nice ones, but almost without exception, none took children (while many did take pets) so they turned out to not even be an option. Portland has a handful of hotels, and since we were only staying the night, I decided against one of the more upscale options. Instead, I discovered that Hampton Inn had just opened a downtown waterfront location in October, just a little over a month ago. Perfect! Everything would be brand new, and all at a price of $109 ($117 including tax).
We arrived without mishap (quite an accomplishment given how directionally challenged we are) and paid $15 for valet parking. There is no self parking, but given the very reasonable hotel rate, $15 seemed fine to avoid hunting for parking in downtown Portland.
Entering the reception area, there was a working fireplace on the left, which my son was thrilled to see. At he last hotel we stayed at, the fireplace wasn't working for our entire stay.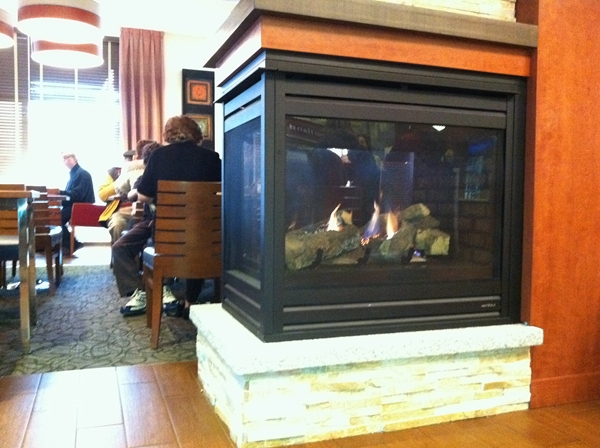 The older woman at the front desk was friendly and efficient at checking us in (she even had our key already coded) so we were in our fourth floor room in no time. She also explained how to access the free WiFi, and that the complimentary breakfast was served 6-10am.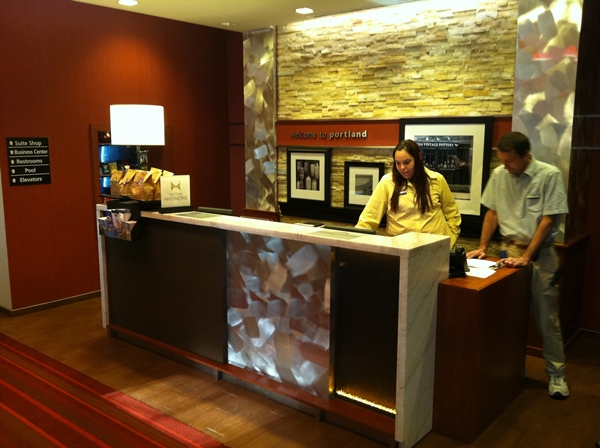 Either I'd forgotten to request a crib or the hotel had forgotten–I'll assume the former–so I called down to request one. We did have something of a comedy of errors for the next 45 minutes or so, as housekeeping first brought a full size rollaway, then brought a pack and play (the hotel doesn't have conventional cribs, no problem there, but this one was missing a mattress and sheets) and then an apologetic staff member brought sheets and a mattress. But in the end, it all got sorted out and everyone was very nice, so I'm chalking this up to new-hotel-ironing-out-the-kinks.
Since I knew we were going to get there late at night and leave the next morning I didn't bother with a room with a view, but it was nice to be in a corner room which was indeed nice and quiet, since we only had neighbors on one side of us. We were able to hear a bit of noise (they also had kids) but it wasn't loud enough to be bothersome. Also, having experienced some pretty noisy heaters (including in our own home!) I was appreciative of the very quiet room heater.
What I especially liked and was pleasantly surprised by was how comfortable the beds were-more comfortable than those of other moderate, 2-star hotels, which is what Hampton Inn is classified as.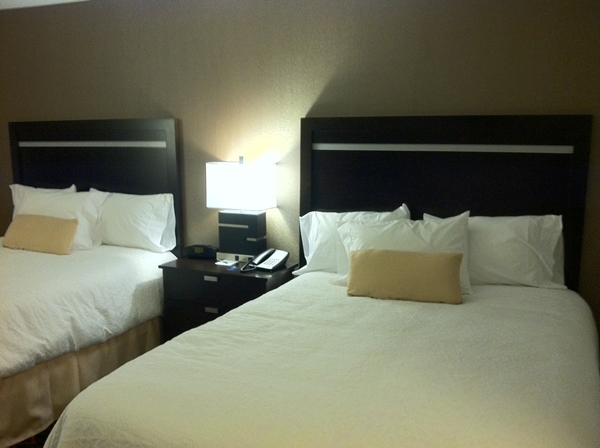 The bathroom was also excellent (and of course new) for a budget hotel, with a bath-shower combo and plenty of towels.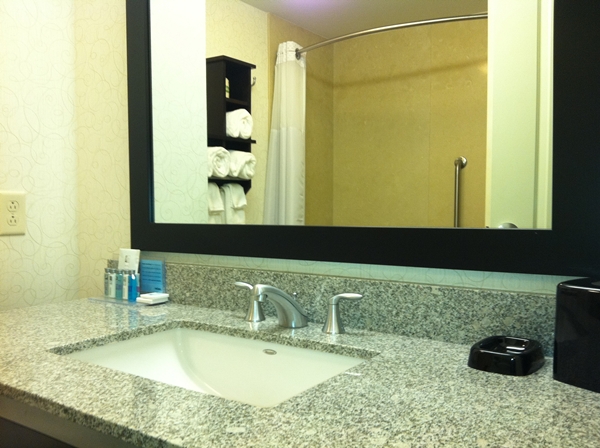 I'd brought my own amenities, but there were Purity bath amenities available, and you can also request toothbrush, toothpaste, razor, and comb if you've forgotten them.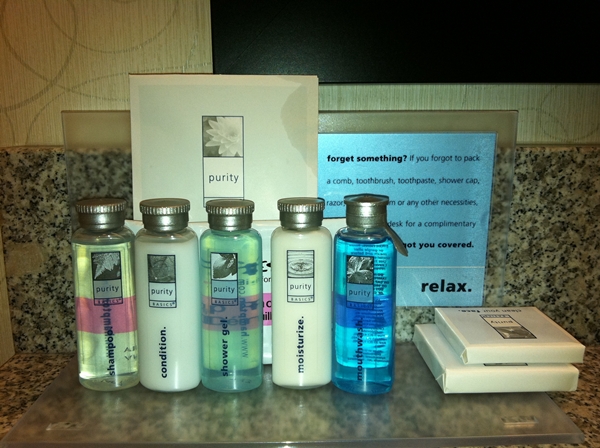 In the morning we raised the shades, and plenty of natural light came in. As we'd just gotten the cheapest room, there was a view of the parking lot on one side and rooftops on the other.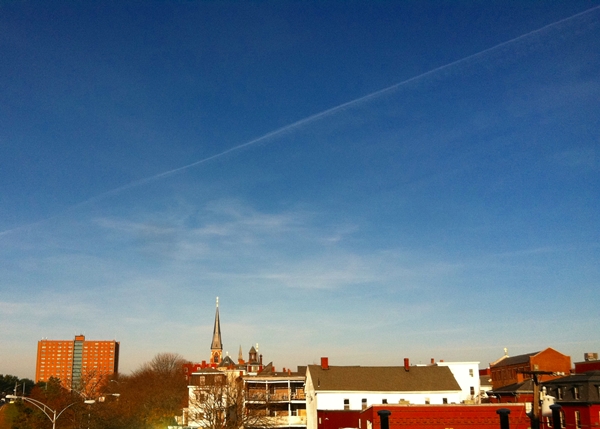 We went downstairs to the free breakfast. It offered a juice dispenser, oatmeal, scrambled eggs, hard boiled eggs, sausage patties, fruit (bananas, oranges, apples), Dannon and Yoplait yogurt, a variety of boxed cereals, muffins, bagels and English muffins (self-serve toaster available), Smuckers jams, honey, and a make your own waffle station.
We tried a bit of the food and it was pretty mediocre (no complaints though, given that it was, after all, free) and then ate the food I'd brought: Dorset cereal and pumpkin bread from When Pigs Fly (terrific Maine bakery) which we toasted and slathered with cream cheese. The coffee was surprisingly good, so I didn't even have to use my own espresso powder.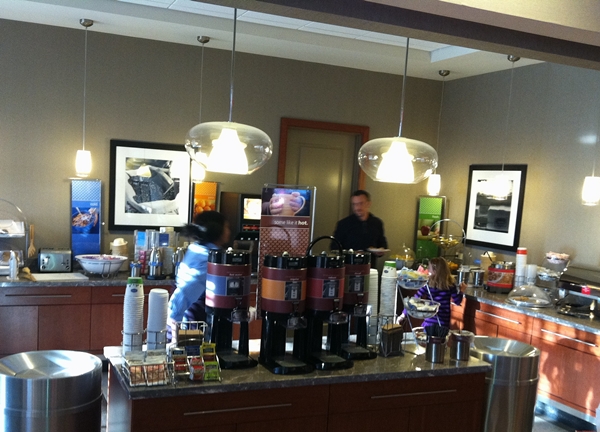 After breakfast, my husband and son tried out the heated swimming pool. It's not huge, and definitely not a lap pool, but is fun for kids.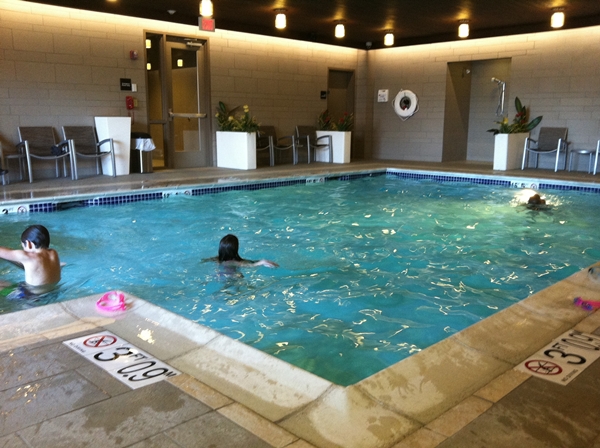 Verdict: This is a great hotel if you're looking to not pay more than $135/night, including parking. If you're a foodie I'd skip the breakfast, but the actual hard hotel product, especially for a budget hotel, is excellent.
Need Award Booking Help? Our fee is as low as $75 per ticket if you book your hotel through us.
If you enjoyed this, join 100,000+ readers: please follow TravelSort on Twitter or like us on Facebook to be alerted to new posts.
Become a TravelSort Client and Book 5-Star Hotels with Virtuoso or Four Seasons Preferred Partner Amenities!