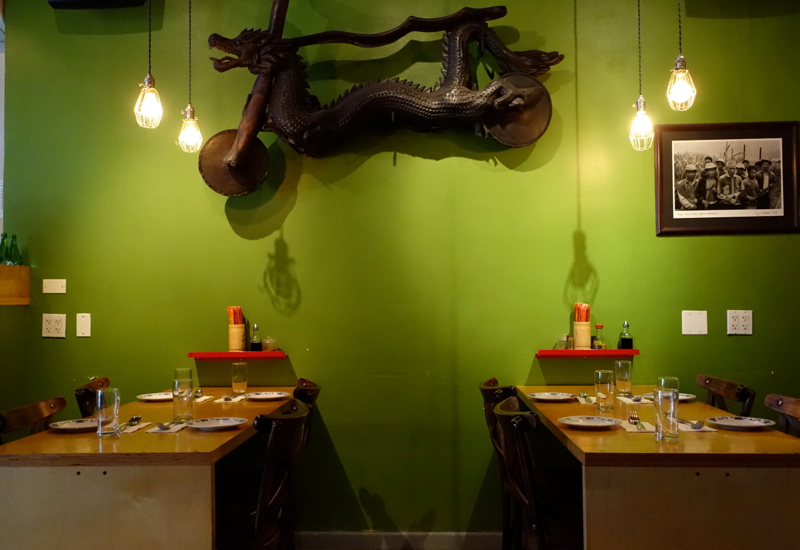 This Pig + Khao NYC Brunch Review is one of our many NYC Restaurant Reviews. Visiting New York? See all of our posts tagged NYC.
We decided to give Pig + Khao, owned by Top Chef contestent Leah Cohen, a try, motivated in part by the OpenTable Devaluation, and wanting to top up our OpenTable account to redeem for one last OpenTable Dining Cheque. Pig + Khao was offering 1000 point dining reservations for early reservation times, which works well for us given our son's bedtime.
Getting to Pig + Khao in the Lower East Side
Pig + Khao is located at 68 Clinton Street in Manhattan's Lower East Side, between Rivington and Stanton Streets. The closest NYC subway station is Delancey Street (F train) / Essex Street (J, M, Z trains).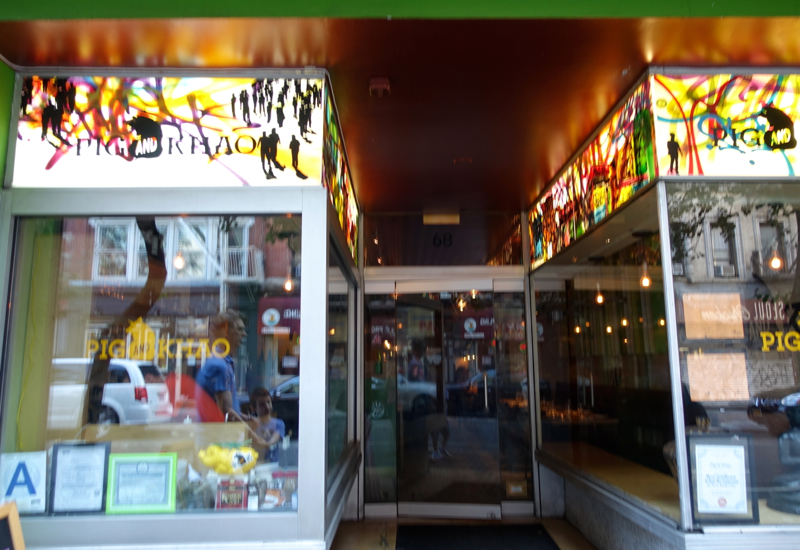 The Scene
Given our early reservation time, there were only a couple of other tables seated when we arrived. During our dinner, however, many of the other tables in the main dining room were filled, and there are also a few tables in the backyard area (along with self-serve beer).
One thing to note is that the restaurant is uncomfortably warm, at least in summer. If there is air-conditioning, it was very low, so expect Southeast Asia-like temperatures as well as food.
Pig + Khao Menu and Food
One good thing about arriving for an early dinner is that servers aren't busy yet, so we were welcomed and given menus and waters quickly. The menu isn't huge, but I rather prefer places that have a more curated menu, figuring that they can put greater care into each dish that they do offer instead of presenting dozens of different options.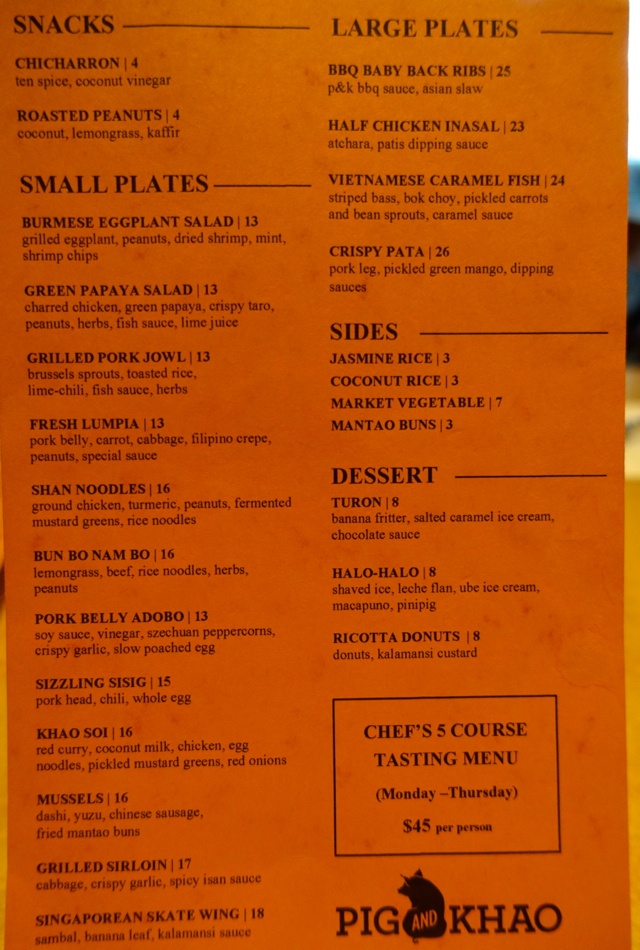 And here's the drink menu. Of course beer is usually the drink of choice for most Southeast Asian cuisines, but I'm not a beer drinker, so only my husband ordered from it, first a Lucky Buddha beer, which he said was undrinkable, and then a San Miguel Light, which he said was somewhat better.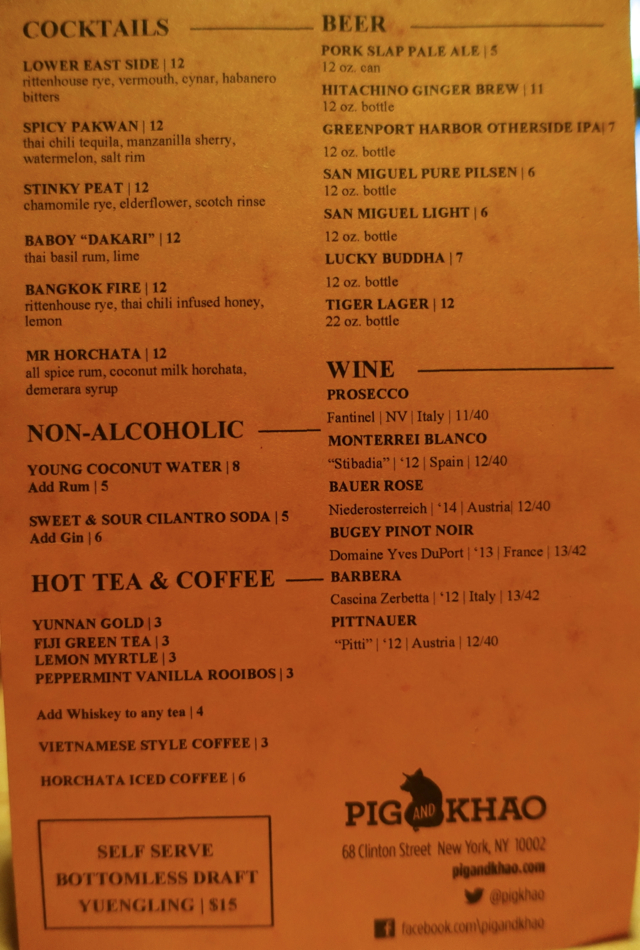 Fortunately the coconut rice we'd ordered came out quickly, so we started feeding that to our ravenous son, who loves both sticky rice and coconut rice. This had nice coconut flavor, was steamed perfectly, and was a generous size serving for $3.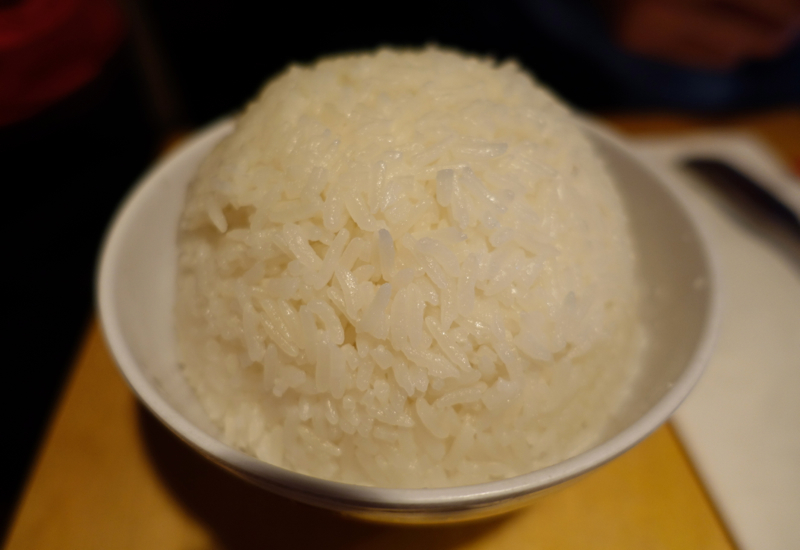 The Khao Soi Thai red curry with chicken and egg noodles was the next dish to come out of the kitchen, unfortunately for our ravenous son, who was crestfallen since he doesn't eat spicy food yet. While the red curry was tasty, it was no better than the red curry I make at home from purchased Thai red curry paste and coconut milk, and in fact was less spicy than I usually make mine. But fine–let's say Pig + Khao isn't aiming for authenticity and is using Southeast Asia flavors as inspirations for its dishes.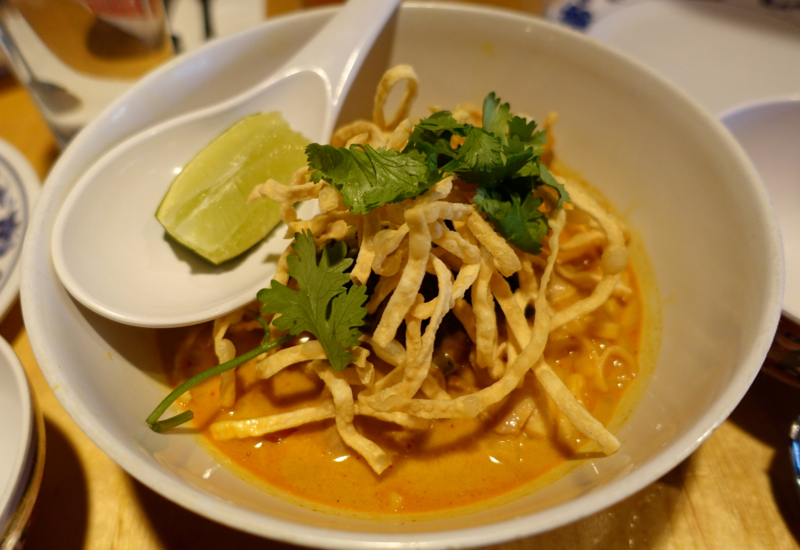 The Grilled Pork Jowl looked intriguing both on the menu and in presentation, with its crispy brussels sprouts, lime-chili-fish sauce dressing, herbs, and toasted rice powder over all. I liked most every part of the dish except the pork jowl, which was very fatty.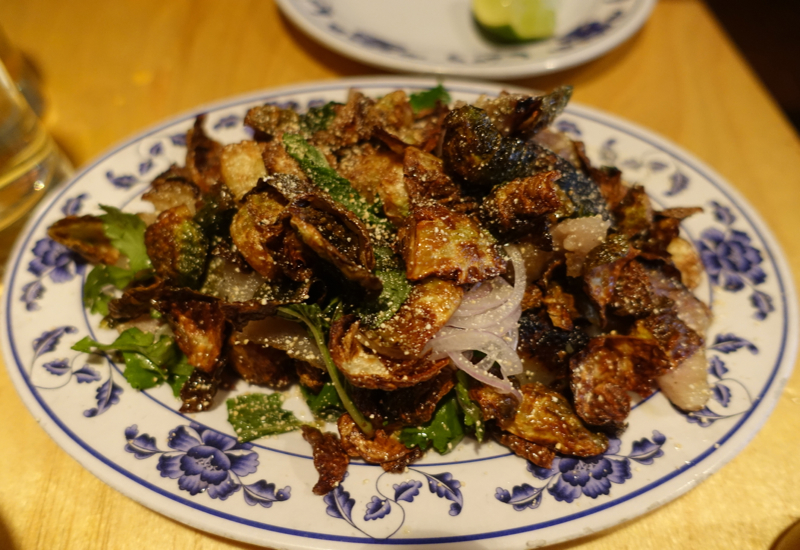 The Green Papaya Salad with chicken and crispy taro fell into a similar category as the Khao Soi: tasty if you've never had real Thai Somtum, but too mild if you crave authentic Thai flavors. Also note that you *don't* want to take any leftovers home, as we did–the textures are good at time of serving, but of course the crispy taro becomes a bland gooey mess in the dressing.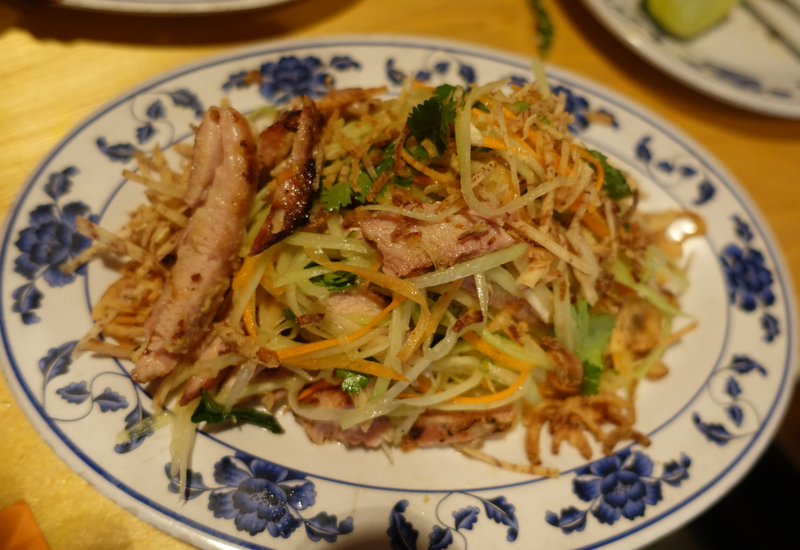 On the brighter side, the Market Vegetable on the night of our visit was steamed Chinese broccoli, and this was both perfectly prepared and a very generous serving for $7.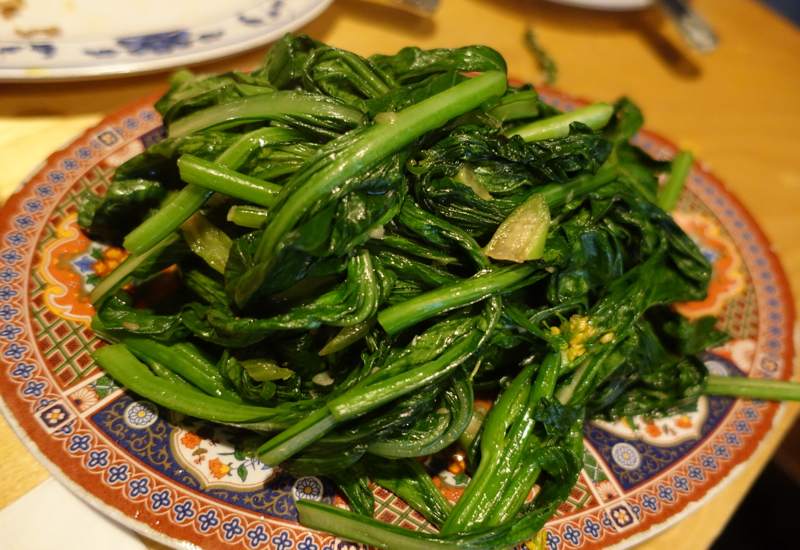 By far our favorite dish of the night was the BBQ Baby Back Ribs. Each rib was tender and meaty, and coated with a sweet and sticky hoisin based sauce. It's one of the priciest things on the menu at $25, but could easily be a meal for two if paired with the coconut rice and Market Vegetable.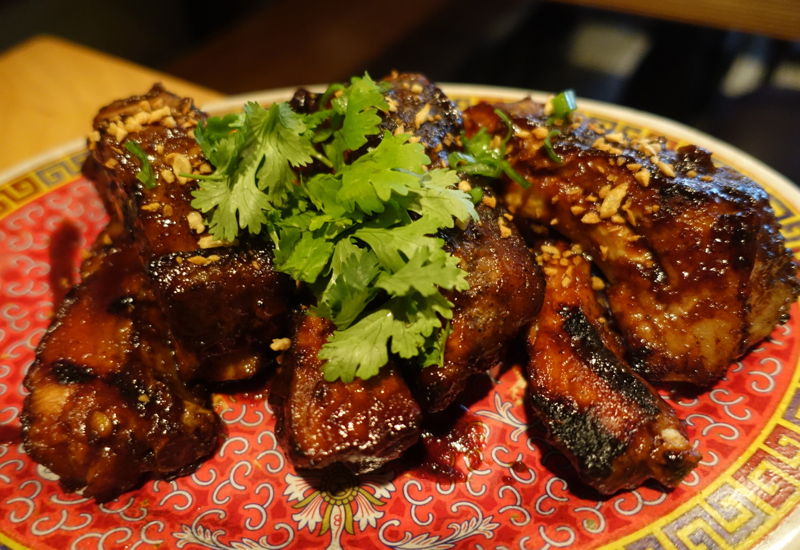 At this point we asked our server about the Mantao Buns we had ordered. Even if they baked them to order, I was surprised they hadn't appeared yet. She came back and unapologetically mentioned that she'd forgotten to give the order to the kitchen, but would we still like them? My husband and I would have said no, but our son wanted to try them, so we went ahead with them. They turned out to be deep fried, so they were piping hot when they arrived, with a golden crispy exterior. Simple, but our son's favorite dish after the bbq baby back pork and coconut rice.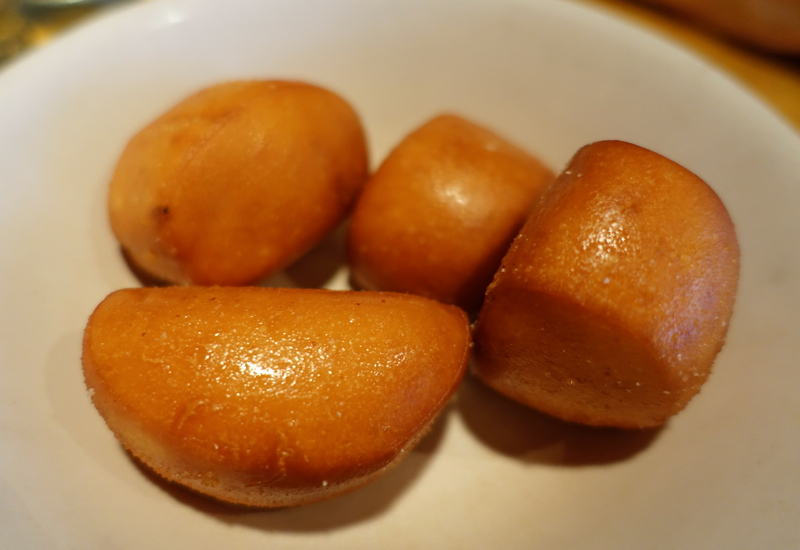 I'd heard good things about the ricotta donuts with kalamansi dipping custard, but in retrospect we should have gone without it, as it was literally a 20-25 minute wait. When a wait is going to be this long, I'd expect the server to either warn us of the wait or comp the dish, neither of which happened. The ricotta donuts were good, although the ricotta flavor wasn't detectable and they simply tasted like Portuguese malasadas to me. The kalamansi custard was a nice touch, although if I didn't know from the menu it was kalamansi I would have assumed it was Meyer lemon.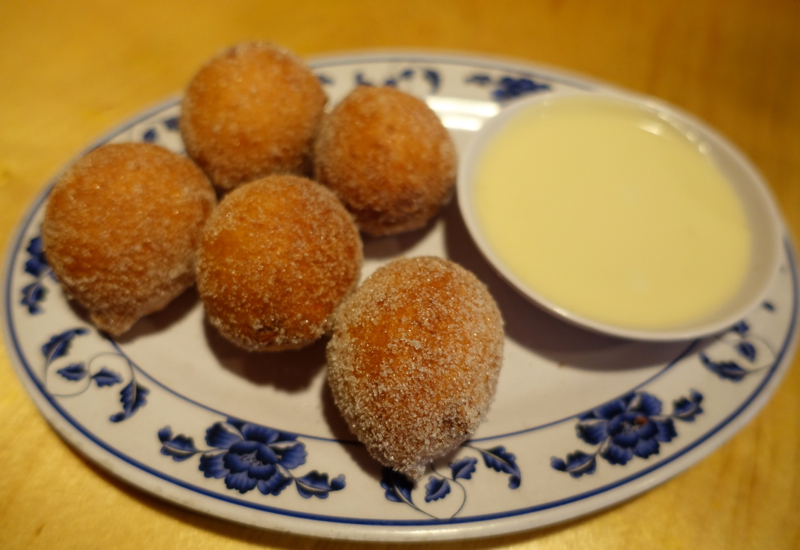 The Verdict
I'm glad we tried Pig + Khao, since it's fun to try new places, and we all enjoyed the BBQ Baby Back Pork Ribs, coconut rice, Mantao buns and ricotta donuts. That said, I'd go elsewhere for Thai food, and wouldn't order the Pork Jowl or Green Papaya Salad again if I came back. We also found the restaurant too hot temperature-wise for comfort, and service, while friendly, was lacking in terms of forgetting one of our orders and not doing anything to warn us about the extremely long wait for a dessert, or make amends. So all in all, I'd go back to our Northern Thai / Issan food favorite, Somtum Der, multiple times before giving Pig + Khao another try.
If you've been to Pig and Khao, what was your experience?
Related Posts
Somtum Der NYC Review and Menu
Num Pang Sandwich Shop Review-Cambodian Banh Mi in NYC
Review: Clinton Street Baking Company, NYC
Khe-Yo NYC Restaurant Review: Laotian in Tribeca
Ninh Kieu NYC Restaurant Review
Need Award Booking Help? Our fee is as low as $75 per ticket if you book your hotel through us.
If you enjoyed this, join 200,000+ readers: please follow TravelSort on Twitter or like us on Facebook to be alerted to new posts.
Become a TravelSort Client and Book 5-Star Hotels with Virtuoso or Four Seasons Preferred VIP Amenities!