One of my favorite meals in Hawaii is Korean food, and specifically, Pearl's Korean BBQ. Now, New York has a whole Koreatown with plenty of authentic Korean food, including sit-down Korean bbq places. But to my mind, there's a shortage of cheap Korean take out places, where you can get a hearty meal that feeds two people for $10. That's where Hawaii's Pearl's Korean BBQ, and others such as Yummy Korean BBQ, really shine.
So when I found out that there was a Waikiki branch of Pearl's Korean BBQ in the Waikiki Shopping Plaza, practically across the street from the
The Royal Hawaiian
(see our
Hotel Review of the Royal Hawaiian
) I was thrilled, and this was the very first meal in Waikiki for the munchkin and me.
You could easily walk right by the rather nondescript Waikiki Shopping Plaza, across the street from the more upscale Royal Hawaiian Shopping Center, but take the escalator down to the Food Court: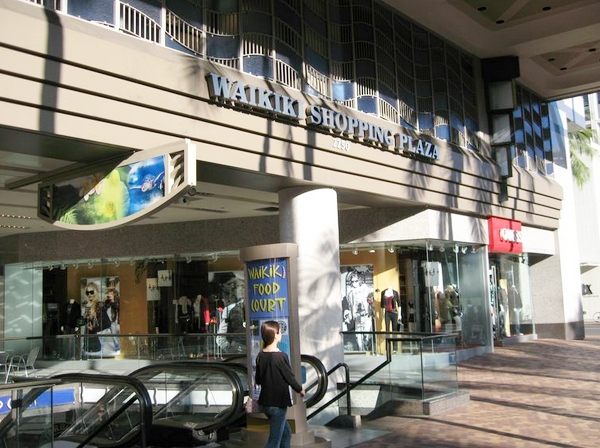 Once downstairs, walk straight ahead, and towards the back, Pearl's Korean BBQ will be on your left: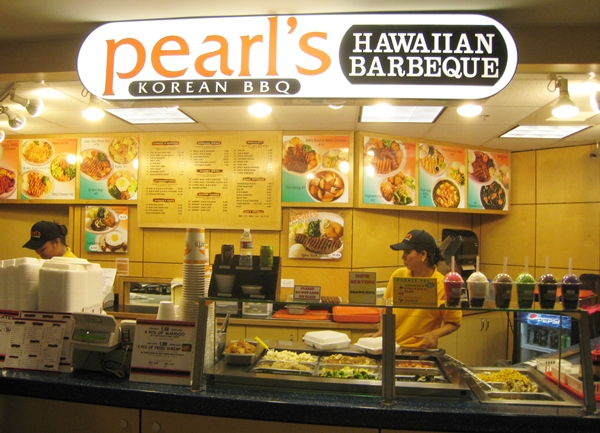 Just as with any fast food restaurant, you can read the choices on the wall. Unlike standard fast food joints though, the food here is a lot better (at least if you like Korean food). I always go with the bbq chicken, but the kalbi and spicy bbq pork are also popular. A regular portion will run you about $10, but keep in mind this meal is enough to feed 2 people (well, unless you're REALLY hungry or a sumo wrestler).
Your meat comes with 2 scoops of rice and 4 choices of side dishes–my favorites are the kim chi cucumbers (which I decided to forego since I was sharing with the munchkin), watercress, seaweed, glass noodles, and the shoyu potatoes. If you're like me and like spicy food, ask for some extra hot sauce (which you can put over your rice or meat) and they'll gladly oblige.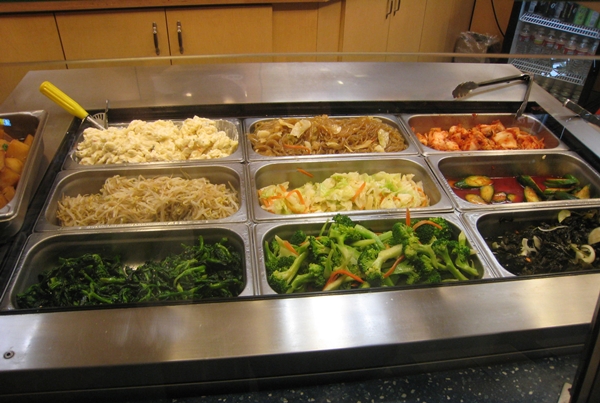 After you pay and pick your vegetable choices, the wait is about 5-6 minutes while they prepare your meat. Although my son wasn't a big fan of the vegetables (more for me!), he happily ate almost a full adult portion of the bbq chicken: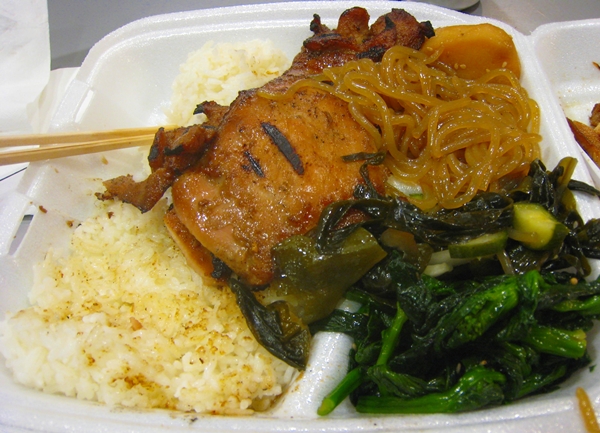 I even came back two days later and got a Spicy Chicken BBQ platter, the leftovers of which my husband happily polished off.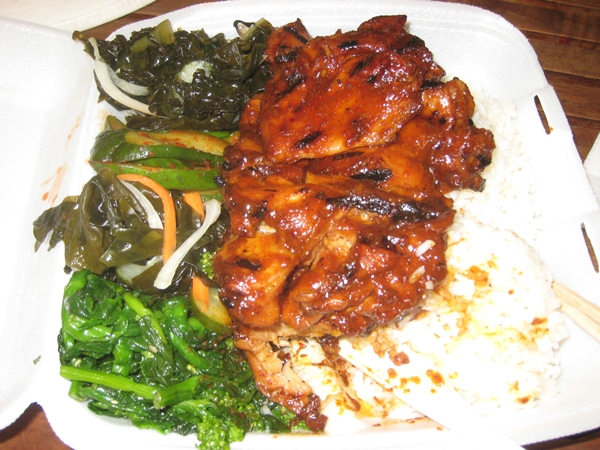 Verdict: If you enjoy a simple, hearty, no frills Korean food at a great price, Pearl's Korean BBQ is for you. Just because you're in Waikiki doesn't mean you have to spend a fortune for mediocre resort food, and you can of course simply get this as take out and eat it in a more scenic location–it's Hawaii, so finding a nice spot shouldn't be a problem 🙂