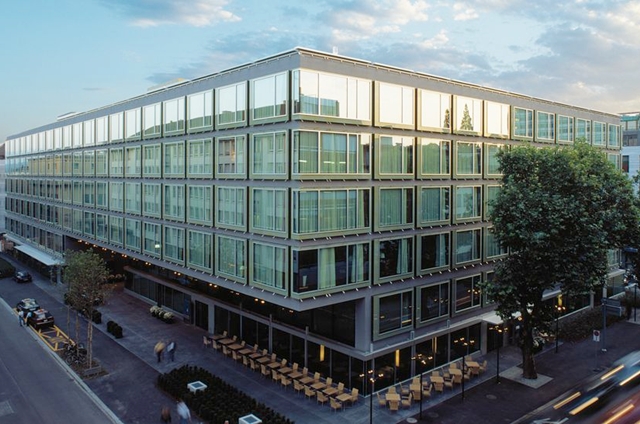 This Park Hyatt Zurich Parkhuus Restaurant Review is part of a series of posts on a short Zurich trip. Other posts include:
Swiss Airlines Business Class Review: Bangkok-Zurich
Swiss Arrivals Lounge in Zurich Airport: Photos and Review
The Park Hyatt Zurich is where I originally planned to stay, but then a friend who has lived in Zurich recommended that I instead go to Interlaken. But I ended up rethinking that, since I'd only have one night and it didn't seem worth it to go to Interlaken for such a short time. By that point, it was impossible to book an award stay at the Park Hyatt Zurich, so I decided to book a budget hotel in Zurich and instead splurge on lunch at Parkhuus, the Park Hyatt Zurich's signature restaurant.
I was able to easily make a Parkhuus reservation via email about a week before I arrived, without a problem, although I'm pretty sure it wasn't necessary for lunch, as there were a number of open tables the day I dined. Since I'd arrived directly from the airport (via train, then transfer to a tram, which let me off just a couple blocks away from the Park Hyatt) I first dropped by the concierge desk and asked to store my hand luggage, which wasn't a problem. I then walked down the hallway to Parkhuus, which, in keeping with the Park Hyatt aesthetic, has a modern, spare feel to it. The hostess led me to my table, near one of the large windows. As it was a lovely day, a number of diners, most all of them in suits and probably working in offices nearby, were dining outside on the terrace.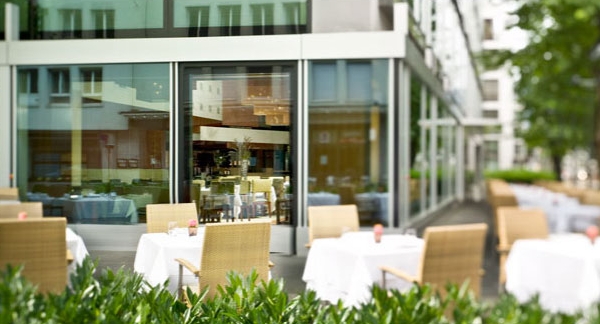 Parkhuus offers a 2 and 3 course lunch menu, with 2 courses for CHF 49 and 3 courses for CHF 59. While normally I would not order two meat courses, the other appetizer and main dish options didn't really appeal. I also selected a glass of Malbec, which remains one of my favorite wine varietals to order, especially in Europe, as it's more likely to be on a European wine list than my favorite California Zinafandels, and it usually is better value than Cabernet. My server was young (she looked like she could be in university) and cheerful, but professional. She poured a taste of the wine first to let me sample it, then poured the full glass. She soon brought some bread and a roasted red pepper dip to the table. The bread was rustic and absolutely delicious–almost my favorite part of the meal. The roasted red pepper dip was fine, although a tad too sweet. I would have preferred some goat's milk butter of the type Eleven Madison Park serves.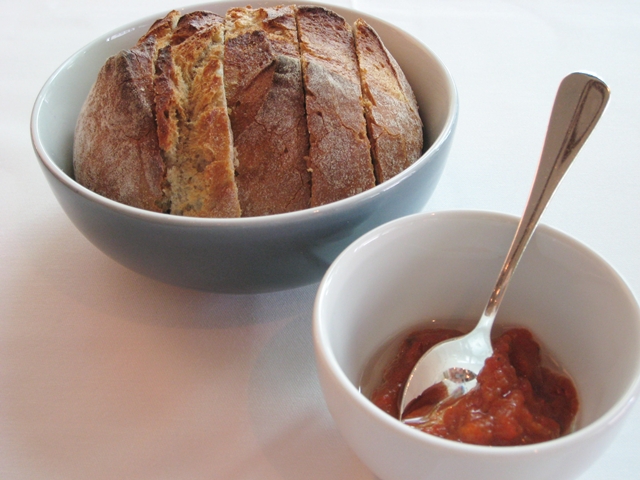 For my starter, I chose the bison carpaccio with herb salad, avocado, chopped egg white and capers. This was artistically presented, wonderfully fresh, and a good contrast of tastes and textures.
Since the other main dish choices seemed rather boring–pasta, pollack and chickes–I'd chosen the veal rib eye with fondant potatoes and leek ragout. Part of me was also wondering how much better it would be than the beef fillet I'd had on the Swiss Airlines flight from Bangkok to Zurich. As it turned out, the airline food was better. Perhaps my taste buds differ significantly from a typical Zurich inhabitant, but I found the dish incredibly bland, the beef rather chewy, the potatoes slightly undercooked and the leek ragout pretty much the most flavorful part of the dish…which isn't saying much. How I wished at that point that I'd saved my money and just spent it on Sprüngli Luxemburgerli instead. Instead, I enjoyed my wine and some people watching, before paying the bill.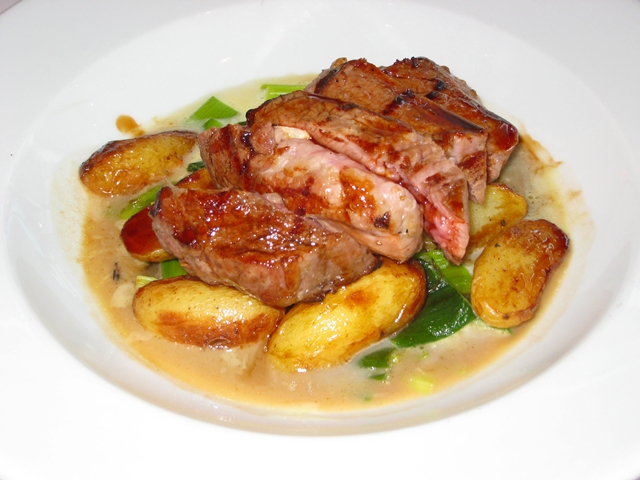 The Verdict: Parkhuus has a nice space, with floor to ceiling windows, modern design, open kitchen, outdoor dining on nice days. And service is friendly and professional, so no complaints there. I would never go back for lunch or dinner, however–while there may well be some excellent dishes that I just didn't get a chance to sample, my lackluster lunch wouldn't inspire me to find out, especially at the skyhigh prices that result from the strong Swiss Franc. Save your money and enjoy a multi-course meal of about the same price yet orders of magnitude better at Eleven Madison Park in NYC, instead.
That said, I would try an award stay at the Park Hyatt Zurich, given the excellent level of service I enjoyed at Parkhuus and at the Concierge Desk, and the good experiences many others have had with stays there. You can enjoy 2 free nights there as a signup bonus for the Hyatt Visa:
Apply: Hyatt Visa – 2 Award Nights at any Hyatt, including Park Hyatts
Related posts
Swiss Airlines Business Class Review
Does Swiss First Class Award Availability Exist?
Best Park Hyatt to Stay 2 Free Nights with the Hyatt Visa
Best Ways to Earn Hyatt Points Faster
Check out and apply for the Best Travel Credit Cards.
If you enjoyed this, please follow TravelSort on Twitter or like us on Facebook to be alerted to new posts.
Become a Member to find your perfect luxury or boutique hotel at up to 50% off: TravelSort Hotels