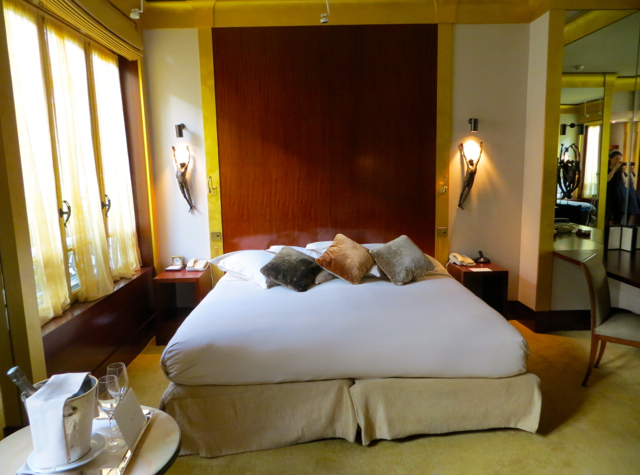 This Park Hyatt Paris-Vendome Review is part of a UK and France trip report including flights in British Airways in New First Class, Singapore Business Class and Singapore Suites, stays in a Scottish castle and 5-star hotels in London and Paris, and Michelin Star Dining in Paris. For the prior posts, please see:
British Airways Galleries Lounge in Newark and First Class Dining Review
British Airways New First Class 777 Review
British Airways Galleries Arrivals Lounge London and Concorde Room
Singapore Business Class Review NYC (JFK) to Frankfurt
Petrus London Restaurant Review
Dalhousie Castle Hotel Review, Scotland
Dalhousie Castle Falconry Review, Scotland
Epicure at Le Bristol Paris Restaurant Review
Four Seasons Paris Hotel Review
Paris Plages (Paris Beaches) Review
Le Cinq at Four Seasons Paris Restaurant Review
The Park Hyatt Paris-Vendome is known for being one of the better Park Hyatts in the world, and I highlighted it in my post Best Park Hyatt to Stay 2 Free Nights with the Hyatt Visa even though I did note that the Park Hyatt Maldives was an even better and more aspirational use of those free nights. Nonetheless, I was excited for our stay at the Park Hyatt Paris-Vendome, which is one of the few Paris hotels with the Palace designation.
As it turns out, I was a little too excited and my expectations a bit too lofty.
Pre-Arrival: Concierge
Even prior to our arrival, I had exchanged emails with the Park Hyatt Paris-Vendome concierge (reachable at vendome.concierge@hyatt.com) about children's activities. The good thing is that they were quite prompt with their replies; faster than the Four Seasons Paris Concierge, although not as fast as the Concierge at the Prince de Galles, a Starwood Luxury Collection property.
The Park Hyatt Paris-Vendome Concierge had nice if already known to me suggestions for kids' activities, but I found their restaurant recommendations to be on the touristy/poor quality side, so I didn't take them up on any of them. Instead, I did my own research for the Top Paris Restaurants Open in August and asked the Park Hyatt Paris Concierge to make a reservation for us at Le Galopin, the restaurant of Chef-Owner Romain Tischenko. The Concierge confirmed via email that a reservation had been made for our requested date and time. But more on this later.
Park Hyatt Paris-Vendome Location Check-In
Situated at 5 Rue de la Paix, the Park Hyatt Paris-Vendome is a short walk to the Opera Garnier (with a magnificent Chagall ceiling–worth seeing even if you don't attend a performance) and also the Roissy bus stop, which takes you to and from Charles de Gaulle. The Roissy bus took a long time and was completely packed, but once we finally arrived at Opera, it was just a 7 minute or so walk to the hotel. The entrance is quite small but elegant.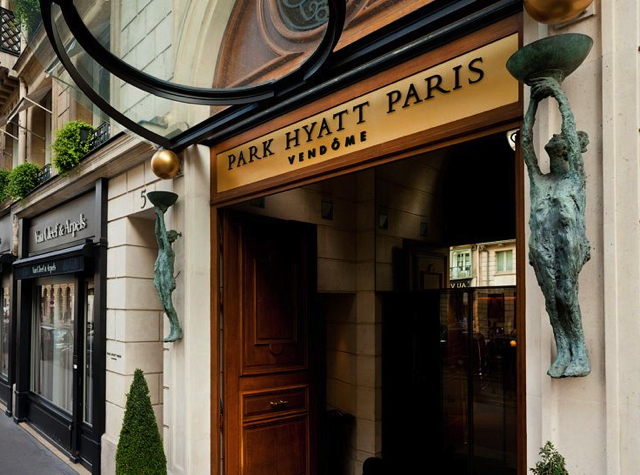 Once inside, you pass the Concierge desk on your left and proceed down a rather dim hallway to the Reception Desk on your right. To the left are the hotel's dining venues, including Les Orchidees, where a breakfast buffet is served daily.
My husband and the munchkin were quite tired (and hungry) so I did the check-in on my own, with their passports (always make sure to have those handy when checking in). I spoke French with the associate, and he was polite, although not overly friendly, and it seemed to take an extremely long time to check-in, particularly compared to the friendly efficiency of the Four Seasons Paris.
Finally we were provided our keys, and were on our way up the elevators to our Park Deluxe King Room.
Park Deluxe Room
Everywhere we went, whether the hallway to the reception or the corridors to the room, it struck me that the lighting was very dim. We entered our Park Deluxe King Room, and it was certainly better than the hallway, but still rather dim for my taste even after opening the blinds (which are electronically operated).
We had requested a quiet room, so I wasn't at all disappointed by our view of the courtyard, as this is quieter than facing the street.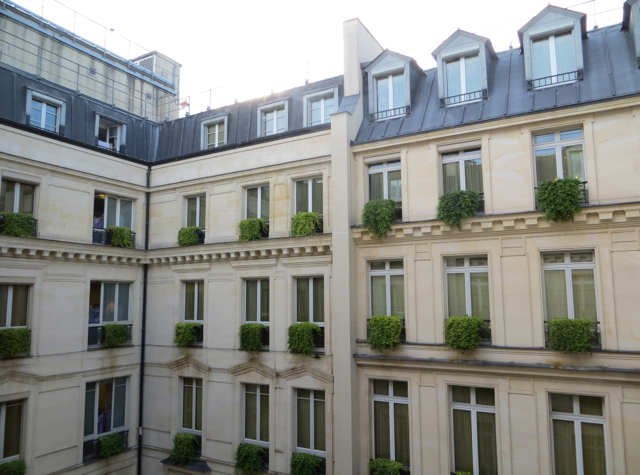 The Park Deluxe Room does look like the photos, in the usual Park Hyatt aesthetic of spare and modern. As a city hotel, the interior reminds me more of other urban Park Hyatts, such as the Park Hyatt Washington DC, rather than the Park Hyatt Maldives, which is also modern but offers more natural light and is set in a naturally colorful tropical environment.
I did like the graceful figurines, a bit reminiscent of certain Rodin sculptures, that adorned the room. The Park Deluxe King Room ranges from 322-430 square feet, and quite honestly, I wouldn't want to be in a smaller room. The standard Park Room is 280-322 square feet, and only accommodates two adults (plus a baby in a crib)–it cannot accommodate a third guest that is an older child or adult, and this is why we had arranged to pay to upgrade to a Park Deluxe King Room, which is about the same size as the entry level Superior Room at the Four Seasons Paris.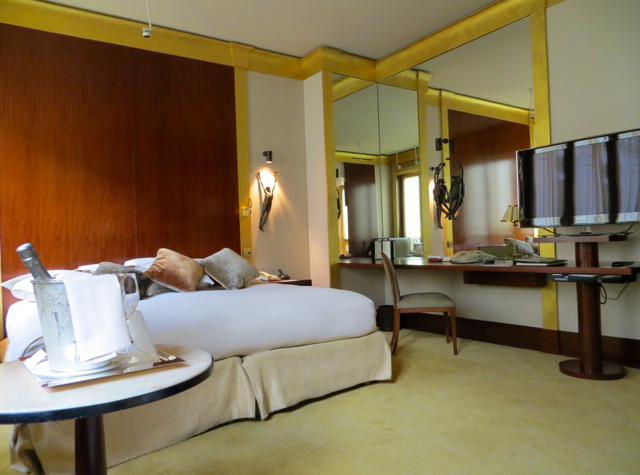 There was a chilled bottle of champagne and a note waiting for us in the room, which was a nice touch, although neither of us cares for champagne and we didn't drink it or bring it with us.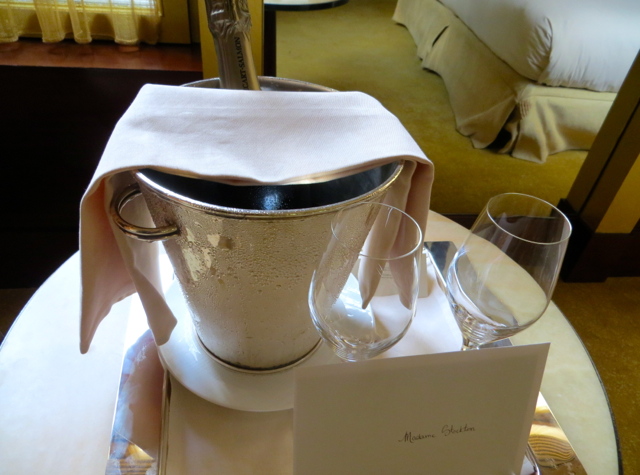 A box of butter cookies was placed on the desk, which would be great for a 4 star or boutique hotel without its own kitchen, but seemed a bit poor compared to the housemade treats we received at the Four Seasons Paris–I would actually prefer fresh fruit, or, if it has to be something boxed and not made in-house, a few fine chocolates or macarons, say from Pierre Herme, would be more in keeping with a true 5-star hotel than butter cookies.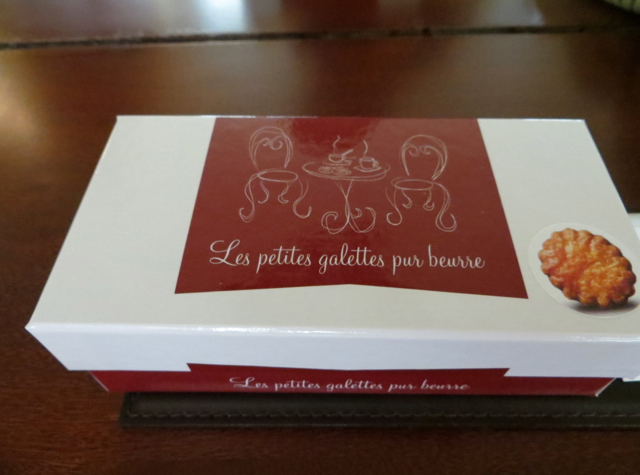 I was happy to see an in-room Nespresso machine, even though we didn't have occasion this time to use it, along with bottles of Evian water: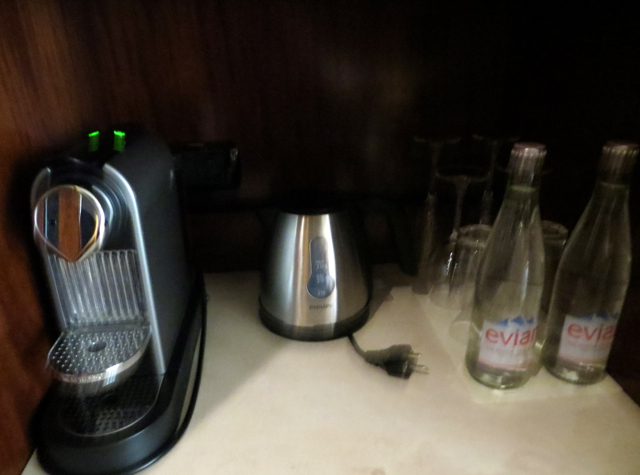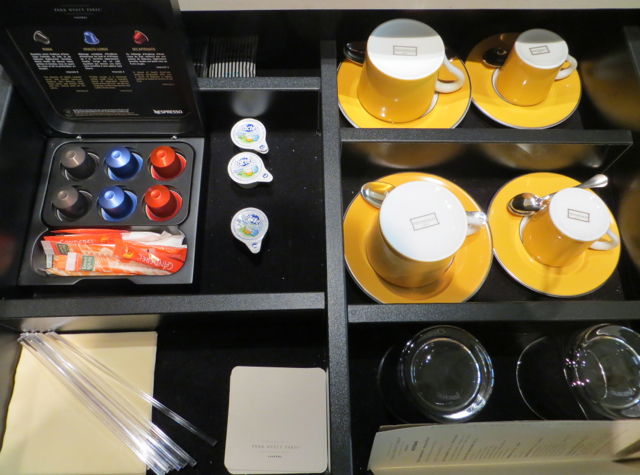 There was a flat screen TV on the desk, near the door: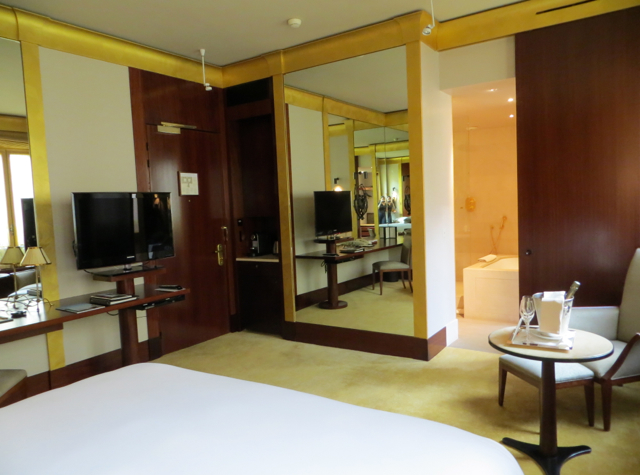 The following morning, while I was doing some work, we let the munchkin watch some cartoons. They were in French of course, leading to some consternation:
The bathroom was consistent with the room's style, but was quite small and cramped. I found it odd that the shower and soaking tub were together, and the shower wasn't completely glass enclosed, so that if one person was taking a shower, water got into the soaking bath. Of course, you could argue that "you're wet anyway, what does it matter?" but personally I prefer it when the shower is completely enclosed and not shared with the bath.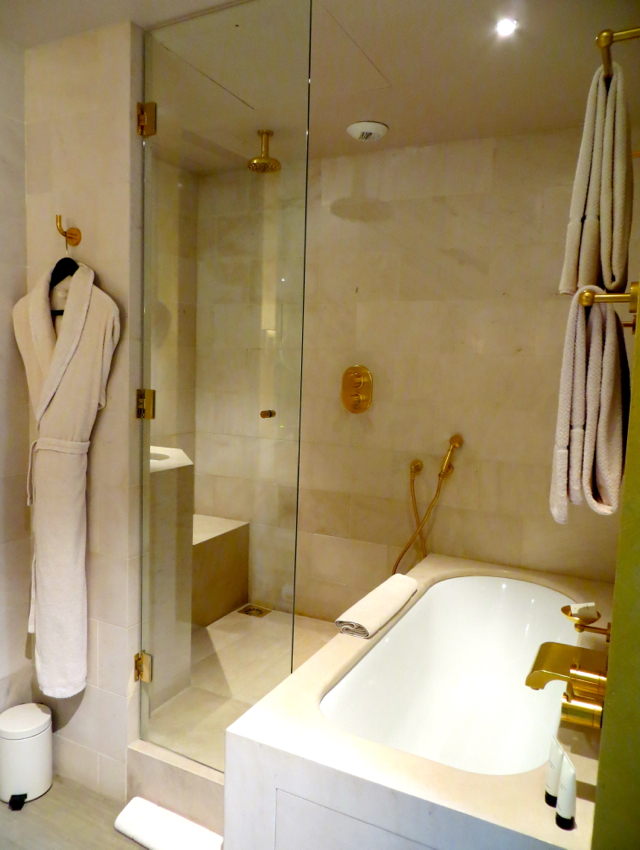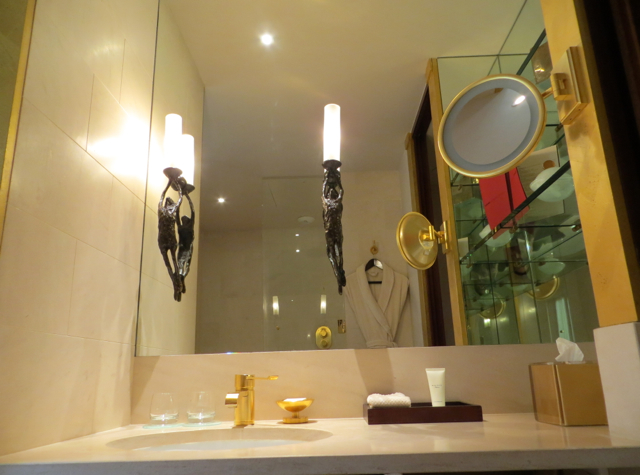 There was a separate toilet compartment: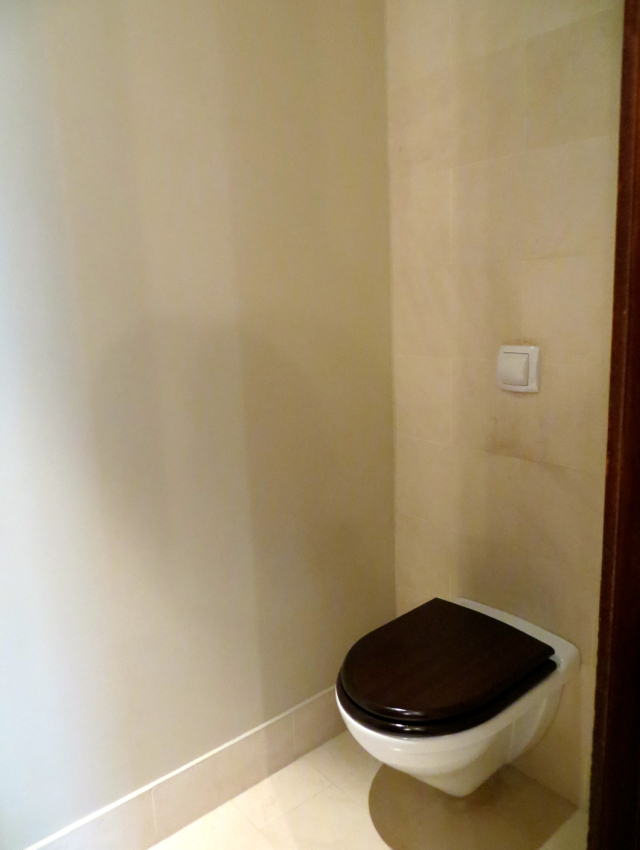 Bath amenities are by Blaise Mautin. While personally not a fan of the scent, I know it appeals to many.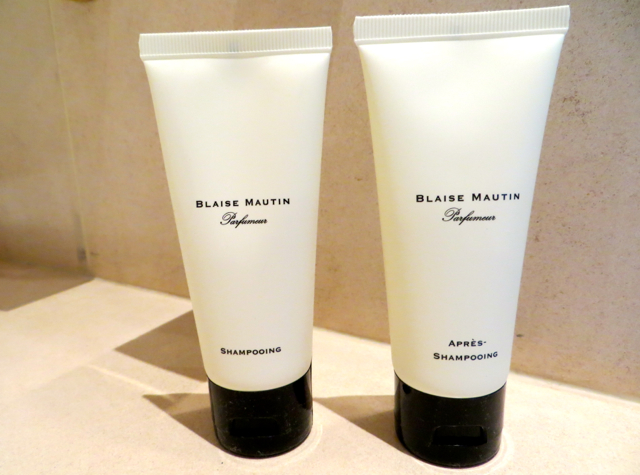 To the right of the bathroom was a good sized his and hers closet. Personally, I would have made that smaller and added space to the bathroom.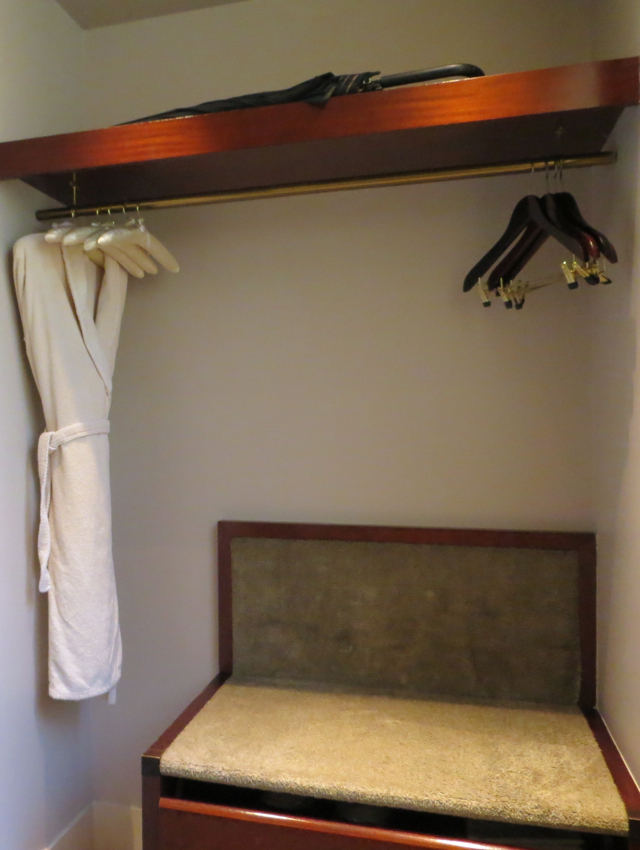 I did find it strange and a bit disappointing that, even though I'd mentioned our 5-year old, which was the reason we were paying for an upgrade to a Park Deluxe King, that there wasn't an extra bed in the room, nor were there any children's welcome amenities, bathrobe, etc. Perhaps the Park Hyatt Paris-Vendome simply doesn't see many guests who are children, but as a parent, I can say with conviction that little personalized touches (such as the treasure hunt, pastry treats, child size bathrobe, behind the scenes tour, etc. at the Four Seasons Paris) that make my son happy also make my husband and me very happy.
Concierge Fiasco AKA Why My Upgrade and Breakfast Were Comped
Since we had a celebratory dinner reservation for 7:30pm and only got into our room a bit before 7pm, we hurriedly changed for dinner, asked the front desk where the nearest ATM was so that we could take a taxi, scurried back to the Park Hyatt Paris-Vendome and were helped in getting a taxi. Unfortunately, even though I provided both oral and written directions, the taxi driver initially drove us to the wrong address. Oh well. Finally, we did arrive at the correct address only to find that…the restaurant was closed for its annual summer vacation!
Ok, so this is clearly a first world problem and not the end of the world, but we were really not happy about this, given that the Park Hyatt Paris-Vendome Concierge had confirmed the reservation for us, this was to be a very special celebration dinner, and we incurred 20 minute taxi ride to get there. We made the best of it and had burgers at the nearest sidewalk cafe since we were all famished, but it certainly was a let down after anticipating celebrating our special occasion with the award winning cuisine of Romain Tischenko (who has won in the French version of Top Chef) at Le Galopin.
Back at the Park Hyatt Paris-Vendome, I was quite frank about our disappointing evening, and there was a good service recovery, in that the Manager on Duty came out to speak with me and offered to comp our upgrade and Park Hyatt breakfast buffet at Les Orchidees the next morning (which we normally wouldn't have received, as we are Hyatt Platinum members, not Hyatt Diamond), and even offered to refund our points, but I didn't take him up on that last one–we did stay at the hotel after all, and I was willing to use my 22,000 Hyatt points for that. So in light of what happened, all the right things were said and the manager was very sympathetic and apologetic, so I applaud that.
All the same, the Concierge mistake seemed a quite fundamental one, and I don't believe a hotel can be truly 5-stars if it doesn't get the basics right.
The Verdict: I wanted to really like the Park Hyatt Paris-Vendome, since I'd heard such great reviews of it. And it is very nice, but even without the Concierge fiasco I just didn't love the property. The atrium above Les Orchidees is lovely, letting in great natural light there, and accented with beautiful orchids, but in most other parts of the hotel it's just too dim for my taste, and there are no flowers in the room to add beauty and color. The Park Deluxe Room was ample enough if you'll be out and about in Paris (which I recommend!) but isn't the type of room I'd want to linger in, the way I could see lingering in even the entry level rooms of the Four Seasons Paris.
Perhaps most importantly, given that this is meant to be a luxury hotel, it just didn't feel luxurious enough to me. And I'm not talking about over the top–I get that the Park Hyatt aesthetic is sleek and modern. I mean in terms of I didn't feel taken care of in the way I did at the Four Seasons Paris or Le Bristol.
All that said, there's still no denying it's a great deal for 22,000 Hyatt Gold Passport points, one of the best values of the system. Just don't think that you're getting the creme de la creme of Paris luxury hotels; in my view, you aren't, but the value for a points stay is still excellent.
Disclosure: I stayed at the Park Hyatt Paris-Vendome using Hyatt Gold Passport points. Originally I paid for an upgrade to the Park Hyatt Deluxe King, but it was not charged due to the Concierge mistake.
Related Posts
Best Park Hyatt to Stay 2 Free Nights with the Hyatt Visa
Park Hyatt Maldives Hadahaa Review
Paris Travel Guide for Couples
Need Award Booking Help? Our fee is as low as $75 per ticket if you book your hotel through us.
If you enjoyed this, join 90,000+ readers: please follow TravelSort on Twitter or like us on Facebook to be alerted to new posts.
Become a TravelSort Client and Book 5-Star Hotels with Virtuoso or Four Seasons Preferred Partner Amenities!