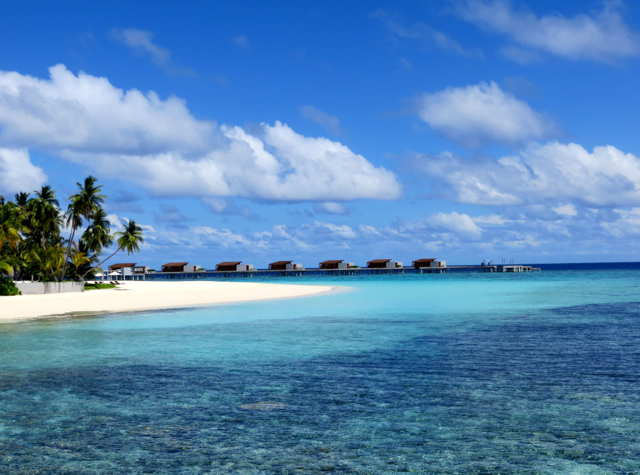 This Park Hyatt Maldives Water Villa Review is part of a trip report including Qatar Business Class and the Park Hyatt Maldives. For prior posts please see:
Review: American Airlines Flagship Lounge in NYC, JFK
Review: Qatar Business Class NYC JFK to Doha
Review: Qatar Business Class Lounge, Doha
Qatar Business Class and Economy Class Review, Doha to Male, Maldives
Park Hyatt Maldives Hadahaa Review
Park Hyatt Maldives Island Grill Restaurant Review
Please note: Future posts will cover the Dining Room Restaurant, and Activities, including Scuba Diving and Snorkeling and the Back of House Tour.
The Park Hyatt Maldives Water Villas are often what couples and honeymooners aspire to when staying at the hotel, and while we didn't stay in one both because the munchkin is too young (children under 12 are not allowed to stay in them) and because we very much wanted our own pool (only the Park Pool Villas come with a pool) I did get to visit one of the Park Water Villas.
My Host, Natsumi, was kind enough to drive me there in a buggy. I was grateful for this, as even though it was only late morning, it was already very warm, not that I was complaining–we were so lucky to have beautiful sunny weather the entire week of our stay, even though it was late May and already the monsoon season. Here's a view of the higher numbered Water Villas: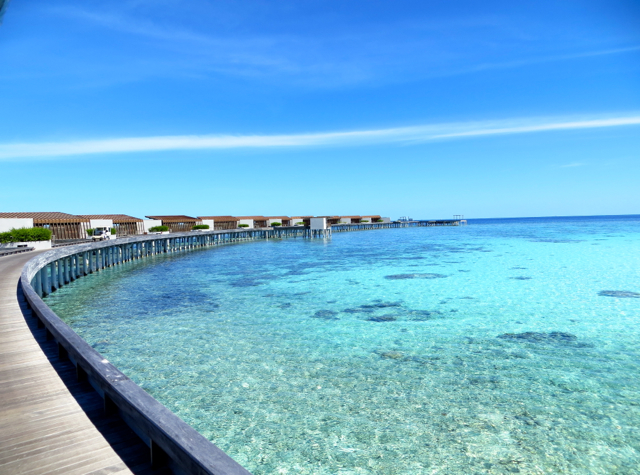 As with the other Villa types, the style is modern, and the villas are constructed of native wood, with floor to ceiling windows.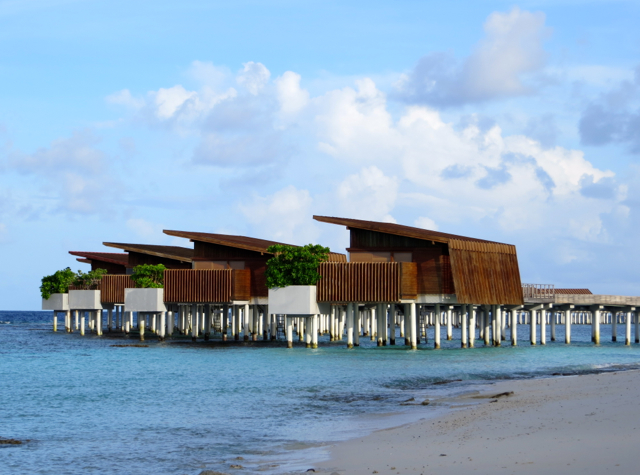 Since most of the higher numbered Water Villas were occupied, my tour was of Villa 40, one of the lower numbered Water Villas. Here's the sign and the entrance: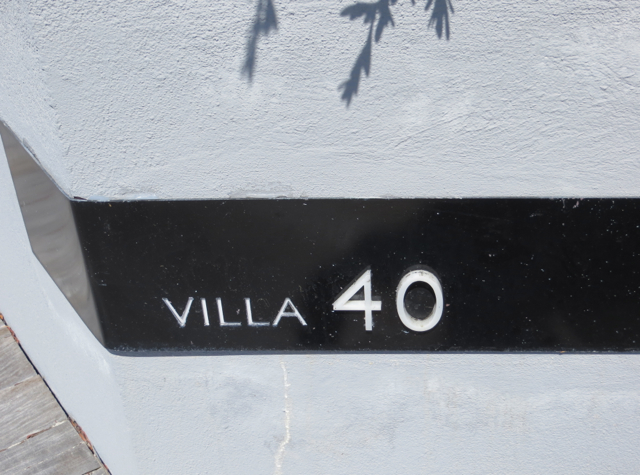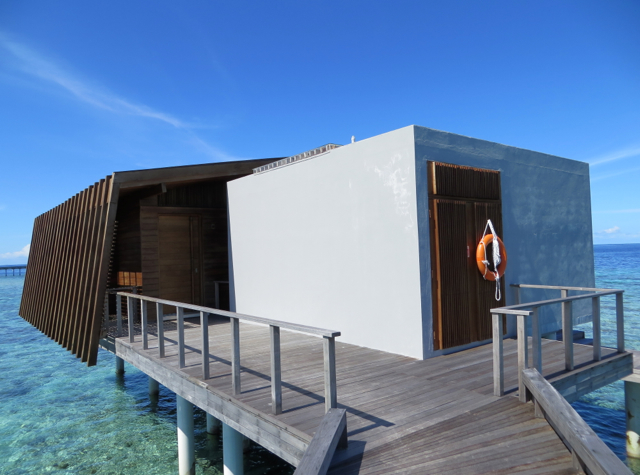 The Park Water Villa bedroom is furnished pretty much exactly the same as the Park Villa and Park Pool Villa (see my prior Park Hyatt Maldives Hadahaa Review), with a few layout changes. Instead of there being sliding doors and the entrance to the bathroom behind the bed, that's where the desk area is.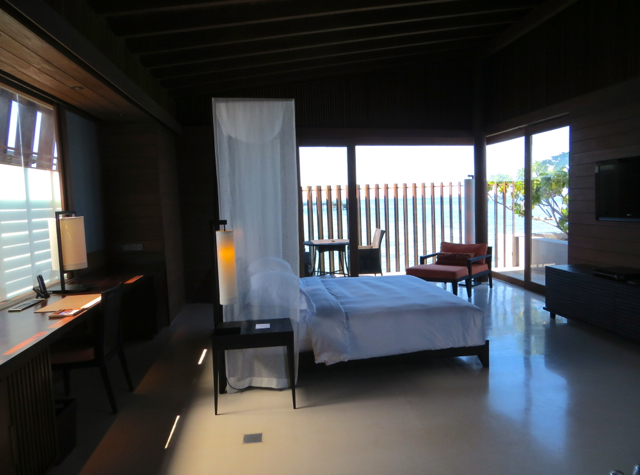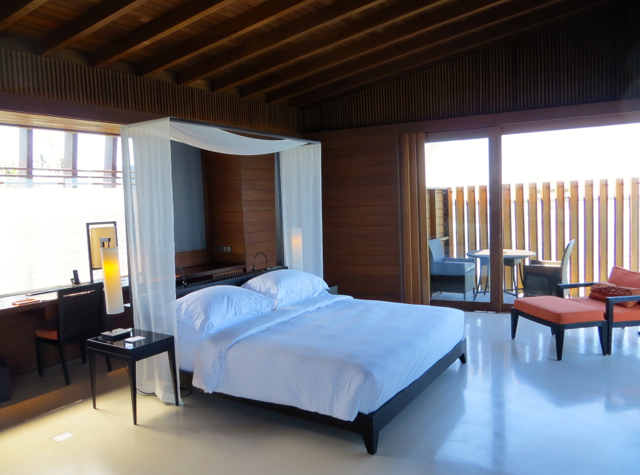 The entrance and the living room sitting area is to the left of the bed, when you face it.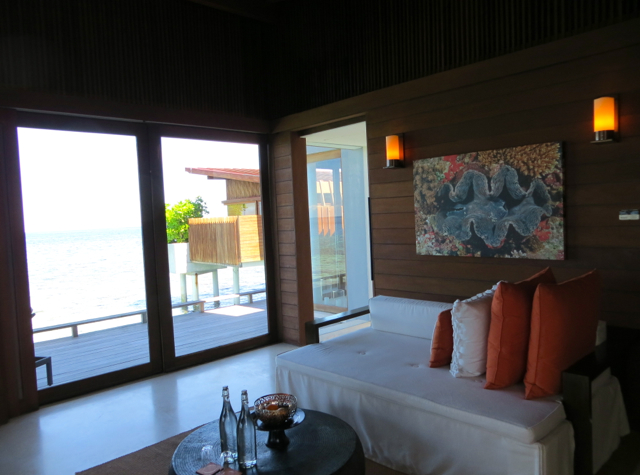 The bathroom is to the left of the sitting area, and includes an indoor soaking tub: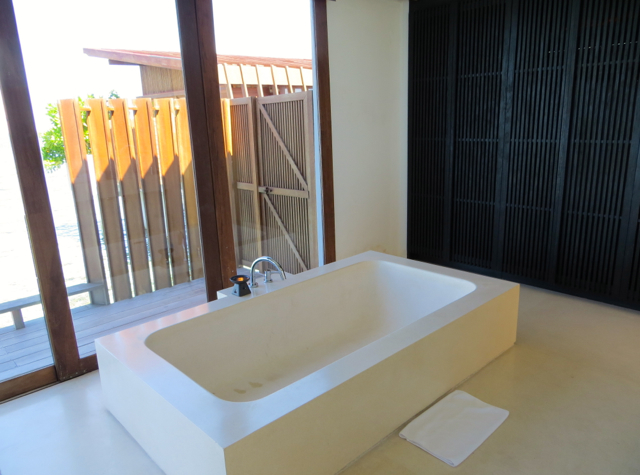 You have a great ocean view from the soaking tub: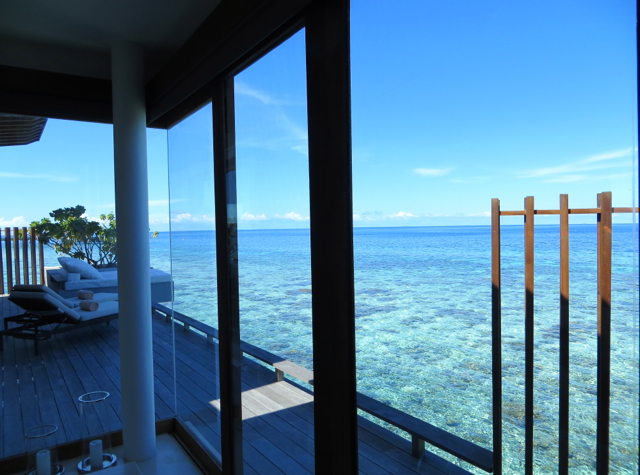 The dual vanities are right next to each other, unlike in the Park Villa and Park Pool Villa, where they flank the entrance to your own little courtyard with outdoor bathroom. The Park Water Villas do not have outdoor bathrooms.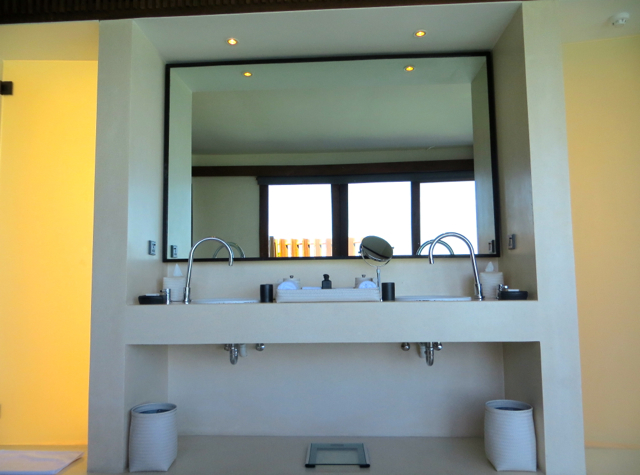 Sliding glass doors to the right of the flat screen TV lead to the private deck, with both a day bed and sun beds. I liked that in the late morning, you had some nice shade there; if you prefer to sunbathe, the afternoon would be perfect for that.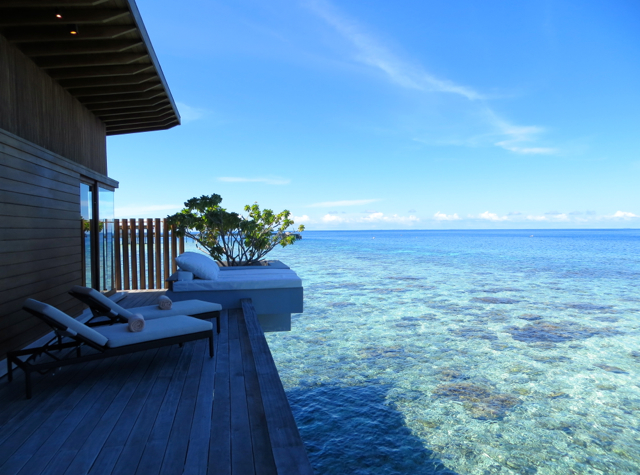 Here's the view from the daybed–pretty fantastic, isn't it?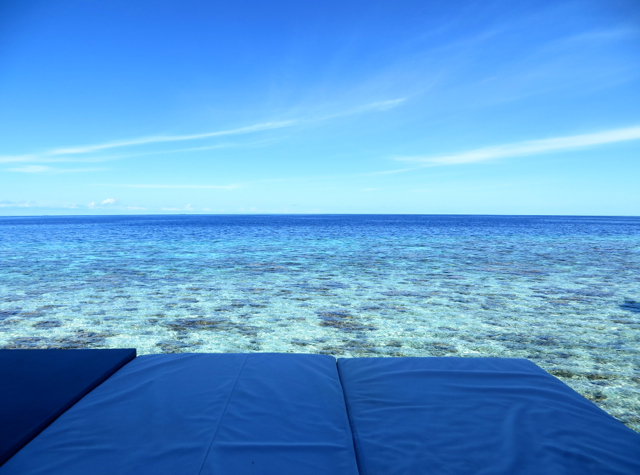 The water's incredibly clear at the Park Hyatt Maldives Hadahaa, and around the Water Villas is no exception. Here's a view looking down the stairs, which are at one end of the deck: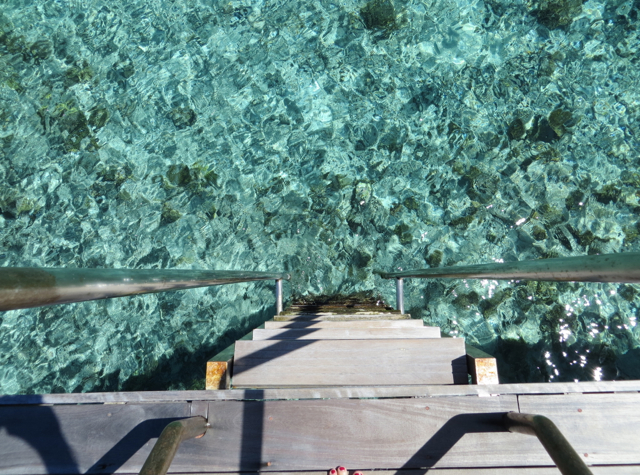 And a view of the stairs taken from the boardwalk: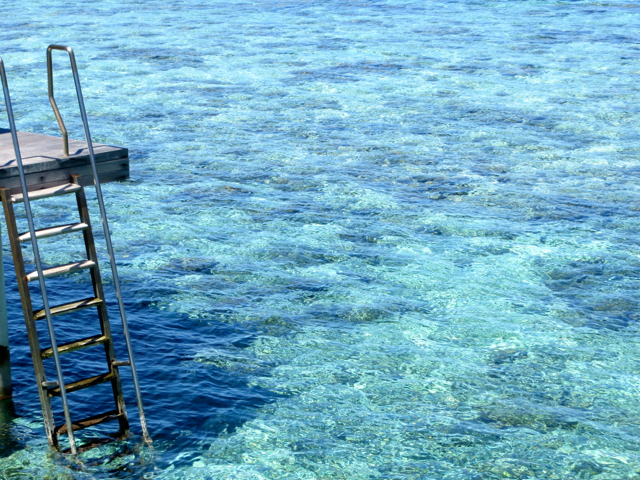 Since I'm already getting asked some questions about the various Park Hyatt Maldives villa types based on my experience, here's a quick FAQ and some pros and cons as I see them:
What Are the Best Park Hyatt Maldives Water Villas?
Most folks agree that for privacy and unobstructed views, it's best to be at one of the highest numbered Water Villas, ideally 51, or if not, 50. That said, you may want to take into account the time to walk there and back in the hot sun. Although I'm sure if you were feeling really lazy you could call and ask for buggy service 🙂
Can I Stay in a Park Water Villa Using Hyatt Points?
No, but you can book a regular award (Park Villa) and pay the difference in cash to upgrade to a Water Villa. Currently the upgrade cost is ~$350 per night from a Park Villa to a Water Villa. Even if you are a Hyatt Diamond and apply for the Hyatt Visa, keep in mind that ALL villas here are considered suites, so you wouldn't receive an upgrade to a Park Water Villa for your complimentary 2 free nights; you'd still need to pay.
Is the Upgrade Cost Worth It?
Of course, it depends on how you value it. The Water Villas are iconic, have great views, and are perfect for avid snorkelers since you have direct water entry. For us, even if we'd been able to stay in one, we'd still have chosen the Park Pool Villa because we (especially our son) loved playing in the private pool and he doesn't snorkel yet.
Pros and Cons of a Park Water Villa vs. Park Pool Villa?
Pros:
Fantastic ocean views from your private deck and indoor soaking tub
Great views of the beach and Hadahaa island
Direct water entry, perfect for avid snorkelers
Outdoor day bed and sun bed
Cons:
Pricey: $350 per night to upgrade from award booking
Harder to keep cool
No pool
Fairly long walk on the boardwalk in the sun from higher numbered villas to the restaurants and main pool
I'll leave you with a gorgeous view of the beach and Hadahaa Island taken from the Water Villas' Boardwalk: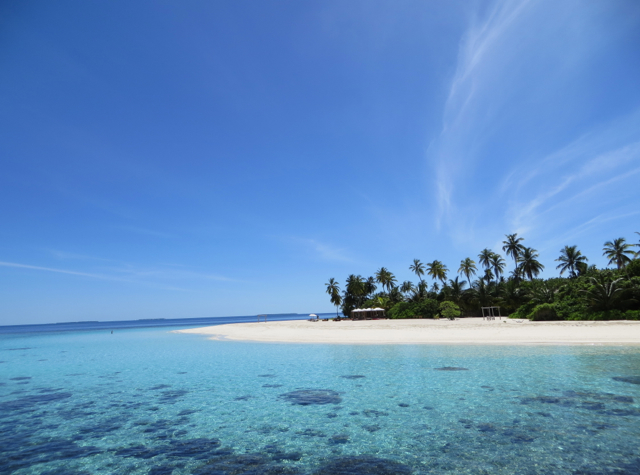 If you've stayed in a Water Villa at the Park Hyatt Maldives, what was your experience?
Related Posts
Need Award Booking Help? Our fee is as low as $75 per ticket if you book your hotel through us.
If you enjoyed this, join 90,000+ readers: please follow TravelSort on Twitter or like us on Facebook to be alerted to new posts.
Become a TravelSort Client and Book the Park Hyatt Maldives with Virtuoso Benefits!