This Park Hyatt Maldives Island Grill Restaurant Review is part of a trip report including Qatar Business Class and the Park Hyatt Maldives. For prior posts please see:
Review: American Airlines Flagship Lounge in NYC, JFK
Review: Qatar Business Class NYC JFK to Doha
Review: Qatar Business Class Lounge, Doha
Qatar Business Class and Economy Class Review, Doha to Male, Maldives
Park Hyatt Maldives Hadahaa Review
Please note: Future posts will cover the Park Hyatt Maldives Water Villas, Dining Room Restaurant, and Activities, including Scuba Diving and Snorkeling and the Back of House Tour.
The Island Grill is the Park Hyatt Maldives' signature restaurant, open for dinner only from 7pm. Whereas The Dining Room fronts the resort's main pool, The Island Grill is a bit more secluded, flanked on one side by trees and with views from some tables of the beach. The Open Kitchen is a focal point, and intricate lanterns provide dramatic lighting, yet the romantic setting also encourages a certain playfulness, with its sand floor (slip off those sandals!) and swings.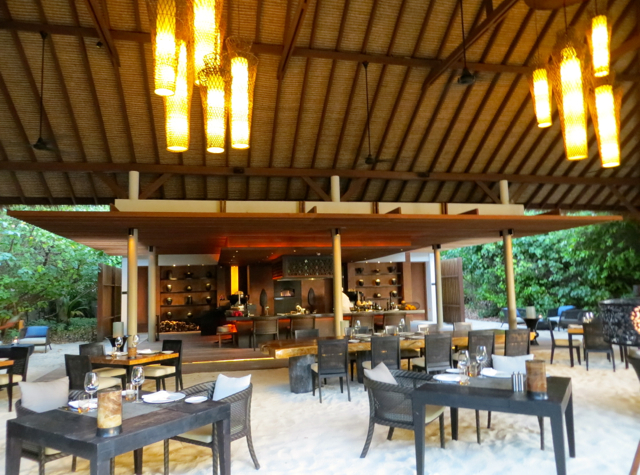 On at least a couple of nights a week, The Island Grill in fact moves directly onto the beach, for the weekly Beach BBQ and the Taste of Maldives. We experienced the Beach Barbecue, as well as an a la carte dinner at the Island Grill on our last night at the Park Hyatt Maldives.
Our first experience was the Beach Barbecue, which was $115 per person, + 10% service charge and 8% G.S.T. The setting itself was lovely, right on the beach, with candlelit tables spaced well apart for each couple to enjoy a romantic (or in our case, family) dinner.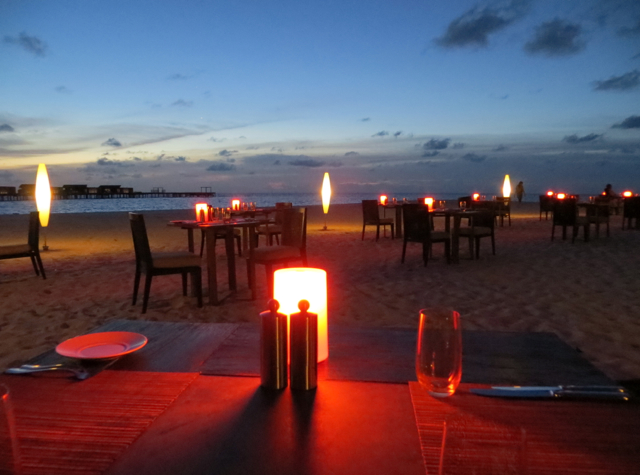 Everything was grilled to order, and there was a selection of marinated chicken, lamb, beef, jumbo prawns and half lobster tails.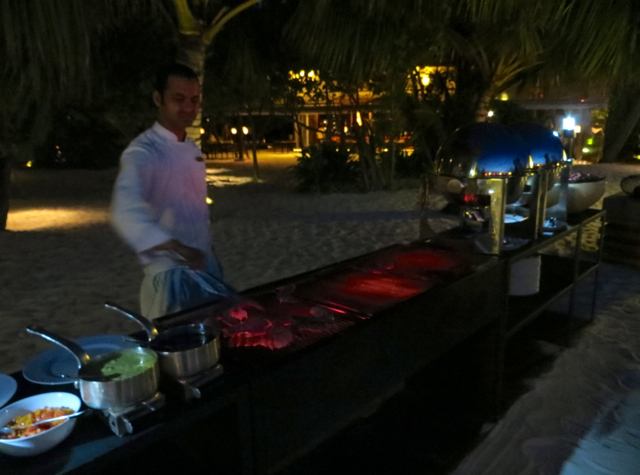 There was also an appetizer buffet with Caesar Salad, Gado Gado, and other salads, plus corn on the cob, potatoes, and an extensive dessert buffet.
My own favorites were the grilled Tiger prawns and lobster tails, while my husband and the munchkin preferred the grilled lamb.
From the extensive dessert buffet (which even featured homemade ice cream, and toppings if you wished) we thought the chocolate tart with raspberry sauce and the crepes were especially good.
Overall it was enjoyable, but I'm not sure we would book this again given the price. Naturally it's extremely costly to bring in food to such a remote island, so I understand the pricing given the variety and quantity of top-notch foods on offer. But it was still a bbq and buffet style, so I personally believe this event is more about the romantic setting of dining on the beach by candlelight, rather than the food or its presentation.
I will say that given very high prices for desserts, it's a good event to attend if you want to indulge your sweet tooth by sampling a huge variety of desserts. Or, if you have a craving for lobster tails, since these can otherwise be very pricey either as part of a whole lobster dinner or a Surf and Turf dinner.
Our other experience with the Island Grill was an a la carte dinner on our last night, which we actually enjoyed much more than the Beach Barbecue.
We arrived right at 7pm, when it opened, and were the first table to be seated. We picked a spot from which we could see the beach and catch the sunset.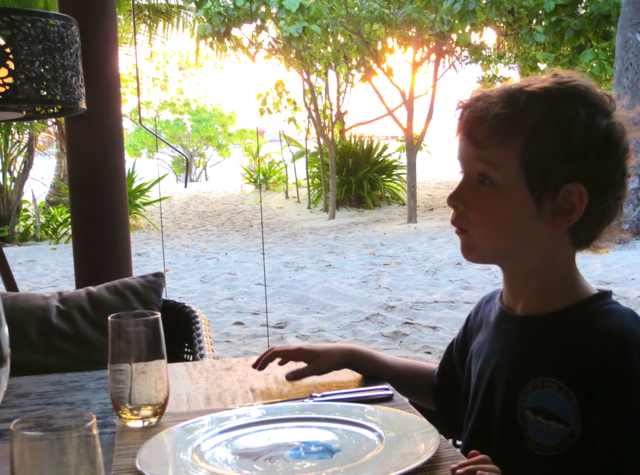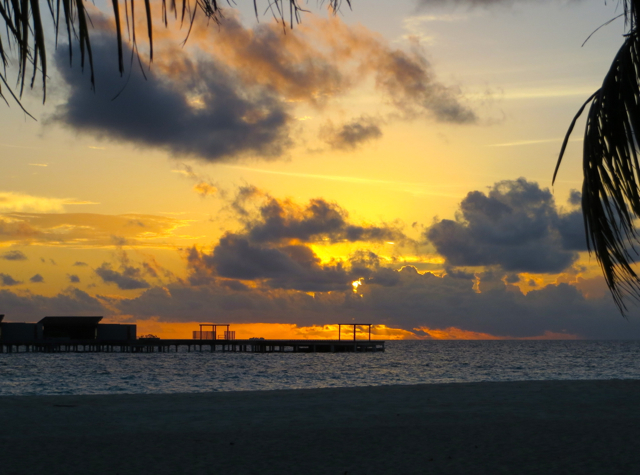 Our server provided us menus, which included a number of appetizer offerings, several wood fired oven main dishes, and grilled items where you could choose between two different spice rubs, as well as from several different sauces to accompany your selection: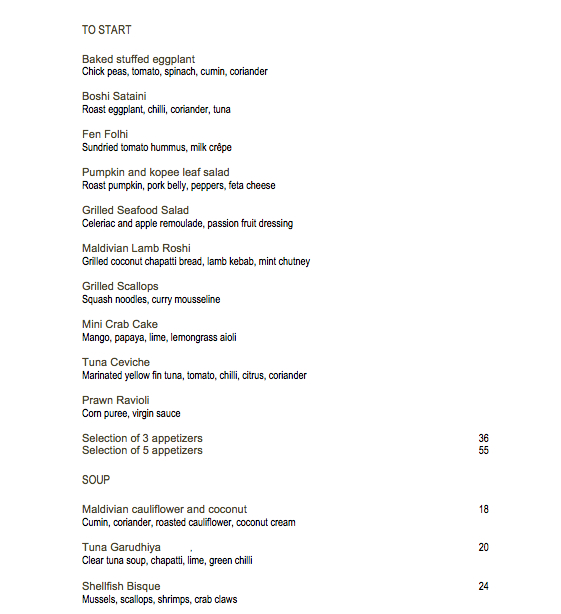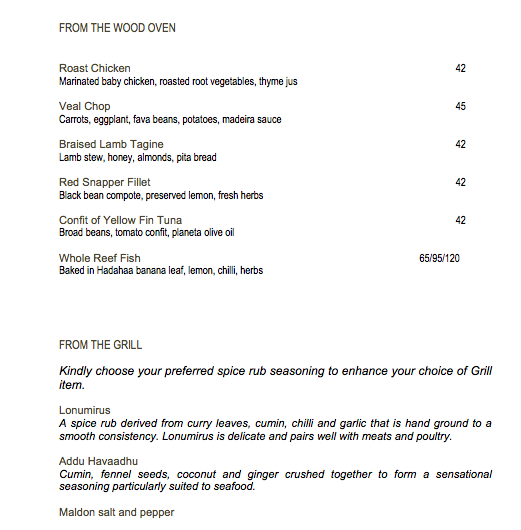 After perusing the menu, we made our selections, including a glass of Riesling to share. It was actually our only glass of wine the entire trip. We figured alcohol would be incredibly expensive, due to high import taxes since the Maldives is a Muslim country, but it was $15, only slightly more than we'd pay in a number of places in NYC.
Although I figured the bread would be the same as at The Dining Room, I was wrong–The Island Grill served its own homemade bread, alongside olive oil and a tasty roasted red pepper dipping sauce. We were also treated to some delicious amuses bouches of beef tartare: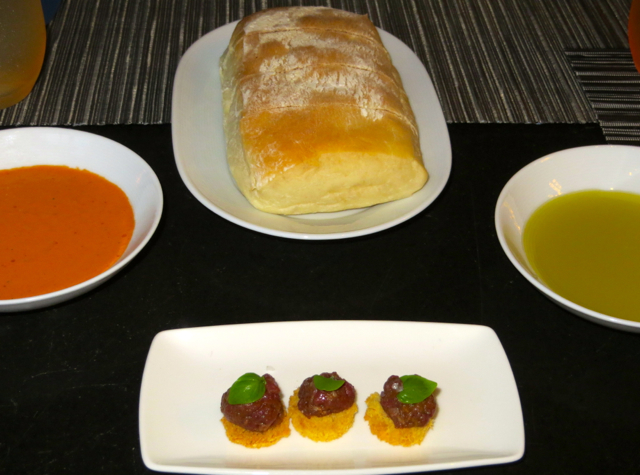 While we waited for our appetizers, my husband and the munchkin enjoyed one of the nearby swings: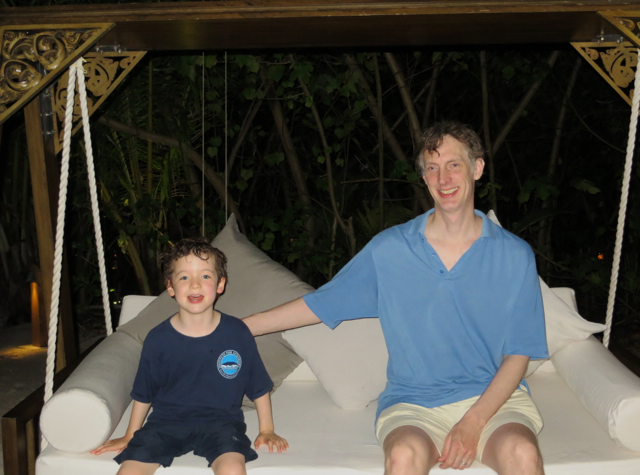 Quite soon, our trio of appetizers arrived. Both my husband and I agree that the standout from the three that we tried were the Grilled Scallops with Squash Noodles and Curry Mousseline: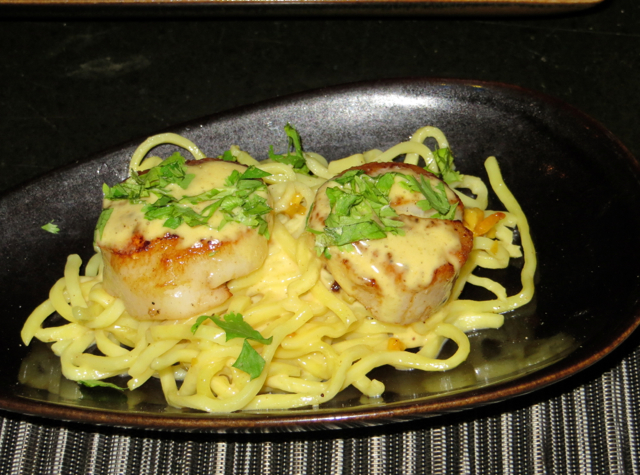 The Maldivian Lamb Roshi was good, although the mint chutney was more a mint raita or mint yogurt dipping sauce: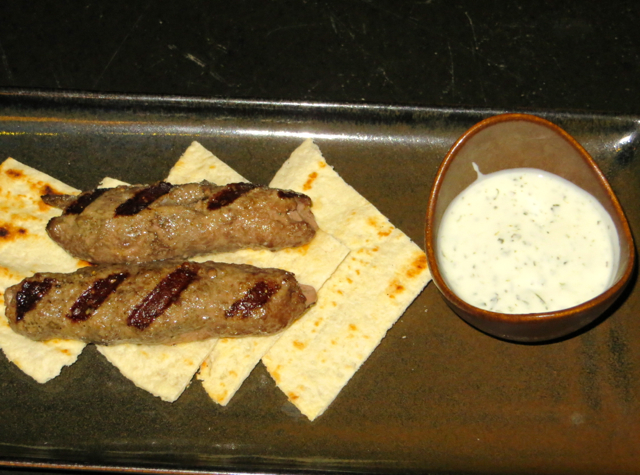 The weakest of the three were the Prawn Ravioli. While perfectly edible, neither of us cared for the ravioli or the sauce.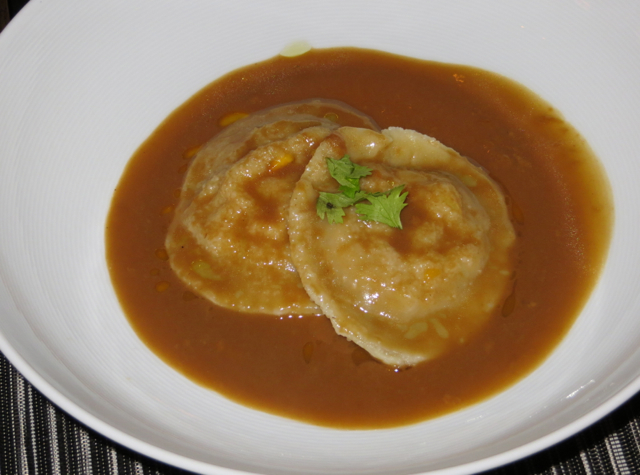 The munchkin was able to get a Mini Burger from the Kids' Menu, which our server was gracious enough to get from The Dining Room (which creates all the Kids' Menu items)–it was great as always, and I'll include a photo in a future post.
The highlight for my husband and me were the Grilled New Zealand Lamb Chops rubbed with Lonumirus (ground curry leaves, cumin, chili, and garlic), which were wonderfully spicy and succulent. Our server suggested pairing it with the lemon basil sauce, which was an inspired choice. Yum!
We also tried two sides: the Sweet Potato Gratin, which was good, if a bit rich with butter: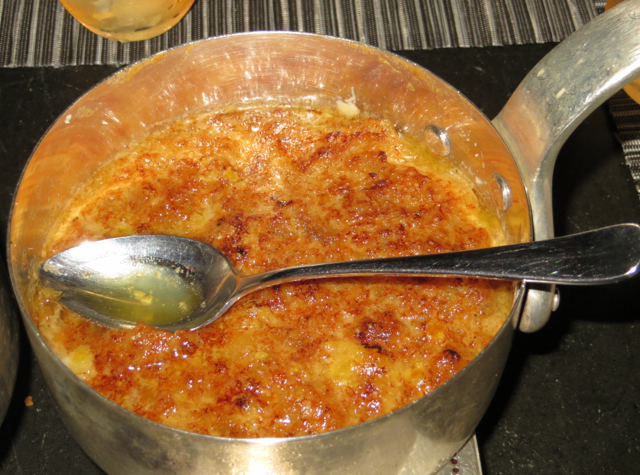 And my favorite, the Spiced Pumpkin: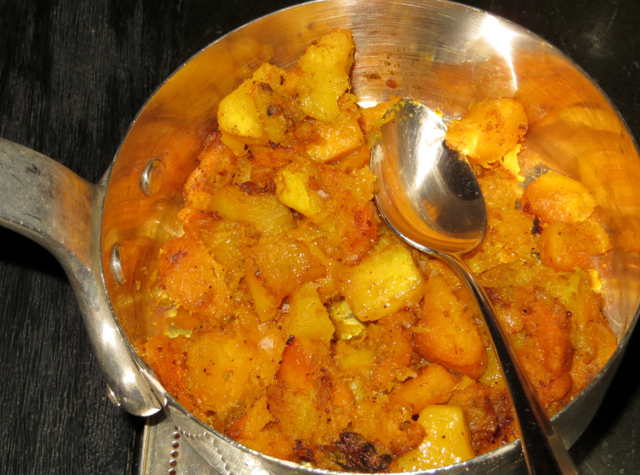 Given the generous side dish portions, a vegetarian could do very well here. As it was, we were so full from the appetizers, shared entree and two side dishes (which we couldn't even finish) that we had to forego dessert.
The Verdict: Our favorite evening meal at The Park Hyatt Maldives was our final a la carte dinner at The Island Grill, with the Grilled Lamb Chops rubbed with Lonumirus Spice Rub accompanied by Lemon Basil Sauce, the Grilled Scallops with Curry Mousseline, and the Spiced Pumpkin side dish as stand outs. While we also enjoyed the setting of the Beach Barbecue and the sheer variety of desserts on offer, our own experience was that a la carte dining showed off the Island Grill's culinary prowess to best advantage.
If you've tried the Island Grill at the Park Hyatt Maldives, what was your experience?
Related Posts
Need Award Booking Help? Our fee is as low as $75 per ticket if you book your hotel through us.
If you enjoyed this, please follow TravelSort on Twitter or like us on Facebook to be alerted to new posts.