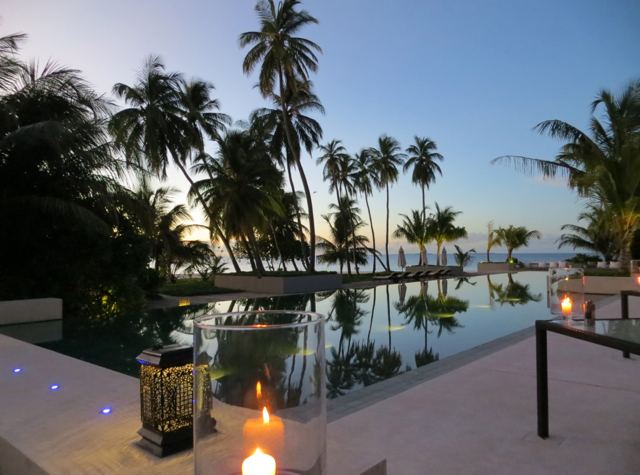 This Park Hyatt Maldives Food and Dining Room Restaurant post is part of a trip report including Qatar Business Class and the Park Hyatt Maldives. For prior posts please see:
Review: American Airlines Flagship Lounge in NYC, JFK
Review: Qatar Business Class NYC JFK to Doha
R0eview: Qatar Business Class Lounge, Doha
Qatar Business Class and Economy Class Review, Doha to Male, Maldives
Park Hyatt Maldives Hadahaa Review
Park Hyatt Maldives Island Grill Restaurant Review
Park Hyatt Maldives Water Villa Review
Park Hyatt Maldives Diving and Snorkeling
Please note: Future posts will cover additional activities, the Back of House Tour, and an interview with the GM, Julian Moore.
Want to compare the food and menu at the Park Hyatt Maldives to other Maldives Luxury Resorts? See:
Four Seasons Maldives at Landaa Giraavaru Restaurant Reviews and Menus
Four Seasons Maldives at Kuda Huraa Restaurant Reviews and Menus
The Dining Room
The Dining Room Restaurant is where you'll take your breakfast, unless you opt for in-villa dining. It's also where we ate most of our dinners, apart from two at The Island Grill. The setting, with its airy, modern indoor-outdoor aesthetic and view of the pool and ocean beyond, is spectacular.
We found the breakfast menu and dinner menu to offer ample choice for a 7 day stay, although we by choice repeated our favorite dishes during that time. The quality of ingredients was high, and we enjoyed almost all the preparations, with very few exceptions.
Much of the food at the Park Hyatt Maldives has traveled a long way to get to Hadahaa, so given that, not to mention the labor to prepare and serve it, I found the prices very fair and in many cases not more than what we would pay at a nice restaurant in NYC.
Also keep in mind that a copious breakfast is included (more on that below), so many days you may be only eating dinner. And given the hot climate, we found ourselves often content with simply ice water, which even though charged at $4.50 per person when dining (although complimentary in your villa) is well worth it given the extensive desalination and purification process it undergoes, not to mention saving you on alcohol costs.
Breakfast at the Dining Room Restaurant
One of the nice things about the Park Hyatt Maldives is that breakfast at the Dining Room Restaurant is complimentary to all guests, regardless of Hyatt Gold Passport status, not just to Diamond members. We are Hyatt Platinum members thanks to the Hyatt Visa, but even guests without any status still have their breakfast included.
And the breakfast is wonderfully fresh and filling, so I suggest you make this into a hearty brunch, as we did. Regardless of what you order from the menu, breakfast starts with a lovely 3 tiered arrangement.
At the top is fresh fruit. This changed daily, but almost always included watermelon, orange, papaya, watermelon and pineapple. Often there was fresh passion fruit, which I adored, and sometimes banana (the type we call "apple banana" in Hawaii), sometimes some nectarine, and once a tropical fruit I wasn't familiar with.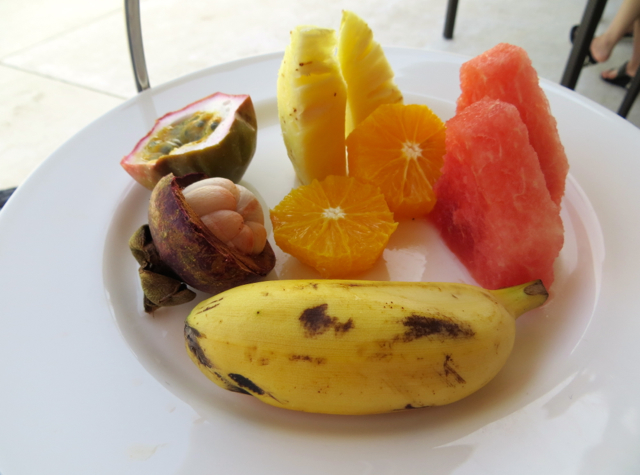 The middle plate had tuna mushuni (Maldivian tuna with lime zest and fresh coconut) accompanied by roshi (flat bread):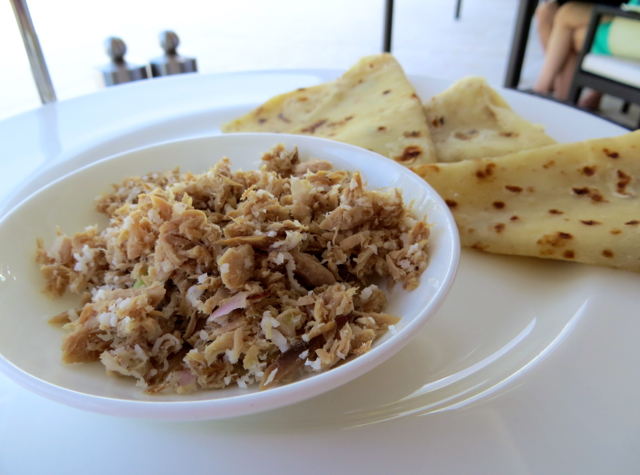 The bottom plate was an assortment of pastries–croissant, danish, perhaps some cake: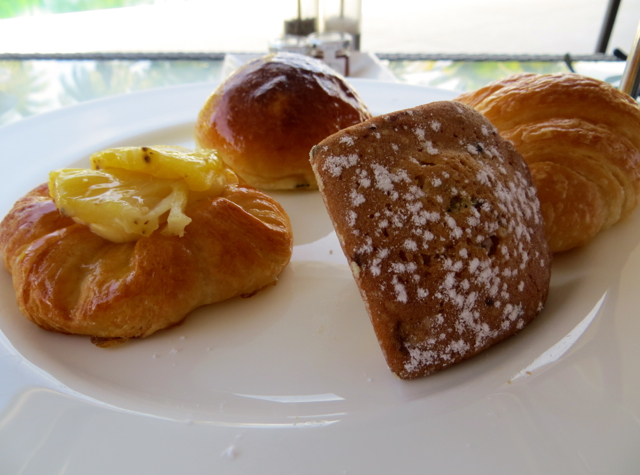 It would be easy to mostly fill up on these, but there's also a breakfast menu to choose entrees from. You could either go with a "set" such as the Asian set, Healthy breakfast set, American set, etc. or simply choose a la carte. The nice thing is that you can actually mix and match, so even if you want something from a set (such as the crab omelet from the Asian set) but want the Maldivian tuna curry as your entree (as I often did) you can do that.
You can also choose a freshly squeezed juice and even have seconds of it. Our favorite juice combinations were Watermelon-Pineapple-Apple and Orange-Pineapple.
Here are our favorite breakfast items:
1. Maldivian Tuna Curry
This was my favorite dish to get at breakfast. Neither my husband nor son understand my occasional craving for savory, spicy dishes at breakfast/brunch, but this is especially great to get when you're eating after an energetic snorkeling or diving session, or a brunch close to the breakfast cut-off time of 11:30am.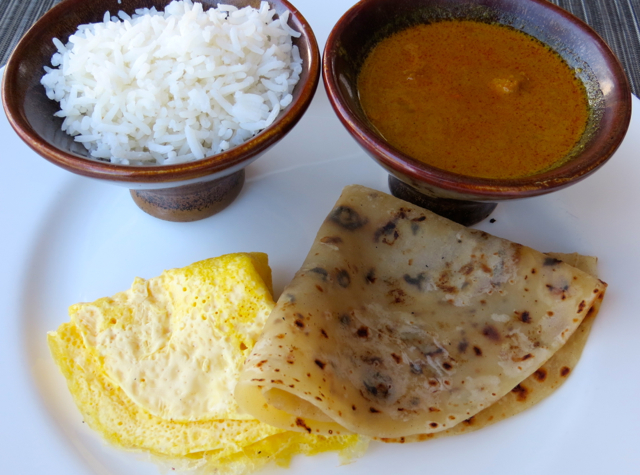 2. Crab Omelet (from Asian Set)
I had the Thai Crab Omelet my first morning as part of the Asian Set, and while I wasn't that fond of the other dishes in the Asian Set, I did enjoy the Crab Omelet and requested it separately for a few of our other breakfasts.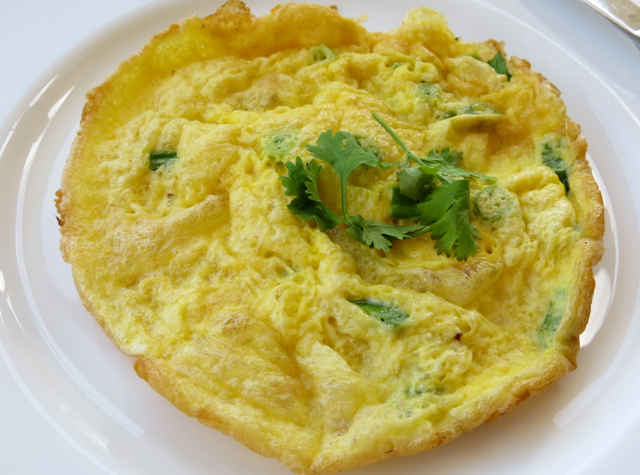 3. Waffles
This was served with honeycomb butter, poached pear (called pear compote, but it wasn't really a compote) and maple syrup. It was a generous serving, especially once you spread the butter and syrup (or jam, if you preferred) on it.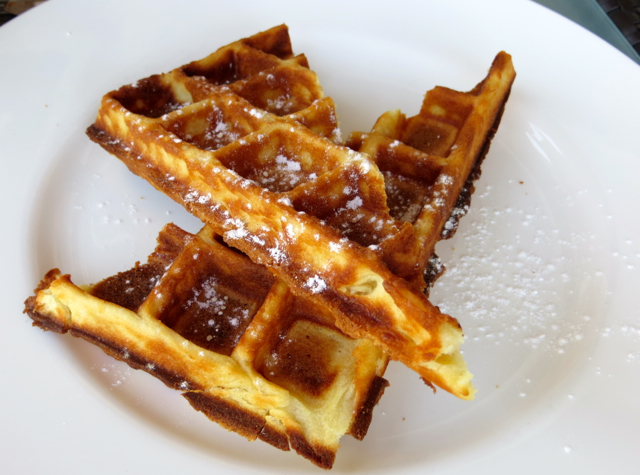 4. Mixed Berry Yogurt and Granola
I liked that the yogurt wasn't overly sweet. And while it comes by itself, you can also order a side of housemade granola, which is great for adding additional flavor and crunch to it.
5. Bircher Muesli
My husband got this daily and really enjoyed it. I'm not quite as much a muesli fan, but if you are, this is a very good version.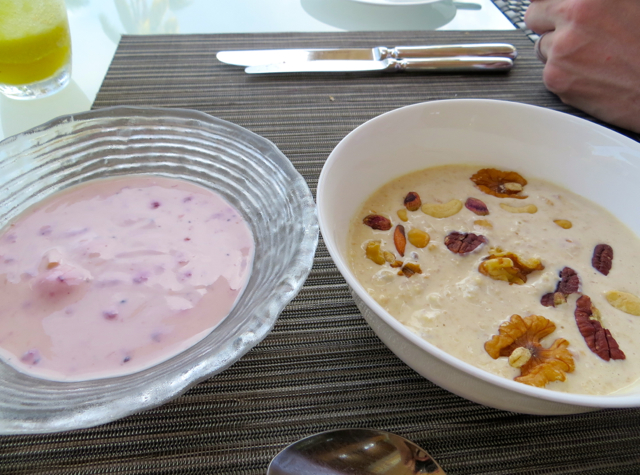 6. Pancakes
I found these a little underwhelming, but my husband and the munchkin enjoyed the buttermilk pancakes. There's also a buckwheat version listed in the Healthy Set that we didn't try.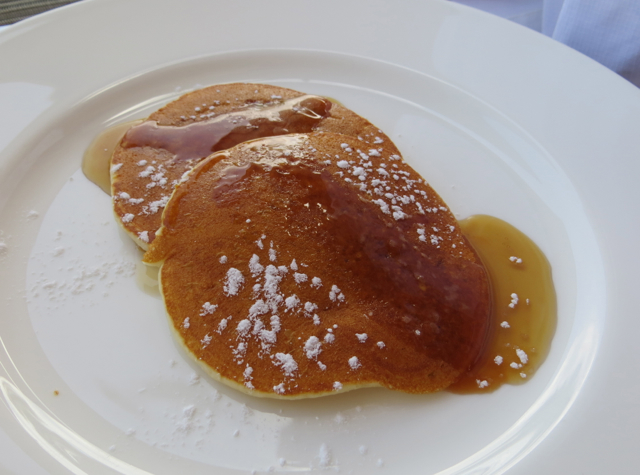 7. Cheese, Smoked Salmon and Cured Meats Plate
My son got this twice, and while some of the French cheeses were too strong for him, we enjoyed them. We opted to request more smoked salmon (which he prefers) instead of the cured meats.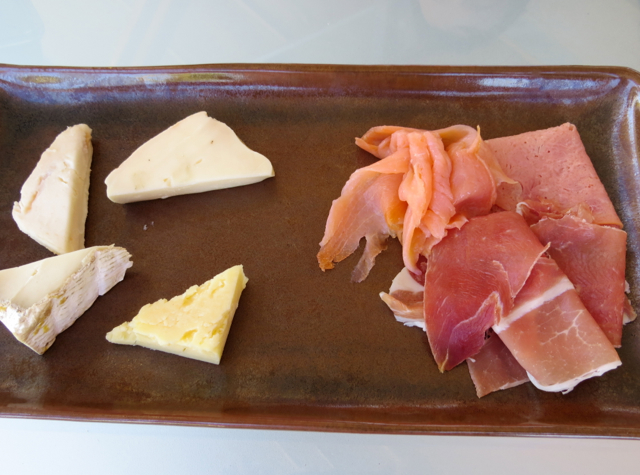 8. Vietnamese Noodle Soup
This is offered as part of the Asian Set, and while personally, I would have preferred a really good Vietnamese Pho, this wasn't bad. It's a citrusy fish noodle soup, and probably especially good if you feel a bit under the weather and need something restorative–or try the Chicken Noodle Soup, which is also on the breakfast menu.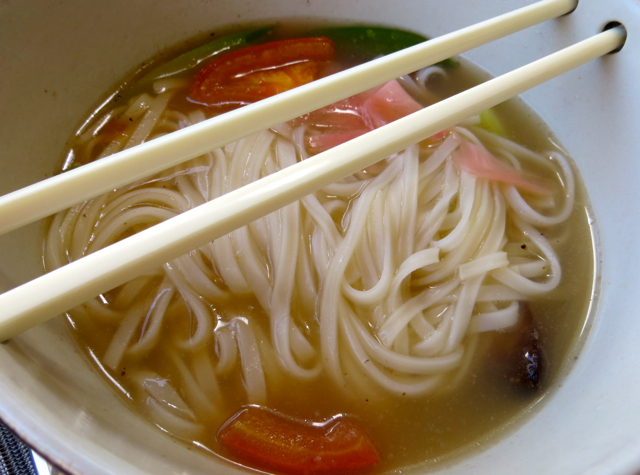 Dinner at the Dining Room Restaurant
Dinner at the Dining Room Restaurant always started with freshly baked bread. Some, such as the pink beet bread, were especially pretty (even though you really couldn't detect the beet flavor):
Here are our favorite dishes from the dinner menu:
1. Wagyu Beef
The beef was so tender and flavorful in this preparation, that we were sorry to not be in the mood to order it more often. It would really hit the spot in winter.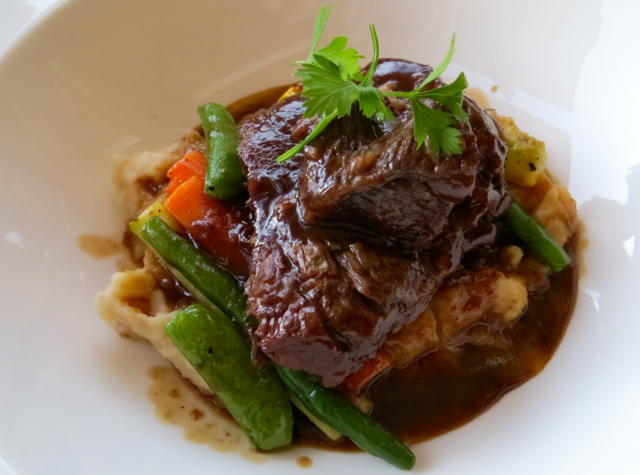 2. Pan-Fried Duck
One of the more reasonably priced dishes on the menu, I really liked the duck and we ordered it three times while we were there. I enjoyed the glazed beet side dish it came with, although my husband didn't care for that part.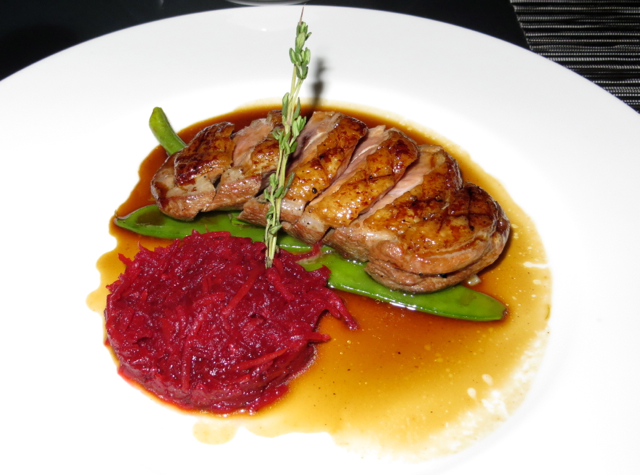 3. Thai Green Curry Chicken
The Thai Green Curry tied with the Wagyu Beef as my husband's favorite dinner dish. While not "Thai spicy" it had a nice kick to it.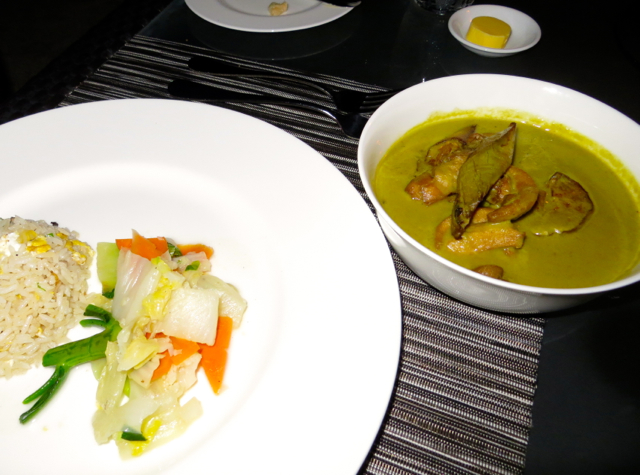 4. Marinated Grilled Reef Fish
The munchkin and I made this as part of our cooking class, and it was delicious! The only problem was that the local flies thought so too, and this was the only problem we had a fly problem at dinner. I'll post the photo when I write about the Maldivian cooking class.
5. Sashimi Appetizer
This is quite modest in size, but had great flavor, and each preparation came with its own dipping sauce
6. Homemade Ice Creams and Sorbets
We always ordered ice cream or sorbet for dessert, both because we felt like a refreshing, cold finale to our meal and because they are $5 per scoop, rather than ~$20 for the more elaborate desserts. Our favorite flavors were mango sorbet, caramel ice cream and honeycomb ice cream.
We only tried the lunch menu on our last day, before our departure, but I was pleasantly surprised by how good the Mee Goreng was: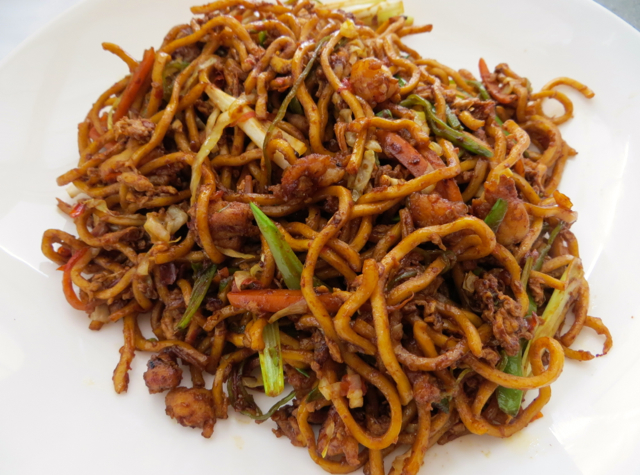 My husband enjoyed his fish and chips as well: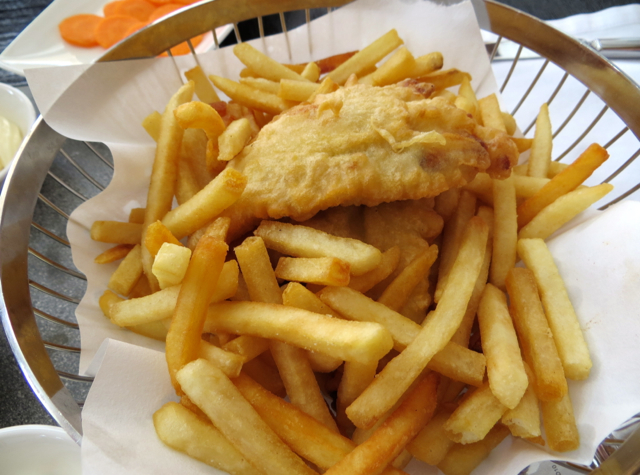 For those interested, here is The Dining Room Lunch Menu: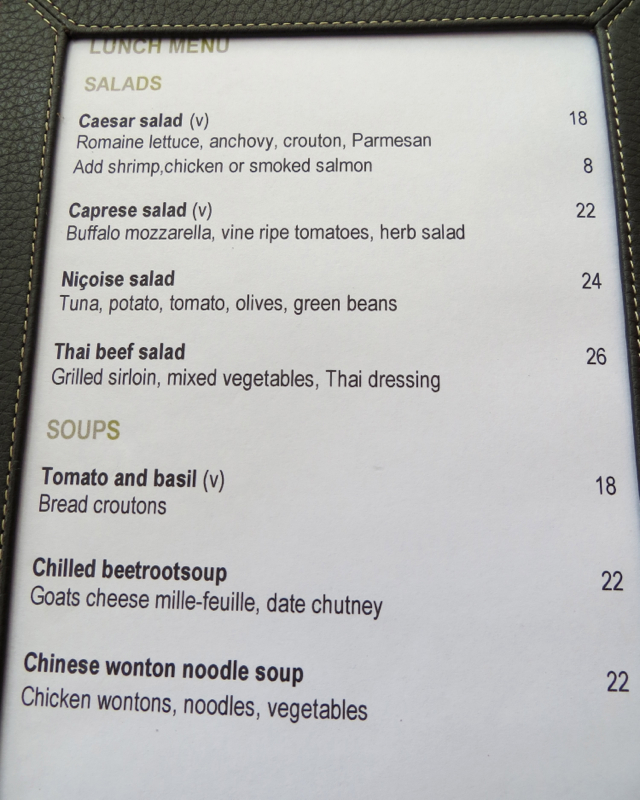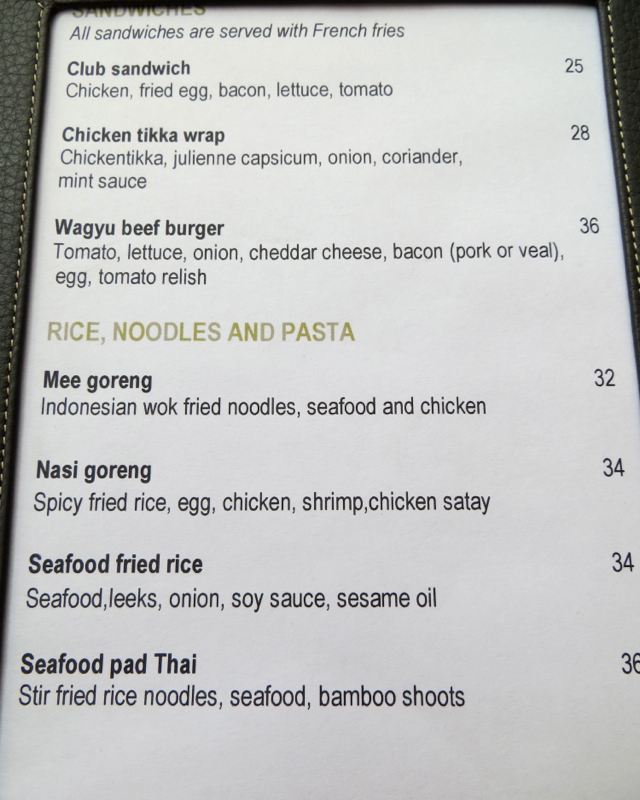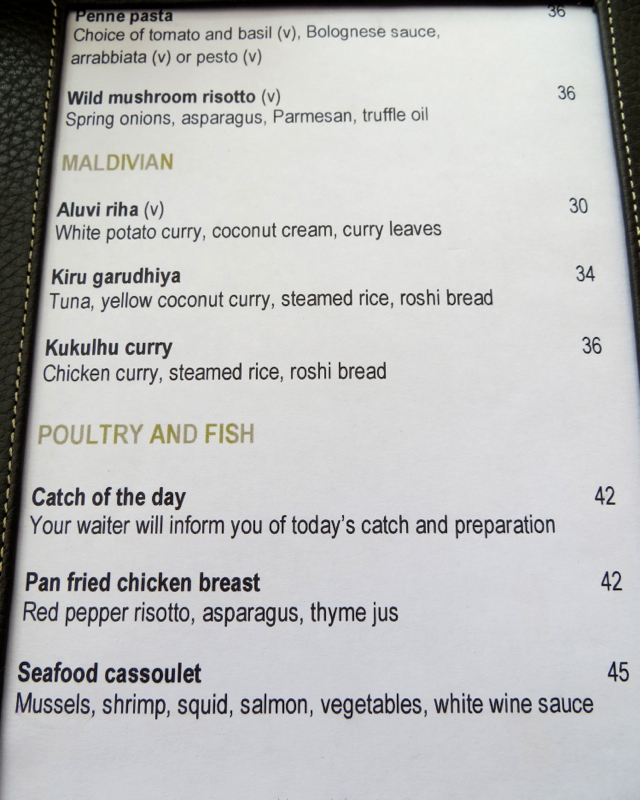 Related Posts
Need Award Booking Help? Our fee is as low as $75 per ticket if you book your hotel through us.
If you enjoyed this, join 90,000+ readers: please follow TravelSort on Twitter or like us on Facebook to be alerted to new posts.
Become a TravelSort Client and Book the Park Hyatt Maldives with Virtuoso Benefits!