The Park Hyatt Washington DC was where we stayed for the second night of a recent family trip to Washington DC; we've already written our Blue Duck Tavern Restaurant Review, although as I write this I realize I still need to post on our breakfast, which was a much better experience than our dinner. We'd chosen the Park Hyatt DC for its great reviews, so my expectations were fairly high. On the whole, it did not disappoint.
Don't forget that TravelSort Clients enjoy these Virtuoso benefits when TravelSort reserves their stay:
Upgrade at time of booking, subject to availability (Not applicable during inauguration time period)
Daily full breakfast, for up to two in room guests
$100 USD Equivalent Resort or Hotel credit, to be utilized during stay (not combinable, not valid on room rate, no cash value if not redeemed in full)
Early check-in/late check-out, subject to availability
We arrived, and while I checked in, my husband and son explored the lobby. It's fairly small, but has a couple of striking rectangular glass columns painted with cherry blossoms, and a comfortable seating area.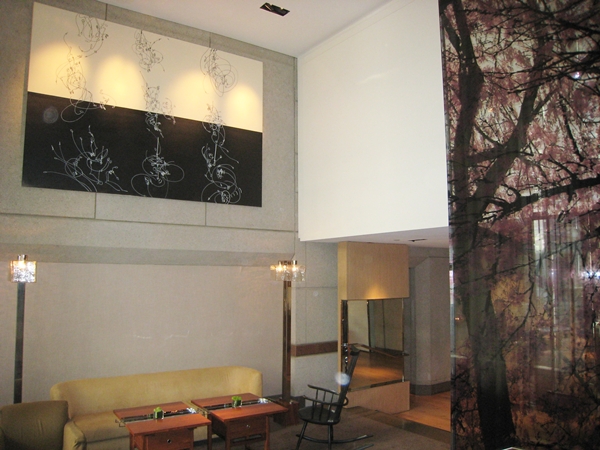 At reception, I was pleased to not have to wait at all to check-in, unlike at the Mandarin Oriental, although of course I may just have been unlucky at the latter. Although there wasn't a refreshing cool towel, as at the Mandarin Oriental, the front desk associate was pleasant and helpful, even upgrading us to a Premier Park Deluxe Room, which is the Park Hyatt's junior suite. We opted to take our own bags up to our room (another reason to travel light–you never have to wait for your luggage) and entered what turned out to be a very spacious junior suite–over 600 square meters.
The decor is very Park Hyatt–modern and spare, although with a few homier touches, such as the wicker baskets in the bathroom that held shower cap, sewing kit, etc., and some folk art sculptures. The bed, which is one of the most important things to me in a hotel (after all, what good is a luxury hotel room if you have an awful night's sleep due to an uncomfortable bed) passed the test, with its pillowtop mattress and ultrasoft linens.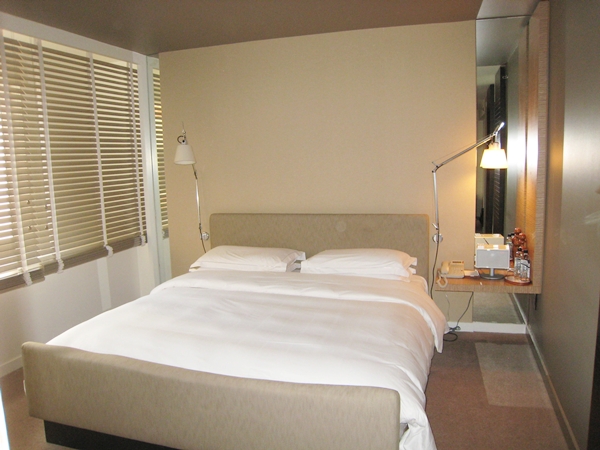 The living room had several chairs and a crescent work desk facing a flat screen TV that could be swiveled around to watch TV from the bed. Clever way to avoid needing another TV in the room! Unfortunately, since this was a junior suite and not a full suite, it wasn't possible for us to rent a movie to watch on it after the munchkin went to bed, since there was no door separating the bedroom from sitting room area.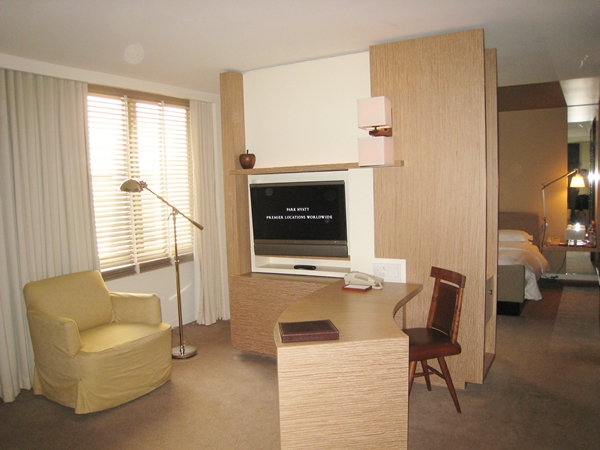 The bathroom was an interesting design. As you entered, you had the sink and mirror slightly to your left: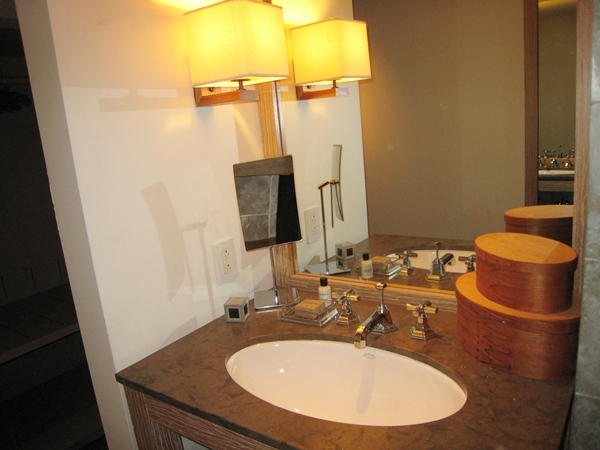 If you continued around the corner, there was a closet, and then on the other side of the wall, the toilet. The only door was the initial door to the bathroom, but given the setup, one person would have enough privacy for the toilet or to dress while the other took a bath.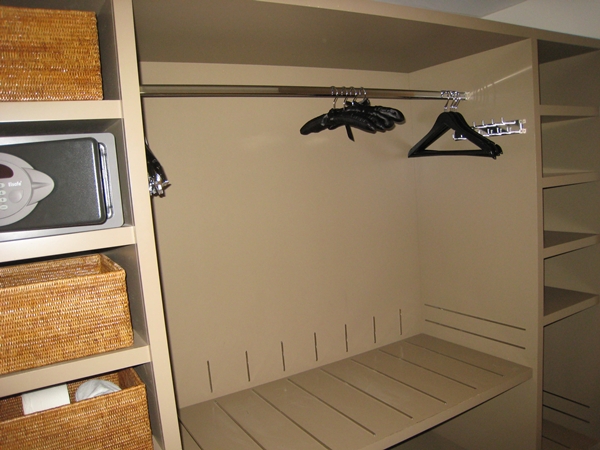 On the right as you entered the bathroom was a black slate walk-in rainshower: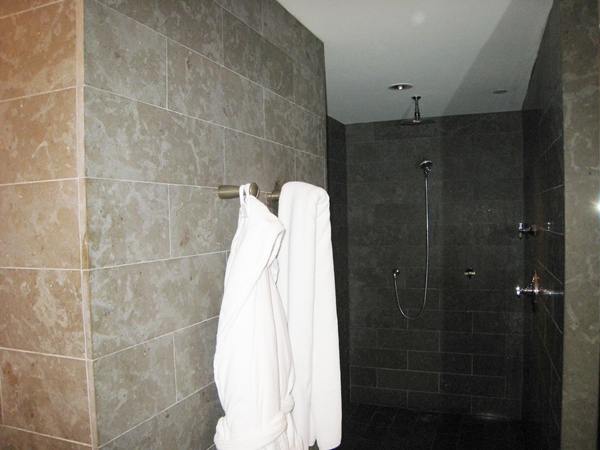 And next to it, a bathtub. Very much appreciated, as our son still only takes baths, and he needed one after spending oh, a couple hours, in the hotel pool–more on that later.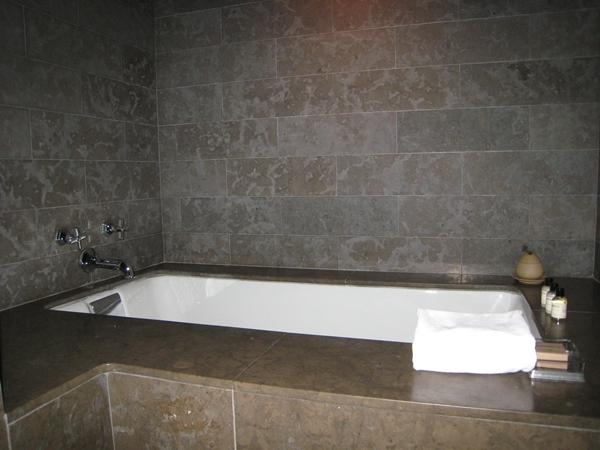 Toiletries were nice: Bergamote 22 by Le Labo, which are a good unisex choice with its bright citrus notes. Definitely preferred these to the Gilchrist & Soames at the Mandarin Oriental.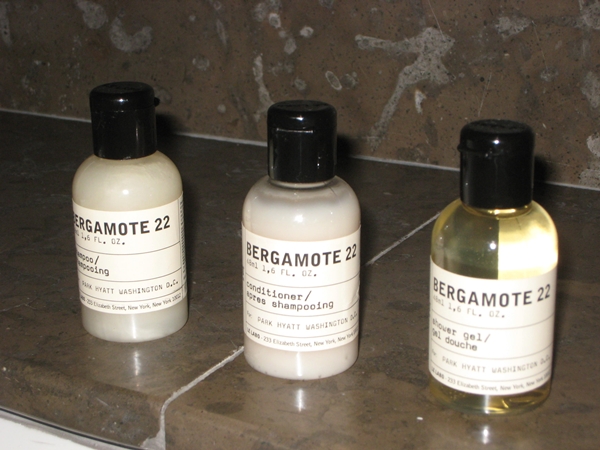 We had asked for a rollaway bed, and just as I had finished unpacking, housekeeping arrived with the rollaway and set it up in the living room.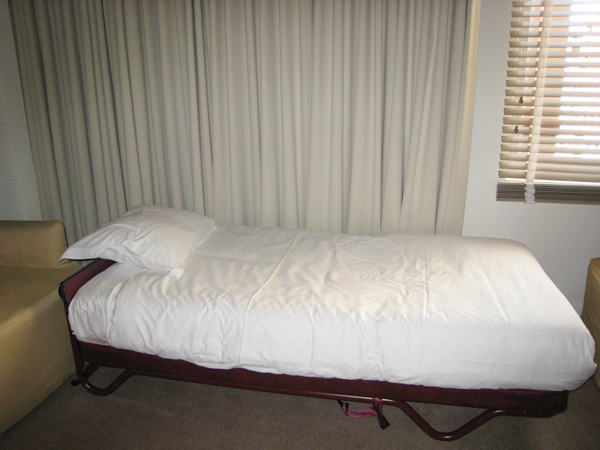 Another nice touch was the welcome amenity that was brought us: four locally grown peaches. They weren't quite as ripe as I'd like (a perennial problem with peaches, since they bruise so easily once ripe so are usually picked before their peak) but one was just about ripe and my son thoroughly enjoyed it after working up an appetite at the pool.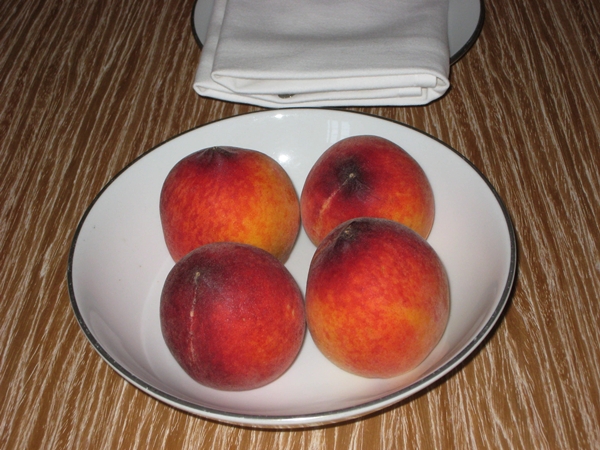 Speaking of which, my son loved splashing around the pool with my husband and me. Fortunately, for most of the time, there was no one else in the pool area, since not everyone is keen on kids splashing around and chortling with glee. Perhaps it's because the pool is just so damn hard to find–it's not specified on the elevator, and I hadn't thought to ask when checking in where it was. Fortunately I ran into some staff on the meeting room floor, and they showed me how to get there. If you don't want to walk through the lobby (which I didn't especially, clad as I was in a bathrobe and my swimsuit) take the elevator to the third floor, take a right and walk to the end of the hallway. Then take the stairs to the 2nd floor, where you'll need your key card to enter. Either my card or the card reader was a bit finicky and it took a few tries to get it to open the door, so do ensure you have a working key card.
The pool itself is small, compared to the Mandarin Oriental, so lap swimmers will be disappointed. It also of course lacks the incredible view of the Tidal Basin that the Mandarin's affords, though it does get some much needed natural light from the skylights above it. There's also a jacuzzi, although it could have been hotter, and it also needs to be fixed since when you turn on the bubbles it's incredibly noisy.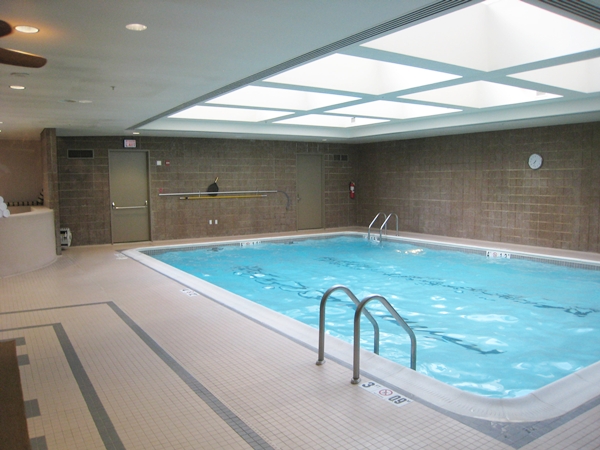 The next morning, we all went to work out in the fitness center, which had plenty of machines and where only one other person was there when we were.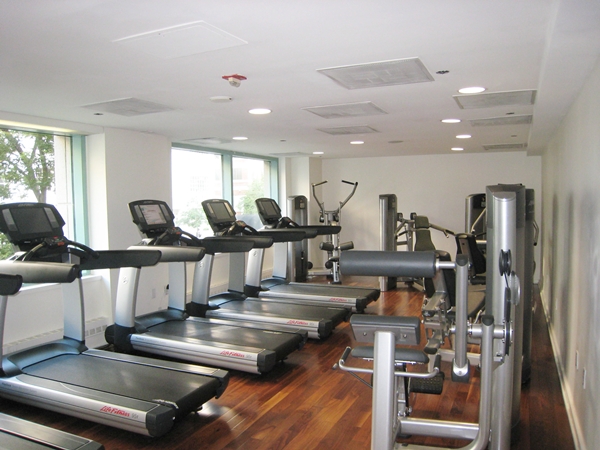 We were also able to take advantage of the hotel's comlimentary sedan service to go to the National Air and Space Museum prior to our train trip home. Very professional and courteous (a relief from another taxi driver we had who blatantly tried to rip us off) and a superb ride. So nice to be driven in a car with proper suspension!
The Verdict
A 4.5 out of 5. Service in the hotel itself (our Blue Duck Tavern dinner was another matter) was superb, and we enjoyed our upgraded room, which would be especially nice for a family stay. Decor is a matter of personal preference, and I found it on the bland side (too much beige) and too dark; I preferred the natural light and view from our room at the Mandarin Oriental. Similarly, the Mandarin Oriental's pool and spa area is nicer. The Park Hyatt's complimentary car service, based on availability, is a classy and welcome service, however. And I have to hand it to the Park Hyatt's housekeeping–the very next day, after we were already home, I received an email noting that housekeeping had found one of my husband's shirts and a Winnie the Pooh book we'd forgotten there, and asking to confirm our address so they could send it to us. So if you want to be based in Georgetown and prefer a modern hotel with excellent service, the Park Hyatt DC should be at or near the top of your list.
Related posts:
Blue Duck Tavern, Washington DC Restaurant Review
Mandarin Oriental Washington DC Hotel Review
Four Seasons Washington DC Seasons "Power Breakfast" Review
Best Luxury Hotels in Washington, DC
History, Ghosts, and Delicious Eats in Washington, DC
Where are the best pancakes in Washington, DC?
What are the best kid-friendly sights and things to do in Washington, DC?
Need Award Booking Help? Our fee is as low as $75 per ticket if you book your hotel through us.
If you enjoyed this, join 200,000+ readers: please follow TravelSort on Twitter or like us on Facebook to be alerted to new posts.
Become a TravelSort Client and Book the Park Hyatt Washington, DC with Virtuoso Benefits!