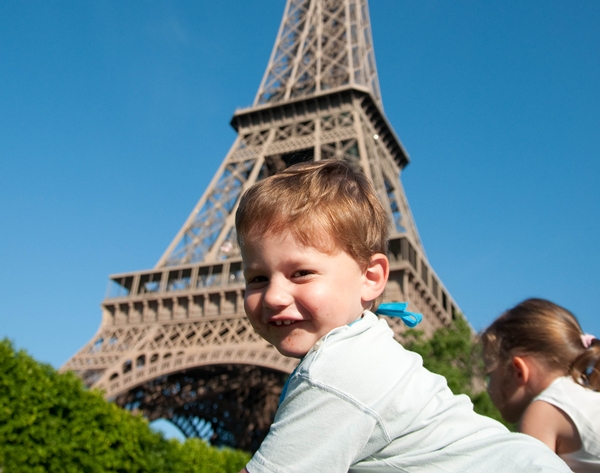 Why go
Paris, with its rich cultural history, might not immediately spring to mind as the ideal family destination, but, despite its attractiveness to adults the world over, it's surprisingly family-friendly and offers a great range of interesting sights and fun activities for all age groups.
Insider Tips
The 2 major Paris airports are Charles de Gaulle (CDG) which most international long-haul flights arrive at, and Orly (ORY), which serves mostly domestic and Southern European flights. Taxis, Paris airport shuttles, the Air France Bus and Metro/RER are available at both airports. Your fastest and most expensive option is taxi: expect to pay 55-70 EUR from CDG and 30-50 EUR from Orly, depending on traffic. Taxis are usually readily available at both airports. For your return trip, however, it's wise to call many hours before to ensure there's one available to take you. There are a number of Paris airport shuttles such as Super Shuttle that provide shared ride service and need to be reserved at least 48 hours in advance. First person is 24-27 EUR, and 2nd and 3rd passengers are 15-19 EUR each. Although this is the best value door to door service for 1 person, for a family of 3 a taxi is more economical and faster. With little ones and luggage, it's unlikely you'll want to take the Air France Bus unless your hotel is right near one of the bus stops. See the routes on the Air France site.
Public transport is excellent in Paris and there are frequent trains and buses as well as the efficiently-run Metro. Do avail yourself of discounted tickets, for example multi-day rail and subway passes. Although the rail network is efficient when it's running, French rail workers are notorious for strike action so it's best to keep an eye on French news in the run-up to your trip to ensure that the trains are running.
The French currency is the Euro and these days one Euro is worth approximately $0.68. In addition to the currency exchange rate, Paris is a very expensive city in general and it's best to be prepared financially. There are free activities, as detailed above, but even so it's unlikely you'll get very far without spending at least some money. It's best to exchange foreign currency in banks, rather than relying on private Bureau de Change stores as they charge higher commission rates.
The weather in Paris is beautiful in late spring and right throughout the summer time, when it can get hot and sticky in July and August. Winters can be bitterly cold and it's common to see ice and snow from December through late February. Dress warmly in winter with plenty of thick layers.
Even if you don't speak the language, French people really appreciate even the smallest gesture to say a few words in their native language like 'bonjour', 'au revoir' and 'merci'. You can move on to your native English after a few words but it is considered good manners to try a little bit of French!
Driving in Paris is not for the faint-hearted! People drive on the right side of the road so Americans will, at least, have that sense of familiarity. However, driving can be chaotic and stressful with a maze of one-way streets and busy tunnels. If you absolutely must drive, take time to learn the French rules of the road in advance and don't forget your International Driving License.
What to see and do
This is a wonderful and extremely popular science museum with two specific sections for different ages: 3 to 6 year olds and 7 to 13 year olds.
It's a huge venue with a multitude of hands-on and interactive activities that are sure to thrill children of all ages. There are no less than ten theme parks at the Parc de la Villette. The Garden of Dunes (suitable for all ages) is wonderful for children who love to run around and burn off excess energy – there are windmills, climbing ropes and soft-cushioned areas to keep them safe. The Garden of the Dragon (suitable for ages 5 and up) has a really long climbing frame in the shape of a dragon that ends in a huge slide coming out of the dragon's mouth. The Garden of Childhood Fears (suitable for ages 10 and up) features a range of scary music and a forest that's eerily atmospheric!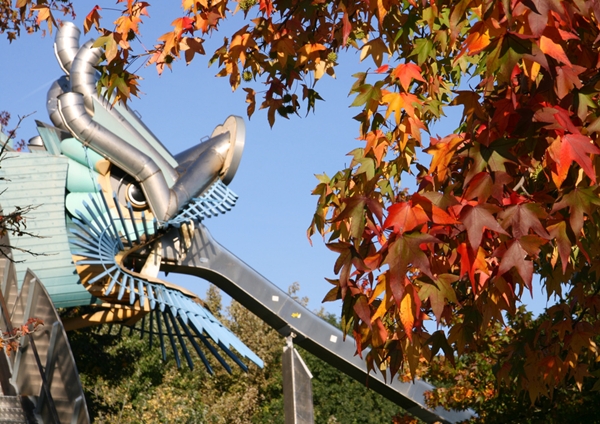 2. Eiffel Tower
Children and adults alike will love the spectacular and world-famous Eiffel Tower. It's beautiful by day but there is undoubtedly an extra thrill at night with magnificent 5-minute light shows occurring every hour and stunning Paris views from the top of the tower. It's unmissable.
3. Luxembourg Gardens (Jardins du Luxembourg)

The Luxembourg Gardens are centrally located and are packed full of fantastic play areas, picnic tables, puppet shows and swings and slides. If you're visiting at the weekend you'll see lots of local families sailing their miniature boats in the pond. Pony rides are also on offer for children.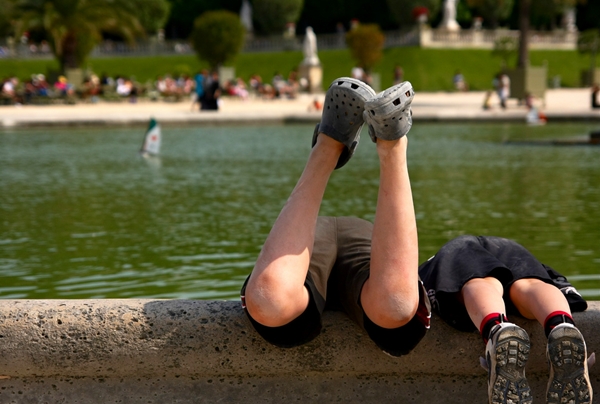 4. Notre-Dame
Notre Dame is a stunningly beautiful cathedral in the middle of Paris. Gargoyles adorn the top of the cathedral and the inside of this wonderful church is equally impressive, from the intricate designs on the doors to the detailed floor tiling and the wonderful alter adornments, it's an unmissable Parisian highlight. If you're feeling adventurous, you can climb to the top of the cathedral to enjoy the wonderful views over Paris and see the gargoyles close up. If your children have seen the Disney movie 'Hunchback of Notre Dame' they'll enjoy the fact that they're visiting the real thing! (Inside is suitable for all ages but the climb to the top is best for children 6 years and over.)
5. Jardin d´Acclimatation
This is a wonderful park for babies and toddlers with a fantastic maze, a lovely playground and a carousel. Most of the play equipment and rides were specially designed for this park, so even playground veterans will find be intrigued. If your kid loves trains, definitely take the "petit train" that departs from Porte Maillot and around the Bois de Boulogne before arriving at the entrance to the park.
The River Seine runs right throughout the heart of Paris city and you can avail of the wonderful Seine Cruises on offer all day long. These cruises are a the ideal way to see the sights. Boats pick up and drop off passengers at numerous handy-to-reach areas in the city. One type of cruise is called the Batobus and it tours the center of Paris where it makes eight stops in the most popular tourist attractions. It's also the perfect scenic way to get around with small children, so that they don't get exhausted traipsing from one place to another.
The spectacular Air and Space Museum is based at Le Bourget Airport, between Paris and Charles de Gaulle Airport. It's in the oldest airport in France and the museum features some unmissable historical aviation displays, including Charles Lindbergh memorabilia, the American pilot who completed the first transatlantic flight. There are more than 170 airplanes on display including the Wright Brothers' 1908 Wright plane as well as rockets and a prototype of the famous Concorde. Go on a simulated flight, learn some cockpit secrets or sit back and be mesmerized in the planetarium. (Suitable for all ages).
8. Champ de Mars Park
This famous park makes for a delightful afternoon excursion for families with children of all ages. There are no less than four playgrounds featuring both modern and antique amusements such as an ancient carousel and a puppet theater; plenty of benches and picnic areas to relax and enjoy a locally-made lunch while enjoying the beautiful landscaping and basketball courts and cycling areas for teens and adults to enjoy.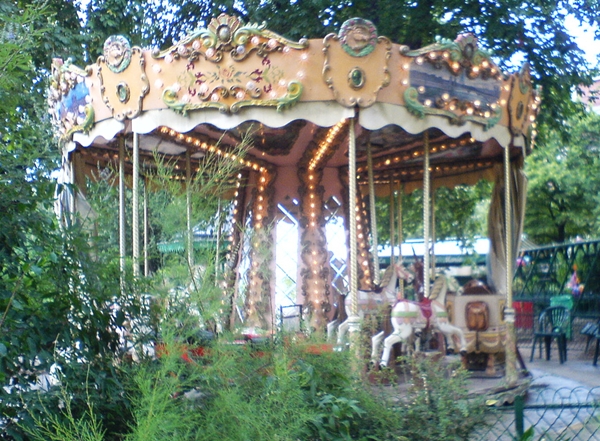 9. The Louvre

This world famous museum might not immediately spring to mind as the ideal venue for families with young children but don't dismiss it yet. While toddlers might not be interested in seeing Da Vinci's famous Mona Lisa or Hieronymus Bosch's The Ship of Fools, there are some child-friendly offerings and admission to the museum is free of charge for anyone under 18. There are thematic trails available for children; children's workshops for ages 4-12; children's entertainment in the Louvre auditorium for age 7 and over as well as dance performances and storytelling. And even if your child isn't interested in the indoor workshops or performances, there are plenty of statues and green spaces to explore outside the museum.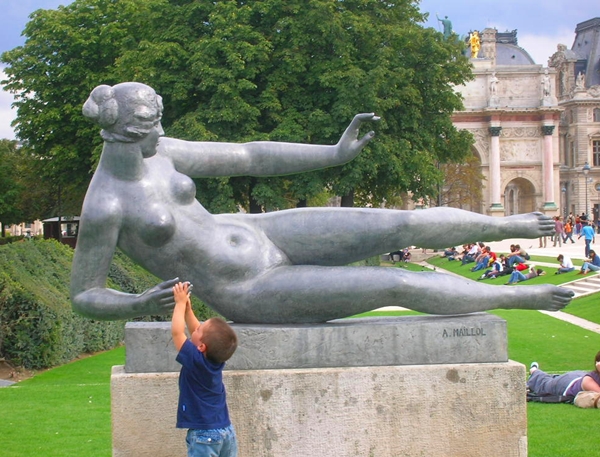 10. Disneyland Resort Paris
Try to fit in at least one day in Disneyland Paris Resort, formerly called Euro Disney. It's made up of two wonderful theme parks.

Disneyland Park is the equivalent of the Magic Kingdom in California and Orlando and it's an exciting magical park with plenty to thrill and excite visitors of all ages. It often surprises visitors to hear that this park is actually bigger than its sister parks in America. It covers an impressive 140 acres with some of the most beautiful landscaping of any of the Disney parks. The most popular attractions in this park are Big Thunder Mountain, a gentle roller-coaster based on the American Wild West (suitable for ages 5 and up) and Space Mountain: Mission 2 which shouldn't be confused with Space Mountain in the American Disney Parks, it's a much wilder, faster and more-intense ride (suitable for ages 8 and up). Younger children will enjoy Disney's classic It's a Small World and Dumbo. A large section of this park is devoted to Pirates of the Caribbean theming with some truly stunning areas spread over a few acres, including Skull Rock to the wonderful pirate ship and playground (suitable for all ages) to the Pirates of the Caribbean ride itself (suitable for ages 3 and up).
The second park is called Walt Disney Studios Park and is a wonderful park that's essentially Disney's tribute to Hollywood. Although this isn't a particularly big park, it feels big! It's full of exciting shows and rides with some wonderfully-themed stores and restaurants. Don't miss CineMagique (suitable for all ages) which is a truly unique short movie that features some mind-blowing cinematic effects. Martin Short and Julie Delpy play the central roles in scenes taken from some of Hollywood's most famous movies. It's so professionally produced that you actually forget that Martin Short wasn't in the original movies, some of which are almost 100 years old! One of the newer attractions is Crush's Coaster (suitable for ages 7 and up), based on the turtle from Finding Nemo. It's a wild roller-coaster and is unique to Disneyland Paris Resort.
The most wonderful feature of Disneyland Resort Paris is its location. You can spend the morning exploring The Louvre, Notre Dame and the Eiffel Tower and then take an easy 1-hour train ride to the heart of Disney's magic.
The exact location of Disneyland Resort Paris is Marne-le-Vallee Chessy and this is the stop you should look for on rail maps.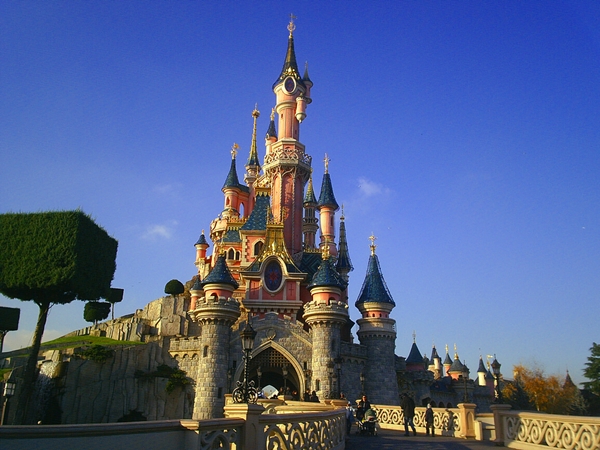 11. Parc Astérix
Parc Asterix is a terrific theme park in the middle of Paris. It's based on the much-loved French characters, Asterix and Obelix, made famous by the French comic-book publications. Allow at least one day to make the most of Parc Asterix as it's full of shows and rides and, if you're brave enough, it even has fantastic thrill-a-second rollercoasters. (The park itself is suitable for all age groups but many rides are better suited to ages 8 and up).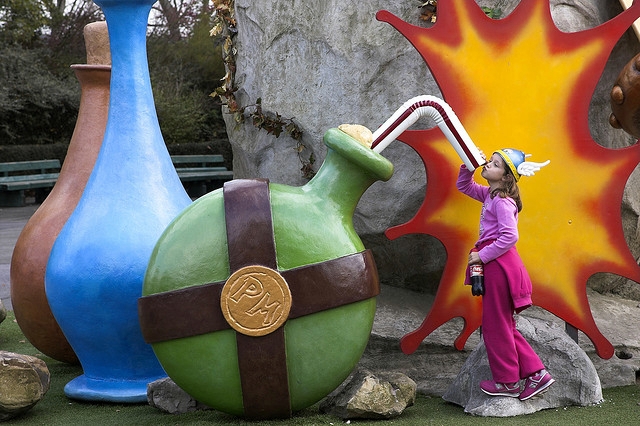 Aquaboulevard is a very big indoor water park and, considering it's in the middle of a city, readers will be surprised to hear that it's the largest water park in Europe with fun things things to do for anyone over the age of three. Its tropical theming and steady 29 degree celcius temperature provides for a pleasant and exciting day out at any time of the year.
The water park itself is actually part of a huge sports complex which features tennis courts, squash courts, a gym, an outdoor water area with pools and a 'beach', 14 screen cinema complex and seven restaurants.
(Suitable for ages 3 and up)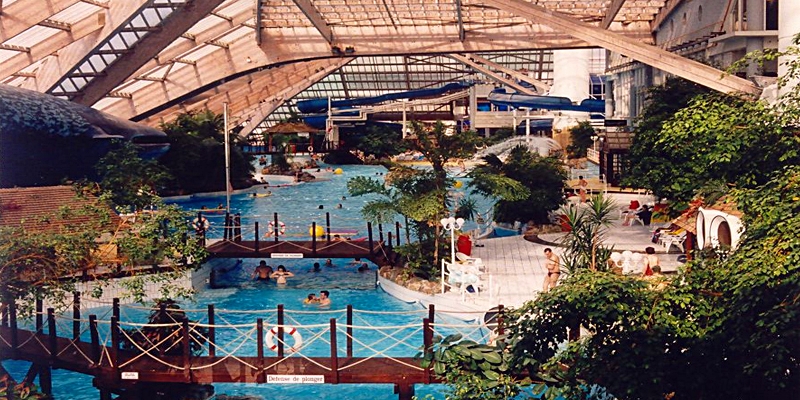 Where to stay
If you're planning on spending a large portion of your vacation visiting Disneyland Paris it makes sense to stay nearby. You can save a lot of money in expensive theme park restaurants by staying in a self-catering villa. There are quite a few to choose from including Citea Magny le Hongre (5, rue de la clé des champs 77700, Magny Le Hongre) situated a few miles from the theme parks with regular buses passing outside the door. There are 2 and 3 bedroom villas available, all featuring fully-fitted kitchens, sitting rooms and fully-fitted bedrooms. The exterior of the villas are feature French-style window shutters and there is a nice green area in front. Prices range from $100 per night.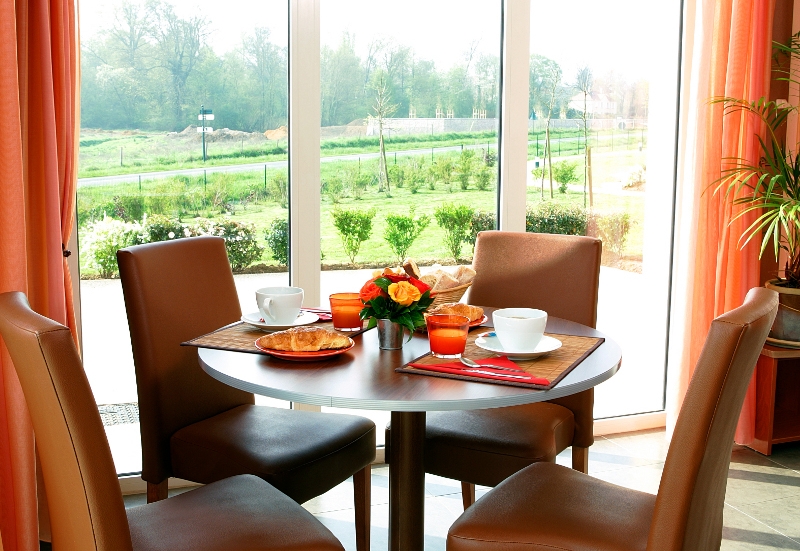 For lovers of the outdoors, there are two campsites in Paris, Camping les Etangs Fleuris and Camping Du Bois de Boulogne. Both are reasonably-priced and feature communal areas and plenty of activities.
Hotel Residences Foch (10 rue Marbeau, 75116 Paris) is a popular 3-star hotel and a wonderful choice for families. Friendly staff, great facilities and a nearby metro stop as well as nicely decorated bedrooms make it very appealing. Rooms are available from $190 per night.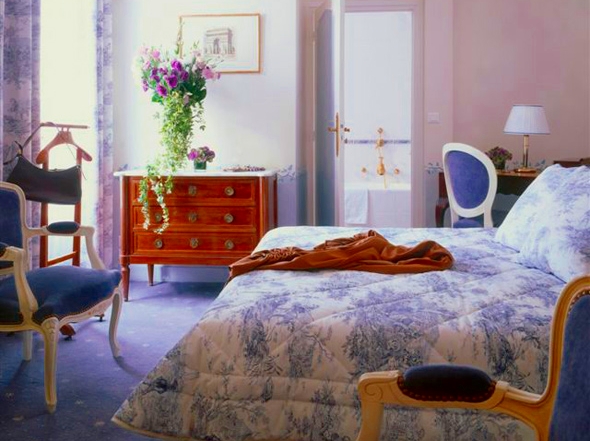 What to eat
There are many high-end restaurants in Paris including those with Michelin stars and famous chefs. This type of restaurant is definitely not suitable for younger children and it's unlikely they'd be comfortable there. That's not to say that there are no family-friendly restaurants in Paris. Au contraire! There is no shortage of them. You'll have no trouble finding suitable places to eat with even the youngest children in tow.
Breizh Cafe What kids don't love crepes? You can make a full meal of them with savory galettes and sweet crepes at this little café in the Marais. Since this is a small place, try to eat on a weekday and be sure to reserve in advance.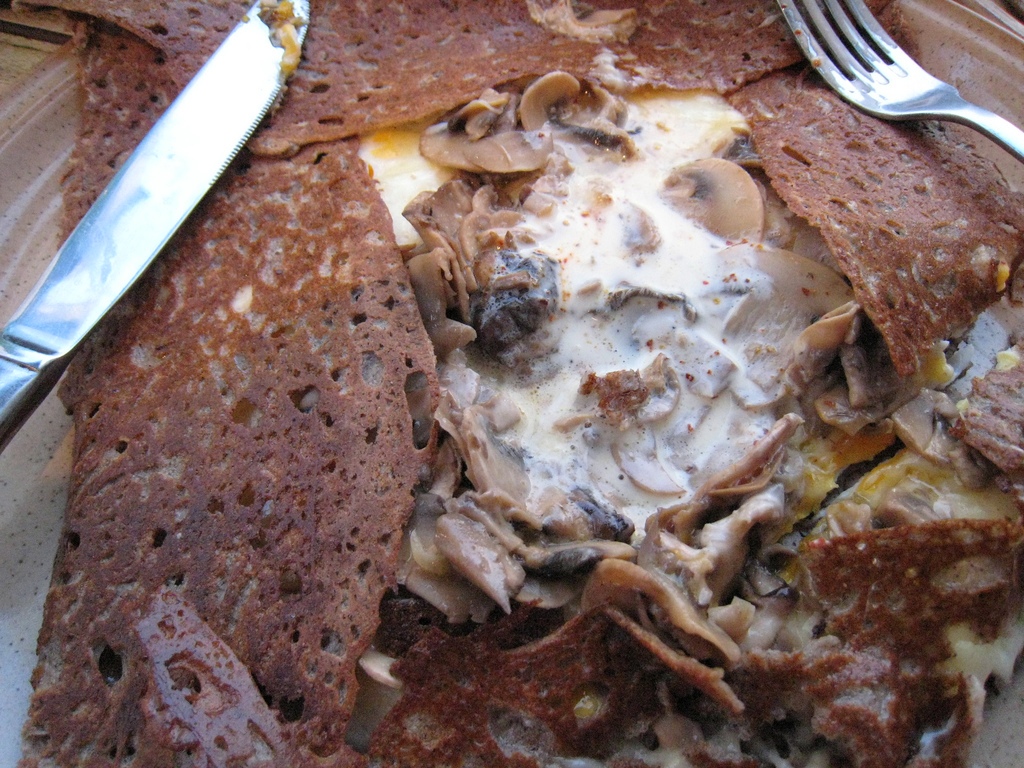 Chez Clement (Various locations)
There are few branches of this restaurant chain spread throughout Paris and all of them are family-friendly, offering specific children's menus for 1-3 year olds and for older kids as well. The décor is friendly and welcoming and the menu presents lots of choices.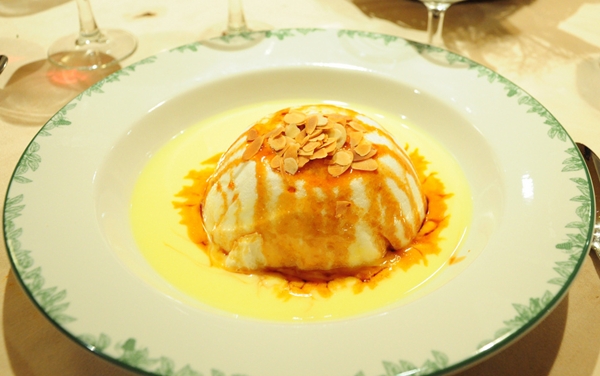 Pozzetto Ice Cream Parlour (39 Rue du Roi de Sicile, Paris)
Pozzetto is a wonderful ice cream parlour and, in fact, many people say it's the best in the whole city. It offers quite a few flavors and all ice cream is made fresh on the premises and tastes superb.
Crémerie Polidor (41 rue Monsieur-le-Prince, 6e)
This is a very family-friendly restaurant, in fact, so friendly that it calls its food 'cuisine familiale'. The restaurant is over 150 years old and was a favorite of Hemingway and Kerouac. They serve a nice range of food and their 3-course prix fixe is a good deal at 22 Euros. Note that this is a bustling, noisy environment with hearty rather than refined food. No reservations, and cash only.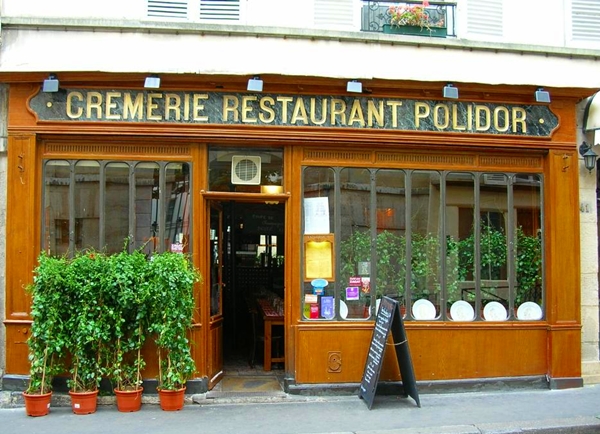 Patisseries
Despite the trim figure of the typical Parisian, pastries are a popular breakfast choice in Paris and the city is full of wonderful patisseries with a staggering choice of luscious home-made pastries. Children will love the friendly atmosphere and the high-sugar rush early in the morning! Amongst the many choices are croissants, pains au chocolat, apple-filled tarts and brioche. In terms of the chains, try Maison Kayser, with its fantastic almond croissants and pain aux cereales, or Paul, especially its frangipane fruit tarts. Also check out TravelSort's thread on the best places to have breakfast in Paris for additional ideas.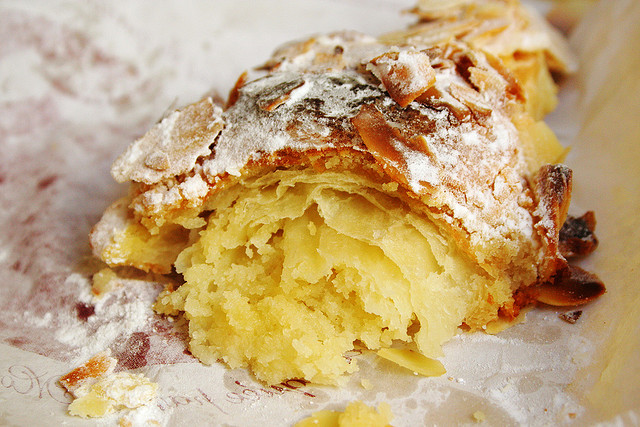 Related Posts
Epicure at Le Bristol Paris Restaurant Review (with a Kid!)
Paris with Kids: Jardin du Luxembourg
Top Paris Restaurants Open During August
Paris for Foodies: Where to Eat
Don't Miss These Paris Desserts
Need Award Booking Help? Our fee is as low as $75 per ticket if you book your hotel through us.
If you enjoyed this, join 90,000+ readers: please follow TravelSort on Twitter or like us on Facebook to be alerted to new posts.
Become a TravelSort Client and Book 5-Star Hotels with Virtuoso or Four Seasons Preferred Partner Amenities!
Photos: Inferis, Christophe Alary, presta, Theory, Rabih Al Massry, Roy Stead, Hotel Residence Foch, Stephen Rees, roboppy, sparkynufc_86, Roni G