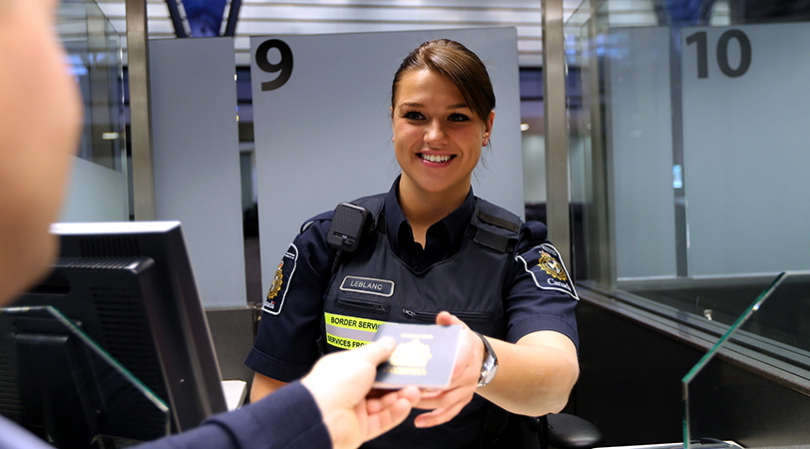 A parental consent form to travel isn't something I've thought much about, given that I've traveled with my son to places as varied as the Dubai in the UAE, Russia, the Philippines, Vietnam, Singapore, the UK and other countries with him and without my husband, yet never been asked for one.
Yet on a recent trip to Canada, the first question the Canadian immigration officer asked me was "Do you have a parental consent form from his father?" I was surprised, to say the least. I asked if one was required by law, since I hadn't been asked this on a prior trip with my son to Vancouver, and the officer, who was actually very friendly, said no, it's not legally required, but that they normally ask for one.
Later, when I was relating our experience to our Canadian friend that we were visiting, she mentioned that she assumed it was required by law. In fact, on an earlier trip to Canada with her two kids, she'd been asked for a letter, which she didn't have, and had been interrogated for 45 minutes. They even called her husband and spoke with him, to ensure that she had his permission to travel with the kids.
Does Canada Require a Parental Consent Form?
Canada does not legally require a parental consent form for non-Canadian visitors where 1 parent and child(ren) are visiting without the other spouse, bolding mine: "A consent letter is not a legal requirement in Canada, but it can simplify travel for Canadian children, as it may be requested by immigration authorities when entering or leaving a foreign country or by Canadian officials when re-entering Canada…" (Canada: Recommended Consent Letter for Children Travelling Abroad)
As our friend's experience indicates, however, it is recommended to bring a parental consent letter if you're traveling to Canada without the other parent, since you could be detained–and who wants that, especially when traveling with children? Here's what Canada says the parent traveling with children and without the other parent should bring for each child:
the child's passport
a copy of the child's birth certificate, and
a letter of authorization, in English or French if possible, which is signed by the parent who is not travelling with them and lists:

the address and telephone number of the parent who is not travelling, and
a photocopy of that parent's signed passport or national identity card.
Does the U.S. Require a Parental Consent Form?
While the U.S. does not legally require a parental consent form, U.S. Customs and Border Protection strongly recommends one. Here's the advice from their Web site, bolding mine:
"Customs and Border Protection (CBP) strongly recommends that unless the child is accompanied by both parents, the adult have a note from the child's other parent (or, in the case of a child traveling with grandparents, uncles or aunts, sisters or brothers, friends, or in groups*, a note signed by both parents) stating "I acknowledge that my wife/husband/etc. is traveling out of the country with my son/daughter/group. He/She/They has/have my permission to do so."….CBP also suggests that this note be notarized.
While CBP may not ask to see this documentation, if we do ask, and you do not have it, you may be detained until the circumstances of the child traveling without both parents can be fully assessed. If there is no second parent with legal claims to the child (deceased, sole custody, etc.) any other relevant paperwork, such as a court decision, birth certificate naming only one parent, death certificate, etc., would be useful.
Adults traveling with children should also be aware that, while the U.S. does not require this documentation, many other countries do; failure to produce notarized permission letters and/or birth certificates could result in travelers being refused entry"
Skip Customs and Border Protection Interrogation with Global Entry
A great way to skip the lines and U.S. CBP interrogation is to get Global Entry for your child. Just as your child, even as a baby, needs his or her own passport, s/he will also need his/her own Global Entry to be able to visit the Global Entry kiosks with you and skip the lines. Credit cards such as the AMEX Platinum, AMEX Business Platinum, Citi Prestige and Citi Executive AAdvantage card all provide a Global Entry fee credit. For more details, see American Express Platinum Card Global Entry Benefit Tips. If you already have Global Entry and get one of the above cards, you can use the fee credit for your child's Global Entry application.
Does Mexico Require a Parental Consent Form?
While Mexico used to require a parental authorization letter for U.S. and other non-Mexican children, it no longer does. Here's what the Mexican Embassy site states, bolding mine:
"Foreign minors (under 18 years of age) travelling to Mexico alone or with a third party of legal age (grandparent, aunt/uncle, etc.) as visitors (tourists or with a short stay for study purposes up to 180 days), DO NOT REQUIRE authorization or a letter of consent from their parents or guardians. Mexican migratory authorities will allow these minors to leave Mexico at the end of their stay upon presentation of a valid passport."
Note, however, that Mexican minors, including those residing abroad and with dual citizenship, as well as foreigners residing in Mexico, DO require a parental consent form.
South Africa Has New, More Stringent Requirements for Minors Traveling Without Both Parents
Effective June 1, 2015, South Africa has stricter requirements for children traveling without both parents. For example, a parent traveling with a child without his/her spouse (where the parents are married) the child will need his/her valid passport, visa if required, birth certificate or equivalent document and parental consent affidavit (PCA). See
Why Do Immigration Officials Ask for a Parental Consent Form, Even If One is Not Legally Required?
The reason why U.S., Canadian and other countries' immigration officials may ask for a parental consent form if you are traveling alone with your child is increased awareness of international child abduction, either as part of a child-custody dispute after parents divorce, or as part of human trafficking.
What Should the Parental Consent Form Include?
I strongly recommend checking with the Embassy of the country or countries you'll be visiting to understand if a parental consent form is required, and exactly what it should include. That's because some countries may require a translation of the letter into the country's national language, for the notarized copy.
If you've traveled with your kids without the other parent, have you ever been asked for a parental consent form from the non-traveling parent?
Related Posts
10 Tips to Travel Better with Kids
Travel Checklist: What to Do and Pack Before Your Trip
Flying First Class with Kids: Which Airlines and Seats?
Award Flights to Europe with 3 First Class Award Seats?
Need Award Booking Help? Our fee is as low as $75 per ticket if you book your hotel or cruise through us.
If you enjoyed this, join 200,000+ readers: please follow TravelSort on Twitter or like us on Facebook to be alerted to new posts.
Become a TravelSort Client and Book Your Hotel with Virtuoso or Four Seasons Preferred VIP Amenities!