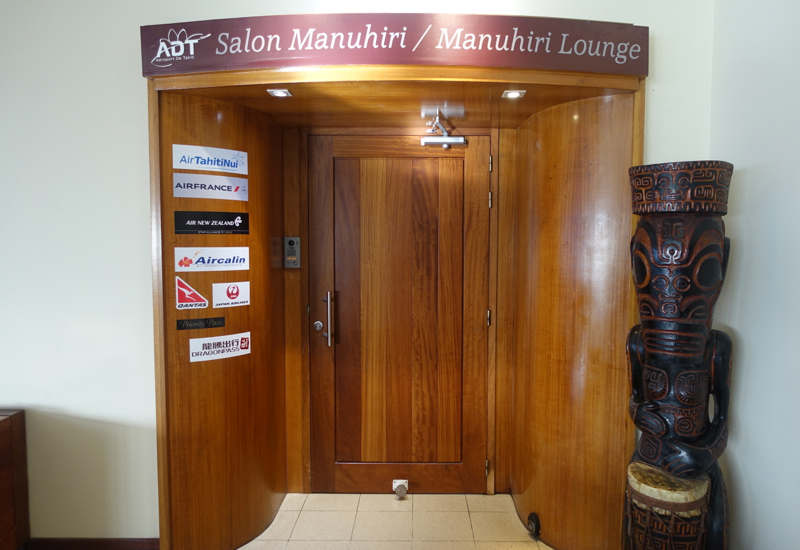 This Review of Air Tahiti Nui Business Class Lounge at Papeete Airport (the Manuhiri Lounge, also used by Air France, Air New Zealand, Qantas and Japan Airlines) is part of a trip report on Bora Bora and New Zealand luxury resorts, dining and activities.
For the prior posts, please see:
Review: American A321 Business Class New York to Los Angeles
Paradise! Can You Guess the Place?
Review: Residence Inn by Marriott LA
Review: Los Angeles International Lounge
Review: Air Tahiti Nui Business Class
A Must in New Zealand: The Farm at Cape Kidnappers, Hawkes Bay
Review: American Airlines A321 First Class JFK to LAX
Four Seasons Bora Bora Restaurant Reviews and Menus
Four Seasons Bora Bora: Top 10 Things to Do
Review: InterContinental Bora Bora Resort Thalasso Spa
Bora Bora Dream Pictures Review
InterContinental Bora Bora Restaurant and Room Service Review and Menus
Bora Bora Snorkeling Tour with Pure Snorkeling
InterContinental Tahiti Review
Papeete Airport Business Class Lounge Location and Access
There is only one Business Class Lounge in Papeete Airport, the Manuhiri Lounge in Terminal 1. It is located airside, after you pass security, and you need to go upstairs to the 2nd floor to reach it. It opens 150 minutes before the first flight departure of the day, and closes 60 minutes after the last scheduled departure, although note that these times do not take into account Hawaiian Airlines or LAN, which only have once a week flights into Papeete.
You'll have access if you are departing in Air Tahiti Nui Business Class, Air France Business Class, Air New Zealand Business Class, JAL Business Class, Qantas Business Class, or if you have Priority Pass membership.
Papeete Airport Business Class Lounge Amenities and Seating
The Manuhiri Business Class Lounge is quite small, and even for our early morning flight the lounge was already fairly crowded when we arrived. Since I try not to take photos of other passengers' faces, this was the only photo I could manage of the seating during our visit.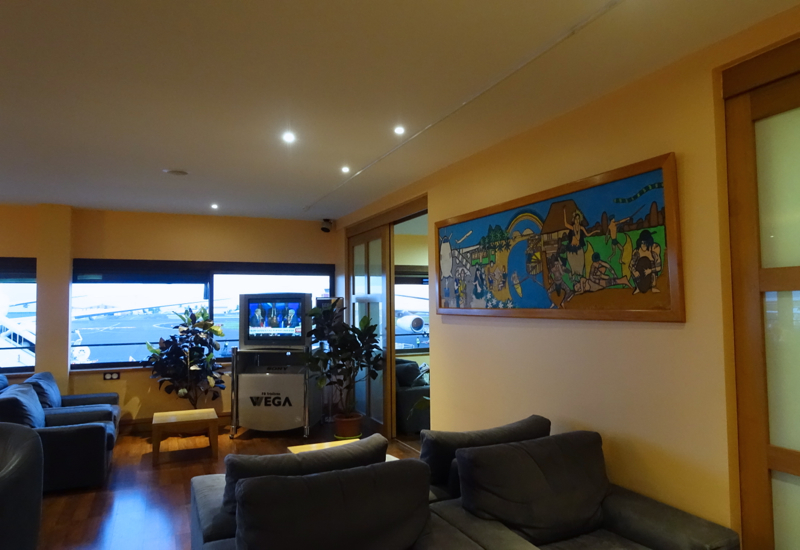 There are views of the tarmac from the windows: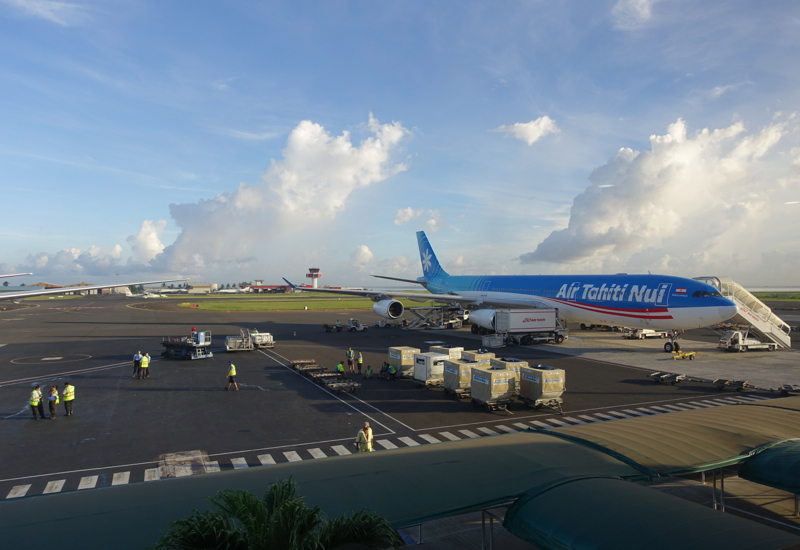 When checking into the lounge, we were given a slip of paper with the WiFi username and password, but it proved to be just about useless as the WiFi was achingly slow, when it worked at all. So don't count on getting serious work done on the lounge's WiFi.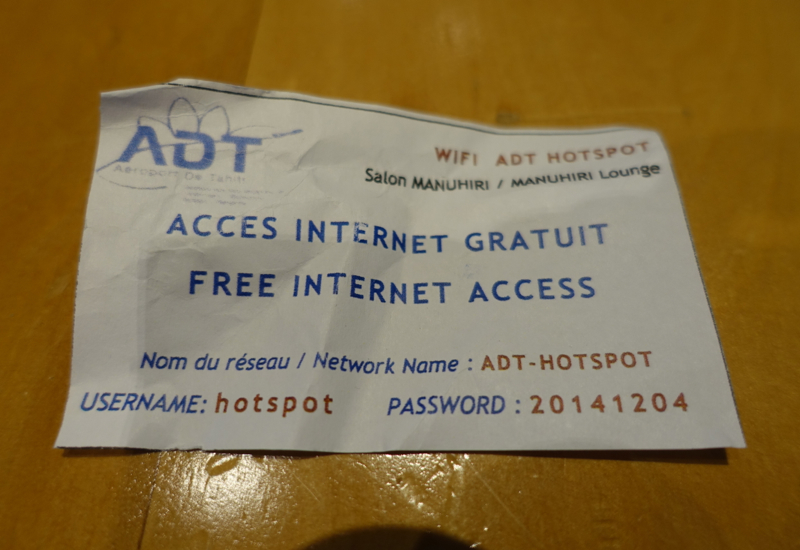 If you do need to print something out, there is a business center of sorts with a few computers and printer: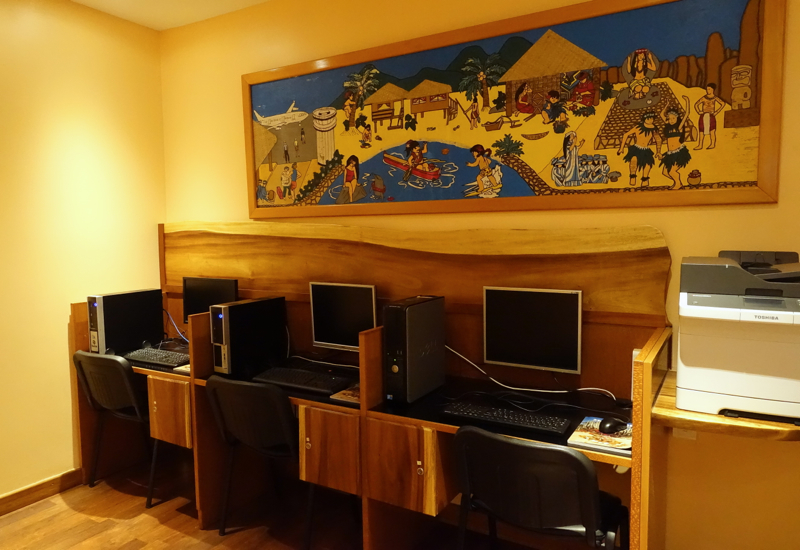 The food offerings were fairly meager for an international business class lounge, but the little we ate was decent. Interestingly, given the early morning hour, there were sandwiches as well as sweets such as macarons and financiers: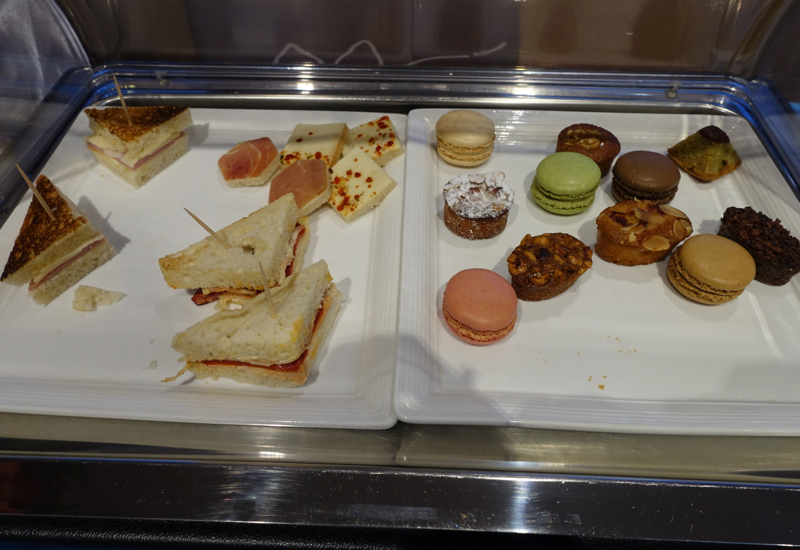 More conventionally, there was juice, with a choice of orange juice or mango juice from concentrate: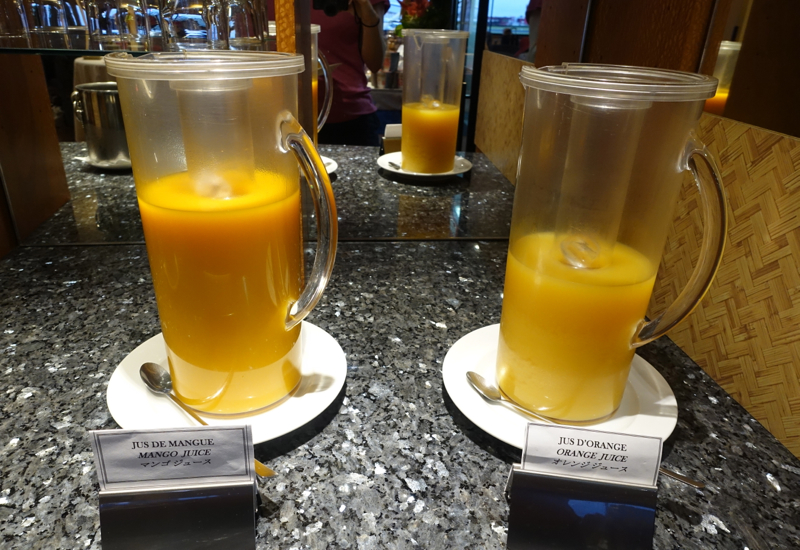 There were also canisters of breakfast cereal, and some trays of sliced cheese and cold cuts that had almost run out: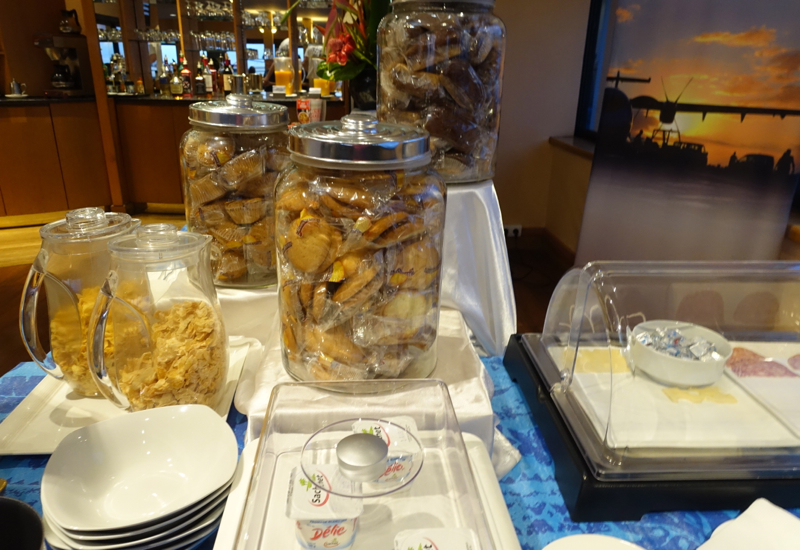 I thought these containers were plain yogurt, but on closer inspection they were fromage blanc, which I prefer and is common in France but not in the U.S.: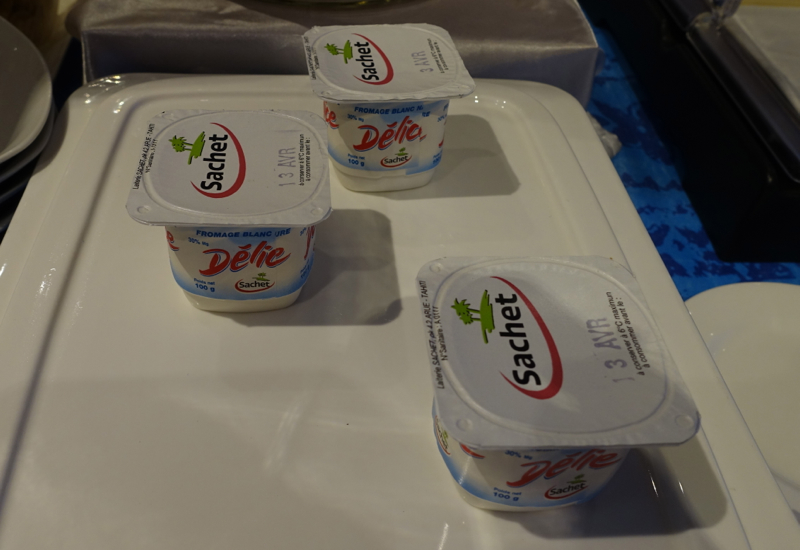 We were also happy to see a bowl of fresh fruit, and helped ourselves to some pears: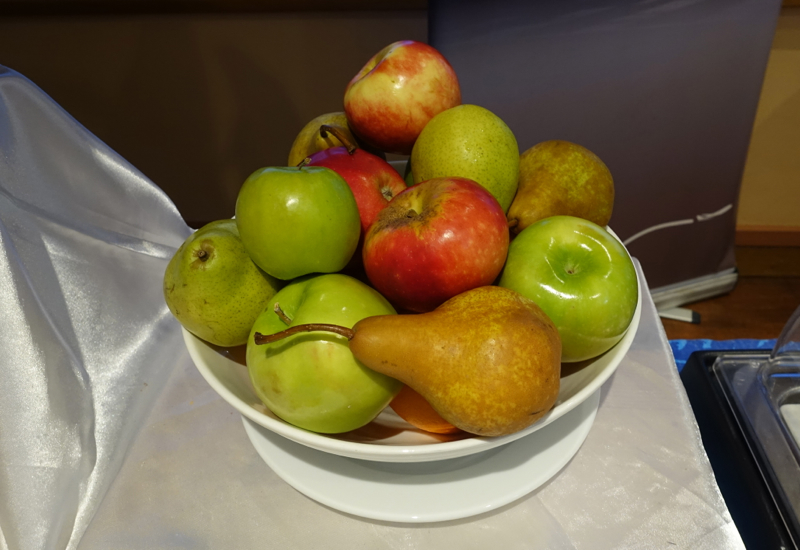 Most importantly, there were Lavazza espresso machines, which helped my husband and I wake up a bit: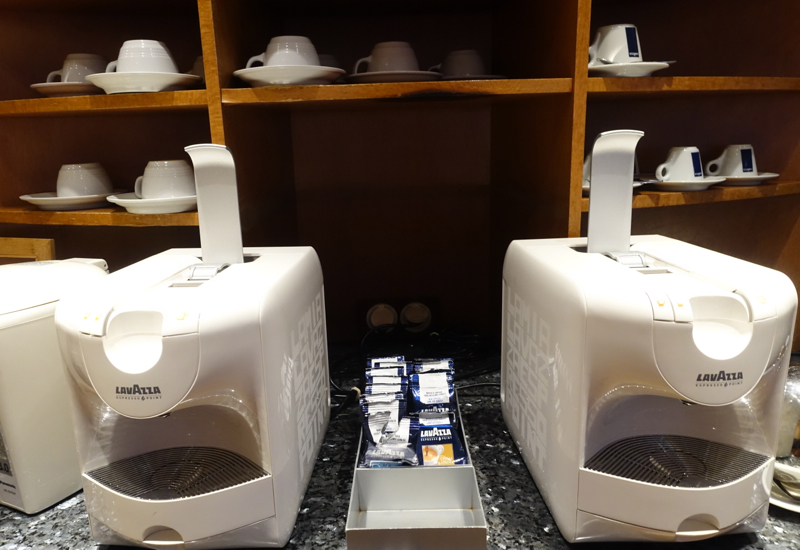 If you prefer to start your drinking early, there was also wine and beer as well as soda in the fridge:
And if your idea of breakfast is instant noodle soup, there were packages of Cup Noodles on offer, and a water dispenser with cold and hot water.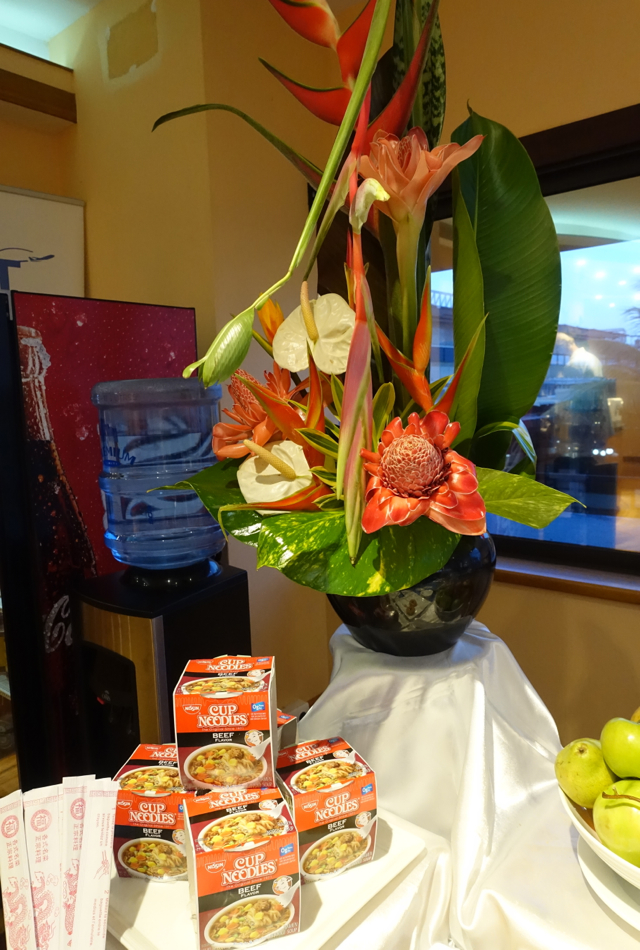 The Verdict
The Manuhiri Papeete Airport Business Class Lounge is fine in most respects for its market, since Tahiti is primarily a leisure destination. Yes, it would be nice if it was bigger and had more seating, but it's not as if there are even flat bed business class airline products flying to Tahiti yet. There aren't a lot of food choices, but what we had was perfectly acceptable given Tahiti isn't an international business destination, except for luxury travel advisors such as me and a few others. And the Lavazza espresso machines made better espresso than I've had in many other business class lounges.
But call me crazy–in my view even the most basic business class lounge, international or domestic, needs to have good WiFi. And in this respect, the Papeete Airport Business Class Lounge needs serious work. I would gladly have given up some of the food options to have faster, more workable WiFi.
If you've used the Papeete Business Class Lounge before an Air Tahiti Nui Business Class or other business class flight, what was your experience?
Related Posts
Review: Los Angeles International Lounge
Air Tahiti Nui Business Class Review
Flat Bed Business Class to Tahiti and Bora Bora?
InterContinental Tahiti Review
Need Award Booking Help? Our fee is as low as $75 per ticket if you book your hotel through us.
If you enjoyed this, join 200,000+ readers: please follow TravelSort on Twitter or like us on Facebook to be alerted to new posts.
Become a TravelSort Client and Book Your Hotel with Virtuoso or Four Seasons Preferred Partner Amenities!