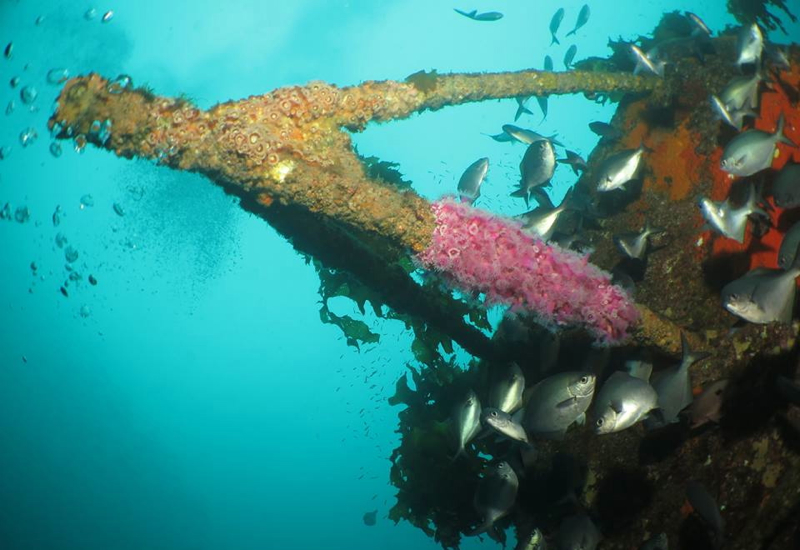 This Paihia Dive Review in New Zealand's Bay of Islands is part of a New Zealand trip report highlighting Virtuoso luxury lodges, fine dining, and things to do in North Island and South Island (Christchurch and Queenstown). For the prior posts, please see:
Review: Sofitel Auckland Viaduct Harbour, New Zealand
Review: Eagles Nest, Bay of Islands, New Zealand
Review: Gables Restaurant in Russell, New Zealand
One of my favorite things to do in destinations with marine life is scuba diving, and the Bay of Islands in New Zealand provided the perfect opportunity. Now, dives here are especially known for wreck diving, such as the Rainbow Warrior, between the Cavalli Islands and Matauri Bay, and the HMNZS Canterbury, which was purposely sunk in the Bay of Islands in 2007.
For both wreck dives you do need to have Advanced Open Water Certification, or you can include them as part of your Advanced Open Water course with Paihia Dive. Since I only have the most basic Scuba Diver certification and no time this trip to do the course, I unfortunately couldn't do a wreck dive, but even my two reef dives were worthwhile and interesting.
Pricing
The price to dive either the Rainbow Warrior wreck or the Canterbury wreck is currently NZD $239 including all equipment at the time of writing, but be sure to check with Paihia Dive directly when signing up. If you're not diving the wreck, the same cost of $239 gives you two reef dives, either in the Bay of Islands or Cavalli Islands.
Pick-up in Russell and the Dive Day
The nice thing is that if you're staying at Eagles Nest or elsewhere in Russell, you can be picked up right from the Russell wharf at 8:45am, instead of meeting up at the Paihia Dive Shop at 7:45am for an 8:30am departure. That meant I could breakfast with my family, before my husband and son dropped me off at the Strand for my dive day.
The first dive is the wreck, so the rest of us had time to get our gear together while the others were diving the Canterbury. The water's cold, so you'll definitely be glad to have the thick wetsuit and hood that Paihia Dive supplies. I always wear my own dive skin underneath, as I prefer to wear something of my own next to my skin, and it makes getting into and out of wet suits a bit easier.
Here are a few highlights of what I saw:
1. Eagle Rays
I'd seen Manta Rays on my Manta Ray Night Dive with Kona Diving Company, but only my son had been close to an eagle ray, feeding one at the Kings Pond pool at Four Seasons Hualalai. One of the ones we saw was gliding away from us, but another was practically motionless on the sea bottom, perhaps resting.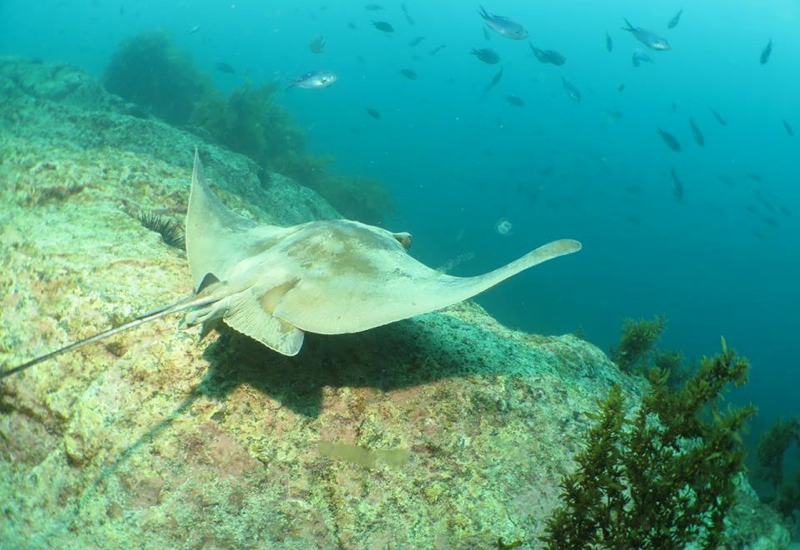 2. Moray Eel
On our second reef dive we explored an underwater cave, and on the way out, in a crevice, saw a huge yellow moray eel. It was bigger than this one, which was taken on another Paihia Dive trip, and was glaring at us the way moray eels tend to do. Needless to say, I stayed a respectful distance!
3. Penguin
While no one managed to get a photo of it, since it surfaced just a few times briefly above the water, we caught sight of a little blue penguin. While we'd seen penguins in the Galapagos, I never thought I'd see penguins in New Zealand, where most species are very endangered, so this was quite lucky, especially given our short trip.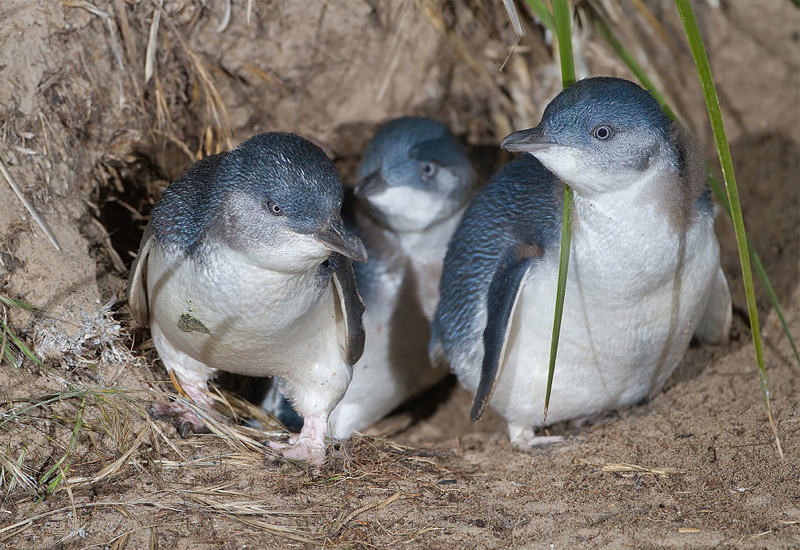 4. Fish Feeding from Sea Urchin
Sea urchins are a pest (see more on this below) and as such, are allowed to be fed to the fish. It was funny seeing tons of fish immediately swim up each time our dive master start to open one. In fact, he didn't even have to open one–anything that sounded as though we might be opening a sea urchin (such as pounding a couple rocks together) caused the fish to swim up expectantly, hoping for a feast. Yes, these Bay of Islands fish have impeccable taste.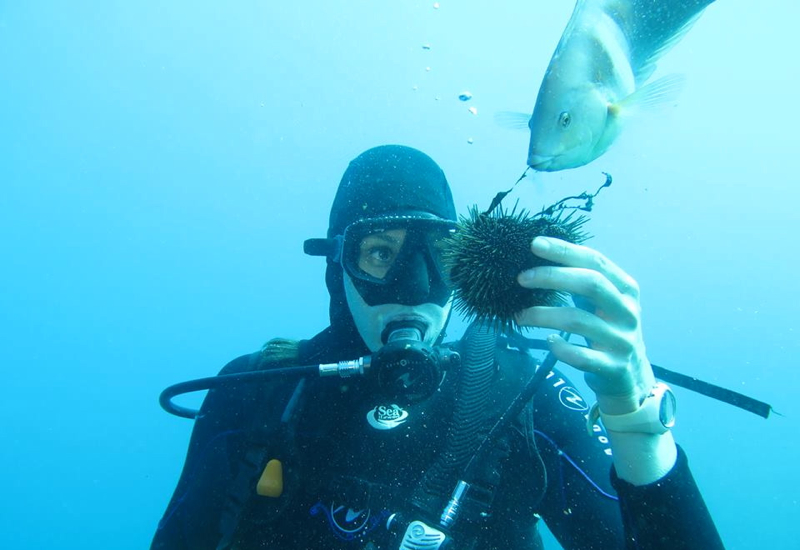 5. Colorful Wrasse
There weren't as many fish as, say, my dives in the Maldives, but still some pretty wrasse and a number of other fish I unfortunately have forgotten the names of.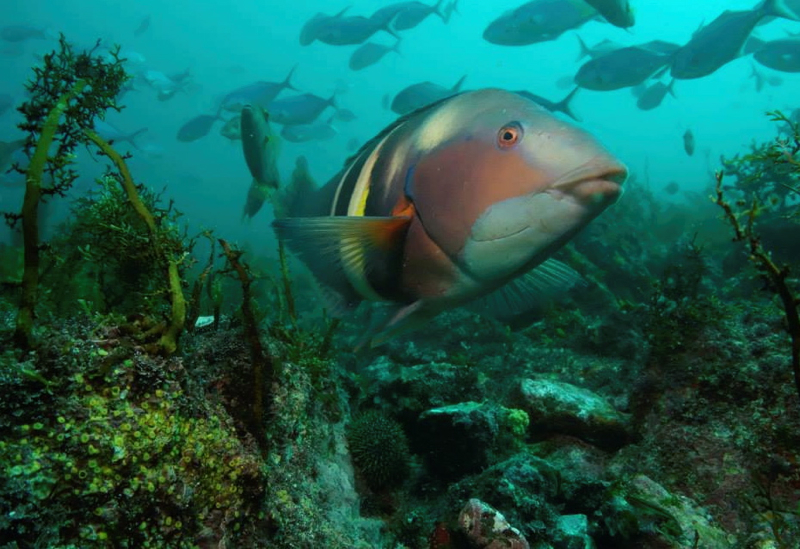 6. Sampling the Freshest Uni Ever!
Before a reader gets outraged that we were eating some of the marine life in a marine sanctuary, let me explain that the sea urchins are actually overabundant and considered pests since they overconsume seaweed, so taking them is allowed. Hence, after feeding several of them to the fish, we hauled a bunch back for ourselves to snack on, for the return journey. I won't say that I always order uni at sushi bars, but I did like this one–it literally couldn't have been any fresher 🙂
And while I didn't personally see it, since I didn't go on the wreck dive, I also heard about the beautiful pink sea anemones growing on the Canterbury wreck: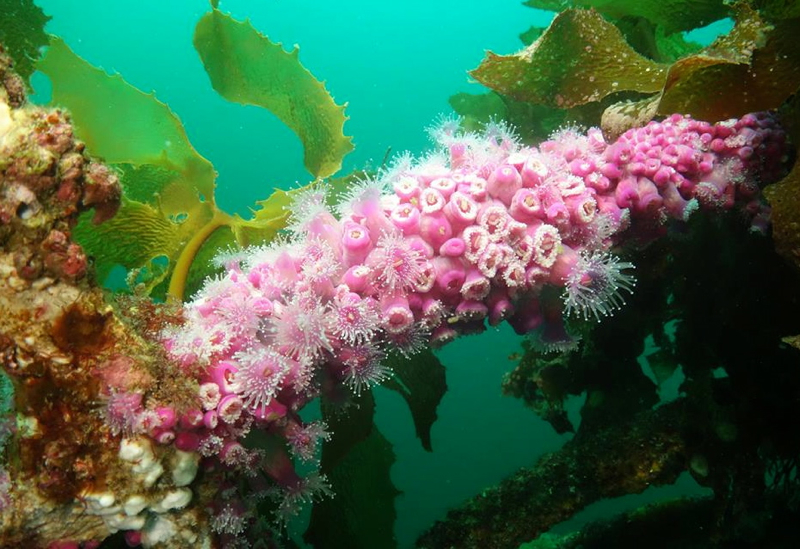 And for a taste of what it's like to dive the Canterbury wreck, see this video:
The Verdict
I enjoyed my two reef dives with Paihia Dive, especially seeing eagle rays, the large moray eel, fish eagerly eating sea urchin, and even a surprise penguin. If at all possible, I do recommend getting your Advanced Open Water qualification so as to be able to dive the Canterbury wreck, or making time to get this certification with Paihia Dive. Our dive master was very chill, and I was a little surprised he didn't look around behind him more often given my basic certification level, but he must have had confidence in our abilities since all of us had several dives under our belt.
Be prepared for cold water (this is not the Maldives, after all) and consider taking accupressure wrist bands with you if you're prone to motion sickness. It was fairly smooth much of the day (and much less choppy than the Manta Ray night dive I did in Kona, Hawaii), but I was still glad to be wearing my bands, and lent them to another diver on the way back who was feeling a bit seasick.
If you've been diving with Paihia Dive, what was your experience?
Related Posts
Review: Manta Ray Night Dive with Kona Diving Company
Diving and Snorkeling at Nusa Penida and Nusa Lembongan Near Bali
Where to go Snorkeling and Diving in Bali
Top Things to Do in Bora Bora if You Don't Scuba Dive
Top Scuba Sites for Amazing Dives
Disclosure: I received a New Zealand Tourism travel professional rate. The views expressed in this post are my own.
Need Award Booking Help? Our fee is as low as $75 per ticket if you book your hotel or cruise with us.
If you enjoyed this, join 200,000+ readers: please follow TravelSort on Twitter or like us on Facebook to be alerted to new posts.
Become a TravelSort Client and Book Your Luxury Hotel with VIP Amenities!
Photos: Paihia Dive