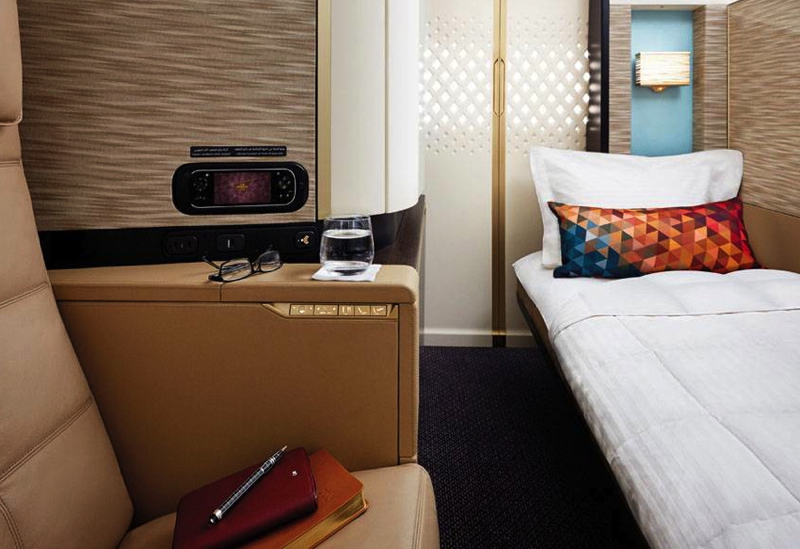 Will your family earn 1 million frequent flyer miles and points this year? Since we're over 6 months into 2015, I thought I'd do a mid-year post on our progress so far with our miles and points earning. For new readers, let me recap our travel goals and strategy, since it differs considerably from most miles and points bloggers.
For us, frequent flyer miles and points such as Chase Ultimate Rewards points and AMEX Membership Rewards points are almost exclusively used for international first class and business class award flights. While it's possible to use points for hotel stays, we don't find value there, since we prefer to stay at more luxurious hotels and resorts than are available with points–Aman Resorts, Four Seasons, and Virtuoso boutique hotels. Miles and points allow us to upgrade the flight part of our travel, splurge more on hotels and resorts than we could otherwise, and maximize the ROI of our miles and points, since we would never pay $20,000 or more for a first class award flight, yet some of our first class flights have that retail price, yielding ~15 cents per mile of nominal value.
Because we fly very few paid flights, neither my husband nor I have any kind of elite status with any airline, so likewise we earn an insignificant number of miles, and no elite frequent flyer bonuses. It goes without saying that if you do fly a lot of paid flights and have elite status, you can earn a lot more miles than we do, and aim for 1 million or more miles per person, rather than the 1 million or so miles and points per couple that is our goal.
Here's our rough breakdown so far in 2015 of our earned and purchased miles and points:
60%: Credit Card Signup Bonuses
9%: Spend and Category Bonuses
23%: Purchased/Shared Miles
8%: Other Bonuses/Referral Bonus
And here's a rough breakdown of the miles and points we earned:
38%: American AAdvantage Miles
38%: AMEX Membership Rewards Points
24%: Chase Ultimate Rewards Points
Credit Card Signup Bonuses
We really haven't applied for many credit cards this year, in part because of the significant minimum spend required for our targeted 150K AMEX Business Platinum and 100K AMEX Business Platinum, and in part because we're less motivated to apply for some of the cards we could apply for again, such as the British Airways Visa, due to the new Avios devaluation, or the United MileagePlus cards, due to last year's United Award Chart devaluation.
150K AMEX Business Platinum and 100K AMEX Business Platinum: 250,000 Membership Rewards points via 1 card for each of us
50K Citi AAdvantage Platinum: 100K AAdvantage miles via 1 card for each of us
40K Chase Sapphire Preferred Visa: 45,000 Ultimate Rewards points, including 5000 points from adding an authorized user (I hadn't received a bonus for this card in over 2 years)
Total to date: 395,000 miles and points
Spend and Category Bonuses
We buy a great deal on Amazon, and also buy quite a bit at our local Whole Foods, and thanks to our Ink Plus we buy gift cards at Staples in order to earn
5X on all Amazon spend
and
5X on all Whole Foods
spend. Similarly, we love when the Chase Freedom has restaurants as a category, as that allows us to buy gift cards to our favorite restaurants to get 5X on much of our dining out spend. And Q1 2015 was great, as there was 5X on all grocery spend, which we used to do bulk shopping at Trader Joe's, as well as stock up on gift cards for later use during the year.
Here are estimates of the miles we earned this year from spending, including category bonuses:
30,000 from all Ink Plusspend, much of it at 5X
30,000 from Chase Freedom, all of it at 5X
20,000 from Chase Sapphire Preferred, most of it at 2X
Purchased Miles
We ended up purchasing 150,000 AAdvantage miles this year–even with the AAdvantage miles we earned last year and this year, our redemptions for Japan Airlines First Class, Etihad First Class, and future awards in Qantas First Class, Etihad First Apartment and Air Tahiti Nui Business Class required more miles than we had. AAdvantage miles are my favorite miles at the moment, even though I have no desire to fly American Airlines, especially given my recent experience with a crappy, non-working seat and American's refusal to refund the Preferred Seat fee I paid (see American Airlines: "Preferred" Seat Doesn't Work But No Refund of Fee).
Referrals
Thanks to readers, I earned 50,000 miles for referrals to the Chase Sapphire Preferred card.
Bottom Line
So far we've earned 507,000 miles and points this year from credit card bonuses, spend and category bonuses, and referrals, and bought an additional 150,000 AAdvantage miles, for a total of 657,000 miles. Since we weren't targeted for a higher offer, we've applied for the 50K Citi Prestige cardand are working on minimum spend, so those bonuses will bring in another 100,000 miles for our two cards.
While it would have been great if we had earned more AAdvantage miles and not had to buy them, ultimately it was worth it to us to lock in some great first class and business class award travel for the dates we wanted, and many of those AAdvantage miles were at least bought with a 60% bonus. While we could increase our miles and points totals with British Airways and United cards, and may yet reapply for some of those cards since we qualify for them, our focus this year has been on earning, buying and burning AAdvantage miles ahead of an anticipated "Parkerized" AAdvantage award chart devaluation.
How is your 2015 progress in earning miles and points, and which awards have you redeemed miles and points for?
Related Posts
How We Earned 1 Million Miles and Points This Year
Best First Class Airline Seats for Couples
Top 10 Reasons to Fly First Class with Kids
Need Award Booking Help? Our fee is as low as $75 per ticket if you book your hotel through us.
If you enjoyed this, join 200,000+ readers: please follow TravelSort on Twitter or like us on Facebook to be alerted to new posts.
Become a TravelSort Client and Book 5-Star Hotels with Virtuoso or Four Seasons Preferred Partner Amenities!