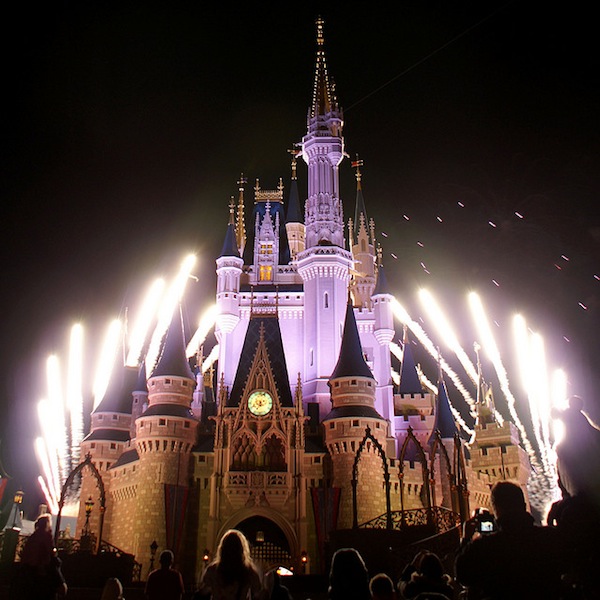 Why Go
Because Orlando truly has something for everyone. Thrill rides, magical character interactions, beautiful landscaping, mouth-watering food, shuttle launches, sunshine, white sandy beaches and jaw-droppingly huge shopping malls. Basically, it's the perfect vacation destination. And although Orlando has enough attractions to occupy you for at least a month (!) Disney plays no small part in its splendor. In fact, Walt Disney World is practically synoynomous with Orlando, despite the bevvy of other fantastic offerings for families to explore. Disney is truly in a league of its own with its magical atmosphere, first class customer service, and family-friendly offerings. With four theme parks – Epcot, Animal Kingdom, Magic Kingdom and Hollywood Studios – you'd be hard pressed to fit in everything in Walt Disney World in in just a week, and that's before you step beyond the Disney gates to explore the rest of Orlando!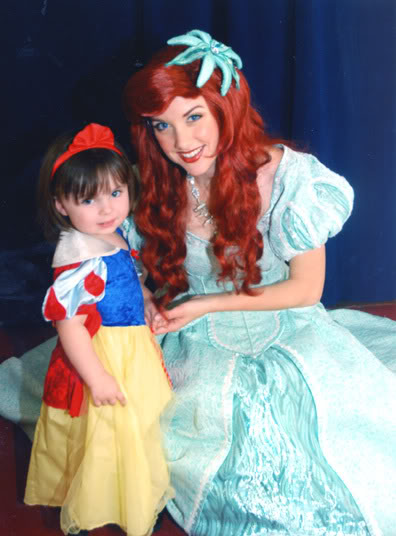 Insider Tips
No matter how laid-back you are, a vacation to Orlando really needs to be well-researched and planned. While you might not need to print out color-coded Excel spreadsheets (though they wouldn't hurt!), you should definitely visit the The DIS, home of the most popular Disney/Universal forums on the Web. Another excellent source of information is the book The Unofficial Guide to Walt Disney World by Bob Sehlinger.
Keep an eye on the official Disney and Universal websites for special offers, or regularly check the appropriate forums on The DIS, whose savvy members usually have the lowdown on all the latest special offers.
AAA members are entitled to up to 20% off the price of Disney and Universal resorts, food and merchandise. Florida residents are entitled to a discount on accomodation at both Disney and Universal, too. Check out your state's AAA website or The DIS for further information.
Take advantage of Disney's FastPass system, which lets you collect a FastPass ticket for an attraction to be used later, thereby avoiding the crowds. FastPasses are free and are available to anybody holding a theme park ticket. There are a limited number of them available each day, so show up early!
Get to the parks early! You'd be amazed how many of the most popular attractions you can experience before 10 or 11am. If you arrive at the park after lunch expect long waits and a less than pleasant experience!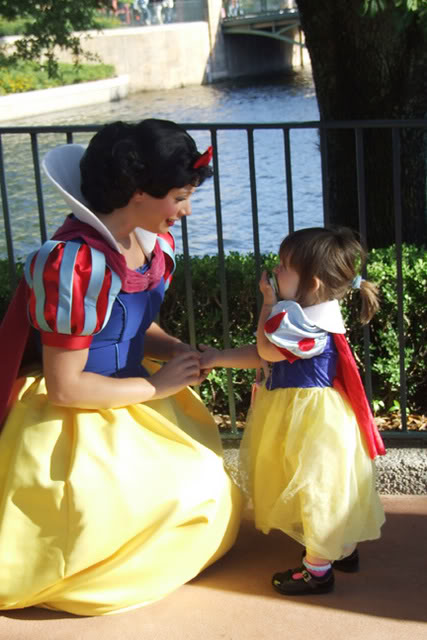 Universal's on-site resort guests are entitled to front-of-the-line access to rides and attractions. Be sure to show your room key to the person manning the attraction.
Book your sit-down theme park meals well in advance by using Disney's Dining Reservation System by phone or online or Universal's Reservation System by phone. For more casual dining, try to eat at the least popular times (e.g. midday for lunch and 5pm for dinner) before the crowds arrive.
Theme park novices might not realize just how much people love getting character autographs. There are specific areas within the park where you can meet your favorites (check the theme park attraction schedule). If your children (or yourself – admit it!) are keen on getting some character signatures, remember to bring a pen and paper!
If you don't want to bring your own stroller, Disney and Universal have them for hire though the cost can really add up. Do remember though that it can be quite a long walk from the car park to the main entrance of the theme park so if you feel you need the stroller all the time, it's best to use your own.
Florida is hot. You will need lots of water, plenty of sunscreen, and sun hats and sunglasses for each member of your party. For babies and toddlers, invest in a stroller sun shade.
If you or a member of your group has special needs of any description which would make it very difficult to access the rides and attractions do not hesitate to speak to the staff at Guest Services at the entrance to the theme parks. They will be happy to assist so that the trip is a delightful and care-free one.
There are many merchandise stores located inside the theme parks, and they are usually rather expensive. You can actually pick up some great Disney and Universal merchandise off-site in outlet stores nearby. So if you are planning on doing some shopping in Orlando, it's a great idea to wait and see what the outlet stores and Walmart are selling before you commit to paying top dollar inside the parks.
Don't overdo it in the theme parks. You might be tempted to stay all day long, but try to remember that you're there to have fun and wearing yourself or your children out will negatively impact the rest of your vacation.
If you're the family pack mule and you're laden down with bags, use the lockers at the front of each theme park.
Getting to Orlando is incredibly easy. The two major airports, Orlando International and Orlando Sanford Airport, see flights from all over the country (and the world). With hundreds of rental car agencies and reasonable Florida rates, renting a car is also a great option for families. Plenty of private shuttle companies like Mears exist, making it easy to take scheduled journeys in between attractions.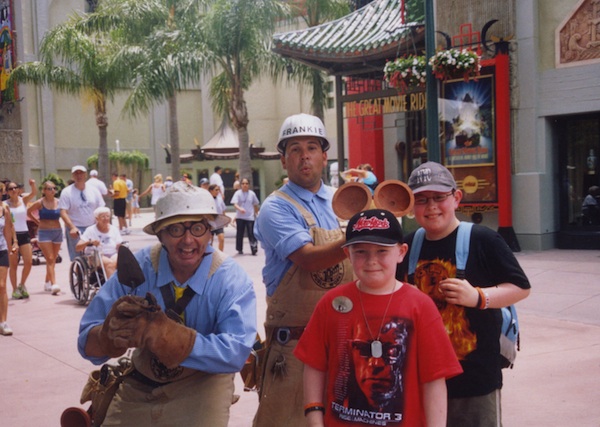 Where to Stay
With an eye towards housing millions of annual visitors, Orlando has amongst the biggest selections of hotel rooms in the USA. If you're a Disney or Universal fan, nothing can beat a vacation spent right inside the gates of the parks themselves! Disney World has 21 resorts to choose from, with perks including free transportation to and from the theme parks, extra theme park hours, and even free pick-up and drop-off at Orlando International Airport. You can choose from hotel rooms and villas to suit all tastes and budgets. The theming of the Disney resorts is amazing. The budget selection of hotels includes Pop Century and the three All Star resorts – Movies, Music and Sports. Prices average $100 per night for a room sleeping four (with one child under three going free). For larger families on a budget, the All Star Music Resort has a range of family suites which sleep six for the cost of two regular All Star rooms.

Universal offer a choice of three on-site hotels, all of which provide excellent customer service. None of their three hotels could be described as 'budget' options. The Hard Rock Hotel is a particularly wonderful choice for children of all ages with its upbeat fun-loving atmosphere, guitar-shaped pool and first class facilities. The two theme parks are a ten minute walk away or you can avail of the free boat transportation.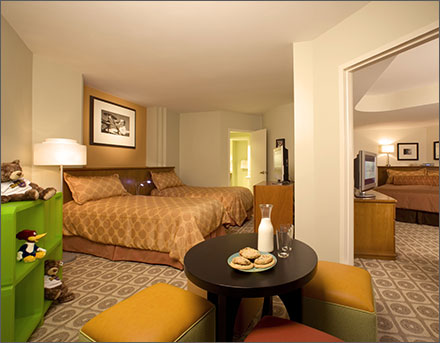 For those who want the convenience of being near the theme parks, without the hefty price tag, there is a wide selection of hotels to choose from in Disney's Lake Buena Vista/Downtown Disney area or near Universal's City Walk area. If you wish to stay close to Disney World, a great choice for families is the Hilton Doubletree Guest Suites in Downtown Disney, which offers large comfortable suites with kitchen facilities, video games, and flat screen TVs. Prices range from $160. A short drive from Disney's parks and an easy ride by car is the Nickelodeon Suites Resort, a huge high-activity resort that bases its theming on characters like Spongebob and his sidekick Patrick. Situated on International Drive and close to the gates of Universal's theme parks is The Four Points by Sheraton, another family-friendly hotel with great facilities and fabulous views of Universal's parks. Double rooms start at $115.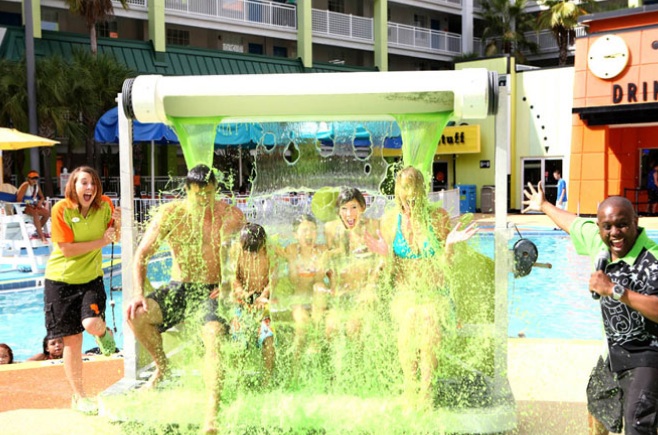 A cost-effective way of staying on-site at Disney World in a luxurious resort is by renting points from a Disney Vacation Club (DVC) member. DVC is an upscale and well-organized timeshare club operated by Disney where members buy a certain amount of points, which entitle them to accommodation in the DVC on-site resorts for a certain number of years. There are seven DVC resorts with various types of accommodation, from studios with kitchenettes to three-bedroom villas. When a member joins up, they choose one of the DVC resorts as their 'home' resort. Very often, DVC members will rent out their points to non-members for approximately $10 each. This is perfectly okay with Disney – they don't mind who uses the points, as long as the accommodation is booked by the DVC member and the member takes responsibility for the points' usage. You can save as much as 60-70% by renting DVC points to stay on-site.
Further afield, there are hundreds of hotels in the International Drive area and in Kissimmee. Those with cars might find these more affordable picks, though keeping the stress of traffic in mind is also important. Villas are another excellent option for accommodation in Orlando, especially for larger families. Villas offer you the advantage of ample space, full kitchen facilities and often private swimming pools. The downside of a hiring a villa is that you simply must drive everywhere.
Where to Eat
Orlando offers a truly staggering choice of restaurants and diners, and families on a budget will love the range of all-you-can-eat buffets which are difficult to beat for convenience and value. Two great restaurants for buffet-style dining are Sweet Tomatoes on Colonial Drive and The Golden Corral on International Drive. Sweet Tomatoes offers plenty of healthy options like soup, vegetables and a fantastic range of salads, while Golden Corral has everything from seafood to burgers, all at reasonable prices.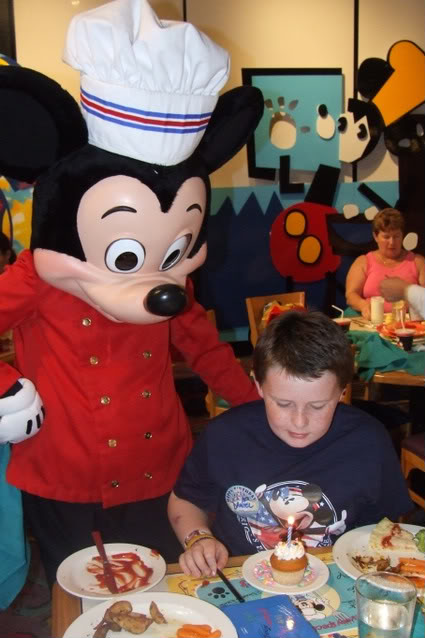 If you wish to eat in the theme parks or in the Disney or Universal resorts, you will undoubtedly pay a premium for doing so. But if you decide to have just one meal in a theme park, make it a Disney Character Meal. More than a meal, it's a magical and unforgettable experience. Chef Mickey's is located inside Disney's Contemporary Resort, and offers guests and non-guests alike some of the best character interaction in Orlando with an all-you-can-eat buffet and delicious desserts. A budding princess would undoubtedly love to meet Cinderella, and she can do so right inside the castle at Cinderella's Royal Table, though the chances to meet princesses elsewhere and a high price tag mean that Chef Mickeys is better value for money, with a greater choice of characters.
For hungry families exploring the Magic Kingdom, there are a couple of particularly great restaurants. For casual counter-service dining, the Columbia Harbor House is an excellent pick, while The Plaza is better for a sit-down meal. The Sci-Fi Dine-In Theater in Hollywood Studios offers casual traditional American burgers and fries in a very unusual setting that will thrill kids; you can dine right inside a 1950s "car" like at a classic drive-in movie theater. For more upscale dining in Hollywood Studios, check out Hollywood Brown Derby, which is a wonderful replica of the famous Brown Derby restaurant in Hollywood. At Epcot's Future World, you won't do better for atmosphere than the popular Coral Reef Restaurant, which is 'housed' right in the middle of a huge aquarium, with 85 different species of fish swimming around the living coral reef. For an upbeat Downtown Disney dining experience, the bustling and lively Rainforest Cafe cannot be beat.
Universal has their own excellent restaurants, too. The Hard Rock Cafe and Jimmy Buffet's Margaritaville are wonderful and are both located in Universal's City Walk area, just outside the theme park gates. For an unforgettable character experience, check out The Confisco Grill, inside Universal's Islands of Adventure Park.
What to See and Do
Here's a quick rundown of the theme parks to give you a little taste of what to expect. The Magic Kingdom is to Disney what the Empire State Building is to New York – the penultimate visitor attraction. From the breathtaking Cinderella Castle to the thrills of the big rides, the Magic Kingdom is truly a magical theme park. All Disney's theme parks are divided up into different lands and Magic Kingdom is no exception, There are seven lands, including Main Street, with its wonderful old-fashioned American town vibe.
1. Fantasyland, Magic Kingdom
This should be your first stop of the day – especially if you are with children who are under 8, but actually nobody wants to miss Fantasyland! It simply emanates that magical atmosphere that Disney are so good at projecting. The sights, the sounds the smells… you'll feel like you've been transported to a dream land. You can't miss Cinderella's Castle, which stands majestically at the top of Main Street and makes a beautiful and handy quick route to the center of Fantasyland. The ride that everyone flocks to first is Dumbo, a classic carousel-style ride that will delight even the youngest of children. It's a slow-loading ride and accommodates so few 'passengers' expect to queue for quite a while unless you're organized and get there early. Peter Pan's Flight is a fantastical 'journey' through the skies over London at night time, suitable for all ages!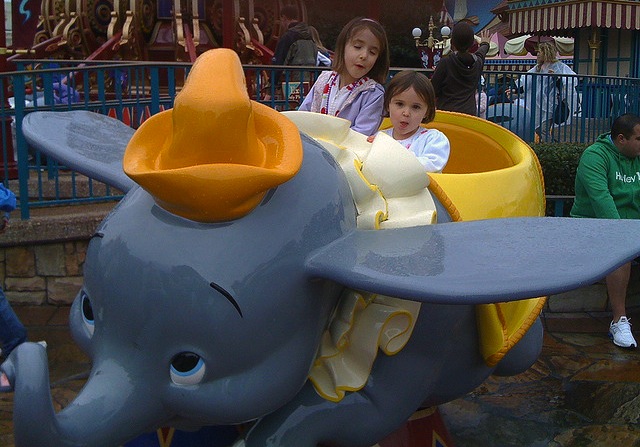 The youngest children will not want to miss The Many Adventures of Winnie The Pooh, where you'll go for a gentle ride in a Hunny Pot and see the sights and hear the sounds of Pooh and friends. Across from this ride is a beautiful little Winnie the Pooh themed area called Pooh's Playful Spot with lots of activities including water fun for the toddlers. Snow White's Scary Adventures is another gentle ride through some of the scarier scenes of the class Disney movie. Although the ride itself is slow-paced some of the scenes might be a little bit too scary for the under 4 set! An unmissable Fantasyland attraction is Mickey's PhilharMagic – a hilariously funny 3D movie with wonderful special effects – prepare to be surprised! It's suitable for all ages. Fantasyland is currently undergoing redevelopment and set to double in size in the next couple of years! To accommodate this development, Mickey's Toontown Fair is currently closed.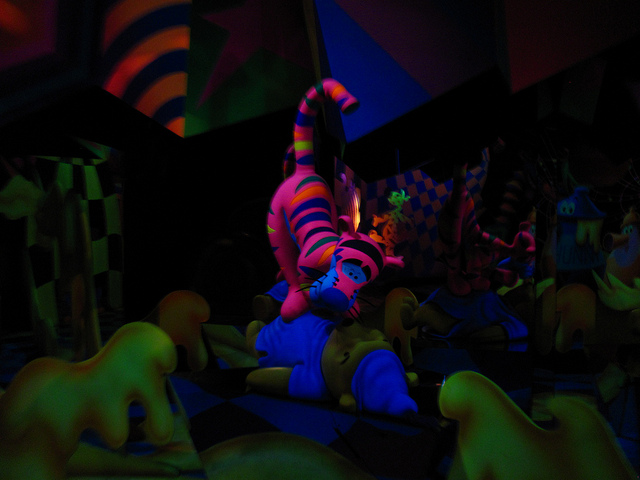 2. Tomorrowland, Magic Kingdom

Tomorrowland is a futuristic area of Magic Kingdom with some very popular rides to suit all ages. Buzz Lightyear's Space Ranger Spin is a highly enjoyable ride where you get the chance to aim and fire at numerous targets. The car rotates to allow better aim and this ride can get quite competitive as you watch your fellow passengers clock up more points than you! It's suitable for ages 3 and up.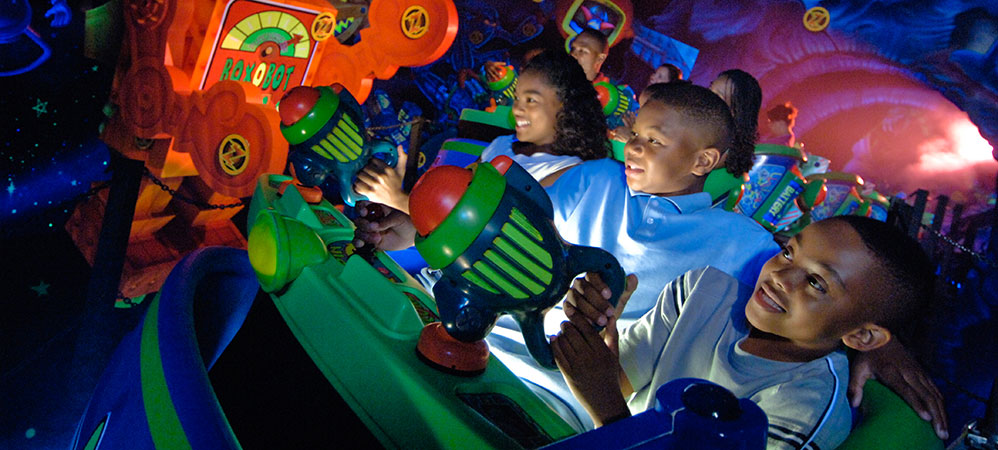 Tomorrowland is also the home of Space Mountain, the oldest rollercoaster in Orlando. It's an exciting attraction with a 44" height restriction and is a fast dark ride unsuitable for younger children. Younger children will love Monsters Inc. Laugh Floor, a show where Mike Wazowski 'talks' to the children (and their parents) and shares a lot of jokes! It's a hit with all age groups. Tomorrowland Transit Authority is an older attraction, not very thrilling, but fun nonetheless and suitable for even the youngest guests – your car is magnetically pulled along as you get to see the sights of Tomorrowland.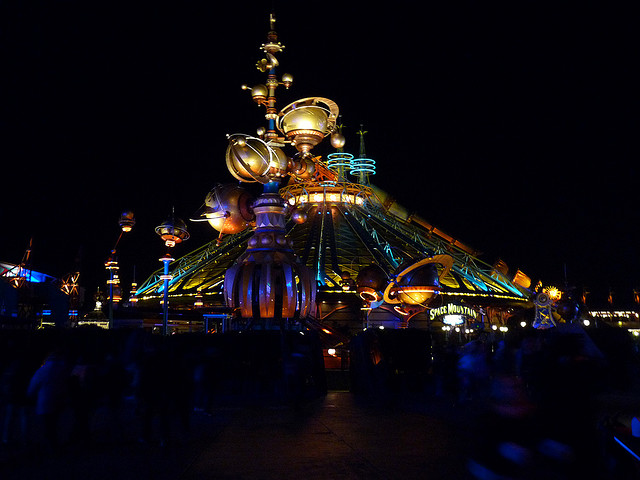 3. Other Lands, Magic Kingdom
The other three lands in Magic Kingdom are all worthy of a lengthy visit too: Frontierland, based on the old Wild West features the hugely popular Big Thunder Mountain Railroad and Splash Mountain, both of which have 40" height restrictions. Adventureland is a beautifully-themed land and its biggest draw is the wonderful Pirates of the Caribbean, a fun ride for the whole family, though under 3s might find the darkness a little bit scary. Liberty Square is a low-key land with gorgeous sights and just three attractions, including Haunted Mansion, a bit scary for younger kids but adored by the 6+ crowd!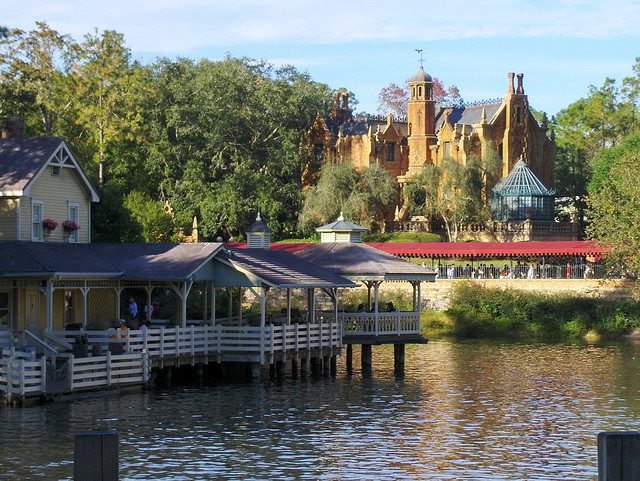 4. Epcot Center
Epcot is often referred to as an educational theme park, one that doesn't sacrifice fun while providing for learning opportunities. It's actually split into two distinct areas: Future World and World Showcase. Future World is full of rides, interactive attractions, and character experiences. The wonderful Innoventions play space is a great area for inquisitive youngsters and their parents, and some of the best picks include rides like Mission: SPACE (44" height restriction), Soarin' (40" height restriction), Space Mountain (44" height restriction) and Test Track (40" height restriction). The World Showcase is essentially a mini global tour, with superbly-themed miniatures of 11 countries, including America, France, and and Morocco. Each area features its own distinct food, dress and landmarks. Sample the wines of France, taste authentic fish and chips from the UK, or pick a pearl in Japan. Your children can even have their 'passports' stamped as they go through each 'country!'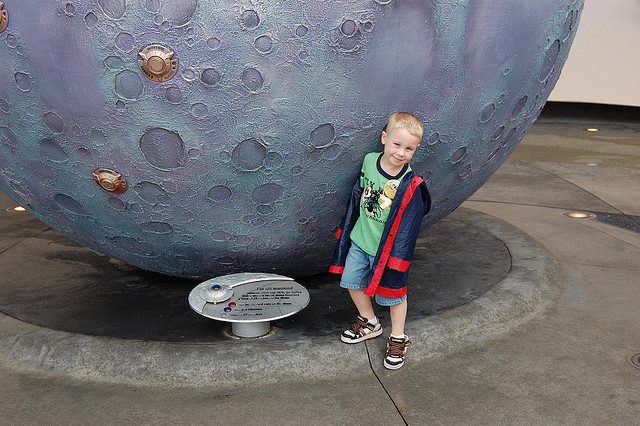 5. Hollywood Studios
Hollywood Studios
, as the names suggests, is an exciting themed tribute to the silver screen. From the touching Walt Disney memorabilia to the high-speed thrills of
Rock 'n Roller Coaster
(48" height restriction) and the jaw-dropping stunts performed in the
Lights, Motor, Action Extreme Stunts Show
(suitable for all ages, although babies and toddlers might be scared by the fire effects)
it's a fantastic park that the whole family will enjoy.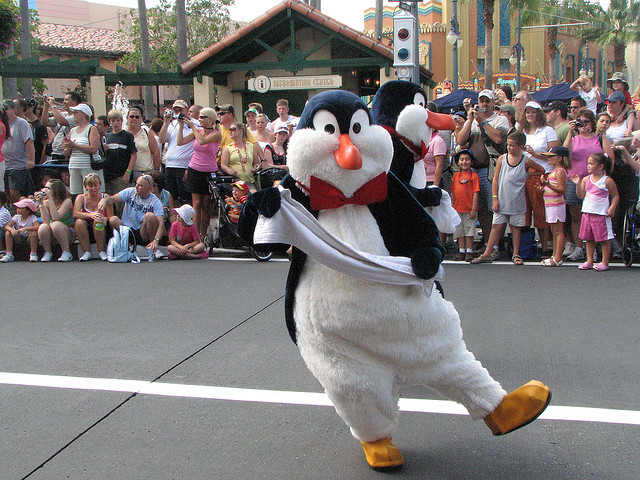 6. Animal Kingdom
Last but not least is Animal Kingdom, a park that is often (unfortunately) overlooked. Home to 1700 animals, this is not a zoo, nor is it just a wildlife park. It is a stunningly beautiful park which offers a multitude of entertainment in 500 acres of lush surroundings. Visitors can take part in the Maharajah Jungle Trek or the Kilimanjaro Safari (both suitable for all ages) or experience a hair-raising, super-fast ride through Florida's tallest 'mountain,' Expedition Everest (44" height restriction).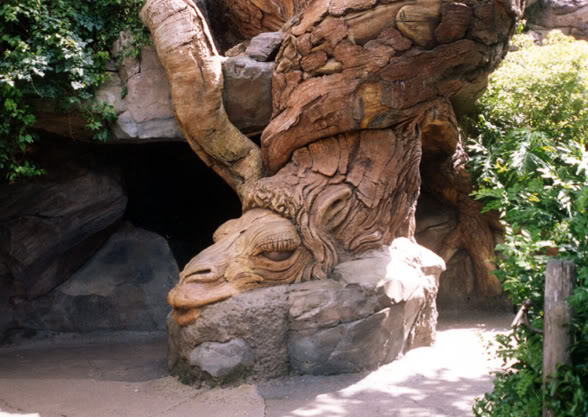 Much as we hate to move outside the magical cocoon that is Disney World, Orlando has a lot more to offer, so it's worth tearing yourself away from Mickey and Goofy to look beyond the Disney theme parks. Here are some non-Disney recommendations for the whole family to enjoy, too.
7. Universal Studios and Universal Islands of Adventure
If you're still in theme park mode, you certainly won't regret a trip to Universal's two wonderful parks, Islands of Adventure and Universal Studios. Allow at least a half day for each park but a full day for each one would be better. You could certainly fill up to three days without getting bored for a second. The two parks offer a range of attractions that will delight movie buffs and thrill-seekers young and old from The Amazing Adventures of Spiderman (40" height restriction) to The Incredible Hulk Coaster (54" height restriction) to toddler-friendly attractions like the Cat in the Hat Ride and the Caro-Seuss-el carousel (both suitable for all ages).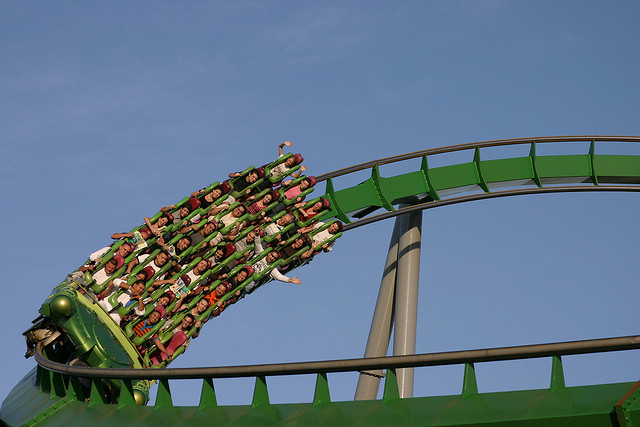 In 2010, Universal opened its much-anticipated new land, the Wizarding World of Harry Potter, to the delight of muggles everywhere. This is a whole new section of Universal's Islands of Adventure and includes the ride Harry Potter and the Forbidden Journey (48" height restriction) Hogwarts-themed shops, a replica of Hogwarts Castle and much more.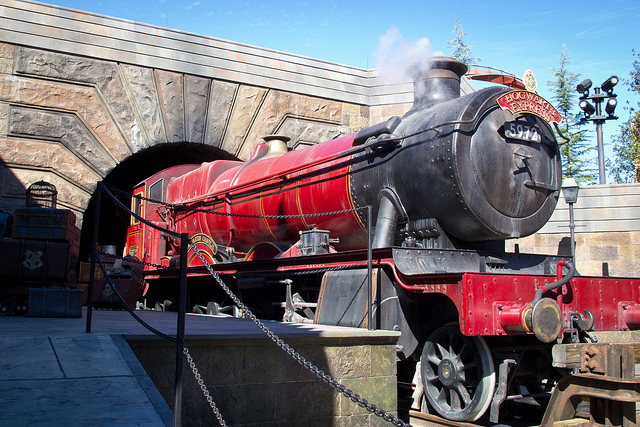 8. Water Parks
Disney has two water parks, Typhoon Lagoon and Blizzard Beach. Both are wonderful, offering visitors thrill rides, lazy rivers and quiet areas for water-side relaxation. If you have younger children, Typhoon Lagoon is undoubtedly the better choice, with far more areas to just unwind with your little ones, to enjoy the sand and water or entertain them in their own kiddie areas. Universal's own water park, Wet 'n Wild, is located two miles from Universal's theme parks, just off International Drive, and it offers a wide range of rides, pools, slides and fun. Aquatica is one of the newer water parks and offers something a little bit different, with a combinations of thrilling water rides and wave pools and the opportunity to see some wonderful creatures like dolphins, tortoises and even ant-eaters.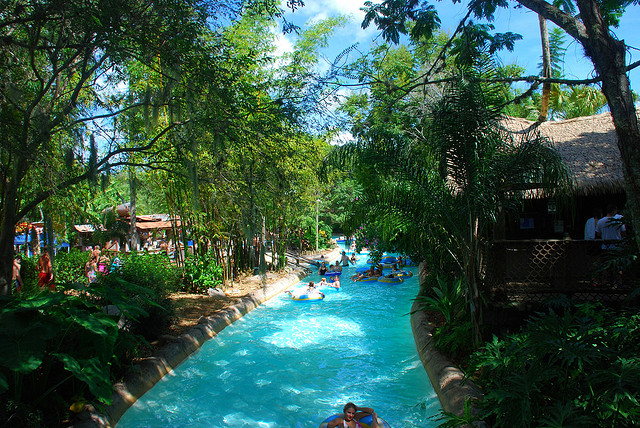 The hugely popular marine theme park SeaWorld makes for another great day out. Shamu, the famous killer whale, is a particularly huge draw, with various shows and rides based around him. SeaWorld also offers a range of more traditional theme park rides and has plenty of restaurants and facilities. Discovery Cove offers a one-of-a-kind opportunity to interact with and swim alongside dolphins, or snorkel amongst a myriad of exotic fish. Gatorland is a wildlife preserve with a great old-school Florida atmosphere and charm featuring, amongst other things, thousands of alligators, crocodiles, a children's water park, and an aviary.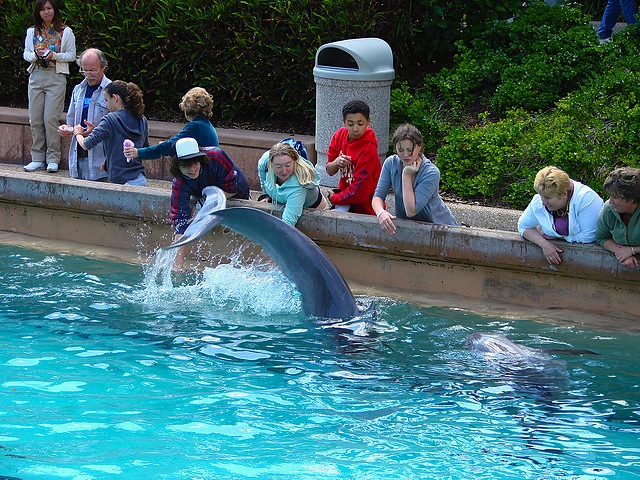 9. Beaches
Florida is a peninsula surrounded by delightfully warm waters, and Orlando is an ideal central location from which to take a day trip to the beach or beyond. On the east coast, you could go to Cocoa Beach or Daytona Beach, both of which are just a short drive. The west coast of Florida offers the exotic white sands of St. Petersburg and Clearwater, and in terms of sheer beauty, those west coast options are difficult to beat. However, one advantage of heading east is that you can easily combine sun and fun with a trip to the Kennedy Space Center.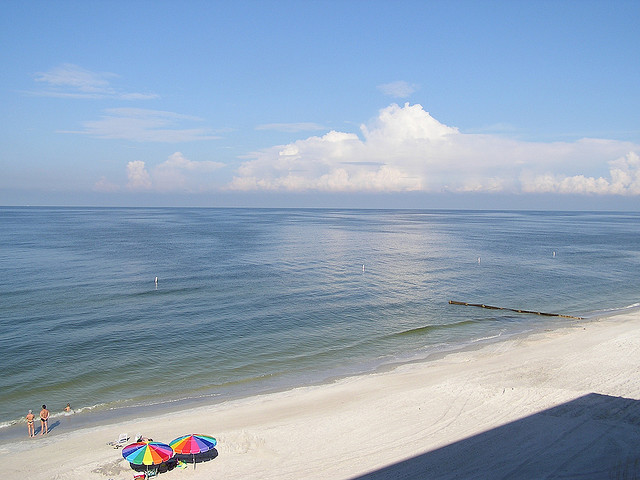 10. Kennedy Space Center
The Kennedy Space Center is NASA's launch headquarters in the USA, but more than that, it has long been a big hit with older children and adults. It makes for an entertaining and educational day trip, and is definitely worth an afternoon or morning. Among the space center's many attractions for all age groups are the self-paced Tours, the Rocket Garden, the Astronaut Encounter, and wonderful IMAX movies. Adults and children over seven can take part in the exhilarating Family Astronaut Training experience! And if you're lucky enough to be in Orlando when there's a shuttle launch at KSC, then you'd be mad to miss it.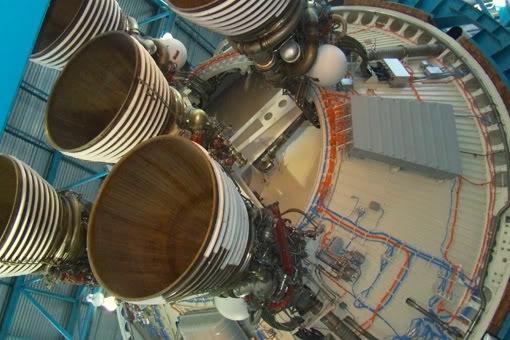 Check out and apply for the Best Travel Credit Cards.
If you enjoyed this, please follow TravelSort on Twitter or like us on Facebook to be alerted to new posts.
Become a Member to find your perfect luxury or boutique hotel at up to 50% off: TravelSort Hotels
Photo Credits: Deborah Murphy, DDFic, Princess Ashley, Allie_Caulfield, HarshLight, hermmermferm, Joe Shlabotnik, skwi69, Disney, Loren Javier, Theodore Lee, Nickelodeon Suites Hotel, Carlos Urzua