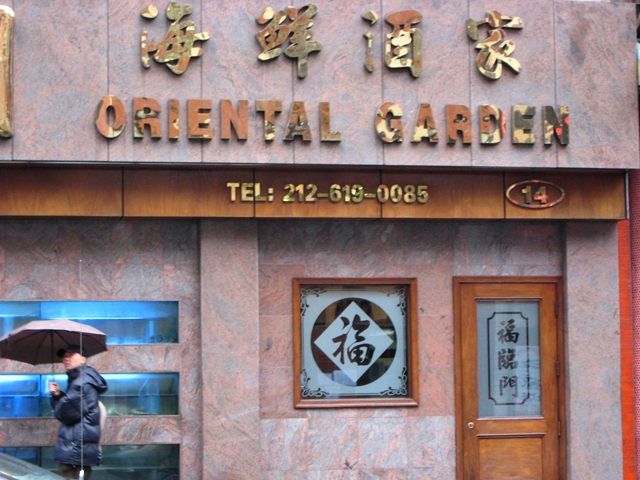 Oriental Garden has become our go-to place for dim sum in NYC. Dim sum was a popular family tradition, growing up in Hawaii with easy access to Chinatown, so I've always sought out dim sum in the various places I've lived. In the Bay Area, it was Harbor Village in the Embarcadero, before it closed, and after that Ton Kiang.
In NYC, the best dim sum places are actually in Flushing, Queens, but with the munchkin, we prefer to keep the commute to a minimum and stick to Manhattan. There are plenty of dim sum places in and around Chinatown that we've tried, from Jing Fong to Golden Unicorn to Dim Sum Go Go to upscale Chinatown Brasserie and a few other places. Oriental Garden is the only one we keep returning to, for a few favorite dishes.
Dim sum is served starting at 10am on weekdays, and 9am on weekends, and going early is a good idea (11am or before) if you don't want to wait long. While there are carts, you can also ask the servers for specific dishes, and they'll put an order into the kitchen then bring them out when they're ready–this is a good way to ensure the dumplings are fresh and hot.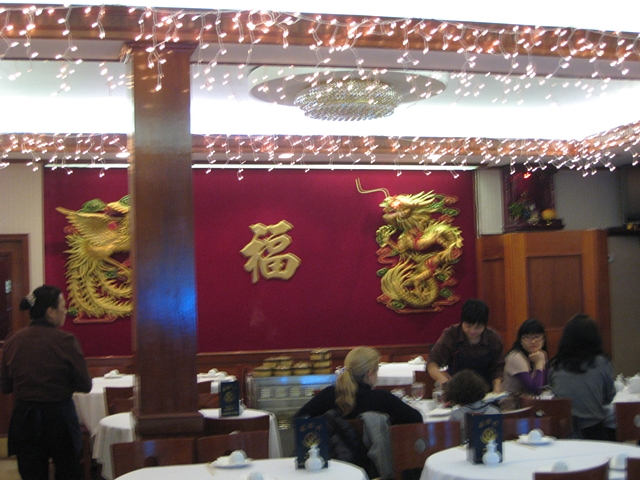 One of my favorite dumplings to order at Oriental Garden are the pan fried chive dumplings (Gau Choi Bang): they're stuffed with garlicky chives, steamed, then pan fried similar to pot stickers, but a lot tastier.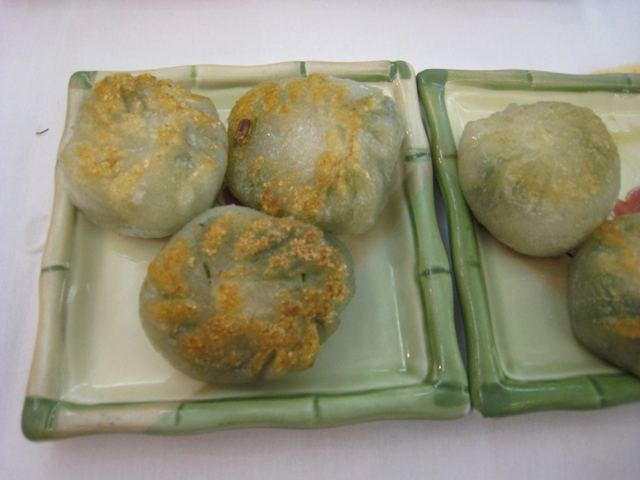 Another of my favorite dim sum standards is not a dumpling dish at all, it's lotus leaf wrapped sticky rice. I really enjoy Oriental Garden's version, as it's stuffed not only with ground pork and lup cheong (Chinese sausage) but also dried shrimp and mushrooms–very tasty, although not very photogenic. You can also add a bit more kick to it with the chili garlic sauce on the table. Don't forget, the lotus leaves are simply the wrapper, to impart some flavor to the rice when it's steamed–don't attempt to eat them!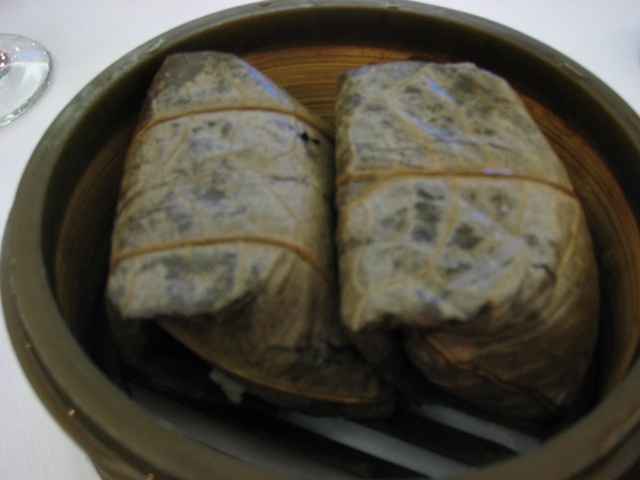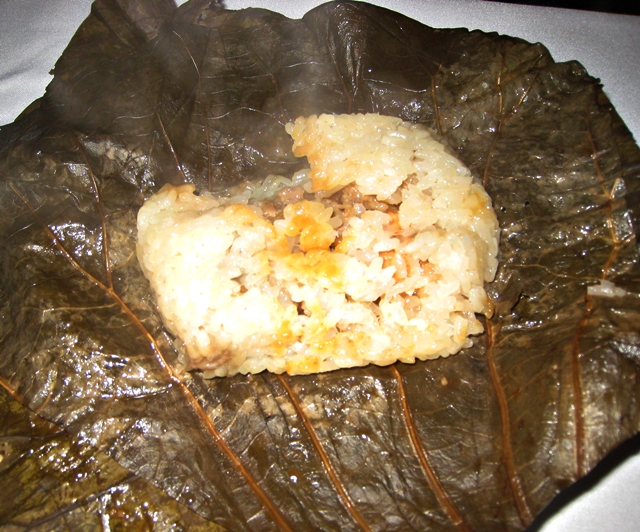 Assuming you like shrimp, don't miss ordering the shrimp rice noodle rolls (Har Cheong Fun). Silky soft rice noodles envelop plump shrimp and are doused with sweet soy sauce right before being served. Munchkin loved these as much as we did. If you don't like shrimp, there's also a char siu version.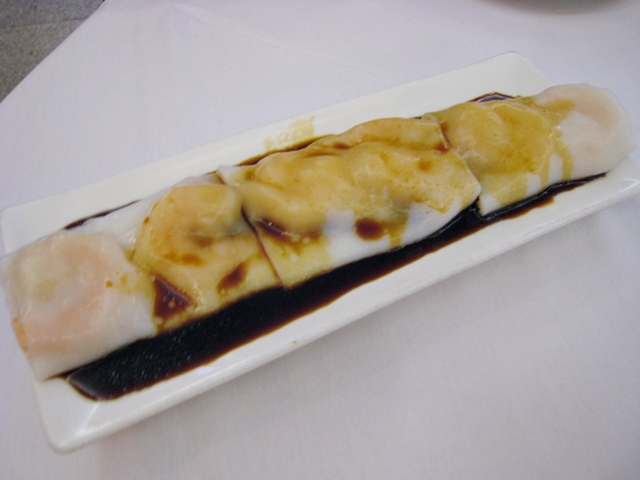 Shumai are one of the most popular dim sum, with juicy pork and shrimp. They're not my favorite order at Oriental Garden (part of that is that they're not my favorite dim sum in general) but are decent, if not spectacular.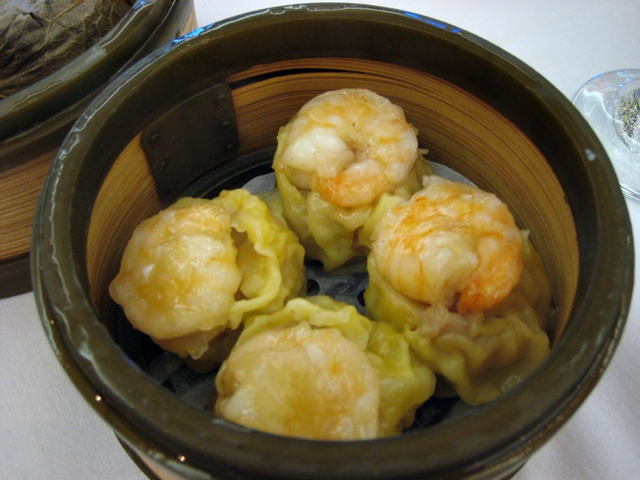 Similarly, the Har Gau are ok, although I definitely prefer the shrimp rice noodle roll.
Normally I don't even bother with dessert at Chinese restaurants–I tend to much prefer French and European style pastries. But classic Hong Kong style egg tarts are pretty good, and while we didn't get them this time, they're a nice sweet finish.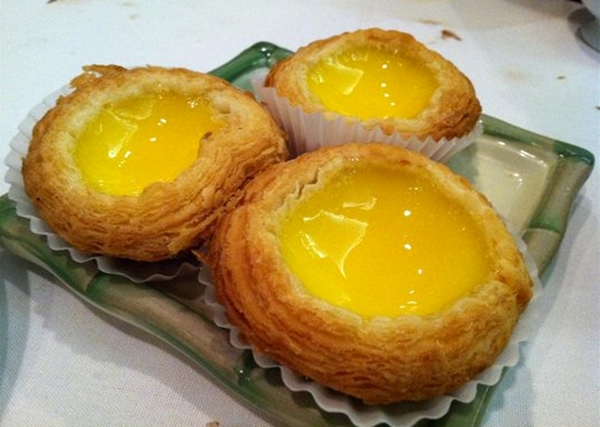 The other sweet we've enjoyed here are the baked custard buns, with their sugary, crunchy top: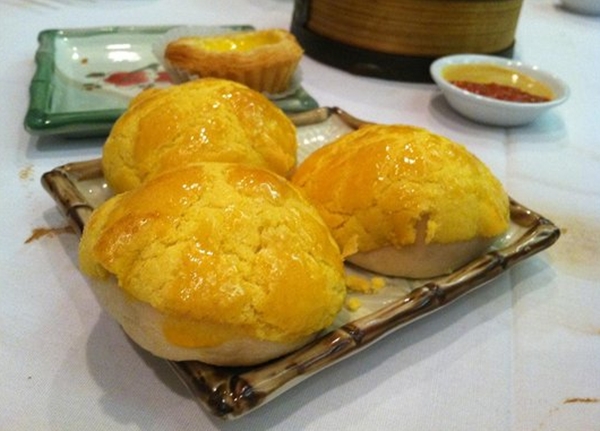 The Verdict: I can't claim Oriental Garden as the best dim sum in NYC, since I'm pretty sure there are some amazing sim sum places in Flushing, Queens, that I haven't yet tried. And it's not high end, so it can't come close to the dim sum I loved at San Francisco's Harbor Village before it closed. But for an unpretentious, inexpensive Manhattan dim sum parlor, Oriental Garden remains our favorite. All three of us filled up today mid morning for $24 + tip, and it kept us going with just a midday yogurt drink until an early dinner. Sure, it's cash only, so I didn't get to use one of my gift cards purchased with an Ink Bold for 5X points or the Sapphire Preferred for 2.14X, but at $10 per person including tip, I'm not complaining.
What's your favorite dim sum place in NYC?
Related posts:
Ninh Kieu NYC Restaurant Review: Vietnamese Comfort Food in Manhattan
Tim Ho Wan Review: Hong Kong's Best Dim Sum and Cheapest Michelin Star
Wa Jeal Sichuan in NYC and $100 AMEX Credit on Small Business Saturday
Which Places in Hong Kong Serve the Best Dim Sum?
Need Award Booking Help? Our fee is as low as $75 per ticket if you book your hotel through us.
If you enjoyed this, join 90,000+ readers: please follow TravelSort on Twitter or like us on Facebook to be alerted to new posts.
Become a TravelSort Client and Book Your Hotel with Virtuoso or Four Seasons Preferred VIP Amenities!