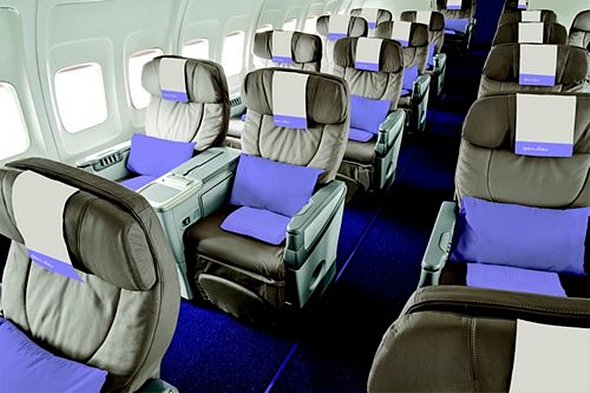 I'd been looking forward to flying OpenSkies, the all-business class carrier, on my current trip to Paris for business and leisure. I'd heard some praise for their business class product, which is typically less expensive than business class in its parent company, British Airways, or other carriers to Europe. Let's just say that I wish I had flown OpenSkies during their promotion last fall offering a full refund if you were dissatisfied, as I would certainly have applied for a refund.
Perhaps my expectations were too high, but at every step I felt underwhelmed. Let's start with the lounge at Newark–completely standard, some chairs and low rent snacks, mediocre wine, and not even a restroom inside the lounge itself or even completely enclosed, since the walls of the lounge don't extend up to the ceiling.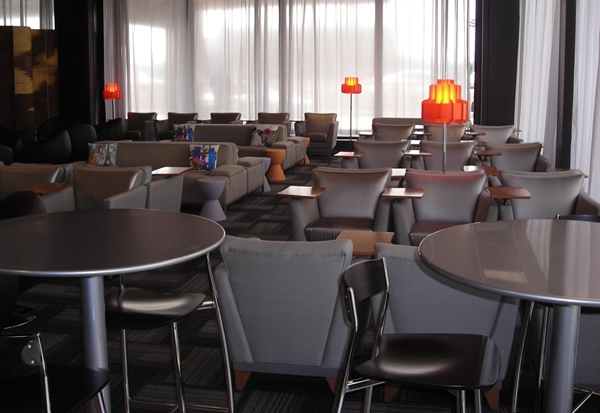 Then at supposedly "Priority" lane security, there were two long lines being handled by a single agent who was verifying passport and travel documents at a snail's pace, while another employee pompously declaimed how everyone needed to have their passport open to the photo page and various "witticisms" to an increasingly irate audience. (Ok, I realize security is not part of OpenSkies, but let's just say it didn't help as part of the overall experience).
The gate agents were friendly enough–probably the best part of the OpenSkies experience. And my son, who was flying with me, was excited to peer at our 757 before boarding, so at least the plane managed to impress someone: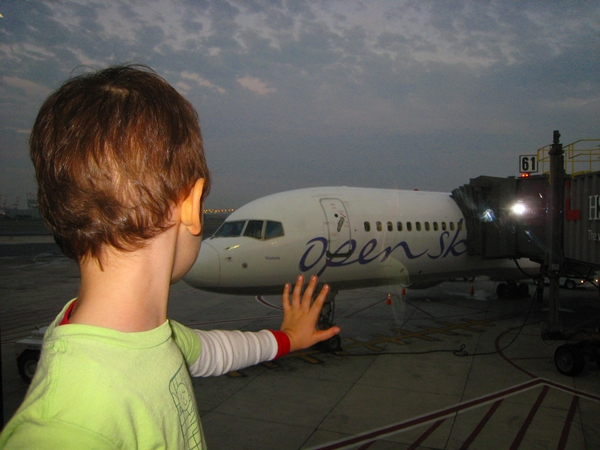 Once on board, we easily found our seat and stowed our carry-ons. I will say that the nice thing about only having 72 business seats (and 12 business beds) along with pretty travel-savvy passengers is that boarding was incredibly quick–I was amazed at how fast it took everyone to get settled and for us to push off from the gate.
Once we'd taken off and were at cruising altitude the cabin lights came back on, and this is where it was a real pain–I was trying to get my son to go to sleep, but the light right above the window was glaring, and just try getting a 3-year old to wear an eye mask. I asked a flight attendant if there was anything they could do to cover the lights above his seat, since he wasn't going to be having a meal, and they basically just shrugged and said "can't do anything, security reasons." Mind you, I was not asking them to turn off the lights for the entire plane, as I understood they can't do that during meal service, but really, they can't at least try to be helpful in covering up the lights over the window for someone who's not having meal service? The attitude was so dismissive it was infuriating. Even if they really had nothing to cover it with, I'll bet that one of the better Asian carriers would have at least made an effort or asked the purser if something could be done, etc. So instead I held my pillow up for about 45 minutes to block the light to allow my son to get to sleep, then rested the pillow against him and draped a blanket over him to make it dark enough.
Given the meal service, I should have just worn my eye mask and tried to rest myself–it was nothing worth staying up for, simply some chicken, rice, salad, 5 grapes, a slice of cheese, water and wine. Pretty much what you get in coach on a one of the better transatlantic flights (or used to–I'll admit to being one of the oldies who remember when even coach passengers were served on china with silverware). I didn't even bother with dessert, which looked like a second rate cupcake.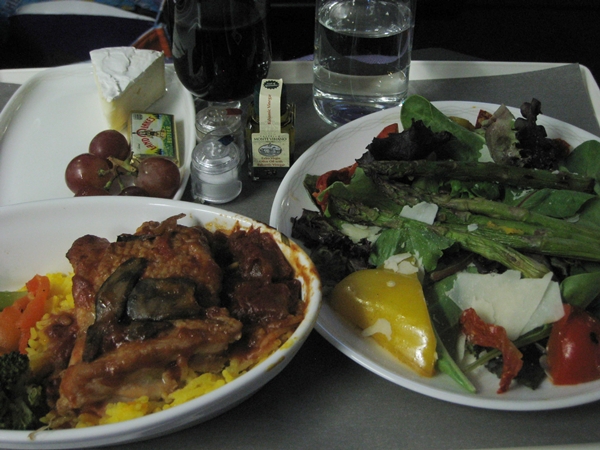 But the biggest problem I had with OpenSkies? Impossible to get any sleep in these seats, they were so uncomfortable. Now, that may seem crazy given that they do recline 140 degrees, obviously regular coach seats are far more uncomfortable, and of course everyone has a different standard of comfort. No matter which position I tried, though (and even after taking a Valium) I found it impossible to sleep. Fortunately my 3-year old, who was tired to begin with, was able to sleep quite well, although even he kept changing positions and did almost wake up crying when the passenger behind us decided to switch on her reading light, which unfortunately cast a glaring light onto our row, not just her seat. So if you're small or can fall asleep anywhere, the seats will no doubt be fine.
After a completely sleepless night, I definitely needed coffee to be able to function, and I will say Open Skies came through on that. It was the best part of an otherwise subpar breakfast: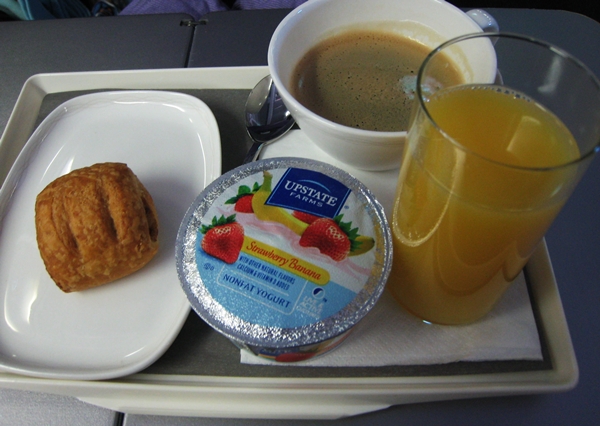 Final analysis? My 3-year old give it the thumbs up, and is perky after what I can only describe as my last flight on OpenSkies. Oh wait, I have to fly them back–darn. At least it won't be a night flight, thank god. I would opt for British Airways Club or other business class products with flat bed seats any day over OpenSkies, even with the premium in miles or cash required.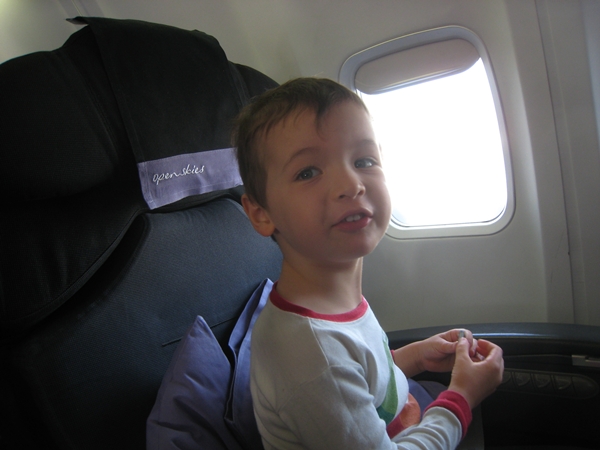 If you enjoyed this, please follow TravelSort on Twitter, like us on Facebook or become a Member to be alerted to new posts.