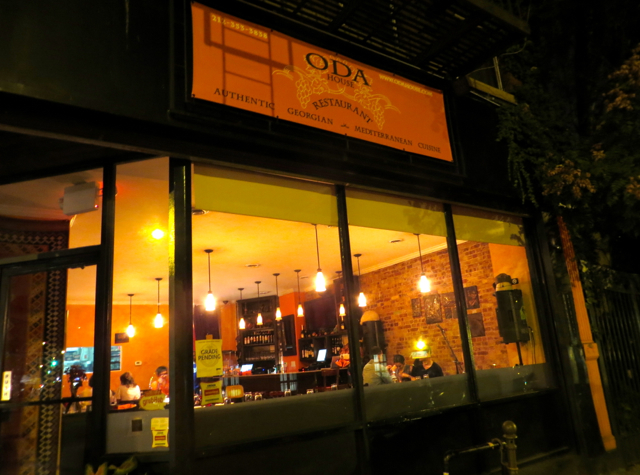 This Oda House Restaurant Review is one of our many NYC Restaurant Reviews. Visiting New York? See all of our posts tagged NYC.
Getting There
Oda House, which serves Georgian cuisine (Georgia as in the country, not the state) is on Avenue B, between 5th and 6th Streets, in the East Village. The closest subway station is the F train's 2nd Avenue stop, or you can take the 15 Bus either down 2nd Avenue, if you're coming from uptown, or up 1st Avenue, if you're coming from further downtown.
The Scene
We went early on a Friday night, since the munchkin was with us, so there were only a few tables already seated. By the time we left, around 7:30pm, about half the tables were seated, and there was a good mixture of Americans and Russians, most of them couples. This is not a fancy place–it's a cozy, convivial place, and some nights there's live Georgian music.
The Menu
Thanks to its Georgian chef, Maia Acquaviva (formerly the Executive Chef at upscale Russian restaurant Mari Vanna), Oda House menu offered almost all my favorites–most importantly, several different types of khachapuri, that quintessentially Georgian cheese bread made with deliciously melted Georgian sulguni cheese. While we only ordered the Adjaruli, which comes with an egg, I'll be back to try other varieties.
The appetizer part of the menu included pkhali, Georgian vegetable pates redolent of garlic and ground walnuts; green bean Lobio; Khinkali, plump meat and broth dumplings; salads and soups, and very traditional starters such as Kuchmachi (chicken liver and gizzards mixed with ground walnuts, herbs and spices). It would be easy to compose an entire meal of a few appetizers and a khachapuri, and I'd recommend this option as it enables you to sample more dishes. Here's the menu of soups, salads, appetizers and khachapuri: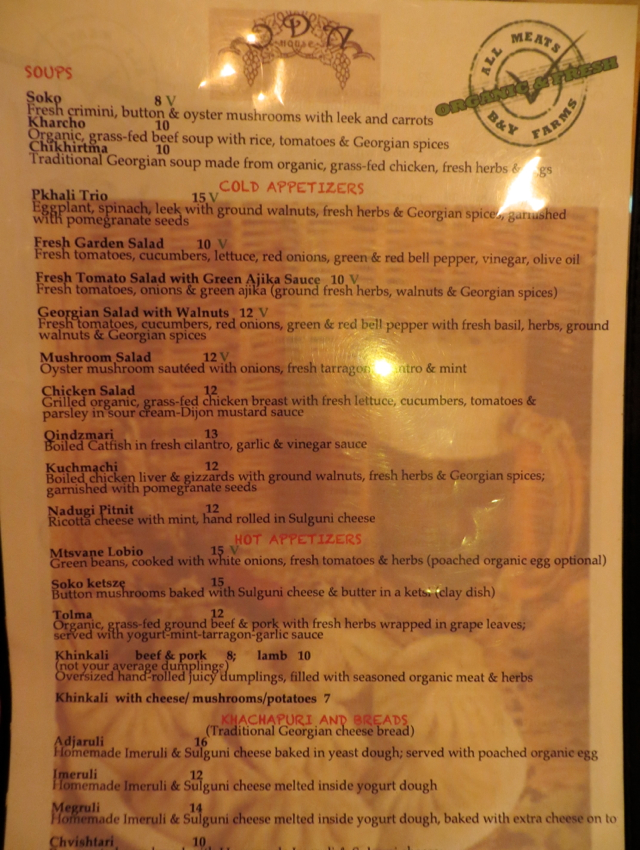 The main dishes are primarily grilled or stewed Georgian meat dishes, although there's also pinto bean Lobio for vegetarians, and of course a salad and khachapuri makes a fine vegetarian meal. The one dish I expected to see that wasn't there is Chicken Tabaka. Here's the menu with main courses: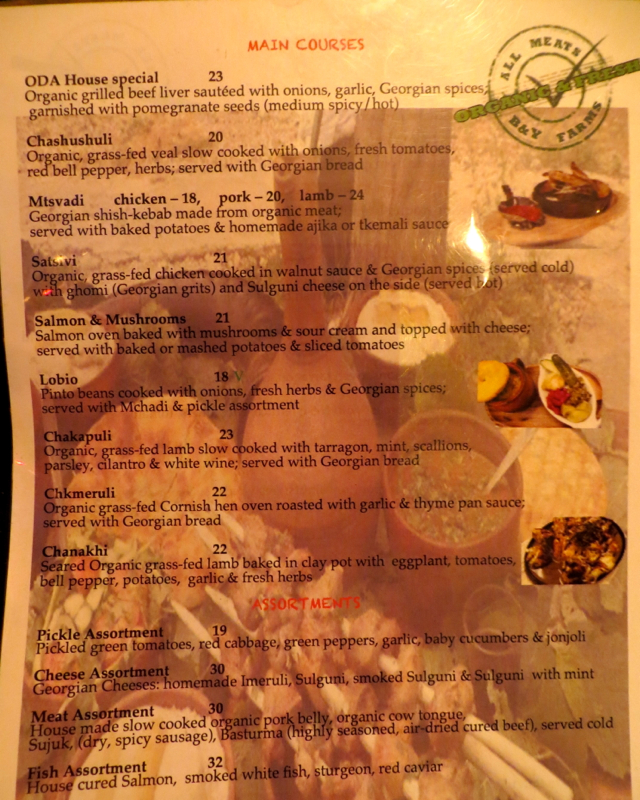 The first appetizer to come out, not surprisingly, was the cold appetizer we orderd, the pkhali trio. From left to right are leek, eggplant, and spinach. While it's admittedly been some time since I've had pkhali, these were as good as I ever remember tasting. While the garlic proved to be too much for the munchkin, my husband and I had no trouble polishing off the pkhali.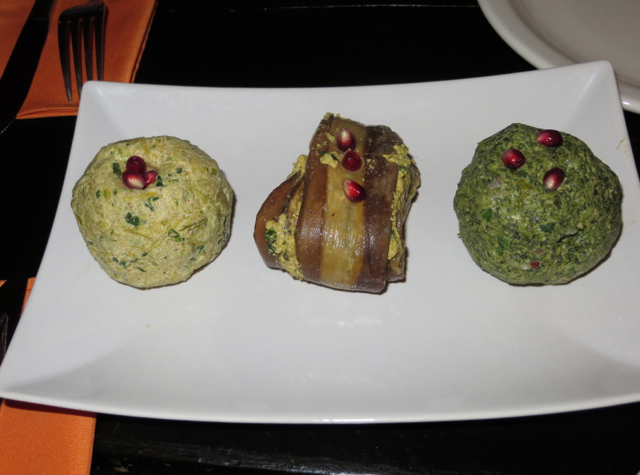 Next to arrive were the Khinkali, for which we'd chosen the beef/pork, although lamb version and even a variant with cheese, mushrooms and potatoes are also offered. We were instructed to not use a fork and knife, and to instead pick them up with the top "stem" and eat them in such a way as to not lose the broth. Ground black pepper is offered alongside, to add to taste. Delicious, and all of us loved the meat filling, although the dumpling skin is a bit thick (that said, it's supposed to be this way–this isn't dim sum).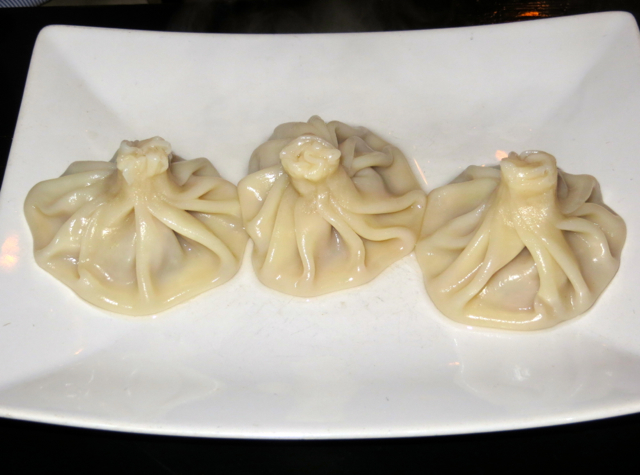 Our favorite, of course, was the Adjaruli Khachapuri. It was brought to our table piping hot from the oven on a wooden board, and the server mixed up the soft poached organic egg with the melted cheese: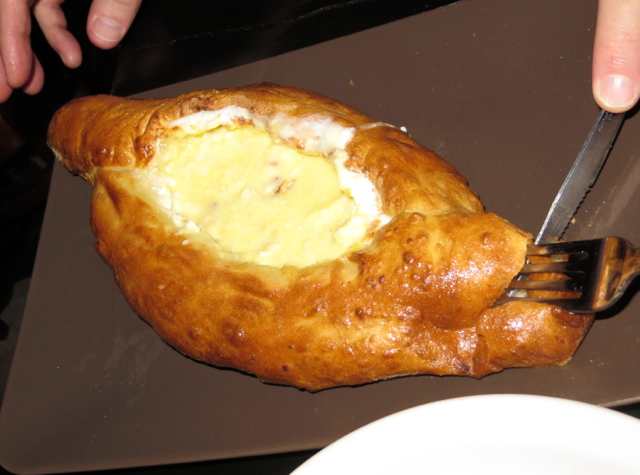 While purists might contend that it should be a flatter bread and not such a well risen yeast bread, I personally thought it worked very well to have more bread to dip into the molten egg-cheese center. As you can see, it was impossible to get a photo without hands in the photo, so anticipated was this dish. I would say that my husband and the munchkin devoured 75% of it, and I just barely managed to keep a few pieces for myself. I may have to go back later this week or next and split it with a friend who doesn't eat quite as much as my husband and the munchkin–the khachapuri was that good.
We ordered one main dish, the Chakapuli with lamb simmered with tarragon, mint, parsely, cilantro and white wine. It had great flavor, and the lamb was tender, but I would probably forego it next time and just save more room for khachapuri.
Usually I haven't ordered dessert in Georgian restaurants, so I wasn't sure what to expect. We each wanted a different dessert after looking at the dessert menu, so we each ordered a dessert, which as we'll see, was a mistake: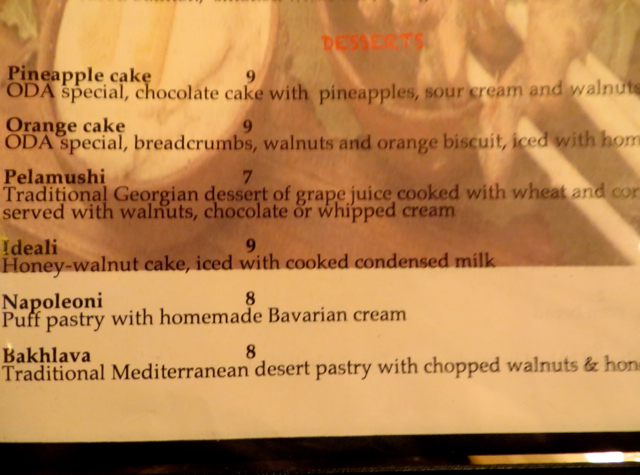 The munchkin's Napoleoni dessert was easily big enough for two, so I ended up sharing it with him: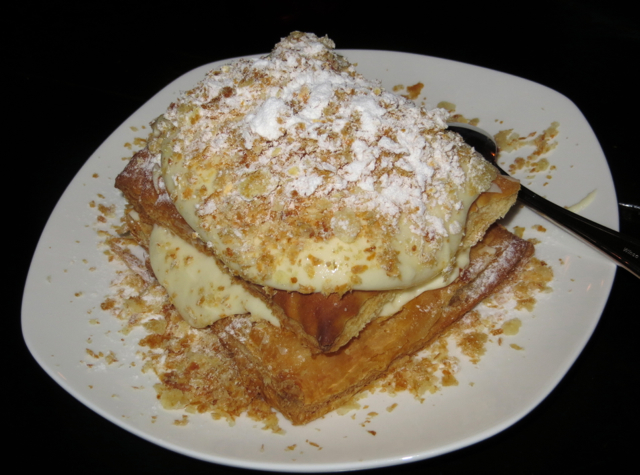 Upon our server's recommendation, I ordered the Ideali, a honey walnut cake. I tried some, and while good, especially if you like honey cake, it wasn't that memorable.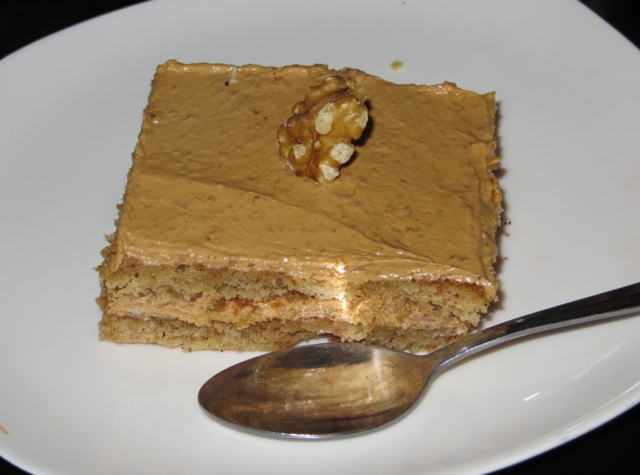 My husband ordered the pineapple cake. Note that this is nothing like a pineapple upside down cake or probably any other pineapple cake you've tasted. If anything, it's primarily a sour cream walnut cake studded with pineapple and drizzled with plenty of chocolate sauce. It, as with the other desserts, are house made, and one would be plenty for two people to share.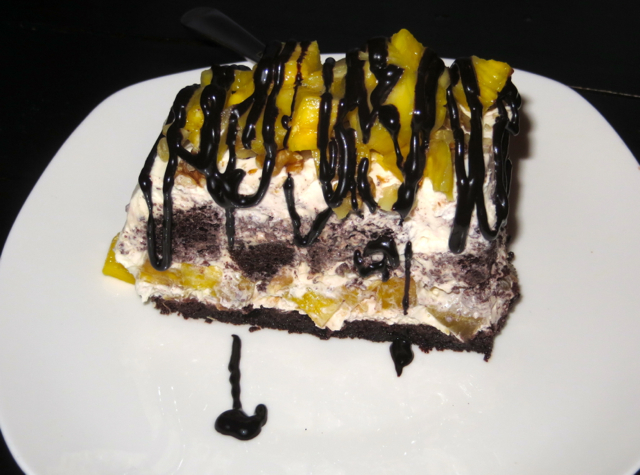 Of the three, I thought the munchkin's Napoleoni dessert was best, at least if you enjoy cream and pastry, although keep in mind this is a homemade version and won't be as good or refined as, say, what you would get as a Napoleon at Maison Kayser.
The Service
We had several servers help us, and all were friendly and helpful. If you're afraid of gruff Soviet-era service or a language barrier, there's no need to worry–all the servers spoke excellent English and were happy to help with recommendations.
The only misstep was that my husband's beer order was initially forgotten, so he had to request it again once our food arrived. I asked for a glass of very fruit driven wine, and was given an excellent semi sweet that is among the smoothest wines I've had. If you prefer a very tannic wine, be sure to mention that–there are some dry Georgian wine selections as well.
The Verdict
Did I mention how much I love khachapuri? Or how excited I am to not have to trek out to Brighton Beach or elsewhere in Brooklyn to get my khachapuri fix? I realize that not everyone craves Georgian food as much as I do, but if you're a foodie or even somewhat adventurous eater, I highly recommend a visit to Oda House in the East Village for some of the most authentic Georgian food in the NYC area. Sure, it's pricier than Brooklyn, but the convenience (if you're in Manhattan) and the higher quality of the ingredients (meat and eggs are organic) make it worth it.
Related Posts
Mari Vanna NYC Restaurant Review
Review: Cafe Khachapuri, Moscow
Zabb Elee NYC Restaurant Review (East Village Location)
ABC Kitchen NYC Restaurant Review
Where to Eat in NYC: The Best Places New York Restaurants Right Now
Best NYC Midtown Lunch Restaurants
Need Award Booking Help? Our fee is as low as $75 per ticket if you book your hotel through us.
If you enjoyed this, join 200,000+ readers: please follow TravelSort on Twitter or like us on Facebook to be alerted to new posts.
Become a TravelSort Client and Book Your Hotel with Virtuoso or Four Seasons Preferred VIP Amenities!